After three years in the making, Changi Airport's Terminal 4 (T4) commences operations today. The first flights to arrive and depart at T4 were operated by Cathay Pacific: Flight CX 659, which arrived from Hong Kong at 5.40am and flight CX 650, which departed to Hong Kong at 6.50am.
In total, nine airlines will be operating at T4, including the AirAsia Group (four airlines), Cebu Pacific, Korean Air, Spring Airlines and Vietnam Airlines.
If you're excited to explore T4, you have every reason to be. This terminal is compact in size but big in character, with a vibrant boutique theme that oozes from every corner. Top that up with an impressively seamless departure process which leverages on technology to take care of every traveller's little wants and needs.
As a brief introduction, here are five things to look forward to in T4:
1. The Fast and Seamless Departure Process
At each stage of the departure journey, from check-in and bag drop to immigration and boarding, T4 offers self-service options which integrate an extensive use of technology. With the help of facial recognition software for authentication, passengers can print their own boarding pass and bag tags, drop their baggage and then walk through the automated immigration gates.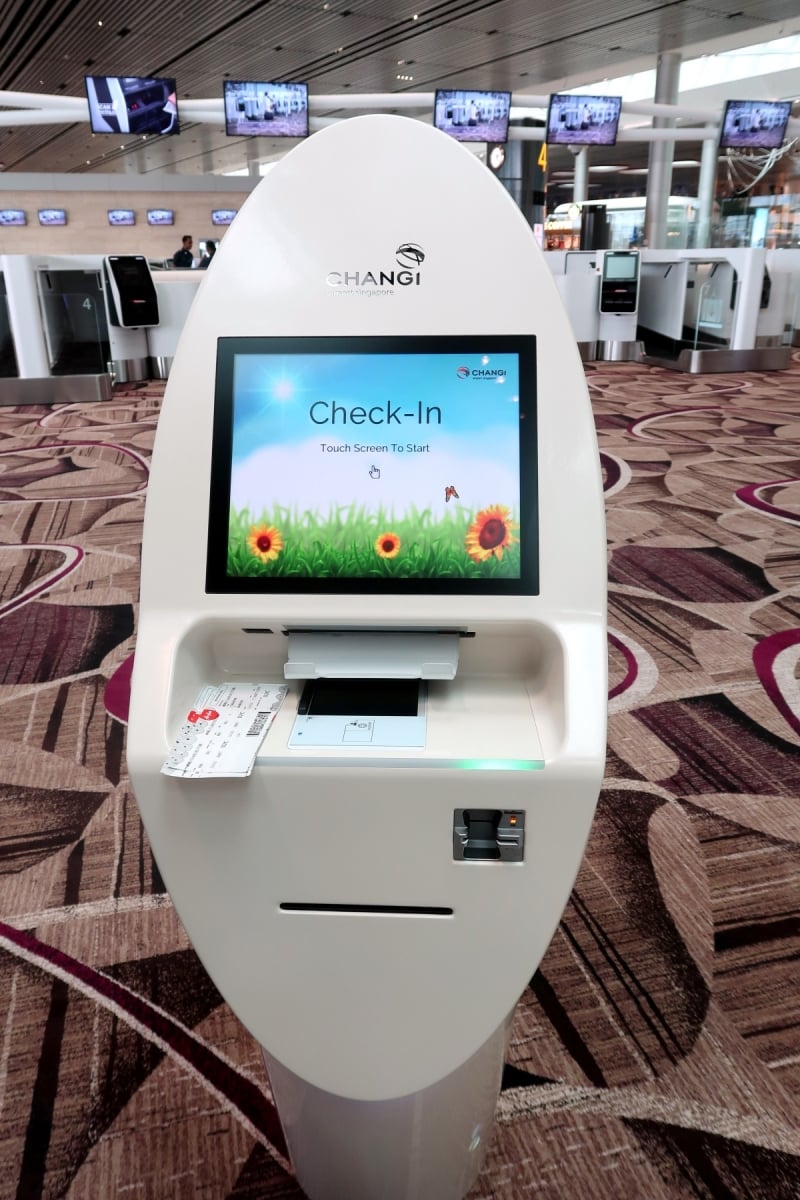 The automated check-in kiosk where passengers can retrieve flight bookings, select seats, and print their boarding pass and bag tags.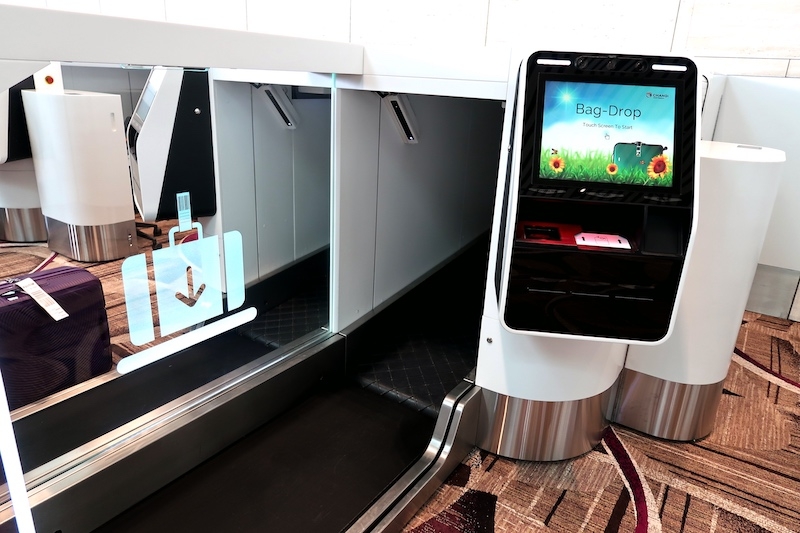 The automated bag drop counter where luggage will be rolled into the baggage handling system.
The automated immigration gates which use a dual facial and thumbprint biometric recognition system.
After clearing immigration, all passengers will undergo a centralised security screening which is designed to be as convenient as possible. For example, with the computed tomography (CT) scan, there's no need to remove laptops or tablets from the hand luggage during screening. There's also no need to bother about returning trays as there's an automated tray return system after each passenger completes their screening cycle.
2. The Colourful Sofas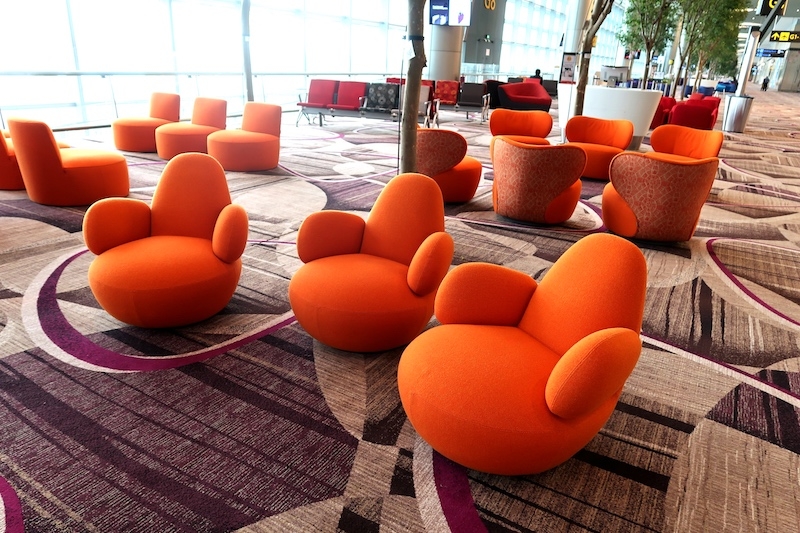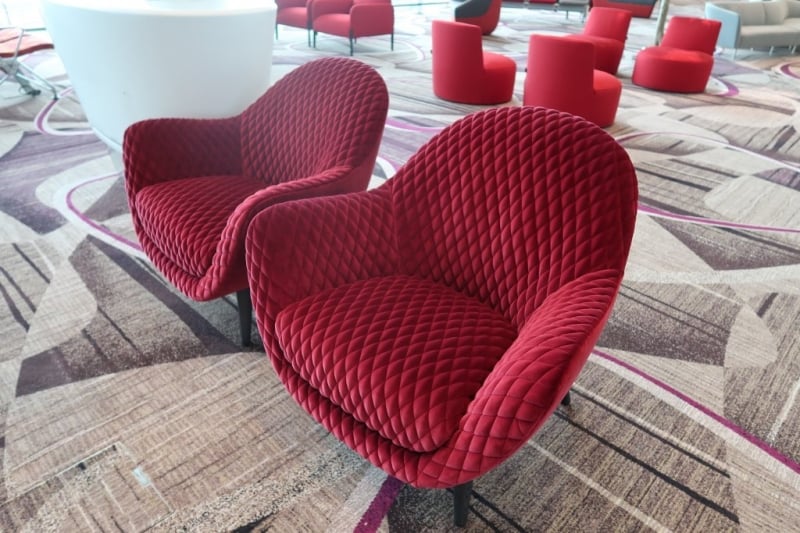 What's cute and quirky in T4 are the sofas that come in all shapes and colours. Littered around the transit area in clusters, these sofas add a vibrant pop of character to the otherwise simple modern design.
Many of these chairs are accompanied by power sockets for charging electronic devices – because we all know how important those are for travellers these days.
3. The Heritage Wall & Peranakan Toilet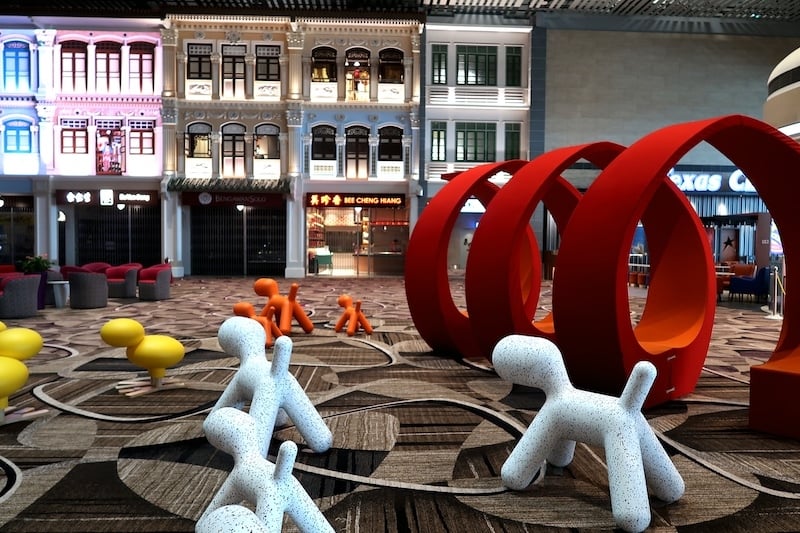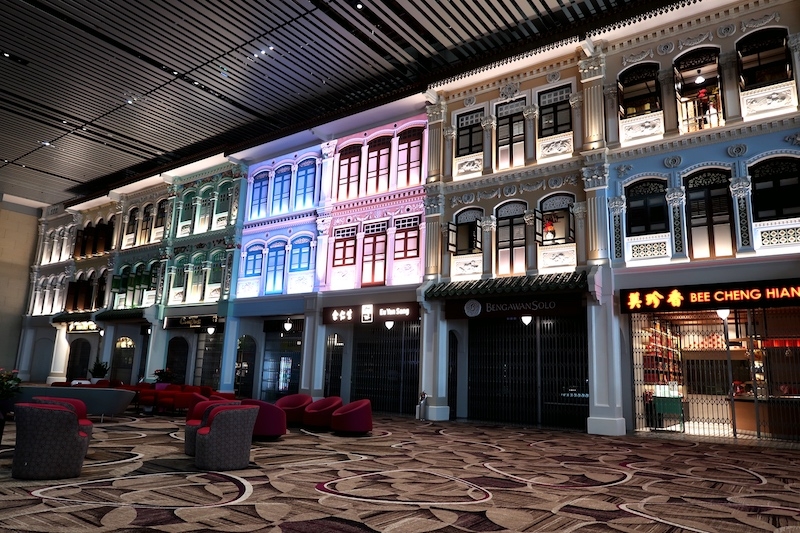 One of the highlights of T4 is undoubtedly the Heritage Zone which features a row of shophouse facade from the 1880s to 1950s. In line with the local theme, the ground level has an offering of local shops such as Heavenly Wang, Bengawan Solo, Eu Yan Sang, Curry Times and Bee Cheng Hiang.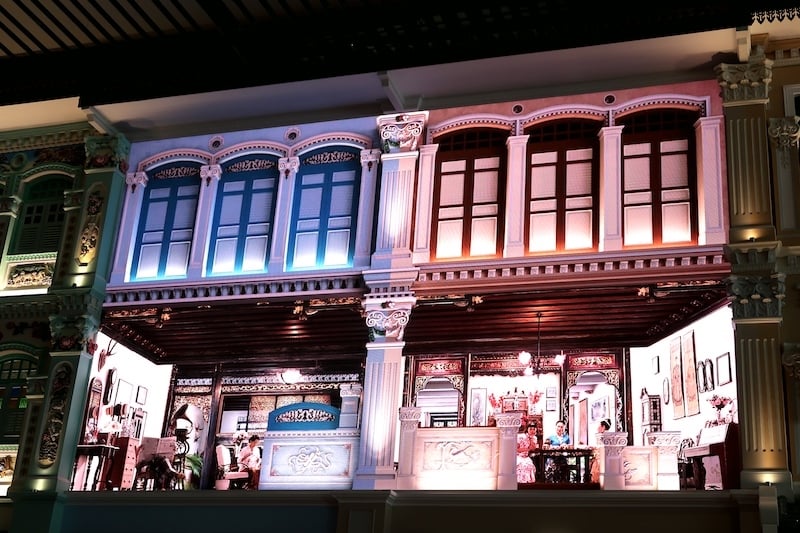 The best part of the area, however, is a special performance that might surprise those who are not in the know. Part of the shophouse facade hides an LED screen measuring 10m x 6m. A few times an hour, the shophouse windows come alive and turn into a mini-theatre with a six-minute show titled Peranakan Love Story.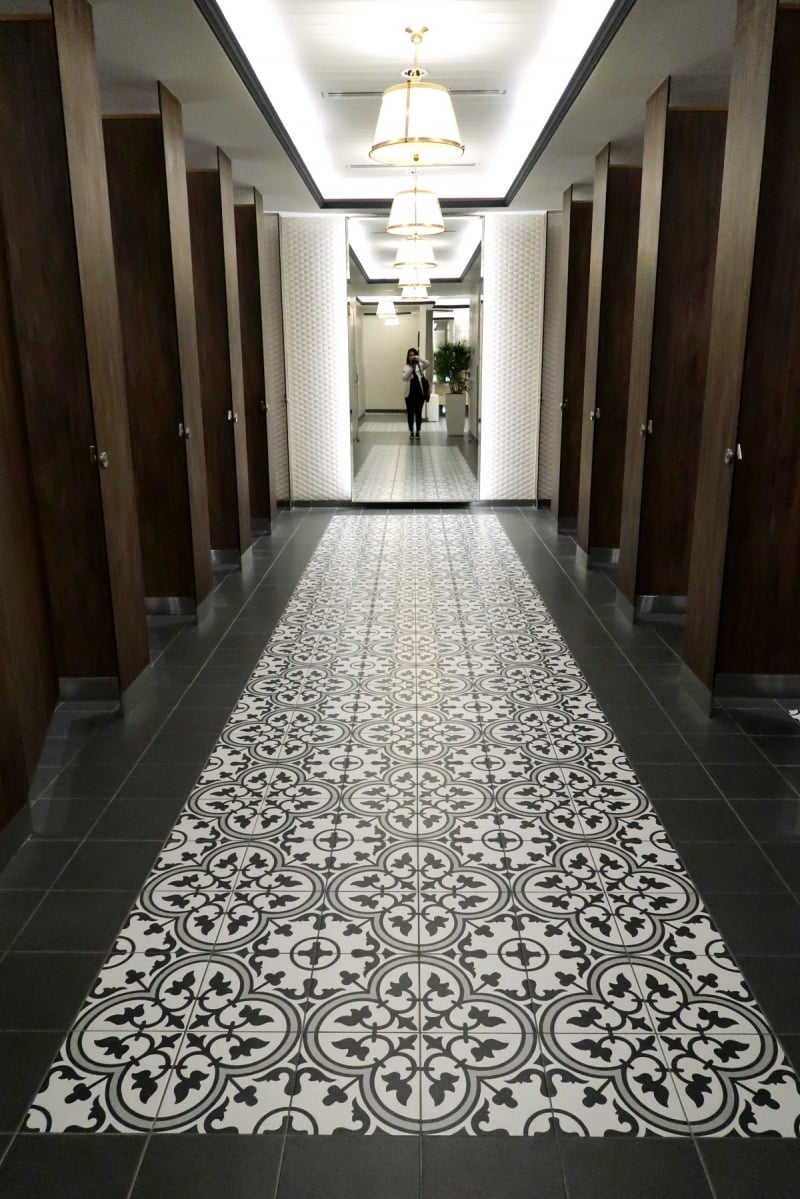 Also, don't miss the toilet (yes – the toilet!) at the Heritage Zone. It is designed with a British-colonial heritage theme and fitted with patterned floor tiles and lampshades. This classy-looking toilet looks like it belongs to Raffles Hotel – no kidding!  
4. The Petal Motifs and Art Displays
The design inspiration of T4 comes from the orchid petal, which appears ubiquitously on the ceilings, carpets and unexpected corners.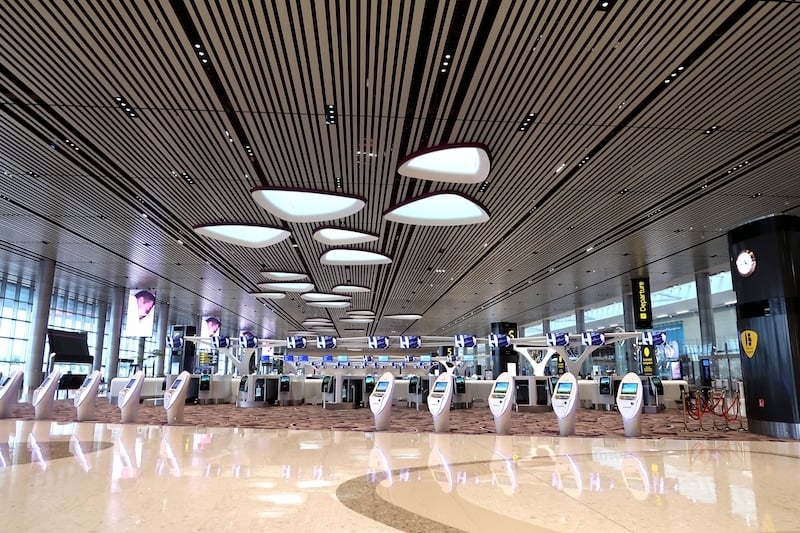 Petal-shaped skylights at the Departure Hall.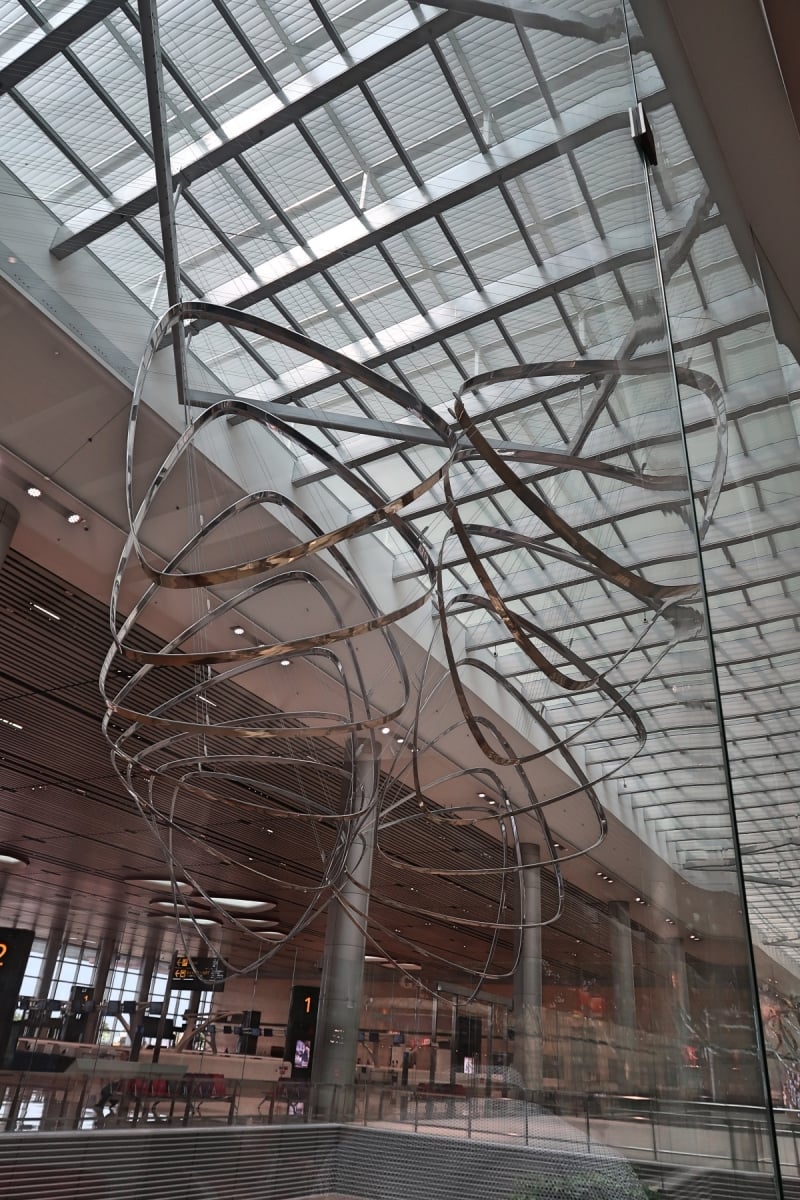 Petalclouds, as viewed from the Transit Area.
Most prominently, the centrepiece of Central Galleria is Petalclouds, a huge kinetic sculpture stretching 200 metres and comprising six clouds, each made up of 16 petal-shaped aluminium frames. This artwork moves in rhythm to classical music composed by an award-winning composer from Iceland, Ólafur Arnalds.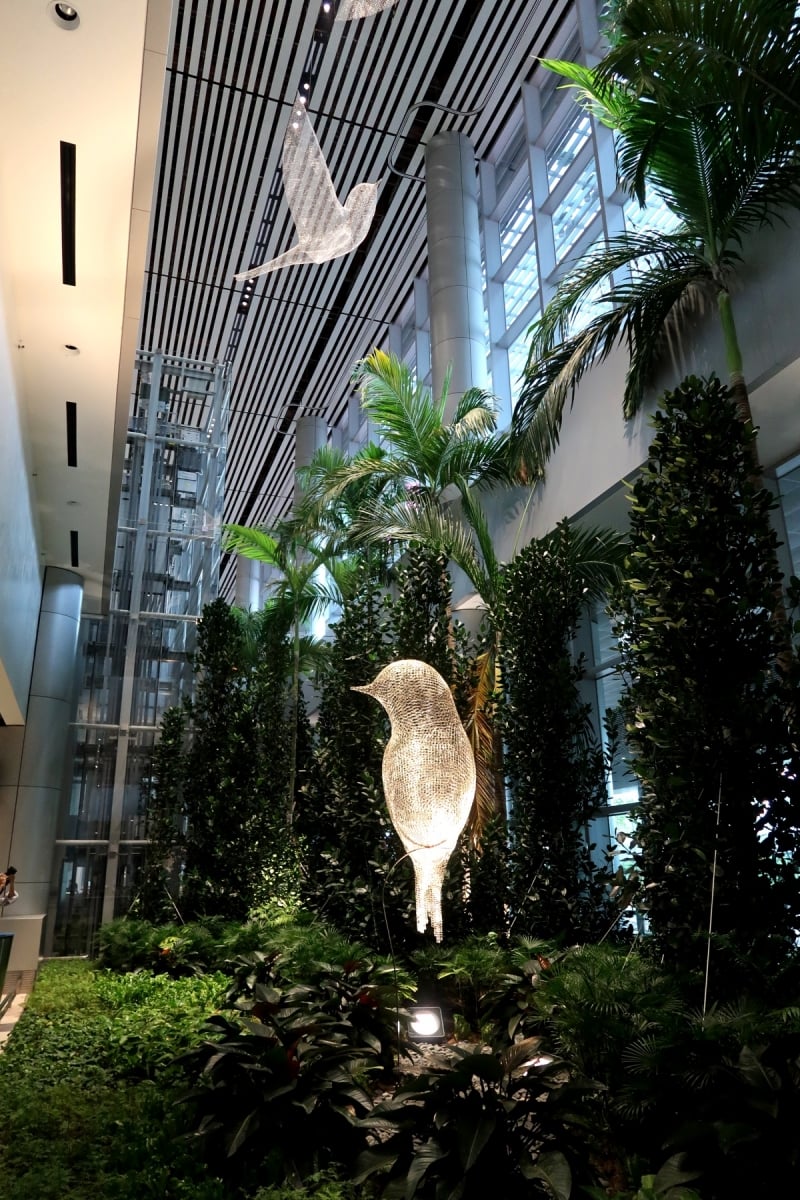 Les Oiseaux (The Birds)
Another beautiful piece of artwork is Les Oiseaux (The Birds), a sculpture by French artist Cedric Le Borgne. It can be viewed from both the Departure and Arrival Hall. Two other sculptures you might come across is Hey, Ah Chek! which depicts a mother and son in the 1950s hailing a trishaw, as well as Travelling Family, a scene reminiscent of a typical family heading for their next holiday.
5. The 80 Retail and F&B Outlets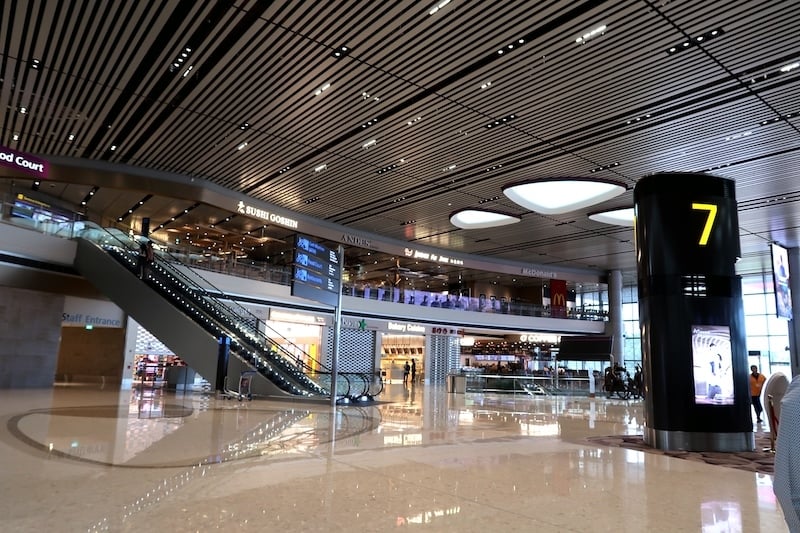 The shopping and dining options just beside the check-in counters of the Departure Hall. 
T4 doesn't disappoint when it comes to shopping and food, with 80 retail and F&B outlets. In the public area of the terminal, hungry visitors can take their pick from Andes at Astons, London Fat Duck, Old Street Bak Kuk Teh, Sushi Goshin by Akashi and Food Emporium by NTUC Foodfare, among others.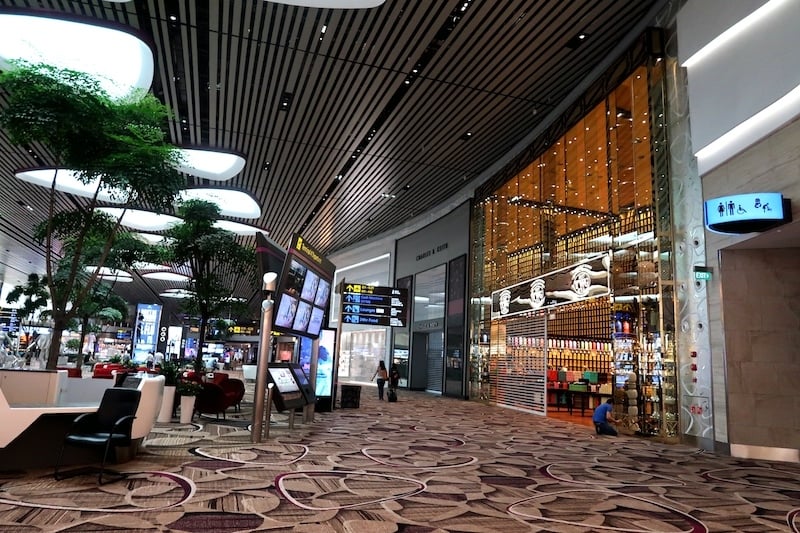 Huge storefronts in the transit area. 
Right after clearing the immigration, passengers can find their paradise of duty-free liquor, tobacco, cosmetics and perfumes at the duty-free zone area. Beyond that, in the transit area is a collection of shops boasting 11-metre-high storefronts, including TWG Tea Boutique, Charles & Keith, Coach & Furla, Gassan Watches, Michael Kors and The Cocoa Trees.
See you at T4!
With that, we won't be surprised if you decide to book a flight on one of the airlines operating in T4 just so you get to experience this new terminal as a passenger.