It's globally known that the Philippines is one of the best foodie destinations in the world. Travelling around the country, jetsetters can discover different speciality cuisines per island.
You'll definitely find great flavours wherever you are, but if you want an idea of where to begin, then read on for our top picks.
Looking forward to your adventure already? With Cebu Pacific, travellers from Singapore, Hong Kong, and Macau have the option to begin their Filipino food trip at Clark before travelling to various foodie destinations like Cebu, Caticlan (Boracay), and Tagbilaran (Bohol). The airline also opened new routes from Clark to Davao and Iloilo, so you'll certainly have more exciting places to travel to!
1. Pampanga
Even among Filipinos, it is known that people from Pampanga — called Kapampangan — cook really well. This fact is globally recognised, enough for the province to be hailed as the "Culinary Capital of the Philippines." While other destinations pride themselves on certain food staples, Pampanga has a full plate of delicacies. Literally.
Leading the ranks of tasty Kapampangan treats are sisig, tocino, aligue, and morcon. Aside from these local goodies, Pampanga is also known for quite strange yet oddly satisfying dishes. Betute tugak (stuffed frog), adobong kamaru (mole crickets), and balo-balo (fermented mudfish and rice) are only some of their must-try exotic dishes. And, as the Clark International Airport is conveniently located in Pampanga, the province is indeed the perfect place to kick off the ultimate Filipino food trip.
READY FOR A PAMPANGA FOOD TRIP? BOOK A FLIGHT NOW!
2. Bacolod
Health-conscious foodies from around the world will definitely fall in love with Bacolod, the capital city of Negros Occidental. Being a part of the island known as the "Organic Food Bowl of Asia," Bacolod has some of the best organic farms sprawling across the city. Also widely known for the chicken inasal (Filipino-style roast chicken), Bacolod moreover boasts of their piaya, lumpiang ubod, and seafood. Of course, with the abundance of organic farms, local chefs prepare most of their delicacies through the farm-to-table practice.
3. Davao
Aside from being the homeland of durian, Davao has such a rich profusion of fruit that it has earned the title "Fruit Basket of the Philippines." Lanzones, pomelos, mangosteen, rambutan, bananas, marang — name it, and Davao probably has it. If you're not a fan of fruits, which is highly doubtful if you've tasted some of the exotic delicacies of the province, Davao also offers glorious options of fresh seafood.
Tip: Many public stalls in Davao City offer durian and its by-products such as candy, jam, and tarts. Try visiting Magsaysay Park and People's Park for your dose of durian, as these public parks offer good deals for the fruit. Public markets around the city also sell durian and other fruits at affordable prices.
START YOUR SWEET ADVENTURE IN DAVAO!
4. Palawan
Aside from its pristine beaches, Palawan also offers scrumptious meals. Most probably, previous visitors of the Crocodile Farm in Puerto Princesa already know how tasty their crocodile sisig is. Tamilok, a fried or ceviched woodworm, is another exciting dish you'd only find in the province.
But the island also offers delicious dishes within your comfort zone. Fresh fruit and fresh seafood are especially popular choices in Palawan. Some notable restaurants that allow guests to feast over food, culture, and picturesque sceneries are the KaLui Restaurant and Badjao Seafront Restaurant. Better yet, sip on fresh coconut juice by sandy shores while munching on some sliced pineapple, watermelon, papaya, and dragon fruit.
5. Cebu
A Filipino celebration isn't complete without lechon, which is why it's imperative for foodies to visit the "Lechon Capital of the World." In Cebu, lechon isn't just another pork dish. It's a meal carefully prepared so that it always has the perfect balance of crunchiness and tenderness.
Dried mango is another delicacy Cebu prides itself with. Sweet with a hint of sour, its flavour has warranted it a place among the most popular pasalubong (souvenir items) from the Philippines.
GRAB AFFORDABLE FLIGHTS TO CEBU HERE!
6. Bicol
No region can spice up a dish quite as well as Bicol can. Most famous among their local cuisines are the Bicol Express and laing, both traditionally prepared with gata (coconut milk) and chillies. Many notable Bicolano dishes also include the power duo; hence, several food staples are cooked with both gata and chilies — for the signature Bicolano twist. Sweet tooths rave about the chilli-flavoured ice cream and chilli-flavoured cheesecake that both originated in the province. Coffee fans can also enjoy a spicy cup of joe.
7. Iloilo
There's a lot that can be said about Ilonggo food. For one, most of them are nostalgic Pinoy classics. Iloilo's most famous dish, the La Paz Batchoy, has won the hearts of Filipinos around the country. On the other hand, pancit molo, a recreation of the Chinese wonton soup, has also earned the adoration of several foodies. While both dishes were inspired by the Chinese community who made their way into the province, they still bear the signature Filipino taste: rich, savoury, and filling.
8. Cagayan de Oro
A bustling capital and tourist hub in northern Mindanao, Cagayan de Oro offers the best of both worlds: traditional specialities and modern delicacies. Those with a serious craving for something sugary can indulge in binaki or sweet corn tamales. It's like corn muffins with a Filipino twist, because it's presented as kakanin or rice cakes. For something more familiar, you can try Mercedes Bakery's famous Pineapple Crumble.
In the savoury (and sour!) department, visitors should never miss Cagayan de Oro's kinilaw or ceviche. Usually made of raw seafood, this particular kinilaw features vinegar mixed with suha or pomelo, which makes it a tad more tart. Feeling adventurous? Then why not get a taste of the province's signature dish, sinuglaw — a filling combination of kinilaw and sinugba (grilled pork belly).
9. Boracay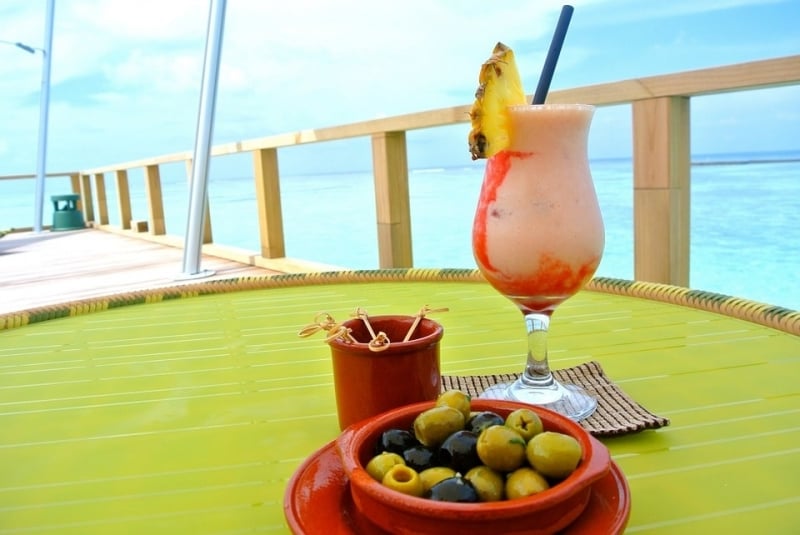 Since Boracay is bountiful with tropical trees, it's a given that the island has among the sweetest fruit shakes in the Philippines. The scenic panoramic view along the coast makes the shakes even sweeter. Pair the drinks with Boracay's fresh seafood, and you're in for the time of your life.
But if you find yourself wanting a break from all the sea's succulent bounty, munch on this popular Boracay snack — the Chori Burger. It's basically a burger bun with chorizo or spicy pork sausage in the place of a beef patty. Yum!
FLY TO BORACAY AND LEAVE YOUR WORRIES BEHIND!
10. Bohol
While foodies can't exactly get a sugar high from Bohol's Chocolate Hills, they can definitely score sweet treats nearby. Bohol actually has an impressive supply of sugary goods — like biko, maruya, otap, and kalamay — that many Filipinos love sharing with foreign friends. Peanut Kisses and Boholano Ubi Polvoron work great as pasalubong, too! To add to Bohol's allure, the tropical destination just recently opened the Panglao International Airport, which makes this paradise more accessible to foreigners.
In the Philippines, food is basically culture on a dish. There's hardly any better way to get to know a Filipino than through eating! With this, prepare yourself to taste countless mouthwatering meals, as every dish in the country is surely prepared with love.
Also read: Here's Why I Think this Airline's Food Selection is Friendly for EVERYONE
Are you ready for the ultimate food trip of your life? Book your flight with Cebu Pacific now! With their affordable flights, you can definitely #FlyToMoreFun and splurge on innumerable foodie destinations. And, as they've recently opened new routes from the Clark International Airport, you can jumpstart your adventure in no time!
CLICK HERE TO START YOUR FOOD TRIP
For more information, please visit Cebu Pacific's official website, Facebook, Instagram, Twitter and Youtube.
---
Brought to you by Cebu Pacific.