Cebu and Bohol are two provinces in the Visayas that are so close to my heart. If you would ask me, which is one is better? I would say, none! Both destinations have an equally fascinating beauty of their own. Safe answer, yes, but why choose when you can enjoy both in one go? Experience the best of both destinations with this three-day itinerary — just perfect for your next long weekend getaway!
Also read: 7 Long Weekend Getaway Destinations in the Philippines
Note: This itinerary is packed with so many activities to maximise your short 3 days. You may adjust according to your interests and fitness level.
Day 1: Cebu
When you arrive in Cebu City, don't waste time, and head straight to the bus terminals because adventure awaits outside the city. Prior to arrival, you must have already chosen between the North and South of Cebu.
To help you decide, here's what you should consider: If you love the beach and marine life, you should go to the North, but if you're more of the adventurous mountaineer and hiker, you must head down South. If you wish to explore both, you must extend your stay for 2-3 days.
Also read: Insider's Guide to Cebu: All You Need to Know Before Your Trip
Option 1: North of Cebu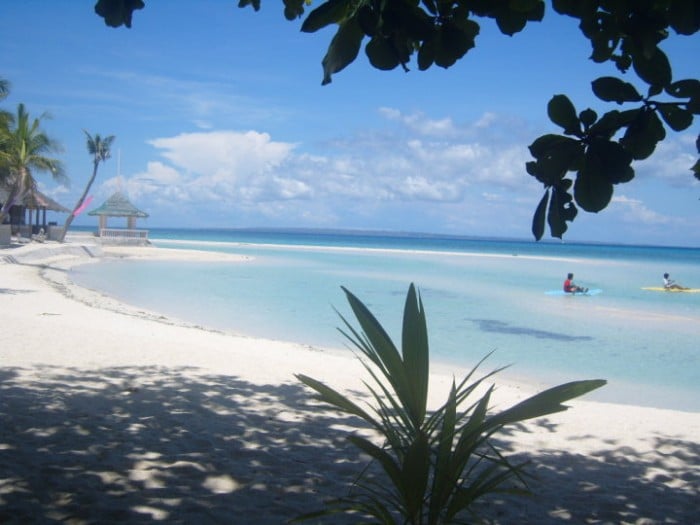 Santa Fe Beach, Bantayan Island | Image credit: Chill and Travel
The popular and the MUST visit destinations in the North are Bantayan Island and Malapascua Island. They're not really that far from each other but you only have to pick one destination if you want to strictly follow this itinerary. Bantayan is for the beach bums and Malapascua is more for the scuba divers. If you opt for Bantayan Island, read this guide.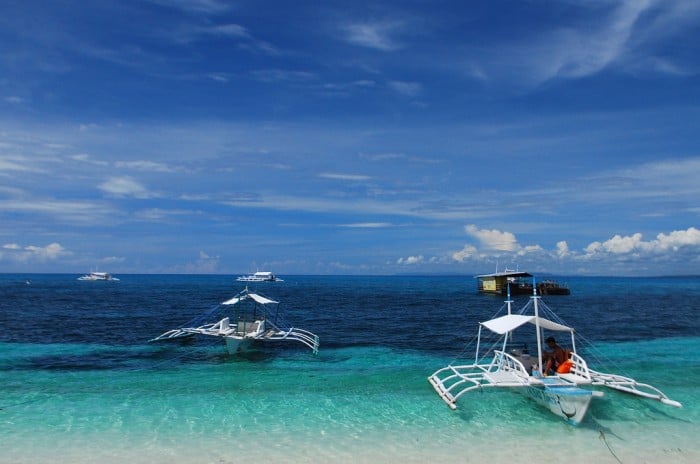 Malapascua Island | Image credit: Comer Zhao
You can reach both destinations by bus at North Bus Terminal. For Bantayan, ride the bus going to Hagnaya Port, and for Malapascua, ride the one going to Maya Port. Bus ride takes approximately 4-5 hours.
Tip: At the bus terminal, be wary of dispatchers who will try to ask where you're heading to and will lead you to a certain bus. Ignore them and ask the official guards manning the terminal instead. I suggest you pick the yellow Ceres buses because they have a better reputation than the others. When you spot the right bus, hop on, and don't worry about your tickets because a bus conductor will give tickets and collect the fares later on the bus.
Option 2: South of Cebu
If you prefer to go down South, thrilling outdoor activities are aplenty.
Oslob – Samboan route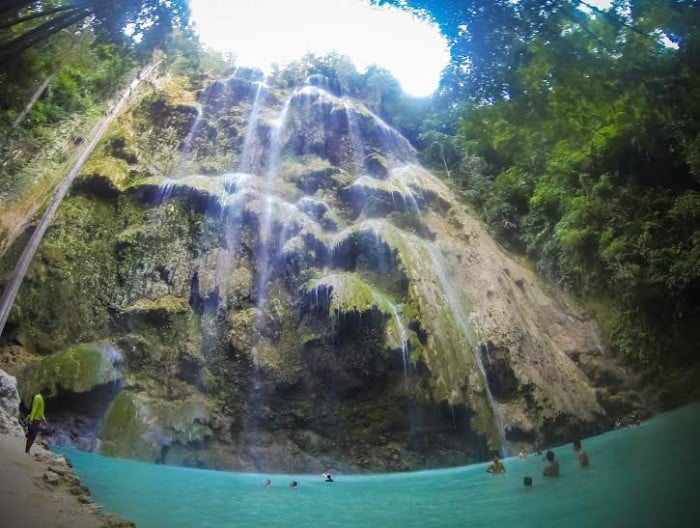 Tumalog Falls | Image credit: JoeyFeb Pegarido
If you want to chase some waterfalls or swim with the whale sharks, you need to hop on an Oslob-bound bus at Cebu South Bus Terminal. Just tell the bus conductor that you're heading to the Tumalog Falls junction, then take the habal-habal (motorcycle) to the waterfalls itself. You can also go straight to the whale shark area in Tan-awan, Oslob. Animal protection groups would certainly protest against it, but if you really want to see these friendly giants, be a responsible visitor and follow the swimming rules during orientation.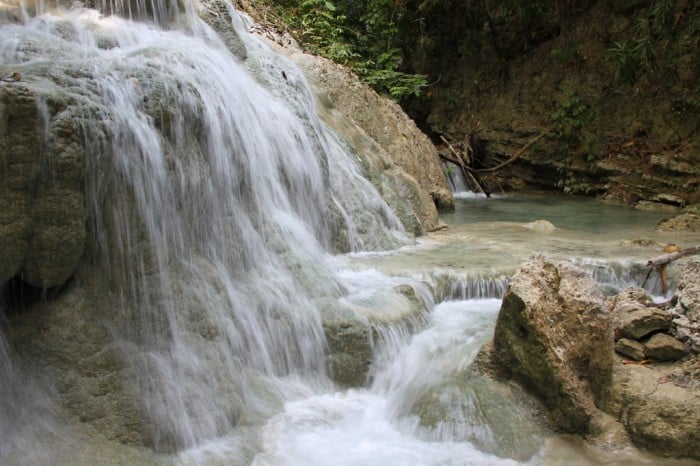 Aguinid Falls | Image credit: Cristian Bortes
From Oslob, you may head straight to Samboan, a neighbouring municipality, to chase more waterfalls. Tell the bus conductor to drop you off at the town centre and from there, you can again hire a habal-habal to take you to Aguinid Falls and other hidden falls of Samboan.
Tip: Buy all your travel essentials in the city, including bottles of water, snacks and other food. While you can buy food anywhere, the prices get so high in touristy areas.
Dalaguete – Badian route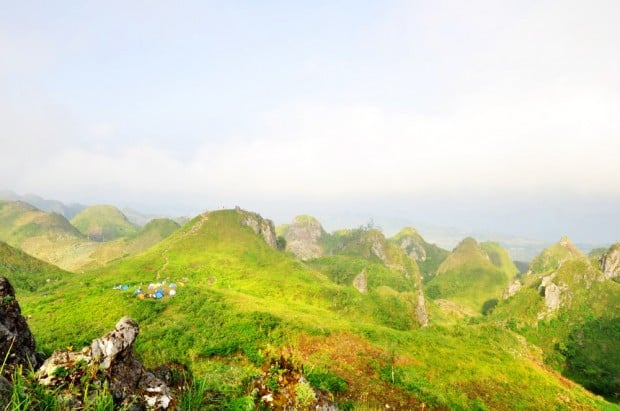 Osmeña Peak | Image credit: Highland Adventures
This route is for the extremely adventurous type. Climb Cebu's highest peak, Osmeña Peak in Dalaguete, then trek for approximately six hours to Kawasan Falls in Badian. My friends and I did this exciting adventure last December 2015, and I must say, I could barely walk the day after, so if you choose this activity, you must have proper physical preparation.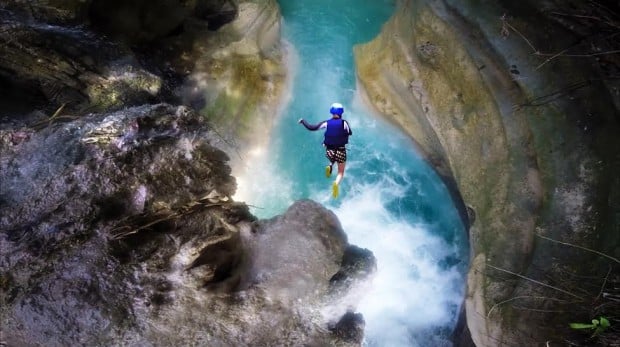 Image credit: Highland Adventures
Still alive and kicking after the six-hour trek? Go canyoneering. You can pre-arrange with a local guide, like Highland Adventures, and experience the thrill of traversing canyons and jumping off cliffs and mini-waterfalls. I could not exactly describe the whole excruciating but fulfilling experience. Just go and do it!
After all the hiking, jumping and swimming, you may opt to stay at any inns nearby or ride the bus back to Cebu City to call it a day!
Day 1 is so tiring, I know, but Bohol is still next up, so you have to fight exhaustion as much as you can.
Also read: You'll Want to Move to Cebu After Seeing These 23 Stunning Photos
Day 2: Alona Beach, Panglao Island, Bohol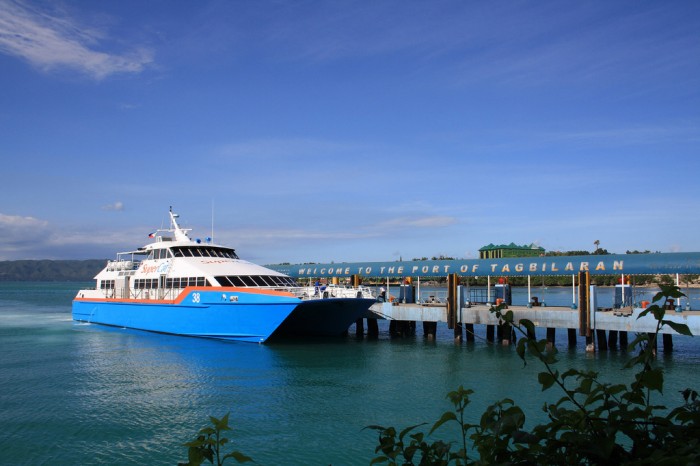 Image credit: Vincent Paul Sanchez
Wake up early so you can catch the earliest fast-craft to Bohol. It takes approximately two hours to reach Tagbilaran, the capital city of Bohol. When you arrive at the Tagbilaran port, a lot of local tours operators will approach you. "Day Tour, Mam, Sir?" "Van?" "Tricycle?" You'll be overwhelmed if you have not pre-arranged a tour prior to your arrival. But if you like spontaneity, follow your gut and approach anyone. Don't be scared; the locals there are so friendly, earning them the title as the "City of Friendship." Just hire a tricycle, which normally asks for a special fare of PHP 300 – 400 to Alona Beach in Panglao Island.
I'm pretty sure your muscles are still aching from your Cebu adventure, so Day 2 is all about chillin' and having fun. There are so many accommodations in Alona Beach. No need to worry about a place to stay, but in the unfortunate event that you won't find a room, get your towels or blankets out and sleep at the beach. No harm for sure!
Tip: Pre-book your Day 3 Bohol tour at Seashine Travel and Tours. You can see their small booking office right at the corner of the road going to the beach. Tour prices could vary depending on your chosen vehicle and tourist spots, but I highly suggest that go for a joiner group tour which only costs PHP 400 per person. Also, don't forget to try The Buzzz Cafè's ice cream, which comes in many organic flavours such as avocado, mango, guyabano and more.
Day 3: Bohol day tour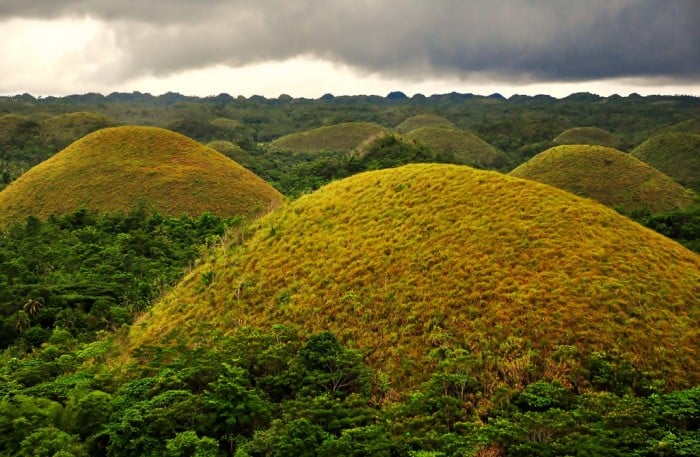 Chocolate Hills | Image credit: Johanna Alexis
By now, you must have relaxed a bit at Alona Beach. When you followed my suggestion to go for a group tour, you'll be instructed to wait at a designated pick up location at around 6:00 AM. What to expect from this group tour? You'll be mixed with other people (both local and foreign) in a van. When we had our trip, the van was filled with more foreigners than Filipinos. It was a diverse mix of people from Europe and Asia. If you're not comfortable interacting with foreigners, well, you can always rent the entire van or car for yourself.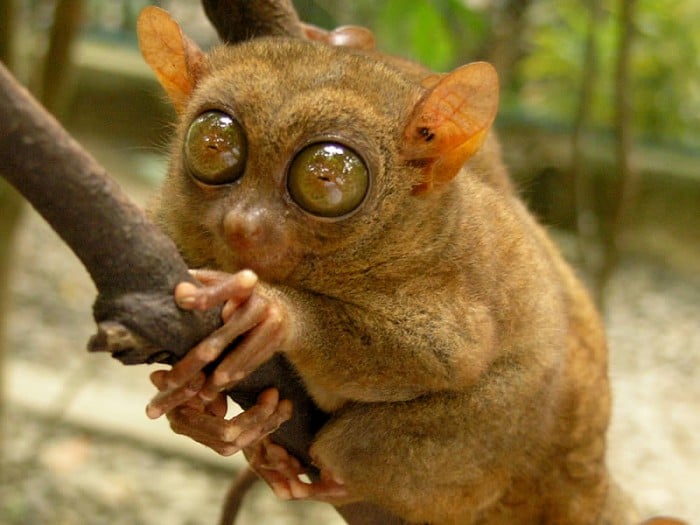 Image credit: Roberto Verzo
I managed to get a flyer (correct as of March 2015) from Seashine Travel and Tours. The group tour basically includes all the major attractions of Bohol including the Chocolate Hills, the Tarsier Conservation Center, Loboc River and many more. Describing all the Bohol attractions inclusive of the tour will be another piece to write so, if you're wondering about the prices and the tour inclusions, see flyer below: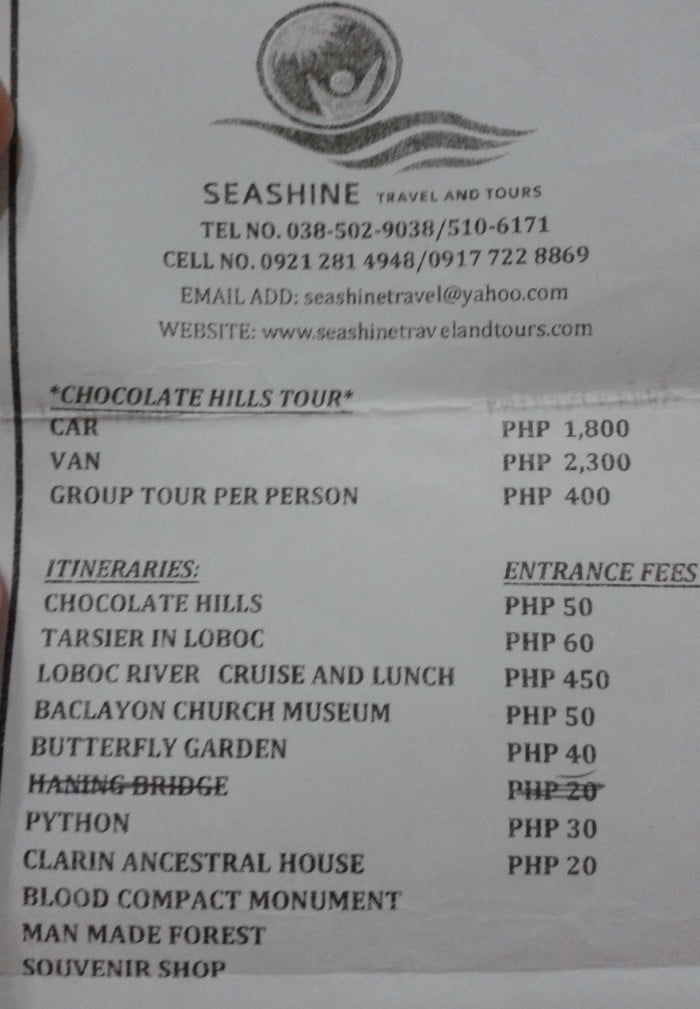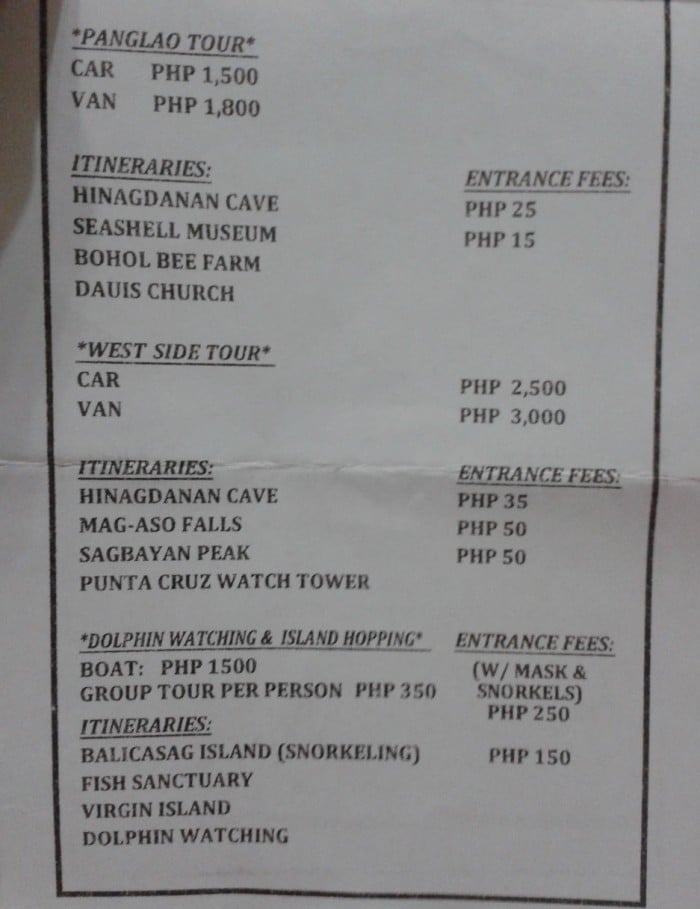 The tour would probably end at 5:00 PM or 6:00 PM. After the tour, you may ask your van driver to drop you off at the Tagbilaran Port so you may still catch the next fast-craft or boat back to Cebu.
Also read: 23 Fun and Free Things to Do in Cebu
That's it! Too jam-packed you say? Yes, I made it that way so you can have many options. You all have the freedom to personalise your trip anyway, but I hope this three-day itinerary helps.
Enjoy and happy trip planning!