Whether you're coming to Cape Cod to see its authentic pirate's treasures or devour freshly harvested Wellfleet oysters, there's always something exciting to try in this hook-shaped peninsula in Massachusetts. What's more, the sandy coastal paradise offers stunning shorelines and beautiful lighthouses often framed in postcards — the perfect place for yet another Insta-worthy shot!
One way to elevate your trip is by booking the perfect Cape Cod Airbnb of your choice. Yup, the one that promises an unforgettable coastal escape you didn't know you needed. So, read on to learn more about these top vacation rentals in Cape Cod, from a gorgeous barnhouse to a charming windmill home!
Also read: 10 Gorgeous Airbnbs in Upstate New York for the Perfect Weekend Escape 
The prettiest Cape Cod Airbnb homes for your East Coast getaway
1. This pristine barnhouse with a welcoming vibe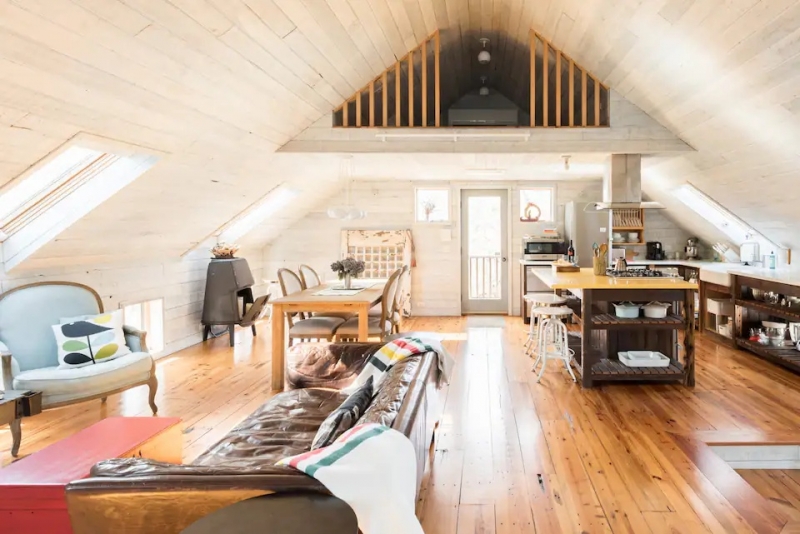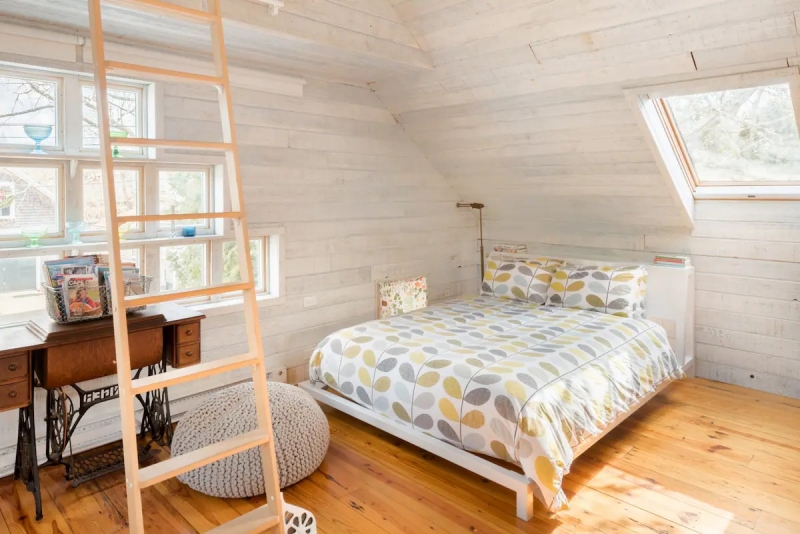 Listing name: Cape Cod Summerhouse, Creek-side Barn in Sandwich Village 
Listing type: Entire guesthouse
Max. no. of guests: 2
No. of bedrooms: 1
Nestled in the town of Sandwich is this hygge-style Cape Cod Airbnb. Enter the abode, and you'll be greeted by a homely, serene atmosphere that balances rich comfort and simplicity. This spacious home base for two offers a true retreat from the hustle and bustle of life and full access to use the yard, hammock, and the creek side chairs provided. 
To top it all off, you can have a relaxing getaway in its complimentary sauna access that will be preheated upon request. Ready for some adventure? The Sandwich Glass Museum, Shawme Lake, Dexter Grist Mill, HoxieHouse, and the scenic Boardwalk Beach walking trails are just a 20-minute walk from the stay!
2. This eye-catching cottage near a freshwater lake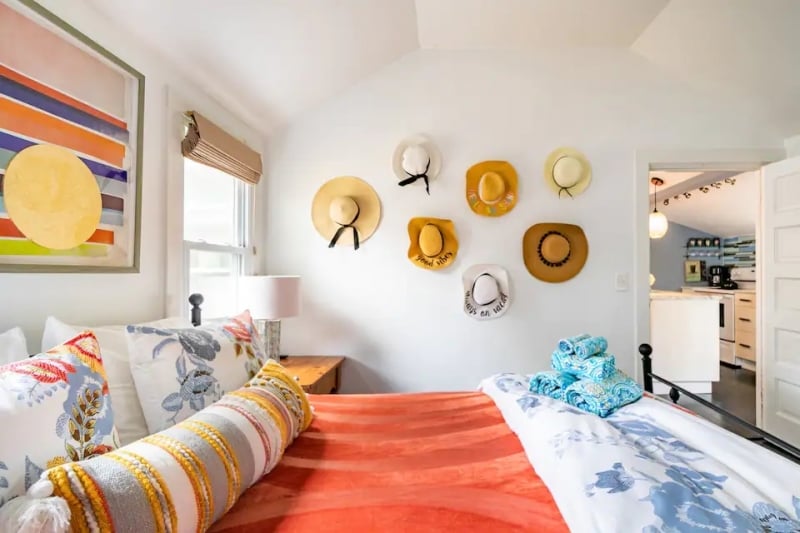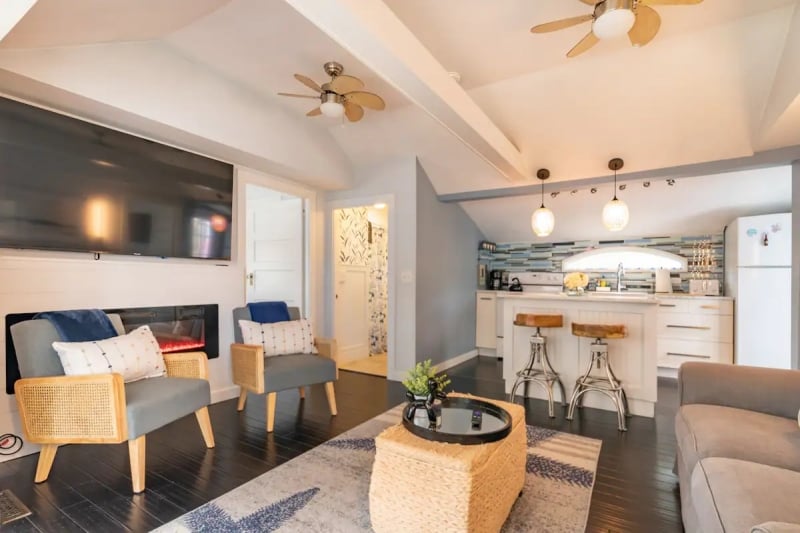 Listing name: ★Waterview ★Pet Friendly ★Kayaks ★Trails ★
Listing type: Entire cottage
Max. no. of guests: 4
No. of bedrooms: 2
Admit it, one look at this vibrant residence, and you already feel like jumping into the screen! The colourful interior, paired with a neutral backdrop, successfully exudes a lively yet comforting ambience to the space. 
Aside from lazing around all day, you can fill your time by swimming in the nearby lake or paddling the free-to-use kayaks to your heart's desire. Or better yet, explore the Mid Cape by driving to downtown Dennis and digging in the hearty meals from the many restaurants in the area.
Raining outside? Books, board games, a TV, and a well-stocked kitchen for making snacks will keep you busy inside! Did we mention that this Airbnb in Cape Cod is pet-friendly? All the more reasons to add this to your itinerary. 
3. This remodelled farmhouse with the cosiest vibe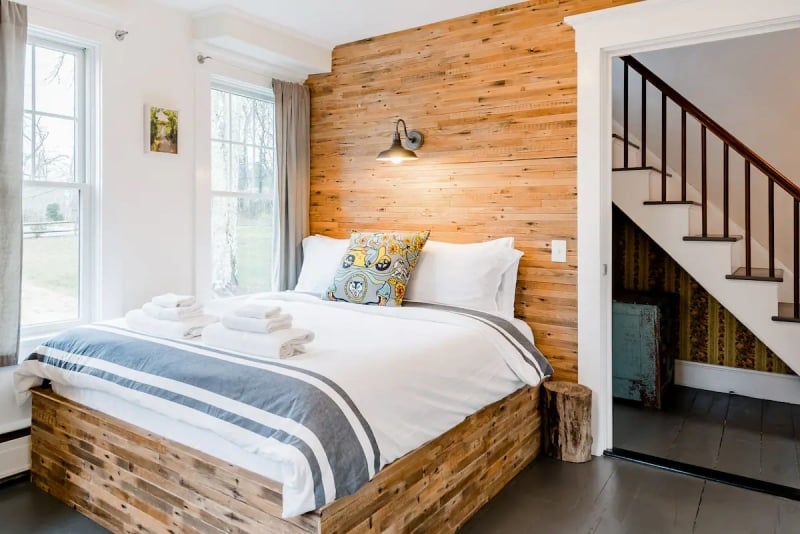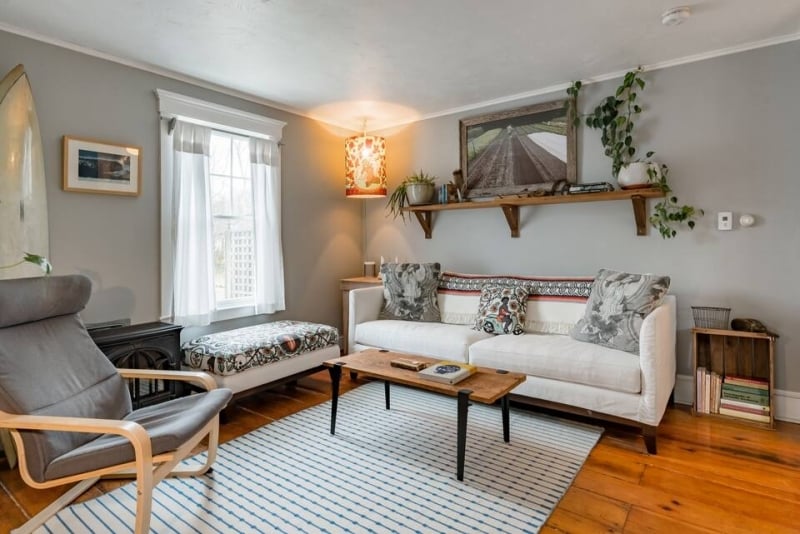 Listing name: Julie's Roost at Halcyon Farm
Listing type: Entire room in a bed and breakfast
Max. no. of guests: 2
No. of bedrooms: 1
This quaint abode with a rustic interior is the place to be for any lovebirds or travel buddies on the hunt for an ideal farm stay experience. The blend of carefully designed wainscoting and patches of white and grey here and there truly puts solace and tranquillity in the space. 
As the Halcyon Farm surrounds the home, expect to wake up to the chirping of birds, so soothing to the ears. Afterwards, embrace the misty morning dew as you stroll the lovely garden outside with a cup of brew in one hand. 
When there's nothing left to do in your temporary haven, head to Cape Cod Bike Trail, which'll take you to the pristine Cape Cod Bay and the lush Nickerson State Park. Hands down the perfect Airbnb in Cape Cod that promises all things nature and comfort!
4. This finest airstream camper with complimentary bikes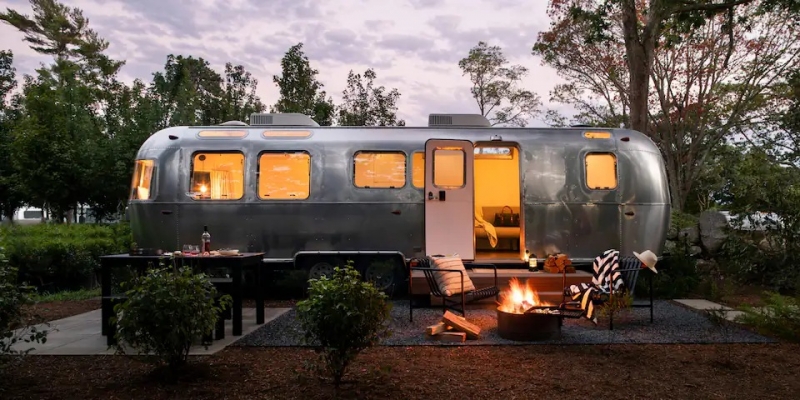 Listing name: Autocamp Cape Cod Classic Airstream Suite
Listing type: Entire boutique hotel
Max. no. of guests: 3
No. of bedrooms: 1
This quirky Cape Cod Airbnb will do the trick for vacationers looking for a unique stay in the coastal haven! When else will you sleep in an airstream, if not during your next vacay in Falmouth? Aside from being one with nature, you'll get to enjoy a complimentary coffee or tea in the morning before you go cycling along the scenic trails around the area. 
Come evening, and it's time to set your bonfire camp and stargaze to your heart's content. So, don't forget to bring some s'mores to nom-nom the night away with your loved ones. Talk about the Cape Cod Airbnb that'll take you back to the childhood memories you can no longer afford to pay a visit. 
5. This nautical-themed dwelling near Red River Beach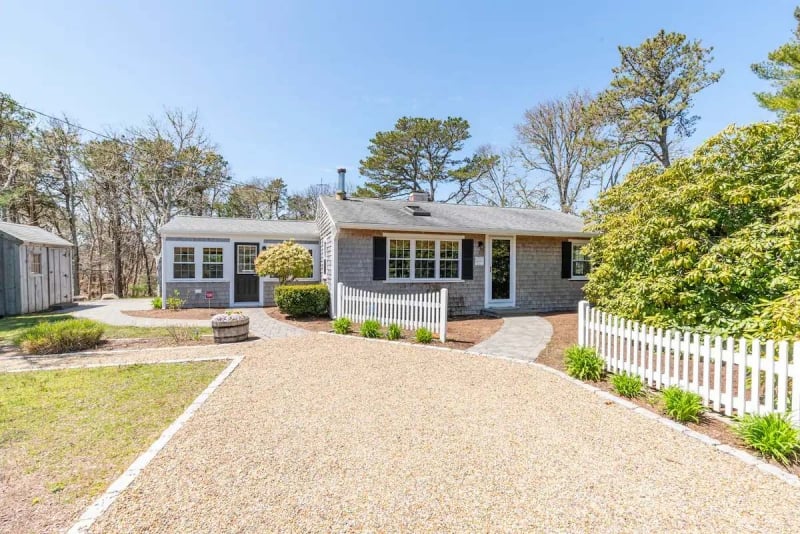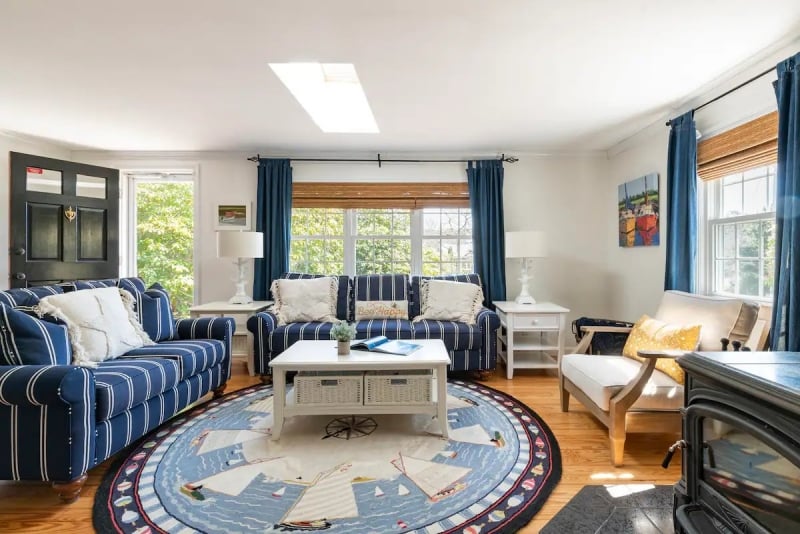 Listing name: Harwich Port home close to Red River Beach
Listing type: Entire home
Max. no. of guests: 5
No. of bedrooms: 2
This sea-inspired Airbnb in Cape Cod will be the best stay for a family of five looking to spice up their sun-soaked holiday in Harwich! Offering both comfort and visual delights, the space also comes with a sunroom that can be used as a bedroom equipped with twin trundle beds and drawers. 
Make sure to try out its outdoor shower, have a fun BBQ night on its large deck, or simply take a fresh breather from its open-air patio. When it's time to explore, the Red River Beach, Harwichport, and the Cape Cod Bike Trail are just a few minutes' drive from this stay!
Also read: 14 Gorgeous Airbnbs in Big Sur to Book on Your California Road Trip
6. This charming windmill homestead in Chatham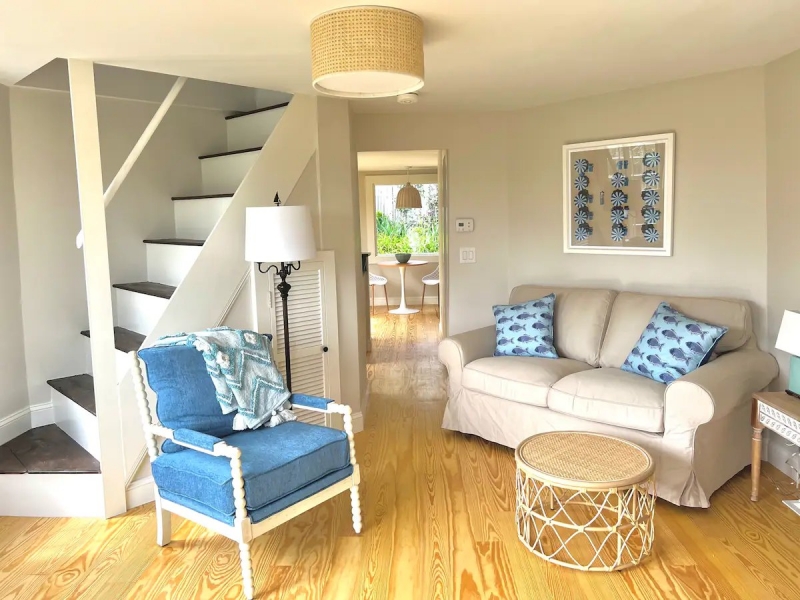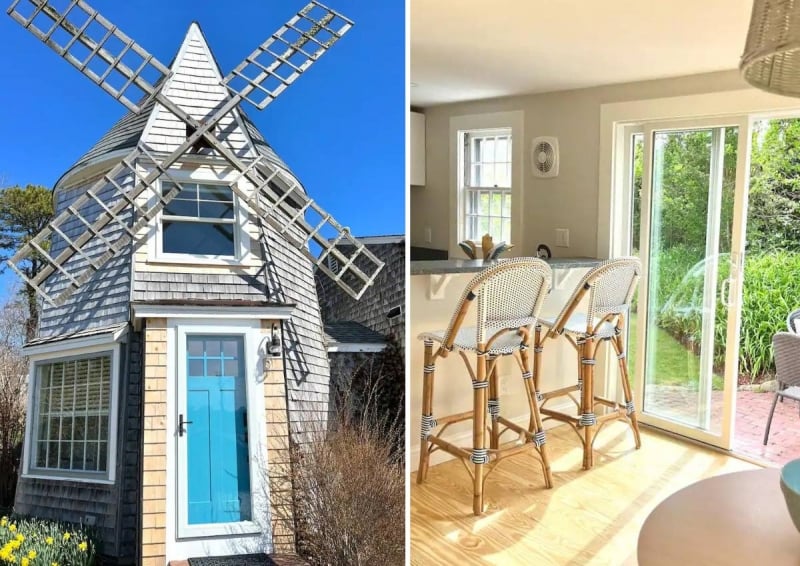 Listing name: Renovated Chatham Windmill! Walk to Beach/Town!
Listing type: Entire cottage
Max. no. of guests: 2
No. of bedrooms: 1
Spend the night in this adorable windmill cottage with your BFF on your next trip to Chatham! As if staying in a literal windmill is not cool enough, this peaceful dwelling is also super close to Oyster Pond Beach. So, treating yourself to the spectacular views of the sunny, open beach from its private patio is a must!
The space is cosy enough to accommodate two people at once despite its size. We're talking a king-size bed, a fully equipped kitchen, and well-designed dining and living areas that are squeaky clean, too. Definitely a rare Cape Cod Airbnb that's worth your penny!
7. This wonderful Cape Cod Airbnb with splendid bay views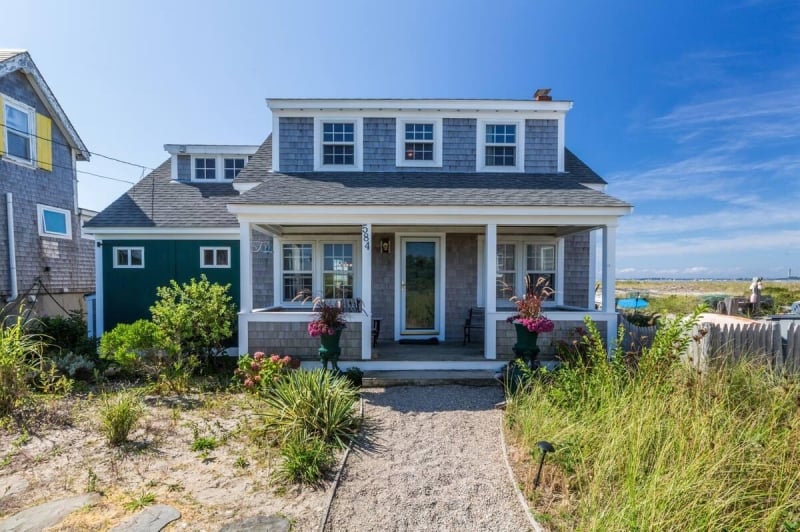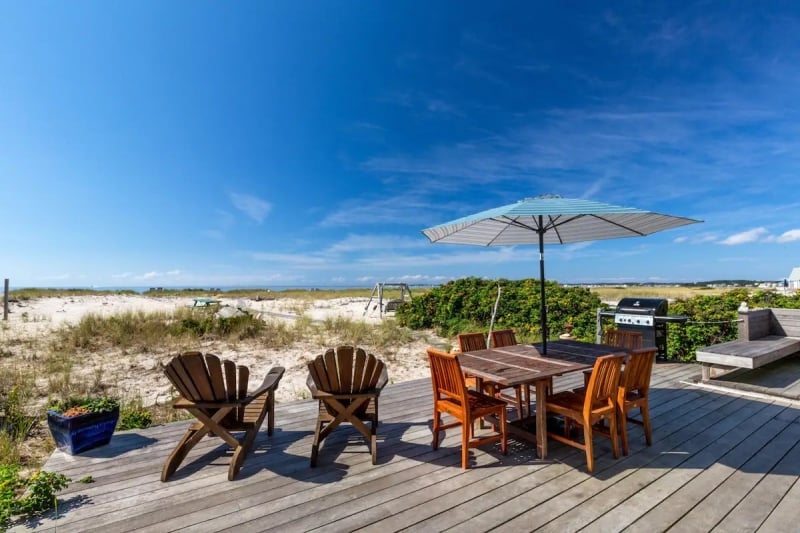 Listing name: Quintessential Waterfront Cottage
Listing type: Entire home
Max. no. of guests: 6
No. of bedrooms: 3
What better way to soak in the fun when going to Cape Cod than staying in this quaint beachside hideaway? That's right. You can walk on the sandy beach all you want while the breeze gently blows through your hair — all when you book this stay. Not only that, the space also offers great views of the Pilgrim Lake nearby. 
Did we mention this cottage is built just over the Provincetown border in the Beach Point area of Truro? This means you'll get to try all the fun activities in Provincetown and enjoy the tranquillity of a private beach in Truro simultaneously! Talk about the best Airbnb in Cape Cod with beachfront views that offer the best of both worlds.
8. This idyllic lodging in white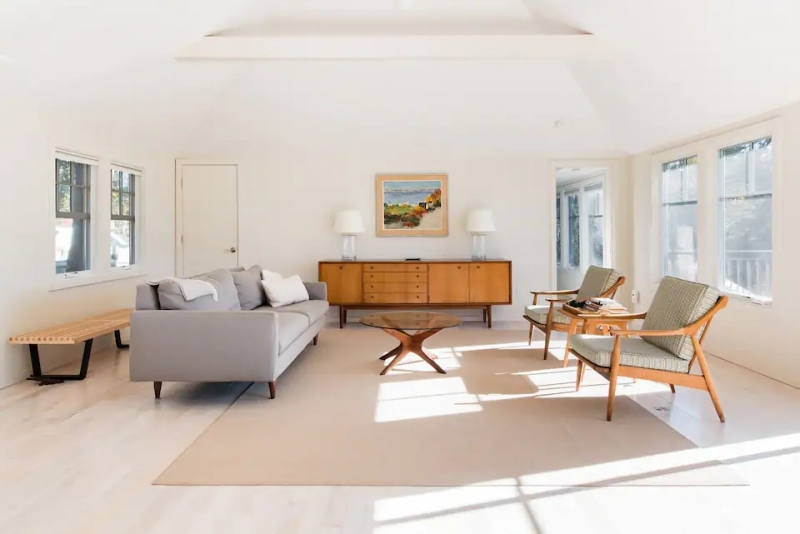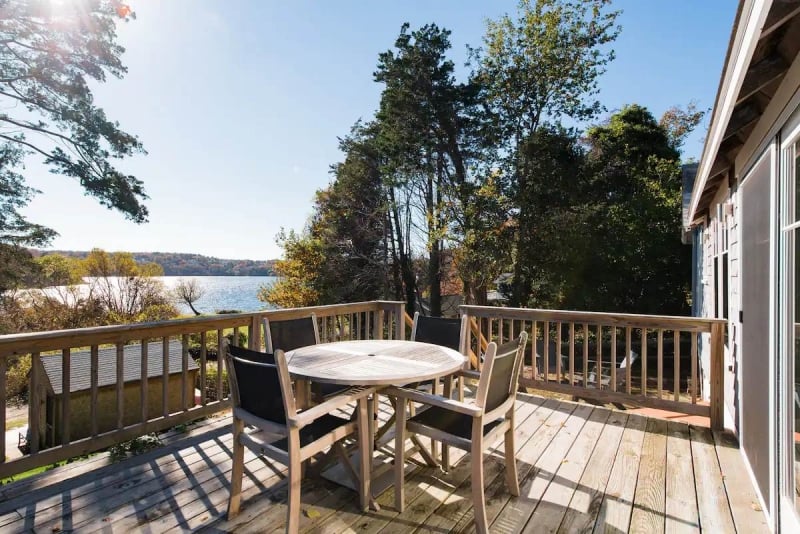 Listing name: Dennis Cottage Featured in Boston Globe Magazine. 
Listing type: Entire home
Max. no. of guests: 4
No. of bedrooms: 2
This spotless Airbnb in Cape Cod is the perfect retreat for a family-friendly staycation in Dennis. Step inside, and a calming vibe will embrace you as the beautiful cottage interior was designed with sheer love for a neutral palette. The living area, blessed with natural light, is the best place to finish a book or two, take a nap, or have a fun card game session with your loved ones. 
If that's not enough, walk out the door and chill on its open-air balcony overlooking the dreamy Scargo Lake for fresh air. Or better yet, stargaze all you want from the spacious patio come nightfall. If you happen to stay here on Monday, be sure to head to the nearby Village Green for its lively night concerts. Another worth-mentioning close-by attraction is the Cape Cod Playhouse Summer Theatre — a must-visit for all theatre enthusiasts out there!
9. This gorgeous retreat with an outdoor sauna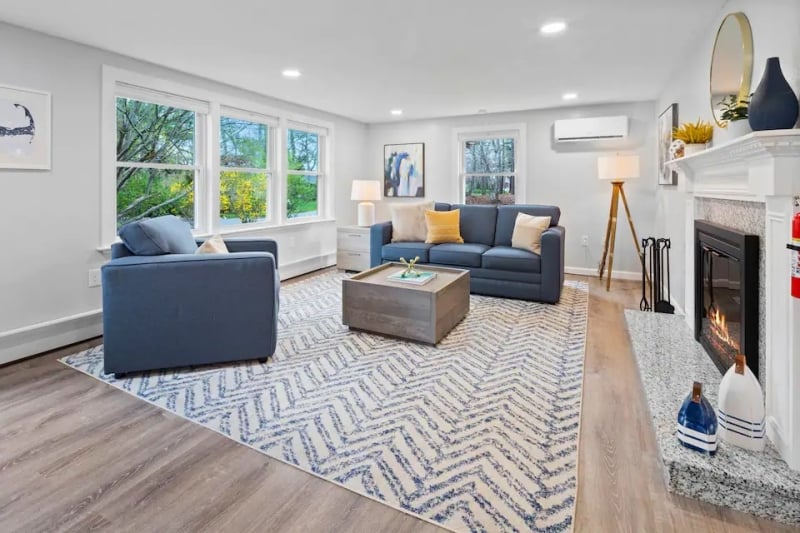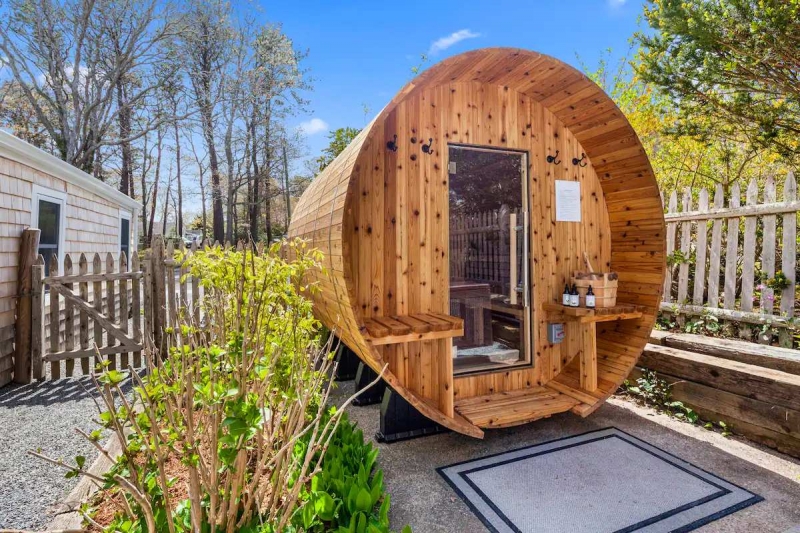 Listing name: Cozy Oasis with Top Amenities in Perfect Location
Listing type: Entire home
Max. no. of guests: 8
No. of bedrooms: 3
Calling for a group of eight planning on taking Cape Cod by Yarmouth first! This coastal-themed Airbnb will be the best safe haven in the Mid Cape on your next vacation. FYI, the house is powered by a solar panel to lessen your carbon footprint, and in its backyard is a capsule-shaped sauna room built with aesthetic wooden planks. 
This space allows you to binge-watch your favourite Netflix shows all day and have a fun outdoor dining experience with your buddies in its lounge area. Plus, you can take the beach chairs and water sports equipment (provided by the Host) to the Mayflower Beach nearby to soak in some fun with your best bunch!
10. This monochromatic Cape Cod Airbnb with a pool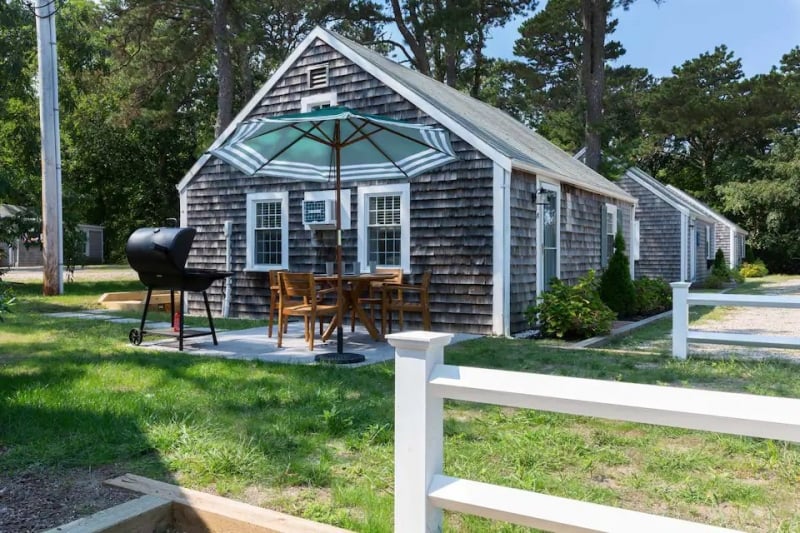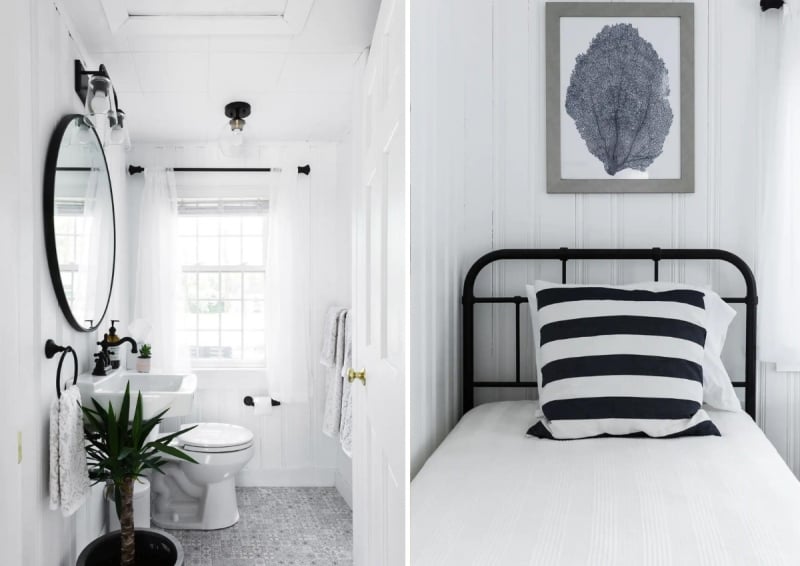 Listing name: E. Sandwich Cottage. Dog's OK, Restaurants, Beach! 
Listing type: Entire cottage
Max. no. of guests: 4
No. of bedrooms: 2
You're in for a sleek stay with this classy home in the East Sandwich. The combination of black and white in its interior gives the space an elegant and timeless vibe. So, what to do in this luxurious piece of paradise? You can connect to high-speed WiFi and stream your favourite movies on Netflix, Hulu, Amazon Prime, Disney, and more. 
Had enough screen time? Cook some light meals in the fully renovated kitchen with brand-new appliances. To freshen up a bit, take a dip in the in-ground pool and have a splashing good time with your loved ones. Psst, pets are also allowed here. So, do add this stylish Airbnb in Cape Cod with a pool to your list of must-book homes now!
11. This sun-soaked property with a private beach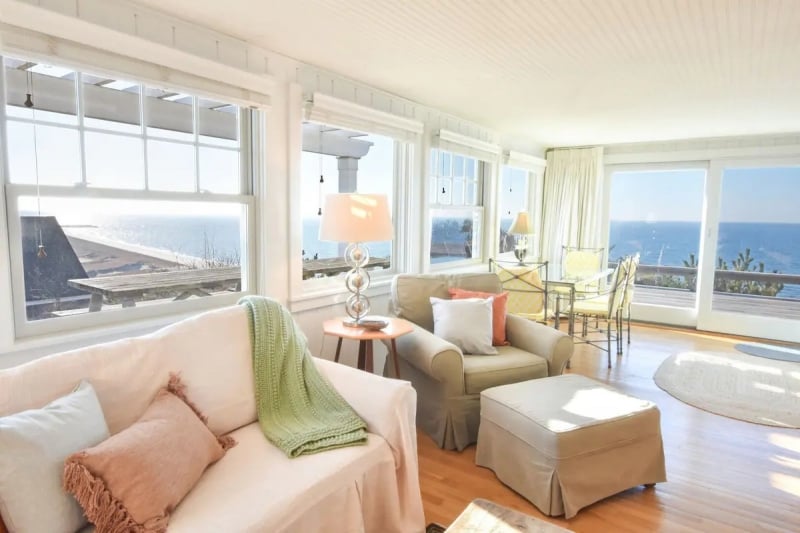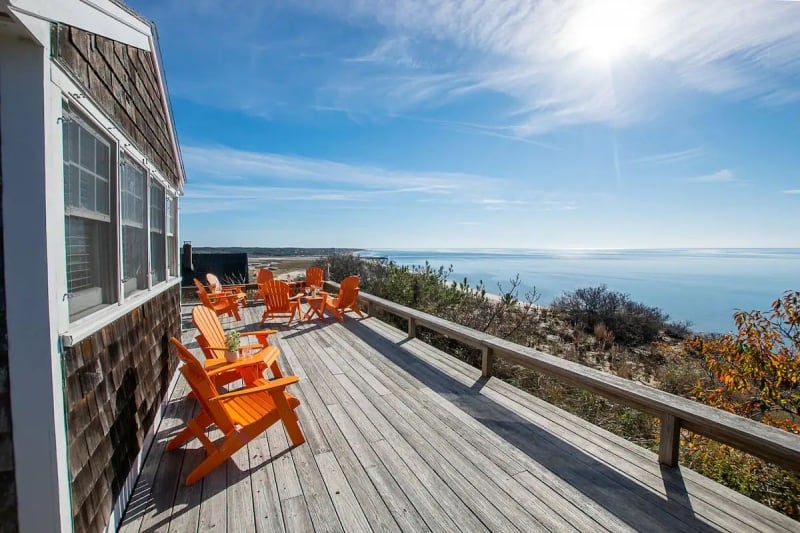 Listing name: Overlooking Cape Cod Bay Private Beach!
Listing type: Entire home
Max. no. of guests: 7
No. of bedrooms: 3
For an ultimate getaway in the sunny town of Truro, check out this exceptional homestead with a pastel-hued interior. This is the place to breathe in the salty air and wake up to the sound of crashing waves. 
The main highlight of this  Airbnb in Cape Cod is none other than its outdoor back deck equipped with Adirondack chairs and picnic table seating. Accompanying you will be the stunning vistas of the bay, Truro dunes, and the Pilgrim Monument in the distance. 
When it's time to head outside, be sure to visit the Payomet Performing Arts Center and Truro Vineyards. Or, you can join a day trip to Provincetown for a fun-filled getaway in Cape Cod!
12. This homey, two-storey stay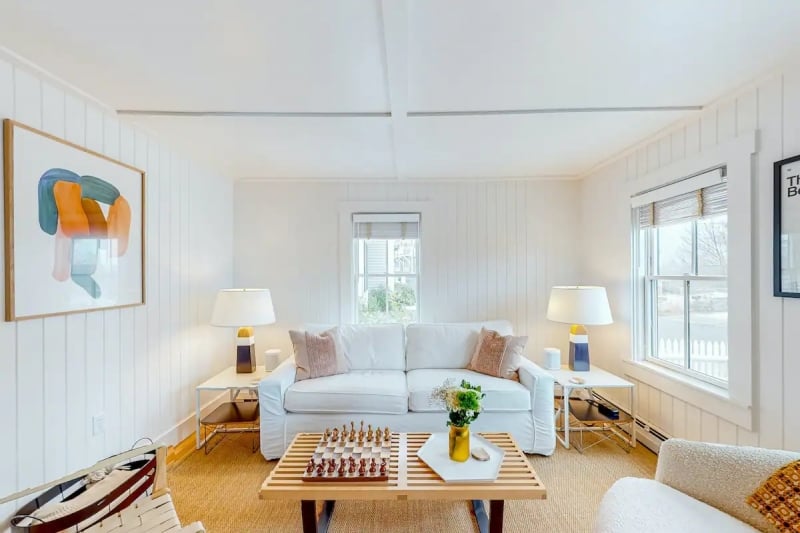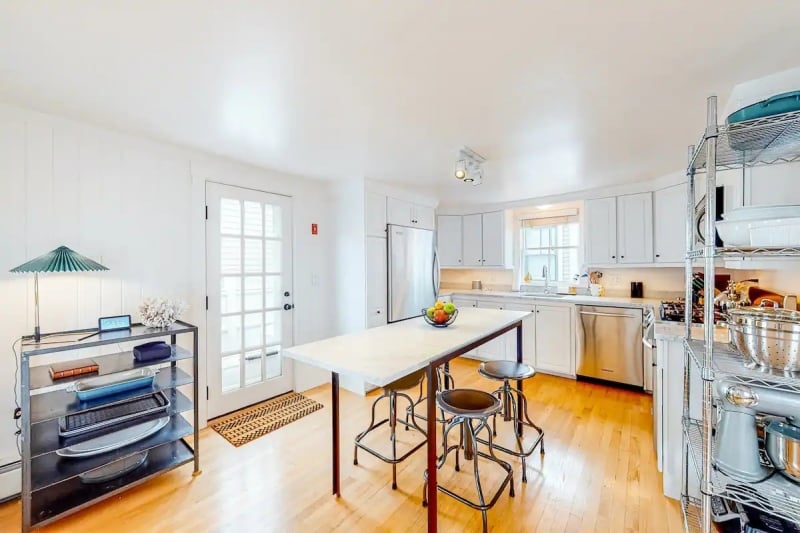 Listing name: Stylish 2BR | Chef's Kitchen| Patio | Firepit
Listing type: Entire home
Max. no. of guests: 4
No. of bedrooms: 2
One of the prettiest Airbnbs in Cape Cod is this minimalist residence in the heart of Provincetown. Kick off your morning with an alfresco breakfast on the outdoor brick patio before you head to Herring Cove and Race Point Beaches, less than a six-kilometre drive from the stay. 
Have extra time on your plate? Check out the Cape Cod National Seashore less than 10 miles away (by car) from the abode. After a long day of exploring, come home to your cosy bedroom and plunge into your comfy bed beneath the rafters. 
Also read: 22 Best Beach Houses to Book on Airbnb, From California to Hawaii
So, what are you waiting for? Pick the comfiest Airbnb in Cape Cod and book your fondest memories in the hooked-shaped coastal paradise today!
Got a property you'd like TripZilla to feature? Inquire with us here.
---
This article contains affiliate links. When you book through these links, we may earn a small commission at no additional cost to you. All images courtesy of the respective property listings.