Cameron Highlands is one of the best travel destinations in Malaysia. It is best known for its cooling weather, beautiful tea gardens, as well as fresh fruits and vegetables. Whether you're local or tourist, this place is perfect for an escape from the bustling urban life, and the scorching hot weather all year round. If you're planning to visit and are seeking where to stay in Cameron Highlands, then this article is for you.
We've come out with a list of the best Airbnb in Cameron Highlands. From family-friendly homestays to private rooms for solo travellers, there must be one that suits you.
Also read: 15 Gorgeous Airbnbs & Vacation Rentals in Kuala Lumpur You'll Want to Live In
Best Cameron Highlands Airbnb homes
1. This artsy two-storey penthouse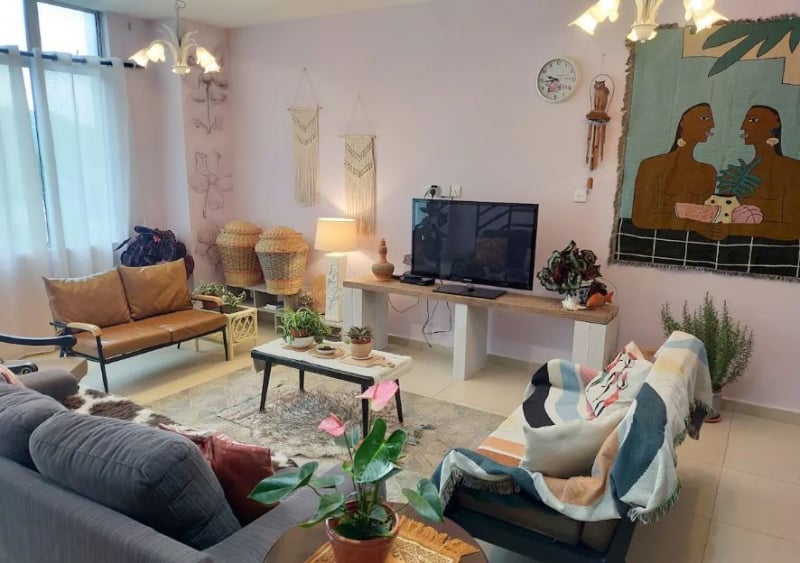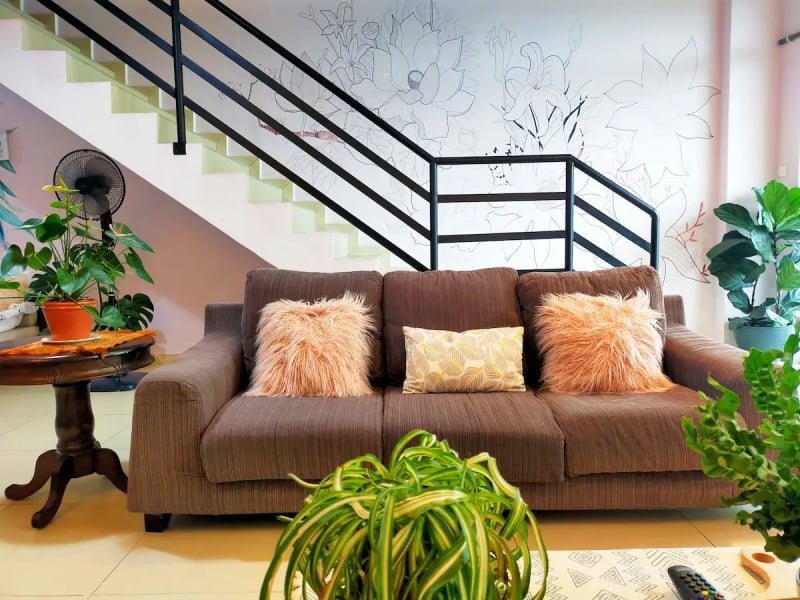 Listing name: Big Double Storey Bohemian Arts Penthouse
Listing type: Entire condo
Max. no. of guests: 8
No. of bedrooms: 3
Who doesn't like a vibrant, bohemian-inspired home? This Cameron Highlands penthouse Airbnb has two floors and plenty of space to relax and enjoy the interiors. The entire space is filled with green plants, stunning decorations, and unique artwork — providing guests with a one-of-a-kind stay. Popular attractions like Cactus Valley and Big Red Strawberry Farm are also within walking distance. 
2. This simple yet spacious studio with a mountain view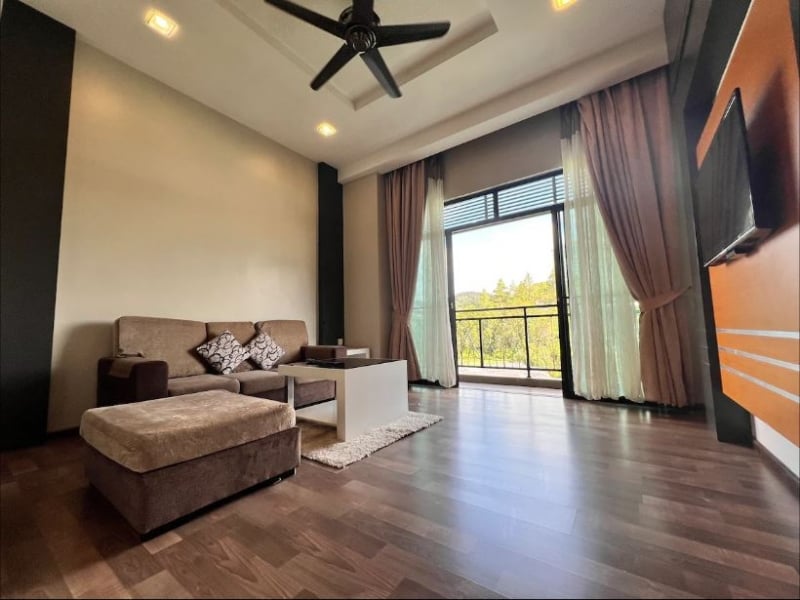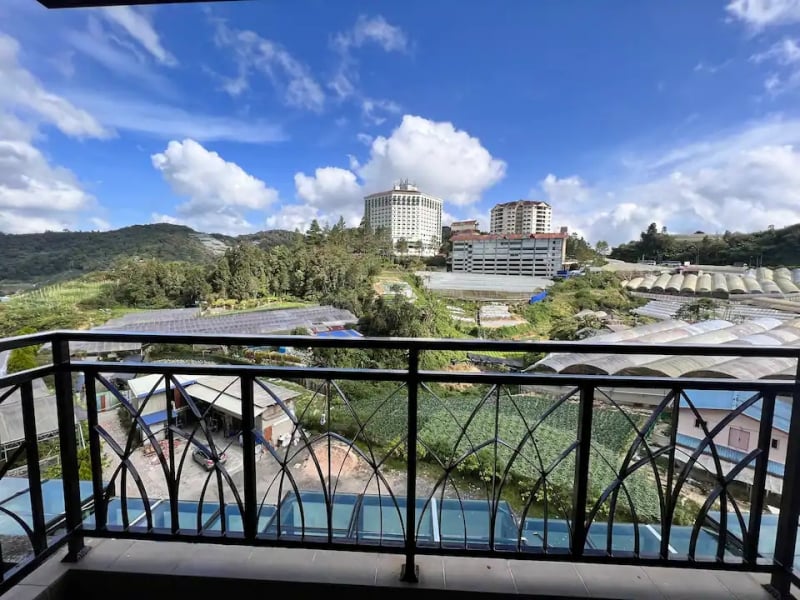 Listing name: Hotel Studio Aparment – Wonderful Mountain View
Listing type: Room in aparthotel
Max. no. of guests: 4
No. of bedrooms: 1
This studio apartment in Brinchang is spacious and ideal for couples or small families of four. The design of this place is simple yet comfy, and very clean as well. The balcony allows you to enjoy a fantastic view of the mountains and greenery. There is also free parking provided to guests. You can easily walk to attractions like strawberry farms, the Butterfly Farm, and The Sheep Sanctuary from this Airbnb. 
3. This Cameron Highlands Airbnb with stunning sunset views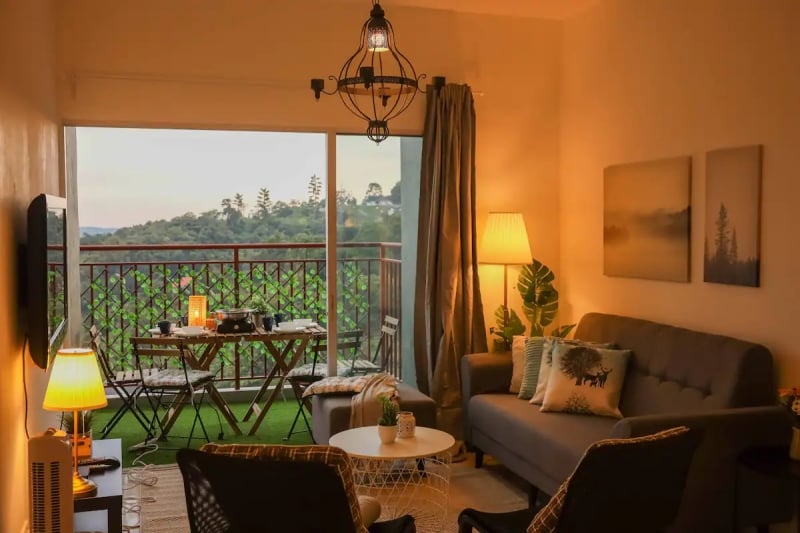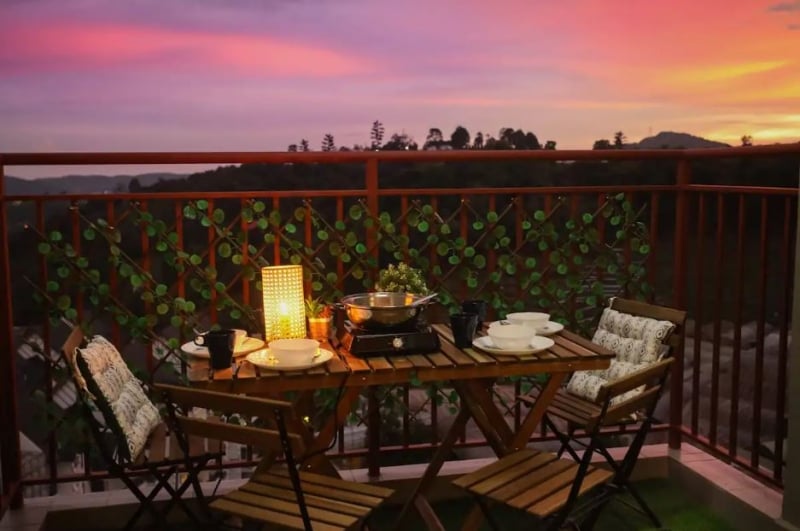 Listing name: Emerald Avenue 213 Brinchang 8 Guests 3 Bathrooms
Listing type: Entire rental unit
Max. no. of guests: 8
No. of bedrooms: 3
Stay in this gorgeous Airbnb in Cameron Highlands and enjoy a romantic getaway with your loved ones. This accommodation features a modern and unique design, as well as warm yellow lamps and lights that elevate the entire staying experience. Guests can grab a drink, or hold a steamboat party while enjoying the magnificent sunset. The Centrum Cameron shopping mall is also just a few minutes' walk away.
4. This sleek Cameron Highlands Airbnb that looks like a hotel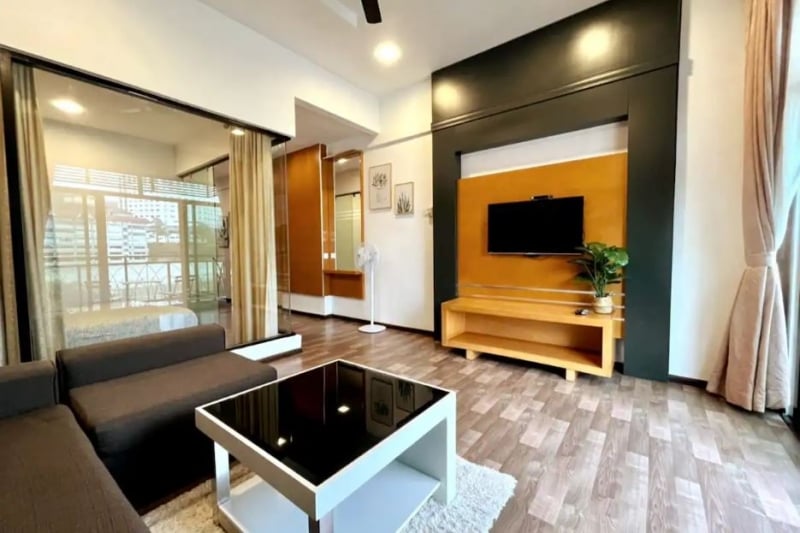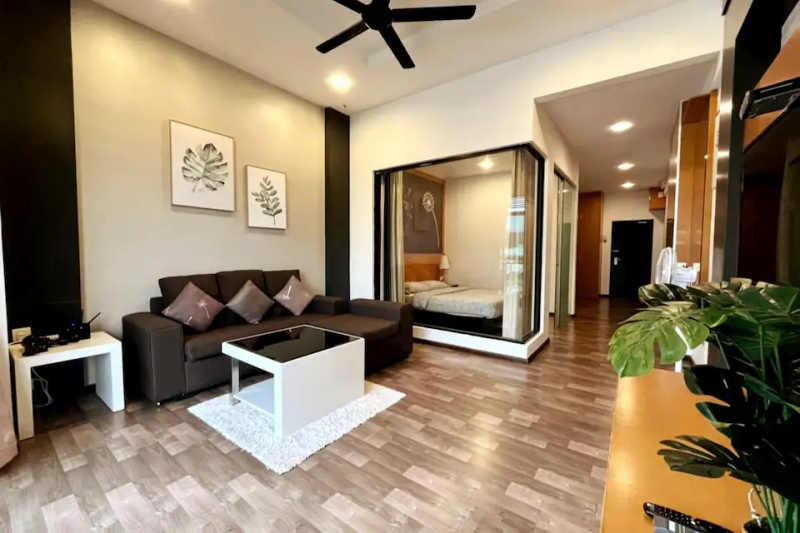 Listing name: Green Nature Studio 1 -Nearby BohTea & Floral Park
Listing type: Entire vacation home
Max. no. of guests: 2
No. of bedrooms: 1
This vacation home in Brinchang is called Green Nature Studio. True to its name, it has a wooden and modern design, along with some small plants as decoration. This Cameron Highlands Airbnb is quiet and away from the traffic, while still being close to several famous spots. For instance, the BOH Tea Centre, Cameron Highlands Floral Park, and Kea Farm Market are all within walking distance. 
5. This Muji-like homestay with a refreshing valley view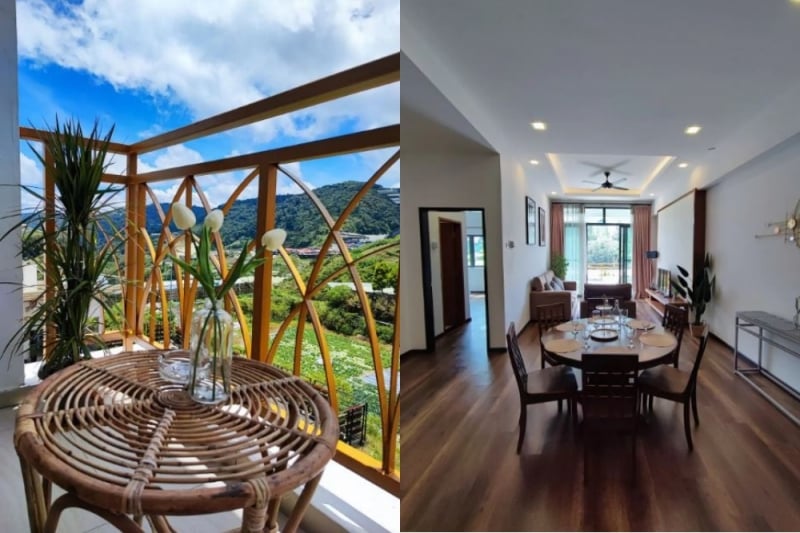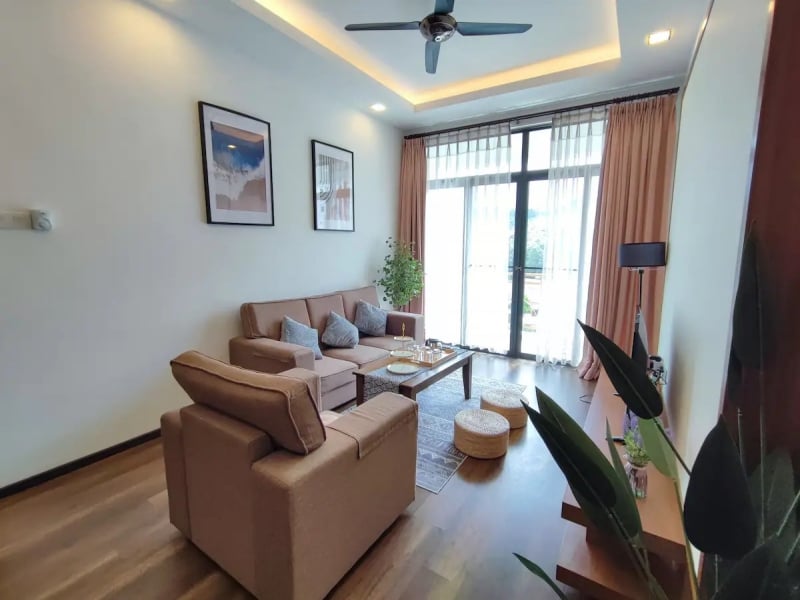 Listing name: Muji Homestay @ The Retreat, Cameron Highlands
Listing type: Entire loft
Max. no. of guests: 8
No. of bedrooms: 3
This Muji-style-inspired loft is situated inside The Retreat, Aranda Nova. It is another great choice if you're looking for where to stay in Cameron Highlands. Not only is this accommodation close to many famous destinations, but it also boasts a rejuvenating valley view. We love how this Cameron Highlands homestay Airbnb can fit up to eight guests, making it suitable for big families and large groups. 
6. This quiet studio apartment with a balcony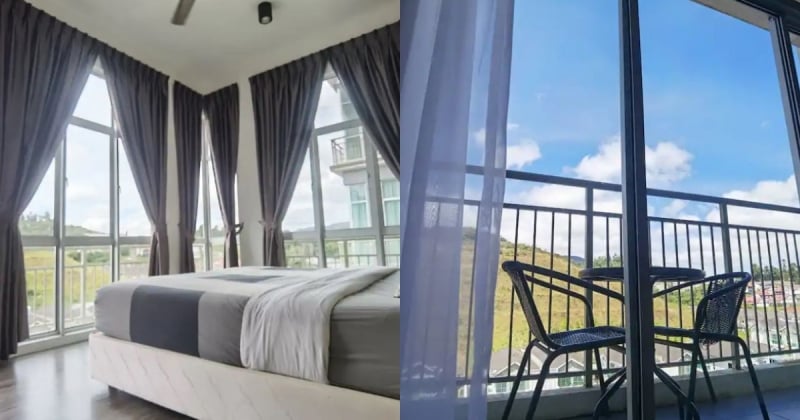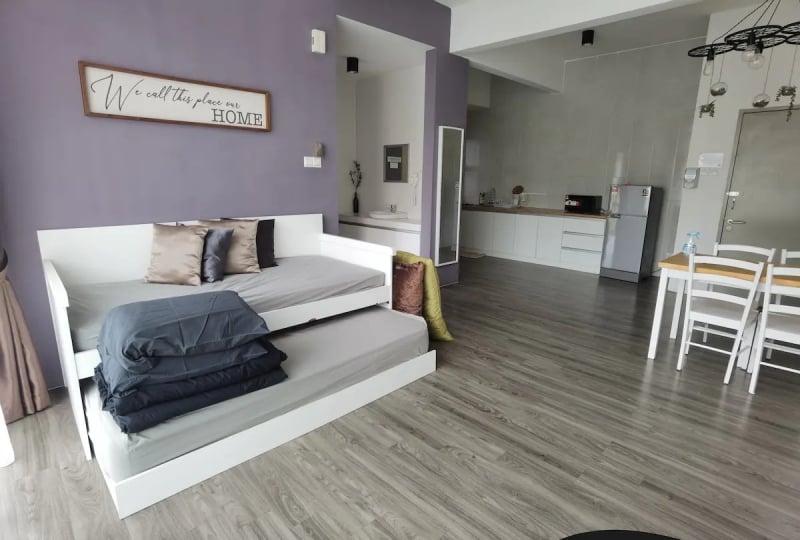 Listing name: G Residence-Deluxe Studio Apartment@Golden Hills
Listing type: Entire rental unit
Max. no. of guests: 4
No. of bedrooms: 1
Another ideal choice for travellers seeking where to stay in Cameron Highlands is G Residence. This apartment is conveniently located between Brinchang and Tanah Rata, perfect for those who want to explore the highlands comprehensively. It is trendy and tidy, featuring a bedroom with a king bed and two single beds in the common space. Other than the restaurants and shops, you can also visit the night market right in front of the Airbnb.
7. This massive and luxurious designer home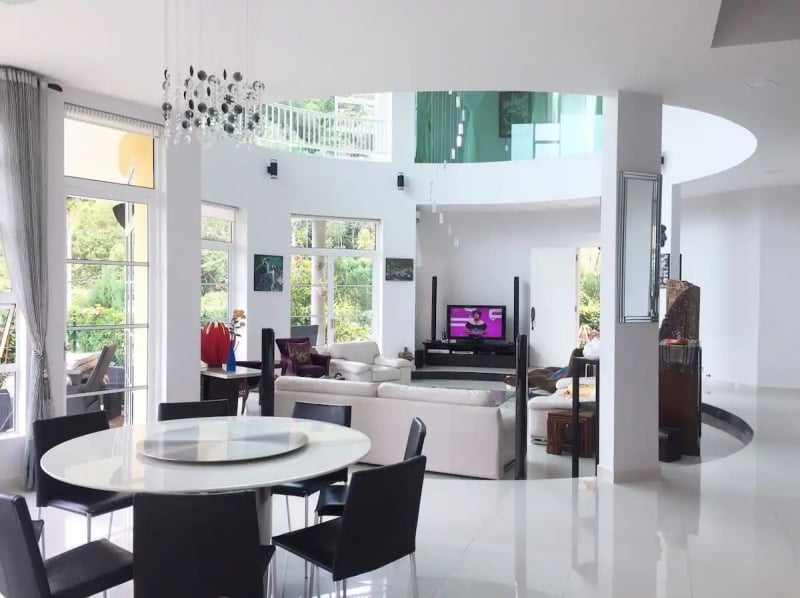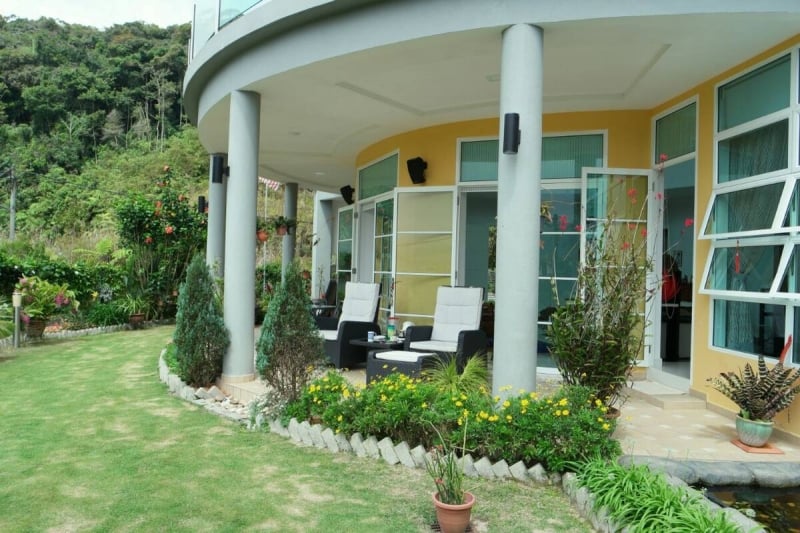 Listing name: Crystal Villa Cameron Highlands
Listing type: Entire bungalow
Max. no. of guests: 12
No. of bedrooms: 4
Crystal Villa is a Cameron Highlands bungalow Airbnb that is excellent for big families or large friend groups. The house is fully equipped with modern amenities. Both the exterior and interior have a lavish design with lots of windows that guarantee you an enjoyable experience. 
Besides, there is a bathtub, a well-tendered garden, a massive living room and dining room, a patio and even a koi pond. You can enjoy a barbeque or steamboat while bonding with your family and friends. What's more, a caretaker and helper will also be present for your convenience. 
8. This lovely themed home perfect for large groups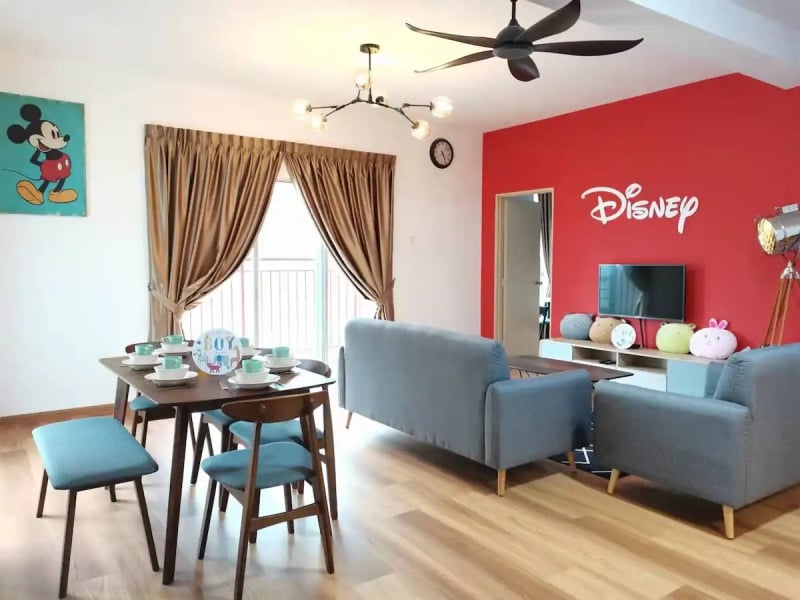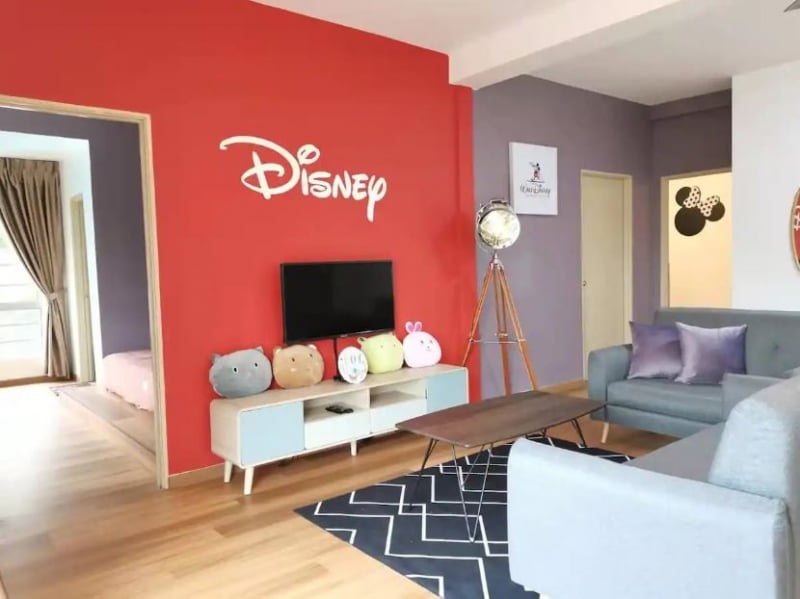 Listing name: Disney House 622 Emerald Avenue Cameron (WiFi)
Listing type: Entire condo
Max. no. of guests: 10
No. of bedrooms: 3
Nothing sounds more adorable than a Disney-themed Cameron Highlands Airbnb! Disney House is a luxurious stay surrounded by lush nature. This place is huge enough for big families as well as friend gatherings. Every corner of this space is decorated with lovely Disney characters, such as Mickey Mouse and Minnie Mouse wallpapers and paintings. With just a short drive from the Airbnb, you can visit places like Ee Feng Gu Bee Farm, Water Cress Valley, and Rose Valley.
9. This cosy room with a minimalist aesthetic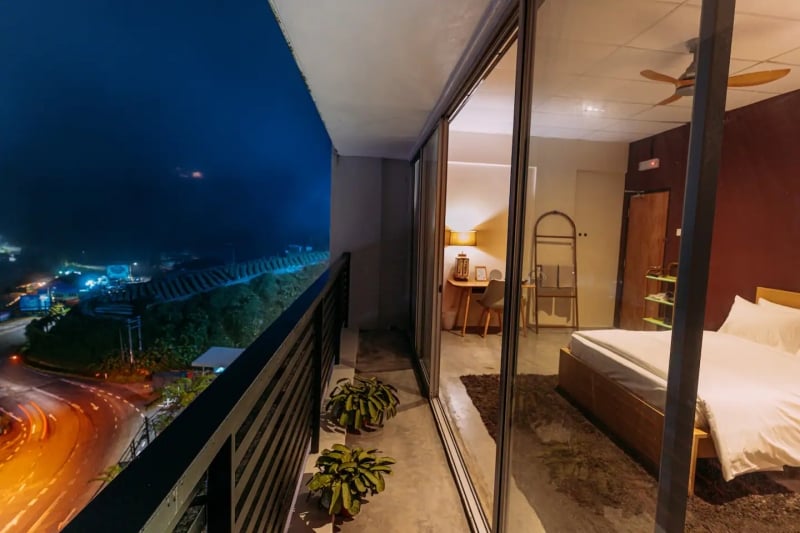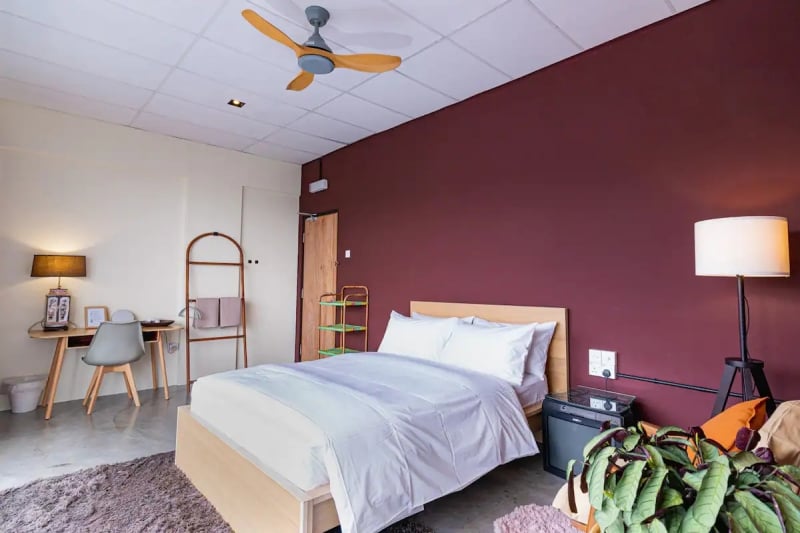 Listing name: Sunrise In A Hip Ensuite BR – Strictly No Children
Listing type: Private room in hostel
Max. no. of guests: 2
No. of bedrooms: 1
If you're travelling alone, why not check out this Cameron Highland Airbnb? Located on level three, this private room is suitable for travellers who want to have a peaceful stay without any interruptions. There is also a balcony in the room that faces the skies, where you can relish the glorious view of the sunset and sunrise. 
Additionally, the room has a stylish minimalist design with pops of colour. The convenient location allows guests to easily access Orchid & Rose Garden (O&R Garden), BOH Tea Centre, Ee Feng Gu Bee Farm, and other top tourist attractions by foot. 
10. This apartment unit with a homey vibe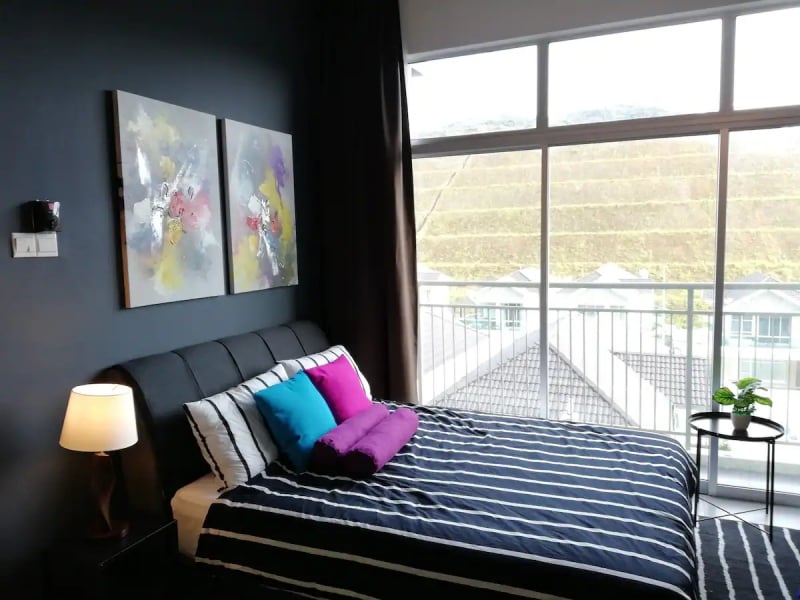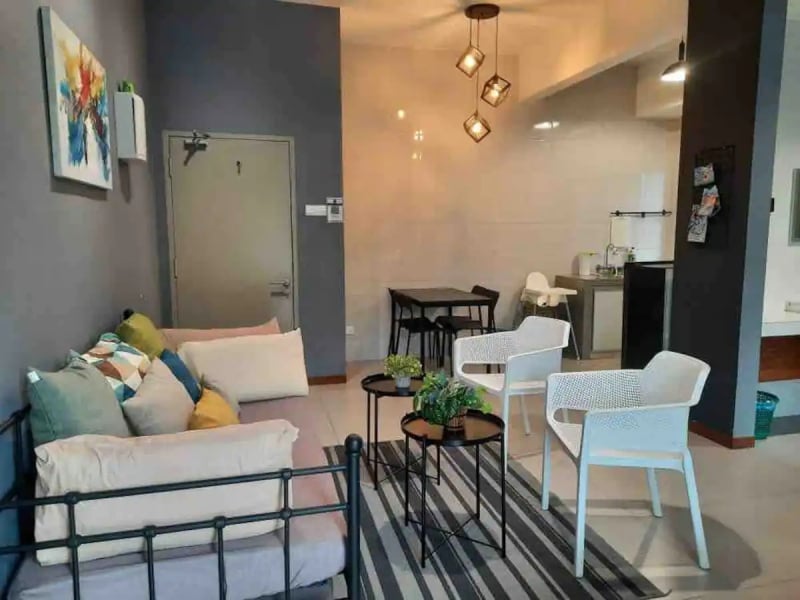 Listing name: J1 Cool Cottage Golden Hills Pasar Malam/AndroidTV
Listing type: Entire rental unit
Max. no. of guests: 7
No. of bedrooms: 1
This Airbnb in Cameron Highlands has a modern design that leaves every corner Instagram-worthy. It is equipped with a bedroom, living room, small kitchen and bathroom, perfect for couples as well as small families. The entire unit has a stylish yet cosy vibe that makes you feel at home. 
You'll find this Airbnb at Barrington Square, Golden Hills, where there's a famous night market right in front of the building. The complex also has a rooftop garden and an outdoor gym.
11. This contemporary Tanah Rata Airbnb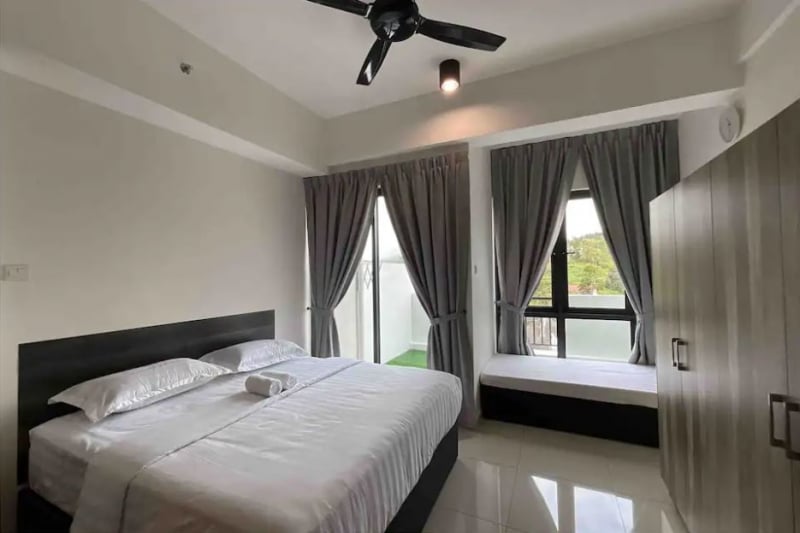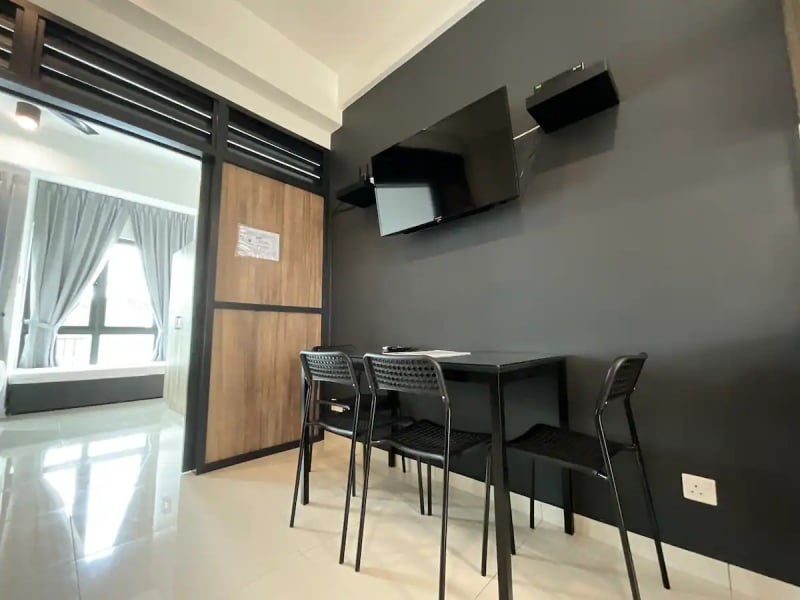 Listing name: NEW:Studio-Tanah Rata city view
Listing type: Entire rental unit
Max. no. of guests: 2
No. of bedrooms: 1
This accommodation in Tanah Rata is called the Cameron Fair Studio. For those who don't know, Tanah Rata is a large town in Cameron Highlands. Rata means "flat" in Malay, referring to the flat area the town is nestled in amidst the highland region. 
The Airbnb is equipped with modern amenities and has a contemporary design. You can relax on the balcony and enjoy the city view in the evening. It is also close to many nice restaurants and supermarkets. 
Also read: Bangkok or Kuala Lumpur: Which Southeast Asian Capital Should You See First?
Now that you know of the best options for an Airbnb in Cameron Highlands, why not plan a stay in one of these accommodations? We hope you enjoy the serenity here and the lovely nature vista. Have fun exploring this destination in Malaysia!
Got a property you'd like TripZilla to feature? Inquire with us here.
---
This article contains affiliate links. When you book through these links, we may earn a small commission at no additional cost to you. All images courtesy of the respective property listings.