Exploring the rainforest like monkeys, climbing and swinging from tree to tree – have you never dreamt about it when you were a kid? I might not be a monkey in this life, but at least I can reach the Malaysian treetop with some state-of-the-art canopy walks. Here are some of the best the country has to offer.
KL Forest Eco Park
Image credit: kia.my
It's no news that Kuala Lumpur [fzPrice]KUL[/fzPrice] is an urban jungle. However, it is not that hard to escape the city and into the wilderness. The KL Forest Eco Park, located at Bukit Nanas, was only recently opened and is free to enter. Although the surrounding skyscrapers reach higher into the urban sky than the trees and the canopy walk, the KL Forest Eco Park will provide a unique and unforgettable experience. The bridges stretches 15 metres above the ground and about 200 metres across trees and platforms.
Taman Negara Canopy Walk
Image credit:

Gouldy
Located in Taman Negara, Pahang, this canopy walk is one of the longest in all of Malaysia. It stretches over half a kilometre across big trees and reaches up to 45 metres in altitude. Besides climbing stairs from tree to tree, one can also be amazed by more than 10.000 different plants and around 600 different animal species. It's a paradise for nature lovers.
Mulu National Park Canopy Walk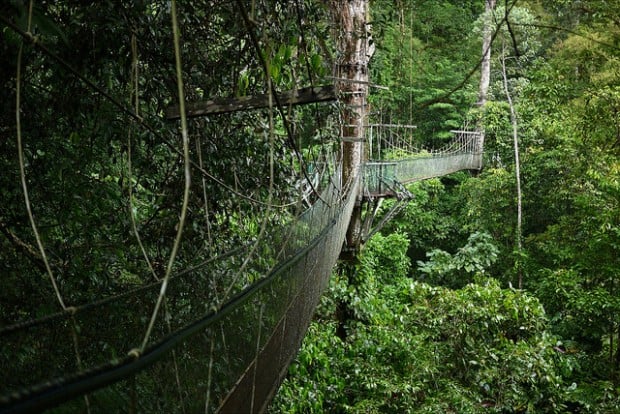 Image credit: Daniel Pietzsch
Almost as long as the one in Taman Negara, the Mulu National Park canopy walk takes you over rivers and dense forests. The walk itself is very narrow (but very secure of course), which makes it even more of an adventure and thrill. The park and the walk are accessible from 7am–4pm. This park is definitely worth the trip, as spectacular caves and bats are waiting to be explored and discovered.
Also read: 12 Incredible Outdoor Adventures You Can Have In Malaysia
Sungai Sedim Canopy Walk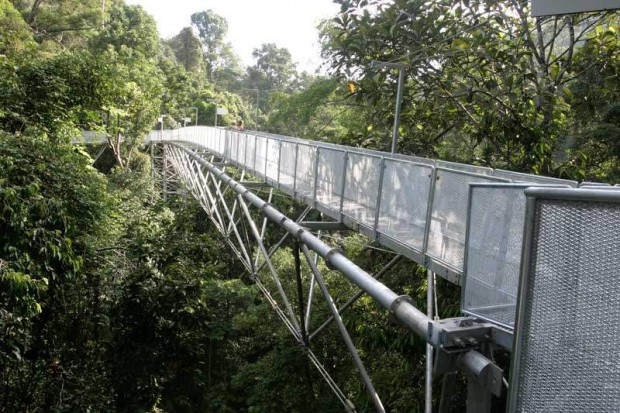 Image credit: The Tree Top Walk Sg.Sedim
If you thought that 500 metres is long, than you should visit the Sungai Sedim Canopy Walk, as it goes on for about 925 metres through the forest. The canopy walk itself is a metal structure and offers plenty of space to enjoy a leisurely nature walk. Bird watchers will love the Sungai Sedim Canopy Walk, as there are plenty of bird species to be spotted.
Maliau Basin Canopy Walk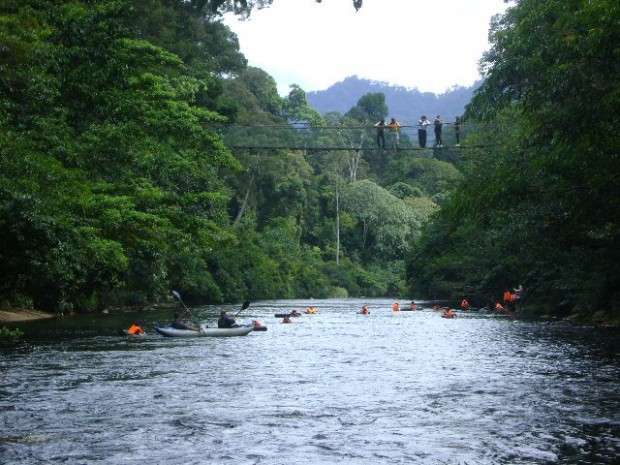 Image credit: Maliau Basin
Here comes the true Borneo experience. Located in one of the least explored parts of the Borneo rainforest, the Maliau Basin Canopy Walk is much harder to access than other walks. But this will be an experience you won't forget in a long time. Stretching over 400 metres through the Maliau Basin, the walk features river crossings 20 metres above the ground and vertical 45 degrees climbs in the treetops. No matter if you are a bird watcher or an outdoor fanatic – you will love the adventure. Do note that only guests of the Maliau Basin are permitted to access the canopy walk.
Penang National Park Canopy Walk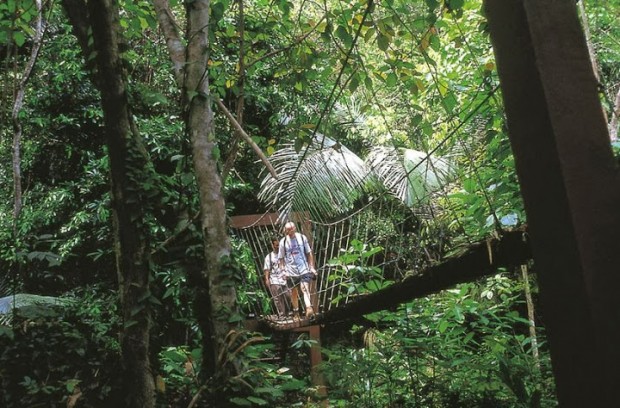 Image credit: touristattractionsinmalaysia
As the name suggests, this canopy walk is located in Penang National Park. It is 250 metres long and accessible every day except Fridays. From the park entrance it is only a short and easy 20-minute hike uphill to the canopy walk. Once you are there, you can start exploring nature and wildlife on a simple (but secure) structure in the treetops.
Danum Valley Canopy Walk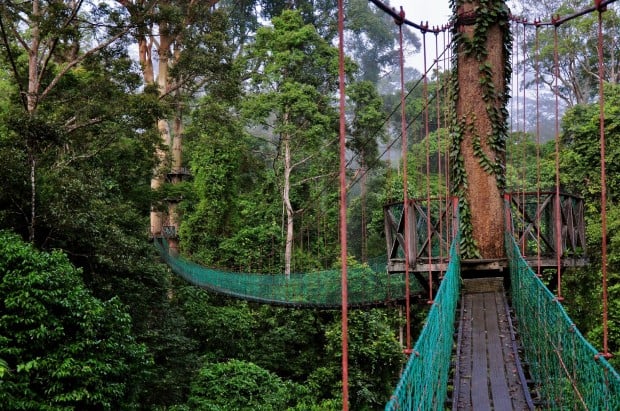 Image credit: sabahgogreen
This 300 metre walk in Sabah might be shorter than others, but that doesn't mean it's less interesting. The Danum Valley Canopy Walk actually features platforms on different levels, reaching up to 45 metres. Have you ever seen a spiral staircase winding around a tree trunk? It should be noted that the trees are actually not harmed by the structure, which makes this canopy walk one of the tree-friendliest.
Poring Canopy Walk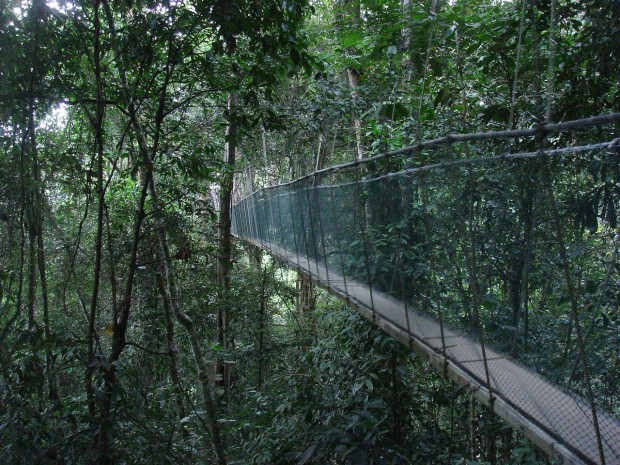 Image credit: Arthur Lee
This is one of the shortest walks on this list, covering only 175 metres. However, Poring Canopy Walk reaches an elevation of a whopping 43 metres. Located in Poring, Sabah, this canopy walk offers visitors astounding views. If you want to relax after a climb around the Malaysian treetops, you can explore the nearby hot springs, another major attraction in the area.
Also read: Hiking in Malaysia: 10 Trails with the Most Picturesque Views