Norway is absolutely beautiful, but absolutely expensive as well. I know, because I was there. It's not easy to travel around Norway on a small budget; as everybody knows, Scandinavian countries tend to be pretty pricey for travellers. However, it can be done if you do it right. To help you out, here are some tips from me to you on how to travel Norway on a student budget!
1. Grocery shop for all your meals
Don't expect yourself to eat out often if you want to pinch that penny. There's hardly any affordable street food around, unlike Singapore where I live, and an average Norwegian meal would cost about S$25-30. Instead, hit the supermarkets and go grocery shopping with your friends!
On average, my friends and I spent about S$10-20 for every meal in a day when we went grocery shopping together and shared ingredients. Definitely way cheaper than eating out!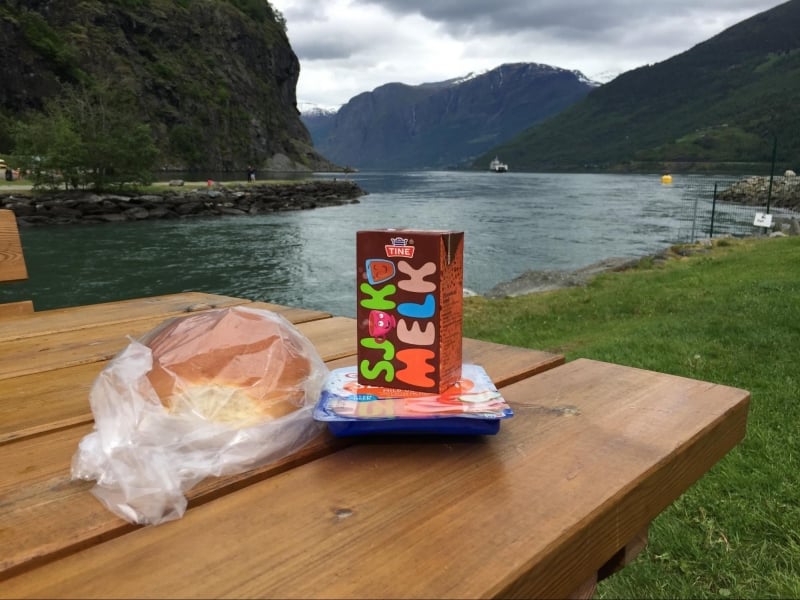 And let's be real, who needs a fancy meal when this beauty is your lunch view? But of course, no harm trying out the occasional reindeer burger or fiskesuppe (Norwegian fish and vegetable chowder) when you have the opportunity!
2. Pack everything you need and more
This can be easily applied to all kinds of vacations, but especially so for Norway. Didn't think of bringing any tissue paper? Get a few packs. Only bringing along one set of toiletries? Maybe an extra set would come in handy. Scared that you'll starve? Well…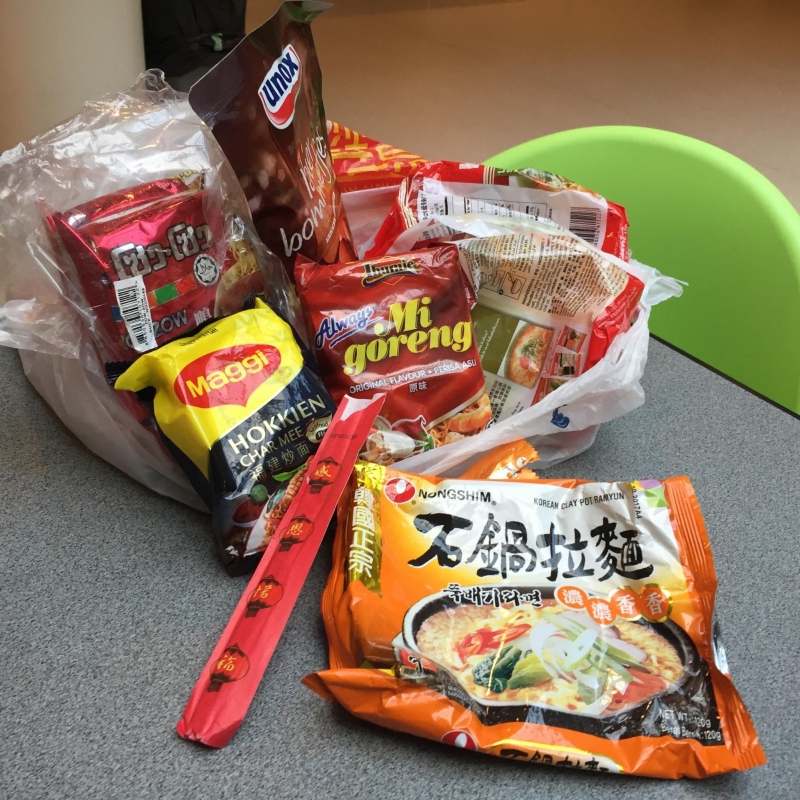 I kid you not that all our little items and goodies did come in handy one way or another. And thank goodness we brought them, or we'd be forking out way more cash then we'd have expected – the truth of the matter is that Norway is really not cheap at all!
While one or two items brought may not cause a substantial difference, imagine if you had to keep replenishing necessities and other random items along the way. To avoid that stress, my advice is that when it comes to packing for Norway, less is not more. But of course, pack smart, not pack hard!
3. Look out for the minipris when buying your train tickets
Minipris tickets are basically train tickets by the Norwegian State Railways that are made cheaper due to some "interaction of demand and availability". These tickets can be a bargain – I got a train ticket from Voss to Bergen at almost half the usual price!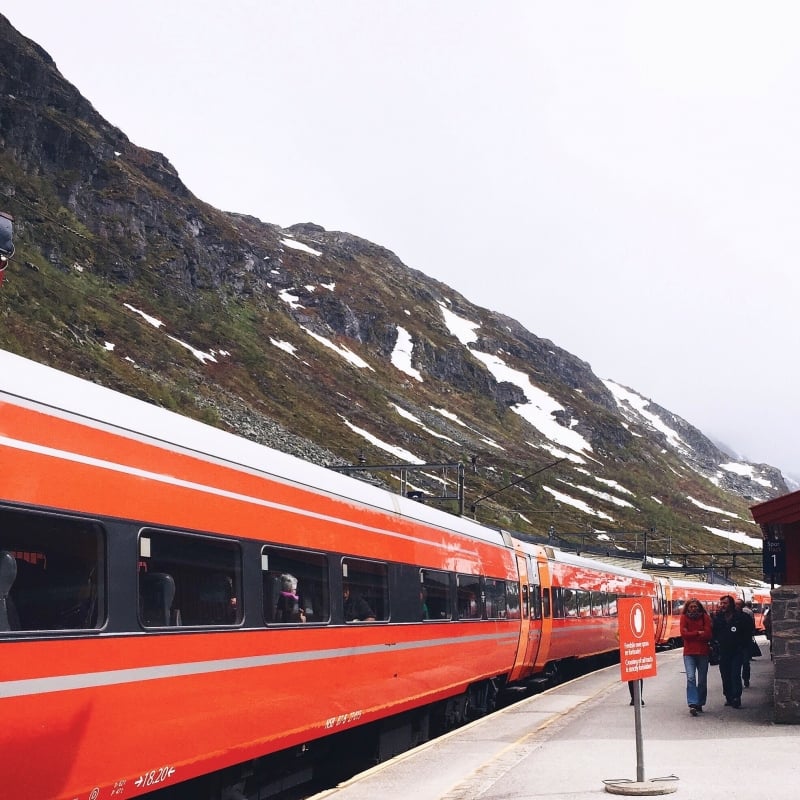 So plan ahead and check the website diligently to see if any new minipris tickets are out so you can get the best deal available. Alternatively, you may also opt for the Norway in a Nutshell option, which brings you a package deal with a bunch of train tickets at a discounted price.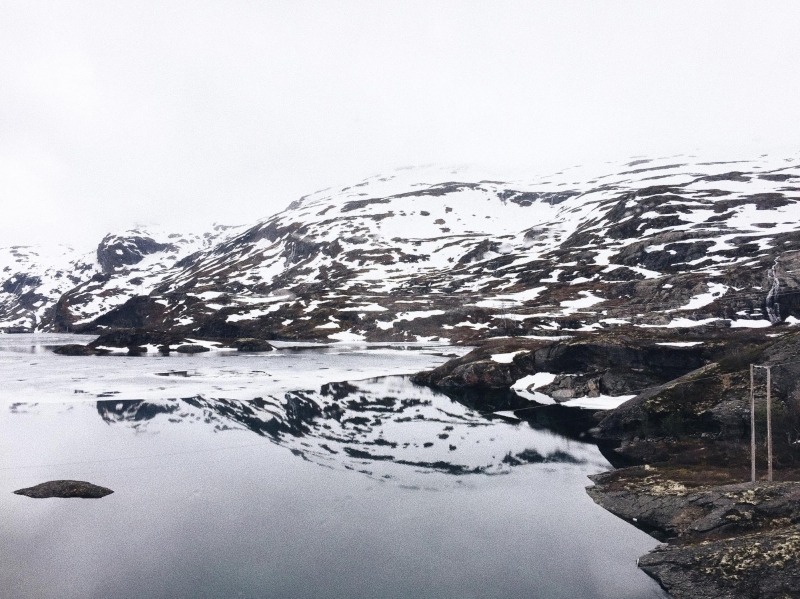 And why are the tickets so expensive in the first place, you may wonder? Well, for a train view like this… I'd say the photo speaks for itself.
4. Apply for an ISIC card
An ISIC card is basically the only internationally-recognised document which shows that you're a student. Sometimes, a school-issued student card is just not enough. We learnt this the hard way when we got rejected a few times for student discounts to museums and such, despite flashing our student cards. Most of the time, the staff would ask specifically for the ISIC card, so get one of these babies before you set off for your next trip! This would come in handy for not just Norway, but other destinations as well. It costs US$20 and is worth every cent as you'll end up saving more.
5. Widen your accommodation options
At our day and age, Airbnb seems to be the de facto way of finding a place to stay when travelling. And for good reasons: it's easy to use, it's usually cheaper than hotels and there are plenty of unique and gorgeous houses to choose from!
However, in Norway, Airbnbs can be pricey, and in small towns such as Flåm, there might be no Airbnbs available at all! In times like these, Google is your best friend as you search around for a cheap and suitable accommodation. Hostels are a good start, and Hostelworld is your go-to when it comes to finding them.
Otherwise, look out for cabins to rent! Cabins are aplenty in Norway, and nothing a quick Google search can't find. In fact, I would totally recommend cabins over Airbnbs – nothing says Norway like a lovely little cabin tucked into some part of nature!
And in fact, if you plan on staying in cabins all the way, then you should most definitely check out the Norwegian Trekking Association – there are over 500 cabins under this organisation. Simply sign up with them to gain access to all their breathtaking cabins!
Or, bring your tent along, because have I mentioned that you can camp virtually anywhere in Norway?
6. Enjoy the best of nature for free – while hiking
Hiking is the quintessential Norwegian experience, and the best part of it? It's totally free!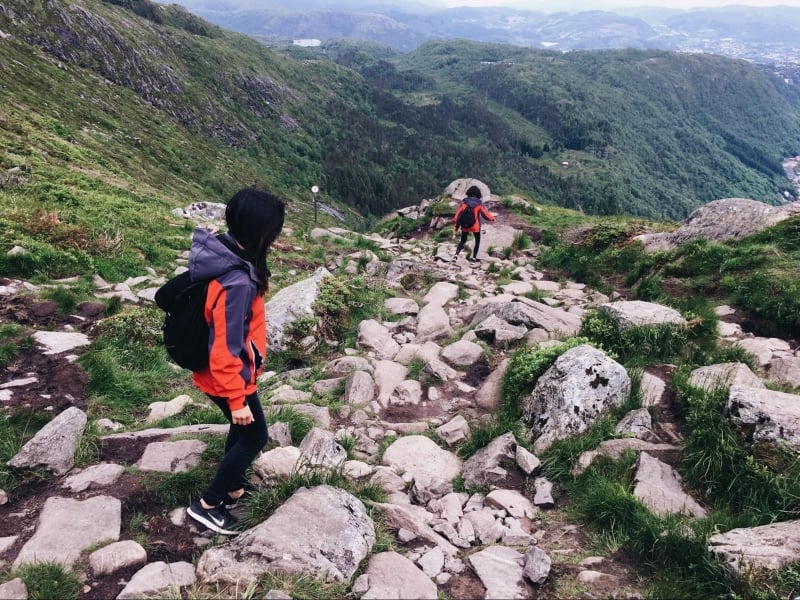 Not only do you get out-of-the-world views, the challenging Norwegian hikes are really adrenaline-fueled and crazily fun to do as well!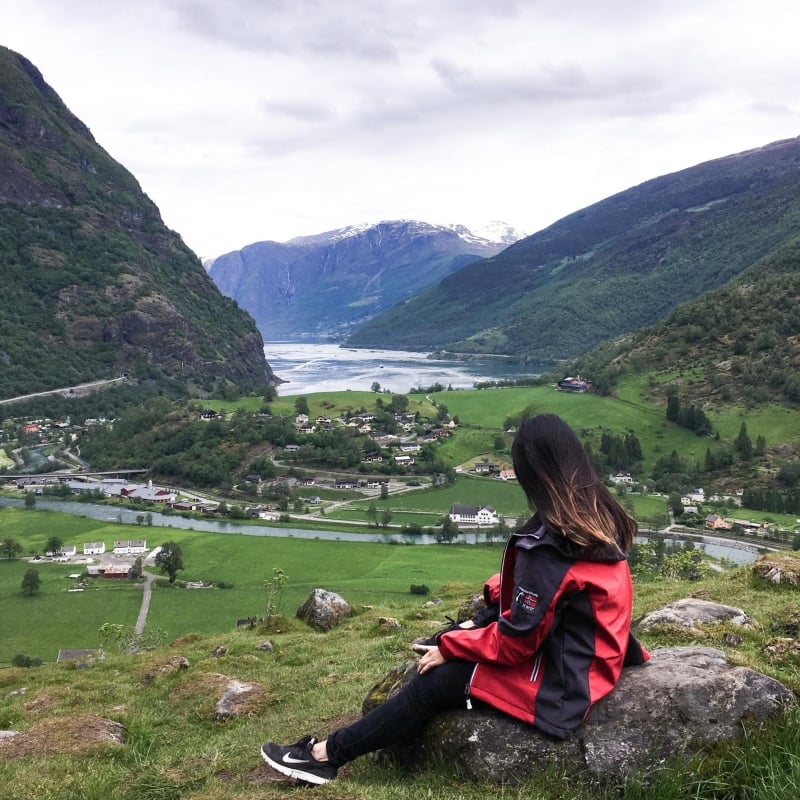 We did at least one hike at every place we visited, and were rewarded by a postcard-worthy view each and every time. I can honestly say that hiking in Norway is one of the best experiences of my life. The best things in life are truly free.
Also read: You'll Want to Visit Norway After Seeing These 20 Photos
And there you have it – how to travel Norway on a student budget. To be honest, most of our money was spent on the train tickets. In fact, it's not that difficult to travel cheaply around Norway as long as you're willing to give up some luxuries. That being said, Norway is a beautiful country full of wonderful, wonderful nature, and I count myself extremely lucky for having been able to experience this place. To end off, I hope that one day, you get to travel around Norway too!