TripZilla Magazine is proud to be invited on board SilkAir's inaugural flight from Singapore to Kalibo. This new flight route by SilkAir positions the airline as the first and only full service carrier connecting local and regional travellers between Asia's hub, Singapore, and internationally acclaimed beach destination, Boracay, in Philippines.
TripZilla Magazine Writer, Bryan Lim, sits snugly in the premium airline as he goes en route Singapore to Boracay for his beach adventures.
*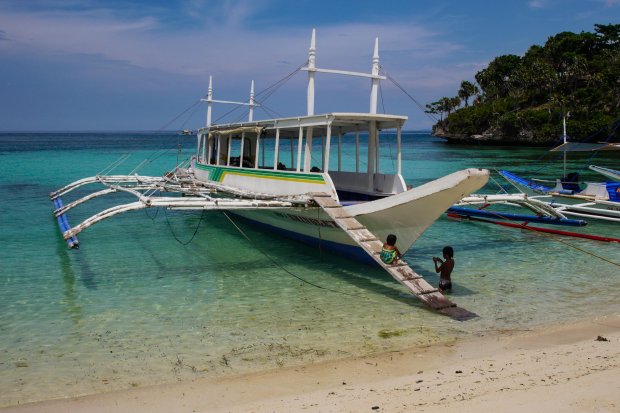 If you are looking for a perfect destination for a beach vacation, consider putting Boracay on the top of your list! Boracay is named the World's Best Island for getaways in 2012 and came in second in 2013, beating Galapagos Islands, Bali and the Hawaiian islands in the beach destination race.
With white sandy beaches and crystal clear waters, Boracay offers you the picturesque views you often see in awe-inspiring travel magazines. It is located Southeast off Manila, the capital of Philippines. Philippines is well known for it's thousand islands and Boracay is one of those you can't miss.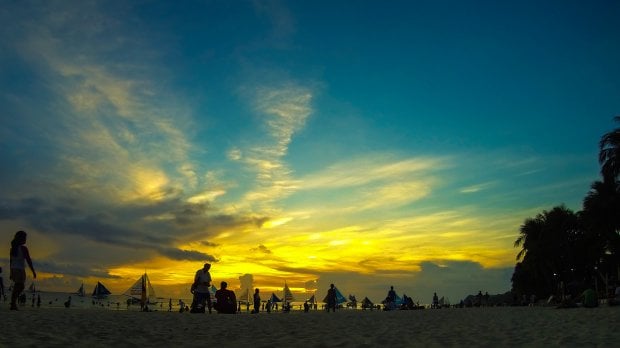 When to visit Boracay
The best time to visit Boracay is from December to May. The monsoon period starts after June where the weather gets rainy and the waters become choppy. However, June is also an off-peak period and you can get really good deals.
Getting to Boracay
Tigerair flies from Singapore to Kalibo (Boracay) three times weekly. If you are looking for something that offers more comfort, check out the newly launched SG-Kalibo flights by SilkAir. Each flight takes around 3.5 hours.
I had the opportunity to fly on SilkAir inaugural flight to Boracay launched on May 27, 2014. I think it is a very worthy option if travellers are looking for more perks and extras. Check out my review on SilkAir Business Class from SG to Kalibo.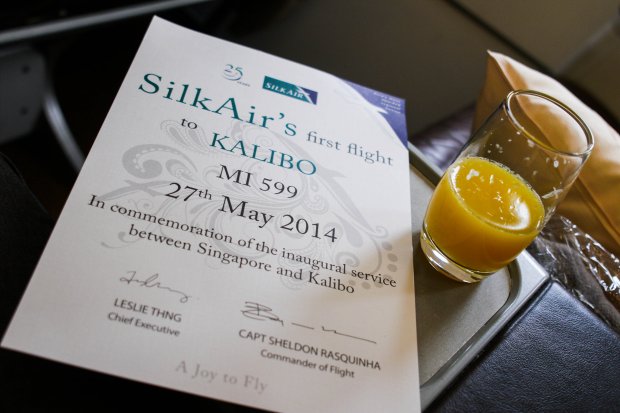 Various land transfers are available from Kalibo International Airport to the Caticlan Jetty, where you will take a 15-minute ride to the island. Don't worry about finding your way to the island because there are many transport vendors at Kalibo International Airport offering to take your there.
It costs around PHP 200 (SGD 5.73) for the ride from the airport to the jetty, and another PHP 200 for the boat ride to the island, which is inclusive of the environmental fee (PHP 75, SGD 2.15) and Caticlan Jetty terminal fee (PHP 100, SGD 2.87).
Upon arrival at the island, you can hire a tricycle to take you to your accommodation; the average rate is PHP 100 (SGD 2.87), depending on the location of your accommodation. However, do note that some hotels do offer transport as part of their packages.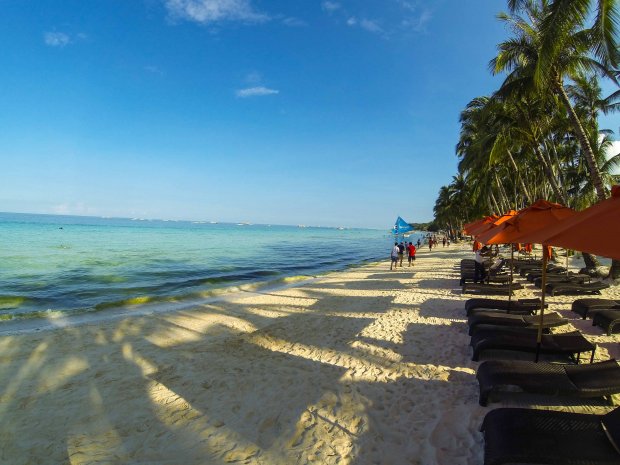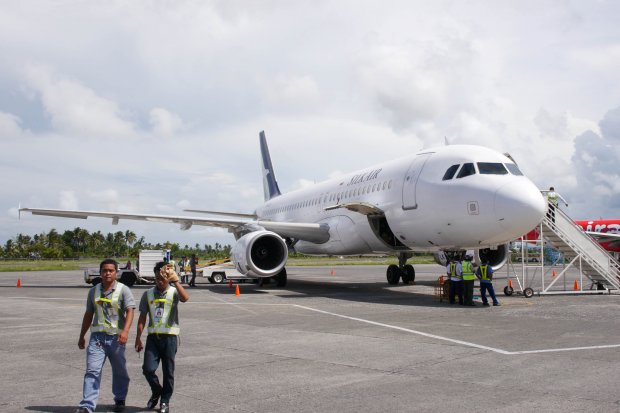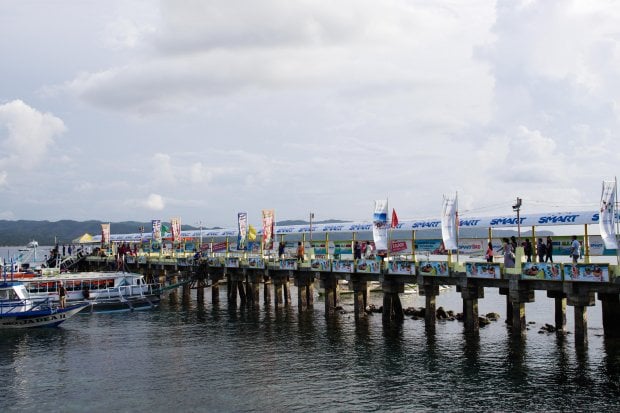 Caticlan Jetty
Accommodation
There are different kinds of accommodation, ranging from hostels to 5-star resorts. Family-run guesthouses offer private rooms starting from PHP 500 (SGD 14.33), the cost per person reduces when you share the room with friends. Beachfront resorts or hotels start from PHP 12,000 (SGD 343.88), perfect for honeymooners on their romantic getaway.
Things to do
Spend a minimum of 3 days to fully experience what Boracay has got to offer. I would say the ideal period of stay is 5 days to really soak in the beach vibes and get sun-kissed.
There are all kinds of water activities; parasailing, fly-fish, snorkelling, kayaking and cliff jumping are some good examples. A lot of people flock to Ariel's Point to do the famous cliff jump.
Packages start from PHP 1,500 (SGD 42.98), depending on season. These packages include unlimited cliff jumps, kayaking, snorkelling, unlimited non-alcoholic and alcoholic drinks (useful when you need to muster the courage for the highest 15m cliff jump). I would say Ariel's Point is my personal favourite of all activities because you can do many activities there!
Also read: Why Ariel's Point in Boracay Is Attracting Adventurous Travellers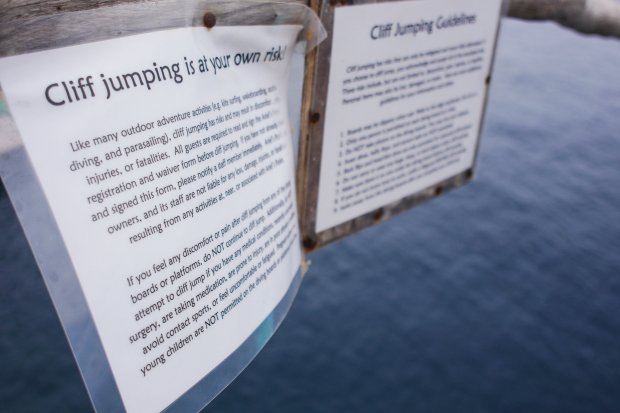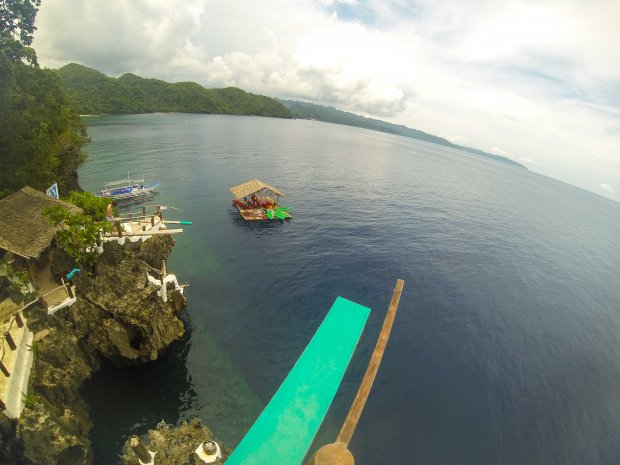 Take the leap!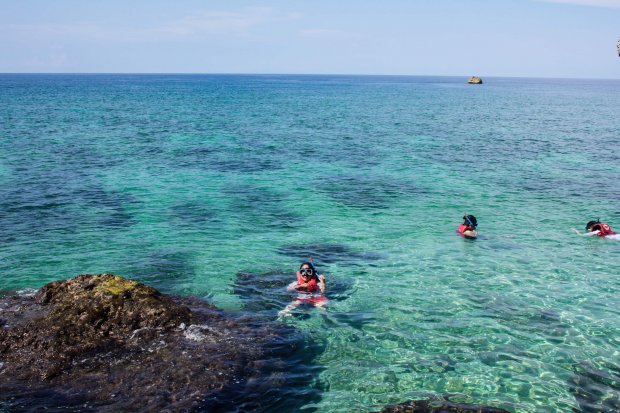 Snorkel in the clear pristine waters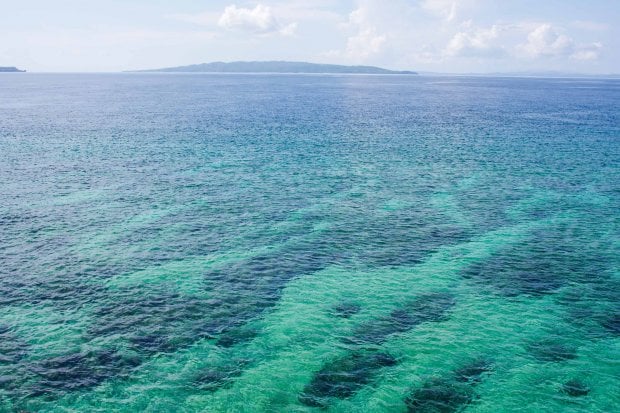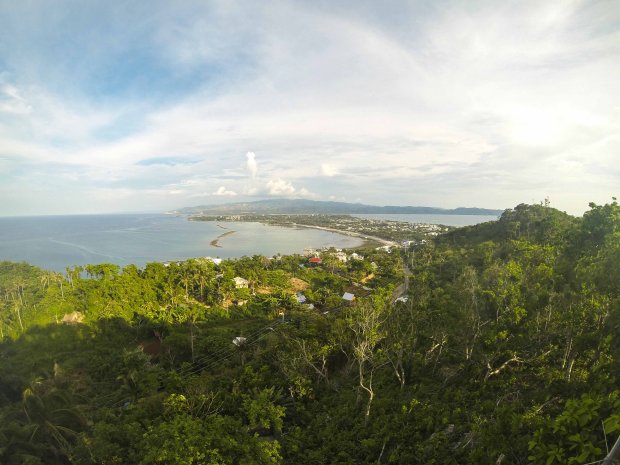 View from the top of Mt Luho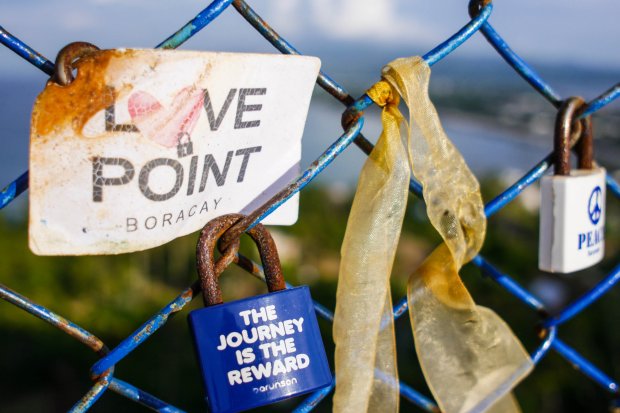 If you are not a fan of water sports or activities, you can take a good stroll along the white sandy beach or take the sunset sail and admire the stunning Boracay sunset. You can engage in some land adventures such as the ATV (All-Terrain-Vehicle) ride to Mt Luho – the highest point of Boracay where you can catch a complete view of the white beach. 
You can also visit D-Mall, a collection of 100 small tourist shops and restaurants that stretch to the end of the main road. Be prepared to pay tourist prices and do not hesitate to haggle.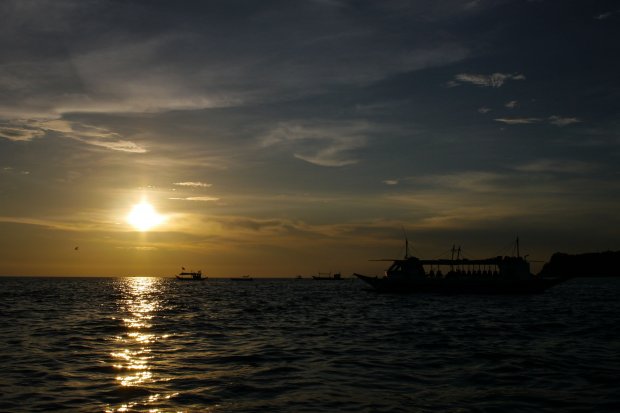 Watch the beautiful sunset on the sailboat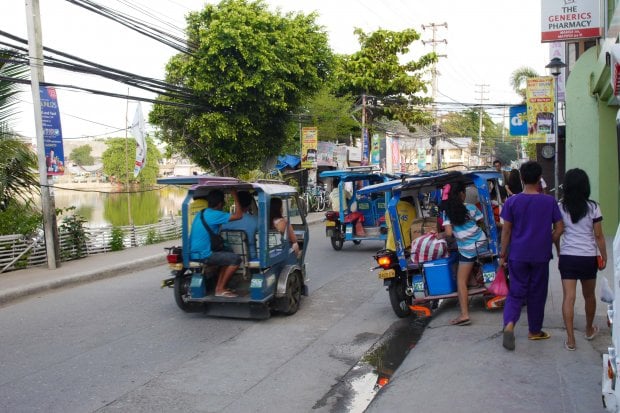 Main Road in Boracay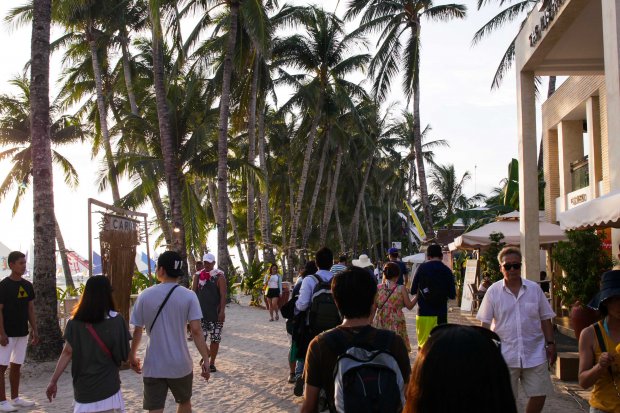 Off the streets of White Beach
Nightlife and dinner
Nightlife in Boracay is pretty interesting. There are stretches of countless restaurants and bars along the beach. Enjoy your dinner with the heart pumping fire dance as the dancers come right up to you and perform fire spinning stunts over your head.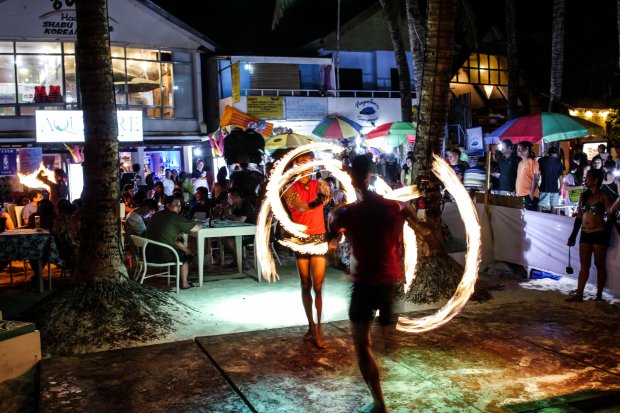 The fire dancers
Boracay offers a wide array of food selection, ranging from street foods to upscale dining, catering to different kinds of travellers on the island. Cocktails and beers are available at many bars and restaurants for less than PHP 100 (SGD 2.87), a nice complement to your sunset watching. Check out Jonah's Fruitshake and Snack Bar for a wide variety of tasty milk shakes, prices are around PHP 90 (SGD 2.58), depending on your selections.
If you prefer a sumptuous dinner that indulges your taste buds, eyes and ears, do pay a visit to Boracay Regency, where the "dancing chefs" are. Your "dancing" food is prepared by the chefs, who're performing interesting dances at the same time! There are also many live bands that lighten up the mood, bringing dinner and food indulgence to another level altogether.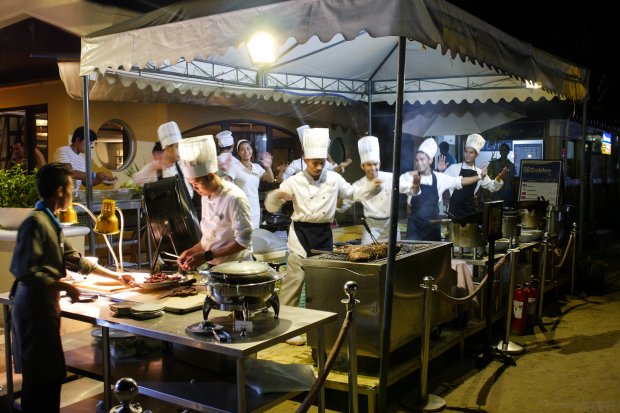 'Dancing Chefs' at work
Decent meals at restaurants will set you back around PHP 100 (SGD 2.87) to PHP 200 (SGD 5.73) per dish. I recommend the seafood feasts because those are fresh catches! If proper dinners are not your thing, you can always head out for some street snacks. Street foods can be found along the main road and little streets for around PHP 50 (SGD 1.43).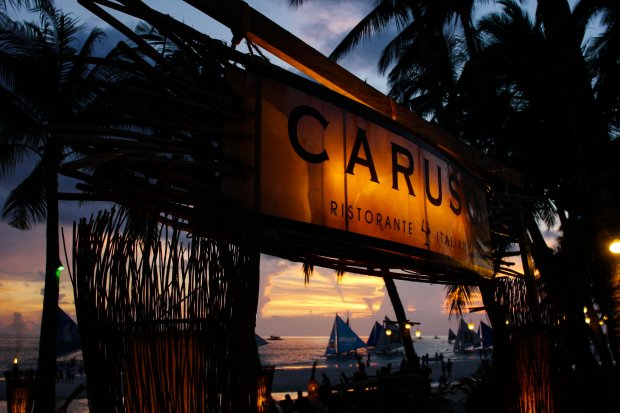 Enjoy your dinner with the sunset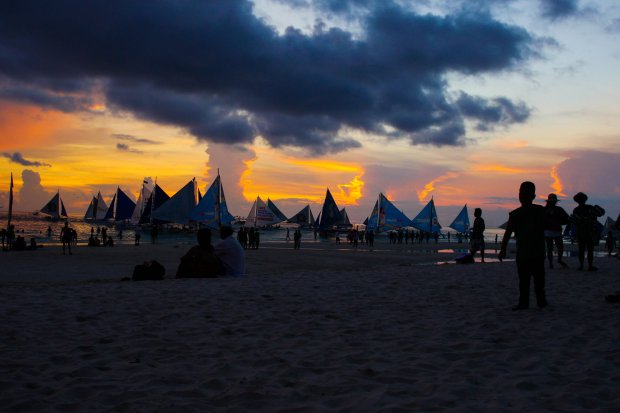 Overall, Boracay is an excellent option when you are looking at beach destinations for your vacations. Be it for backpacking, honeymoon or a simple family getaway, Boracay has got so much to offer for different types of travellers. Be sure that you will be sun-kissed with lots of fun along the way!
Special thanks to TripZilla Magazine for the invite, SilkAir and Philippines Department of Tourism for collaborating such a wonderful experience.
Already feeling the Boracay vibes? Check out TripZilla's Travel Deals to the Philippines!