Maybe you are looking for the perfect souvenir to bring back from your travels, serving as a permanent reminder of the fun times you had abroad. Or you might be looking to get a unique tattoo to add to your collection of tattoos from around the world. However, nobody wants to be the person to get a subpar tattoo. To help you out, here are some of the best places in Asia to get a tattoo.

Asakusa Horiyasu Studio – Tokyo, Japan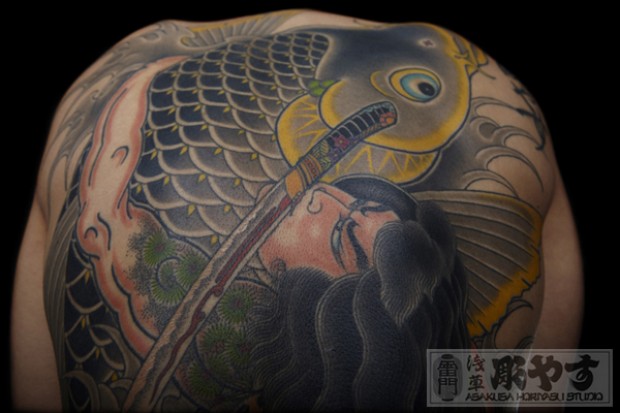 Image Credits: Asakusa Horiyasu Studio
This is the studio of Horiyasu, a Tokyo-based tattoo artist who's known to be one of the top tattooists in the country. He only works on wabori, a type of traditional Japanese tattoo that covers large area of the body. Although his designs are clearly influenced by Japanese tradition, he does utilise modern equipment and his designs have some modern influences as well. However, he is only able to provide services in Japanese. As such, do bring someone who can serve as a translator if you do not speak Japanese.
Address: Nishi Asakusa apartment house, #303,2-14-13,Nishi Asakusa,Taitou-ku,Tokyo 111-0035, Japan
Opening hours: By appointment only
Shiryudoh – Tokyo, Japan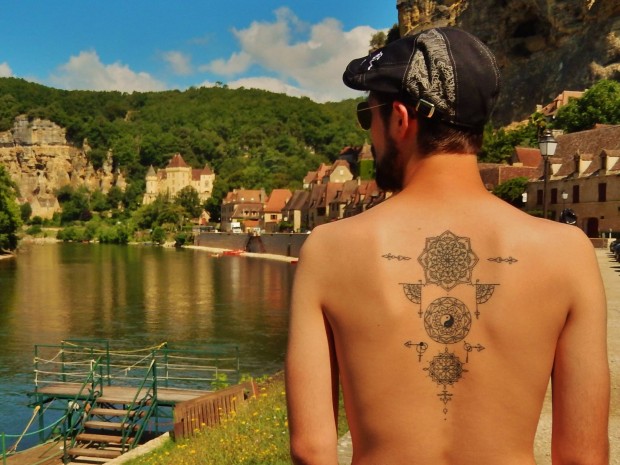 Image Credits: Shiryudoh
For contemporary tattoos while in Japan, you can visit Shiryudoh in Tokyo. Their signature style, KUNO, is based off buddhist temple reliefs combined with patterns gleaned from travels. They also have other designs that are based off different cultures. All their tattoos tend to be minimalistic and small, making them a good choice for a discreet tattoo. A big bonus is that the tattoo studio tries to accommodate your travel times, serves walk-in customers and also serves English speaking customers.
Address: 2-45-8 Okusawa, Setagaya, Tokyo, Japan
Opening Hours: 11:00 am- 8:00 pm, with tattoo work starting at 2:00 pm
Also read: The 10 Most Fashionable Cities in Asia
Bali Tattoo Studio – Bali, Indonesia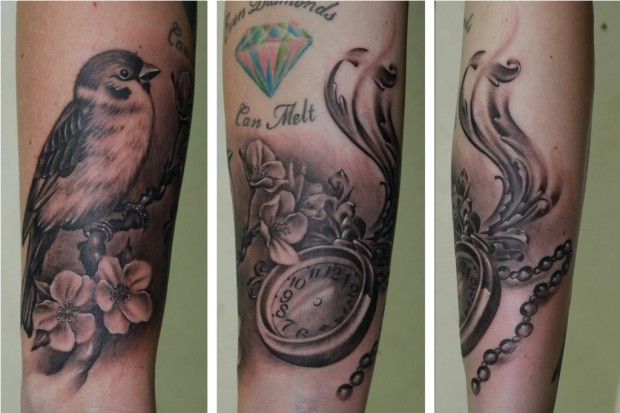 Image Credits: Bali Tattoo Studio
Bali Tattoo Studio is owned by one of Bali's renowned tattoo artists, Ketut Rudiartana (Rudi). He is an experienced and skilled tattooist, having 19 years of experience while gaining numerous awards along the way. The other tattooist, Dedy Susastra, is also extremely experienced, placing near the top in competitions and being well-versed in an incredible variety of styles.
Address: Jl. Legian Kelod 293 Kuta, Bali, Indonesia (81154).
Opening hours: 9am till late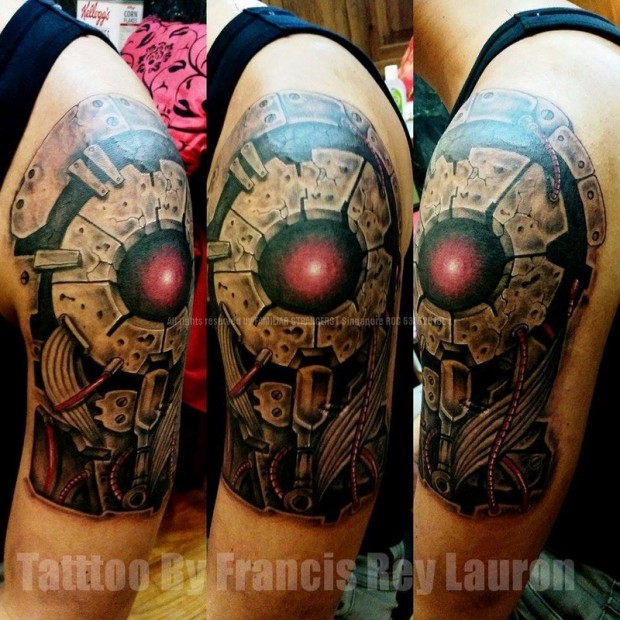 Image Credits: Familiar Strangers
Familiar Strangers does a wide variety of tattoos, everything from realistic portraits to neo-Japanese style tattoos. About 40 percent of its customers hail from other countries. Familiar Strangers often hosts guest tattooists from around the world to conduct workshops and tattoo their clients. Who knows, you may be lucky enough to get a Miami Ink in Singapore!
Address: 20 Upper Circular Road, #01-10, The Riverwalk, Singapore 058416
Opening hours: By appointment only
Also read: Best Places to Surf in Asia
Monkey Tattoo & Bodypiercing Studio – Sarawak, Malaysia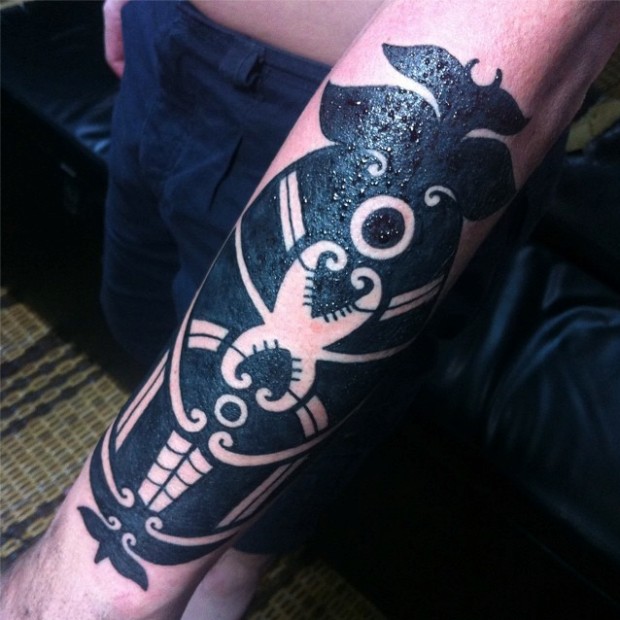 Image Credits: Money Tattoo and Bodypiercing Studio
If you are interested in traditional tattoos or just something out of the norm, go to Malaysia to get a tattoo from Jeremy Lo of Monkey Tattoo, a world-renowned tattoo artist. Jeremy specialises in hand-tapped tattoos. As the term suggests, the tattoos are created by tapping a stick with needles attached into the skin. These tattoos are only done with black ink and are said to have a faster healing time than those done by modern equipment. This tattoo method is also used to create intricate tribal tattoos.
Address: 223 Jalan Sungai Maong Hilir, 93150 Kuching, Sarawak, Malaysia
Opening hours: By appointment only
Shanghai Tattoo – Shanghai, China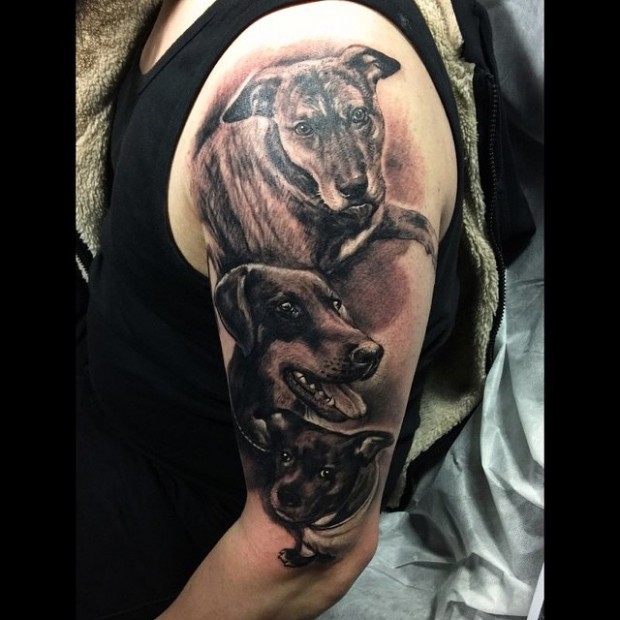 Image Credits: Shanghai Tattoo
If you are going on a holiday to China, do make a stop at Shanghai Tattoo. Shanghai Tattoo in (surprise!) Shanghai was founded by Zhuo Dan Ting, one of the best tattoo artists in China. She has had her work showcased by quite a few publications like CNN and brands like Adidas. One of the the other tattooists, Atao, is one of the most experienced tattooists in China. They offer a wide range of tattoo styles, from traditional Chinese motifs to minimalist tattoos.
Address: 1 Maoming Nan Lu, Shanghai
Opening hours: 11am to 8pm, closed on Mondays
Tattoo Temple – Hong Kong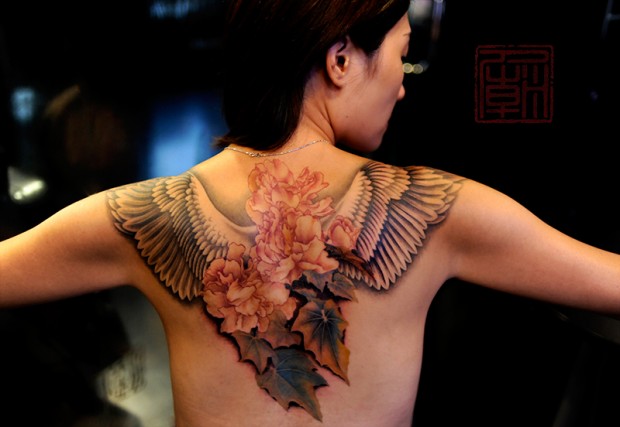 Image Credits: Tattoo Temple
Tattoo Temple is arguably one of the best tattoo studios in the world. Its customer service is also top-notch, having won awards in that area as well. One great thing about their studio is that they will have a personal concierge call you up to discuss your design no matter where you are in the world, allowing you to ensure that there are no errors in your order. This will also allow you to schedule the holiday around getting that tattoo. Their tattoos are also custom designed to your requirements and are unique.
Address: 1 Wyndham Street, Hong Kong
Opening Hours: 11am to 7pm; sessions by appointment only
Also read: Cult Beauty Brands You Must Buy While Travelling Asia
Wat Bang Phra – Nakhon Pathom, Thailand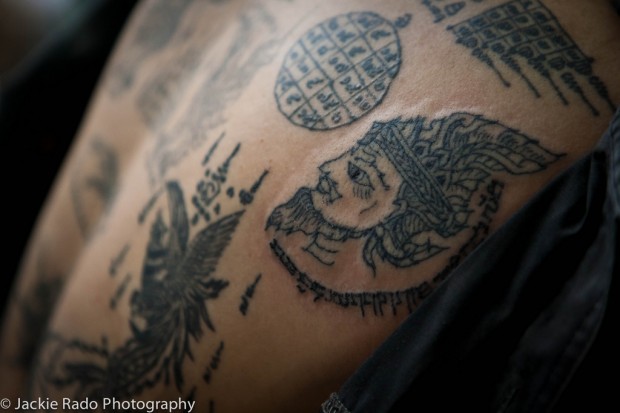 Image Credits: Jackie Rado
This is no ordinary temple in Thailand. Wat Bang Phra is famous for the bamboo tattoos, known as Sak Yant, that they give visitors. These tattoos are said to be able to to bring protection or blessings, which would be perfect if you want a tattoo that is more meaningful. Additionally, the cost of getting a tattoo here is buying a pack of offerings for the temple, which costs a whooping 75 Thai Baht  ($2.80). While you are encouraged to make an additional donation of about a 100 Thai Baht, the cost of the tattoo will not exceed 10 dollars. The only downside is that you generally don't get to choose the design and the location of the tattoo for the monk doing the tattooing will make the decision depending on what you need.
Address: Moo.3, Wat Lamut-Nara Phirom Road, Tambon Bang Kaeo Fa, Amphoe Nakhon Chai Si, Nakhon Pathom, 73120, Thailand
Opening hours: Tattooing sessions are only available from early morning to mid-afternoon