Los Angeles (LA) is hands down my favourite city in America. The sunny Californian city offers everything under the sun; beautiful beaches, thrilling theme parks, and since it has a large Asian community, bubble tea too! Since the late 1990s, Americans have become increasingly obsessed with this dessert tea, popularly called Boba there, and going by the exponential numbers of Boba shops mushrooming all over the country, you can almost find a Boba shop every few blocks around the city.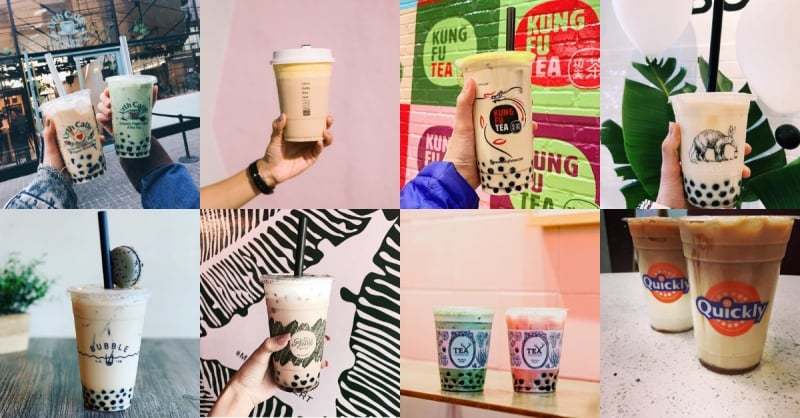 On my recent trip to L.A, as a bubble tea fanatic, I was bubbling with excitement – there was no way that I'm going to not have a grand time getting my fill of Boba! Let's see how these eight LA joints fare with its Asian counterparts.
1. Alfred Tea Room
As I follow a lot of influencers from LA on Instagram, one of the Boba spots I've already pinned on Google maps prior to my trip is Alfred Tea Room. From the rose quartz coloured walls to the aesthetically pleasing cup designs, it's easy to see why this Boba spot is popular with influencers and even celebrities, such as Hailey Bieber and Kourtney Kardashian. After walking around Melrose Avenue, my sister and I went over to Alfred Tea Room to take a break.
We tried their Matcha Boba Milk Tea (USD6.50) and their signature Alfred Pink Drink (USD7). I know what you're thinking, damn girl, the price for an Insta-worthy drink ain't cheap. Fortunately, the drinks tasted almost as good as it looks. The Matcha Boba Milk Tea tasted a little bitter at first but ended on a sweet note. The Bobas (more commonly known as 'pearls' in Asia) were chewy and sweet. The Alfred Pink Drink gets its colour from a blend of strawberry, pomegranate and beetroot. Although it's technically not Boba, it's still a refreshing drink you should try.
| | |
| --- | --- |
| Boba-O-Meter: | |
Address: 705 N Alfred St, Los Angeles, CA 90069, USA
2. Urth Caffe
Another Boba spot that was already pinned on Google maps was Urth Caffe. We went to their Melrose location as it was just a few minutes walk away from Alfred Tea Room. This outlet of theirs is known to be a celebrity hotspot with big names, such as Katie Holmes, Khloe Kardashian, Kylie and Kendall Jenner, often seen hanging out here. Unfortunately, we weren't lucky enough to catch a celebrity grabbing their Boba fix for the day.
Although Urth Caffe is actually more known for their vegan bakes and organic brunch options, we came for their Boba, of course. We tried their most popular Boba option which is the Organic Green Tea Boba (USD4.35). You can also opt for your milk tea to be blended or substitute your milk with other options, such as soy, almond, coconut or oat milk. For a cafe that doesn't specialise in Bobas, we were pleasantly surprised. There was a nice balance of the earthiness of the matcha and the sweetness of the milk. Their Boba were chewy and slightly sweet. They also have other intriguing Boba flavours such as Organic Moroccan Mint Boba and Organic Rumi Boba, whose ingredients include turmeric, cinnamon and maple syrup.
| | |
| --- | --- |
| Boba-O-Meter: | |
Address: 8565 Melrose Ave, West Hollywood, CA 90069, USA
3. Pearl's Finest Teas
On Sunday, we headed to the well-loved Melrose Trading Post, a sort of curated flea market, to hunt for one of a kind vintage pieces. On our way out, we spotted a bright millennial pink shop front. Being millennials ourselves, we couldn't resist checking the shop out. When we found out it was a Boba shop decked out with stunningly aesthetically pleasing interior, we didn't have to think twice to join the queue.
Pearl's Finest Teas has an extensive menu, from teas, coffees to herbal mists. As we waited in line, we couldn't keep our eyes off the drinks that were being served at the collection counter. They were of all colours of the rainbow! When it was our turn to order, we simply went for their classic Oolong Milk Tea with Honey Boba (USD4.50). The Boba were chewy and had a good texture. The tea was light and the Oolong taste was quite subtle. I felt that the Oolong flavour could have been brought out more, but it was still pretty good. If you want a healthier refreshing option, the staff recommends their horchata tea, chamango tea or orange yuzu.
| | |
| --- | --- |
| Boba-O-Meter: | |
Address: 523 N Fairfax Ave, Los Angeles, CA 90048, USA
4. Boba Guys
Boba Guys are massively popular in San Francisco and New York City. When I heard that Boba Guys has landed in the City of Angels, it quickly made it to the top of my LA to-eat list. The Boba Guys pride themselves in creating their drinks with the best ingredients. Unlike most Boba shops in LA, the Boba Guys make their own Boba which they call their "Grade A balls". Their other toppings and syrups are also made in-house.
Unlike bubble tea shops in Singapore, you can choose the type of milk – organic milk, almond milk or oat milk – you want in your drink. We tried their Jasmine Milk Tea with Boba (USD4.50) and opted for almond milk to shake things up. The milk tea was fragrant and I loved that the jasmine notes wasn't overpowering. However, the almond milk didn't do it for my Asian palate. I love almond milk on its own, but I'll stick to normal milk for my Bobas, thank you very much. Their Boba are definitely some grade A balls indeed; they were soft and very sweet. If you're feeling ballsy, try their unique flavours such as the Strawberry Matcha Latte and Black Sesame Milk Tea.
| | |
| --- | --- |
| Boba-O-Meter: | |
Address: 1670 Beverly Blvd, Los Angeles, CA 90026, USA
5. Bubble U
While walking around LA's Chinatown, we stumbled upon a quaint little Boba parlour. Since Bubble U is a small, independently owned Boba shop, the shop feels homely and the staff are friendly. Recently, I saw that Bubble U held an event in conjunction with J-Hope's, a member of the Kpop group BTS, birthday. Drinks were served with cup sleeves house-designed with J-Hope's photocards. I find it endearing that a mom and pop shop would do something so special for their customers!
We got their Earl Grey Milk Tea with Boba (USD5). The price was steeper than we anticipated but the taste of the milk tea wasn't too bad. The milk tea was light and there was a layer of froth on the surface when the Boba was served. Despite the lightness of the tea, the earl grey flavour was strong and aromatic. We did realise that their Boba was a bit smaller than other Bobas we tried. It's not as small as the mini pearls from Singapore's Sharetea, but not as big as regular pearls. Personally, I am not a fan of the size of the pearls as I couldn't chew on them for as long as regular pearls, but they were still quite delicious. We also tried their Earl Grey Macaron (USD2.25) which nicely complimented the Boba.
| | |
| --- | --- |
| Boba-O-Meter: | |
Address: 843 N Broadway, Los Angeles, CA 90012, USA
6. Quickly
Also in Chinatown, just a block away from Bubble U, we quickly came across, erm, Quickly. Seeing that the decor and vibes of the place is very quintessentially Chinese, with Chinese lanterns hanging from the ceiling and signages with Chinese characters, I had the impression that their Bobas had to be authentic. Although I already had my Boba fix, I just had to try Quickly.
Quickly offers a wide range of beverages other than Boba, from slushies, such as Watermelon Slush, to coffee, such as Iced Caramel Macchiato. We decided to go old school and opted for their original Bubble Milk Tea (USD2.50). With most of their drinks costing less than USD3, Quickly is the most wallet-friendly Boba spot on this list. Unfortunately, I must say you get what you paid for here. The Bobas were a bit hard and not sweet. They also fell short on the milk tea. The taste of the tea was not strong and tasted very bland overall. Well, lesson learnt, don't judge a Boba joint by its seemingly Asian exterior.
Fun fact: Quickly was once available Singapore but quickly bowed out to intense competition.
| | |
| --- | --- |
| Boba-O-Meter: | |
Address: 750 N Hill St, Los Angeles, CA 90012, USA
7. Kung Fu Tea
While exploring Koreatown, we noticed a Boba shop that sounded oddly familiar. Being a bubble tea fanatic, I've tried dozens of bubble tea brands in Singapore. As it happens, Kung Fu Tea Singapore is one of my favourites. Curious to see if the American Kung Fu Tea will also be one of my favourites, I couldn't resist trying their Boba. Just to be clear, the two Boba chains are not affiliated with one another, they just happen to have the same kickass name!
Kung Fu Tea has different types of teas on the menu which include punches, slushes, classic teas, milk teas and even milk cap teas (where a layer of frothy milk is added on top of your drink). Unlike other Boba shops, they have a wide variety of unique toppings, such as mung bean, coffee popping bubbles and fig jelly. With too many options for my brain to handle, I went for their classic Kung Fu Milk Tea with Boba (USD4.50). The Bobas were really chewy and sweet. Also, the milky taste and tea flavours in the milk tea were really well-balanced. I found out that they brew their tea every three hours and cook their Boba every two hours so that everything is consistently fresh. Kung Fu Tea is definitely the closest thing to the authentic Asian bubble tea in Los Angeles.
| | |
| --- | --- |
| Boba-O-Meter: | |
Address: 740 S Western Ave #117/#118, Los Angeles, CA 90005, USA
8. Little Fluffy Head Cafe
We spent our last day in Downtown Los Angeles, or DTLA for short, ticking off the final items on our LA to-do list. As our list got shorter, we craved for one last cup of Boba before we bid LA goodbye. A quick Google search led us to Little Fluffy Head Cafe, a charming little Boba joint in the heart of DTLA. Despite being small, the shop is decorated minimalistically and there's plenty of nooks and crannies where you can get a Boba shot for your Instagram feed.
Any Singaporean bubble tea fanatic knows that the cheese milk tea trend has somewhat dissolved and made way for the black sugar craze. However, the cheese milk tea trend is just beginning to catch on in LA, with Little Fluffy Head Cafe being one of few Boba joints to offer cheese milk tea. We tried their Chocomisu Milk Tea with Boba (USD7), which is black milk tea with a layer of tiramisu cream, topped off with ground cocoa powder.
The drink was very sweet, even for a person who always orders her bubble tea with 100% sugar. With the sweetness overload aside, the drink was actually quite tasty. The tea was fragrant and the tiramisu cream had a subtle cheese aftertaste. Do remember to adjust the sugar levels if you intend to drop by Little Fluffy Head Cafe.
| | |
| --- | --- |
| Boba-O-Meter: | |
Address: 203 W 7th St, Los Angeles, CA 90014, USA
I've really enjoyed tasting the different Bobas in Los Angeles. Although most were delicious, I still prefer the bubble tea back home. One thing I noticed was that their sweetness levels are lower. For example, LA Bobas with 100% sugar is comparable to Singapore bubble teas with 50% sugar.
Overall, I feel that the LA milk teas are lighter than those in Singapore. Some people might appreciate this, but I prefer the more decadent milk teas back home as it feels more shiok (tasty). Whatever it is, go out there and try different Bobas. You'll never know if it's your cup of tea!