There's just something about theme parks that always manage to draw out the inner child, whether you're 15 or 50 years old. What's not to love? Fun rides under the sun, state-of-the-art attractions for the whole family, and tons of unforgettable moments!
If you're a theme park fanatic, you can't miss out on America's Sunshine State: Florida! Otherwise commonly known as the Theme Park Capital of the World, the southeastern state is crawling with amusement parks. From a park that is home to a world-famous mouse, or one that revolves around a wizard and his adventures – Florida is full of magic and surprises waiting to be discovered. To maximize your getaway, there are Orlando vacation package deals that could help you plan a fixed itinerary without spending beyond your budget. With a variety of theme parks in Orlando, this is a place perfect for family getaways.

1. Universal Orlando Resort
With parks all over the world, Universal Studios has created a reputation for its immersive and thrilling rides that are sure to leave you wanting more. Its Florida counterpart consists of Universal Studios Florida, Islands of Adventure and the recently opened water park, Volcano Bay!
Tip: For the best experience, purchase a Park-to-Park ticket and prepare to spend at least three days covering all of Universal Orlando! Download the Official Universal Orlando Resort™ app as well for updated ride times, show schedules, a map of the parks and more.
Universal Studios Florida
Be prepared to jump in feet first into the movie world! Founded in 1990, Universal Studios Florida has been inspiring park goers to 'ride the movies' ever since. Whether it's fighting aliens alongside the iconic Men in Black or taking a trip down memory lane with the lovable E.T., you'll be in awe no matter what.
But for most people, the highlight of this park is traversing Diagon Alley, right out of the Harry Potter series! Watch in awe as the magnificent dragon perched atop Gringotts' spits fire at the wizards and witches below. Save this area for the late afternoon, when most of the crazy crowd would have filtered out to other parts of the park.
Tip: You might be able to save on accommodation by staying outside of Universal Orlando grounds, but stay at one of the following on-property resorts (Loews Portofino Bay Hotel, Royal Pacific Resort and the Hard Rock Hotel) at you'll actually be getting more bang for your buck!
Not only will you get complimentary Universal Express Passes (~S$122) for each guest, but also receive early park admission, priority seating at several restaurants and free transportation within the resort!
Islands of Adventure
Continue your journey at this adrenaline pumping park next door! Fight crime with your friendly neighbourhood Spiderman in an action-packed 3-D ride, or conquer the stomach-churning twists and turns of the Incredible Hulk coaster! When you're exhausted, slow it down with some family-friendly rides inspired by the tales from Dr Seuss' books. Don't forget to explore the legendary Hogwarts and Hogsmeade while you're there and try the delicious butterbeer!
Tip: If you're travelling with young ones, make use of Universal's Child Swap Programme! This allows both parents to join in on the fun and take the ride, instead of having to accompany a child who is unable to ride due to height requirements or other circumstances.
For instance, mum and son take the ride while dad and daughter wait in the Child Swap area. When they're done, mum waits with daughter while dad gets to go on the ride without having to queue again. The best part? He gets to take up to three additional family members for the ride!
Volcano Bay
Possibly the newest water theme park on the block, Volcano Bay recently opened its doors to the public in May 2017. This means updated slides, rides and a futuristic virtual queuing system. That's right, say goodbye to the days of waiting outdoors under the sweltering hot sun!
All you need to do is tap in at the attraction of your choice with your TapuTapu™ wearable and you'll get added to the virtual queue! Go ahead and splash in the aquamarine waters of Waturi Beach or laze in Kopiko Wai Winding River, while your TapuTapu™ counts down the minutes till your turn. This way, you won't have to wait mindlessly in line for hours on end and you'll be able to enjoy the queueless attractions instead!
Tip: While you explore the park, look out for rides that with signs that say 'Ride Now!'. This means that you'll be able to tap in and enjoy that ride immediately, without losing your spot in the virtual queue you're in.
2. Walt Disney World Resort
Aptly termed the 'Happiest Place on Earth', Walt Disney World Resort was opened in 1971 in Florida and has since grown to become the largest theme park in attendance around the world.
With four lands (Magic Kingdom, Epcot, Disney's Animal Kingdom, Disney's Hollywood Studios) and two water parks (Disney's Blizzard Beach, Disney's Typhoon Lagoon), it's no wonder that people from all corners of the globe flock here to experience unparalleled joy!
Tip: Download the My Disney Experience App the moment you start planning for your Walt Disney World adventure! With the app, you can easily navigate through the expansive parks, check out the ride and show timings, make dining reservations and select FastPass+ experiences!
FastPass+ comes free with all park admission and is a service that allows guests to make ride reservations ahead of time (up to 60 days if you stay on-property and up to 30 days for normal ticket holders). Make use of it to skip the queue at popular rides!
Magic Kingdom
Easily the most popular out of all four lands within the Disney World property, visitors from all walks of life will recognise Cinderella's awe-inspiring castle as the centrepiece of the park. On top of being the happiest place on earth, the Magic Kingdom is also the most magical! Here, you'll find the Disney Princesses roaming the streets to interact with guests and nostalgic classics that bring you right back to your childhood days.
At the end of the day, be sure to catch the Happily Ever After Fireworks Show at the towering castle! It's an out-of-the-world experience and definitely worth staying for.
Tip: Most people leave after the fireworks, but take a seat along Main Street. There's a secret show that plays every half an hour after the Happily Ever After Fireworks Show, and it's The Kiss Goodnight. Cinderella's Castle shines with twinkling iridescent lights and 'When You Wish Upon A Star' plays in the background as a narrator bids park guests farewell.
Like everything Disney, it's a truly magical moment that puts the cherry on top after a long day. Not only will you get to enjoy an empty park with a spectacular view of the castle, but have a more comfortable commute home without jostling with thousands of other visitors.
Epcot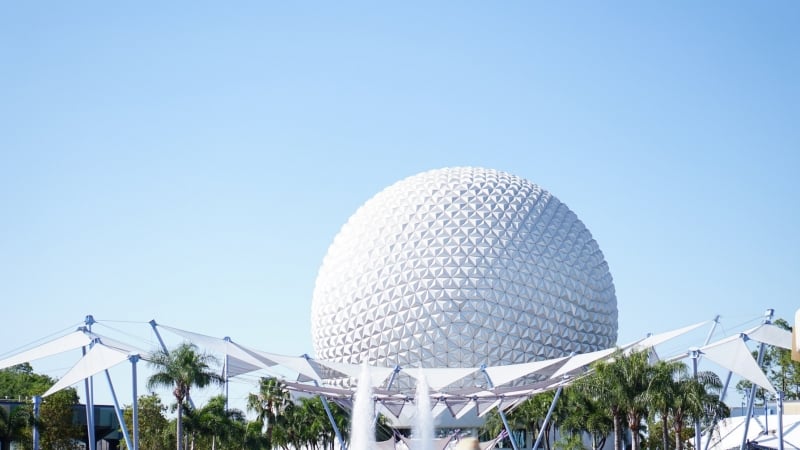 Here at Epcot, it's two parks in one! Attractions around the giant golf ball are centred on technology and the future but venture past that and you'll reach World Showcase. Featuring 11 countries like Morocco and Japan, it's time to travel the world!
Conceptualise your own vehicle and bring it on an exciting test drive at Test Track, or bring your taste buds on a tantalising culinary adventure with the different cuisines available. Want to have Chinese food? Head over to the China Pavilion! You'll find the Princess who saved all of China there too as well. Perhaps you're in the mood for good ol' fish and chips? Make your way to the United Kingdom Pavilion instead!
Tip: Looking for a little pick me up throughout your day at Epcot? You're in luck! Flavours of Club Cool has got your back! Sponsored by Coca-Cola, this air-conditioned spot provides visitors with the chance to sample sodas from all around the world for FREE. We recommend trying out Beverly from Italy and Smart Watermelon from China!
Disney's Animal Kingdom
Spanning over 400 acres of land, Disney's Animal Kingdom is the largest park in the whole of Walt Disney World. The park's icon is the gargantuan Tree of Life as pictured above – take a closer look to see carvings around the tree's trunk! Dedicated to honouring animals of past, present and imaginary, this is a must-visit, especially for animal lovers.
That being said, Animal Kingdom is also home to the newly opened Pandora – The World of Avatar. One of the hottest areas within the park, even if you haven't watched the movie, do take the time to set foot inside for an otherworldly experience that you can't get anywhere else.
Tip: Disney has their own rendition of Universal's Child Swap Programme, called Rider Switch. All you need to do is inform the cast member at the attraction that you'll be doing a rider switch, and you'll be given a rider switch pass. This pass entitles the second parent waiting outside to enter into the FastPass+ line after the first parent finishes the ride! The second parent also gets to bring along two additional family members, meaning kids will get the chance to ride more than once.
Disney's Hollywood Studios
Lights, camera, action! Constructed as a response to Universal Studios Orlando's opening, this Disney park is dedicated to showing business as well. Though it's much smaller than Magic Kingdom and Animal Kingdom, don't let that fool you.
Want to party it up with Aerosmith, or perhaps engage in an interactive shooting game with your favourite Toy Story characters? You'll be glad to know the park hosts three of Walt Disney World's most famous rides: Rock 'n' Roller Coaster, Toy Story Mania and Tower of Terror. What's more, with the recent opening of Toy Story Land in June 2018, we're pretty sure that Slinky Dog Dash will soon create a name for itself too!
Tip: If you're travelling with a child 4 to 12 years of age, give them an unforgettable experience at the Jedi Training Academy for FREE! Not only will they be able to train under a Jedi Master and wield their own lightsaber, but they'll also get a diploma for their participation. Be sure to get to the park early to register!
Disney's Blizzard Beach
Fittingly opened on April Fool's Day in 1995, legend has it that Orlando was experiencing a cold spell and the decision to build a ski resort was made. However, just as the resort was nearing completion – the warm weather came back, and ruined the plans of a snowy wonderland! But since the ski slopes made for great slides, why let the effort go to waste? And thus, the wintry-themed water park was born!
While you're there, give the Summit Plummet a go! Listed as one of the world's tallest free-fall water slides, reach nerve-wrecking speeds of up to 60 mph before splashing into the pool at the bottom.
Disney's Typhoon Lagoon
Similar to its sister park, Typhoon Lagoon has an interesting origin story as well. Once upon a time, a gnarly typhoon raged through the area and carried an assortment of items with it!. From a shrimp-boat that ended up perched precariously atop a mountain to stray surfboards lying around, a gator decided to make the best of the situation and turn the area into a water park! The result is a gorgeous amusement park that seems to co-exist with the overrun nature surrounding it, filled with numerous photo opportunities and surprises.
Tip: Are you a fan of Lilo and Stitch? Unless you manage to catch them during breakfast at 'Ohana, this is the only other place is Walt Disney World that you'll be able to meet the dynamic duo!
3. SeaWorld Parks & Entertainment
Seaworld Orlando
Time to dive in and learn about the world underwater! Seaworld Orlando is more than just an amusement park – it's an educational maritime park as well. On top of riding daredevil coasters, park goers will also catch a glimpse of penguins, dolphins, orcas, stingrays and more! The park prides itself on playing a hand in marine life rescue, care and preservation, so be prepared to gain a wealth of knowledge while having a blast.
Tip: Make a point to arrive at shows early! Many of Seaworld's animal shows are limited seating and since they're so popular, spaces tend to fill up fast. Plan to arrive at at least 15 to 25 minutes earlier to secure a seat for your party and avoid any disappointment. These shows are a spectacle that you won't want to miss!
Aquatica
In a place like Orlando, that experiences warm weather almost all year round, of course, there'd be another behemoth waterpark! A part of the Seaworld franchise, Aquatica brings together both marine life and imposing water slides in a one-of-a-kind theme park experience. Where else would you be able to race down an enclosed slide that runs through the habitat of sleek black-and-white Commerson's dolphins? Home to 42 slides that cater to all thrill levels, come experience this waterworld for yourself!
Tip: Slip on a pair of water shoes if you own one! Although flip flops can be worn around the park, water shoes can be worn everywhere (even on rides!) and will provide you much needed relief from the scorching hot pavement.
Discovery Cove
A little different from your average theme park, Discovery Cove prides itself in being a 'reservations only, exclusive and all-inclusive' resort. This means that along with your admission, wetsuits, snorkel gear and unlimited meals are included as well! Furthermore, the park limits entry to only 1,300 guests a day – so you're guaranteed to have the best experience possible!
However, if you're looking for exhilarating slides and roller coasters, you won't find any here. Instead, you'll have the opportunity to swim with dolphins, wade alongside otters and even feed stingrays! It's all about the invaluable animal encounters here, so bring your family along and delight in the company of these beautiful creatures!
Tip: Feeding the birds in the Explorer's Aviary is FREE! Simply pick up a pot of bird feed and the birds will come flocking towards you!
Busch Gardens Tampa Bay
Travelling with thrill-seekers? This is the park to go for in order to make the most out of your money! Although Universal Orlando Resort and Walt Disney World Resort have stomach-churning rides of their own, they tend to be spread out amongst the different parks within the resort. So unless you want to purchase a park hopper ticket, head over to Busch Gardens to get your blood pumping without breaking the bank! With over 10 thrilling rides, you can get your adrenaline fix all in one location.
Heart-pounding rides aside, don't skip the Serengeti Express Train! The relaxing ride gives you a chance to catch your breath while taking in the sights of majestic African animals such as giraffes, antelopes, ostriches and more.
Tip: Busch Gardens has a Child Swap programme as well, like Universal Orlando Resort and Walt Disney World Resort! Simply ask the ride attendee for a Child Swap card and you're good to go.
Adventure Island
Located just opposite Busch Gardens is Adventure Island, yet another waterpark to help the people of Florida keep cool throughout the summer! Similar to Busch Gardens, this park features tons of water slides that are sure to keep you on your toes. Daredevils will be glad to hear that Adventure Island has recently added a new attraction, Vanish Point, to their repertoire of rides. Feel your stomach lurch as the floor disappears beneath your feet, sending you free-falling down a 70-foot drop slide. Are you ready to take on this epic ride?
4. Legoland
Whether you're an adult or a kid, we've all played with Legos at least once…and most definitely experienced the pain of stepping on a Lego brick barefooted. Opened to the public in 2011, Legoland Florida Resort and Legoland Water Park are designed to spark your child's imagination. But fret not, adults will be just as entertained with the life-sized Lego structures!
Legoland Florida Resort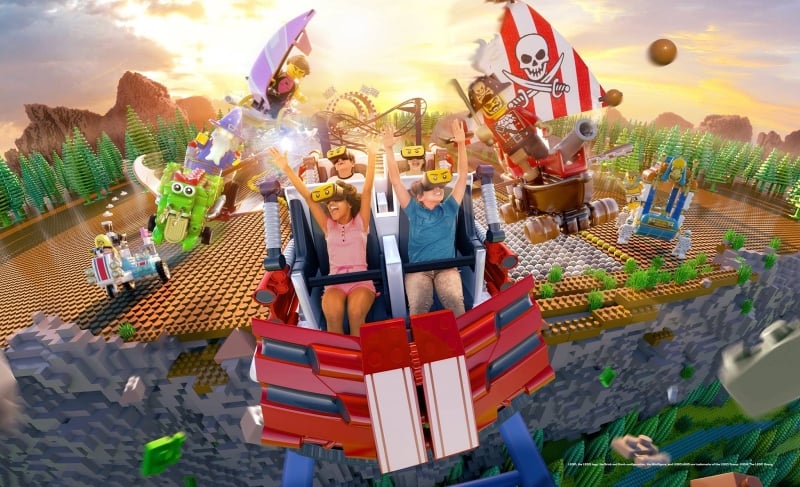 It's time to live out your dreams of building a Lego empire! With over 50 attractions that let your little ones take the lead, the whole family will definitely experience a day filled with fun. Marvel at the mighty structures built out of Lego, take pictures with both miniature and giant Lego figurines or let your child obtain their very own driver's license at the Ford Driving School! The park is sure to invoke some nostalgia amongst older guests and bring out their inner child as well.
Tip: If you're planning to drive to Legoland, consider purchasing your parking pass online. This way, you'll save $2 off the in-park rates!
Legoland Water Park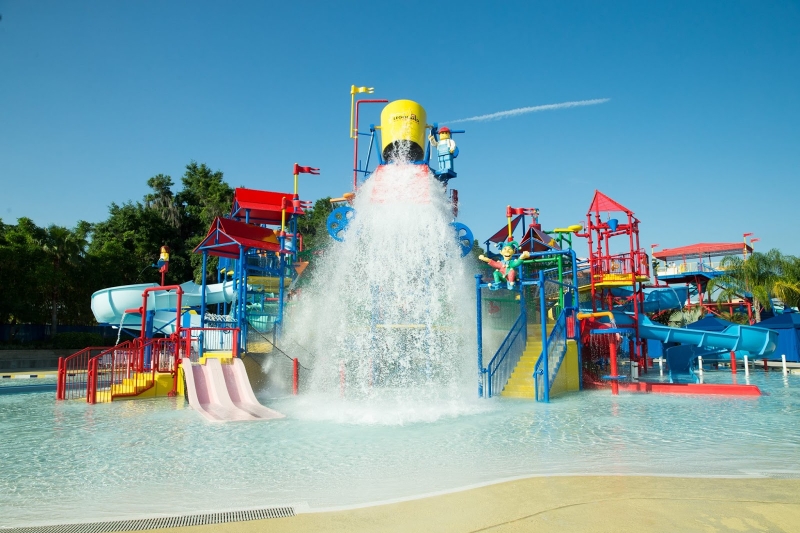 Cool off in this cosy little water park and let your children get creative! Other than the usual slides, Legoland Water Park offers interactive water-play experiences such as Build-A-Raft, which allows park goers to put together their own raft with special soft Lego bricks. Toddlers won't miss out either at the Duplo Splash Safari, designed for kids aged 6 and under!
Although this park might seem dull in comparison to the other water parks in Orlando due to the lack of thrill-rides, there are still a few reasons to consider it. First off, it's much more affordable in comparison to its counterparts at Disney, Universal and Seaworld. Available as an add-on to your Legoland Florida Resort admission for only S$31, it's definitely a bargain! Secondly, you won't have to face crazy crowds – this translates to shorter queues and a more pleasant experience for the whole family.
Tip: Round up your Lego Minifigures before your trip and bring them to the park to trade! Most employees will have Minifigures on their tags and are keen to trade, especially with children. It's a special keepsake that will remind you of your theme park adventures!
Ready for the time of your life? Theme park fanatic or not, the Sunshine State offers a plethora of attractions. Whether you're a nostalgic old soul, a thrill-seeker or just looking for a vacation spot that caters to family members of all ages, Florida has amusement parks that will surely delight! With our tips and tricks, you'll be able to easily conquer any of the parks without breaking a sweat.