It comes in various names, but whether you know it by its Persian derivative, bāzār (bazaar), the Middle Eastern souq, the Latin Mercado, or the Western street market, the charm that comes in abundance with it is unmistakably distinct.
There is nothing quite like the sensory overload as your eyes gaze upon the architecture —some as old as time—, your nose picks up the strong scent of dried herbs and food laid out across baskets and mats, and your ears detect energetic prompting from shopkeepers looking to peddle their wares in languages you may or may not understand.
In that moment, you forget about the world outside those walls, and rightly so; a good bazaar transports you from one world to another.
Grand Bazaar in Ürümqi, China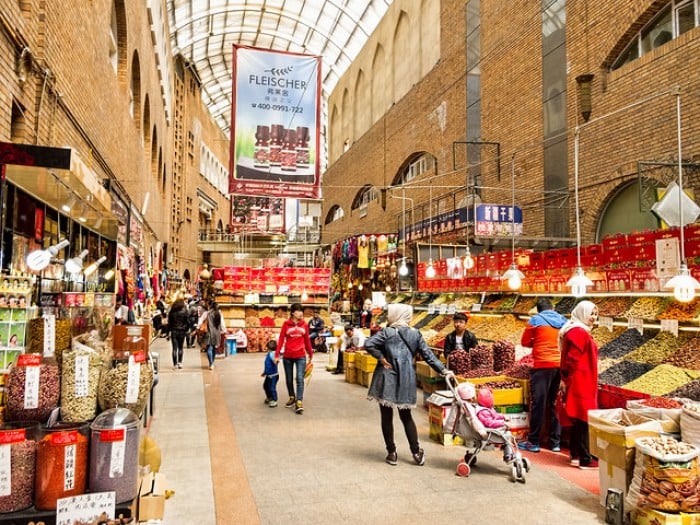 Image credit: Dan Lundberg
The world's largest bazaar can be found in Ürümqi, Xinjiang, China. Geographically, you can see why it is an ideal site for merchants all over the Orient to do business; Xinjiang borders 9 countries: Mongolia, Russia, and India, just to name a few. Goods from diverse cultures make their way there, and although the bazaar is located on Chinese soil, it is Islamic, decked in its typical architectural grandiose, a representation of the ethnic minorities in the region, such as the Uyghur.
Apart from sampling local delights like Uyghur fruitcakes and dried fruits, you may also witness spectacular performances like tightrope walking and other theatrical acts. There are also historical museums nearby so you are able to trace its origins as far back as its roots as a strategic point in the ancient Silk Road, a part it continues to diligently play even today.
Mercado San Pedro in Cuzco, Peru
Image credit: Tony Bailey
Amidst the complex Inca culture that stretches back hundreds of years to the 13th century, the Mercado San Pedro lies in the heart of it all in the historic capital of the Inca Empire: Cuzco, Peru. At 3,400m above sea level, exploring the entirety of the market will quite literally leave you breathless, but great things in life are never easily attainable, and the sights and sounds there are no exception.
As the hub of the Inca way of life, you will find many female vendors and market-goers dressed in traditional clothing throughout the market, weaving through rows and rows of vibrant, colourful produce, punctuated only by the smell of raw meats and spices, and the tantalising aroma of fried chicken and lomo saltado (stir fried beef), a local favourite.   
Maeklong Railway Market in Samut Songkhram, Thailand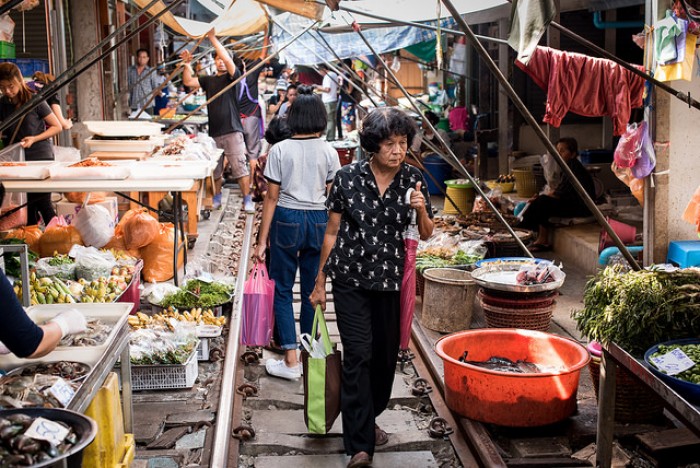 Image credit: Hanspeter Riesen
While you may normally find vendors with quiet movement and acute reflexes, they are honed to increase productivity. However, at the Maeklong Railway Market, they are also used to avoid a gruesome mishap. The hint lies in its namesake; an actual train regularly passes through the market!
This unique market can be found in the Thai province of Samut Songkhram sandwiching part of the Maeklong Railway. You may feel an initial sense of peace as you navigate your way through seemingly endless rows of stalls draped under colourful awnings that are supported by wooden or bamboo poles. Every nook and cranny is filled with mats and baskets of local street food, viscously bright chillies, fresh fruits and vegetables. It is almost as if there is no space at all to even walk, but the main event is yet to come.
From a distance, a deafening horn bellows through the market, and in an instant, vendors leap into action, pushing back their goods using retractable boards and drawing the awnings behind. Like a zipper being opened, space is miraculously created as the train makes its way through corners so tight you wonder if the produce that are jutting out will be sliced under the train's unrelenting wheels. Surprisingly, not a single item is damaged at the end of it. Goods and awnings are once again pulled out, and business resumes. From your little hiding space, you still your beating heart and understand why the vendors are so nonchalant about it; this is routine to them.
Go Local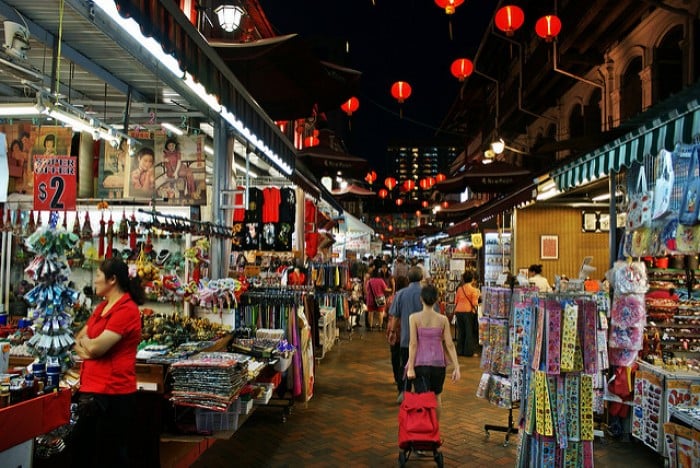 Image credit: Khalzuri Yazid
Worry not if these destinations are a long stretch for you, there is a familiar place close to our hearts that is also a melting pot of different cultures: home. For those who live in Singapore like me, have you tried waking up early in the morning to soak in the hustle and bustle of a wet market in your heartland? How about under the cover of the evening sky instead, down in busy Chinatown or Little India with their wide range of often quaint items on sale? Perhaps you could even keep your eyes peeled for the next pasar malam that you have not visited in years.
No matter which market you go to next, it is how you soak it all in that defines your experience. I believe that the less control you have over what you choose to stumble upon, the more fulfilling your stay. Navigating a market is like gliding with the waves — it is always better to let the tide carry you along.