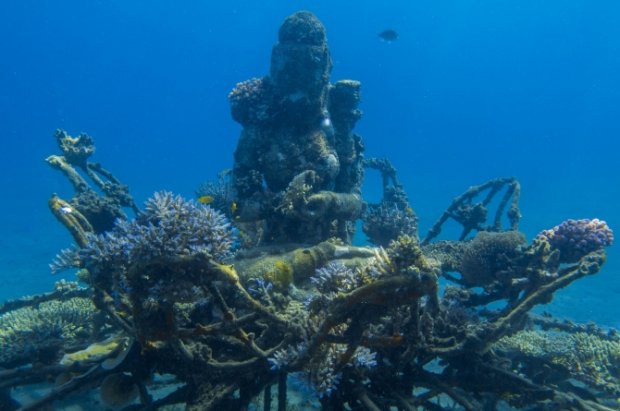 Bio-Rock's Coral Goddess: When diving Bali, you'll find that even its underwater world is a spiritual one
I've explicitly said before that Sipadan's my favourite dive destination in Asia. Retraction. I'd like to declare a new winner, and that's Bali.
I admit I had very low expectations and was more nervous than excited for the 8D7N trip. Mostly because this was my first time travelling solo (yes yes, I can hear your "Eat, Pray, Love Dive" jokes already), and also because I had heard plenty of horror stories about divers going missing in Bali, particularly in the waters of the infamous Nusa Penida. There were loads of other reasons too, including the fact that this was my first time handling my too-expensive-to-destroy underwater camera and equipment on my own (read: no pros or friends around to help should anything go wrong). But, I must say I'm very proud to have completed the trip. Of course, there were several hiccups, important lessons learnt, and eye-opening experiences along the way—which is why I've decided to do a separate post on things to know before going on a dive safari in Bali; hopefully it comes in handy should you decide to explore Bali's underwater world the way I did.
So, some of you may ask: What the hell is a dive safari? Some folks elsewhere in the world categorise liveaboard diving as a sort of dive safari, but in Bali, more often than not, a dive safari is an organised journey where guests hop from place to place (in a bus or minivan) looking for marine life. Topside activities are also thrown into the mix for a well rounded travel experience. Essentially you don't stay in one area for too long and you'll be switching resorts like you change your underwear. Okay, no, bad example, don't take that literally. But you know what I mean. It can be tiring, but as I was on my own, I hit the sack pretty early every night (no drinking, no cigar smoking, nada—can you believe it?!), and didn't lose much sleep so I found it quite all right.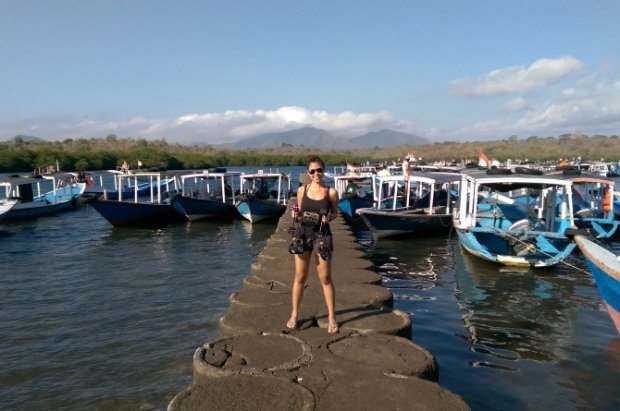 On the way to Menjangan: Feeling like a real VIP here with my very anorexic looking basic camera set-up
As usual, I chose to go with Tasik Divers, who are virtually everywhere in Indonesia. I find it very hard to dive with anyone else given a choice because they're just that good at what they do. When I arrived, the first question I asked them was, "Is there going to be anyone else in this group?". They said no, and that I was the only guest for the entire duration of my stay. That meant I had a private dive guide/tour guide/driver. I had the whole boat to myself, and once, even the entire resort. SCORE!
Before I give you a rundown on the various dive sites I covered, here's a brief overview of the itinerary:
Day 1: Started in Sanur, Denpasar, stayed overnight at Sukun Bali Cottages. No diving on day of arrival.
Day 2: All topside; visited the Ulun Danu Beratan Temple in Bedugul en route to the Pemuteran region (stayed two nights at Jubawa Home Stay), the gateway to Menjangan Island, where most of the diving was done on day three.
Day 3: Completed four dives in total around Menjangan Island, including one twilight dive in search of the elusive mandarinfish (we were unsuccessful so I won't be covering this at all).
Day 4: Did two dives in Pemuteran Bay before heading to Tulamben. Stopped by Ponjok Batu Temple along the way, and stayed two nights at the super awesome Ocean View Dive Resort.
Day 5: Spent the day in Amed (three day dives); did one Liberty Wreck night dive back in Tulamben.
Day 6: Only two dives for Liberty Wreck before the final leg of our journey, which led us back to Denpasar, but this time, in the Kuta area. Stayed two nights at the excellent b Hotel Bali & Spa.
Day 7: Two dives in Nusa Penida.
Day 8: No diving; goodbye Bali ;(
Alrighty then, let's dive into it, shall we?
Day 3: Menjangan Island
Dive site #1 – Coral Garden
If you're new to the world of scuba, you might've heard that Bali's currents are strong, making it an ideal place for more experienced divers. Enter Menjangan Island, which is totally manageable and mostly calm—excellent for newbies. Honestly, it's Nusa Penida you should be cautious of.
Coral Garden certainly lives up to its name. Visibility was about 25 metres (as with many of the dive sites throughout my trip), and there was colour everywhere. Unfortunately, my camera was being an idiot during the entire dive so I'm unable to present you a pretty picture of this amazing spot.
Dive site #2 – Temple Wall
One of my favourite dive sites. It's called Temple Wall because it's located right off this cliff where a beautiful Ganesh temple stands.
Ganesh Temple on Menjangan Island
We did two dives here and both of them were pretty action-packed. My dive guide Enrico explained how this was an area where the Denise's pygmy seahorse was a relatively common sight and we spent quite a bit of time trying to shoot them on the wall. No easy feat, especially with a Plus 10 lens. There were about three or four of them on the sea fan, but this was the only one that didn't move around as much. It was as if the rest were interested in playing hide and seek with us.
Also read: 10 Unspoilt Islands in Indonesia for Your Next Beach Vacation
Denise's pygmy seahorse—they're a lot more smooth-skinned and have less tubercles compared to the pygmy seahorse
I also had an encounter with this school of mackerel, which appeared out of nowhere right behind me after we were done photographing the seahorse. It was such a mesmerising sight, they moved in unison—left, right, up, down, only occasionally splitting up as I swam among them—but I was so busy trying to get a good shot that I didn't stop to enjoy the show; one of the many cons of underwater photography, sadly.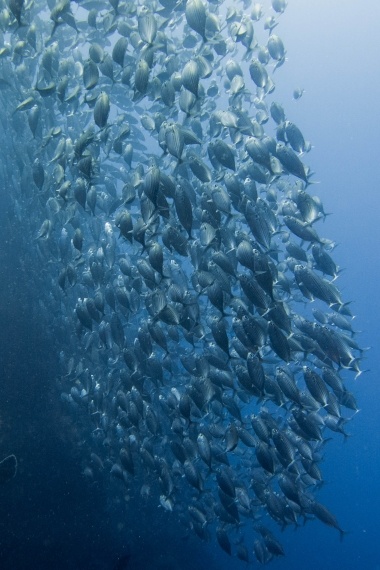 I like big schools (of fish) and I cannot lie
Then, right before we were going to do our safety stop for our final Menjangan dive, we were fortunate enough to spend some time observing a cuttlefish laying eggs in the coral. These cute cephalopods are usually quite shy, but this one didn't seem to mind us one bit. To my horror, during the surface interval, I learnt that both the male and female die after spawning. Yup, you really do learn something new every day.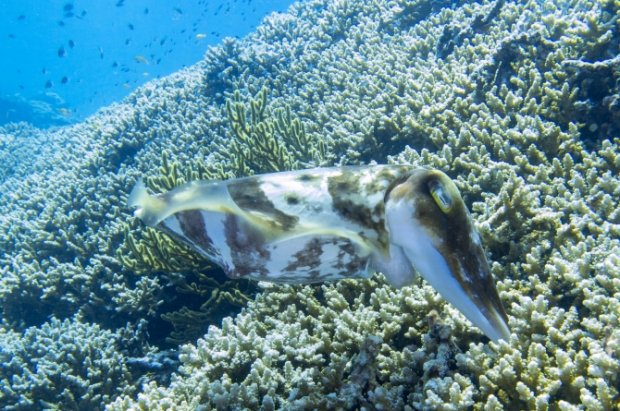 Not the greatest shot (way too blue), but thanks for the memories, Miss C
Day 4: Pemuteran Bay
Dive site #3 – Bio-Rock
This dive site was extremely fascinating to me, but it had nothing to do with the marine life or anything like that. Bio-Rock is actually the name of a major reef restoration and conservation project that's been going on since 2000. It's so big that it's been recognised by the United Nations and was awarded the prestigious Equator Prize in 2012.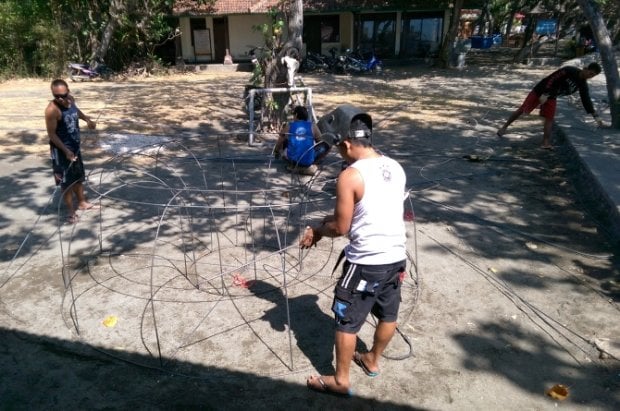 The guys who are currently in charge of Bio-Rock working on a new structure to submerge in the weeks to come
Long story short: The project's main aim is to use electricity to revive (and maintain the lives of) coral reefs in the area. If you're interested, find out more in this article Nat Geo published.
No boat diving here so we did a shore entry. I don't know about you, but I have this love-hate relationship with shore diving. Everything's just very clumsy and I can't stand how there's always an excessive amount of sand in my booties after every dive. Ugh. Anyway, diving Bio-Rock is like visiting an underwater museum. You'll see structures that look like turtles and manta rays, and random objects—like bicycles—arranged in an arty-farty manner. I'm not surprised if you've seen photos of the Coral Goddess statue (see lead image in this post) on the web or in magazines—it's actually quite famous. Trust me, Bio-Rock is nothing short of intriguing. Plus, you'll probably be left feeling dizzy from looking at the large schools of fish that hang around the area.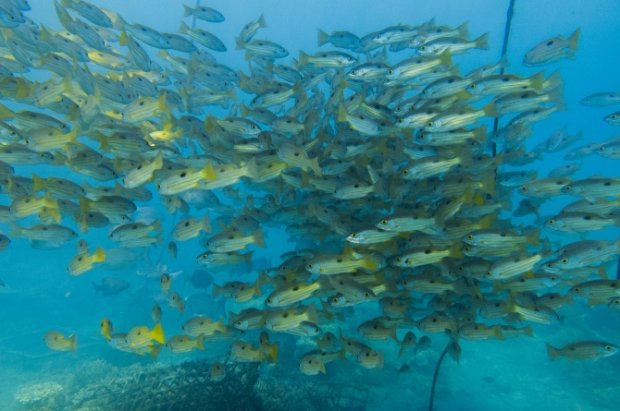 A school of five-lined snappers
Alas, visibility was not that great and most of my wide angle shots came out looking like crap. If you do get the chance to dive this fabulous spot (and I say go out of your way to do so because it really is worth it), I hope you have better luck than I did.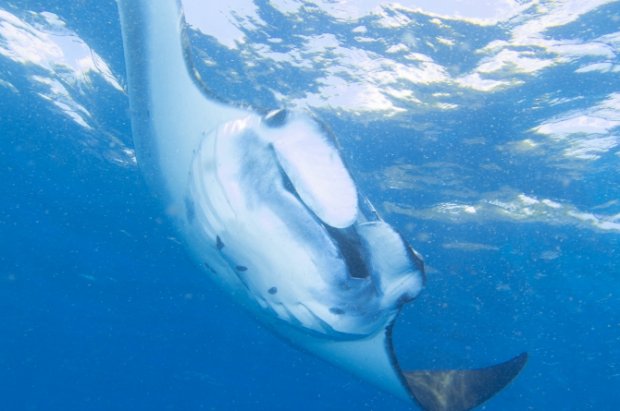 This is Matt (according to me)—he's very friendly, and he's one of the reasons Bali's now my favourite dive destination
BOOM! Yes, I actually got up close and personal with some very friendly manta rays. You now probably understand why Bali beat Sipadan as my top dive destination. But believe me, there are many other reasons, and this image just skims the surface.
Now, where were we? Oh yes, right after diving Bio-Rock in Pemuteran Bay, it was time to scoot off to Tulamben.
Day 5: Amed (and Tulamben)
Dive site #4 – Warung Bobo
I think the original plan was to do Tulamben on Day 5, but for some reason there was a change in the itinerary (you need to be prepared for this by the way, always remember: the dive operator calls the shots). I was fine with it though, more than fine in fact because in retrospect, Amed turned out to be much better than Tulamben.
Amed's about a 30 to 40 minute drive from Tulamben and it's kind of like the hippie, indie-loving sibling that Tulamben never talks about. It has heaps of home stays, B&Bs, and dive centres, but it hasn't quite turned into a tourist hotspot. I'm not sure if it'll ever change that drastically, and I certainly hope it doesn't.
We set up camp at this waterfront hangout called Divers Cafe (how apt)—a great starting point for exploring Jemeluk Bay and its many dive sites. Again, like Menjangan, there is a lack of strong currents in this area so new divers can breathe easy here. However, diving Amed's a little different, mainly because of one thing…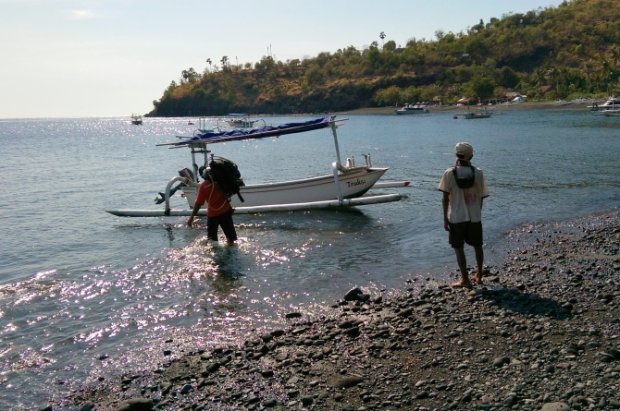 Amed calls for boat diving, but it's not the kind of boat diving most of us are accustomed to
… The boat. If you're here, you'll have to hop onto one of these traditional fishing boats, which only fit up to three people, including your "boat captain" (who's really a fisherman). Needless to say, I was told to leave everything behind because there was no room for non-essential belongings. Anyway, it wasn't that bad because all the dive sites were close by, along the shoreline. Getting in the water was also a little different; I had to jump in wearing my fins and mask and I put on my BCD in the water instead. Took me a bit of time, I must say.
So, Warung Bobo — so-named because it's right in front of a quaint little restaurant called Bobo. Slow, easy dive, with lots of little critters for macro shooting. Visibility was about 20 metres, not too shabby for a site so close to shore. Found a couple of pygmy seahorses and plenty of pretty nudibranchs and flatworms.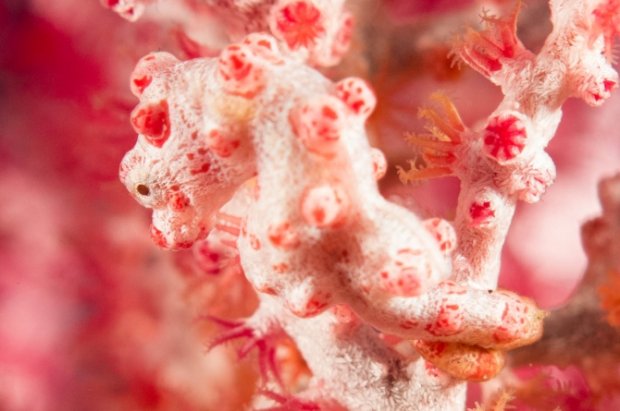 Finally managed to find a pygmy seahorse—they are less than two centimetres tall and are so difficult to shoot because they tend to turn away from the camera; a little annoying, really
Dive site #5 – Jemeluk Bay
In my opinion, the best dive site in Amed, but only because I saw so many octopuses (octopi!) here. Intelligent, mysterious, photogenic—they're one of my favourite creatures of the ocean. Only problem is, most of them are extremely shy, so it's usually hard to photograph them.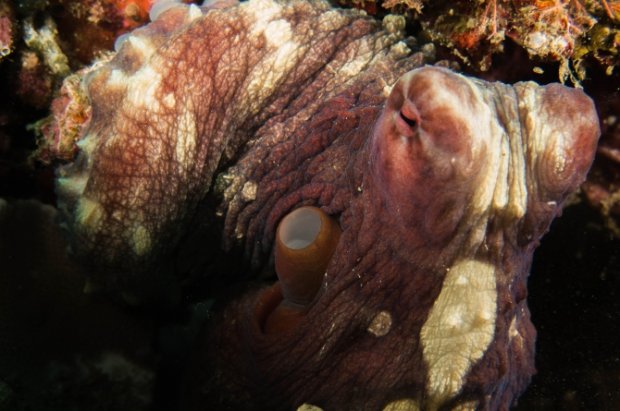 I could go on and on about these uber cool animals—some fun facts: octopuses have three hearts and their blood is blue in colour
Dive site #6 – Divers Cafe House Reef
No traditional fishing boat diving here since this was the house reef of Divers Cafe (a seemingly popular spot for freedivers as well). We did a shore entry and enjoyed a virtually current-free dive. Lots of artificial reefs here, so naturally there were tons of fish.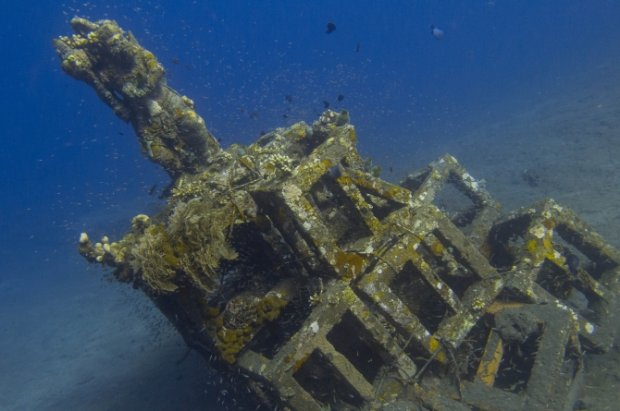 One of the artificial reefs found in the house reef of Divers Cafe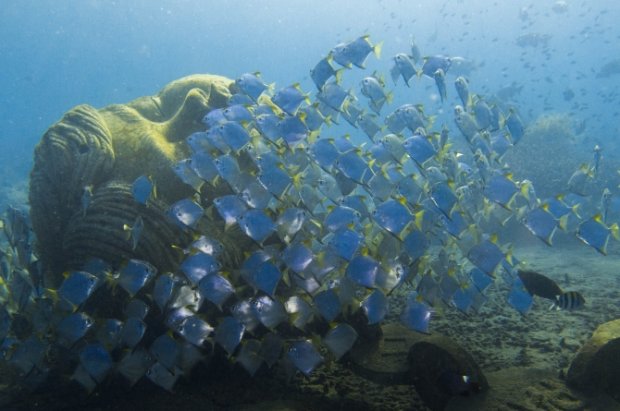 A school of silver batfish; awfully blue shot (couldn't do much to save it, even with the help of Lightroom), but I find the head in the background to be both fascinating and creepy
Dive site #7 – Liberty Wreck (night dive)
Our final dive in Amed ended around 3pm so we drove back to Tulamben and I managed to rest a little before our night dive on the world-famous Liberty Wreck. Nusa Penida aside, Liberty Wreck is likely the reason divers make their way to Bali. It has a lot of history, and I think it's such a crowd-puller because of its close proximity to shore. However, that being said, you need to know that because it's such a huge deal, the amount of divers visiting the wreck is insane. This is why I preferred Amed to Tulamben; it just wasn't as packed.
Again, we did a shore entry for Liberty Wreck (together with 9274924832 divers). I was nervous as hell because A) like shore diving, I have a love-hate relationship with night diving, and B) this was my first time handling my underwater camera on a night dive. I didn't know what to pay attention to: my camera or the torch. Argh! I typically last 60 minutes or more underwater, but this time round, I think my bottom time was 45 minutes. Yes, I was sucking air and I was not calm at all. Plus, can I just say those worm-like things that are attracted to lights (your torch, strobe lights) are incredibly disgusting? What if they swim up your wetsuit? Why can't they just go away? OMG, you've been warned.
Anyway, we did see a lone bumphead parrotfish wandering around the wreck, but other than that, it was mainly macro with a variety of shrimps, crabs and pipefish.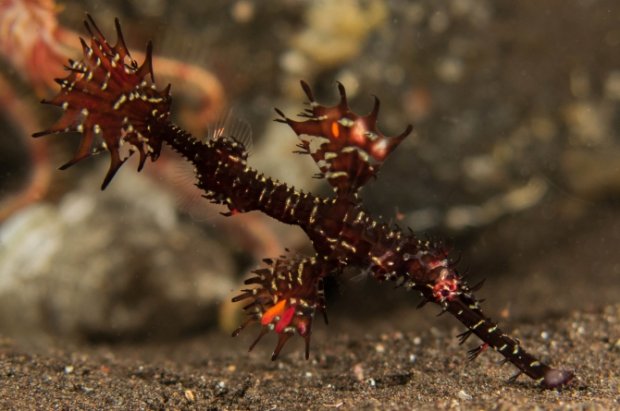 A gorgeous ornate ghost pipefish—the only decent photo I took during the night dive
Day 6: Tulamben
Dive site #8 – Liberty Wreck (dawn/day dive)
Because we had to leave Ocean View Dive Resort (my accommodation in Tulamben) before noon, we started out early. It was easy anyway since it was all shore diving for the wreck. We were geared up and ready to go by 6:30am, but alas, so were the same 9274924832 divers (I did wonder if these guys got any sleep at all).
We completed a total of two dives, the first was done around the bow of the ship and the second dive took place along the stern. The crowd nearly ruined it for me, but that aside, I liked Liberty Wreck for its good mix of things to see. The wreck itself was stunning, and there were macro subjects as well as large fish.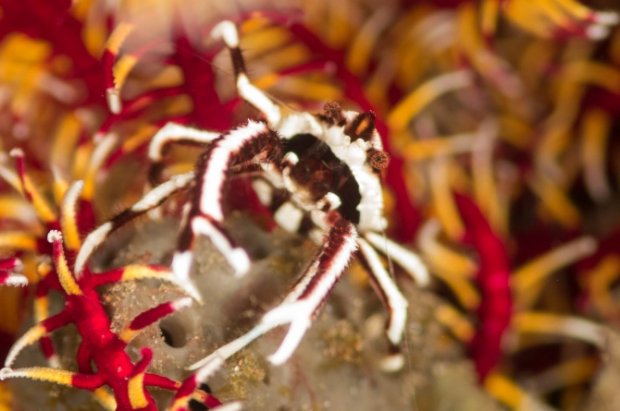 A crinoid squat lobster—another critter that won't sit still for the camera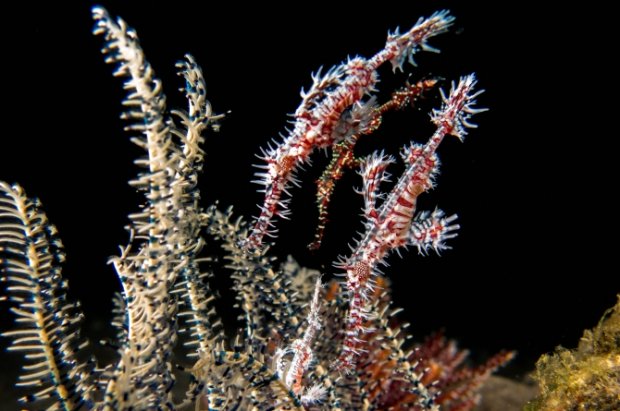 Three-in-one: A group of ornate ghost pipefish
And then there was the school of adorable surgeonfish. Apparently, these guys have gotten so used to snorkellers feeding them bread that when they see any human being, they zoom over, hoping you have some food to spare. They were behaving like cats when I saw them! The best way to get them to come closer? Reach out and rub your fingers together. That'll do the trick.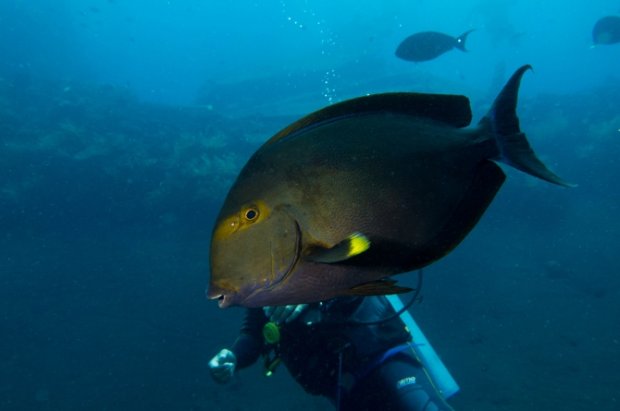 Fish head, man body—my dive guide Enrico being photobombed by a surgeonfish
Day 7: Nusa Penida
Dive site #9 – Crystal Bay
Ah, Nusa Penida. Just the mere mention of this small island southeast of Bali gave me the heebie-jeebies. As a diver, you must've read the news about people going missing in Nusa Penida's waters (the most recent incident took place earlier this year) in search of the majestic mola mola a.k.a. ocean sunfish. I'll admit I almost refused to visit Bali for this very reason. So you can only imagine the fear in my eyes when this day arrived.
For the two dives in Nusa Penida, Enrico wasn't my only dive guide; his colleague Melky joined us for our day trip. Two dive guides just for me. "HOW BAD IS THIS GOING TO BE?", I remember asking myself.
I honestly thought we were covering some other dive site in Nusa Penida, not Crystal Bay — the very place divers go missing. So when I found out where we were going, I thought I was going to die and that the mola mola was the last thing I was going to see before expiring. I know, I sure am dramatic.
Also read: Banua Wuhu: Diving at Indonesia's Active Underwater Volcano
The dive brief was given before we entered the water. I could tell this was a brief unlike others; it was extra serious and the same instructions were repeated over and over again. "Stay close to the wall, find a rock, hold on to it, and don't let go until I give you the signal to come closer to me."
We descended into the waters of Crystal Bay, and boy oh boy, did I understand everything. Why was Crystal Bay called Crystal Bay, and why was everyone so obsessed with it? The visibility was amazing. Everything—the water, the coral, the marine life—it was all so, so beautiful. And even though everyone got really excited at the sight of a rather large marbled ray, I made sure I wasn't too distracted and stayed close to the wall throughout the dive.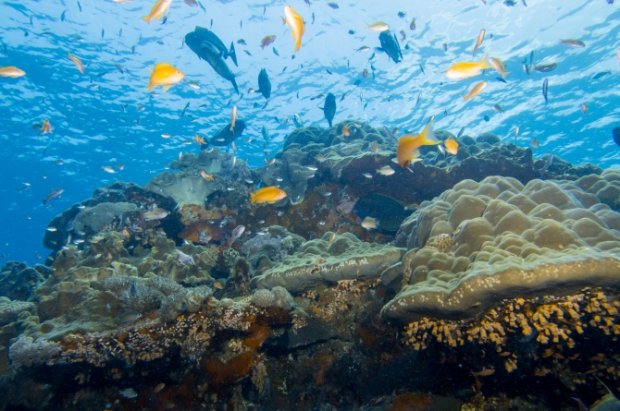 Crystal Bay's glorious reef
Halfway through the 45-minute dive (the currents were crazy and I was sucking air once again), we reached this bend around the wall, where one would usually spot a mola mola or two. My guides turned to me and gave me the signal to stay put. I gave them the OK sign and didn't move.
Then, from behind me, another group of divers appeared. I saw their dive guide giving them the exact same signal, telling them to stay where they were before he made his way out to try to find some mola molas. To my horror, these two divers followed him out into the blue. The worst part? They were busy taking photos of each other and ignoring the guide, who was trying to get their attention (probably to tell them to get the f*ck back to the wall). I was dumbfounded, flabbergasted, pissed off—you name it, I felt it.
Also read: 15 Stunning Places to Swim at Before You Die
Then it dawned on me. This was the reason divers were going missing in Nusa Penida's waters. Yes, it's true that the currents are very strong, but the place was never truly dangerous to begin with and dive sites like Crystal Bay have been given so much bad press all because of idiot divers who don't follow instructions, idiot divers like these two.
In the end, nothing happened to them, and we didn't see any mola molas. As uneventful as the dive was, I must say it was truly an eye-opening experience and my point is this: To anyone who's afraid to dive Nusa Penida / Crystal Bay, don't be. All you have to do is pay attention during the briefing on the boat and follow instructions when you're underwater. Don't be an inconsiderate prick because in doing so, you put your own life in danger, as well as your dive guide's.
Dive site #10 – Manta Point
After having absolutely no luck with the mola molas at Crystal Bay, I was convinced I wasn't going to see anything at Manta Point—another one of Nusa Penida's well-known dive sites. When we arrived, there were a couple of boats in the area and I could see snorkellers frolicking in the waters, which were beginning to look (and feel) a lot more choppy. We jumped in quickly to avoid feeling sick on the boat.
As we got closer to the rocks at the foot of this massive cliff towering above the dive site, that's when I saw them—the manta rays. At first it was one, then two, then I quickly realised there were actually about eight of them swimming around.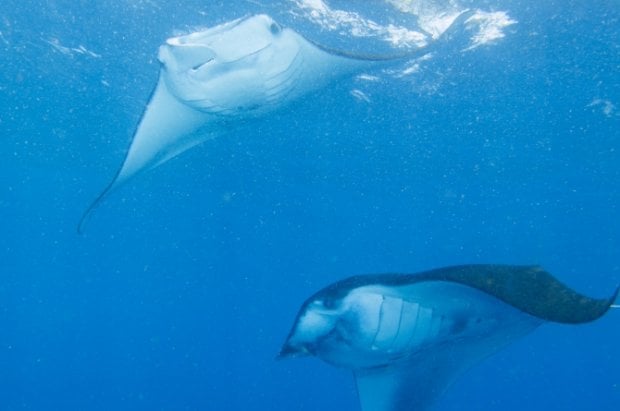 It was as if they knew I had a camera, and they'd either strike a pose or swim closer to have a better look at me
The snorkellers weren't very respectful of the manta rays' space. They kept chasing after them while trying to touch them (!), not good. I felt my eye twitch each time I saw that happen. I really wanted to go over and smack them with my fin. Please, if you're reading this and don't know by now, it is NOT okay to touch any animal you see in the ocean. If you touch a manta ray, you remove this special coat of a slime-like substance found on their body, which protects them from diseases and infections. Also, you'll immediately have manta ray babies growing inside you. Kidding, I made that last part up. Just don't touch them, okay?
Also read: Top 10 Beach Destinations For End of Year Getaway In Asia
Thankfully, five minutes into the dive, the snorkellers left. I looked around and, lo and behold, we were all alone with these guys! Because we stayed where we were and let them come to us instead (that's the key), they were comfortable enough to stick around and continue doing their thing. One of them, Matt (his name according to me; that's him in the lead image of this post), was particularly sociable and kept coming back to check us out. What a cutie! The others were feeding on plankton, playing with each other, doing a loop the loop-type of dance—each of them seemed to have a different personality and I was astonished at their level of intelligence.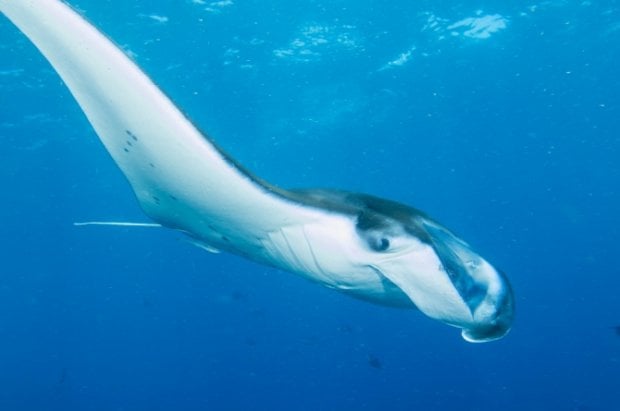 Checking them out while they check us out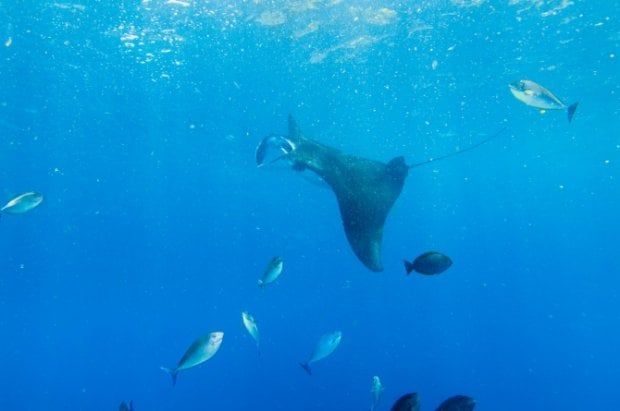 Did you know: Manta rays are close relatives of the shark but are classified as a type of fish
We spent nearly an hour in the water, but I cut the dive short (we never went deeper than five metres) because it was wayyyyy too cold. Plus, the surge was really bad and I was so close to puking underwater. But really, what a splendid way to end a dive. No, wait, what a splendid way to end an entire dive trip!
Also read: How Scuba Diving Completes A Traveller
Whether you're a new diver or a seasoned pro, I say jump on the bandwagon and go diving in Bali. However, if you've less than 50 dives, let your dive operator know and play it safe when visiting places like Nusa Penida. Crystal Bay may be out of your reach, but there are other sites to explore and there's a high chance they'll be as excellent. After all, this is Bali we're talking about, and based on my experience, I doubt it'll disappoint.
The need-to-knows
Costs: USD1455 (SGD1888+) per person based on the home stay option (it's cheaper compared to the regular resort stay option) for an 8D/7N dive package, which covers:
All land and sea transfers (to and from the airport, resort to resort)
Meals for breakfast and lunch on diving days (dinner is not included, and neither are breakfast and lunch on non-diving days)
Accommodation for seven nights at four different resorts
A total of 14 guided dives
All fees for topside visits (temples, etc.), tanks, weights and the dive guide(s) (does not include the rental fees for dive gear)
Best time to visit: June through October (although the best time to see mola molas is July through September)
Getting there: Fly to Ngurah Rai International Airport in Denpasar; your guide will pick you up and this is where your dive safari begins
Average vis: 20m to 30m
Average water temperature: 25 to 28°C (warning: it can get very cold!)
For more info, visit Tasik Divers' official site. For enquiries, email bali[at]tasikdivers[dot]com.
Contributed by The Globetrotting Diver.