As someone, who is deeply intrigued by archaeological sites and who has visited Machu Picchu and Angkor Wat, it became pretty obvious to me that the next place I had to visit was the ancient town with the biggest and densest concentration of temples and pagodas in the world — Bagan. The journey wasn't easy, though, so I made a guide to help out other first-timers out there, who are interested in visiting as well.
[TRAVEL DEAL] Keen to explore Myanmar? From exquisite religious shrines to majestic temples, discover Wonderful Myanmar on a 8-day trip with Brothers International from $2,190 now!
Introducing Bagan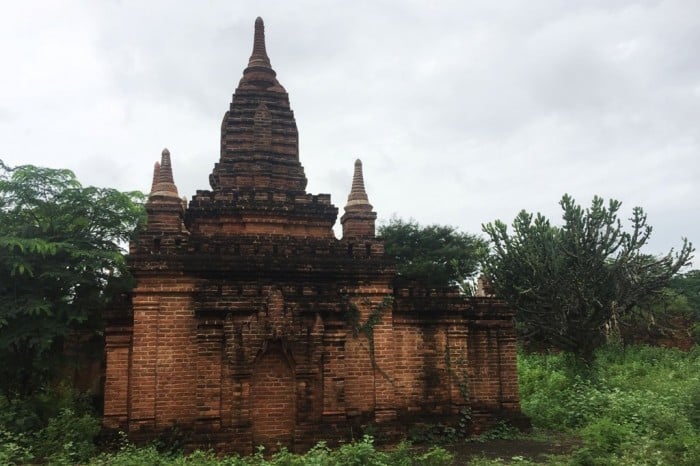 Bagan is located on the banks of the Ayeyarwady (Irrawaddy) River, a couple of miles south of Mandalay and north of Yangon. During its golden years as the centre of the Pagan Kingdom, now known as modern-day Myanmar, over 10,000 Buddhists monuments were constructed in its vast plains. However, only around 2,000 of these monuments remain and can be seen today. These monuments tend to be the main reason why travellers (such as myself) flock to Myanmar.
Best time to visit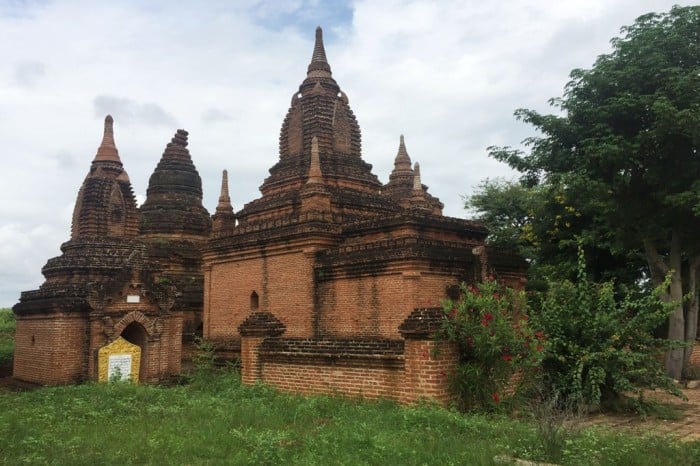 Bagan has a tropical climate so it only has 2 seasons — wet and dry. The months to avoid are March to May, when Bagan is scorching hot, and June to October, when you'll most likely get drenched. November to February is the ideal time to go as temperatures become a lot more pleasant. However, since this is peak season, you'll have to book everything — transportation, accommodation and tours — in advance.
Visa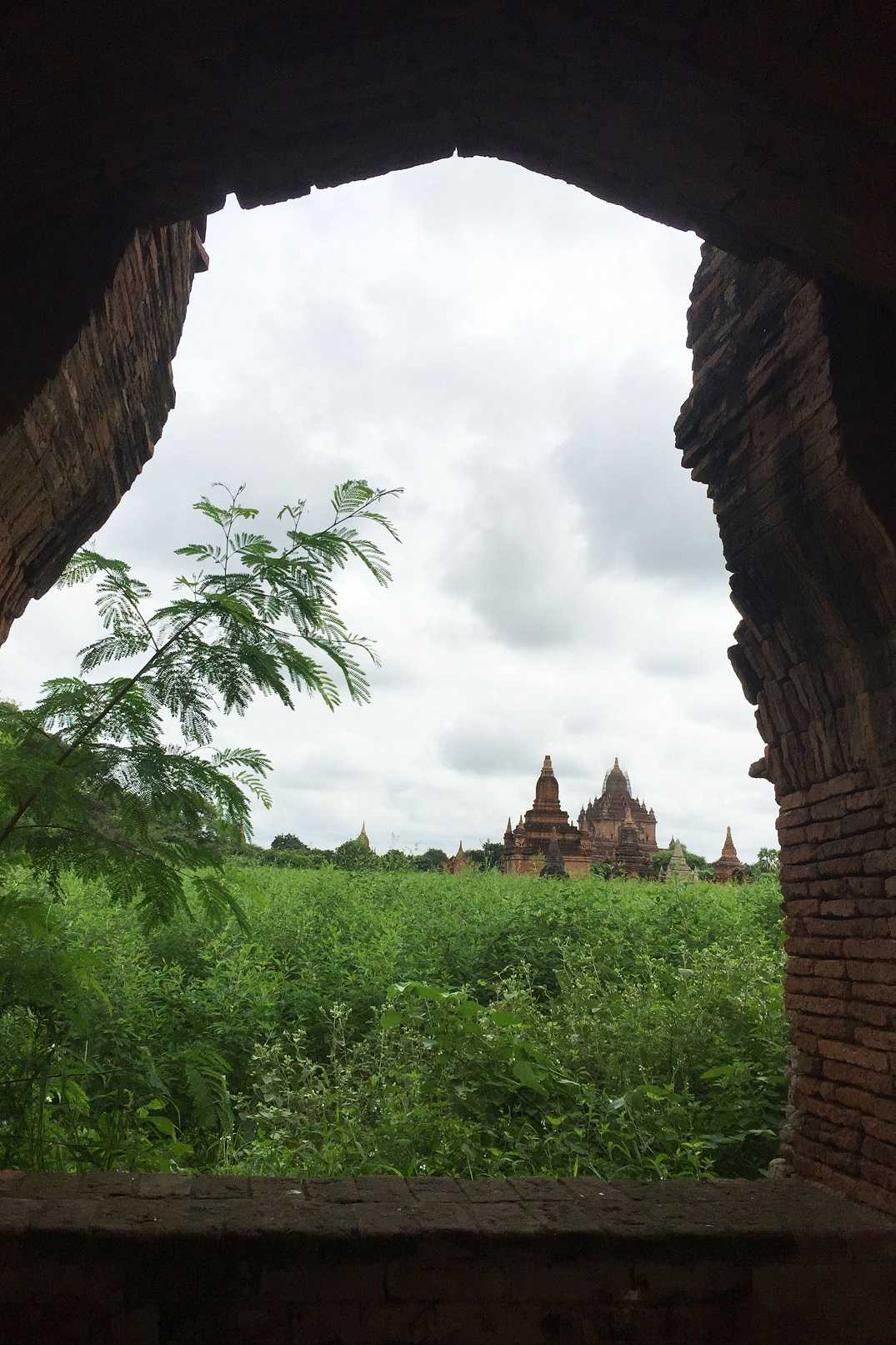 Foreign nationals, who would like to enter Myanmar for tourism or business purposes, are required to get a visa unless he/she is a citizen of these Southeast Asian countries: Brunei, Cambodia, Indonesia, Laos, Philippines, Singapore (as of 1 Dec 2016), Thailand (by air only) and Vietnam. Citizens of these aforementioned countries can only stay up to 14 days without a visa. The rest will have to apply for an eVisa or get a visa-on-arrival.
Also read: A Photographer's Dream: The Golden Lights of Bagan, Myanmar
Getting there
To be perfectly honest, Bagan isn't the easiest place to get to as there are no direct international flights to its closest airport, Nyaung U Airport. But once you touchdown in Myanmar, most likely in Mandalay or Yangon, you'll have a variety of options to reach Bagan. It'll just depend on how much time and money you're willing to spend.
By plane: If you're pressed for time, flying is the fastest way to Bagan. A lot of domestic airlines from Mandalay, Heho and Yangon have non-stop flights to Nyaung U Airport. A trip will take around 30 minutes from Mandalay, 40 minutes from Heho and an hour and 20 minutes from Yangon. But it'll cost you. The price for one-way ticket starts at around MMK80k.
By bus: Taking a bus — whether a day or overnight one — is the most popular way of getting to Bagan because bus services in Myanmar are inexpensive and reliable. Common bus routes to Bagan are from Yangon, Mandalay, Nyaung Shwe, Taunggyi, Kalaw and Pyin Oo Lwin. They have rest stops every few hours plus provide complimentary bottled water and wet wipes to make the journey more comfortable.
By train: A train journey to Bagan can give you scenic views of the countryside. However, trains in Myanmar are less reliable and efficient than buses so you better be patient. Train classes range from ordinary (with simple wooden seats) to first and upper class (with cushioned seats) to sleeper (with sleeping compartments). Nonetheless, it'll be a long and bumpy ride whichever you choose.
By boat: If you're quite adventurous and have all the time in the world, then travelling by boat can be an interesting alternative to the usual modes of transportation. Popular boat routes pass through the Ayeyarwady River. And a trip takes around 12 hours on average.
If you're wondering how I did it… From Manila, I flew to Singapore via Singapore Airlines. Then, after a long layover, I flew to Mandalay via SilkAir. At Mandalay International Airport, I took a shared taxi (only MMK4k compared to MMK12-15k for a private one) to get to the OK Express bus station. Ride sharing is common in Myanmar so it didn't terrify me. The drive from the airport to the bus station in downtown Mandalay took about an hour. I booked my Mandalay-Bagan bus ticket online for around MMK12k so it was easy breezy when I got to the station. The wait was short as my bus left exactly on time. The trip from Mandalay to Bagan took roughly 6 hours but it was quite comfy so I didn't mind. Plus, I was dropped off at my Bagan hotel at no extra cost.
Getting around
As soon as you set foot in Bagan, the first thing you should do is… Find a foldable map! Trust me, it'll make your life so much easier. Some hotels hand them out for free. But if yours doesn't, buy one. It'll only cost you MMK1k.
Once you have a map on-hand, the adventure begins! Here are the ways by which you can discover Bagan:
By private car/taxi: Hiring a private taxi is the most comfortable way to explore Bagan as all taxis are air-conditioned. If you want to minimise your exposure to heat and dust, this is the way to go. It's pricey, though. Getting one for a whole day costs around MMK35k. And of course, on top of that, you have to give your driver a little tip, especially if he/she acted like your pseudo-guide throughout the day and was nice and patient.
By horse cart: If you want to go on tour the 'old fashioned way', hire a horse cart. It's around MMK15-20k for a whole day. But let me just warn you, expect the tour to be slow.
By e-bike/bicycle: This is the most fun way to get around! It's by far the cheapest too! For a whole day, expect to shell out only around MMK2-5k for a bicycle and around MMK6-8k for an e-bike. I prefer e-bikes over bicycles since I easily get tired. With bicycles, you'll have to be in amazing shape to be able to cover a significant chunk of Bagan in a day. Since e-bikes are powered by batteries, less effort is needed. But I suggest you test the e-bike before you rent it and get the contact details of the rental place in case a problem occurs midday and you'll need assistance.
By hot air balloon: This will definitely cost you an arm and a leg but I'm sure seeing thousands of ancient monuments from above with the sun rising from behind will be nothing short of majestic. Currently, only 2 companies — Balloons Over Bagan and Oriental Ballooning — operate hot air balloon flights in Bagan and they only have flights from October to March, when the weather is favourable.
For my trip, I hired a private taxi to take me to the must-see temples and pagodas on my first day, just to make sure I had them covered. For the succeeding days, I just explored the smaller, unnamed temples using an e-bike.
Money
US dollars (USD) and Burmese kyats (MMK) are widely accepted in Bagan. Though, your US dollar notes have to be in pristine condition (no tears, folds or markings) or else, they'll get rejected by locals.
If you want to exchange money, do it at the airport. Surprisingly, that's where I got the best exchange rate. Your second option should be a bank. Hotels, restaurants and stores will (no doubt) give you poor rates. Never change money with people on the streets — unless you want to get scammed! Also, a little tip for you: You'll get a better rate if you exchange USD100 bills as compared to smaller denominated ones.
While cash is still king in Bagan, ATMs are now not that difficult to find. In fact, lots of hotels have their own machine. As for credit cards, the number of merchants that accept them is growing but I would advise against relying on plastic to get by. And don't bother with traveller's cheques. Do people actually still use those?
Culture and customs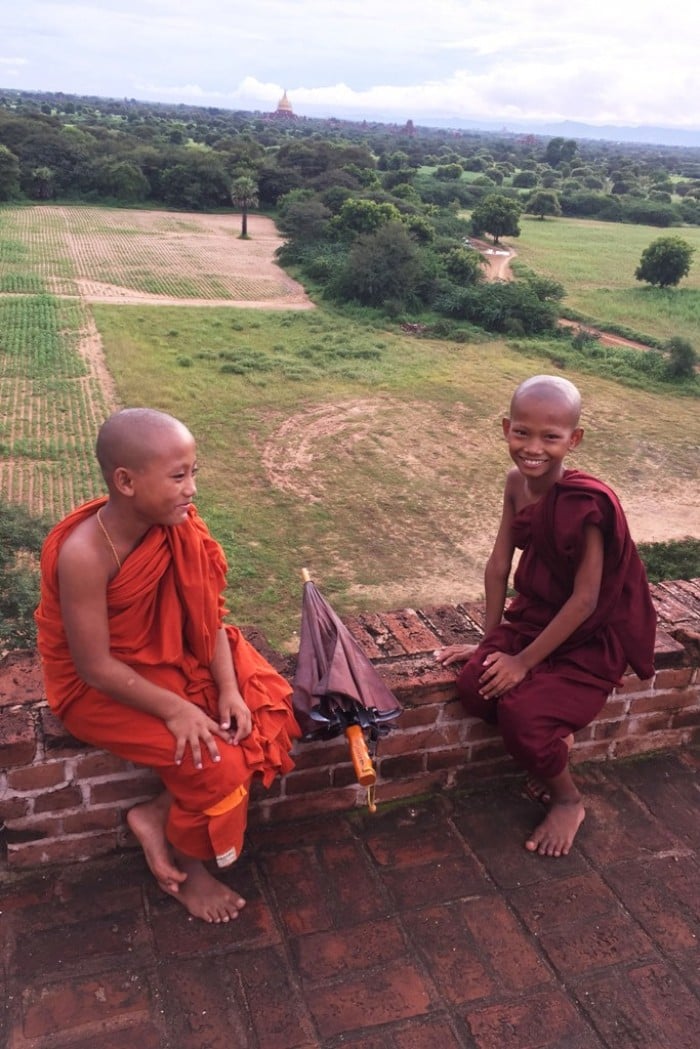 Bagan is a predominantly Buddhist town so while the locals are warm and friendly, they are also very conservative. Don't wear revealing clothes if you don't want to draw unwanted attention. In places of worship, your legs and shoulders have to be covered plus you have to remove your socks and shoes before entering. Public displays of affection by couples tend to be frowned upon. As in any country, you visit, social etiquette dictates that you avoid conversations about politics and religion — even though Myanmar is transitioning to becoming more open and democratic.
Communication
Yes, Wi-Fi is available (often for free) in hotels and restaurants. Just don't expect it to be fast.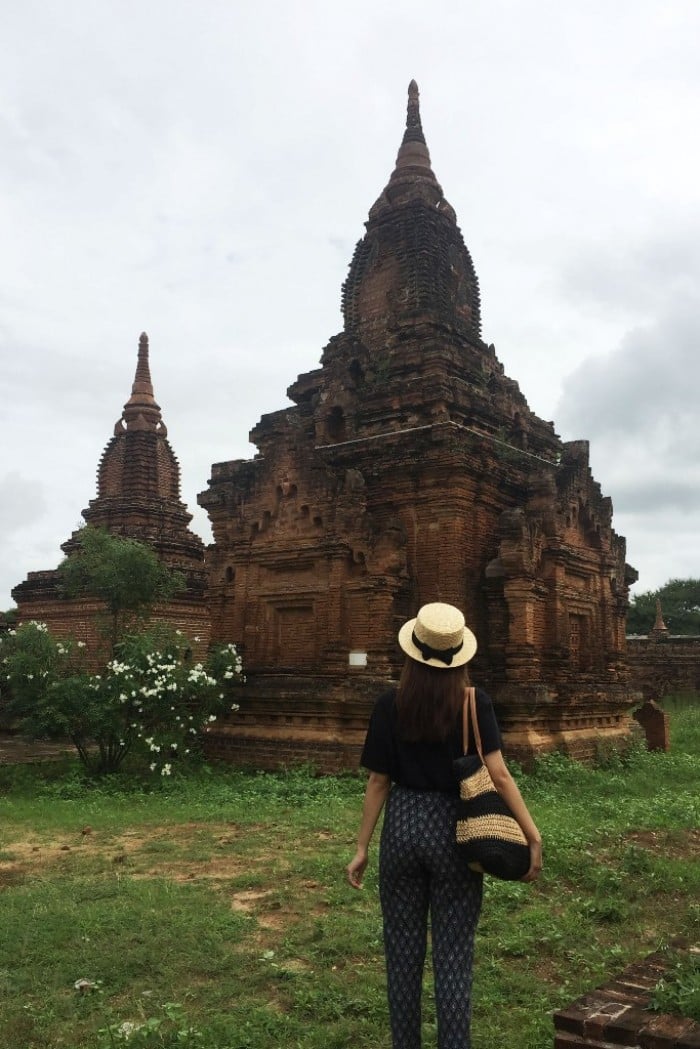 Safety and security
While some areas, mostly borders, in Myanmar are off-limits to foreigners and tourists because of violent conflicts between independent groups and the government, Bagan, on the other hand, is open and safe. Since tourism is the main source of livelihood here, the town tries to ensure that their visitors have a generally pleasant experience. They even have their own Tourist Police Force, stationed in the main roads, who are always ready to assist tourists-in-distress.
Of course, even though Bagan is relatively safe in terms of personal security, that doesn't mean you should just let your guard down. As with any tourist town, petty theft and scams are things you should still watch out for.
Health
Bagan is hot most of the year so always bring water with you so you won't get dehydrated while exploring. Tap water isn't safe to drink so always buy bottled water.
If ever you spot dogs, squirrels, monkeys or even snakes in Bagan, I suggest you leave them alone — no matter how cute they seem to you. You don't want to get rabies or snake bites, do you? Although to be fair, I only encountered dogs and squirrels during the 5 days I was in Bagan. So I'm guessing you'll only encounter snakes in fields, not in main temple paths.
Throughout the day, I highly recommend constantly applying sun block and insect repellant to protect yourself against sunburn and insect bites.
And finally, I assume you have health insurance and updated vaccinations whenever and wherever you travel. If not, go get them before your trip! Seriously, no one should ever travel without them!
Attractions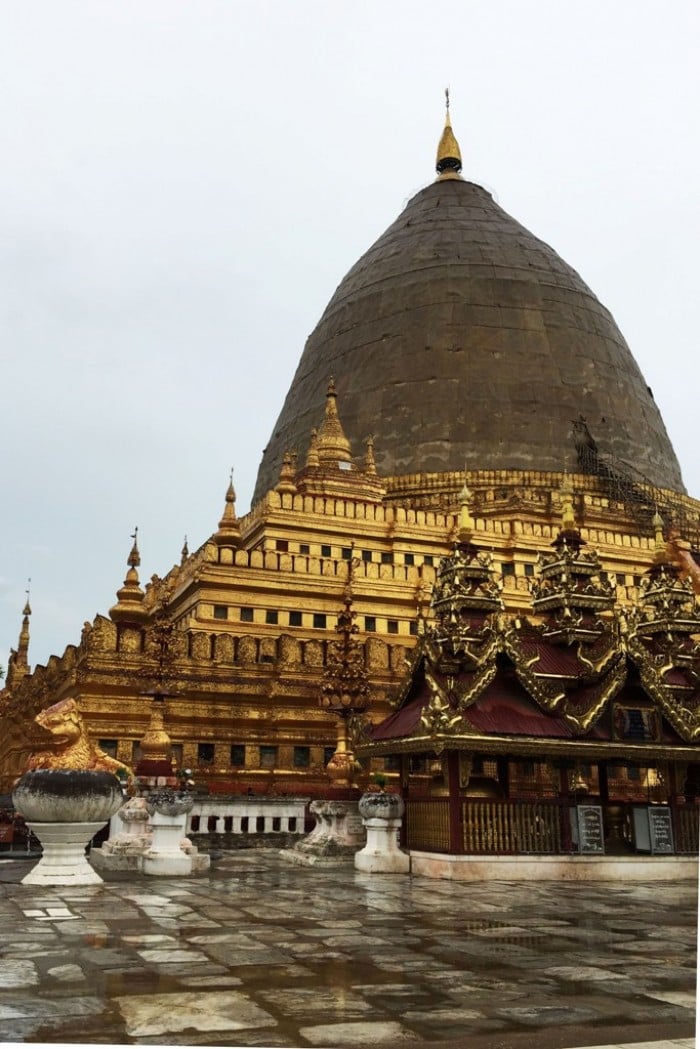 Since there are over 2,000 temples and pagodas in Bagan, I can't cover them all in this article so let me just mention the main not-to-miss ones:
Shwezigon Paya: This is one of the most famous and most significant religious monuments in Bagan. Built in the 11th century, it served as a prototype for the construction of newer pagodas in the country and is believed to enshrine the frontal and collar bones of Buddha.
Htilominlo Pahto: This is an impressive red-brick Buddhist temple in Bagan. Its name comes from the king, who built it, and it was erected on the exact spot where that king was chosen to rule.
Ananda Pahto: This is considered as the most important temple in Bagan, thus, it is always well-preserved via constant painting and whitewashing.
Shwesandaw Paya: This pagoda is the second highest monument in Bagan. Because of its height, visitors like climbing it to take in the magnificent view of the Bagan plains and temples. It gets particularly crowded right before sunrise.
Dhammayangyi Pahto: This is a temple with a dark and dramatic past. It was built by a crazed ruler called King Narathu. Many say the king was assassinated inside this very temple so they believe it to be haunted.
Sulamani Pahto: This temple is a short drive from Dhammayangyi. It is frequently visited by tourists because of its sophisticated brickwork and intricate carvings. It is known as the 'crown jewel' of Bagan.
Pya-Tha-Da Paya: Reaching this pagoda is quite challenging and if you have awful navigational skills (like me), it will take a lot of wrong turns and u-turns. But trust me, your patience will be rewarded as this climbable pagoda is the perfect place to end a day of exploring and to catch the sunset.
By the way, there is an entrance fee of MMK25k (valid for 5 days) for the Bagan Archaeological Zone, which pretty much covers most of the temples and pagodas.
If you will be visiting Bagan in the coming months, expect to see lots of temples and pagodas covered in scaffoldings. This is because last 24 Aug 2016, a powerful earthquake shook Bagan, damaging hundreds of temples and pagodas. Right now, these ancient monuments are being restored by the government with the help of UNESCO. So while they are still in the process of being rebuilt, please heed the signs that ban visitors from entering at the moment and watch out for debris.
Accommodations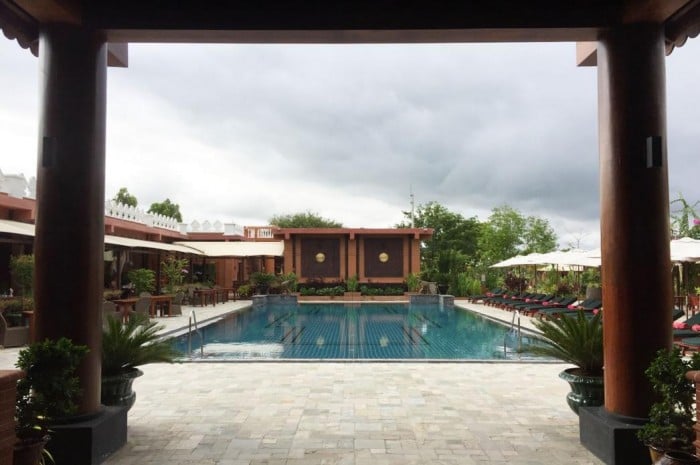 Bagan is divided into 3 main areas — Nyaung U, Old Bagan and New Bagan. The cheapest resorts can be found in Nyaung U while the pricier ones are in Old Bagan. Here are my recommendations for each area:
Nyaung U: Location-wise and price-wise, Nyaung U is the best area to stay in. And my top pick for Nyaung U is Zfreeti Hotel. There's an e-bike shop right in front of it and it's a short walk to Balloons Over Bagan's booking office and Nyaung U's 'restaurant row'. At a reasonable price, you can get a decent sized standard room with air-conditioning, free Wi-Fi and an en-suite bathroom.
New Bagan: If you want to stay somewhere quiet and relaxing, Bagan Lodge is the perfect choice for you. Their villas with tented roofs have all the modern amenities you could possibly need. Also, for such a luxe resort, the price isn't bad, considering you get access to outdoor pools, a jacuzzi, a gym and a spa.
Also read: Step Inside: Bagan Lodge in New Bagan, Myanmar
Old Bagan: If you want to be surrounded by ancient temples and pagodas during your time in Bagan, book a stay in Hotel @ Tharabar Gate. While it will be pricey, you'll definitely get a one-of-a-kind experience — personalised service, breathtaking views and luxurious rooms.
Restaurants
Finding good food is not at all difficult in Bagan. For a decent meal, prices range from MMK6k to MMK8k per person. Here are the restaurants I tried and became more than satisfied with:
Weather Spoon's: This restaurant and bar is a popular dining spot in Nyaung U's so-called 'restaurant row'. Many even claim they serve the best chicken burger in Bagan!
La Terrazza: I was delighted to find this Italian restaurant in Bagan. Also located in 'restaurant row', this place surprisingly makes high-quality pizzas and pastas. Their wine selection is not bad too!
Aroma 2: This Indian restaurant is a great hang-out place at night as it gives off a romantic vibe. Their service takes a while but their curries are authentic and savoury.
The Moon: This restaurant claims to be the first vegetarian restaurant in Bagan. Not sure if that's true but who cares. Their healthy dishes are tasty and guilt-free! Spot this restaurant near the Ananda Temple in Old Bagan.
7 Sisters: This is an open-air restaurant in New Bagan run by, you guessed it, 7 sisters. It serves Burmese, Thai, Chinese and even European dishes. The golden pork curry is really good and comes highly recommended.
Also read: 10 Finger Lickin' Good Foods to Try in Myanmar
Souvenir Shopping
Thankfully, Bagan has not yet turned into a crazy tourist town, unlike a bunch of cities in the world, so you can still get cheap, genuine items here, instead of just key chains and magnets. Here are my top souvenir picks for yourself — and for your loved ones back home:
Sand paintings: You can find these incredibly detailed paintings being sold outside almost every temple or pagoda in Bagan. A small one can cost around MMK5k while larger ones range from MMK15k to MMK30k. I bought mine from an artist I saw painting outside one of the lesser known temples. I liked that he didn't force his paintings on me — I hate it when vendors do that — and happily chatted with me about his life. He didn't finish high school so I presumed this was where his main income comes from so I was more than happy to help him out. Not to mention, I adored his work.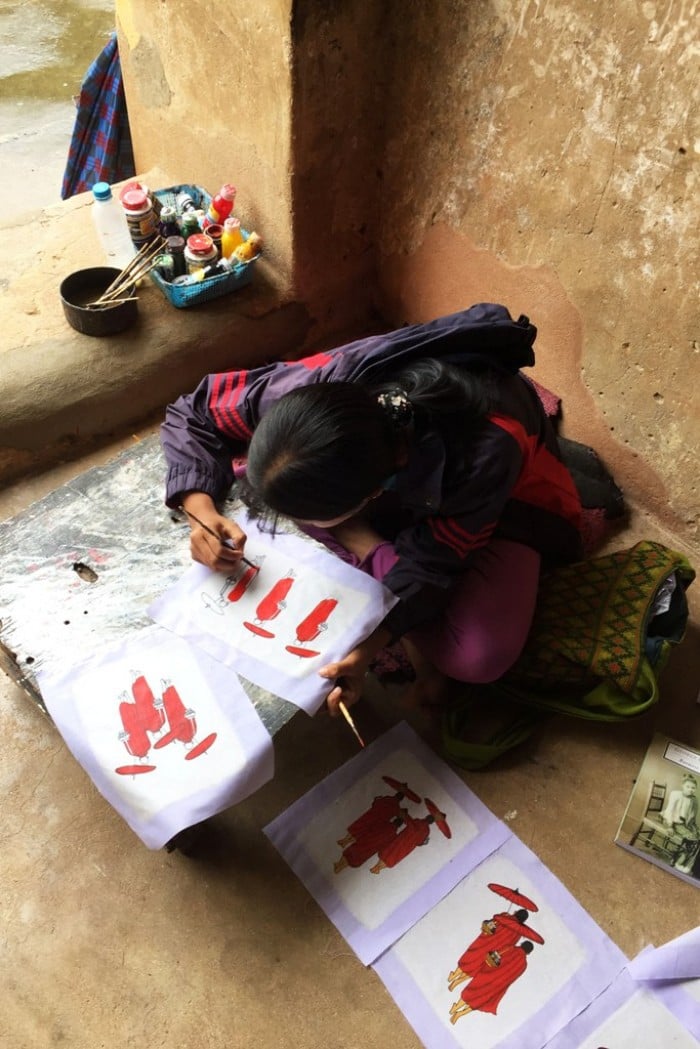 Pathein umbrellas: These colourful handmade umbrellas originated from Pathein, a small area in the Ayeyarwady region of Myanmar. They are made either with cotton, silk or satin and would definitely make awesome house decors. I saw a lot of little shops selling them in 'restaurant row' in Nyaung U.
Tamarind flakes: I first got to try these tiny round flakes wrapped in white paper in Weather Spoon's. They're really sweet and highly addictive. You can grab a big bag of these mini snacks in simple stores or markets for only MMK1k.
I know that gems (such as rubies) are abundant in Myanmar. But it's very difficult to distinguish the real thing from glass. So unless you know your stones, I wouldn't recommend buying them there, no matter how convincing the locals or tour guides are at saying they're genuine.
Departure Tax
Myanmar increased their international departure tax for flights last 1 July 2016. From USD15, it is now USD20. The departure tax is usually included when you purchase your air ticket. However, for tickets bought before `1 April 2016 for travel from 1 July 2016 onwards, passengers will have to pay the difference (USD5) upon check-in at the airport. You can only pay in cash (USD or MMK). Credit card or debit card payments won't be accepted.
Also read: Majestic Bagan from Sunrise to Sunset
Disclaimer: Myanmar is a rapidly changing and developing country so the prices indicated here are as of 2 Nov 2016 and are subject to change. As of the time I spent in Bagan, 1 USD = 1,300 MMK. So remember to always double-check the information provided here before travelling to avoid disappointment.