There are too many things to experience in Paris, France. The City of Love is smothered in world-class art and magnificent architecture: The Eiffel Tower, the Louvre Museum, Versailles Palace, and of course, Arc de Triomphe. The arc is both historical as it is an architectural achievement created in honour of the French soldiers who died in the French Revolutionary and the Napoleonic Wars. There is even a tomb of an unknown soldier from World War I lying beneath it. 
Also read: Paris 2024 Olympics: Which Sports Events Will Be Removed & Which Will Stay?
Why Paris wrapped the Arc de Triomphe
The Arc de Triomphe was designed by Jean Chalrgin, and reimagined by husband and wife, Christo and Jeanne-Claude. The late artist couple, famous for their temporary works of art in public spaces, envisioned the Arc de Triomphe wrapped in fabric in 1961. From 1962 to 1963, Christo made a photomontage with L'Arc de Triomphe, Wrapped, seen from Foch Avenue. It was evident that he could not get the image out of his head as he once again featured the Arc de Triomphe wrapped in a collage in 1988. 
He began actively developing this project in 2017. Now 60 years after it was conceptualised, the wrapped Arc de Triomphe makes a stunning sight. According to Christo, the reimagined Arc de Triomphe is meant to make people's experience of it more sensual. "It will be like a living object which will move in the wind and reflect the light. With its moving folds, the monument's surface will become sensual. People will want to touch the Arc de Triomphe," he once said.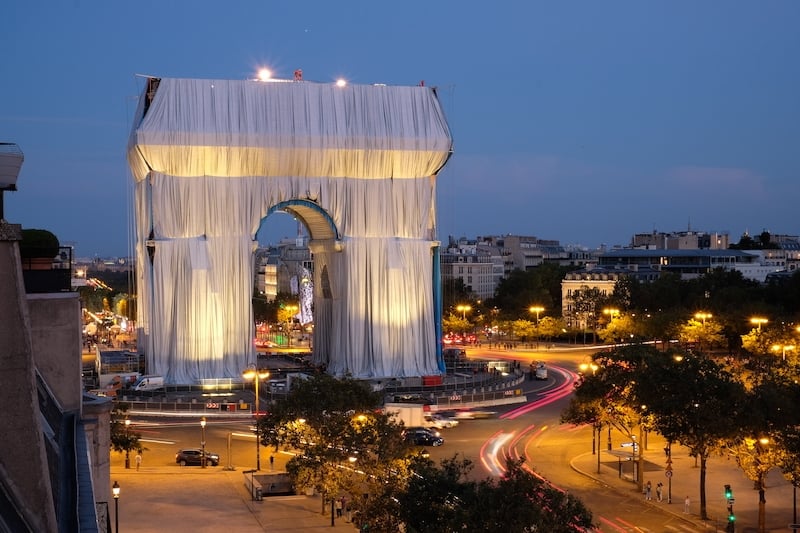 The project was presented to the Centre des Monuments Nationaux by the Centre Pompidou in 2020 and supported by the City of Paris. The Arc de Triomphe is covered in 25,000 square metres of recyclable silvery-blue polypropylene fabric and 3,000 metres of recyclable red polypropylene rope. What's more, this project received no public funds as it was paid for by the sales of Christo's original artworks. 
Also read: Tour the French Capital Aboard the Hybrid or Amphibious Bus in Paris
See it in person
On 18 Sep 2021, Saturday, everyone will get to interact with Christo and Jeanne-Claude's completed artwork, L'Arc de Triomphe, Wrapped, Paris, 1961-2021. Over 1,000 workers have contributed to making this project a reality, which includes Christo's own team as per his wishes. As of writing, all fabrics on each part have been unfurled, and all the ropes and final details added. On Saturday, the fences will be removed so visitors can come to see and touch the artwork for free. 
Arc de Triomphe, Wrapped will be dismantled from 4 Oct to 10 Nov 2021. So if you're in Paris right now, don't miss the opportunity to experience the hypnotising view of the arc in person. Maybe you should touch it too, just like Christo and Jeanne-Claude would have wanted. 
---
Information extracted from a press release issued by Atout France.