When athletes arrived in Tokyo's Olympic Village, they posted videos and photos of their beds on social media. Olympic runner Paul Chelimo, in particular, showed some before and after photos of how the beds were created. They were made of cardboard, which gave Chelimo the impression that it was an attempt to prevent sex during the Olympics. Because of this, numerous publications around the world ended up writing about Tokyo's "anti-sex beds." 
"Beds to be installed in Tokyo Olympic Village will be made of cardboard, this is aimed at avoiding intimacy among athletes," the runner said on Twitter. Fans assumed the same thing, and it didn't help that Tokyo Olympic officials gave out 160,000 condoms to the Olympians during COVID. The Olympics is a time when all the athletes are in peak condition; this makes the event actually notorious for hook-ups among the most physically active people on the planet. But that doesn't mean that the beds made of cardboard were created to prevent sex. 
Also read: Japan Is Selling Empty Houses for Less Than US$500
So, what were the "anti-sex beds" for?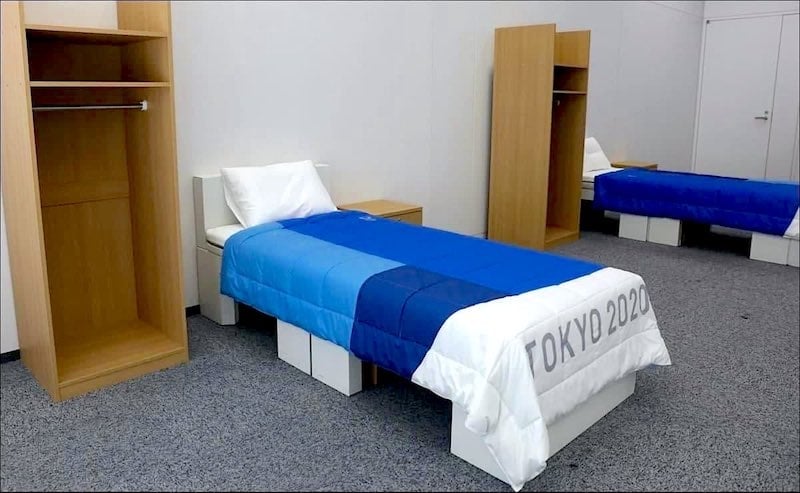 In fact, in true Japanese fashion, cardboard materials were chosen to practise sustainability. Airweave, a Japanese bedding company, provided 18,000 beds and mattresses made out of polyethylene, a recyclable material that can be used after the games. 
According to USA Today, this is "the first time in Olympic and Paralympic history that all beds and bedding are made almost entirely from renewable materials." Leave it to Japan to initiate such a milestone for the sake of the environment. It also turns out that the cardboard beds can hold up to 441 pounds. A lot of athletes can get some action on the bed with that capacity; and even if they couldn't, we doubt a lack of bed space would stop them from having sex with their fellow athletes. 
Ireland's Olympic gymnast Rhys Mcclenaghan even took to Twitter to demonstrate how fake the news about Tokyo's "anti-sex bed" was. "Apparently, they're meant to break with any sudden movements. It's fake. Fake news!" he said while jumping on his cardboard bed. 
Also read: Australian Athlete Shows the Olympic Village Safety Protocols in Viral TikTok Video
And that, ladies and gentlemen, totally debunks the biggest false rumour about the Olympic Village. What are your thoughts on this matter? Drop us a comment and message on Facebook!
---
All images credited to Tokyo 2020;  Paul Chelimo | Official Twitter Page