The average airplane food may not have the same prestige as the meals you'd find in fine dining restaurants or the comfort provided by fast-food eateries, but they're definitely memorable — one way or the other. In fact, for one man, meals served on a plane are better altogether. So much so that he recreates some of them as a form of hobby amid the pandemic.
Nik Sennhauser is a plane food enthusiast who grew up in both Thailand and Austria, but is currently based in Scotland. He's also a travel video maker who runs a YouTube channel called SOPLANE. There, he uploads content showing airline trip reports, whether it's flying from Incheon to Fukuoka on Asiana Airlines or Chicago to Seattle aboard United Airlines.
Also read: Why You Shouldn't Be Ashamed Of Eating In Fast Food Restaurants Abroad
His love of flying and airplane food
Of all his flight experiences, one thing Sennhauser finds the most satisfying is getting to taste all sorts of airplane food. Unlike many of us, the self-proclaimed 'avgeek' (aviation and geek combined) doesn't just eat them to satiate his in-flight hunger, but because he has really had an obsession with these meals since he was younger.
"I've always been fascinated about food and planes. The fact that you're sitting in a metal tube thousands and thousands of feet up there, and there's someone coming around with a tray of food, it's pretty magical," he said in one of his videos on YouTube.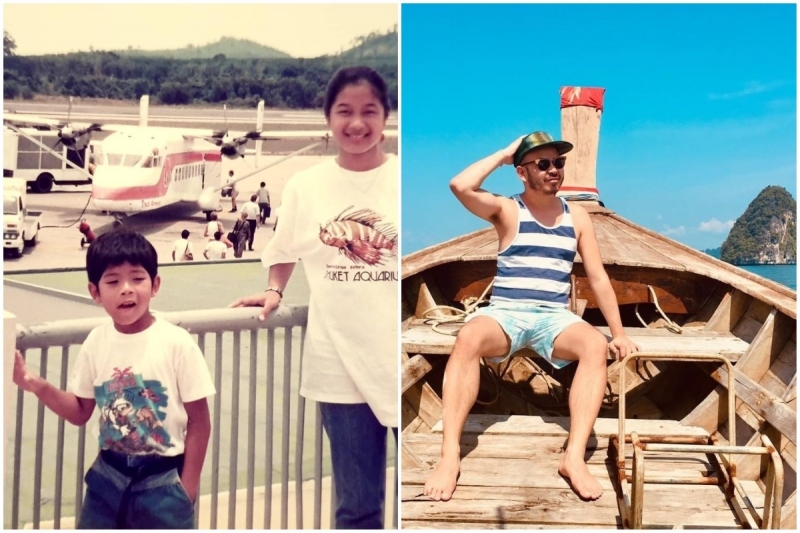 According to CNN, Sennhauser got on his first flight when he was just about five months old. Growing in both Thailand and Austria, he would often find himself riding a plane every two to three months. "It was the one place where, as a kid, I would just eat the whole meal without question. At home, my mom would have to force me to eat stuff, but on a plane I'd just eat whatever I was given. I remember getting on the plane and looking forward to the food."
Because of his extensive travel history, it's safe to say that Sennhauser has eaten quite a lot of airplane food during his trips. But he revealed that his favourite airplane meal of all time is a bowl of chicken curry served with rice and sweet bread rolls. He got them on a Singapore to Hong Kong Business Class flight on Singapore Airlines. In one word, he described it as the most "luscious" thing he'd ever eaten on an aircraft.
Sennhauser added that he pre-booked the meal for breakfast as the flight took place early in the morning. As for his favourite airline, the airline reporter said Thai Airways. "I'm not biased at all. I love the cabin, the seats, the livery, the uniforms, and the food's always good. But most importantly, I really like the service in Thai Airways, it's always so warm, welcoming, and very sincere."
Also read: 10 Food Destinations in Asia That Must Be on Every Foodie's Bucket List
Staying travel-inspired in his own way
For a frequent flyer and plane food enthusiast like Sennhauser, finding inspiration amid the pandemic can be challenging. But by reliving his flying experiences through making DIY airplane food, he has proven that one does not necessarily need to travel in order to inspire or be inspired by it. Most importantly, he didn't have to be an experienced cook to start the hobby.
Rather than constantly thinking about how things are going in the travel industry, the former social manager decided to try making airplane food on his own. Through his photos from past trips, he'd look for one showing an in-flight meal that he liked. He would then make it from his home in the Scottish port city of Glasgow — complete with airplane-style plating!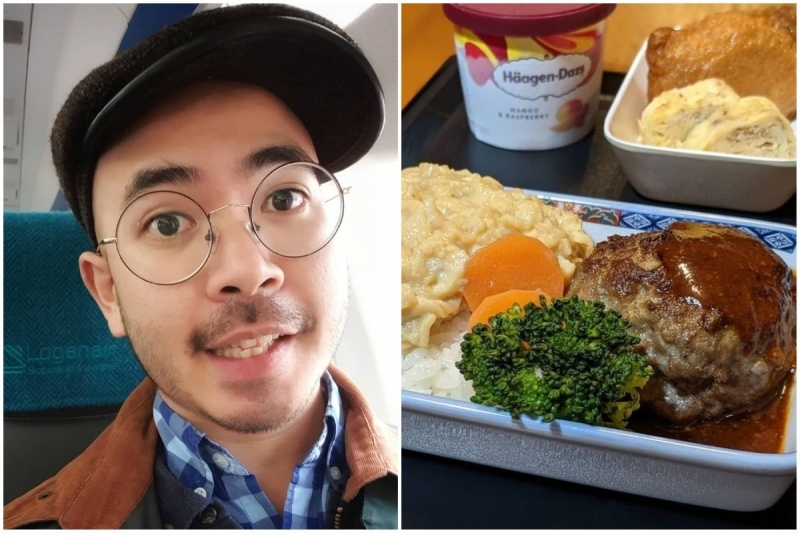 Among his first DIY airplane food during the pandemic is a plate of beef, carrots, and sesame rice, with a side of biscuits and cheese. "Just because I am grounded, it doesn't mean I can't have #planefood!" he said as he posted a photo of the creation on Instagram. Sometime later, he found out that an entire community of other plane lovers was already doing the same thing, which he said took out the excitement he originally had towards the pastime.
It took months, but Sennhauser eventually reawakened his interest to experience his favourite airplane food. Earlier this year, he turned to his authentic airline trolley from eBay which contained "melamine plates, champagne flutes, retro economy glasses, and china plates and coffee cups from various business classes." He bought the items online all the way from Germany.
Also read: Should Asians Stop Eating With Hands? An Etiquette Expert Thinks So
How to make plane food from scratch
Given his lack of cooking experience, Sennhauser would often have to research exact airplane meal recipes that he wanted to recreate. He said that it's best to start with economy class meals, and if possible, Asian food. "Asian food works really well on a plane because it's flavorsome by default," he also told CNN. For this, he recommends Thai curry.
"All you have to do is cook some rice and make a curry with curry paste, coconut milk, and some meat. And you need a nice little dish to put it in, and there you go," he also told CNN. "The only issue is plating — I use a small spoon and do it very carefully, bit by bit. Don't rush it — think it out beforehand, maybe even draw a little picture of how you want it to look."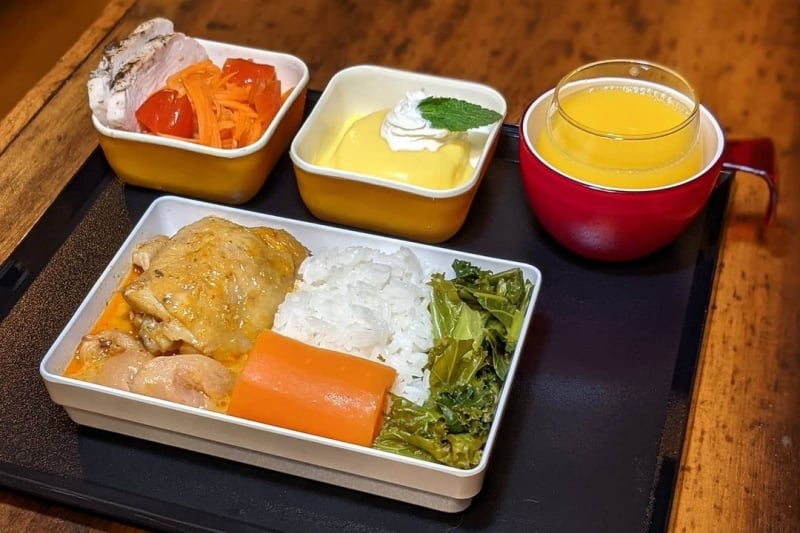 Sennhauser suggests taking one's time when cooking, especially if you're simply cooking at home for household members. He even spends up to four hours making a single meal, which he and his husband would eat once a week. He takes each stage of preparing his meals seriously. It's not just about plating, but also the taste.
At one point, Sennhauser also made wiener schnitzel served by Austrian Airlines. It came with a potato salad, cucumber salad, and chocolate mousse, which he said he has been preparing the most during the pandemic — desserts are his forte. "I've made a bunch of mousses — chocolate mousse, white chocolate mousse, dark chocolate mousse — and they taste much better than what you can get in the shops. So it's been a bit of a journey for me," he said.
The now DIY airplane food maker likewise acknowledged the people who dislike eating airplane food, saying that they sometimes have unrealistic expectations. "You have to take into account that you're in a metal tube at 40,000 feet being catapulted through the air, and the flight attendant is heating up a meal in an oven — there's only so much they can do."
Sennhauser's cooking experience from home has made him think about travel in a different way and without feeling upset. By going through his past trips that he documented on both YouTube and Instagram, he not only manages to get food inspirations from them, but they also keep him travel-inspired even at a time when he can't travel.
---
All images credited to Nik Sennhauser.