A captivating archipelago located in the western Atlantic Ocean, the Bahamas is a destination brimming with natural beauty and mesmerising sights of the sky and sea. If you're planning a tropical vacation here, then choosing the perfect place to stay is crucial for an unforgettable experience.
Whether you're looking to immerse yourself in all the fun water activities or to spend a quiet beach vacation away from home, we've curated a list of low- to high-priced Airbnbs in the Bahamas that will allow you to explore this remarkable destination like never before. Read on and discover the best Bahamas Airbnb homes for every budget!
Also read: 14 Best Airbnbs in Miami, From Beachfront Flats to Pool Villas
Luxurious Bahamas Airbnb homes for an unforgettable experience
1. This stunning seaside villa ideal for larger groups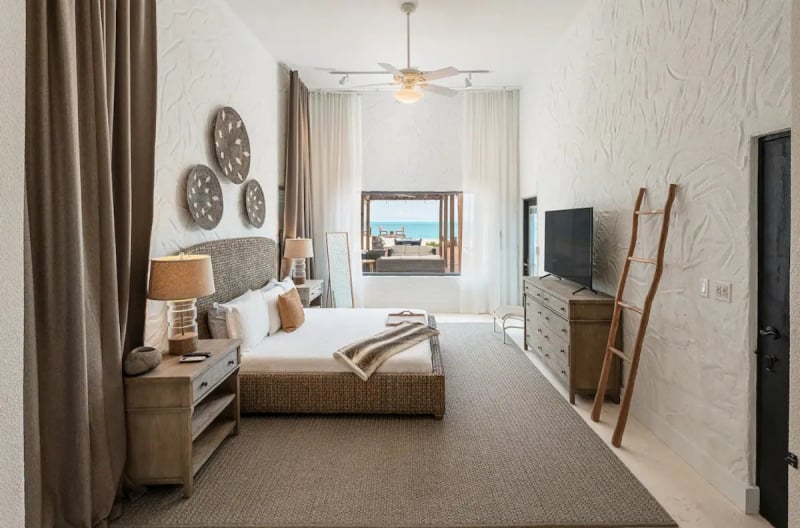 ​​Listing name: Seaside Villa: Chef, Pool, Boat Tours | 16 guests!
Listing type: Entire home
Max. no. of guests: 12
No. of bedrooms: 4
Ever imagined staying at a prime spot by the sea, where you can enjoy a superb view of the ocean any time of the day? Well, this splendid Bahamas Airbnb is here to turn your imagination into reality! Featuring four spacious bedrooms, a host of luxurious amenities, and a balcony offering breathtaking views of the Tropic of Cancer Beach, this Airbnb in Exuma is perfect for big families or groups of friends seeking a memorable beach vacay.
Enjoy a fun day playing board games in the house, having BBQ sessions outdoors, or taking a refreshing dip in the pool. In addition to these offerings, you can also hire a private chef, experience a customised private boat tour, and revel in soothing massages for an additional fee!
2. This beachfront estate in Central Eleuthera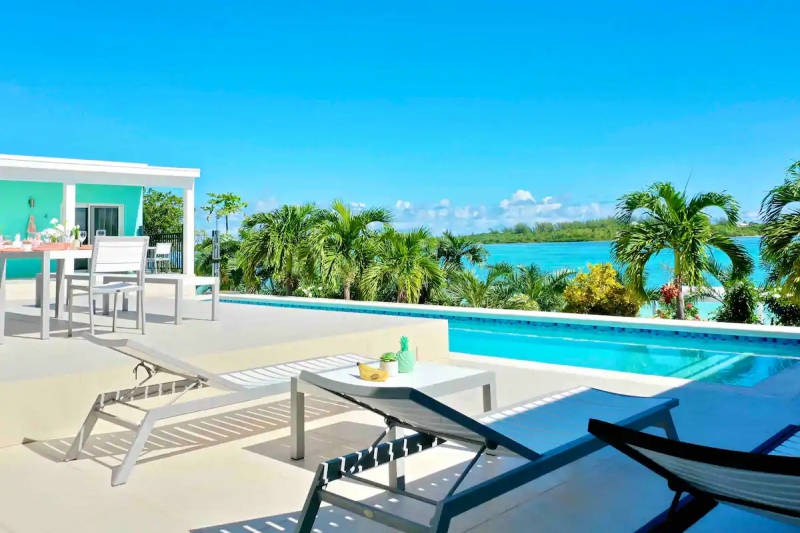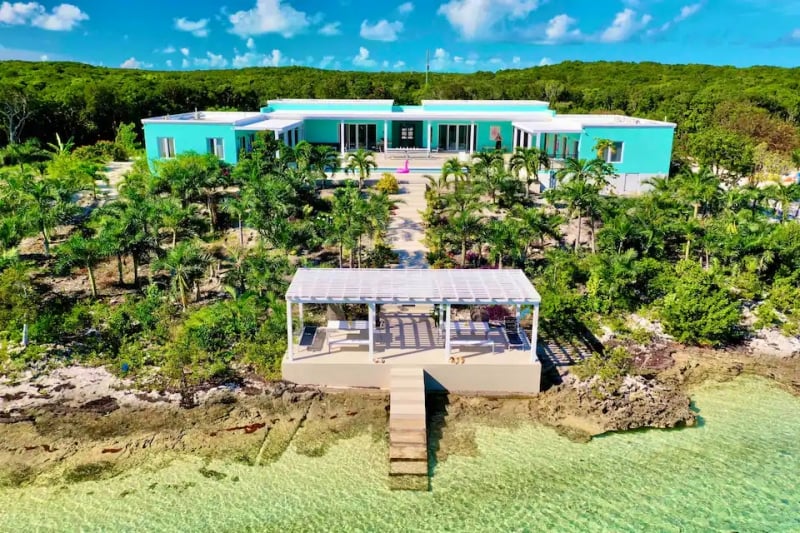 Listing name: ZION | Beach | Pool | Starlink | Generator
Listing type: Entire home
Max. no. of guests: 12
No. of bedrooms: 6
This enchanting private villa lets you indulge in a vacation experience like a VIP. Expect massive space with tons of lavish facilities; for instance, a large swimming pool, ample seating space with hammocks, a fully equipped kitchenette, a private bathtub in the master room, and a party room stocked with musical instruments, games, a smart TV, and a curated art collection. 
The best part of the house is that it also comes with paddleboards, kayaks, life jackets, and snorkelling equipment to prepare you for an array of exciting water activities! Located in Central Eleuthera, it is also close to the well-protected Savannah Sound Beach and Windermere Island. So, if you're fortunate enough, you can even catch turtles and dolphins swimming in front of the house!
3. This gorgeous and massive sanctuary by the beach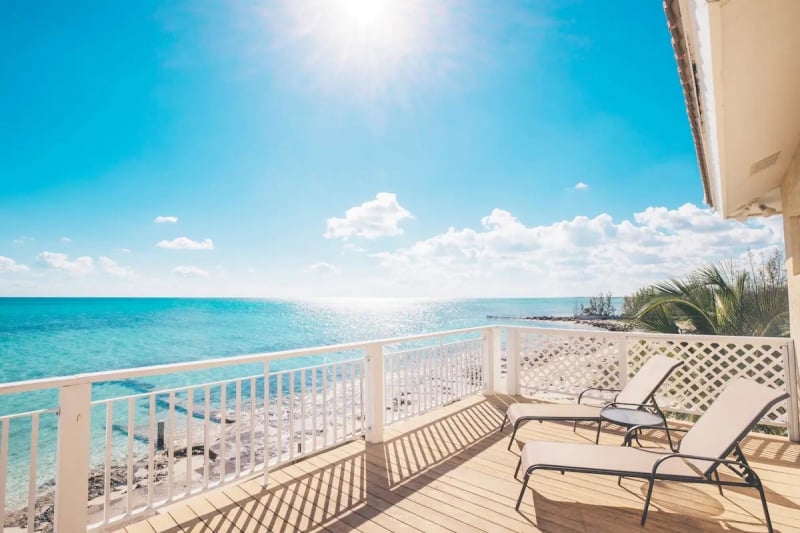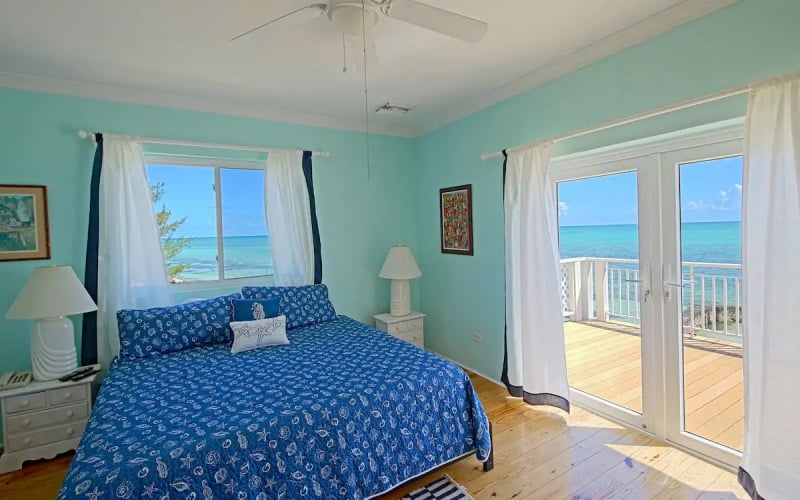 Listing name: Sunrise by the Sea – the ocean on your doorstep!
Listing type: Entire home
Max. no. of guests: 8
No. of bedrooms: 4
This stunning Airbnb in Nassau, Bahamas will make you feel like you've stepped into a movie set. Featuring a light blue and white colour palette and simple design, it exudes a relaxing atmosphere that makes you want to stay longer. All the bedrooms here are charmingly decorated with colourful blankets and curtains, while both the master bedroom and the living room offer a captivating view of the ocean! Beyond the aesthetics, previous guests also appreciate how close the accommodation is to the water and local stores, as well as the generous amenities it offers. 
For those who wish to explore the rest of the capital city, the Host recommends renting a car. Downtown Nassau is approximately a 15-minute drive from the gated community where this home is located. 
4. This spacious aquatic-themed retreat with a private pool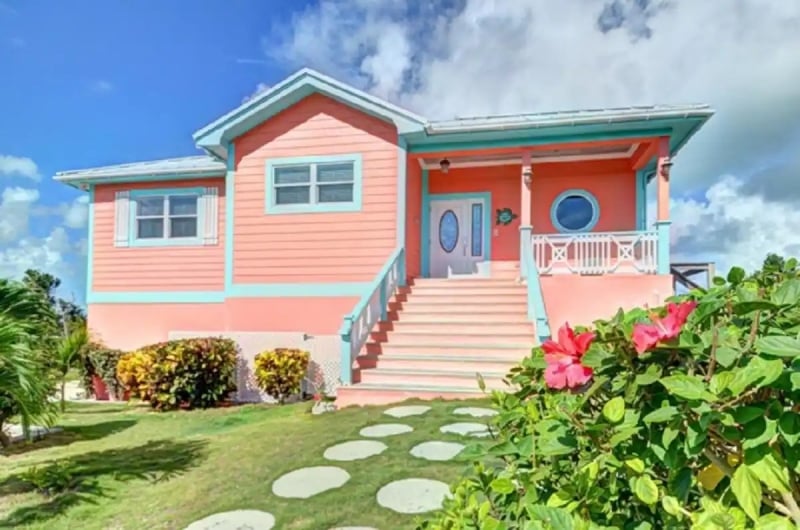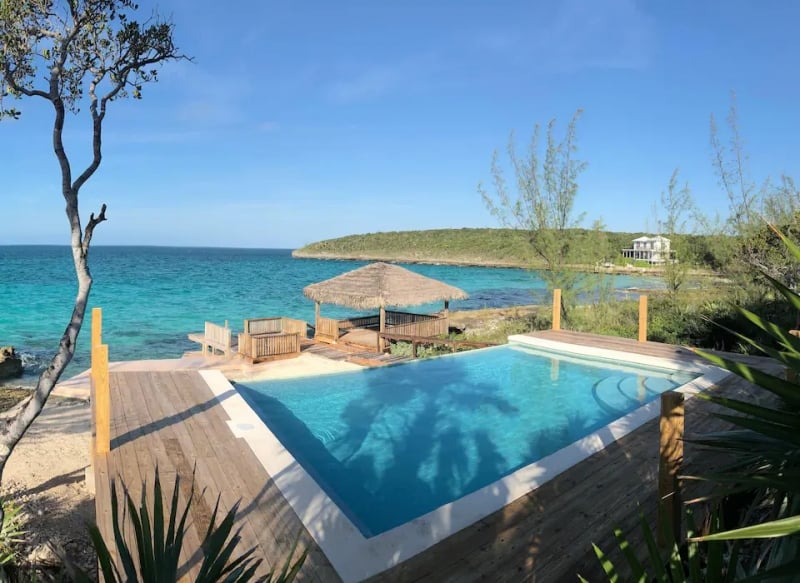 Listing name: Lux Oceanfront Home on Caribbean w/ Sunset View, B
Listing type: Entire home
Max. no. of guests: 10
No. of bedrooms: 3
From afar, this oceanfront Airbnb in the Bahamas called Savannah Sunset will already capture your eyes with its vibrant pink exterior. Boasting two levels, several large bedrooms, a living room, two outdoor patios, and a dining area — all with breathtaking ocean views — it's safe to say that this is a perfect vacation home for group trips.
As you might have guessed from the exterior, almost every corner of the house is adorned with vibrant elements; from marine creature designs on the cabinet to adorable starfish table lamps. One of the bedrooms is also sailor-themed. How lovely!
Top Airbnbs in the Bahamas that are below US$500
5. This colourful and charming abode in Spanish Wells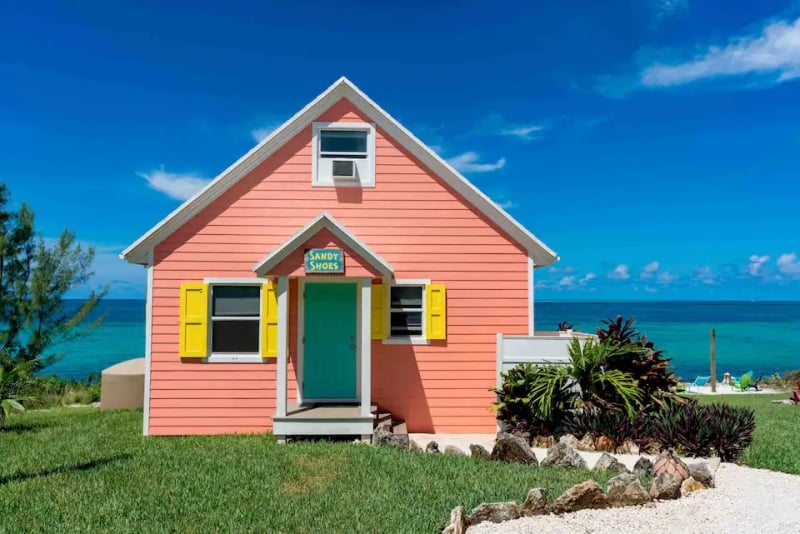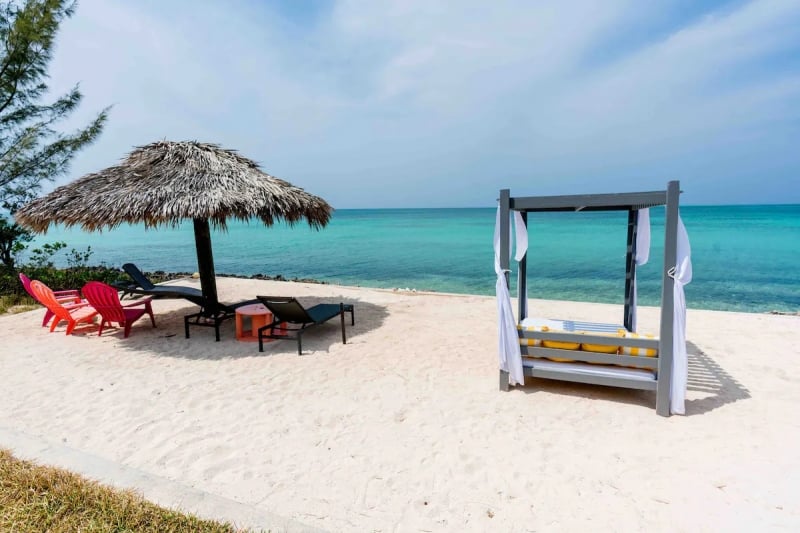 Listing name: Sandy Shoes
Listing type: Entire home
Max. no. of guests: 4
No. of bedrooms: 2
This vibrant retreat is one of the Airbnbs in the Bahamas with a great location. A short stroll is all it takes to immerse yourself in the water, and the property provides amenities such as kayaks, paddleboards, and beach towels. It's also conveniently near one of the waterfront restaurants, The Sand Bar. In contrast to the exterior and the front porch area that brim with splashes of colours, the bedrooms and the living room feature a sleek design and a calming neutral palette, ensuring a restful slumber.
6. This lovely bungalow with a rustic-coastal vibe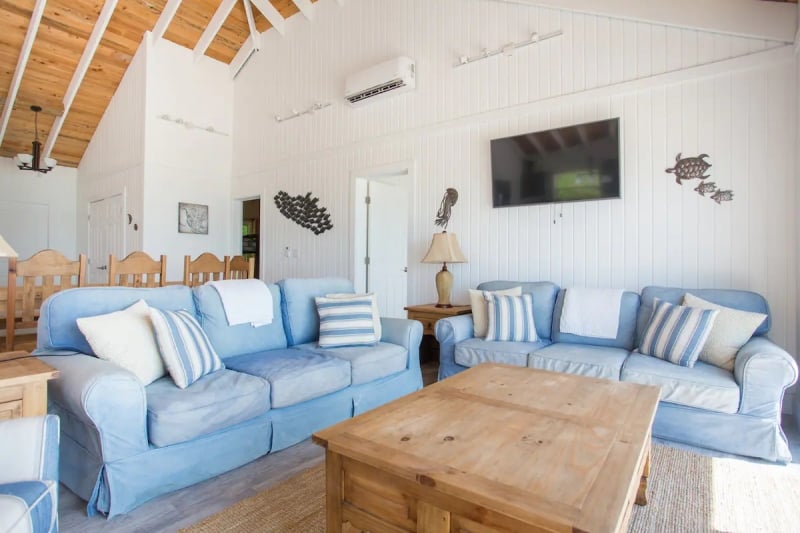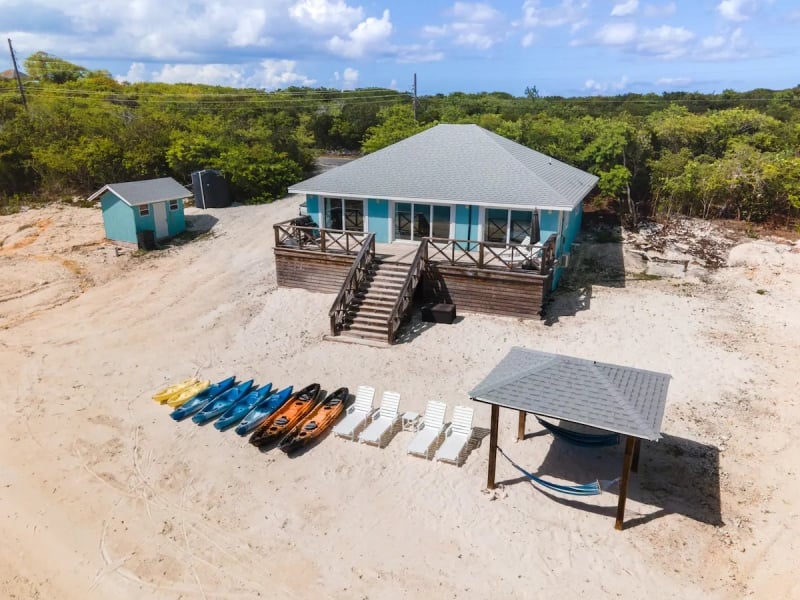 Listing name: Sunset Cove
Listing type: Entire home
Max. no. of guests: 10
No. of bedrooms: 3
Delightfully decorated, Instagram-worthy, and perfectly located right in front of a pristine beach — this house named Sunset Cove checks all the right boxes. The owner highly recommends kayaking to the nearby Lazy River beach, or driving to the Tropic of Cancer Beach to fully explore the area. It's worth mentioning that this is also one of the Airbnbs in Little Exuma that consistently receives high ratings from previous guests who travel with kids. 
This Airbnb in the Bahamas also radiates a soothing atmosphere, with its harmonious palette of light blue and white, as well as the seamless blend of classic wooden furniture and contemporary fixtures.
7. This stylish Bahamas Airbnb with astonishing ocean views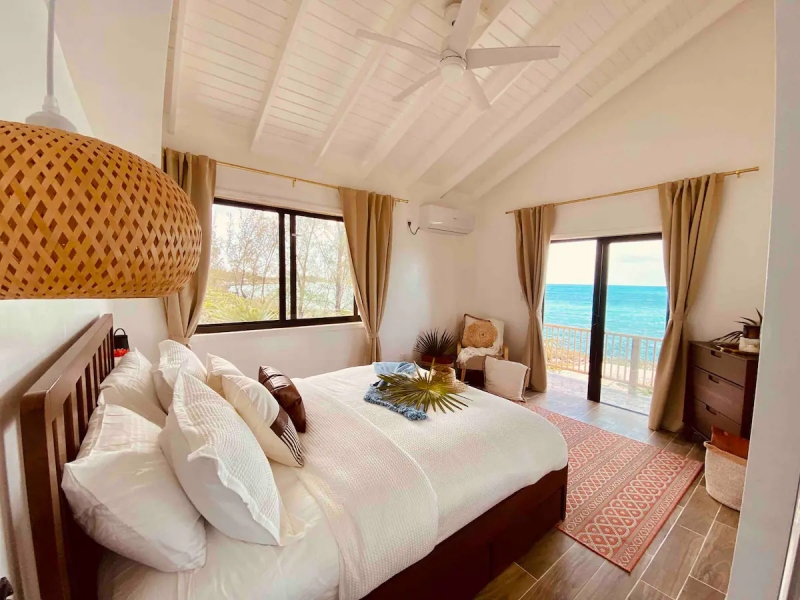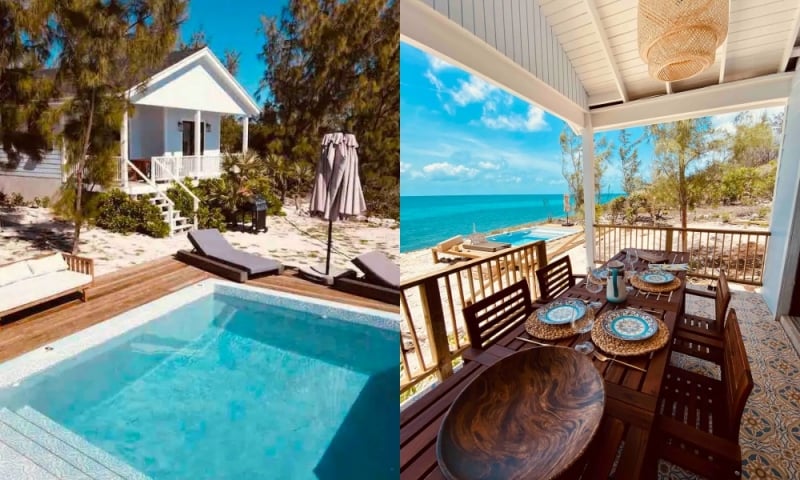 Listing name: **NEW LUXE Villa Soreli – 1 B/R Oceanfront w/Pool
Listing type: Entire cottage
Max. no. of guests: 4
No. of bedrooms: 1
An excellent choice for beach vacations, this oceanfront Airbnb in Eleuthera, Bahamas will immediately catch your attention with its enticing outdoor pool. Both the pool and the front porch overlook the Caribbean Sea, making them the highlights of this accommodation. We also love the exquisite-looking interior adorned with rattan furnishings and multi-coloured carpets that add to its charm. Additionally, this stay also comes with BBQ equipment, beach essentials, kayaks, a well-appointed cooking area and two washing machines. You would definitely want to stay longer!
​​8. This vibrant villa perfect for honeymoons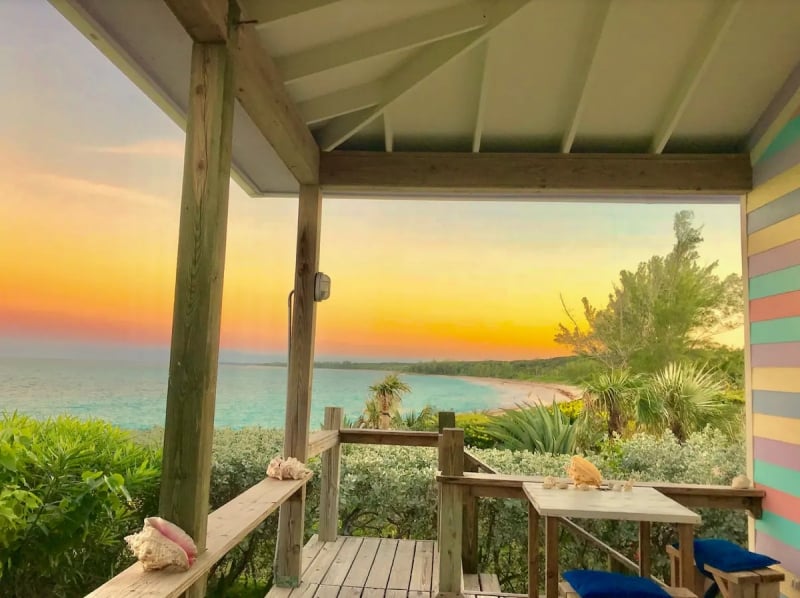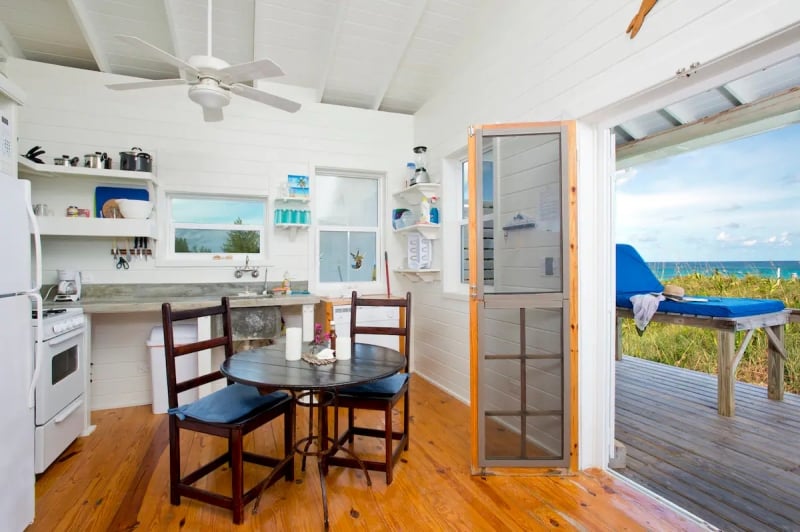 Listing name: Cayo Loco Villa For 2 On A Deserted PinkSand Beach
Listing type: Entire home
Max. no. of guests: 2
No. of bedrooms: 1
If you're looking to spend an unforgettable honeymoon staycation, you'll be in for a treat at this gorgeous villa. Situated in Governor's Harbour, Central Eleuthera, this house grants you easy access to a secluded beach. With the pink-tinted sands, crystal clear waters, and enchanting sunset, it goes without saying that this is one of the most romantic Airbnbs in the Bahamas!
You can easily spot the house from a distance as the exterior is beautifully painted in a rainbow of pastel colours. The inside, on the other hand, is clean and minimalist, with all the amenities you need to live like a local. Aside from being a popular choice for honeymoon stays, many also have their wedding photoshoot at this location!
9. This adorable cottage surrounded by tropical trees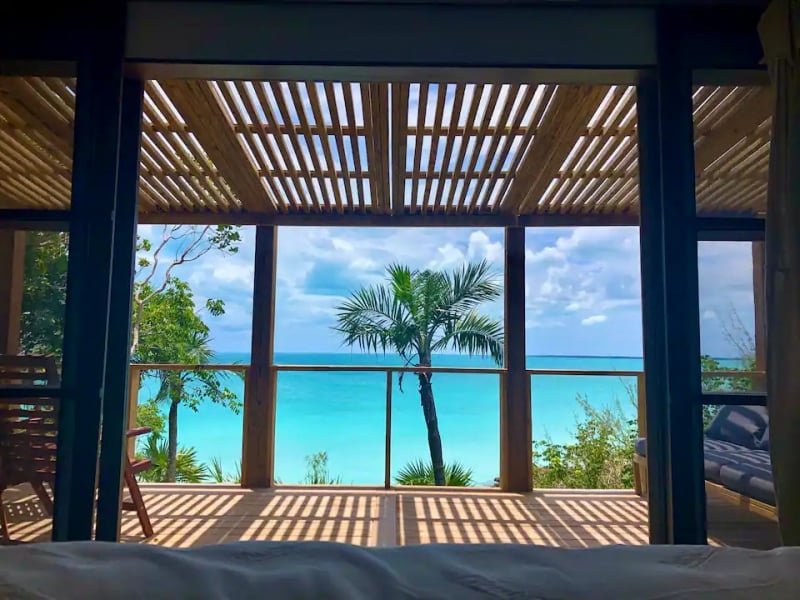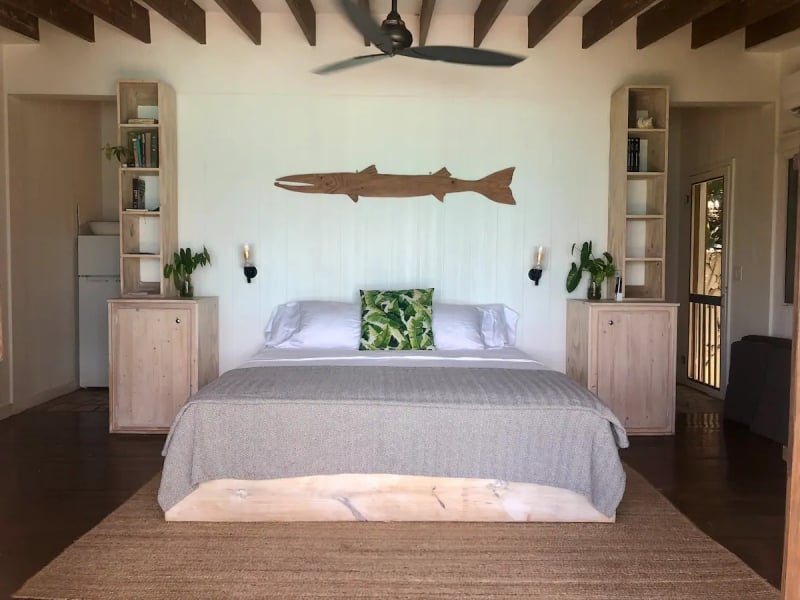 Listing name: Skylarking waterfront cottage
Listing type: Entire vacation home
Max. no. of guests: 2
No. of bedrooms: 1
Want an Airbnb in the Bahamas where you can soak in the most endearing beach view? Look no further! Featuring floor-to-ceiling windows and a large balcony in the bedroom, this beachside abode greets you with a view of the blue sky and sea from the moment you wake up! 
Though it may not be the most spacious Airbnb, we adore how most areas of this accommodation — from the bedroom to the dining space — are elegantly furnished. Outside, you can look forward to encounters with marine life like adorable sea turtles. And since it's nestled in a jungle habitat, you may also have the chance to spot other wildlife in the area!
Affordable Bahamas Airbnb stays for budget travellers
​​10. This wallet-friendly Bahamas Airbnb with private beach access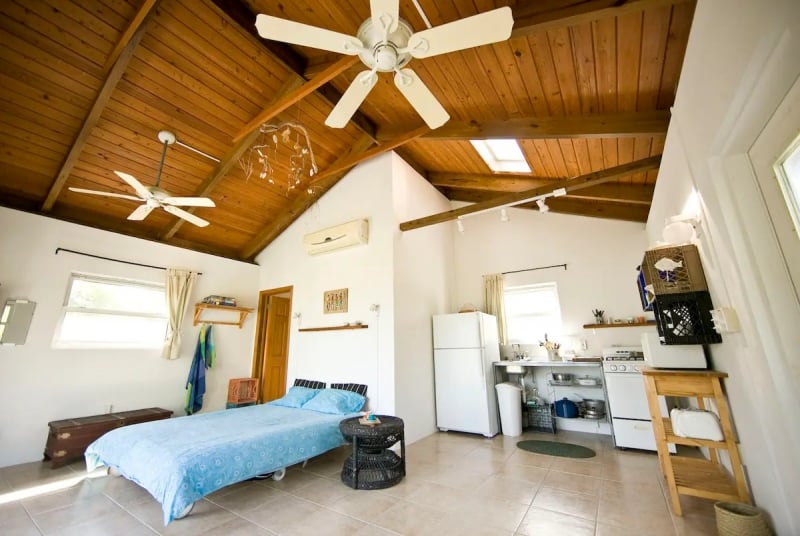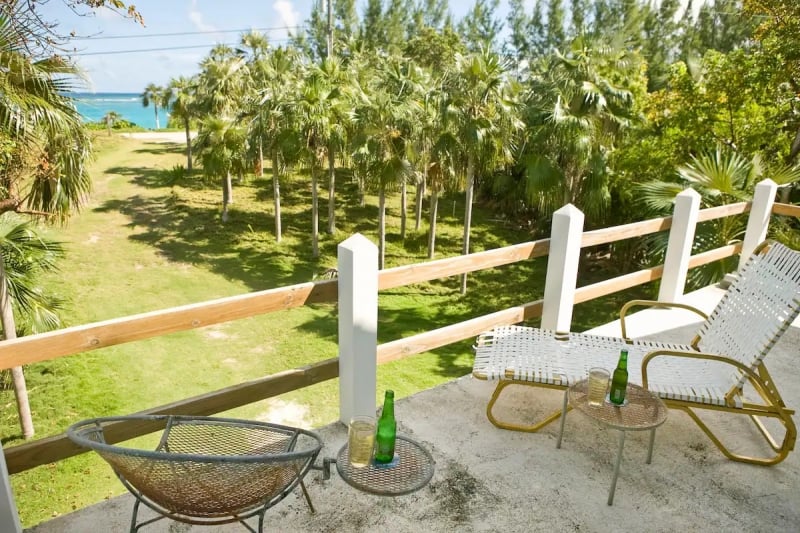 Listing name: Eleuthera, Bahamas Loft By The Sea
Listing type: Entire loft
Max. no. of guests: 2
No. of bedrooms: 1
This loft unit situated in a quiet neighbourhood in Central Eleuthera is an ideal choice for those on a budget. While it is pretty secluded, nearby restaurants are still within walking distance. Boasting wooden ceilings, recycled furniture pieces, and very simple decorations, it showcases a comfy and minimalist design.
Though this Airbnb in Eleuthera may be compact, it houses a kitchenette, indoor and outdoor showers, WiFi access, and a cosy queen-size bed. What's more, the property is encircled by a lush tropical garden, and you can enjoy playing tennis at the nearby tennis court for an additional fee!
​​11. This homey two-storey house on top of a hill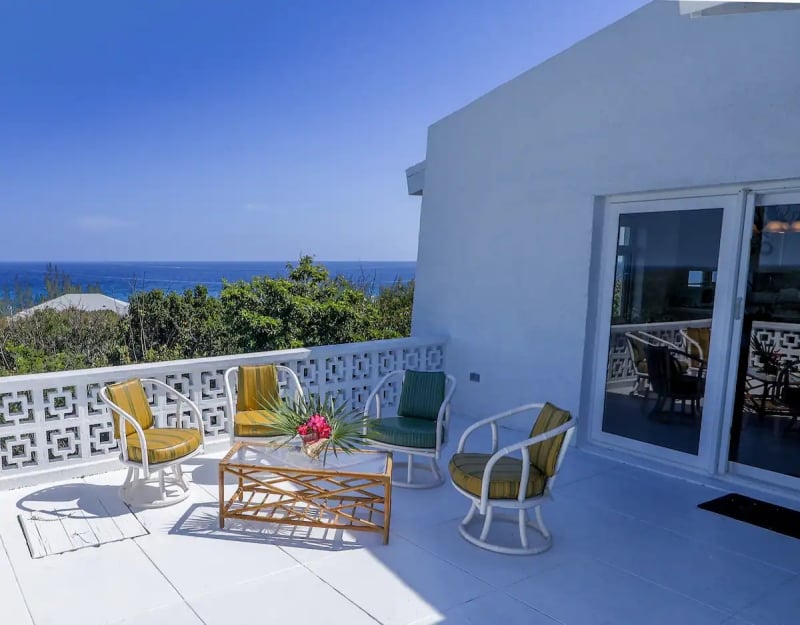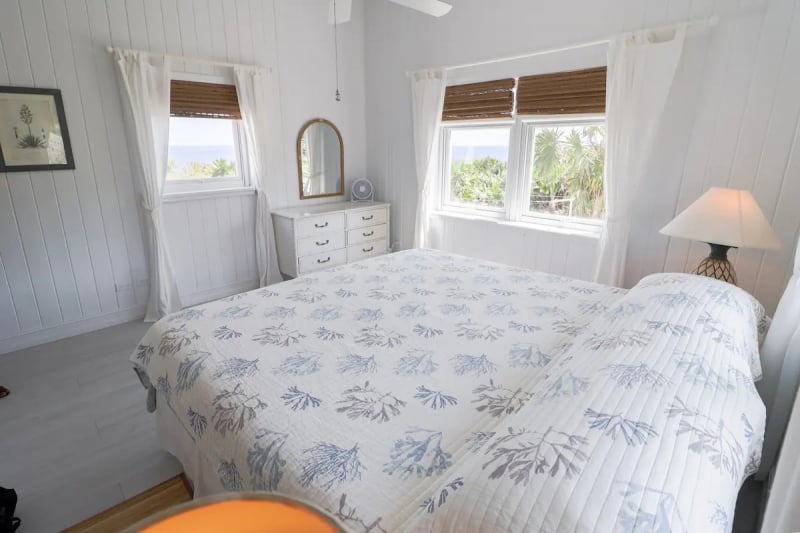 Listing name: Jumbay Cottage
Listing type: Entire home
Max. no. of guests: 4
No. of bedrooms: 2
This hilltop Bahamas Airbnb boasts refreshing breezes, wonderful sea views, and clear blue skies is one of guests' favourite Airbnb homes around the area. Smuggler's Beach is within walking distance, while Rainbow Bay Beach is only a three-minute drive from the house. While the living room, front patio, and dining area are very spacious, our favourite parts of the house are the bedrooms. The walls and doors are painted in white, and each room features wooden furnishings paired with muted florals — evoking a sense of tranquillity.
​​12. This cosy yet inexpensive house near Rainbow Bay Beach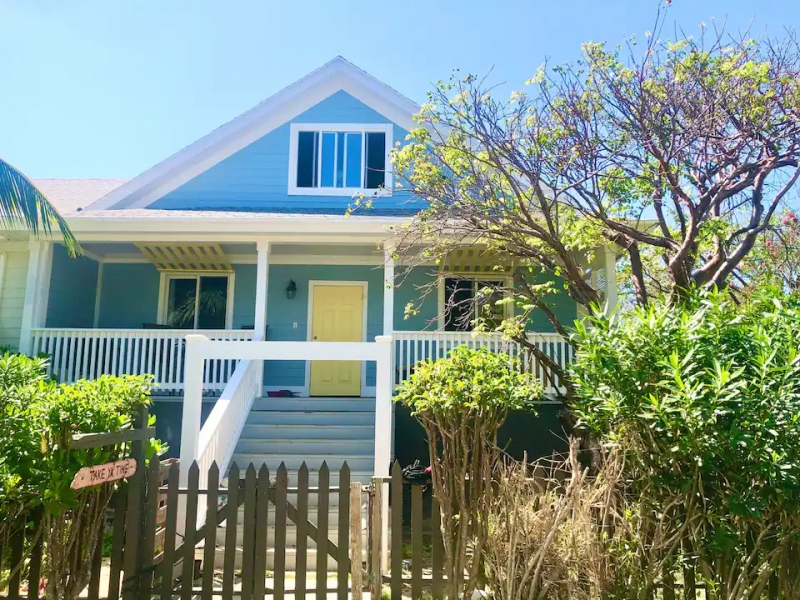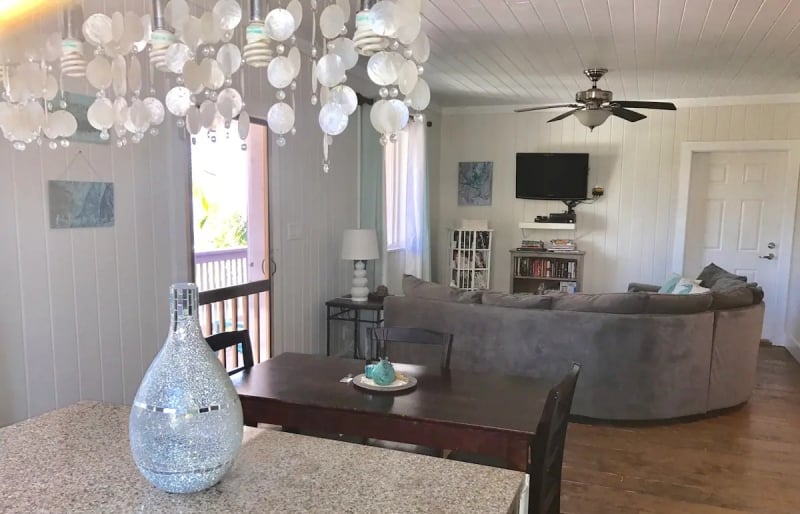 Listing name: Cute & Quaint Take Ya Time Cottage
Listing type: Entire home
Max. no. of guests: 4
No. of bedrooms: 2
After a fun day of exploring Gregory Town and Rainbow Bay, come home to this stylish cottage for a good night's rest. It features some adorable embellishments like vases, wall art of sea creatures, and potted plants. 
While the overall design is straightforward and not overly fancy, this Airbnb in the Bahamas is surprisingly spacious. With two bedrooms, a front porch, and a front yard, it's quite nice for small families. Not to mention, there's a collection of DVDs, books, games, and a satellite TV for you to unwind with, plus a view of the Atlantic Ocean — all for a very affordable price!
Also read: 10 Gorgeous Airbnbs in Cancun for a Sun-Soaked Vacay
And there you have it, our list of Airbnbs in the Bahamas for an amazing vacation. So, have you decided which of these Bahamas Airbnb stays will you pick for your Caribbean escape? Let us know on our Facebook page!
Got a property you'd like TripZilla to feature? Inquire with us here.
---
This article contains affiliate links. When you book through these links, we may earn a small commission at no additional cost to you. All images courtesy of the respective property listings.