Listed as one of the top tourist destinations in Mexico, Cabo San Lucas (or simply Cabo) is the go-to place for a perfect beach vacation. It nestles in the southernmost point of the Baja California Peninsula and is a hotspot for beachgoers and those into water sports. Aside from the coastal vistas that look like something out of a postcard, you'll also find lots of gorgeous Cabo San Lucas Airbnb rentals that will convince you to stay for a more extended bout! 
FYI, this resort city is a part of the Los Cabos region. And this region comprises the nearby San Jose del Cabo. So, check out these top Airbnbs in Los Cabos for your next vacation.
Also read: 17 Stunning Airbnbs in Hawaii for the Best Experience
Best Airbnbs in Cabo San Lucas that will take your breath away
1. This high-end villa for ocean views and sunbathing all day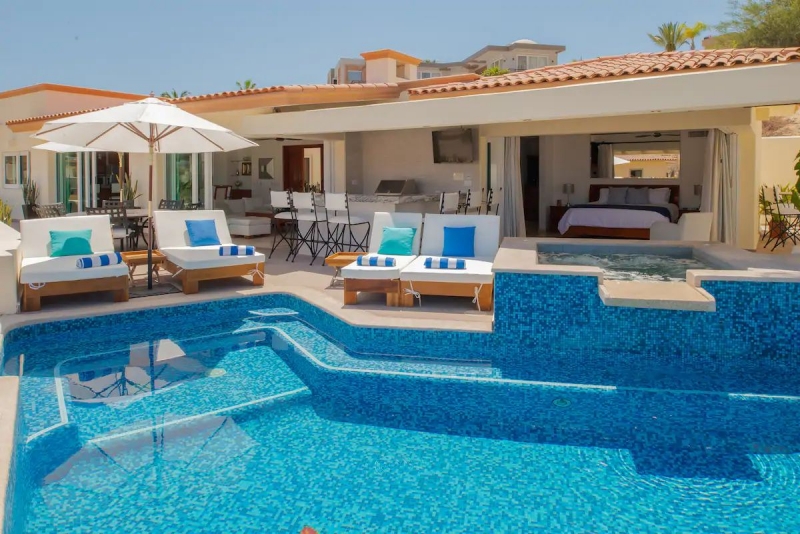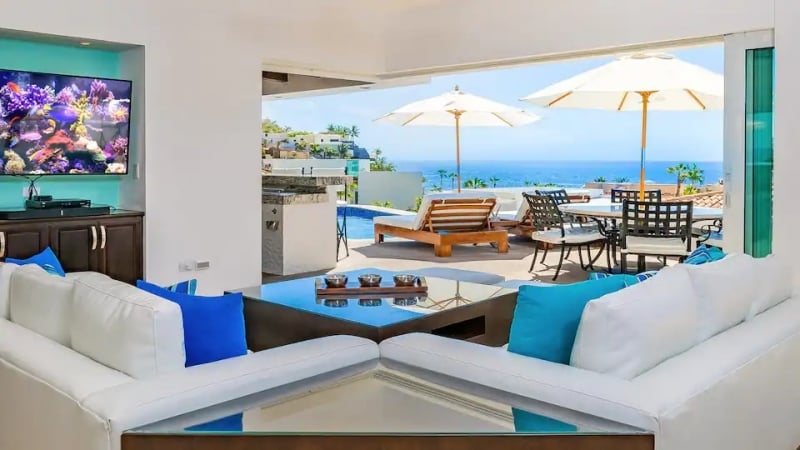 Listing name: Villa del Toro Rojo #1 rated Superhost in Pedregal 
Listing type: Entire villa
Max. no. of guests: 12
No. of bedrooms: 6
If you're all about getting those sexy tan lines without going to a crowded beach, this Cabo Airbnb with an infinity pool will do the trick. Enjoy sunbathing under the beach umbrella or take a dip in the pool overlooking the spectacular ocean vista. The blend of neutral colours and open spaces sparks a peaceful ambience that helps you unwind on your vacation. 
Plus, the villa is only a walking distance from Downtown Cabo. So, after a long day at the beach, you can walk home and relax with their in-house massage service. FYI, this stay is also one of the best smart-home-featured Airbnbs in Cabo San Lucas. So, get Alexa (or Siri) to order pizzas for you and your pals for your movie night! 
2. This contemporary abode with delicious home-cooked meals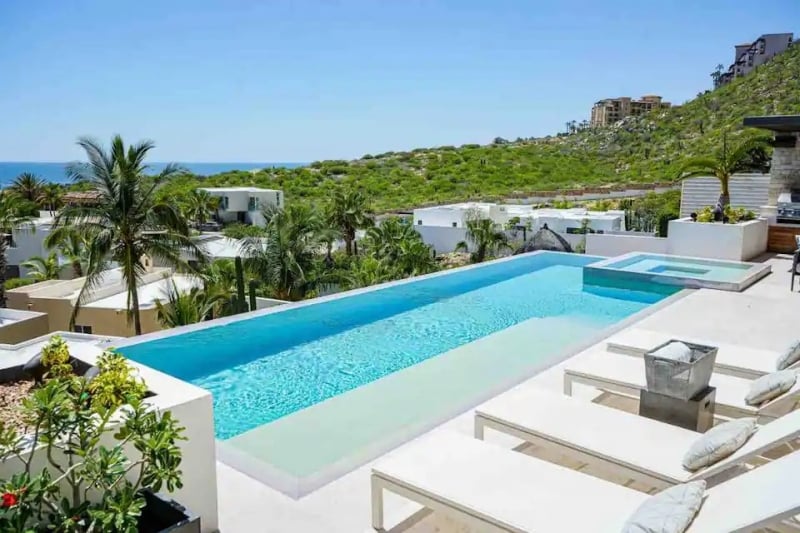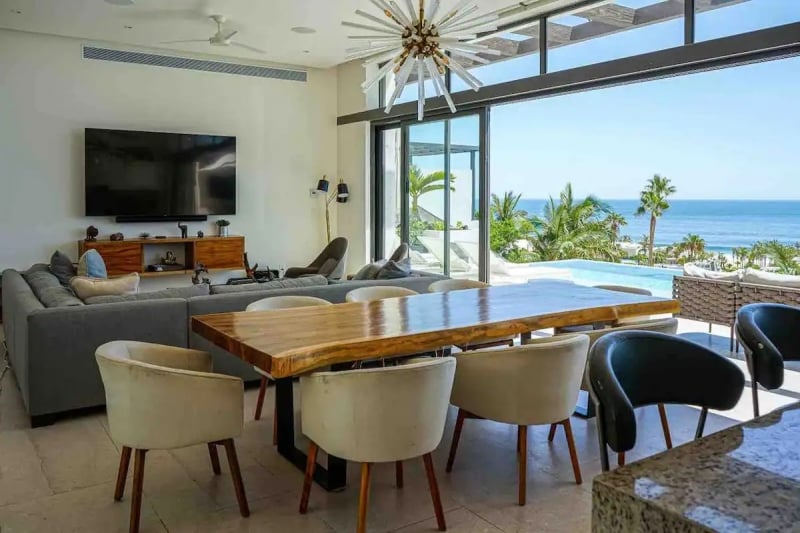 Listing name: Cabo Beach View | Bartender, Chef & Maid Included
Listing type: Entire home
Max. no. of guests: 14
No. of bedrooms: 5
This modern mansion that makes you feel at home is a must-add to your itinerary. The sleek, clean interior design and fancy wooden furniture add charm to the already cosy stay. Here, you can swim in their private pool overlooking the breathtaking Pacific Ocean and enjoy whale-watching from afar.
What's more, an excellent chef will always be here to satisfy your daily dose of tasty, home-cooked meals. So, enjoy every bite of your quesadillas and tacos (to name a few) while you bob your head to the beat of your favourite jam, thanks to their incredible sound system. Definitely a great Airbnb Cabo San Lucas with a chef you should check into.
3. This mansion that looks straight out of Hollywood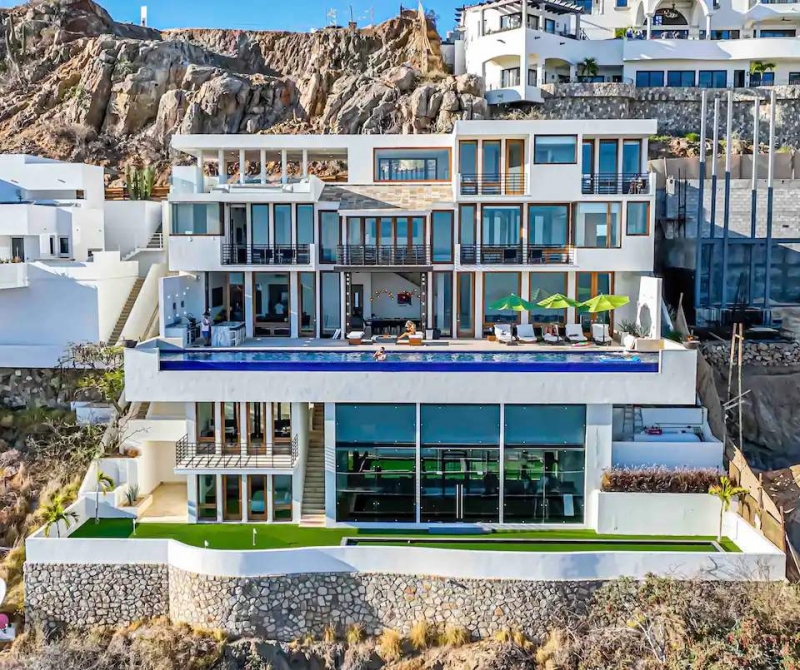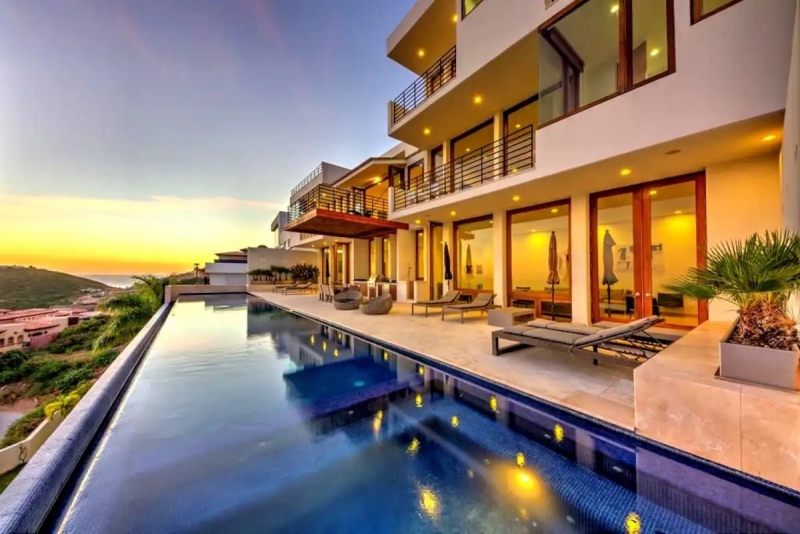 Listing name: Lux Ocean View Villa | 80′ Infinity Pool
Listing type: Entire villa
Max. no. of guests: 16+
No. of bedrooms: 7
In search of a great place to hold your family vacation this year? This magnificent villa has everything that you need. You will likely spend more time looking outside as this stay offers unparalleled sky and ocean vistas.
Start your day with a complimentary breakfast served by their chef. Then, enjoy free streaming of Netflix or HBO in this smart home. Not up for a movie? Take a dip in their 80-foot-long cobalt saltwater infinity pool instead. And if you're too busy to plan any occasion, let their concierge take care of everything for you. Definitely the best luxury Airbnb Cabo San Lucas has to offer!
4. This lavish condo on top of a shopping complex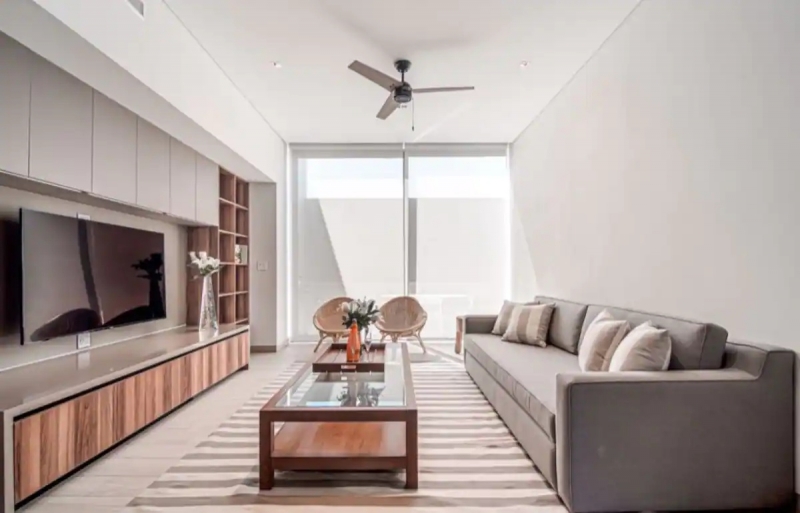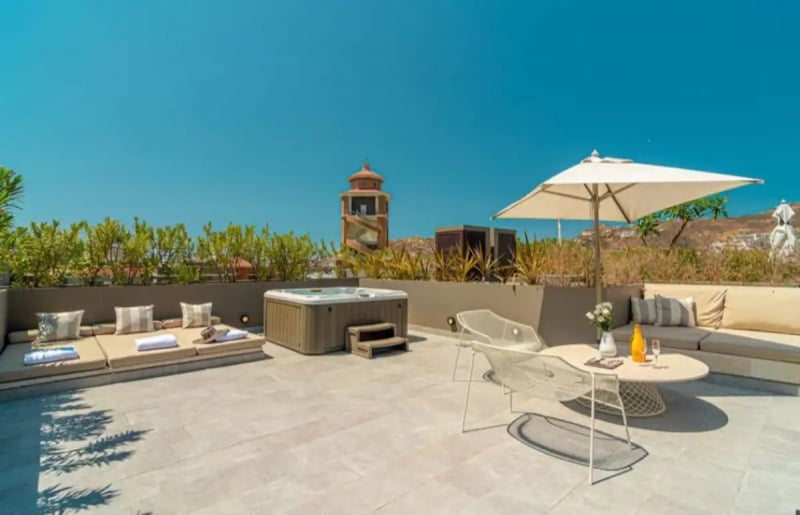 Listing name: Luxury Condo: Private rooftop & jacuzzi
Listing type: Entire condo
Max. no. of guests: 4
No. of bedrooms: 2
If you're looking for something different than the usual tucked-away, ocean-view villas, head to this stylish condo at the heart of Cabo Marina. It nestles right above Puerto Paraíso mall, which makes it one of the few Airbnbs in Cabo San Lucas with easy access to shopping spots. Aside from that, its location also gives you a vantage point over the bustling waterfront neighbourhood!
You can stay indoors and relax in their private jacuzzi or have some BBQ time with your family. And when it's time to explore, restaurants, stores, bars, nightclubs, and Medano Beach are just a short walk away. 
5. This remarkable stay with a balcony jacuzzi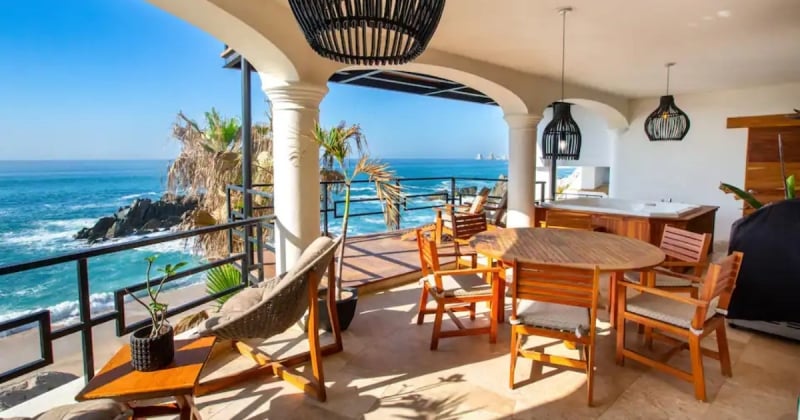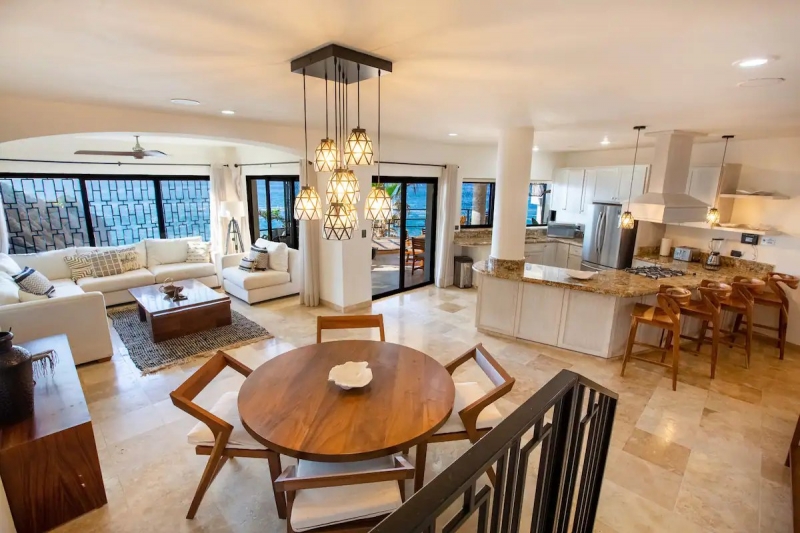 Listing name: BEACH FRONT Casa Bruma, Jacuzzi W Massage
Listing type: Entire home
Max. no. of guests: 10
No. of bedrooms: 3
This chic home is one of the best beach escapes in Cabo San Lucas that also welcomes pets. The blend of rustic furnishings and bleached walls lends a tranquil atmosphere to the space. For even more peace of mind, enjoy the serene view of the ocean from the open balcony. Or better yet, watch the sky ablaze with the rays of the setting sun later in the day. 
To enhance your stay in this cosy Airbnb in Los Cabos, take a dip in the relaxing hydromassage jacuzzi and enjoy an oceanfront dinner with your loved ones. When there's nothing left to do inside, walk your way to the beach downstairs. And by walking, we mean literally ten steps away from your stay. 
6. This zen retreat located in Cabo's cultural centre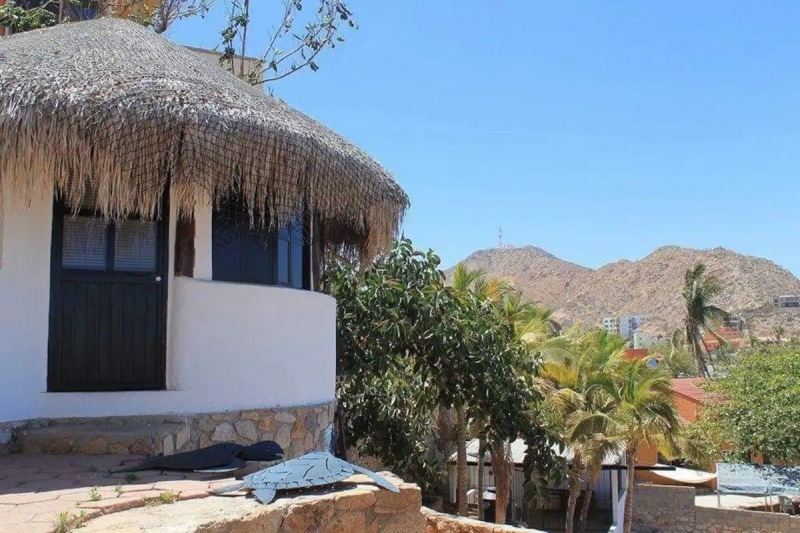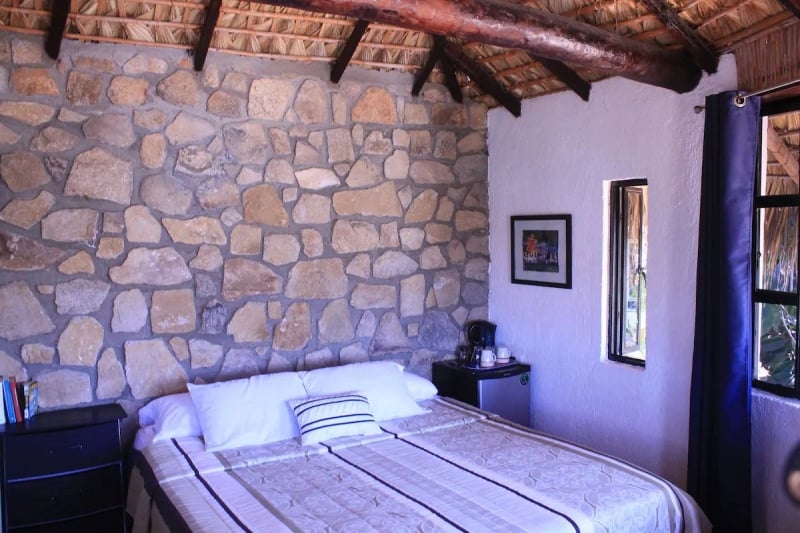 Listing name: Cabo Center, Ocean view Great price!
Listing type: Entire home
Max. no. of guests: 2
No. of bedrooms: 1
For a solo traveller who's on the lookout for a peaceful getaway in Cabo, this cosy palapa is the most unique Airbnb that Los Cabos puts forth. The thatched roof made of dried palm leaves in this calm abode will help you weather the hot climate. 
Despite its size, this tranquil retreat packs a punch with facilities like good Wi-Fi, ensuite bathroom and shower, and mini-bar service (upon request). Plus, the owner is ever ready to help you book any tours or beach activities of your liking! Definitely a budget-friendly yet comfortable Cabo San Lucas Airbnb you should check out.
7. This stylish loft that exudes a relaxing vibe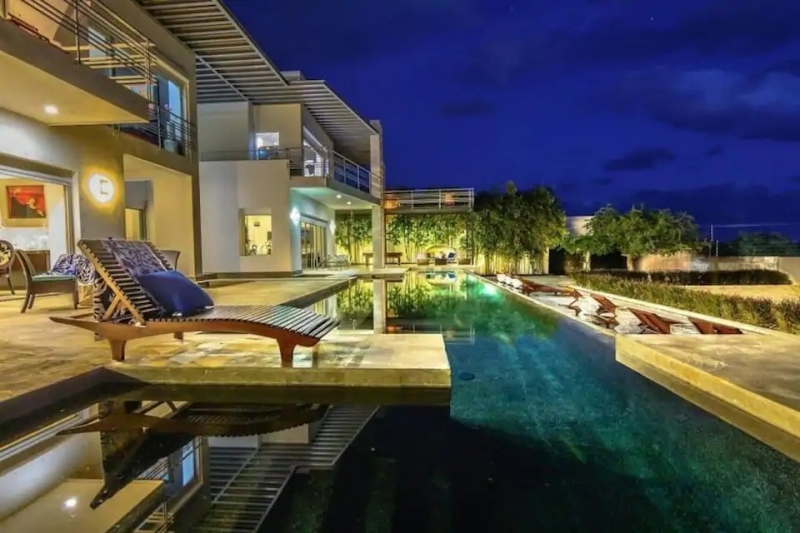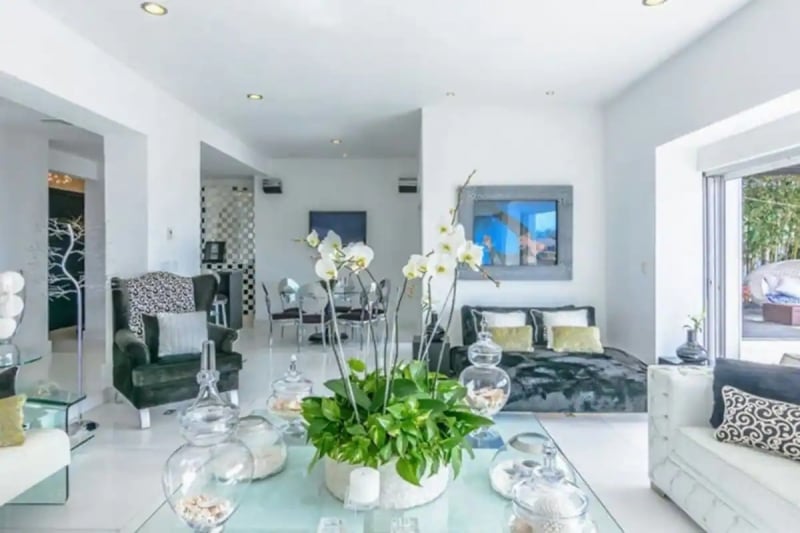 Listing name: Million Dollar View Loft
Listing type: Entire home
Max. no. of guests: 2
No. of bedrooms: 1
For couples who are looking for the best Cabo San Lucas Airbnb fit for their honeymoon dreams, this calm and private loft is the answer. Have a romantic dinner in the minimalist yet futuristic dining space or slow dance with your partner on the patio. Oh, and did we mention that you'll get to take in the view of The Arch from this stay, too?
If you feel like exploring the outside, take a short walk to Mariscos Cabo Seafood and try their recommended oyster dishes. Plus, plenty of Ubers are available in the area, so expect a short drive to Downtown Cabo and the beaches nearby. 
8. This tranquil elevated house on a hill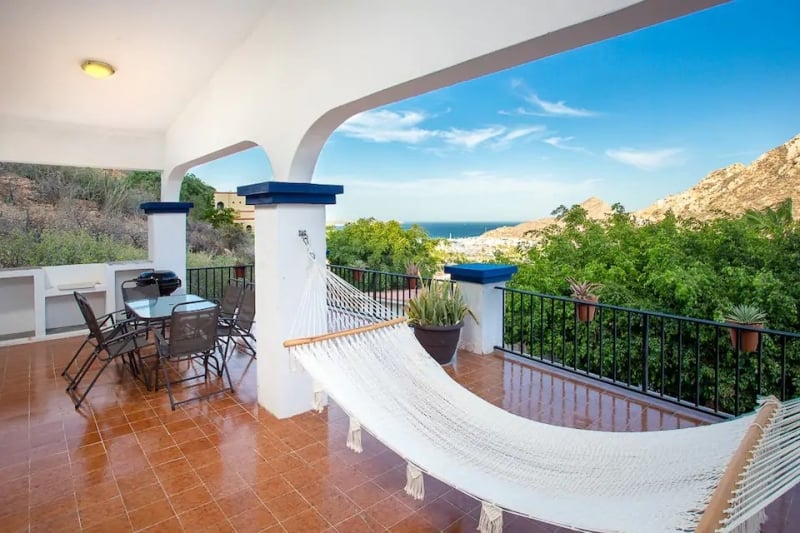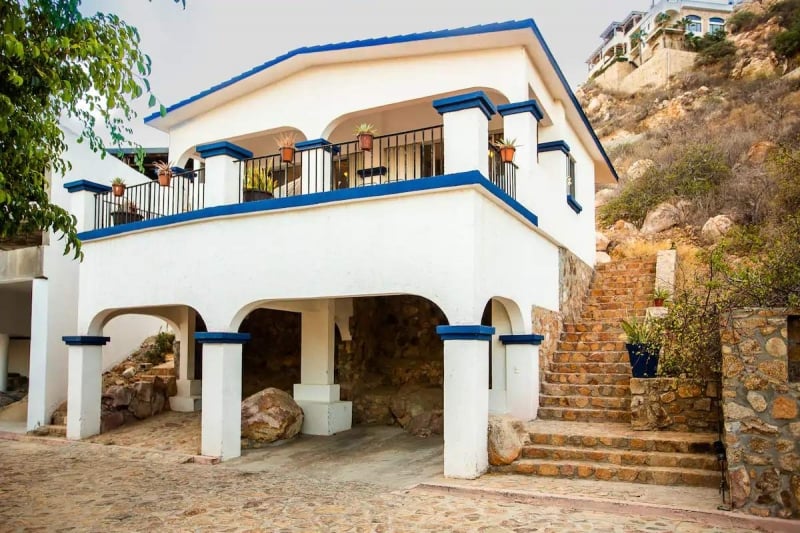 Listing name: Casa Carlos
Listing type: Entire loft
Max. no. of guests: 3
No. of bedrooms: 1
One of the best Airbnbs in Cabo San Lucas is this serene loft with a cute beach-style interior. Do check out their spacious balcony with a relaxing hammock that serves as a main highlight. From there, you get to take in some greenery and the majestic views of the marina. 
The top reviews mentioned how the attic is spotless and communicating with the owner is the breeziest thing to do. This stay is also super convenient as it is within walking distance of bars, restaurants, and beaches in the area. For that tranquil abode that's easily accessible to prime spots of the resort city, this is the perfect Airbnb Cabo San Lucas sets forth.
Fabulous Los Cabos Airbnbs that's not too far off
9. This breathtaking beachfront paradise that screams "luxury"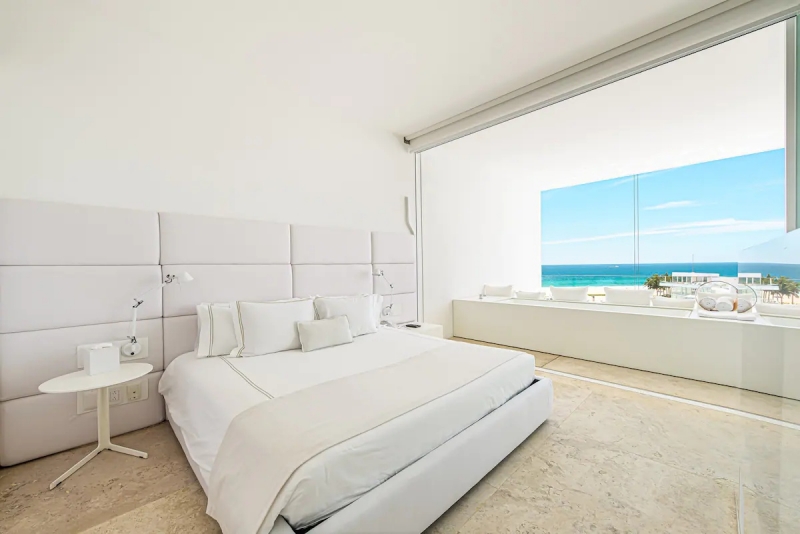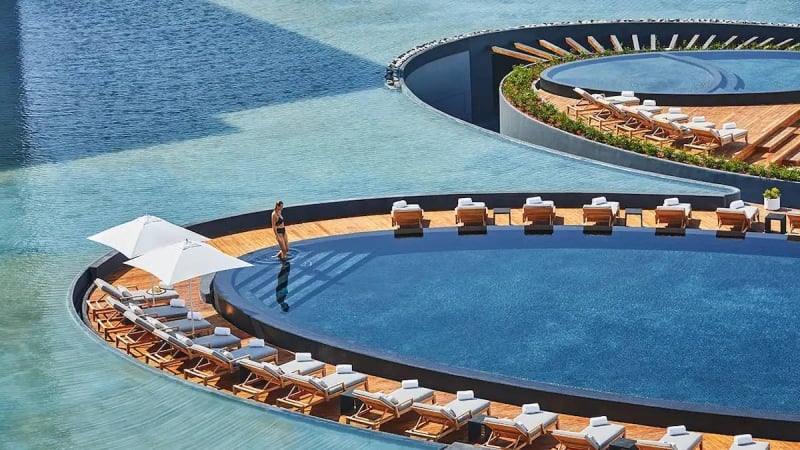 Listing name: AMAZING! 1-bedroom Instagram Department
Listing type: Entire apartment
Max. no. of guests: 2
No. of bedrooms: 1 
Feel like jumping into the screen as soon as you see this sun-dappled luxury apartment? You're definitely not alone! The blend of minimalist interiors and contemporary decor, plus the abundant natural light, evokes a harmonious vibe that'll give you peace of mind during your stay. Having said that, we assure you that this lavish condo is the best Instagrammable Airbnb Los Cabos proposes.  
Wake up every day to a stunning view of the Sea of Cortez, and if you can't resist the beach calling, head to the San Lucas coast, 20 minutes away from the apartment. Psstt, most of the top reviews mentioned appetising meals from the resort. So fret not about where to get the best meals in this cosy stay! 
10. This hacienda-style residence that's equally lavish on the inside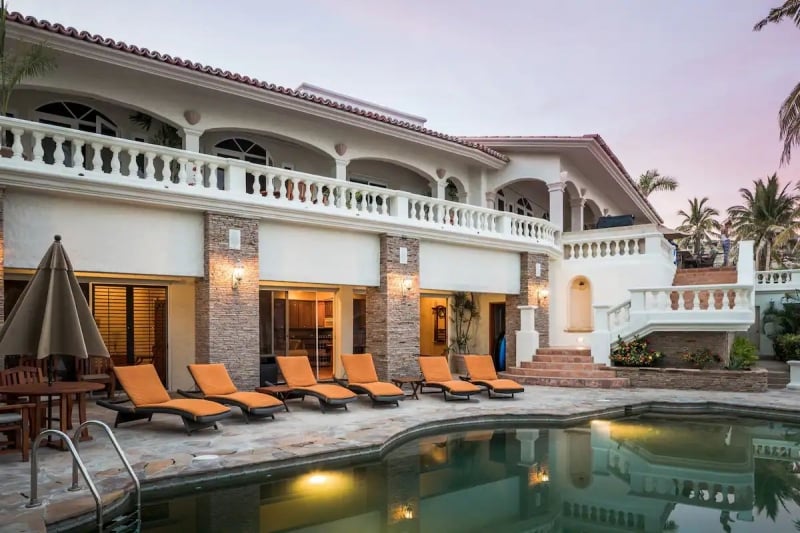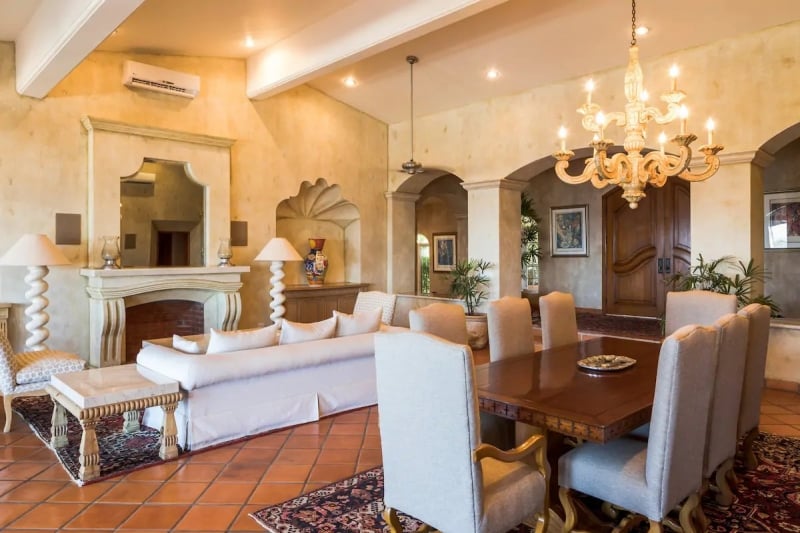 Listing name: Casa Mariposa Beachfront Mega Villa Paradise ⭐️
Listing type: Entire villa
Max. no. of guests: 14
No. of bedrooms: 5
Casa Mariposa is the best Airbnb in Los Cabos for a top-notch private beach vacation experience. This luxury mansion in the exclusive Punta Bella is only a 15-minute walk from Palmilla Beach. It features an infinity pool, spa, and full gourmet kitchen, so feel free to hold your bridal shower or bachelorette party in this space. 
The stunning decors — especially the chandeliers — and the high-end furniture make this villa look like something out of a movie! Aside from the usual relaxing in the pool, you can also have a fun BBQ with your friends on the patio.
11. This artsy studio that'll brighten up your day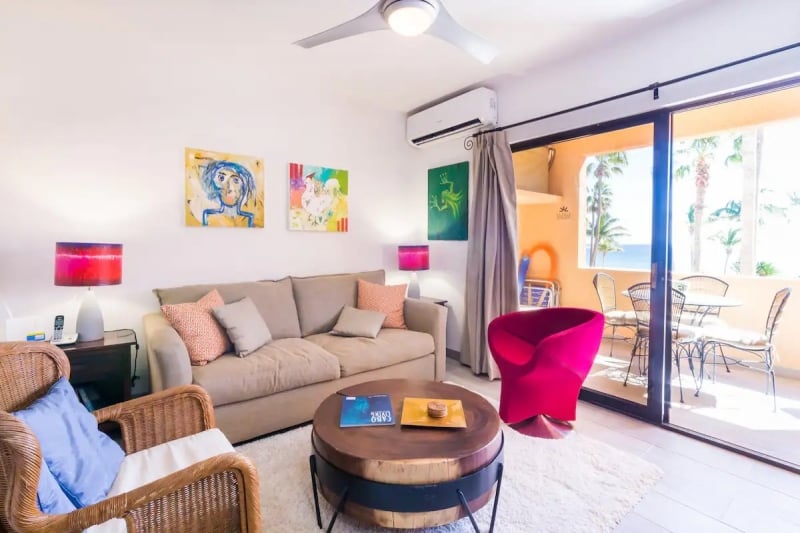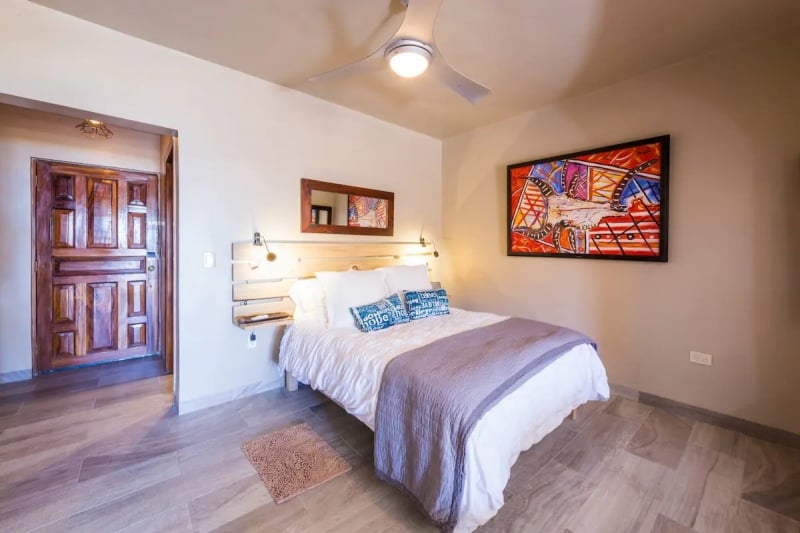 Listing name: La Jolla Beachfront Studio–Walk to Surf! View!
Listing type: Entire studio
Max. no. of guests: 2
No. of bedrooms: 1
Make your BFF trip more meaningful by opting for this fully-equipped colourful studio. The vibrant palette of the interior decors juxtaposed with the neutral-coloured walls will lift your mood as soon as you walk in. Take in the spectacular view of the beach as you sip your morning brew with your BFF at the patio. 
What's more, you can even cook together in their fully-equipped kitchenette! If you're up for some exciting stuff, get your surfboard and take on the waves at Zippers surf break with your pal. Or better yet, go snorkelling at Santa Maria Beach, which is only a 15-minute drive away. Hands down the best Airbnb Los Cabos puts forward to all travel buddies out there.
12. This gorgeous pad that takes beach living to another level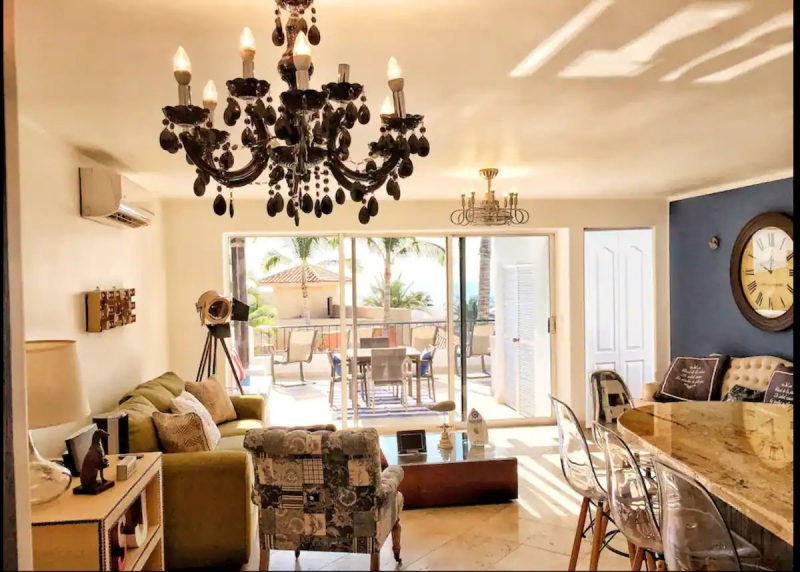 Listing name: ★Luxurious 5★ Laid-back ≅ Beach Condo big♥ terrace
Listing type: Entire condo
Max. no. of guests: 4
No. of bedrooms: 1
Be one with the sky and the sea in this blue-and-white-themed condo. The choices of colours surely evoke a calming ambience to the space. Enjoy free streaming of Netflix in this cosy stay, or bring your family for a fun time in the pool outside. Gather round the patio in the evening and watch the sky in its pink shade before the sun sets. 
When you're ready to explore the peaceful neighbourhood, walk to an accessible beach in the gated community of Lomas de la Jolla, which is less than 10 minutes from this condo. The top reviews assure you that this is the finest beach Airbnb Los Cabos is offering right now.
Also read: 10 Unique Airbnbs in Bali to Live the Luxe Life
And that concludes our list of the top 12 Airbnbs in Cabo San Lucas (and the rest of Los Cabos) for your next beach holiday. So, have you decided on the best stay yet? Whatever it is, don't just lie down in your peaceful abode. Make plenty of time to explore the beautiful resort city and its beaches too!
Got a property you'd like TripZilla to feature? Inquire with us here.
---
This article contains affiliate links. When you book through these links, we may earn a small commission at no additional cost to you. All images courtesy of the respective Airbnb listings.