So, after two years of staying home, are you finally ready to kick off those shackles and jet off to your next holiday destination? We're all for it! Thailand is certainly a fine choice: Great food, rich culture, and an ambience that captivates all kinds of travellers. 
However, as the world gradually transitions into an endemic phase, there are certainly many things to consider and take note of when planning a trip these days. If you're in the midst of plotting out your escape to Thailand, read on! Here's all you need to know about travelling safely in Thailand in 2022. 
Ready to restart your travel adventure in Thailand? Start by booking your flights with AirAsia to enjoy the best prices from as low as S$69 today!
1. Keep up with the latest Thailand travel restrictions
First and foremost, before booking that holiday in Thailand, get to know the three current programs that travellers can use to enter the country and what the various travel requirements are. 
Note: Starting 1 Apr 2022, Thailand has removed the requirement for travellers to undergo Pre-Departure Testing (PDT). However, certain airlines that transit in other countries may still require a negative pre-departure test to allow passengers on board. 
Test & Go Scheme (Available to all fully vaccinated travellers)
1. Apply for a Thailand Pass or Certificate of Entry (if arriving by sea).
2. Provide a valid Covid-19 vaccination certificate or proof of recovery from a previous infection.
3. Book a night's stay at a government-approved AQ, ASQ, or SHA+ Hotels.
4. Purchase travel insurance with a minimum coverage of US$20,000 (short-term visitors).
5. Upon arrival, you need to head to your pre-booked accommodation and undergo PCR testing.
6. Wait for your results at the hotel. If they are negative, you are free to explore Thailand!
7. If you're travelling for an extended period in Thailand, you will need to do an Antigen Self-Test on day five.
Get your travel insurance here
Since international travel restrictions keep changing over time, make sure to keep up to date with the latest travel requirements here. 
2. Opt for flexible travel bookings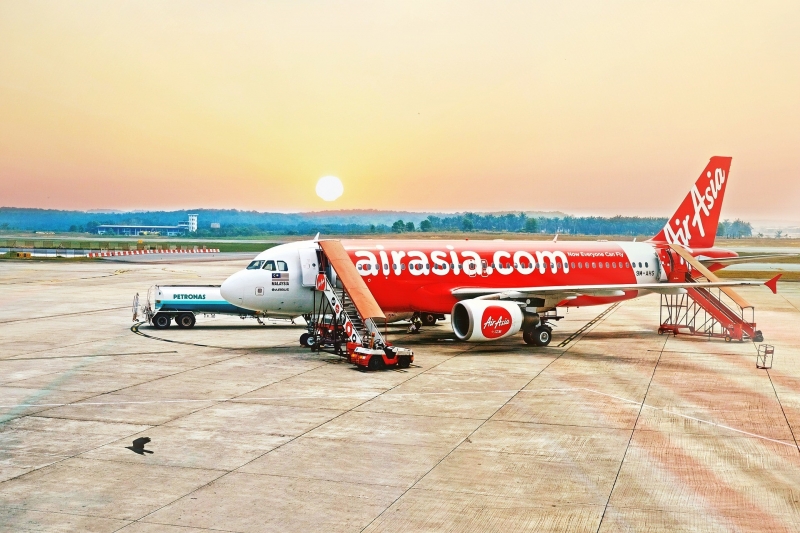 While many of us are careful planners, the key motto while travelling during this time is to expect the unexpected. Since travel restrictions are being lifted and international borders are still in the process of reopening, there's still a chance of unforeseen changes. 
Add to that the unpredictability of COVID-19, and it makes perfect sense to look for travel arrangements that afford you some flexibility. Whether it's your flight or hotel booking, look for bookings that offer either free cancellations or ones that allow you to modify your travel dates. 
When you book your hotel with AirAsia, not only will you get to enjoy the best prices, but in most cases, you'll also be able to cancel your bookings should there be any unforeseen circumstances that prevent you from travelling on your original booking dates!
What's more, if you book a flight + hotel package via SNAP, you'll be able to claim a full refund if your flight is cancelled or rescheduled, allowing you to plan your travels with peace of mind!
3. Download the MorChana app
All travellers heading to Thailand need to download and register their profile on the MorChana app. This is mainly to help with contact-tracing and to report your on-arrival test results. 
4. Be aware of the local COVID-19 restrictions
Different regions and provinces in Thailand have slightly different COVID-19 restrictions. Thankfully, in popular locations like Bangkok and Phuket, life is slowly edging back to pre-COVID days. You can dine-in at restaurants, gather with friends for a drink, watch a movie, and throng the night markets. 
However, unlike in certain countries that have removed the mask mandate, you are still required to wear a face mask when out in public in Thailand. In addition, you may also notice that certain attractions or shops come with social distancing markers and a quota on how many patrons can enter at the same time. 
However, apart from those, it's really more about being health-conscious and aware when travelling in Thailand during this time. 
5. Check to see if your favourite attractions are still open
This one's for all returning travellers: As you set foot in Bangkok or Phuket on your next trip there, one of the first things you'll realise is the change in atmosphere. 
The cities are still vibrant and exciting as always. However, you may notice that it is no longer as crowded as before, so certain experiences may feel a little different than you remember. What's more, some popular attractions or food stalls from the past may no longer be operating or have moved. 
Newer experiences have also sprung up over the past year. Before embarking on your trip, make sure to check if the locations you want to visit are still open! 
Fun fact: The famous Ratchada Night Market had previously closed down in 2021 only to reemerge as the trendy new Jodd Fairs Night Market on Rama IX Road! Thankfully, Phuket's popular Sunday Walking Street Market is still operating as usual. 
6. Rediscover Thailand like it's your first time there
While many of us are eager to travel again, there are still some who are, understandably, COVID-weary; heading to Thailand's crowded iconic attractions may not sound particularly enticing. 
Take this as an opportunity to rediscover the country like it's your maiden trip there, and fall in love all over again with its beautiful destinations and hidden gems! 
In Bangkok, check out Ancient Siam, a 300-acre park filled with replicas of the country's famous landmarks, or head to Benjakitti Forest Park and catch an alluring sunset far away from the crowds. If you're in Phuket for an island getaway, hike up Karon Viewpoint for an impeccable view or immerse yourself in local culture at Rawai Village. 
Also read: 5 Uniquely-Themed Cafes in Bangkok That Are Too Cool to Miss
7. Reconnect with your favourite experiences in Thailand
That being said, there are just some things about Thailand that we just can't get enough of. From thronging the vibrant complex of Chatuchak Market to soaking in the party atmosphere of Soi Sukhumvit 11, a trip to Bangkok just isn't the same without these. 
And no trip to Phuket can be complete without basking in the warm glow of the sun at Patong Beach, feasting on seafood, and thronging the bustling Sunday Walking Street Market.
To travel safely in Thailand during this time, simply time your visits to avoid the crowds. In addition, some establishments, especially nightlife attractions, also require patrons to do a rapid antigen test before allowing them to enter. 
8. Book the correct flight home and be aware of entry requirements
One important aspect some travellers visiting Thailand might neglect is the return trip to their home country. While Thailand currently welcomes all travellers via its three travel programs, the conditions for travelling back to your country may differ. 
Before booking your flight home, or jetting off to a new destination, make sure to double-check the travel requirements of your next trip. In fact, some airlines may not even allow you to board your flight if you lack any necessary documents for entry!  
9. What to do if you test positive in Thailand?
Finally, as much as we'd like to avoid testing positive for COVID-19 during our trip, we should still prepare for it as best as we can. 
If you test positive during your trip to Thailand, what happens next depends on how you tested positive. If the test result was obtained via a rapid antigen test, you will have to follow up with an RT-PCR to confirm the diagnosis. 
If your second test also comes back positive, you will have to first alert the public health authorities. If you have mild symptoms or are asymptomatic, you may be allowed to isolate yourself at your accommodation. If not, you may be transferred to a community isolation centre for treatment and observation. Should your symptoms deteriorate, you will be admitted to a hospital. 
This is why it's important to get good travel insurance that covers any COVID-related medical costs. Take, for example, AirAsia's Travel Pass that's sold by Tune Protect Thailand. 
Designed specifically for travellers heading to Thailand with AirAsia, this comprehensive travel insurance plan not only covers medical expenses but also flight delays and cancellations! Find out more here. 
As we slowly ease ourselves back into the mood for travel, let AirAsia help you satisfy your wanderlust! Offering the best travel deals, AirAsia allows you to finally switch out those stay-at-home vibes and rediscover the beauty of Bangkok!
Apart from affordable flights, you can also book your hotels with AirAsia via SNAP, your all-in-one travel planner. Enjoy fantastic promos and discounts, and safeguard your travel plans with free cancellation policies, allowing you to travel with peace of mind!
---
Brought to you by AirAsia and Tourism Authority of Thailand Singapore Office.