Tired of overcrowded and highly-touristy cities like Bangkok, Taipei or Seoul and craving for something different from the usual? Guess what, we've scouted the perfect off-the-beaten-path getaway that will refresh and rejuvenate you – the best part being: you don't even need to travel far or spend loads of money!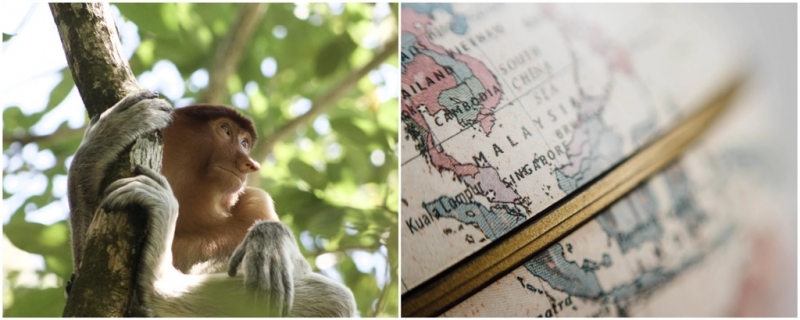 This secret destination is none other than… Bintulu, a coastal town on the island of Borneo in central Sarawak, Malaysia! One of Malaysia's best-kept secrets, Bintulu boasts of breathtaking scenery, delicious delights and fun-filled activities that appeal to all. And with AirAsia offering DIRECT flights to Bintulu from Singapore, there's really no reason why you shouldn't pack your bags right away.
Whether you're a foodie, adventurer, nature lover, shopaholic, parent or avid-Instagrammer, you're bound to fall irrevocably in love with this place. Here's why:
For the foodies
Hands up if you love food! East Malaysia serves some of the tastiest dishes in the country, with their dishes carrying influence from both the Chinese and Malay culture. Bintulu is certainly no exception, with its wide range of scrumptious dishes ranging from the addictively spicy Sarawak Laksa to the famous Sarawak Kolo Mee.
Here are some delights which you simply have to try:
🍴 Kolo Mee
One of the most famous dishes in Sarawak, Kolo Mee is a dry noodle dish served with chicken, char siu (barbecued pork) and fried onions. Springy in texture and lightly tossed in a transparent sauce, Kolo Mee has a similar texture to Wanton Mee except that dark sauce is not used. Fragrant and bursting with flavour, this is a light yet delicious dish which every East Malaysian has grown up eating.
Our recommendation: Wan Dzul Cafe (Parkcity, Bintulu 97000)
🍴 Laksa Sarawak
A rich, flavourful and tangy noodle soup dish made of coconut milk, Laksa Sarawak is a favourite amongst locals who enjoy its spice. Served with generous portions of seafood, fish cakes and egg; simply sink your teeth into this bowl of goodness and you'll never forget its unique taste which differs from that of Singaporean or Penang laksa.
Our recommendation: Ho Ga Pang Restaurant (97000 Bintulu, Sarawak, Malaysia)
🍴 Nasi Campur
A malay / Indonesian dish of mixed rice similar to Singapore's 'Economy Rice' dish, Nasi Campur is a fragrant dish filled with small portions of a number of side dishes such as meat, vegetables, fried shrimp, peanuts and more; accompanied by a huge scoop of rice. A staple yet delicious meal, Nasi Campur is popular amongst tourists and locals alike.
Our recommendation: Nasi Lemak Kidurong (No. 7, Kidurong Commercial Centre, Sarawak, 97000 Bintulu, Malaysia)
GET READY TO FEAST AT BINTULU TODAY! 
For the Instagrammers
For the avid-Instagrammers out there looking for the most 'Instagram-worthy' spots, you'll be glad to hear that Bintulu has them all! From the picturesque national parks and beautiful beaches to the mouth-watering dishes, your likes are sure to be pouring in in seconds.
📸 Borneo International Kite Festival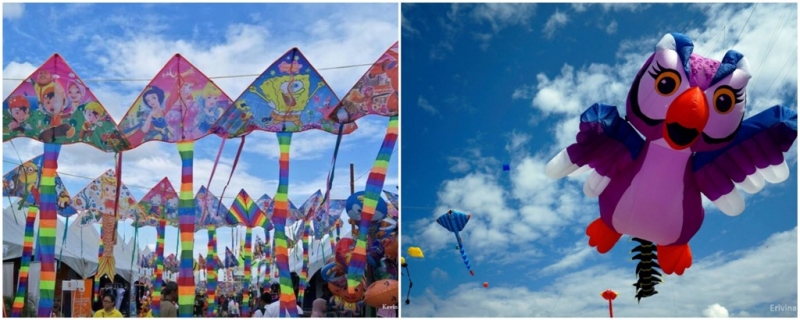 Every September till October, Bintulu is graced by the Borneo International Kite Festival, filling the space with vibrant and beautiful kites of the most creative designs. Facing the South China Sea, Bintulu makes the perfect destination for kite flying as the strong winds keep the kites afloat. Besides having a kite-flying competition, there are kite workshops, kite-making competitions and night performances.
The recent 2017 festival has seen over 400 kite-flying enthusiasts from 25 countries who participated and flew 2,500 diamond kites, forming the longest arch kite tunnel of 500 metres! This amazing feat was entered in the Malaysia Book of Records. Whether you're a kite-enthusiast or simply an avid-Instagrammer, the beautiful kites will take your feed by storm!
📸 Lambir Hills National Park
Lambir Hills National Park holds one of the world's most complex and diverse forest ecosystems, it consists of 6,952 hectares of lowland dipterocarp and heath forests. Home to 237 different species of birds, squirrels, wild pigs, gibbons, monkeys, deer and more, you can be sure that this national park WILL spice up that feed of yours!
Another Insta-worthy attraction is definitely its waterfalls! Head on the Pantu, Bukit Pantu and Pantu Waterfall Trails in order to get to the magnificent Latak Waterfall. There, you'll find a large forest pool surrounded by steep rock walls and fed by the 25-metre gushing waterfall. Perfect for a gush-worthy shot!
After taking your fill of photos, enjoy the peace and solitude of the park or go trekking if you're game for more adventures! Changing rooms, toilets and picnic areas are also available on-site if you wish to freshen up.
GET YOUR INSTAGRAM GAME ON AT BINTULU NOW! 
For the adventurers, nature lovers & divers
For a nature lover and adrenaline-junkie like myself, Bintulu is certainly paradise. Not only are you freed from squeezing with the crowds, there are a ton of exciting activities that await you! From jungle trekking to exploring the depths of the ocean, you'll definitely be spoilt for choice here.
🌞 Similajau National Park
One of the many national parks in Bintulu, Similajau National Park showcases the unique geographical features of the Sarawak coastline through its chain of stunning golden sandy beaches, jungle streams and green forest. A large 8,996-hectare park, many locals and visitors visit the park to watch and discover 24 species of mammals including gibbons, deer, porcupines, gibbons, two species of crocodiles and more flora and fauna!
Also a great spot for jungle trekking, many locals enjoy sweating it out and navigating through the jungle trails which boasts of beautiful sights and tranquility. Other popular activities here include the river and coastal cruise, as well as taking part in the sea turtle and reef ball conservation project. To get the most out of the entire place, hire a boat and request to be dropped off at Golden Beach before starting your trek back to the HQ! Your experience will leave you itching to go back again.
🌞 Patricia Reef
From Bintulu, you can access dive spots such as the relatively untouched Patricia Reef that boasts great visibility. Simply dive in and you'll realise how majestic the deep sea is – from schools of fish, to various types of corals!
For the families
Searching for somewhere to bring your little ones to keep them occupied during their school holidays but not wanting to spend a bomb? Well… being a quiet and peaceful coastal town, Bintulu is great for families who wish to avoid massive crowds and angsty children. The attractions are also a great place to engage the young ones to gain more knowledge beyond the four walls of a classroom. Furthermore, with a plethora of fun and family-friendly options, your entire family is bound to have a memorable time spent bonding!
👨‍👩‍👧‍👦  Taman Tumbina Bintulu
An integration of a botanical and zoological garden, Taman Tumbina Bintulu originates from the Malay words TUMbuhan (plant),  and BINAtang (animal). The garden contains a wide array of plants and adorable animals, which will enthrall both adults and children alike. Spreading over a hilly and undulating terrain of 57 hectares, Tumbina provides a glimpse of the rich and diverse flora of Borneo including Bougainvilleas, Cycas, Herbs, Fruit Trees, Cactuses, Orchids and more!
Fauna-wise, you can expect to see Pythons, Cockatoos, a Rhinoceros Hornbill, a Slow Loris, crocodiles and even a Panthera Tiger! For the butterfly-lovers, there's even an Alam Kelebar (Butterfly World) for you to learn about the various species of butterflies present in Borneo. Definitely a fun-filled attraction that the entire family will enjoy.
For the shopaholics
Not forgetting the shopaholics who enjoy getting the most value-for-money bargains and taking photos of their  #LootsOfTheDay! Bet you were thinking, "Bintulu being a coastal town… there probably isn't great shopping here." Well, you'll be surprised! Whether you're looking for clothes,bags, shoes or even local products; Bintulu promises to let you shop till you drop!
👜 Times Square Megamall
A large state-of-the-art shopping mall filled with a surfeit of shops, activities and dining options, Times Square Megamall is truly the best place to bag some bargains or to enjoy a movie date with your significant other! Being the largest shopping mall in Bintulu, you'll find a mix of international brands such as Levi's, Starbucks, Apple, Toys 'R' Us, as well as eclectic local boutiques selling the latest fashion and more. You can also sit down to enjoy the latest blockbuster if you're tired from all that shopping! The best part is that with the Malaysian Ringgit currency exchange working in your favour (Singapore Dollars), you can nab your shopping loots and get more bang for your buck!
👜 Pasar Tamu & Pasar Utama Bintulu
For those looking for a more local experience, Pasar Tamu and Pasar Utama are your best bets! Sporting unique cone-shaped roofs which symbolise the traditional Melanau headgear, these two-storey traditional markets sell huge varieties of local produce and exotic items. Here, you'll find many locals and very few tourists for not many know of this hidden gem. The first floor of these markets are usually a flurry of activity with stalls selling the freshest local produce such as spices, herbs, meats, fish, vegetables and more.
For those looking for a quick bite, do head upstairs whereby you'll find hawkers whipping up tasty local delights. Some exotic dishes to try include the warm sago and for the brave-hearted, you can try the snake dishes: 'labi labi' and 'ulat sagu'. In addition to getting your fix of local produce, this place is perfect for a fuss-free, delicious and economical lunch. Furthermore, the hawkers and stall owners are extremely friendly so don't hesitate to strike conversations with them.
With all these exciting activities, delectable delights and awe-inspiring attractions to indulge in, Bintulu is certainly a fast-growing exotic travel destination. Boasting of scenic attractions and tranquility to boot, this is definitely a place you'll want to visit before the crowds stream in.
And the good news is – AirAsia offers DIRECT flights to Bintulu from Singapore! Get your flights sorted for your off-the-beaten-path adventure HERE.
BOOK YOUR BINTULU HOLIDAY WITH AIRASIA NOW!
---
Brought to you by AirAsia.