Hello, adrenaline junkies! I've got a challenge for you. I've made a list of action-packed activities in South America – one for each major country – and you have to complete them all. The prize? Bragging rights, of course! Finish this challenge and you get to call yourself, "South America's King/Queen of Adrenaline". All hail!
Okay, so this isn't exactly Fear Factor or The Amazing Race, where you'll get something tangible out of completing these challenges, but a true adventure seeker will do this solely for the experience – not for fame and fortune. Right?
1. Brazil: Hang gliding in Rio de Janeiro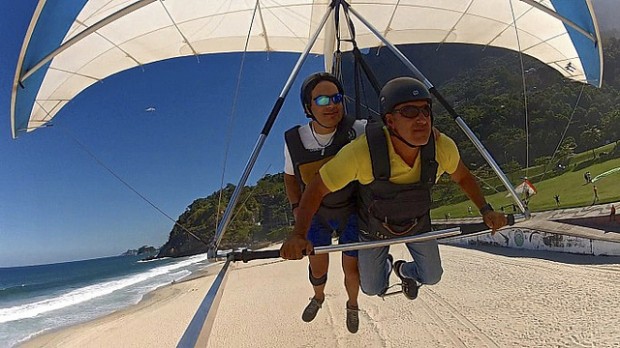 Image credit: alobos Life
Fly like a bird with a professional pilot and get a bird eye's view of the most popular attractions in Rio de Janeiro. Are you up for the challenge of hang gliding in Rio?
You will start your journey on the top of a mountain. During your 20-minute flight, you get to see  Pao de Acucar (Sugar Loaf Mountain), Praia de Copacabana (Copacabana Beach), Praia de Ipanema (Ipanema Beach) and Parque Nacional da Tijuca (Tijuca National Park), where the iconic Cristo Redentor (Christ the Redeemer) statue is situated. After all of that, you get to land on a sandy white beach. Can you imagine an experience more amazing than that?
2. Peru: Hiking the Inca Trail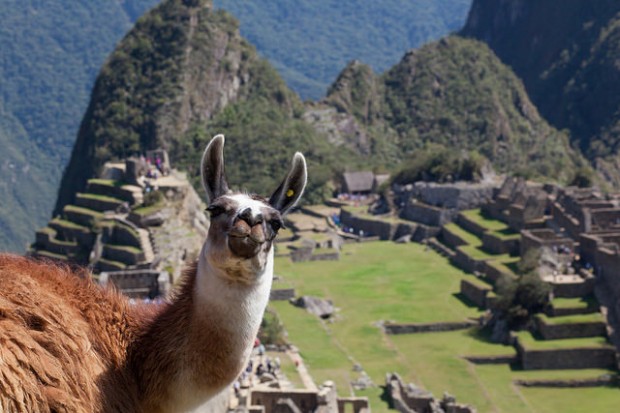 Image credit: Geraint Rowland
You can get to Machu Picchu by train and bus but where's the excitement in that? For a more authentic experience, retrace the steps of the Incas with the 4-day Inca Trail trek. This "pilgrimage" – from the Sacred Valley to Machu Picchu – will treat you to stunning views of the Andes, ruins of Inca cities and the chance to get up close to unique plants and wildlife.
Remember to book a package for this hike 3-4 months in advance to secure the required government permits. They sell out quickly since this is the most popular trek to Machu Picchu and a limited quantity of permits for the hike are issued per day.
Also read: Peru Travel Tips: 10 Things To Know Before Your First Visit
3. Bolivia: Mountain biking on the North Yungas Road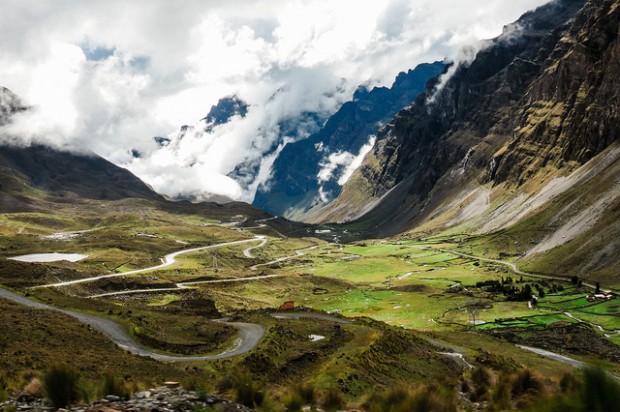 Image credit: Matthew Straubmuller
The North Yungas Road is infamous for being one of the most dangerous roads in the world. The locals know it as the "El Camino de la Muerte" (Death's Road). Thrill-seekers around the world call it the Road of Fate or the Road of Death. It has also been tagged as "The World's Most Dangerous Road" by the Inter-American Development Bank in 1995. If that reputation doesn't send chills down your spine, then I don't know what will.
Despite the estimated 300-persons-a-year death toll, the narrow lanes, the lack of railings to prevent you from falling to your death and the 15,000-feet descent, a huge number of thrill-seekers – from newbie to professional cyclists – still head to Bolivia every year to conquer this long, winding road. Do you think you can be one of them?
Warning: This adventure is not for the faint-hearted. If you decide to embark on this (hopefully) once-in-a-lifetime experience, book it with a reputable and competent tour company that will brief you on what to do and what not to do.
4. Ecuador: Swing at Casa del Arbol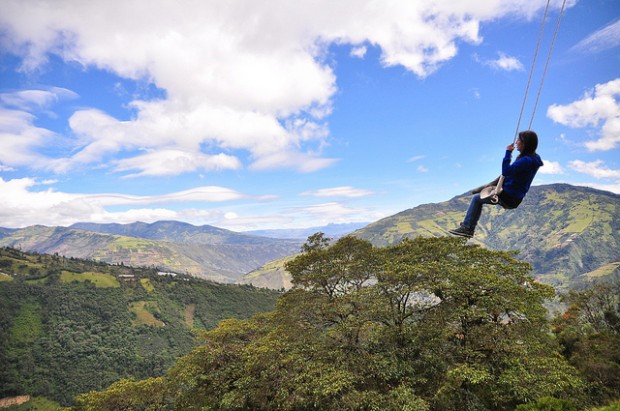 Image credit: Rinaldo Wurglitsch
After you've survived the Road of Death, head over to Baños and look for Casa del Arbol which is an old, debilitated-looking treehouse that serves as an observation station for Mt. Tungurahua, an active volcano. While I'm sure the view at the treehouse is fabulous, you're looking for a swing that visitors pay a dollar to ride. Of course, it is not an ordinary swing! Known as the "swing at the end of the world", this swing will give you the opportunity to hang beyond the edge of a cliff with no seatbelt on. Talk about a crazy twist to your favourite childhood activity! I just hope the rope doesn't break when it's your turn to give this a try!
5. Colombia: Paragliding in Medellín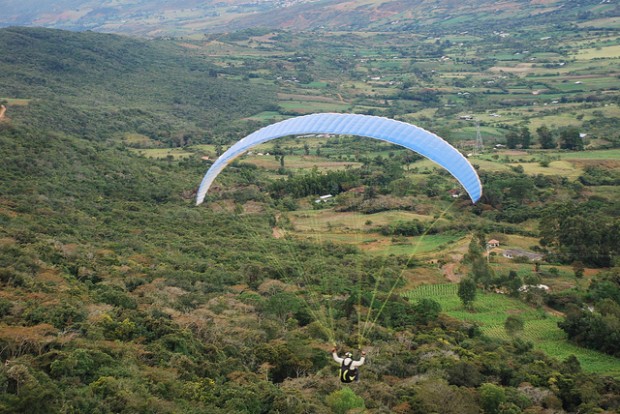 Image credit: Stephen Bugno
The city of Medellín has become popular as a paragliding site due to its mild weather year-round, its steep cliffs and stunning scenery. You can also paraglide (even without any experience) by going on a tandem flight with an experienced pilot, who will take control and do all the work while you just sit tight, relax and take photos with your GoPro!
6. Argentina: Polo at Puesto Viejo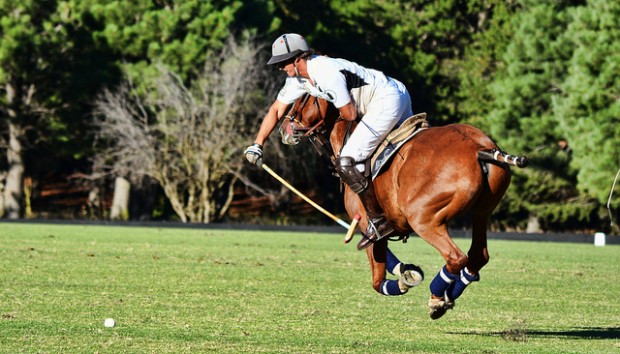 Image credit: Mariano Mantel
Is horseback riding too boring for you? Then an exciting game of polo might just be what you need to spice up your trip to Buenos Aires. Travel to the countryside from the Argentinian capital and spend a day at Puesto Viejo Estancia & Polo Club. Catch a high-energy game before hopping on a horse and grabbing a taco (mallet) for lessons with a professional instructor. Once you feel comfortable with driving a ball into a goal post while galloping on a trained horse, test your skills by participating in a friendly match!
7. Chile: Skiing or snowboarding at Valle Nevado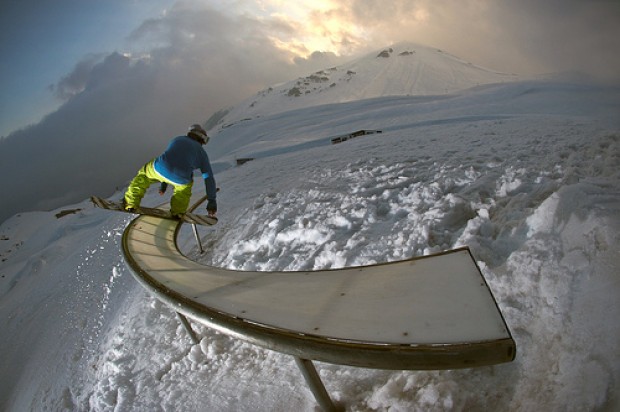 Image credit: Juan Carlos Labarca
Winter in Chile is from June to October and it is best spent skiing or snowboarding. Feel the cool breeze on your face as you glide down the powdery white slopes of South America's largest premier ski resort, Valle Nevado. I promise that it'll be one of the most thrilling experiences in your life!
8. Venezuela: Helicopter ride over Angel Falls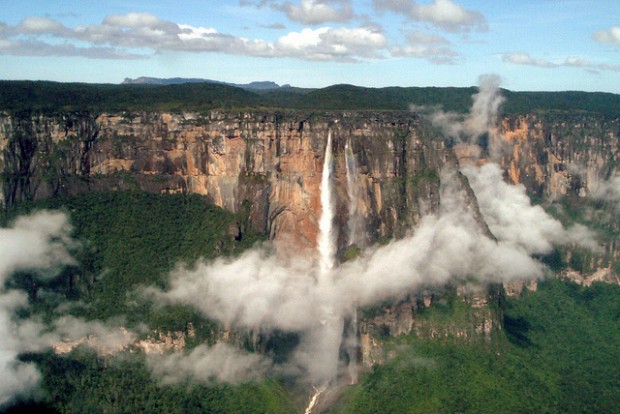 Image credit: Francisco Becerro
Want to see Angel Falls, the world's tallest uninterrupted waterfall, up close? Then take a page out of Jimmie Angel's book and fly over this majestic natural wonder in a helicopter. Being so high up can be dizzying but the flight will be worth it once you get a glimpse of this majestic natural wonder. Hopefully, a double rainbow will appear to top off your crazy excursion.
Also read: 6 South American Delicacies for the Daredevils
Visit in November or December when the sky is clear but book your flight months in advance as this is also the peak season for tourists.
So the question now is… Are you up for the challenge?