Bob and I booked a trip to Bali on a whim, since the tickets were cheap. A day later we realised we had no idea what we were going to do there. After a road trip around Aussie, we didn't quite fancy another sun bake or lazing around the beach, so I did what I always did when I needed help – posting a question on Facebook: What to do/eat/see in Bali? With that, we kind of let people plan our trip.
Here's a warning: if you're not planning to be by the sea in Bali, it will require a lot of travelling. Bali's places of interests are scattered all over the country, making it impossible to walk from one place to another. I guess cabs are cheap and easily available, but Bob and I rented a car for approximately USD 15 loans-cash.net (SGD 18.75) a day instead. However, even with cars, the roads are narrow, the traffic is horrible and there are motorcyclists everywhere and a lack of traffic rules, so I think your best mode of transport would still be the humble scooter, if you know how to ride one.
Also read: Food to Die for at Sardine, Bali, Indonesia
Quick lowdown on the F&B places recommended to us that we thought were worthy of visiting:
Bars – 
1. Potato Head Beach Club – Seminyak
There's a minimum spending in order to get a pool front table, so Bob and I sat at the bar, which was a blessing because we got to speak to the bartender and observe how he made the drinks. the club has an extensive menu of interesting drinks at affordable prices. Generally this was the only F&B place that was really spacious and seats weren't crammed together – something both of us really appreciate.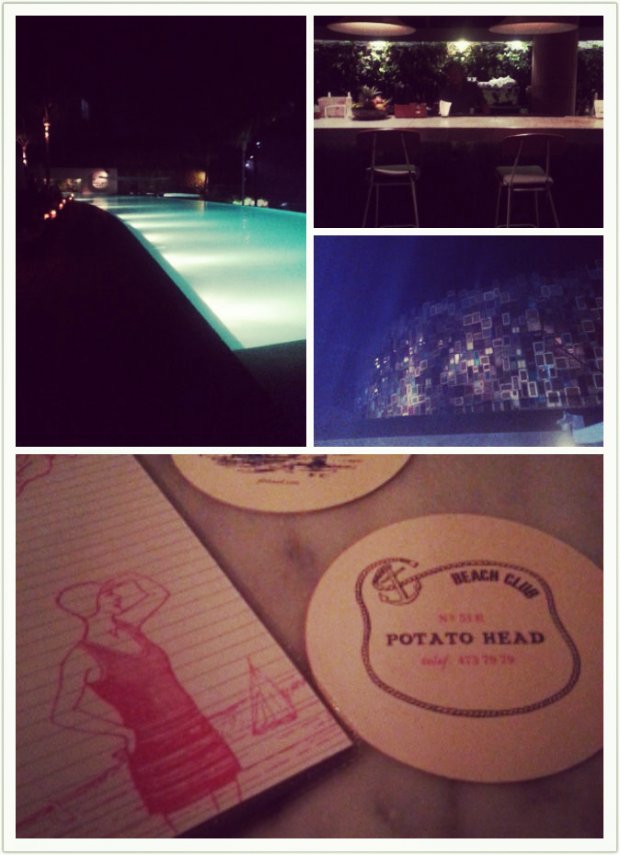 There is a very long lap pool in front of the beach.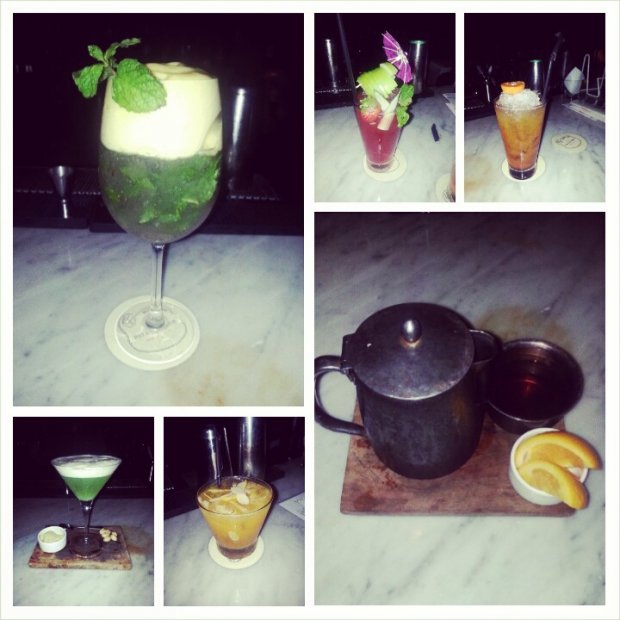 Try as many cocktails as you can!!
Address:
Jln. Petitenget
Seminyak, Bali 80361
T: +62 (361) 473 7979
2. Motel Mexicola – Seminyak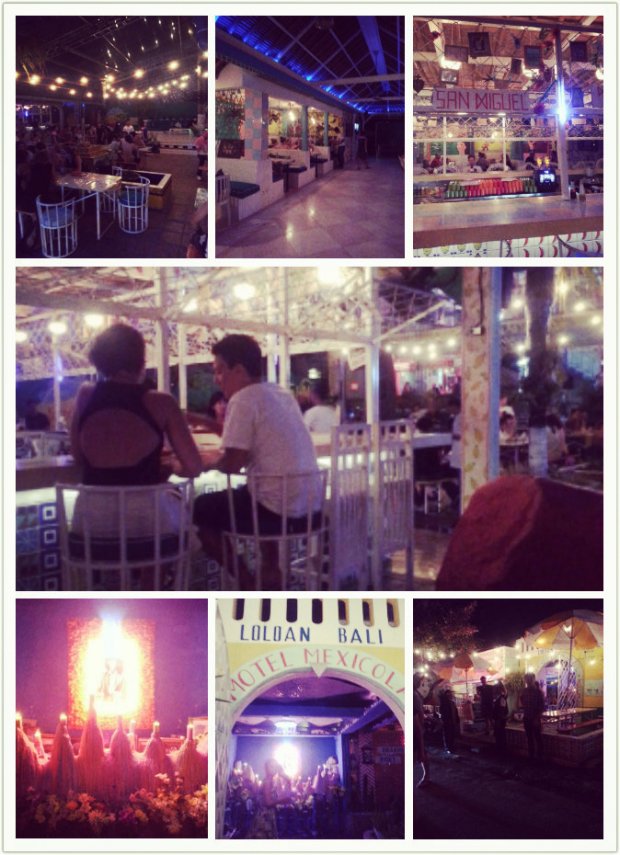 One of my friends mentioned that this place transported her to Mexico. While I've never been there, I would think this motel has gotten it right. Just from the exterior facade you get a drastically different vibe. As you walk in, you';ll be greeted by an altar (of sorts) with dripping candle wax. Further in is a huge courtyard and three different bars, there's a second level too. You'll find yourself bobbing to the background music, and though you might be accosted by bright colours, skulls and a sculpture or two (or three) of Jesus, the whole atmosphere is very laid back. Get there early and order their version of the pina colada. The guacamole was really good too.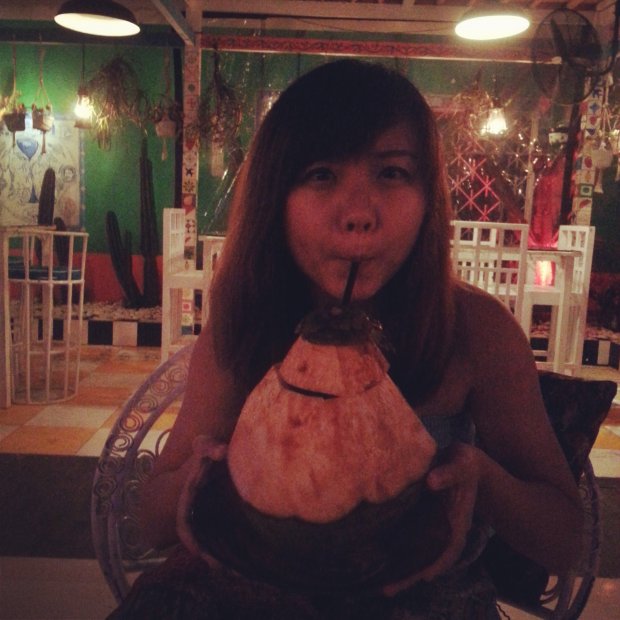 Address:
Jalan Kayujati No 9, Petingenget Beach, Seminyak, Bali 80361, Indonesia
T:+62 361 736688
3. The Rock – Jimbaran
The Rock is a highly rated F&B bar and I was bought over by the many photos of it. Truth be told, the drinks were average and slightly overpriced. But I'm chucking it in this list because it's a bar carved into a rock. There is a strict "smart" dress code, but I got in with flip flops and there were other people in shorts too.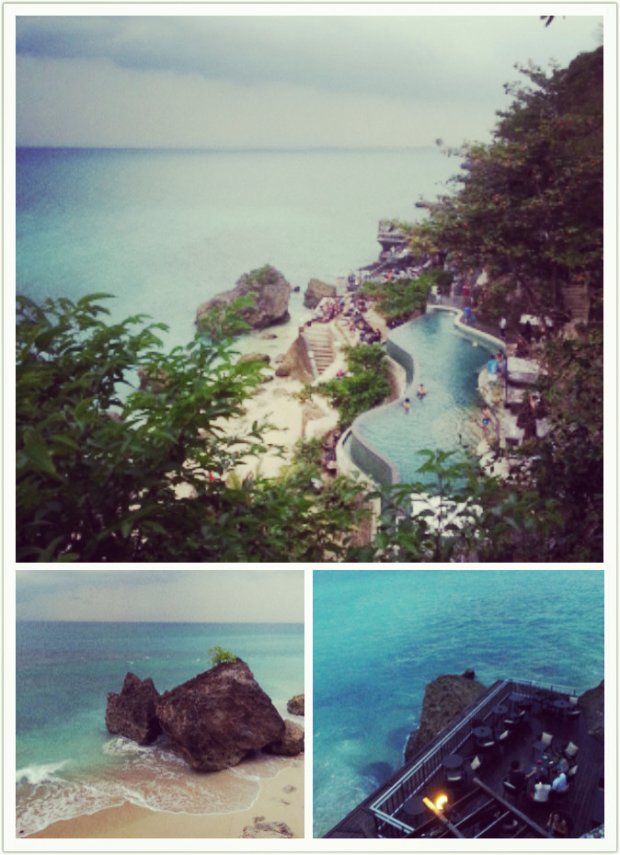 Address: 
AYANA Resort and Spa Bali
Jl Karang Mas Sejahtera, Jimbaran
T: +62 361 702222
Food –
4. Menega Cafe – Jimbaran
Not quite a cafe; Menega is situated on Jalan Four Season Resort, which should not be confused with Four Seasons Resort (we made that mistake, but they are pretty close in proximity). The entire area is teeming with places selling fresh seafood that offer alfresco dining by the beach and a magnificent view of the sunset. Unfortunately it was pelting when Bob and I arrived. Ohwells. There is a platter that's approximately USD 45 (SGD 56.24) for two that offers you a medley of seafood, including lobsters. We opted for the set that was around USD 15/pax (SGD 18.75). Each of us got fish, prawns, (very tasty) clams and sotong with rice, drink and vegetable . It was worth it. On a side note, don't peep at them preparing the seafood. I kind of lost my appetite watching live fish got clubbed in the head, live lobsters sliced into half and crabs de-shelled alive.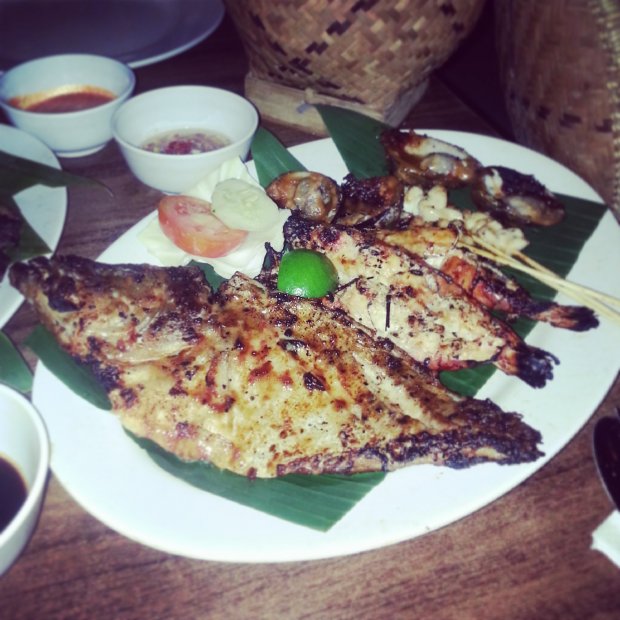 Address:
Jl. Four Season Resort
Muaya Beach Jimbaran Benoa Kuta Selatan Badung Bali, Indonesia
T: +62 812-3933-539
5. Naughty Nuri's – Seminyak
If I'm not wrong, the original Naughty Nuri's is in Ubud. We visited this laid back restaurant in Batubelig since it was nearer our hotel. Try the ribs, mee goreng, porn corn (yes, porn corn) and if you order a cocktail you will be treated to a special shake shake shake dance.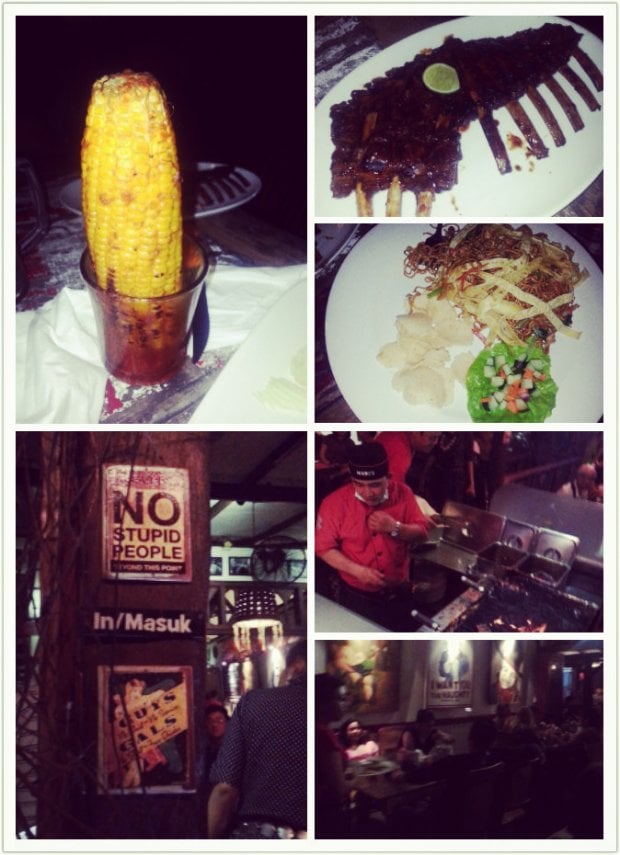 Address:
Jalan Batubelig, 41 (Kerobokan Kelod, Kuta, Bali)
T: (62) 0361 847 6722
6. MAMA San – Seminyak
The F&B in MAMA San is a fusion of various Asian dishes, it reminded us of Chin Chin's, except it's cheaper by a fraction. Try the pork cheek salad, crispy fish and kang kung. Their service and food were really good.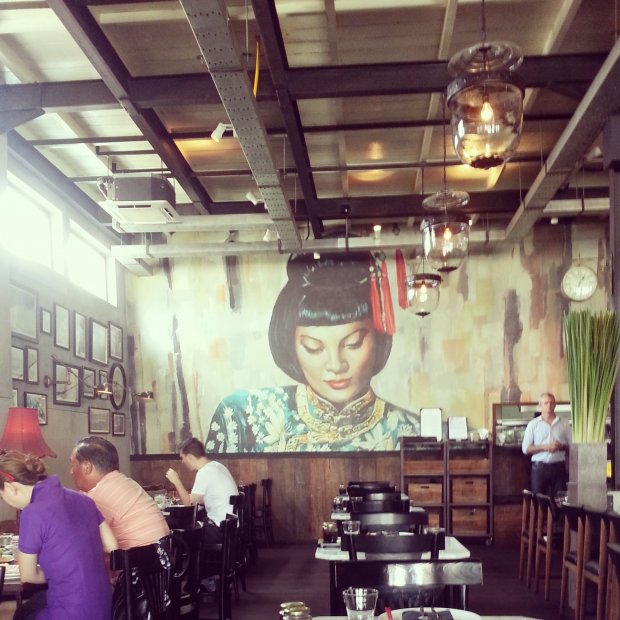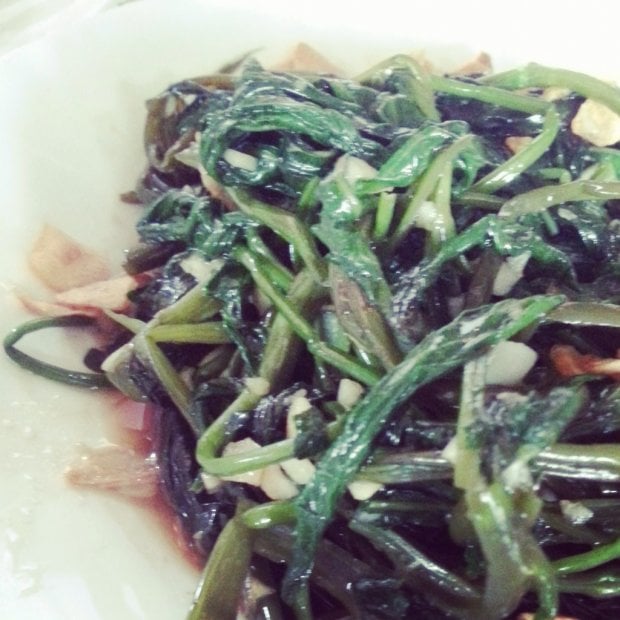 A modest but very tasty heap of kang kung.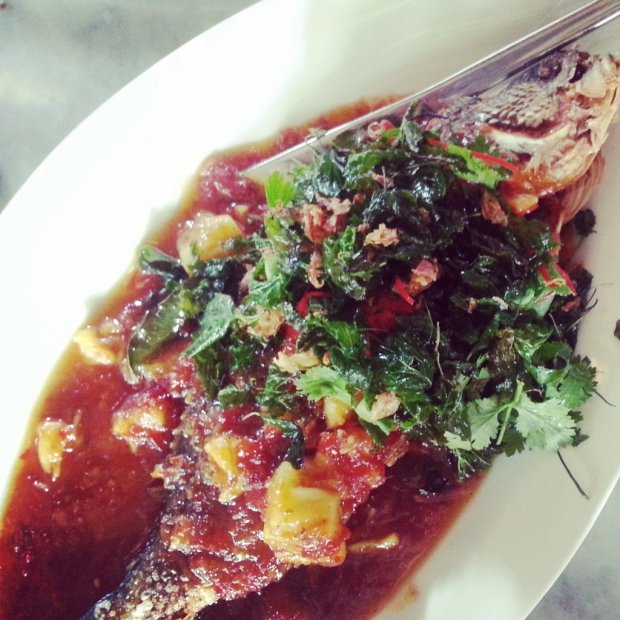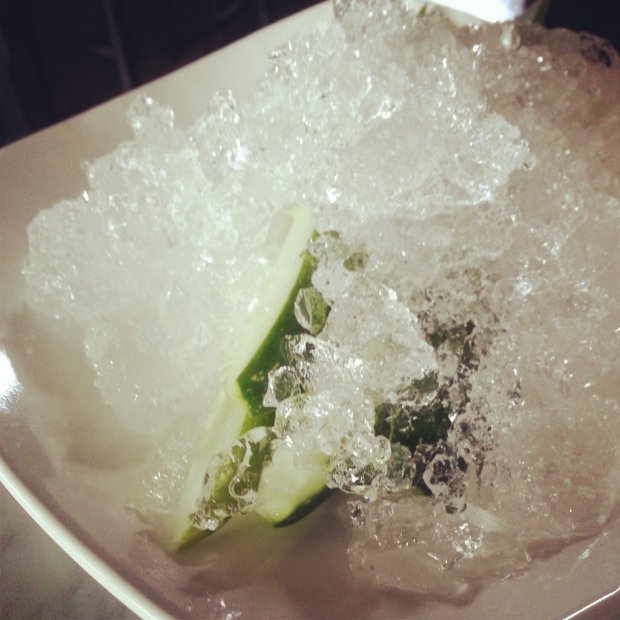 If you ever unfortunately bite into a chilli padi and need some cooling down, ask for cucumbers and ice.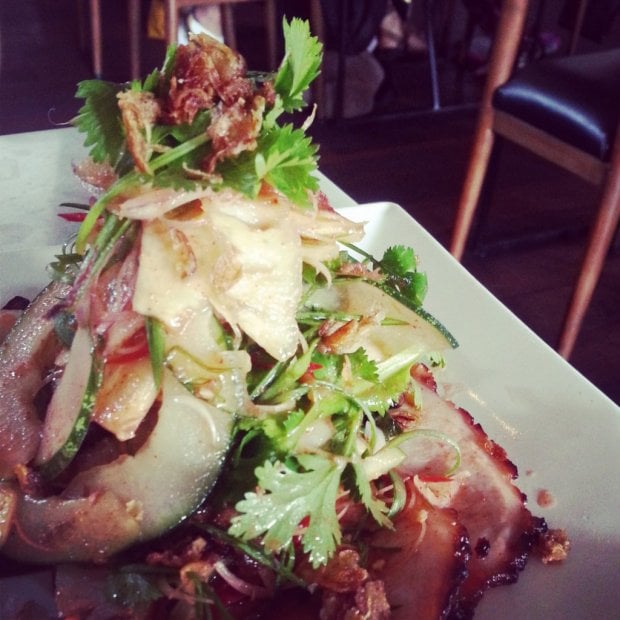 Pork cheek salad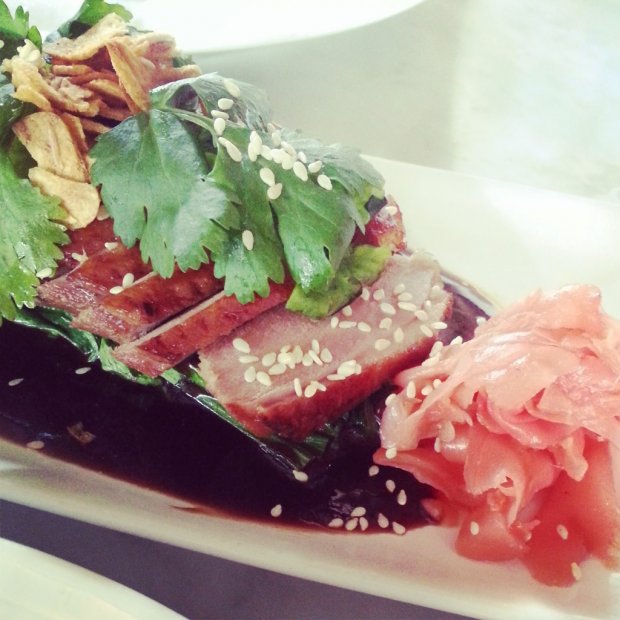 Peking duck entree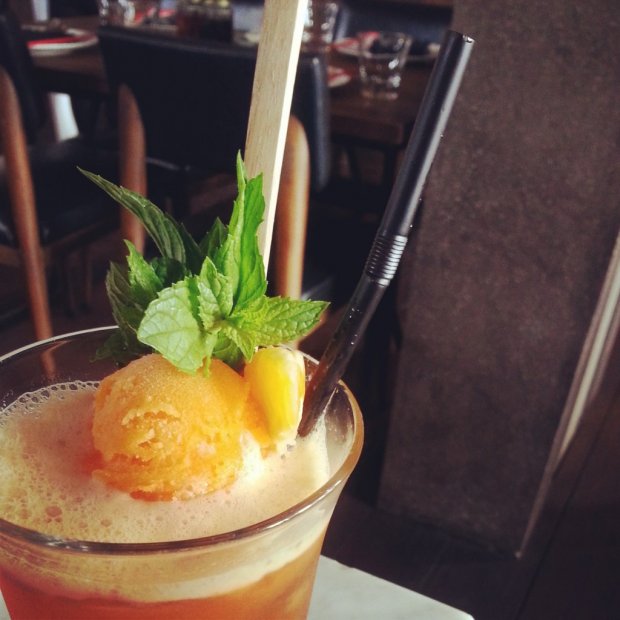 Mandarin Mint tea
Address:
Jl. Raya Kerobokan No. 135
Br. Taman, Bali.
T: +62 361 730436
Coffee –
7. Revolver Cafe – Seminyak
This is a Melbourne style cafe that serves a typical Melbourne style cafe brunch.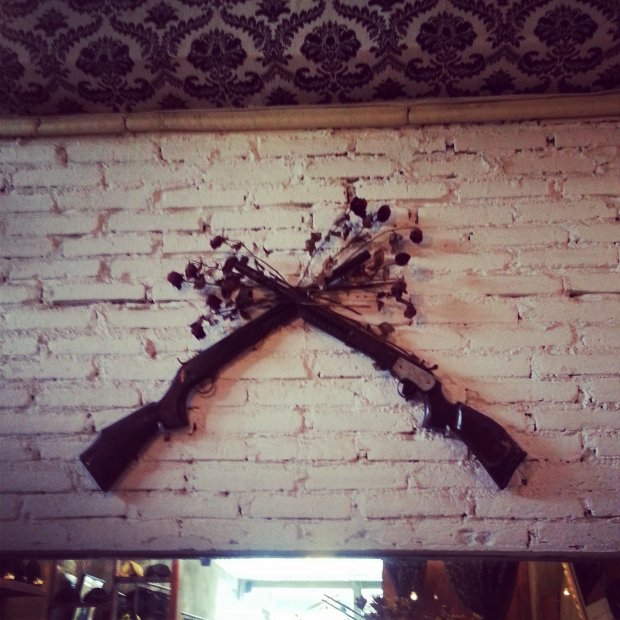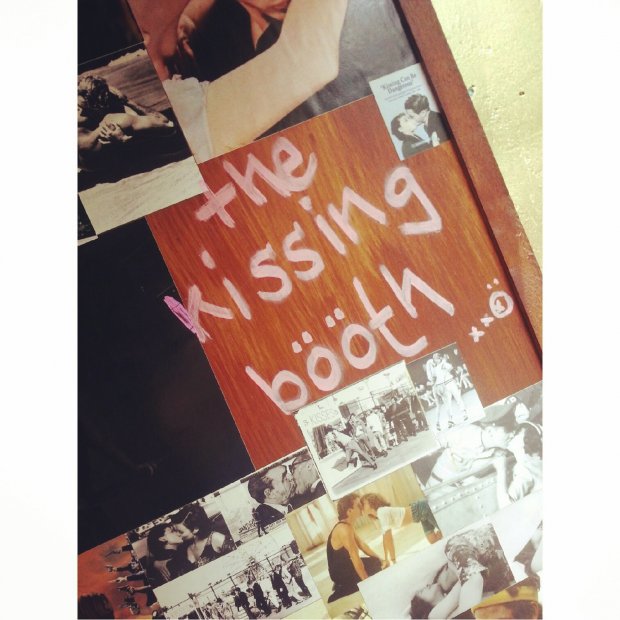 Address:
Revolver Espresso at Gang 51
Jalan Kayu Aya No 3, Oberoi
Seminyak, Bali
T: 0361 788 4968
Things not to do
If you're in Bali for less than 3 days, visit Ubud on your next trip instead.You'll spend more time getting stuck in heavy traffic, and the Monkey Forest is really just a trail with monkeys.
As much as I wanted to enjoy Babi Guling, I was expecting something Chinese style but instead we got a plate of nasi campur (mixed rice) with a few slices of roast pork and some other stuff. The babi guling was quite disappointing. The hair that remained on the crispy pork skin was rather appalling. The entire plate was a greasy mess of flavours, and well, while some people enjoy it, neither Bob nor I did. The dirty duck was much better though – we had the one at The Pond at Seminyak.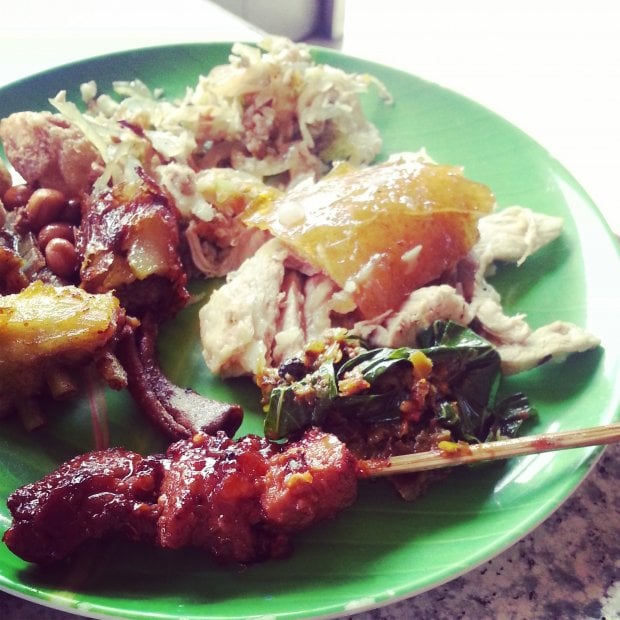 I don't know if it's because I bought a relatively cheap cup of civet poop coffee, but the Kopi Luwak was average. The best description I can give is it's smooth, a little sour and bitter. You're better off drinking normal coffee. It's not worth the hype.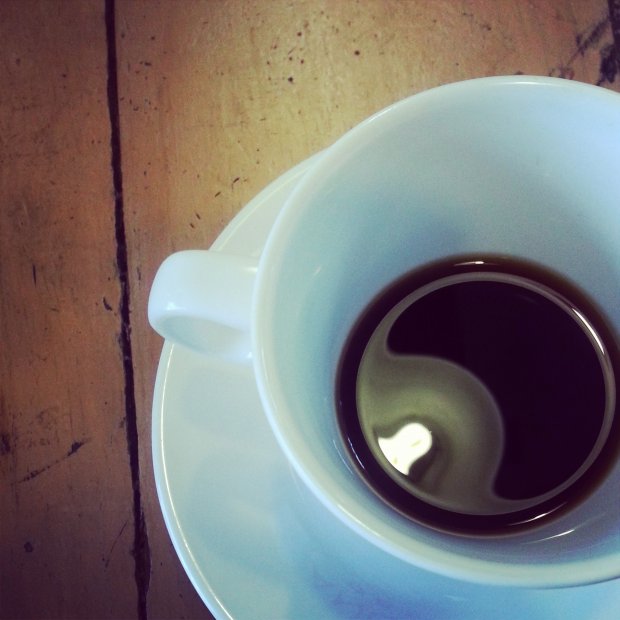 This post appeared first on Stooffi.
Inspired? Here are some sites for you to make your travel happen:
TripZilla's Travel packages to Bali, Indonesia