Breathe in, breathe out. Yoga is a popular exercise that calms your mind and helps you focus. Meditation is good for your well-being, and these days, there are a couple of yoga retreat destinations you can go to—either for a couple of days or even a week. In the Philippines, here are just some of them that are worth checking out.
Also read: Travel to Remote Places! It's Good for Your Soul
1. Flow Surf Yoga Samba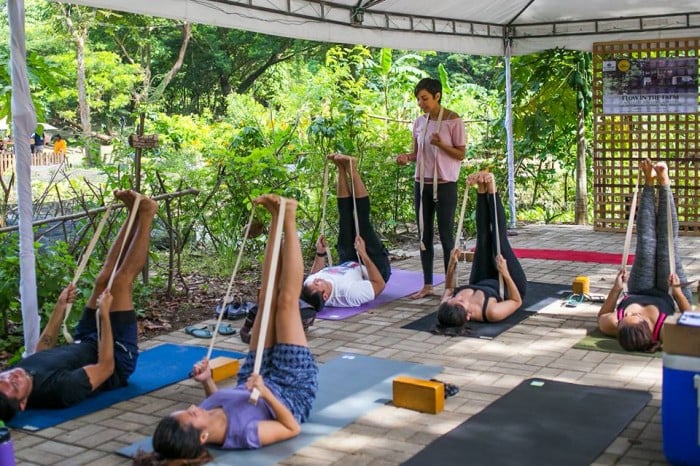 Image credit: Flow Surf Yoga Samba
Imagine yoga in beautiful destinations like The Farm Shed at Acacia Waldorf School in Laguna, The Pai Village Boutique Resort and Farm in Chiang Mai, and The Westin Grande Sukhumvit in Bangkok. What could be better than that?
Flow Retreats organises holiday wellness retreats rotating at various beach resorts and hotels around the Philippines and Asia. Their retreats have grown from yoga to surf lessons, dance classes, green smoothie and raw food workshops since they opened. Why not try something different with their upcoming The Surf Fitness Retreat in San Juan, La Union? If you love surfing, circuit training, and yoga, then you'll definitely enjoy this place. You'll also learn more about eating healthy food as they believe in the saying, "Let food be thy medicine and medicine be thy food."
Rates: From ₱10,980 per package
Address: Various locations of yoga retreats
2. Bahay Kalipay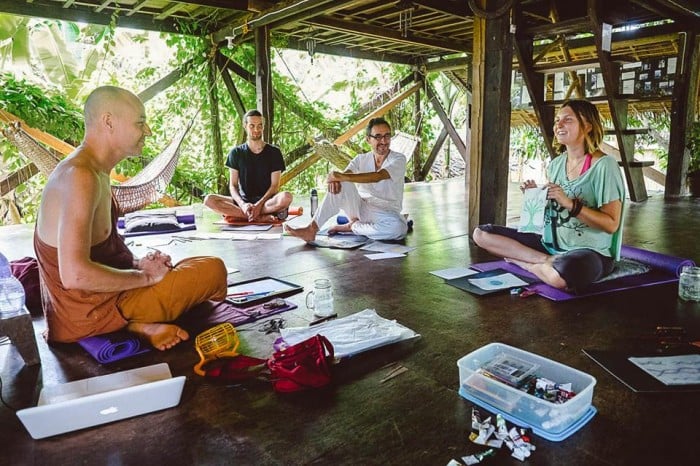 Image credit: Bahay Kalipay
Bahay Kalipay emphasises on healing with yoga, dancing, gardening, and eating raw food.  If you're goal is cleansing and healing, then this is one of the retreat houses in the Philippines you should go to for a weekend or a week long yoga activity. Everything is done in Filipino-inspired architecture from the Nipa huts, abaca, and rattan materials. Immerse yourself in the local culture and learn to feel at peace with yourself and your surroundings. This yoga retreat house is a bit different from the rest because of their activity called Inner Dance. It was inspired by an ancient local tradition called babaylan which is a self-awakening process through inner awareness of one's body, mind, and energy.
Rates: From ₱7,500 per package
Address: Hagedorn Road Ext. Brgy. San Pedro, Puerto Princesa, Palawan
3. Atmosphere Resorts
Image credit: Atmosphere Resorts
Though it's first and foremost a luxurious resort, it's worth including in the list because they have a yoga retreat program that's done in such a breathtaking setting. It's apt for those with kids because they actually do have a yoga class for children, which is a great bonding experience for families during vacation.
Their program usually lasts from three to six days, just enough time for their guests to immerse themselves in a yogic lifestyle. Prepare to relax while doing Asana Yoga, Pranayama Yoga, Sanskrit chanting, meditation, and attending nutrition workshops. You can also book a private yoga class if you're an aspiring yogi. The yoga classes are uniquely held on a treetop yoga studio facing the endless blue sea of Dumaguete.
Rates: From ₱36,500 per package
Address: Maayong Tubig, Dauin, Dumaguete, Philippines
4. SUP Yoga Bohol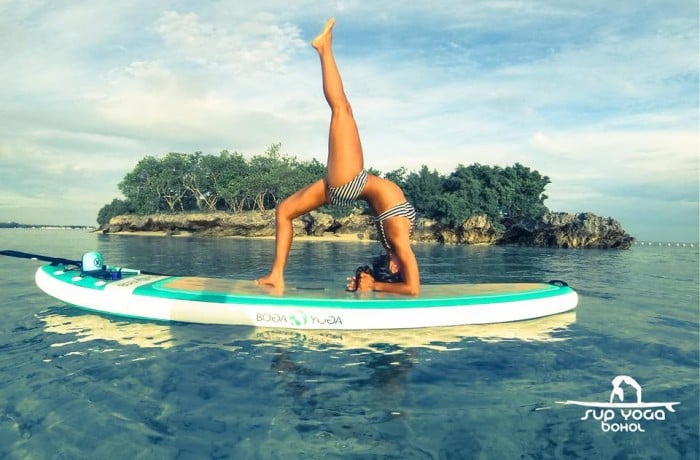 Image credit: SUP Yoga Bohol
What makes this yoga session entirely different from the others? They have a StandUp Paddleboard Yoga, or shortly known as SUP Yoga, by Qi Retreats where you can meditate while floating on water at the picturesque beaches of Alona Beach. Sounds hard? It won't be as it will be a fun and for sure, a quite refreshing experience.
Your soul will be rejuvenated as you join an awakening morning session or a gorgeous sunset session with the smell of the ocean surrounding you. They also include island boat trips on board a traditional banca boat which will take you to see the dolphins, snorkel at the Balicasag Island's marine park, and visit the white sand beach of Virgin Island.
Rates: From ₱21,532 per package
Address: Alona Beach, Panglao Island, Bohol, Philippines
5. The Farm at San Benito
Image credit: The Farm at San Benito
Situated in the lush tropical area of Batangas, The Farm at San Benito is one of the well-known luxury retreat destinations in the Philippines. They emphasise on a holistic approach to one's well being. The farm is said to have been built around a 250-year-old mango tree which possesses healing powers. Whether it's true or not, it's an utterly beautiful oasis where you can commune with nature away from all the stressful city life in Manila.
Their package includes a lot of activities and not just yoga, such as Muay Thai, Tai Chi, aqua aerobics, plyometrics, cooking classes, mandala flower arrangement, and many other. Definitely, it will be full of various classes, and you'll end the retreat feeling more reinvigorated. You will also stay at exquisitely designed villas with thatched roofs and wood beamed ceilings or combined rustic and modern designed rooms. There are also luxurious open-air bathrooms and heated pools you'll enjoy while relaxing at the farm.
Rates: From ₱9,000 per night
Address: Brgy. Tipakan, Lipa, Batangas
6. Fat Moons Yoga House and Retreat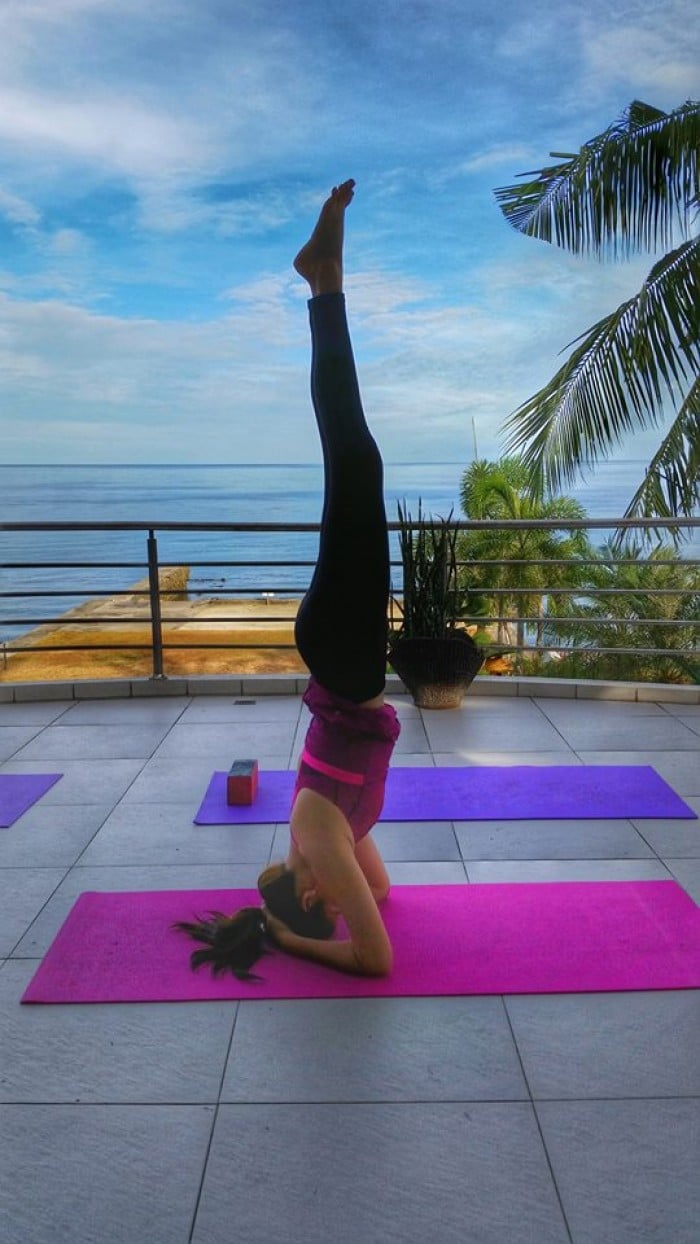 Image credit: Fat Moons Yoga House and Retreat
It's one of the cheaper yoga retreat houses in Cebu. Fat Moons Yoga House and Retreat is owned by a yogi, Valerie Sharpe, who trained in India. Don't let the house fool you because their classes can be held either at the garden, indoor or even at the roof deck. They even got a swimming pool with a jacuzzi overlooking the mesmerising view of the ocean. Certainly, this beautiful multi-level white house is a cosy abode for yoga retreats. You can also join daily Hatha Yoga classes for one and a half hours per session if you're living in Cebu.
Rates: From ₱500 per session
Address: Western Nautical Highway, Compostela, Cebu, Philippines
Also read: 10 Boutique Hotels in the Philippines for a Romantic Retreat with Your Other Half
Despite your busy schedule, it's always good to take a break once in awhile. And by joining a yoga retreat, it will help you soothe your soul and refocus on the most important things in life. It's a great meditation to practise every day even after visiting these destinations. It will help you stay calm, cool and collected.