Ipoh is (rightfully) known for its food, but the capital of Malaysia's second largest state remains a rather underrated locale, despite having so much more to offer besides its cuisine.
Being a sua ku (ignorant) Singaporean, I wasn't too sure what to expect besides mouth-watering food. Thankfully, the itinerary turned out to be a genuinely pleasant surprise.
From luxurious hot springs to adrenaline-pumping sports, the things to do in Ipoh is likely to appeal to a wide range of travellers, making it a more than worthwhile location to plan a getaway to.
1. Admire street art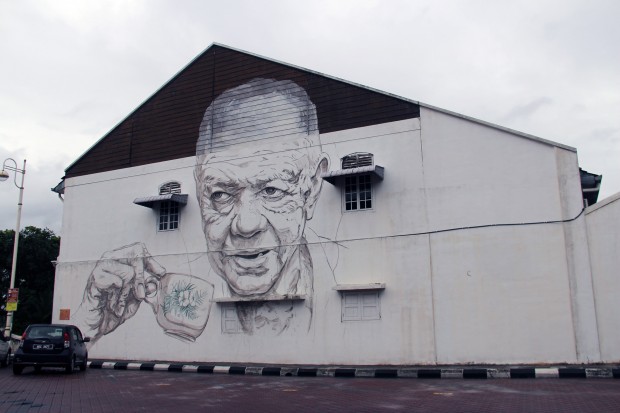 Image Credits: Linus Mak
One of Zacharevic's murals in Ipoh Old Town. 
Ipoh's neighbour, Penang, has enjoyed much attention and love from tourists for its street art — how many of you have scrolled past friends' carefully filtered Instagram posts of artist Ernest Zacharevic's murals and made a mental note to visit Penang yourself? Rather than visiting those well-trodden spots, however, perhaps you should consider making your way to Ipoh instead, where the burgeoning street art scene offers you an opportunity to be ahead of the curve.
In fact, Ipoh is also home to a collection of Ernest Zacharevic's murals, with OldTown White Coffee commissioning the seven pieces in 2014. Besides the celebrated artist's works, the handiwork of local artists can also be found around Ipoh Old Town, such as those in the aptly named Mural Art Lane.
Murals by local artists in Ipoh's Mural Arts Lane.
Also read: 7 Reasons Ipoh Makes a Great Weekend Getaway
2. Go café hopping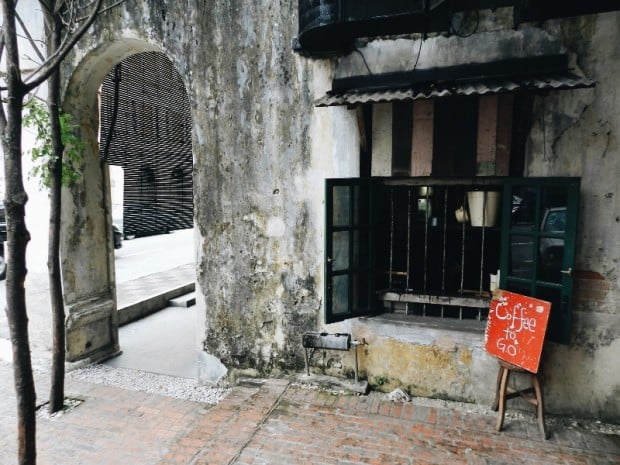 Missing Marbles is one of these cafés — isn't its side window oh-so-quaint and charming?
This might not really surprise anyone, considering the proliferation of hipster cafés all over the world, but yes, Ipoh does have a flourishing café scene that is sure to satisfy the brunch-lover and café-hopper in you. Many cafés have taken up residence in old shop-houses around Ipoh Old Town, embracing the crumbling bricks and peeling paint to create the most authentic vintage-themed cafés.
Needless to say, the décor and façades of these cafés lend themselves extremely well to photography. As a friend marvelled upon stepping into the Old Town area, "I can just imagine people spending hours here shooting OOTDs (Outfit of the Day) and looking for the perfect Instagram post!" If you're an avid photographer/Instagrammer, really, it's time for you to plan a trip to Ipoh — the food's not too shabby either!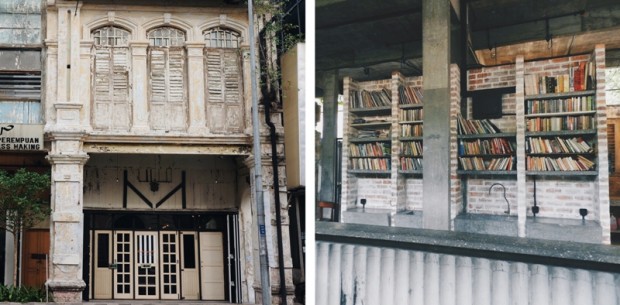 Image Credits: Carolyn Hong
The shop front of Burps and Giggles; A makeshift 'library' next to Plan B café.
3. Explore a haunted castle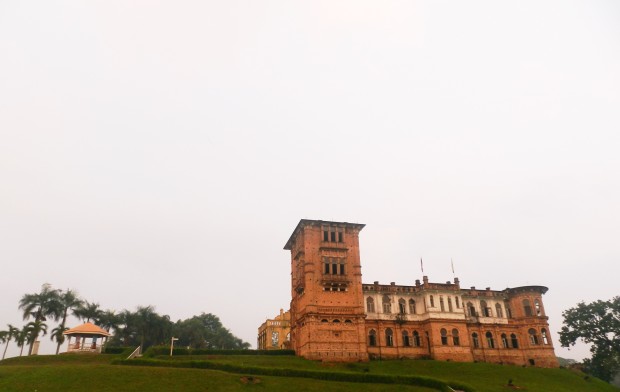 It's not exactly rare for cities to have well-known haunted spots (Old Changi Hospital, anyone?), but the haunted spot in Ipoh isn't your run-of-the-mill abandoned building, mind you. A 30-minute drive from Ipoh City lies Kellie's Castle, an unfinished Scottish-style castle, which was abandoned after the owner's death in 1926 and has been plagued by stories of paranormal sightings ever since.
Kellie's Castle was built by William Kellie Smith, a wealthy Scottish planter. Smith's wife had been suffering from homesickness, and he hoped that building a residence that was reminiscent of their home country would be a comfort to his beloved. His sudden death, however, meant that the castle was never completed, as his wife left Malaysia soon after and never returned. Rumours that the castle was haunted eventually began to circulate, and today, Kellie's Castle has become a popular tourist destination, with night tours available for brave souls eager for a taste of the supernatural.
4. Embark on an outdoor adventure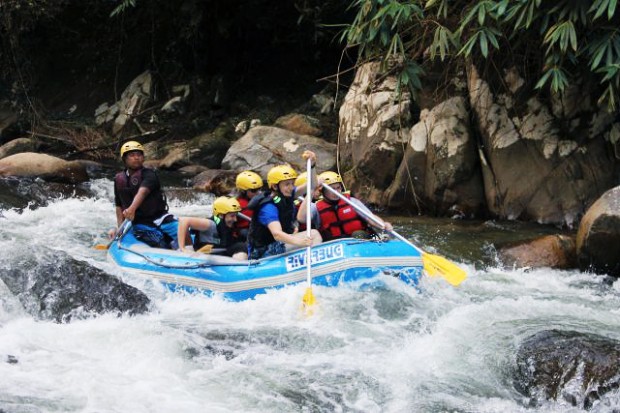 Image Credits: Riverbug
White water rafting on the Kampar River
I certainly wouldn't have pinpointed Ipoh as a potential gateway for any extreme sports, but as it turns out, the city is just half an hour away from Kampar River in Gopeng, where you can get your adrenaline pumping by participating in white water rafting, waterfall abseiling, and other water sports.
I personally tried white water rafting for the first time ever here, and even for someone who's not exactly in peak physical condition, it was a fun (and safe!) ride all the way, from tackling the rapids to enjoying the lush greenery around while paddling down the river.
Ipoh also boasts an abundance of limestone formations and plentiful flora, all of which provide a picturesque backdrop for outdoors adventure activities such as zip lining, rope courses, and rock climbing. Resorts such as The Haven Ipoh, a luxury eco-resort (that is absolutely stunning, by the way), and The Lost World of Tambun, a theme park resort, offer a variety of such adventure courses, making it highly convenient for tourists seeking a physical challenge.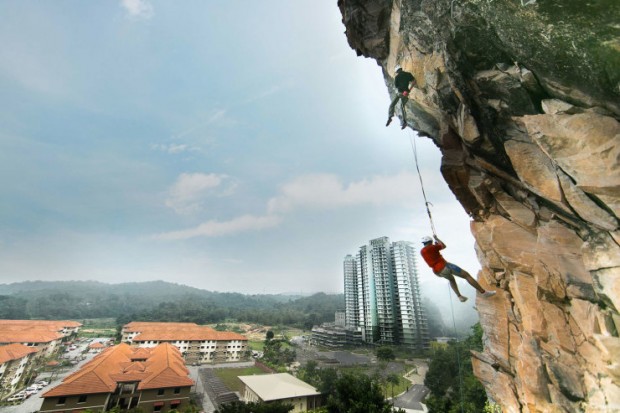 Image Credits: The Haven
Part of The Haven's Via Ferrata
5. Take a dip in hot springs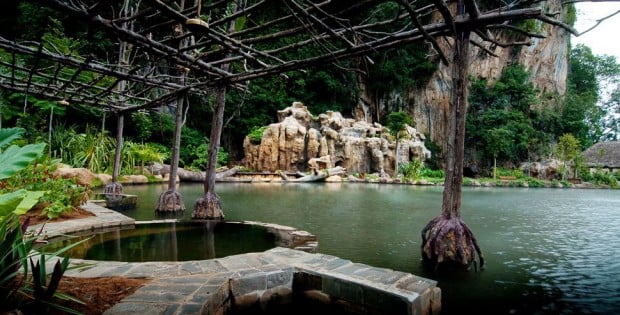 Image Credits: The Banjaran
Dipping pool right next to the lake at The Banjaran 
Ah, hot springs. There are few things better than soaking in a hot spring after a long day, letting the warm water soothe your tired muscles and relax your mind. You might not be aware, but the state of Perak has some of the hottest hot springs in Malaysia, and a 15-minute drive from Ipoh's city centre will bring you to The Banjaran Hotsprings Retreat and the aforementioned The Lost World of Tambun, both of which are home to geothermal hot springs, and of course, spa facilities, for a thorough pampering.

Image Credits: The Lost World of Tambun
Hot springs at The Lost World of Tambun 
Do note that The Banjaran Hotsprings Retreat does not allow children under the age of 12, in order to preserve the serenity of their environment and ensure absolute restfulness for their guests. For families hoping to give their children the hot spring experience, fret not, as The Lost World of Tambun welcomes guests of all ages, even offering a baby pool specifically for younger children.
Clearly, there's a lot more to Ipoh than just food (though to be fair, the food's really good), so there's really no reason for you to overlook this state capital while planning for your next getaway!
This trip was made possible by Tourism Malaysia – Singapore Office.