AirAsia is celebrating their 17th anniversary and you're invited to the party! Seize this opportunity to visit over 130 destinations FROM ONLY RM22 (members from RM17) over the next 7 days!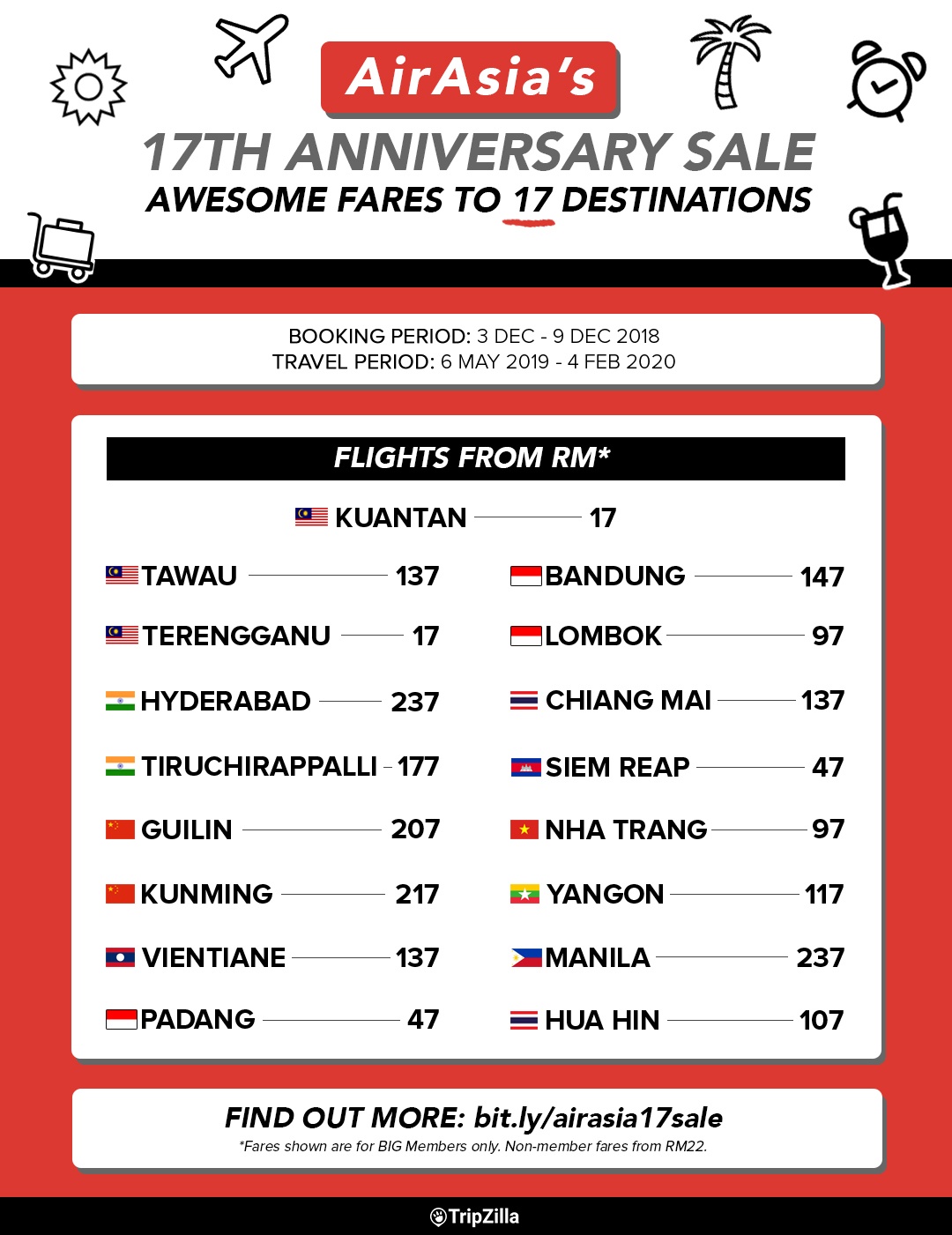 Here are five places to get you started:
1. Kuantan, Malaysia
Across from Kuala Lumpur, along the eastern coast of Malaysia is Kuantan of Pahang. While Kuala Lumpur is the city centre bustling with activity, Kuantan is rich with nature, making it the perfect place for a relaxing getaway.
Enter Kuantan's Time Capsule Retreat: the perfect place to catch kick back and relax in some much-needed "me time". Step into a cosy, secluded, cylindrical capsule surrounded by nature, and leave the hustle and bustle of city life behind. Once the "time capsule" re-opens the next day, you'll step out feeling refreshed and ready to take on the world!
And slumbering among the soothing greenery isn't only what Kuantan has to offer. View an eternal rainbow at Kuantan's Rainbow Waterfall. As water falls down in a fine mist, the light is refracted perfectly at just the right point, forming a perpetual rainbow – ready for you to capture that perfect Insta-worthy moment.
Together with magnificent panoramic sunrise views at Bukit Panorama and riding waves at Cherating Beach, there's something for everyone to admire and enjoy in Kuantan.
Since you're here, don't forget to try out what Pahang is famous for – dishes made from tempoyak, or fermented durian! Head to Jaman Tory Resepi to try their signature Patin Bakar Tempoyak (baked patin fish marinated in tempoyak) or dig into some Assam Curry at Restoran Hoi Yin.
Whichever you choose for your main course, you should still have Kuantan's famous Mango Cheesecake from Kula Cakes for your dessert – you won't regret it!
2. Hua Hin, Thailand
Landing directly in Hua Hin Airport, fly to Hua Hin with AirAsia to experience a little bit of Europe, right here in Thailand!
Have the time of your life in Santorini, Greece at Santorini Park, complete with white-washed buildings with blue windows, stone-paved paths and domed towers. There's even an amusement park to keep the children entertained as well!
If you'd rather Venice to Greece, then check out The Venezia Hua Hin, a shopping estate modelled after the City of Water, and complete with a petting zoo for the little ones! They'd be sure to love Vana Nava Water Park as well – Asia's first water theme park, with thrilling slides and obstacle courses.
Like its Thailand counterparts, Hua Hin is also popular for its night markets, promising good food and cheap shopping. At Cicada Night Market and Hua Hin Night Market, you're sure to get your fill of yummy street food, as well as souvenirs and other knick-knacks at insanely bargain prices!
But if you're more for adventure in a foreign land, check out Phraya Nakhon Cave – one of the most exquisite caves in Thailand. After scaling the steep and rough uphill path, you'll discover a pavilion built in 1890 by King Chulalongkorn, after he became so enamoured by the cave's beauty. With sunlight streaming in through the cave ceiling, this calm sanctuary is like no place on earth.
Fly to Hua Hin from ONLY RM112
3. Manila, Philippines
As the capital of the Philippines, Manila is representative of the nation's road to modernisation while preserving its rich cultural and religious history. With modern skyscrapers, juxtaposed against colonial Spanish architecture, explore the Philippines' past and its future as you amble through its streets.
Gain insights into the religious spirituality of the Philippines people at Manila Cathedral — the Mother of all Churches, Cathedrals and Basilicas of the Philippines. With roots dating back to the 1500s, take in the spiritual energy of its sacred grounds or simply appreciate the intricate architecture and interiors.
Then, let your spiritual journey take you to San Agustin Museum, lying adjacent to the San Agustin Church. Once a monastery which was converted into a museum in 1973, you can marvel at its vast collection of religious artefacts as you walk through the vast hallways, lined with magnificent paintings, statues and other art pieces. Photo-taking is not allowed within its walls so you'll have to take our word for it!
Delve further into Philippines' history at Casa Manila, another prominent museum in Manila depicting colonial lifestyles during the Spanish colonisation. A replica of a Spanish colonial mansion, the museum will walk you through the lives of Spaniards and rich Filipinos in a prominent period of the country's history, when the Philippines was opened to trade with the rest of the world.
The Spanish influences are also prominent at Paco Park, a National Park that was once a cemetery built by the Dominicans during the Spanish colonial period. However, its dark past doesn't stop it from being a popular location for wedding receptions and weddings – and for good reason. Its circular shape invites you into its grounds and the quaint Roman Catholic chapel at the rear end of the park provides the perfect backdrop for romantic shots with your partner!
4. Kunming, China
The capital of Yunnan – Kunming – is known as the "City of Eternal Spring", and for good reason. Due to the cool climate, flowers bloom all year round, making Kunming a great place to visit any time of year.
Kunming is not only the gateway to visit Lijiang – China's best preserved ancient town – but is also the starting point of the hike up the snow-capped mountain of Jade Dragon Snow Mountain. With 13 peaks that are covered with snow all year round, the mountain is also home to thousands of rare and native animals and plants.
The Jade Dragon Snow Mountain is just one of many breathtaking sights in Kunming. Our personal favourite? Kunming's Stone Forest. A literal concrete jungle, the Stone Forest is probably the only place you'll get to marvel at and weave through towering limestone structures that seem to arise from the ground!
Fly to Kunming from ONLY RM222
5. Nha Trang, Vietnam
Skip the tourist favourites of Hanoi and Ho Chi Minh, and head to Nha Trang instead – a coastal city in southern Vietnam. With AirAsia's newly launched route direct to Nha Trang's Cam Ranh International Airport, you have even more reason to visit this undiscovered city!
Have aerial views of this coastal resort city on the Vinpearl Cable Car, which takes you to the resort island known as Vinpearl Island.
Alternatively, head for a relaxing soak in Thap Ba Hot Springs or the hot mineral springs in I-Resort. Another popular haunt is the 100 Egg Mud Bath – a popular and egg-squisite spa that is well-loved for its novelty scenery and immensely relaxing pools that take the shape of eggs!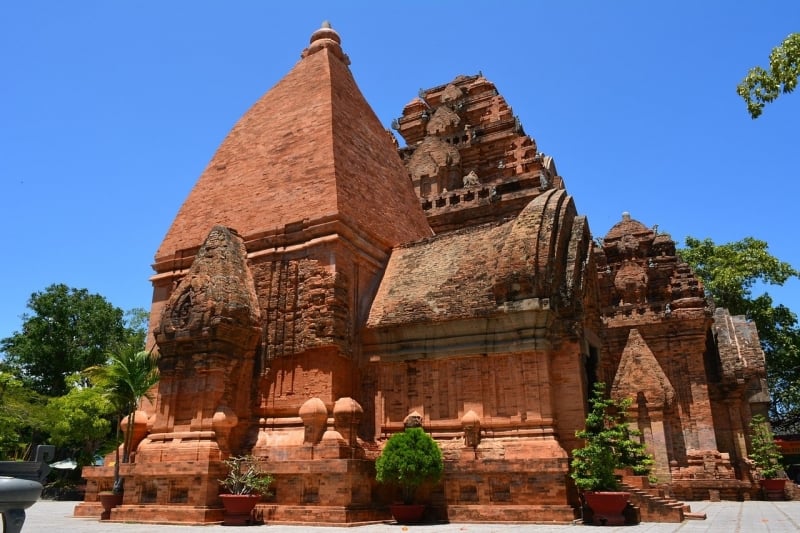 After taking in the city's resort vibes with a relaxing soak, enrich your mind by visiting the city's cultural sights. Check out Po Nagar, a Cham temple built between the 7th and 12th century which is still being used for worship by Cham, Chinese and Vietnamese Buddhists. Long Sơn Pagoda, another Buddhist temple, is also another worthwhile place to visit.
Fly to Nha Trang from ONLY RM102
[AirAsia 17th Anniversary Sale – 7 Days Only!]
With AirAsia's 17th Anniversary Sale, discover over 130 destinations from only RM17 (non-members from RM22)! Take this opportunity to explore the undiscovered beauty of Thailand, Vietnam, China and more from now until 9 Dec 2018!
FLY WITH AIRASIA FROM ONLY RM17
Travel period: 6 May 2019 till 4 February 2020
---
Brought to you by AirAsia.