Small but delightful in its charms, Penang is one of the quintessential stopovers during a trip to Malaysia. Have no fear if your explorer instincts are constrained by time – here's how I spent just two days in Penang! Follow this itinerary or mix and match the attractions and activities below on your visit.
Day 1
Ride the funicular and explore Penang Hill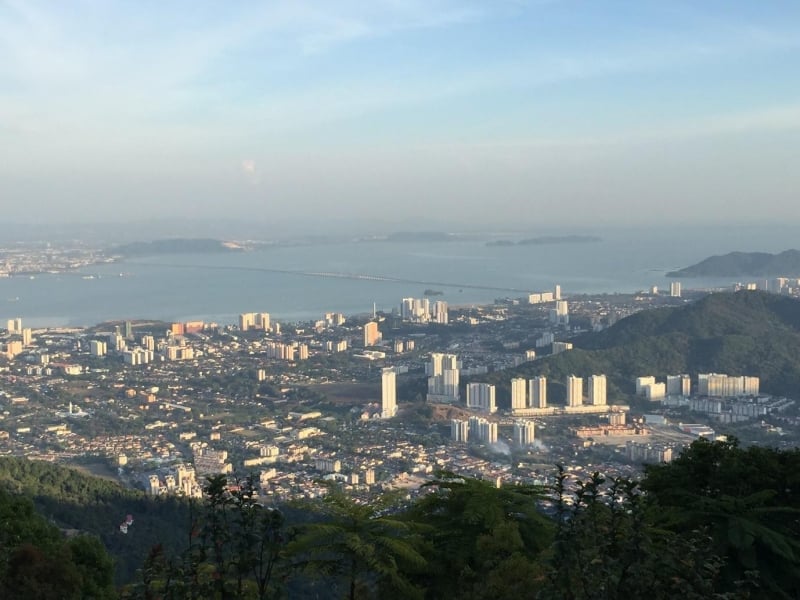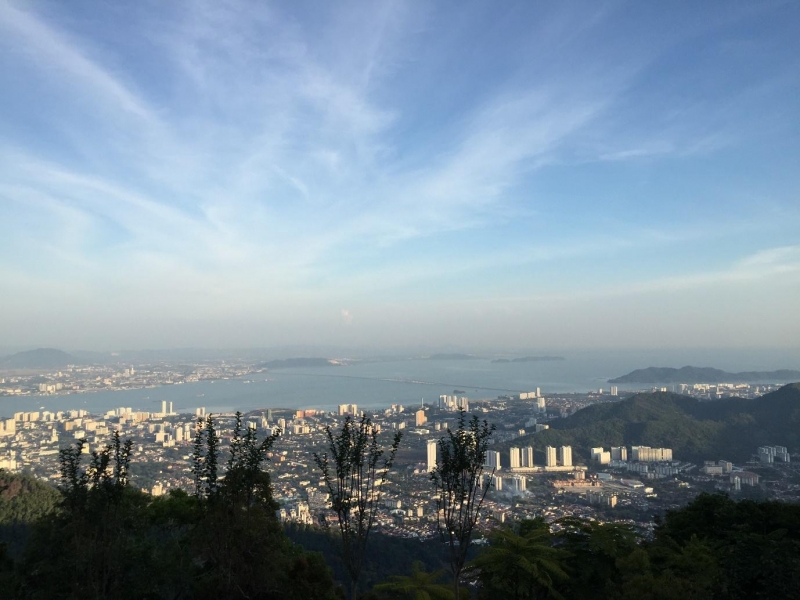 Prepare to have the breath knocked out of you upon beholding the aerial view of Georgetown in its full splendour. I found it difficult to tear myself away from this aesthetic creation of Mother Nature and the marvels of mankind. There are binoculars available at the viewing decks atop Penang Hill so you can get a close-up of the vista you lined up to glimpse alongside hordes of tourists. If you visit at night, you'll get an entirely different view with the dazzling city lights against the backdrop of darkness, but don't get too carried away – the last train that goes down the hill departs at 11pm.
While reaching the hilltop is what we're all most excited about, there are also thrills to experience en-route! The funicular railway is the contraption that brings you to your destination, and you will feel akin to being on a magic carpet ride with the sheer adrenaline of ascending the vast hill. Keep your eyes peeled for the houses nestled on the slope – signs of civilisation in its traditional form – as you gawk at the seemingly endless expanse of green. The ticket booths for the train is located at the foot of Penang Hill. I assure you that the experience will be worth the waiting time in the queue!
Pockets of surprises pepper the hilltop, such as these unique two-toned blooms and the display of love locks. Now you don't have to fret if you haven't seen the iconic love locks at South Korea's Namsan Tower! Soak up cultural vibes from temples bearing intricate architecture and other traditional buildings testament to Penang's rich heritage.
Bask in the rustic splendour of Georgetown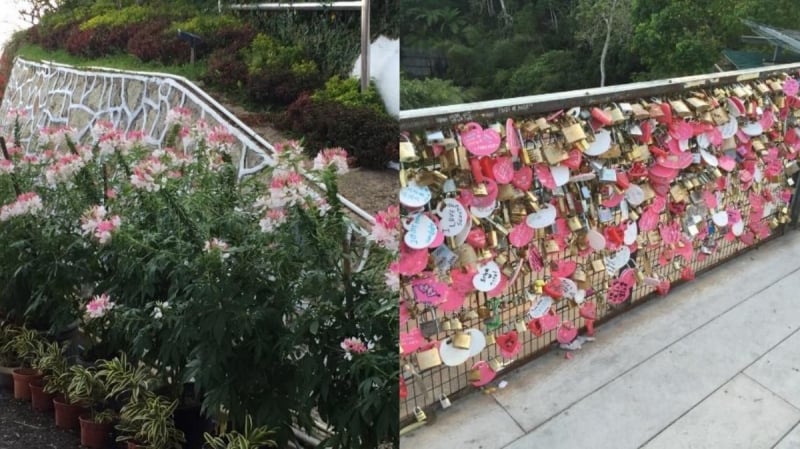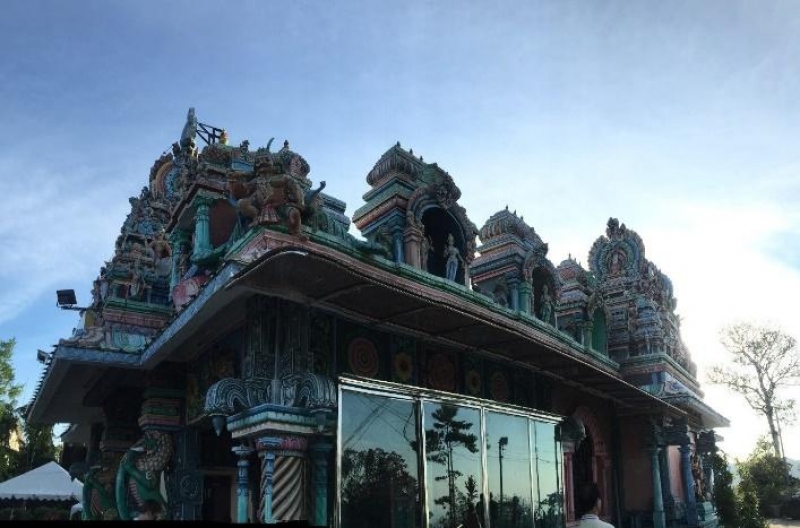 UNESCO knew what they were doing when they proclaimed Georgetown a World Heritage Site! This small town is the cultural heart of Penang.
Walk around Georgetown and you're bound to come across ubiquitous street murals that are impressive in their artistry. Be it a motorbike against the crumbly brick walls or a wooden swing that you can actually sit on, these pieces of artwork are a joy to discover. You can even spend the whole afternoon in search of the whole repertoire of street murals in Georgetown if you want to.
Georgetown is also the perfect place to unearth cultural and historical attractions! Temples abound, and their pagodas paint the town's skyline in vibrant streaks of colours. You can visit Khoo Kongsi, a Chinese clan house which is furnished with luxurious mahogany and ornate gold carvings. Picking up a nugget or two about Georgetown's history at the Georgetown World Heritage Centre would reveal insightful stories behind this town.
Of course, your belly will need sustenance after all that fruitful sightseeing! Street hawkers are dime a dozen in Georgetown, so you can take your pick from the culinary delights they serve up – all for prices that won't break the bank! Exuding heady scents and flavours representative of the widely-raved Penang food, Char Kway Teow, Penang Laksa, Oyster Omelette and Hokkien Bee Hoon Soup are my favourite picks.  
Shop 'till you drop
While it is not popularly known as a shopping destination, Penang is not lacking on this front either. Prepare enough luggage room, for there are too many shopping centres in Penang to choose from!
Prangin Mall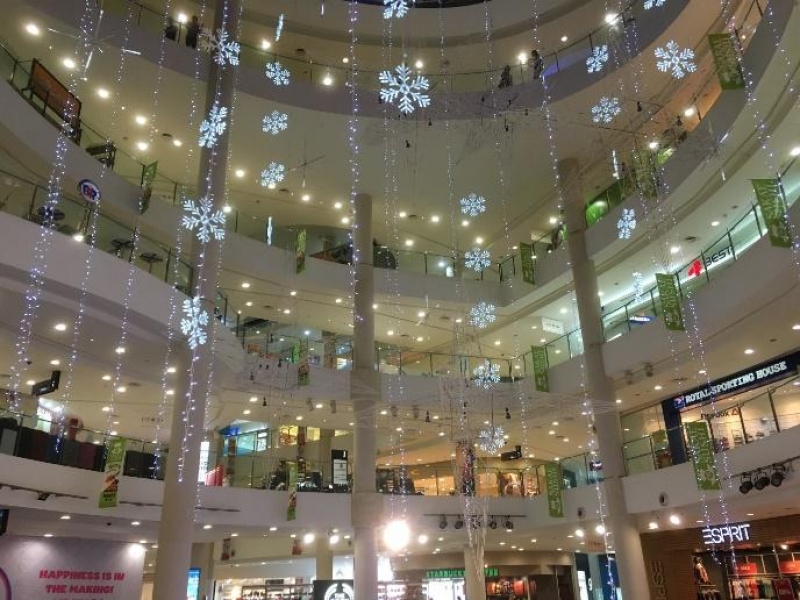 If you're travelling on a tight budget, step into Prangin Mall for bargain goods, be it fashion-related items or the latest electronic gadgets. Visit anchor tenant, Parkson Grand, a department store housing the whole range of household essentials. Sporting goods can be obtained from Royal Sporting House as well, so there's something for everyone! During my visit, Christmas sales and displays were abundant within Prangin Mall, so I was spoilt for choice!
Opening hours: 10am – 10pm
Address: Jalan Dr Lim Chwee Leong, Pulau Pinang
1st Avenue Mall
Just opposite the road from Prangin Mall is 1st Avenue Mall which features international brands like H&M, Victoria's Secret, Coach and Skechers. On top of that, this mall doubles up as an entertainment hub, with its movie theatre, bowling alley, internet café, karaoke centre, snooker bar and even Escape Room! Gather your friends and hit 1st Avenue Mall for a blast.
Opening hours: 10am – 10pm
Address: Jalan Magazine, Georgetown, 10300 Georgetown
Gurney Plaza
This up-market nine-storey mall boasts a range of branded goods: Coach, Fossil, Versace, just to name a few. Mid-range brands such as Dorothy Perkins are also tenants at Plaza Gurney, coupled with over 50 restaurants for all you foodies! This mall is one of the most renowned malls in Penang, so don't miss out on shopping here!
Opening hours: 10am – 10pm
Address: 170-06-01, Persiaran Gurney, 10250 Georgetown
Day 2
Unwind at Batu Ferringhi Beach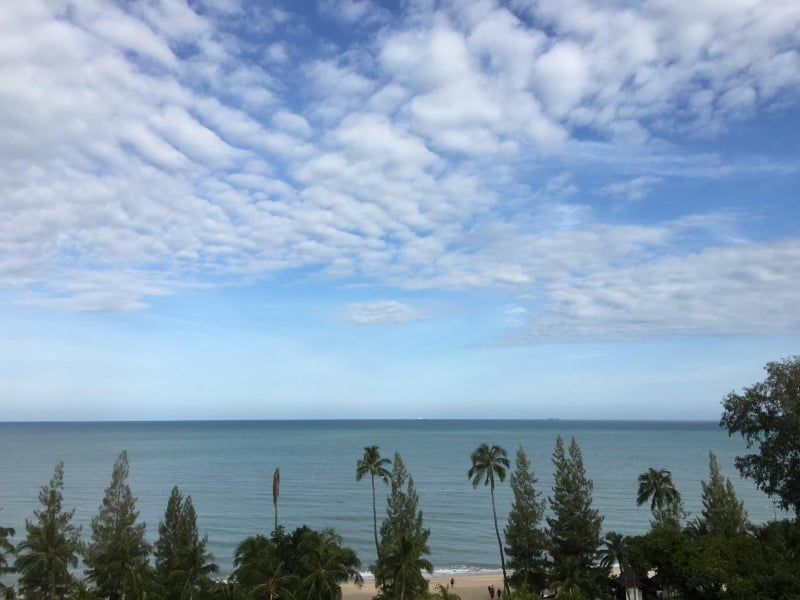 Tropical islands like Penang enjoy a year-round summer – perfect for frolicking on the beach, getting a sun-kissed skin and sipping cocktails with a book in hand! You can do all that and more at Batu Ferringhi Beach. Along the beachfront are stalls offering exciting water activities such as banana boating, parasailing, and paragliding. Adrenaline junkies, knock yourselves out!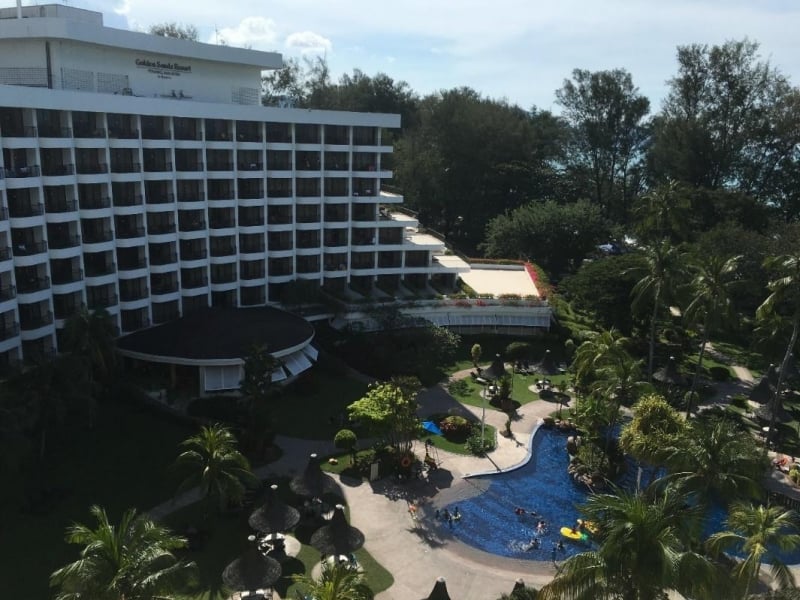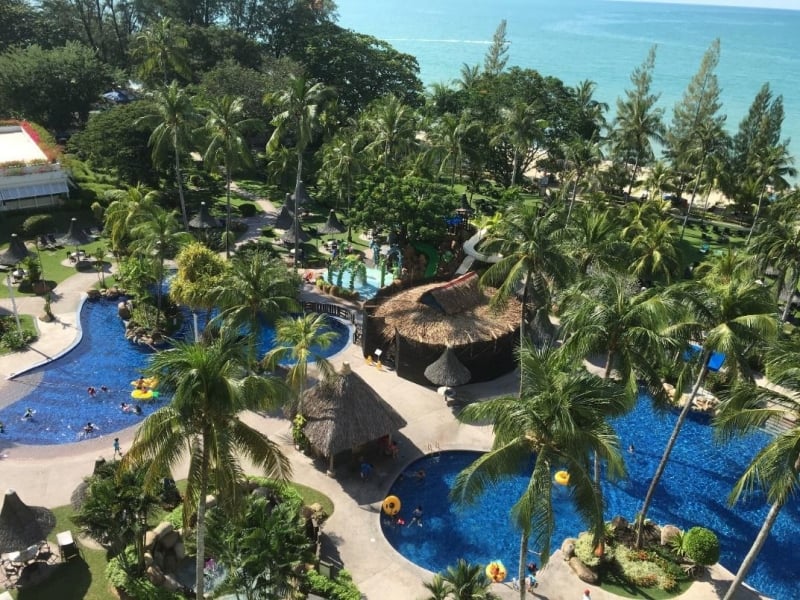 As I was staying at Golden Sands Resort, which is just steps away from the beach, I could enjoy panoramic views of the sea from my hotel room balcony. This family-friendly resort also offers a mini water park that's sure to keep the little ones occupied.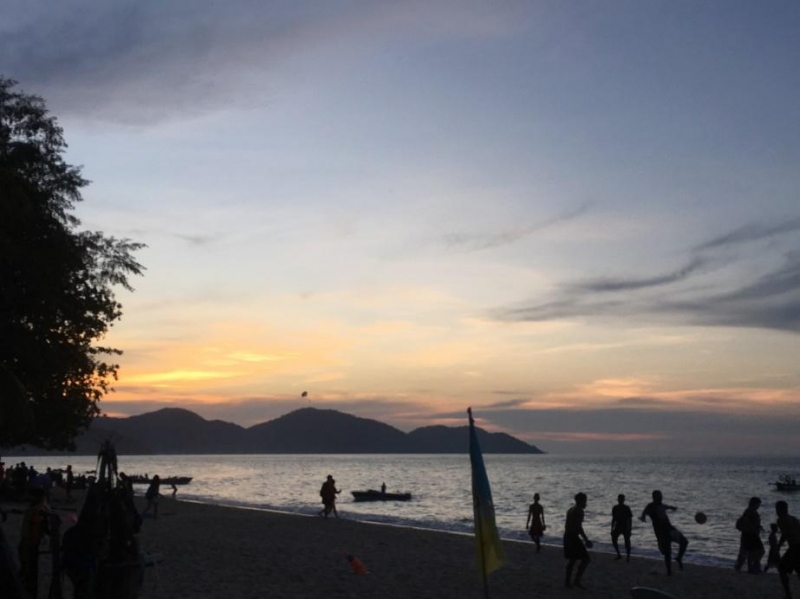 After a long day of beach activities, catch Batu Ferringhi at its golden hour when the sun begins to set. There are plastic chairs for you to recline on and admire the changing palette of hues in the sky. Better still, lay out a picnic on the sand!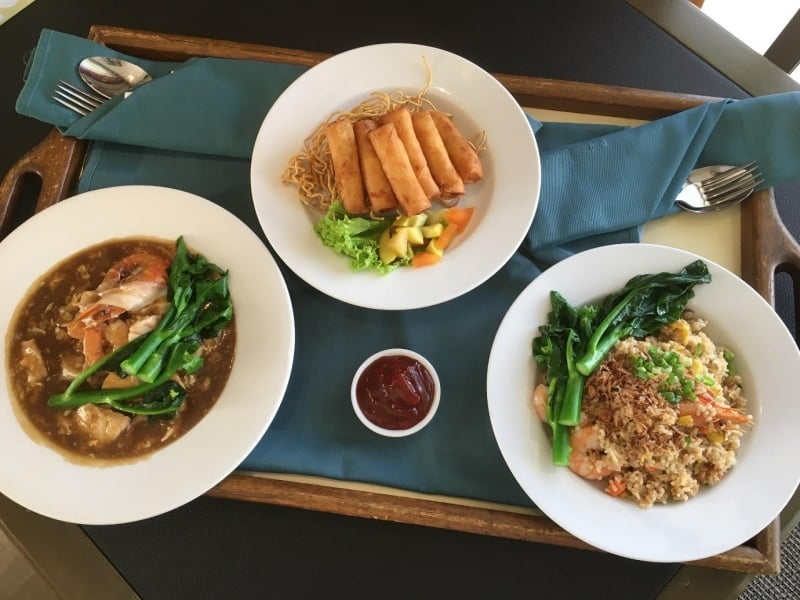 End your fulfilling day at Batu Ferringhi by fueling up. I opted to have my meal at Golden Sands Resort and had the chance to sample a wealth of local delights such as fried rice, crispy golden spring rolls and Haufan (thick, smooth flour noodles in an egg gravy, topped with seafood). Alternatively, you can venture out to the nearby shopping areas to get your dinner fix!
Hopefully, this itinerary will come in handy for your next trip to Penang! No matter if you're psyched for the idyllic beach life, a shopping spree, or interested in history and culture, Penang embodies the perfect harmony of these diverse experiences. So start packing for your holiday now and pamper yourself with a relaxing getaway at Malaysia's Pearl of the Orient.