Contributed by: Eudaimonicfortyeight
Annyong haseoo! Today I'll take you through the multifaceted cultural, historical, political world of South Korea. Controversial as it is and whether or not you're a fan of history and politics, a visit to the border territory between North and South Korea is definitely an eye-opening experience.
I'll escort you to Panmunjom (officially known as the Joint Security Area JSA), a supposedly neutral zone in times of war where the two sides met. Continue to travel to the DeMilitarized Zone (DMZ), a buffer between the two sides, and explore historic sites including Imjingak Park, the Freedom Bridge and the secretly dug 3rd Infiltration Tunnel. I'll then take you to the heart of South Korea, Seoul and its pretty cultural-centric kingdom.
Note: This trip excludes flight charges to go to Seoul; souvenirs & personal expenses.
Total damage to the Piggy Bank per person: KRW270,000- KRW300,000 (USD$270-300)
Day 1
I signed up for a Full-day DeMilitarized (DMZ) + Joint Security Area (JSA) Tour with Cosmojin with the following itinerary:
Pick up – Unification Bridge – Camp Bonifas – JSA – Freedom House- Military Armistice Commission Conference Room – UN Guard Post 3 – Bridge of No Return – Lunch (Bibimbap) – Imjingak Park – Dora Observatory – Dorasan Station – DMZ Theater & Exhibition Hall – The 3rd Infiltration Tunnel – Amethyst Center – Drop off at Itaewon
6am to 12pm: Camp Bonifas, JSA, Freedom House, Bridge of No Return, Imjingak Park
Bubbling with enthusiasm, I left chilly Seoul at 7am along with eight other strangers in my van.  After one to two hours of anticipation, we passed through a highway lined with barbed wire and between large anti-tank explosive barricades. The property is peppered with landmines that have yet to be cleared, so soldiers stuck to specific areas. As we crossed the Unification Bridge to begin our tour at Camp Bonifas, soldiers boarded our bus to welcome us and to review our passports.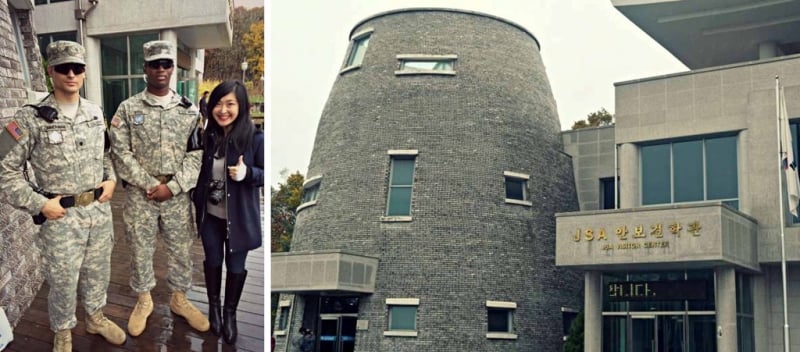 Here we had to sign a Visitor Declaration and were also reminded that we are entering a hostile area, where there was a possibility of injury or death as a direct result of enemy action. We were greeted by handsome military American Marines assigned to the United Nations Command and chaperoned into a small auditorium, museum and gift shop.
We were ushered to receive a briefing in Ballinger Hall which essentially was a slideshow that provided information on the history of Korean War and the present situation at the DMZ. After the presentation, we were escorted to finally view the central attraction of JSA, where the Freedom House on the South stands facing the North's' Panmungak grey building. In between the two buildings is a courtyard with a row of small blue buildings straddling the Military Demarcation Line (MDL). The MDL is surrounded by the Demilitarized Zone (DMZ) under the provisions of the Armistice Agreement signed in July 1953. The Line runs 155 miles and separates the South and the North, the boundaries of the DMZ are located 2km apart from the MDL.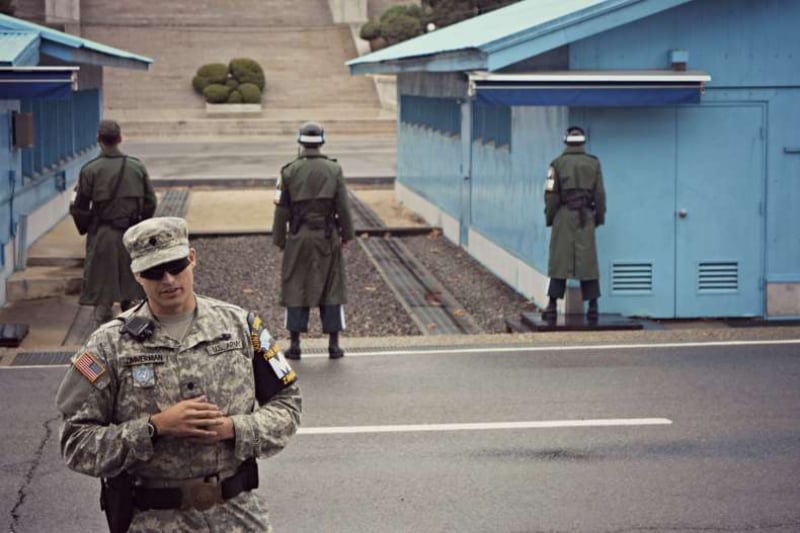 One of the bright blue buildings sitting in front of Freedom Hall and right along the Demarcation Line is known as the MAC (Military Armistice Commission) building. It is used primarily for talks between the United Nations Command, North, and South Korea. Tourists are permitted to enter the MAC Building, and from here, you can legally cross into the North Korean side since the room straddles the Military Demarcation Line.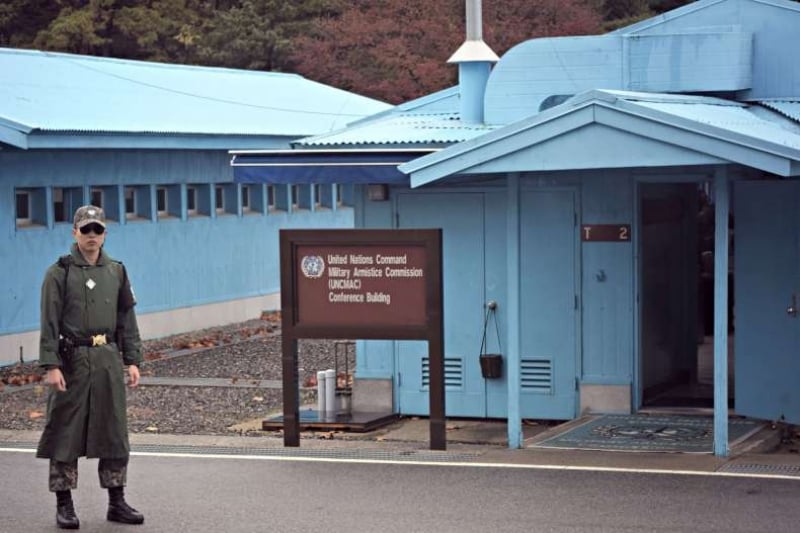 To be able to cross the Demarcation Line and step into North Korea (even if only for a brief moment) is something that I will never forget. The whole experience felt absolutely intense and surreal!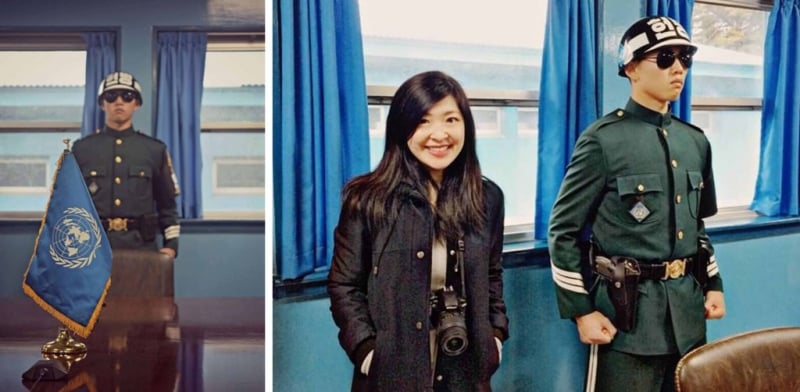 Inside the MAC building was a 400 x 800 rectangular blue room which contained a negotiation table and a UN flag, along with 3 intimidating ROK (Republic of Korea) soldiers standing in a modified Taekwondo stance with clenched fists. We were told that the soldiers could snap our necks the moment we posed a threat (eeeek!). I managed to take a selfie with one of them though!
After the Freedom House visit, the van drove us to explore the rest of the grounds of the JSA, past the Axe Murder site as our first stop. In the past, soldiers from both sides had access to all parts of the JSA. However, after an incident (Axe Murder) in 1976 which resulted in the deaths of two US soldiers, Captain Arthur Bonifas (named after the Camp) and 1st Lieutenant Mark Barrett, the JSA was split into two and free movement of both sides in the area stopped.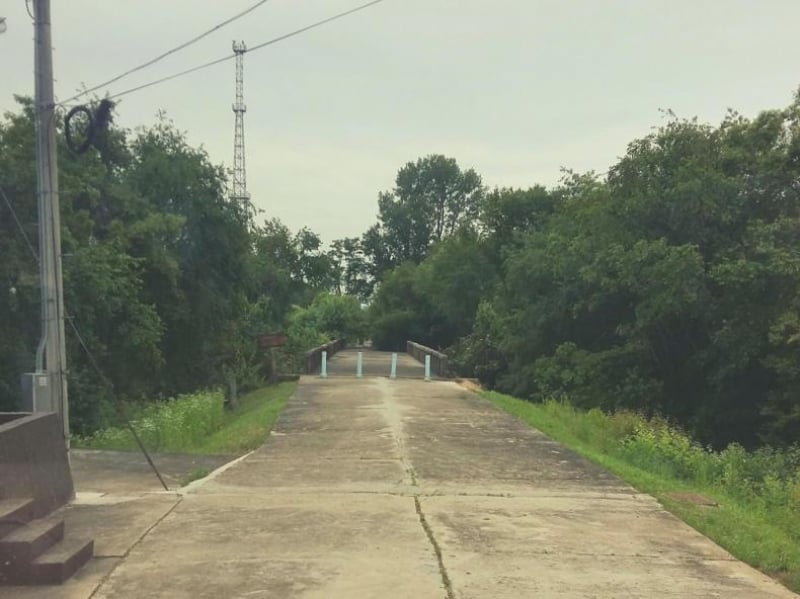 Our bus also drove past the infamous Bridge of No Return – this was where North and South Korea prisoner of war exchanges took place. Once you crossed over, there would be no return – thus the name of the bridge.  We were not allowed to disembark but the tour would stop for a short while for us to take photos from within the bus.
12pm to 6pm: Imjingak Park – Dora Observatory – Dorasan Station – DMZ Theater & Exhibition Hall – The 3rd Infiltration Tunnel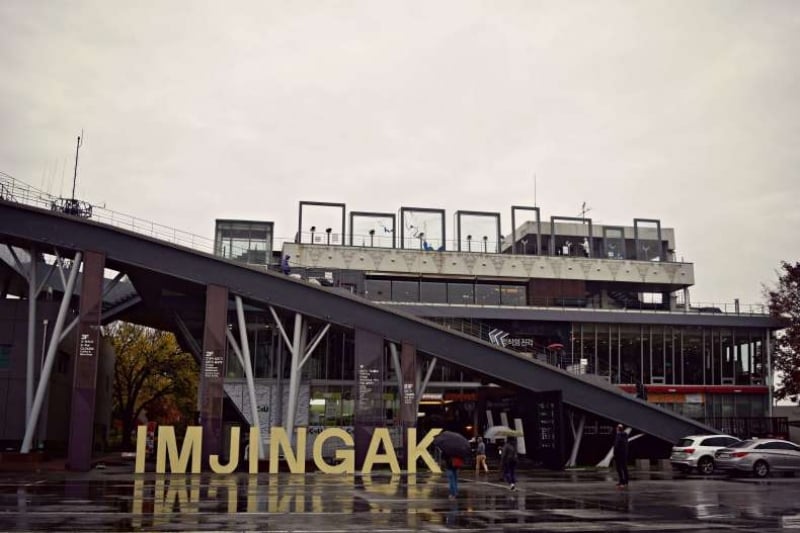 For lunch, we were provided a simple yet hearty bibimbap lunch at Imjingak Village. Imjingak Village had a surprisingly carefree atmosphere, with its prominent bridge sprayed in brightly colored ribbons.

This bridge is called the Bridge of Freedom, and it's where nearly 13,000 prisoners of war were traded at the end of the Korean War. Because the DMZ is so heavily land-mined, and because any bridges existing before the war had long since been destroyed, this bridge was built with the express purpose of trading back prisoners of war. It's a footbridge only, meaning that prisoners could be driven to the bridge, but had to walk across in order to return to their homes.

The bridge now serves as a place of remembrance for families who are separated – South Koreans tie bright colored ribbons covered in messages to the bridge – messages for their family members in the North, or in memorial of family members who died in the North.
Koreans place a lot of importance on returning to your birthplace to honor your ancestors for certain Korean holidays, and so for those who were born in the North, the Bridge of Freedom serves as the next best thing.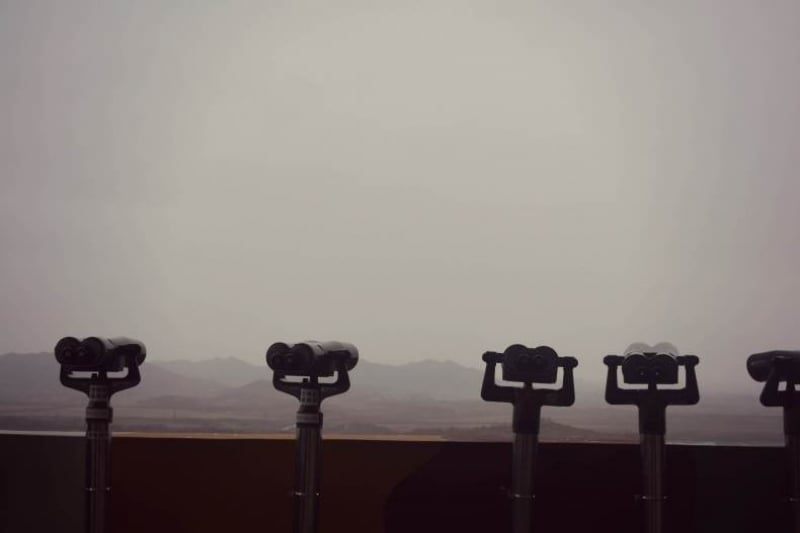 Next stop: the Dora Observatory. At the Dora observatory point, you will be able to see North Korea up close using the binoculars (KRW500 per minute). I didn't do it since it was too foggy that time. To help you identify the different landmarks below, you can refer to a huge landscape map at the top of the observatory. Some of the sights include two tall flag posts indicating the North Korea Kijongdong and South Korea Daesongdong towns.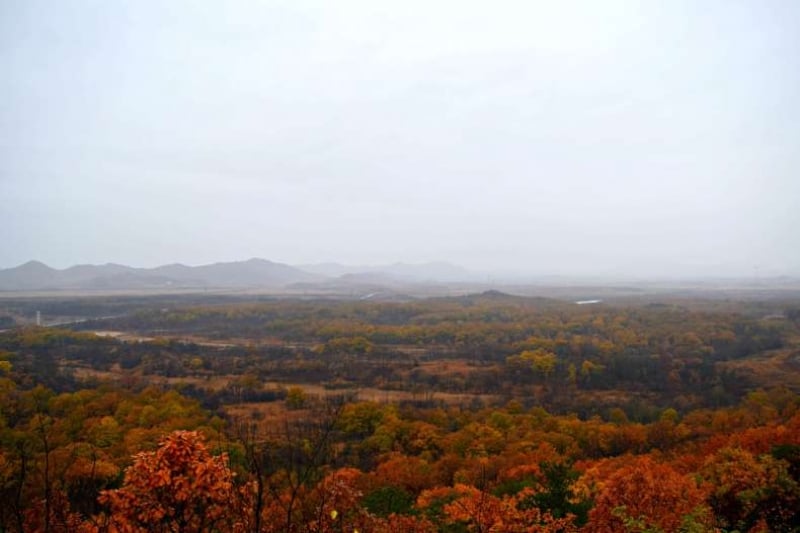 We were told about the propaganda fake village in the North called Kijongdong (Peace Village). Nice, painted houses are visible on the other side, but the lights go on all at once in the evening, and supposedly only the groundskeepers live there. It is quite the opposite on the Southside, where farmers actively farm the land.
Approximately 155 South Korean families have been granted special permits to live and work in this area. There are strict rules though, such as a daily 11pm curfew and not being able to walk anywhere else out of landmine-cleared areas. They are also not allowed to talk to any North Koreans and only those who have ancestors living in North Korea are allowed to stay. Due to the risks and inconveniences, the South Korean government grants these workers certain benefits such as receiving a tax-free status. Therefore, GDP of the people living here is the highest in Korea.
The next stop on the tour is Dorasan Rail Station, a newly-built station with sleek architecture, and complete with security entrance checkpoints and a large waiting room for nonexistent travellers. The goal was to connect Dorasan, South Korea to the rest of the world through Pyongyang, North Korea. From North Korea, trains can theoretically travel to China, Russia and the rest of Europe. A few years ago, it was used primarily to ship goods to an industrial zone in North Korea, and the finished products would be shipped back to South Korea. For now, however, Dorasan Station is idle, and one can only imagine the hustle and bustle that may arise if the peninsula were someday able to mend its combative divide.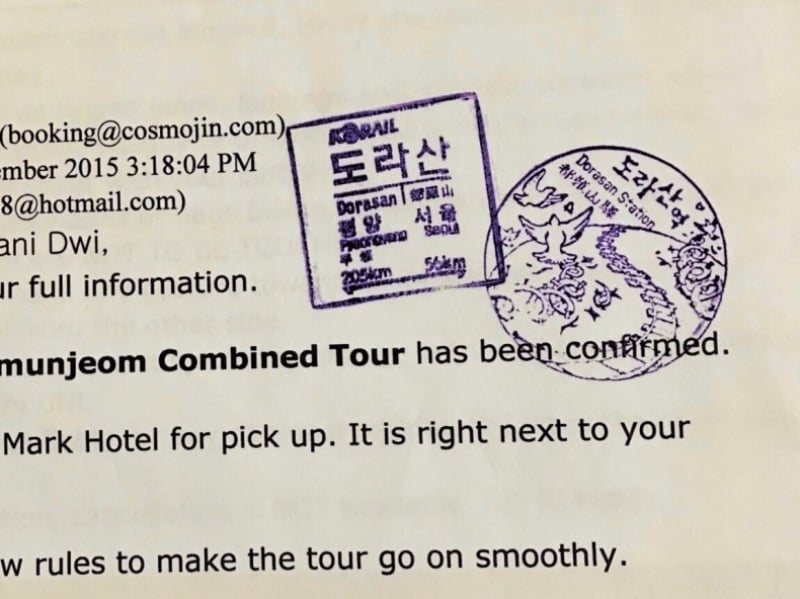 Being a tourist, of course, I had to obtain a commemorative DMZ stamp/chop on a piece of paper (as proof that I have stepped foot in North Korea, even for a few minutes!).
But remember DO NOT do this on your passport please, or you will be banned in some countries!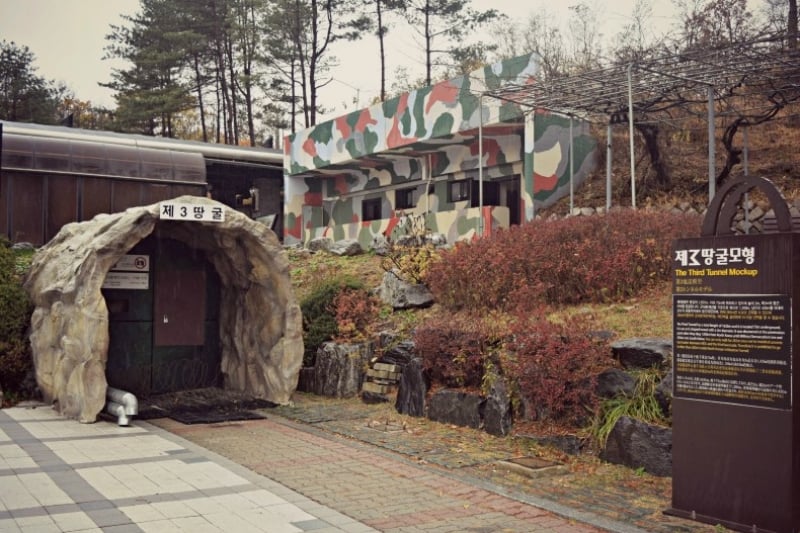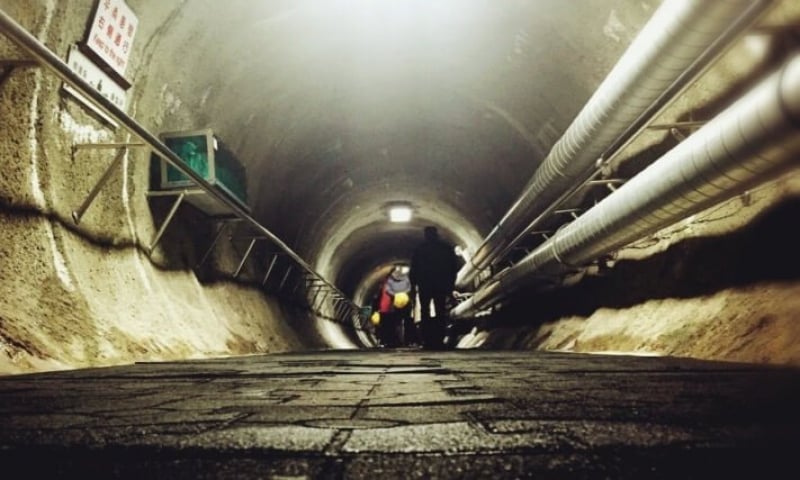 Our final stop was the Third Infiltration Tunnel. This tunnel was constructed by the North Koreans to infiltrate Seoul and carry out sabotage missions. It was also used as a passage to move soldiers and tanks to Seoul in the event of an invasion. It is rumored that there are 17 of these tunnels that all lead to Seoul but only four have been found. To this day, the South Korean military is still looking for them.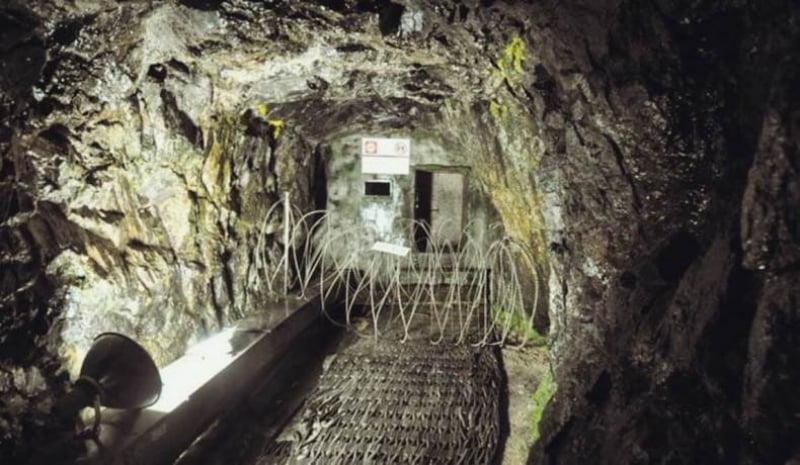 After the quick presentation and historical video on the tunnel, I grabbed a helmet and made a steep descend 73 metres below ground to reach the tunnel. The average tunnel space is at about 2 metres high x 2 metres wide, and gets shorter and narrower the deeper you go. If you have claustrophobia, are overweight or have a low fitness level, you might want to give this a pass!
Our final stop before departing back to Seoul was the Amethyst Center – a typical tourist trap rug, perfume, jewellery, and ginseng shop. Fortunately, it wasn't a long stop, and at the end, we were dropped off in Itaewon. I was totally ready to fill my tummy with a scrumptious Korean dinner.
6pm to 12am: Myeongdong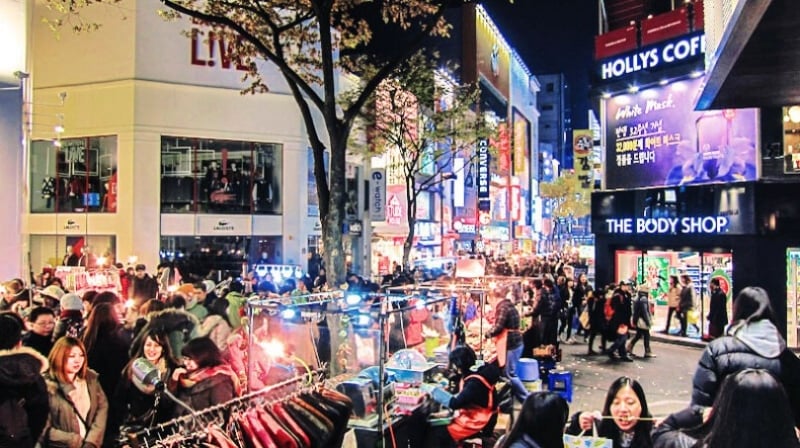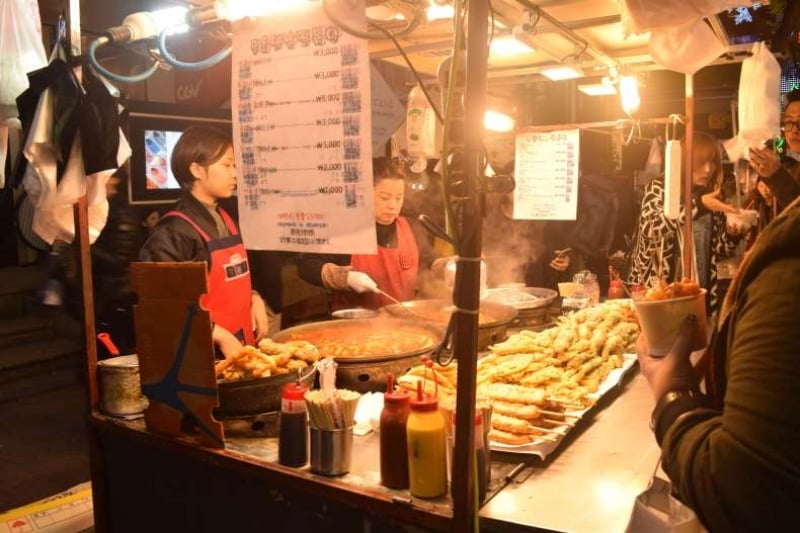 After such an intense day, you can unwind the day with a great street food coupled with a new wardrobe makeover or perhaps go for some norebang (karaoke)!  Myeongdong is one of South Korea's most well-known entertainment districts – featuring street food carts along the alleys and major shopping malls. Some of my favourites are:
Hotteok

– Korean-style sweet pancake that is filled with a brown sugar, honey, cinnamon and chopped peanuts.

Ddeokbokki

– Korean spicy rice cakes, characterised by a thick, fiery red sauce, these chewy pillows of rice are not for the faint of heart.

Soondae

– Korean blood sausage mixed with sticky rice or glass noodles and then steamed or boiled. Additional ingredients include innards and

gochujang

.
This bustling neighbourhood is continuously packed with people at all hours of the day looking to enjoy some of the best shopping, street food, and nightlife in all of Korea.
Day 2
6am to 12pm: Changdeokgung Palace & Secret Garden
Day two is all about acquainting yourself with the Korean culture as you visit different palaces and villages in Seoul. It was a bonus that I was there in November (autumn) because I got to enjoy the breathtaking scenes of autumn foliage as well!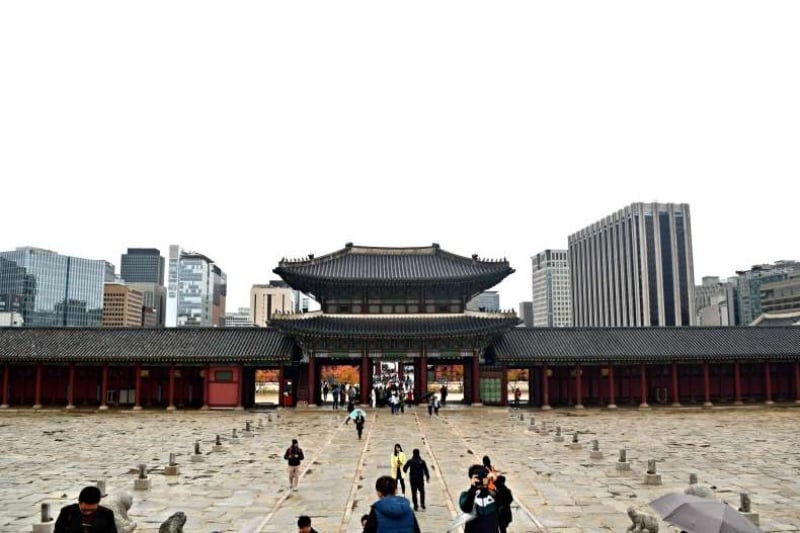 Changdeokgung Palace was the second royal villa built following the construction of Gyeongbukgung Palace in 1405. It was the principal palace for many kings of the Joseon Dynasty and is the most well-preserved of the five remaining royal Joseon palaces.
The palace grounds are comprised of a public palace area, a royal family residence building, and the secret rear garden. Known as a place of rest for the kings, the rear garden boasts a gigantic tree that is over 300 years old, a small pond and a pavilion. Treasured by Koreans for centuries, Changdeokgung Palace was recognised as a World Cultural Heritage site by the UNESCO World Cultural Heritage Committee in December 1997.

Injeongjeon is the throne hall of Changdeokgung and is considered to be a National Treasure. Translated as "the Hall of Benevolent Government", it is the epitome of power in the whole palace, where major state affairs are held, including the coronation of new kings.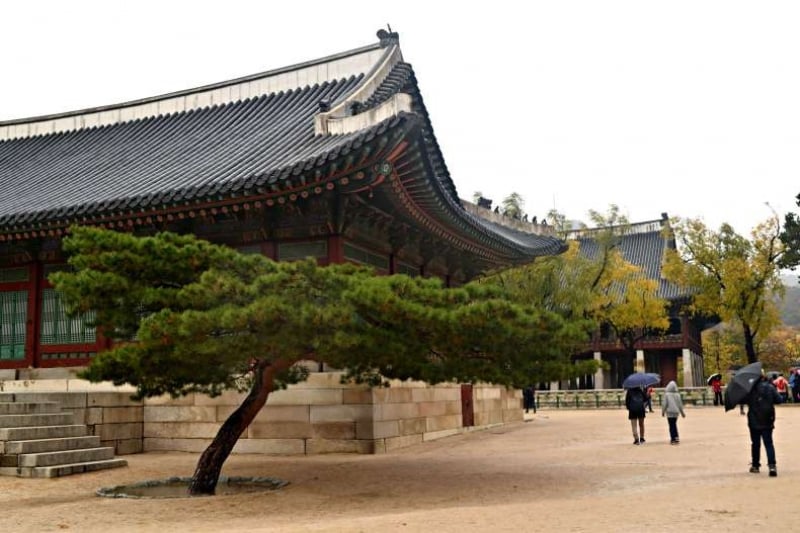 Nakseonjae Hall is a one-storey structure built in ikgong style (bird wing-shaped eaves placed on top of the pillars) with a hip tiled and gable roof. It was said to be built by King Heonjeong, the 24th king of Joseon for his beloved concubine in 1846. The hall also serves as King Heonjong's study or sarangchae. The interior is decorated with colorful lattice work but it's interesting to see that these buildings are colorless, as opposed to the other halls which are full of color.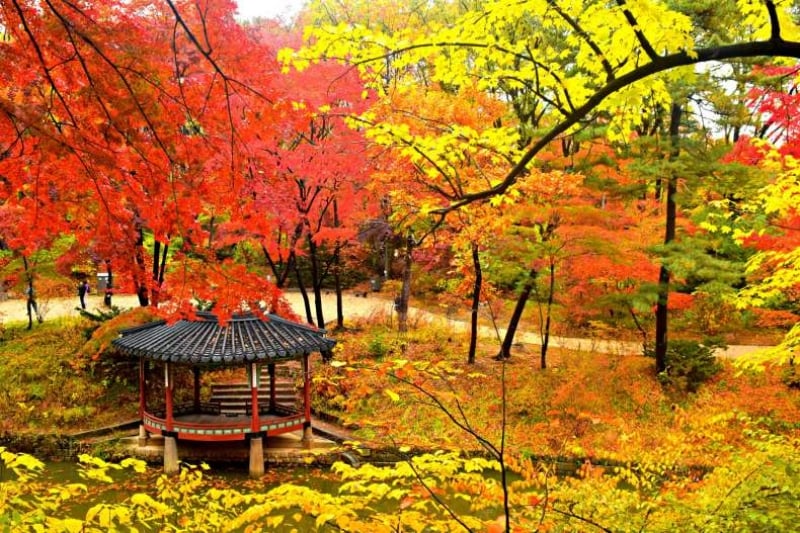 We had to walk quite a bit to reach the entrance of the Secret Garden. There are a number of tours organised in different languages, you can book online to avoid missing a spot. The garden was once called the Forbidden Garden because access was only given to the royal family – even high government officials weren't allowed to enter the garden without permission from the King.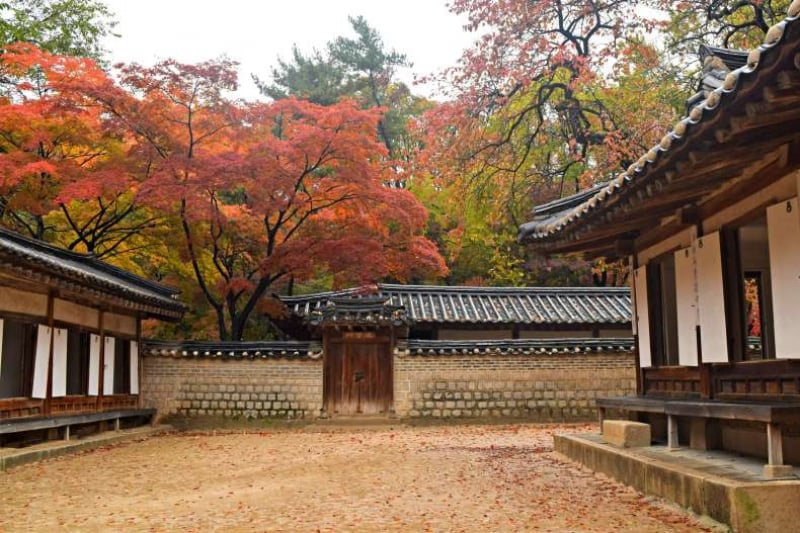 Formally called Huwon, this garden nestled away behind the palace makes up about 60% of the Changdeokgung Palace. Its sprawling grounds is an exemplary example of the type of classical garden design to be found during its time.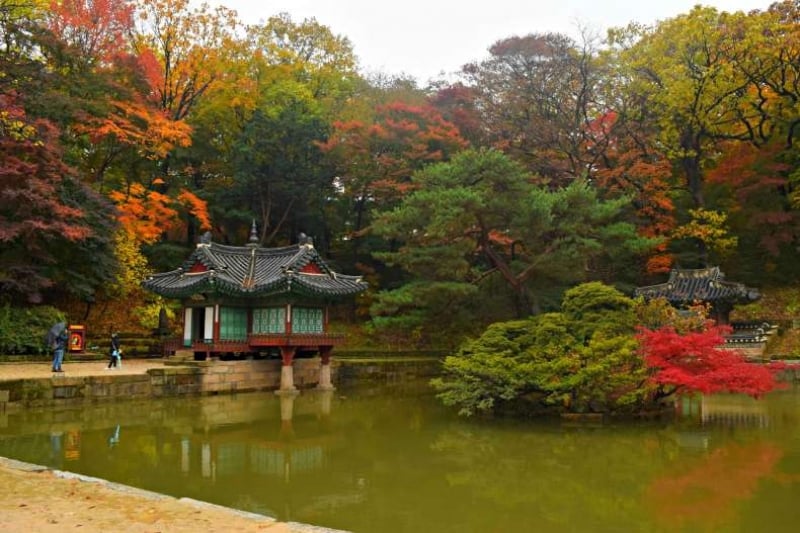 The highlight of the garden is the two-storey Juhamnu Pavilion, which the king used as a library. The pavilion is located on a small, peaceful square lily pond.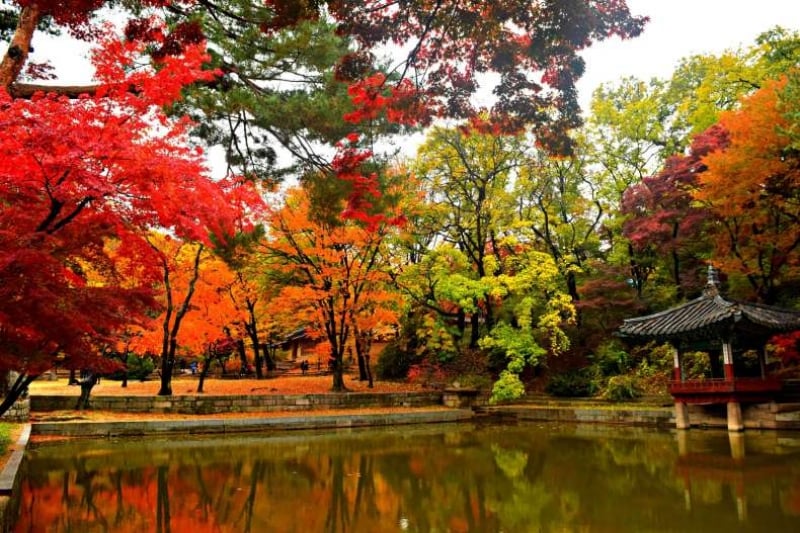 The secret garden is indeed, magnificently landscaped with lovely terraces planted with lawns, flowering trees, flowers, a lotus pool and pavilions set against a wooded background. There are over 60,000 specimens of various species of trees and plants in the garden – including walnut, white oak, zelkova, plum, maple, chestnut, hornbeam, yew, gingko, and pine. Make sure to visit this beautiful place the next time you're in Korea!
12pm to 6pm: Bukchon Hanok Village

Bukchon Hanok is located on a small hill just north of the Seoul city centre. Literally "north village", Bukchon consists of more than 700 traditional Korean houses, or hanoks, crammed into narrow streets and alleyways. Here you can meander through the village, composed of narrow urban alleys and small tea houses which are fantastic representatives of traditional Korean culture.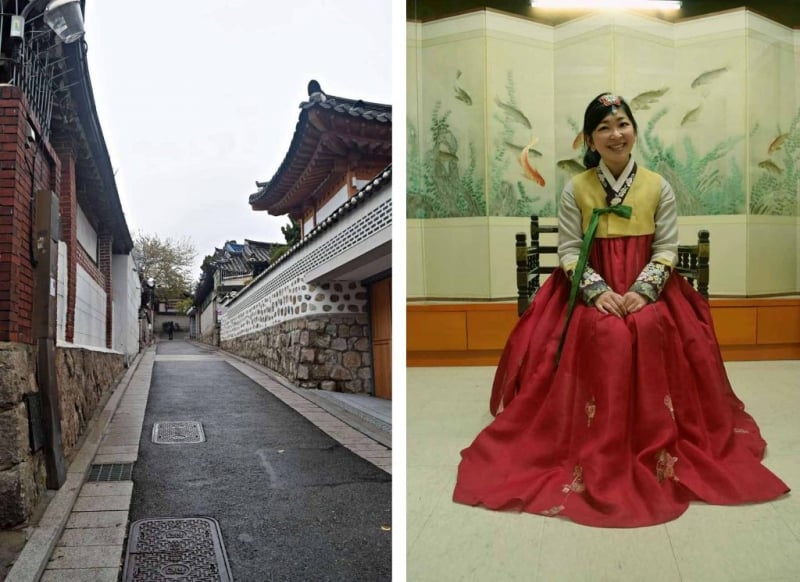 I couldn't resist renting a hanbok (a traditional costume) and going for a photo shoot around the neighbourhood. I rented the hanbok at KRW8000 at one of the shops located near Bukchon-ro 12 gil.
6pm to 12am: Cheonggyecheon Stream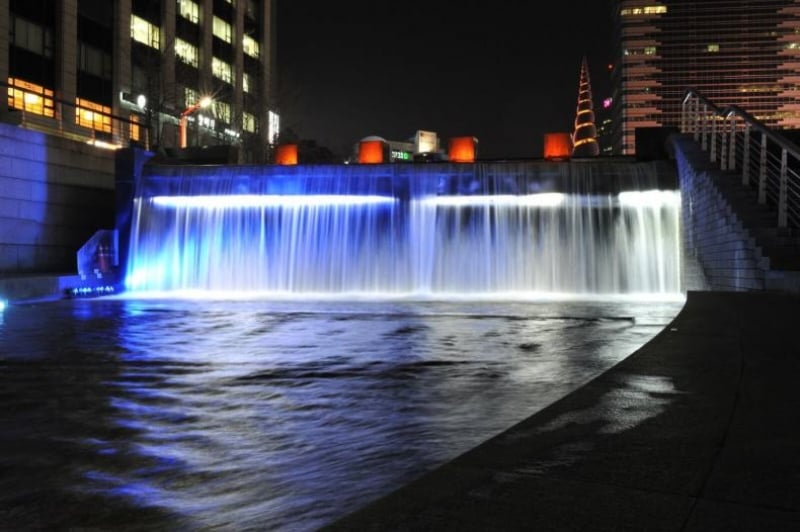 Cheonggyecheon Stream is an 8.4-kilometre waterway and public space that runs from west to east through the heart of downtown Seoul. During the Joseon Dynasty, the stream was known as Gaecheon, meaning open stream. The stream starts from Cheonggye Plaza, a popular cultural arts venue, and passes under a total of 22 bridges before flowing into the Hangang (River).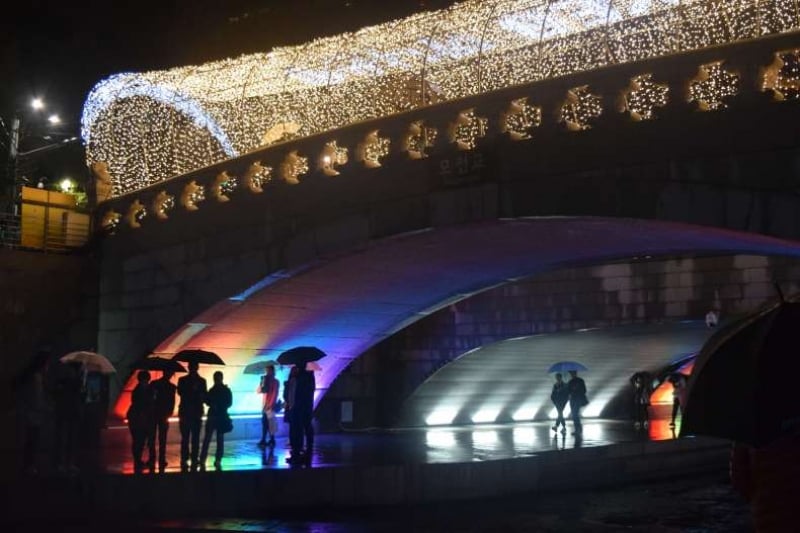 At the time we visited, there were illumination lights and laser displays across the bridge, giving the whole place a romantic and lively atmosphere. To stroll along the bridge and admire the pretty lights…what a relaxing way to end your day!
Rani's travel tips:
Book your tour early, whether it's for the JSA, DMZ, or the palace tour, at least 2 weeks in advance. You may be able to score discounts as well. If you're really tight on budget, pick the JSA tour.

Go during autumn, the colours of the autumn foliage make for super stunning photos!