As I stood straddling the line that legally separates two nations with hostile tension simmering between them, I felt a sense of fear, trepidation, wonder and incredulity, all at once. It finally dawned on me that I was staring straight at the border enclosing the Democratic People's Republic of Korea, or more prominently known as North Korea, one of the most isolated countries in the world today.
During an educational trip last December, I had the privilege of visiting Korea's Joint Security Area (JSA), the only area of the Korean Demilitarized Zone (DMZ) where soldiers from each side stand face to face, guarding their respective nations. Having studied, with a moderate degree of intensity, about the Korean War in history lessons, whilst reading countless articles on the conflict between the two Koreas online, I anticipated the moment when I could visit the demarcation zone. The night before our group was scheduled to visit the JSA, tiny balls of excitement bubbled up within me as I tossed around in bed, unable to fall asleep.
There were several checkpoints that we had to pass, where we were asked to show our passports to a soldier who boarded our bus to conduct his round of checks, before we finally arrived at the JSA Visitor Centre. Following a briefing where US military soldiers who were deployed to the Korean DMZ laid out the rules and protocol that we were to adhere to, we hopped onto a bus and drove towards the JSA with tingly toes and revving hearts.
The ride to the JSA took just a few minutes, but time seemed to pass with the dynamism of a narcoleptic, insouciant snail. When we finally arrived at the Freedom House, we were asked to get into lines of two, before being briefed by our tour guide-cum-soldier named Kim. "Whatever you do, make sure that you're always standing in between the two South Korean soldiers stationed at each side. It's for your own safety," Kim warned. He then instructed us not to make any funny or provocative gestures towards the North Korean soldiers, and to remain calm if they took any photographs of us that they might intend to use for propaganda purposes.
Once everyone had settled down and regained their composure, Kim led us through the Freedom House to the heart of the JSA. The first thing that pervaded my vision was the image of a bright blue United Nations Command Military Armistice Commission (MAC) Conference Building approximately the size of a cabin in the foreground, which was starkly juxtaposed with the looming, grey Panmom Hall building guarded by a North Korean soldier in the background. Even the colour of the buildings seemed to speak volumes of what the two countries represented, or at the very least, preconceived notions of what each nation stood for. All at once, a thick cloud of tension, solemnity, consternation, and exhilaration hung in the air. Everyone was silent – out of fear or sheer belief that we were standing so close to one of the most highly scorned nations in the world, I wasn't sure.
It sounds rather laughable now, but in that moment, my life seemed to flash before my own eyes. My imagination snatched the reigns from reality, and I instantly thought about the potential consequences that visiting such a dangerous zone could render. The fact that a 24-year-old North Korean soldier had defected through the JSA just two weeks prior to our visit meant that tensions were at an all-time high, and I couldn't help but wonder about what would transpire if another North Korean soldier decided to similarly defect to the other side on the very day that we were visiting the JSA.
Before we entered the blue building, we were asked to gather for an obligatory group photo. Though social conditioning prompted me to plaster a smile on my face, this undoubtedly betrayed the assemblage of messy, befuddling emotions that I was trying hard to quell. The North Korean soldier standing at the front of Panmom Hall wasn't captured in the photo, but it felt as if his gaze was piercing right through me.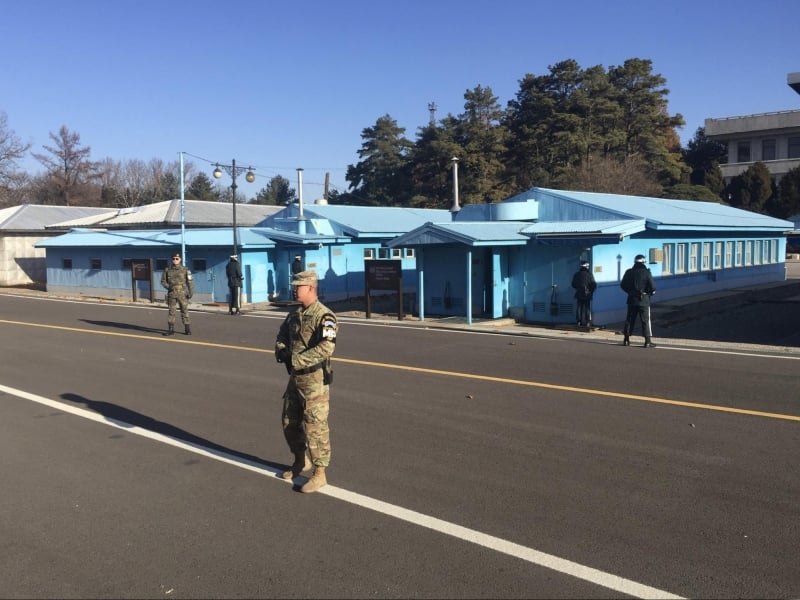 Upon stepping foot into the MAC Conference Room, I couldn't help but turn to my friends to exclaim excitedly, "This may be the one and only chance that I have to be in both South Korea and North Korea at the same time!" Running to take pictures with the ROK soldier standing in the North Korea zone was not an option, but mandatory for us.
Yet, I still found myself battling the constant inner fear of stepping over any lines that I shouldn't. Was it okay to make funny faces when taking a picture with the ROK soldier? Was it alright to request for a selfie? These were trivial concerns, but ones that I wouldn't have given a second thought to had I been anywhere but the JSA. The JSA seemed to command an instant sense of respect, terror, and sadness all at once – not just because of the trepidation evoked when considering what could happen in the event of an unexpected attack, but also because standing on the line that segregates Korea into two separate regions makes one feel immediately small and insignificant amidst the historical significance of the area.
In the grander scheme of the world and all of its atrocities, who am I, really? If I had bitten the dust on that very day, would there have been significant consequences? What about all the soldiers who perished during the Korean War in 1950? Were their deaths in vain, considering the fact that reunification of the two Koreas seems to be a prospect that is far from reality? These were some retrospective questions that I couldn't help but ask myself as I gazed dazedly at the thin blue wall separating us from North Korea. This is why travelling to places of significance, like the JSA, is so important – witnessing all of this first-hand can bring such a change in perspective, both with regards to the world and to yourself.
Before the trip ended, we headed back to the JSA Visitor Center, where we could purchase souvenirs such as bookmarks, keychains, and various apparel. As a keepsake, I bought a small bookmark of a South Korean soldier who bore an uncanny resemblance to the one whom I took a photo with in the MAC Conference Room. This souvenir will likely never leave its packaging for as long as I live, since it holds such a personal and special meaning to me.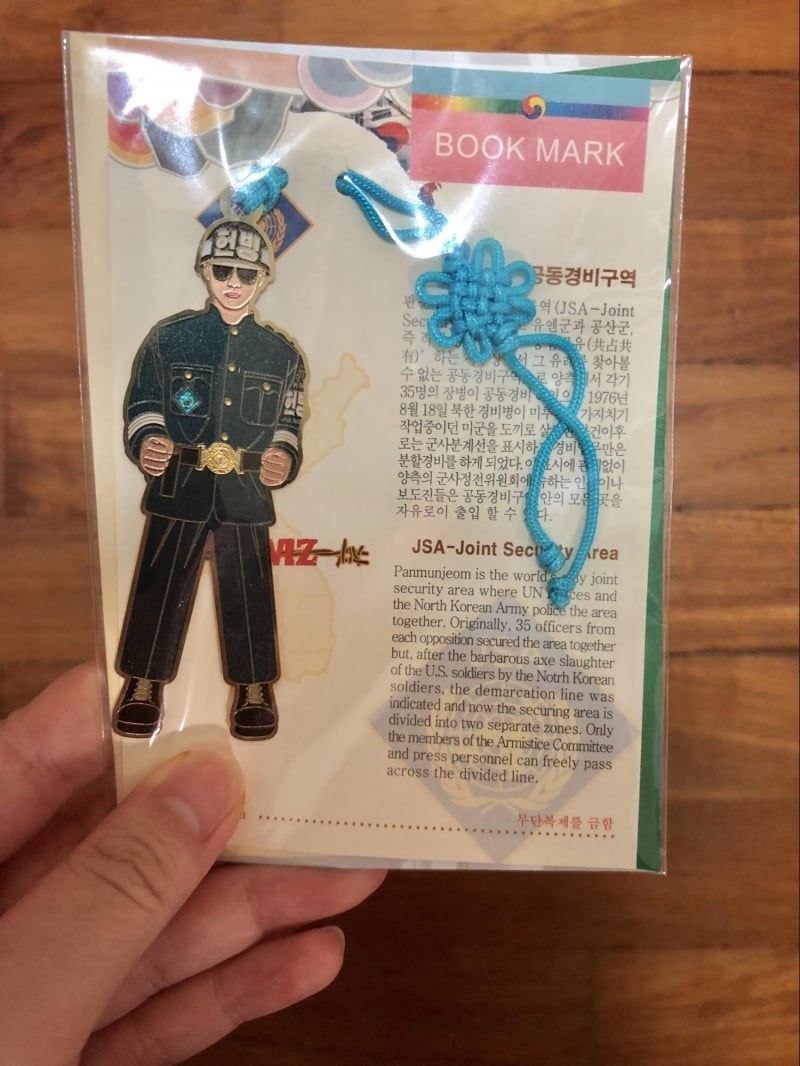 If you're someone who believes in the axiom which goes, "don't let the fear of what could happen make nothing happen", then take a leap of faith by visiting the Joint Security Area of the only remaining divided country in the world. The prospect of visiting a potentially perilous area may seem daunting, but then again, life is all about living on the edge – in this case, the edge of a frontier that divides an entire peninsular into two parts of a whole.