Ah, the Northern Lights. Don't they just look oh-so-magical? It has been my life's dream to catch those dancing green fires, but I honestly didn't know where to go. So when I saw this itinerary to Chase the Aurora in Norway, I was intrigued. And I thought – why not? I chose to join a tour because honestly, I'll just get lost in Norway. So I went ahead, and I had an absolute blast! I thought I'd share my experience with you: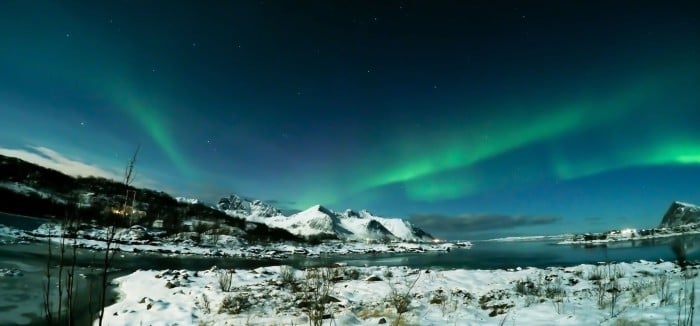 The Lofoten Islands is the home of the northern lights! And the aurora is one of the most beautiful I have ever seen!
Day 1
Okay nothing much about this day, just lots of excitement to start the journey! Assembled at Singapore Changi Airport with the rest of my tour group – there were about 31 people in total!
Waiting for our flight. Our EU Holidays guides were efficient and friendly.  
I'm a little bit of an introvert, but on this trip I was determined to make friends. It was a pretty long flight, and I basically knocked out on the plane. Kudos to the smooth flight though!
Day 2
And it's helloooooo, Oslo! Oslo is the capital of Norway, but we didn't waste much time dallying here because Northern Lights were awaiting! We boarded a domestic flight to Tromso, the largest urban area in Northern Norway. Tromso is very North, and very, very cold – it was a very welcome chill compared to the heat of Singapore! And what else can I say? We were in winter wonderland.

Tromso, the largest urban area in Northern Norway, was beautifully blanketed with snow!
The minute we landed, we transferred to our accommodation and started getting ready for the highlight of the trip – NORTHERN LIGHTS, BABY! We got all geared up and went on a thrilling Northern Lights chase!
I've heard so much about the chances of seeing the Northern Lights – the skies must be clear, it mustn't be too windy, and also something about some light particle index something something. Needless to say, I mentally prepared myself for the chance that we wouldn't catch the Northern Lights, but kept all of my fingers (and toes!) crossed just in case! A local guide came with us, and we actually drove about 4+ – 5 hours just trying to find the best spot where the lights were visible. But alas, they were nowhere to be seen :'( Extremely disappointed, but luckily the tour came with an exclusive Northern Lights viewing warranty! So we didn't get to see the lights on the first day, but another aurora chase can be arranged for another day at no extra price. Pheeew! Seriously, did they even have to ask? Of course I would try again! No pain, no gain :p
Day 3
We had some Scandinavian fare for breakfast – fish, bread… very light on the palate! And, also, breakfast with a great view!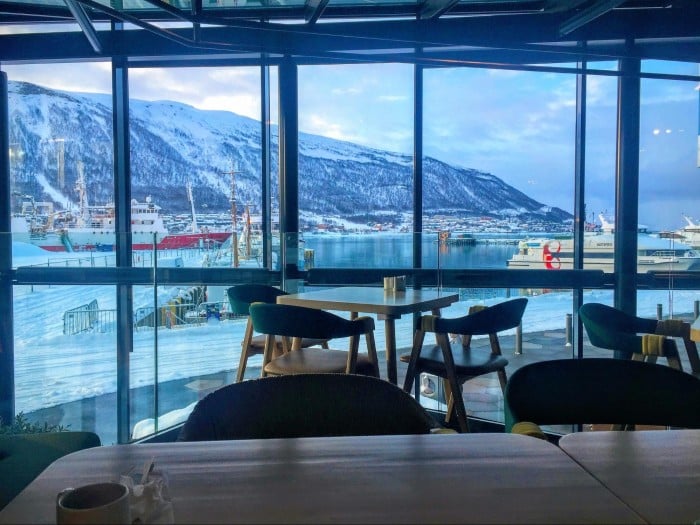 Our magnificent harbour view at breakfast!

We had a wonderful spread of Scandinavian delights at breakfast.
We went on a full-day sightseeing tour of Tromso. What stood out was the city-centre, dotted with buildings that looked like they jumped straight out of the Victorian era.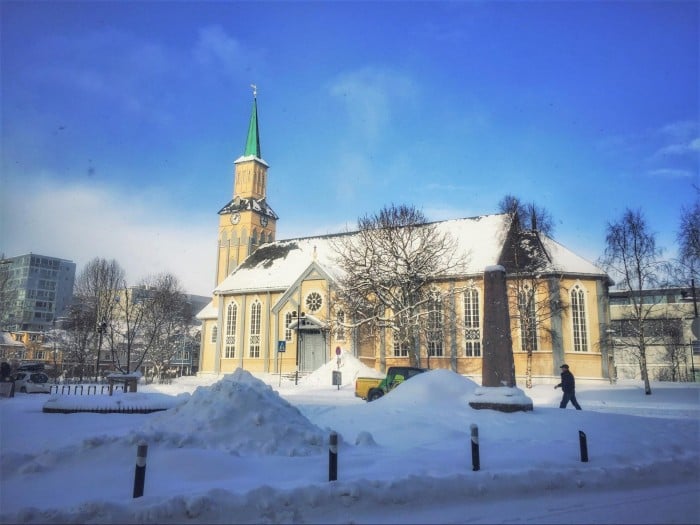 A Cathedral in Tromso city from the Victorian era.
According to our guide, Tromso has a rich neo-classical architectural heritage, which explains the gorgeous dilapidated buildings!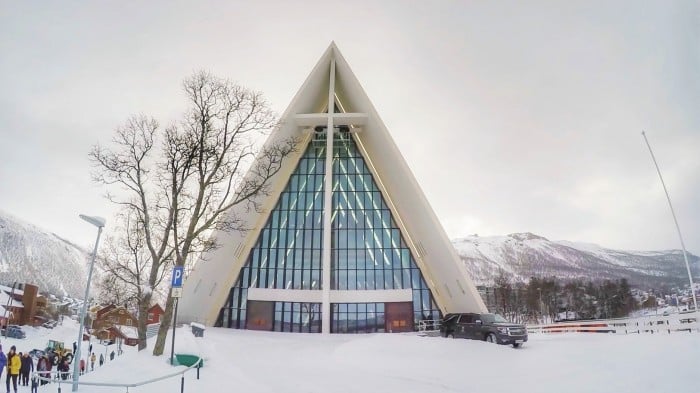 Arctic Cathedral – s probably the most famous landmark in Tromsø.  This church is in a shape of a triangle with floor to ceiling glass windows.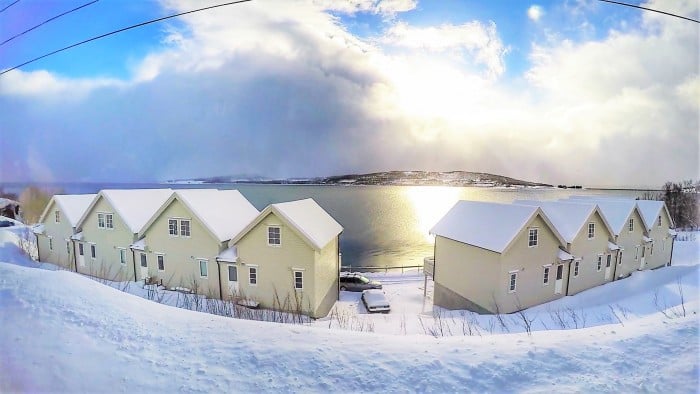 Quaint row of fishermen's cabins along water.
When night fell, thus came our second chance to chase the Northern Lights! We geared up quivering with anticipation (or at least those of us who decided it was worth giving it another shot), and hoped with all our might that tonight would be our lucky night.
We drove around for perhaps 3 hours or so, and I was having a hard time staying optimistic. I even started to drift off to sleep, assuring myself that it's okay, I have more nights to try again, and again, and again! When suddenly the bus exploded in shouts – I jerked awake and lo and behold, there was some green dancing on the horizon! We sped up towards the phenomenon, tumbled out of the bus, and there we had it. The Northern Lights displayed in all their splendour :')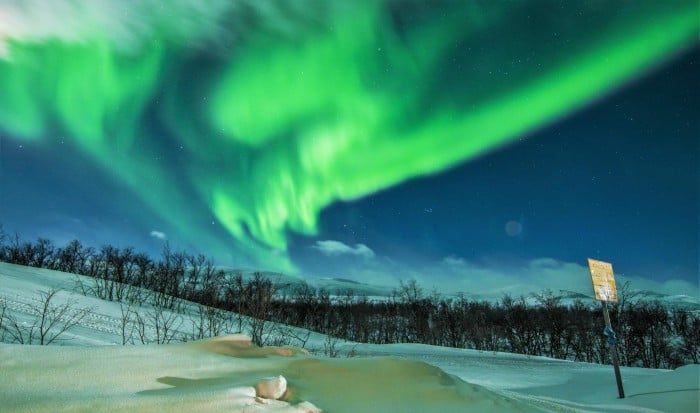 Northern Lights chase in Tromso, successful!
I can't even begin to describe how I felt at that exact moment watching the hues of green dance merrily across the sky. I felt amazed, I felt lucky, I even felt a hint of incredulity. Above all, it was just so incredibly surreal. I managed to catch the Northern Lights – it was unbelievable! It was nothing less than a dream come true.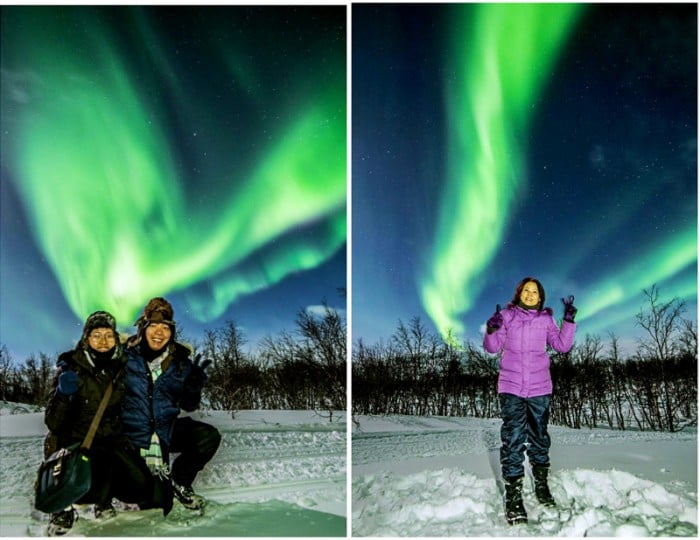 Happy faces from witnessing such a rare and amazing phenomenon.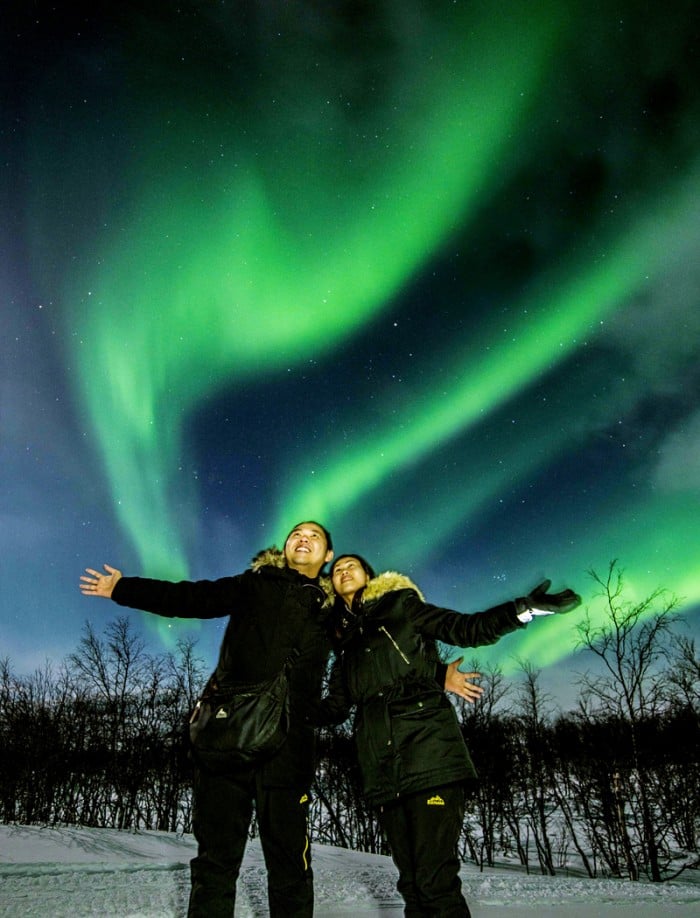 We had a professional photographer on board who helped us take these amazing photos! The lights are truly, unlike anything I've ever seen. Bucket list, check!
Day 4
We started off the day on a high from last night's Northern Lights sighting. Woohoo! I still couldn't believe that I managed to witness that magical sight with my own two eyes. I must be the luckiest girl in the world :') With that, it was time to explore the rest of Norway! We embarked on a leisurely drive around the Tromso region and feasted our eyes on spectacular scenery. Think: dramatic snowy landscapes, mountains in the background; it was picture-postcard perfect every direction I turned. We even drove through majestic walls of snow at some point! I admit it was a little hair-raising; the walls of snow were really high and intimidating, it felt as if they would close in on our vehicle at any moment! But thanks to our guide's expert maneuvering (with a little Tokyo drifting :p), we managed to get out unscathed.
We paid a visit to Polar Park, the world's northernmost wildlife park full of bears, wolves, lynxes, wolverines, polar foxes, moose, red deer, reindeer and muskoxen!

Polar Park gave us a chance to get up close and personal with the wildlife particular to this region.
I LOOOOVE animals, and was so psyched to be able to get up-close and personal with the wolves in their enclosure! The wolves looked ferocious, but boy were they adorable! They even offered an optional activity which was wolf kissing. When I first heard of it, I was mindblown. Opportunity to kiss a wolf? Sign me up! Unfortunately no photography was allowed during the session so I don't have any proof, but what can I say? It was wolf at first sight *.*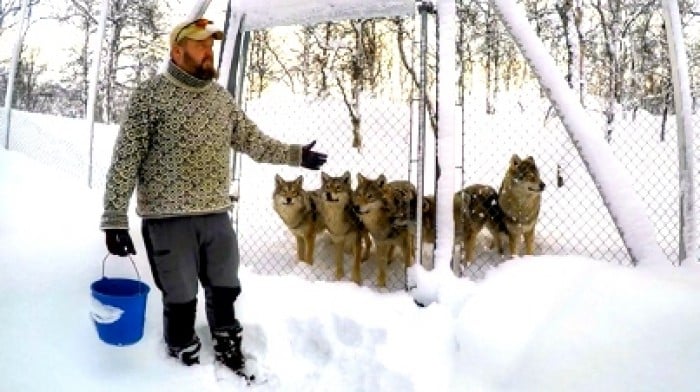 You'll get an opportunity to kiss a wolf! Do you dare?
We also were able to cuddle with the oh-so-cute polar foxes! I always assumed foxes to be of the red variety, but man did I fall in love with those white ones. They're just so elegant!
After lots of animal time, we continued on to Narvik, a stunning harbor town surrounded by stretches of beautiful fjords, mountains and islands. Mother Nature is so majestic and so beautiful; I'm in utter awe. There are no words to describe such beauty, and my pictures hardly do it justice. You just gotta see it for yourself!
Day 5
We departed for Vesteralen, which comprises of hundreds of large and small islands. Needless to say, the view was out-of-this-world. The terrain here was different from what we saw at Tromso, and ranged from alpine mountains to deep valleys to pristine white beaches to narrow fjords. It was as if all of Mother Nature's masterpieces were comprised into one region!
We took a ride on the Narvikjellet (try saying that 10 times without stopping!) cable car which goes to the summit that is 656 metres above sea level. The panoramic view from the summit was magnifique, we could gaze out all the way over the never-ending blanket of snow to the numerous islands dotting the ocean.
View from the cable car.
Growing up, believing in Santa Claus and his trusty herd of reindeer was a big part of my childhood. Rudolph, the red nosed reindeer, had a very shiny nose… Thus imagine my delight when we got to meet said reindeer, in the flesh! Granted, they weren't Rudolph per se, but they. Were. REINDEER!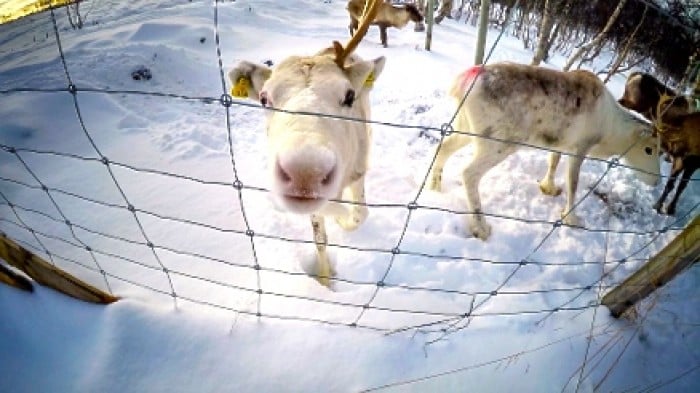 Reindeers are reared by the native Sami people.
These reindeer are housed at a Reindeer farm, and we even learnt that most of them actually came from the wild – more and more approached the farm over the years in search of food! And once they came, they just never left. The Sami people assume the role of caretakers, and take care of these reindeer day in and day out. What a lifestyle! I can't even imagine the bond between the Sami people and the reindeer :') We learnt lots about the lifestyle and practices of the Sami people, and how deeply entwined their lives were with the reindeers'.

We got a glimpse into the Sami people's traditional way of life and practice of herding the reindeer.
Was exceedingly reluctant to leave the gentle reindeer, but we eventually moved off to Svolvaer, capital of the Lofoten Islands. The unwilling farewell was soon compensated by the exceedingly ravishing view outside our car window.
The drive to Lofoten Islands was just breathtaking. Just outside our window was just acres and acres of GORGEOUS SCENERY!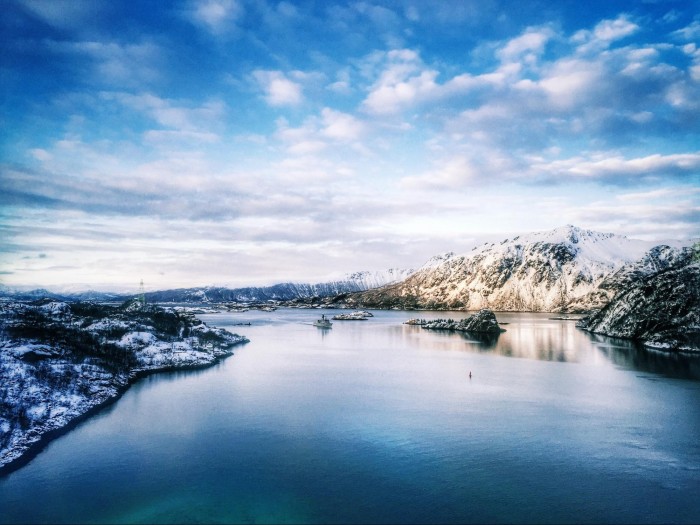 The Lofoten Islands and its surrounding area is now, to me, one of the most magical places on Earth.
Everywhere we turned, we just saw pure beauty! The snowcapped mountains and the crystal blue waters looks like straight out of a painting!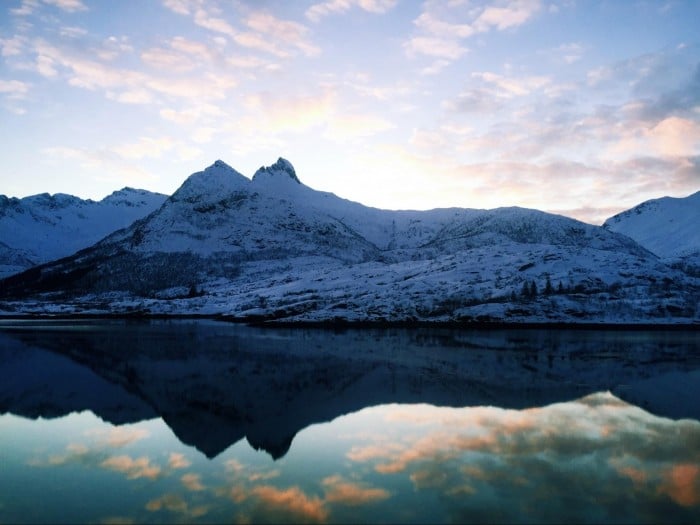 Stunning landscapes all along the way to the Lofoten Islands.
The pink, purple and blue colours of the skies lit up the reflection on the clear water as well. The Lofoten Islands is truly, truly a place of exquisite beauty!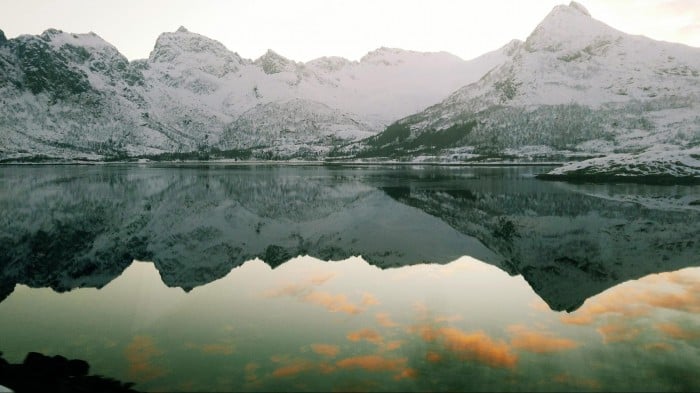 The crystal clear waters give a perfect reflection of the mountains and skies.
We even managed to catch the sunset on our way to Svolvaer! The golden rays of sunlight just fell delicately on the snowcapped mountains in the distance ahead. We were all just speechless and taking in the amazing view. And of course, I had to snap a picture to remember this special moment! 🙂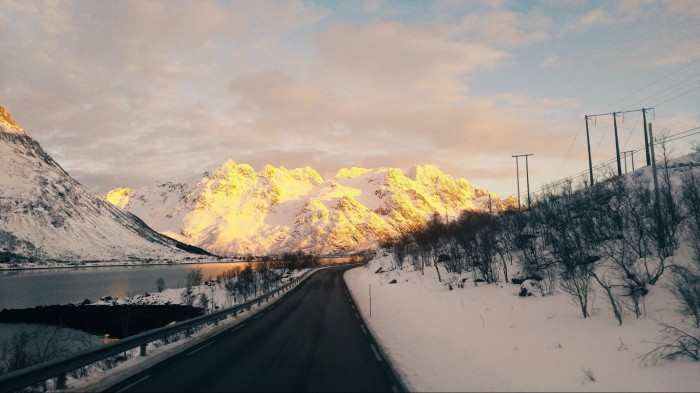 Golden sunset captured on the way.
Day 6
The Lofoten Islands are beautiful beyond compare. Time here seems to pass slower than normal, and there's just this sense of peace all around. It's so tranquil, and absolutely peaceful. We traversed through the islands of Lofoten, and took in the idyllic coastal scenery of Vestfjord.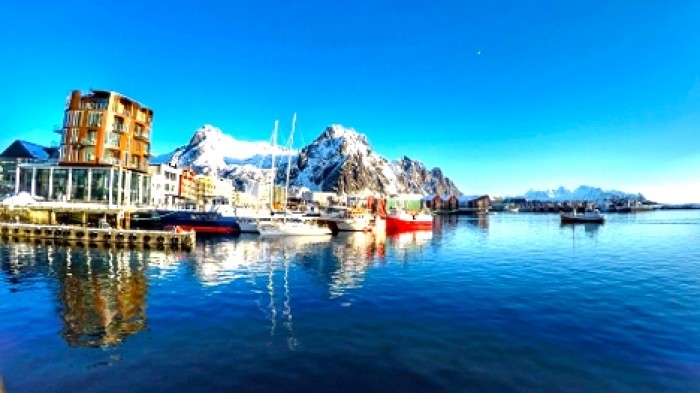 One of the many harbours around the Lofoten Islands.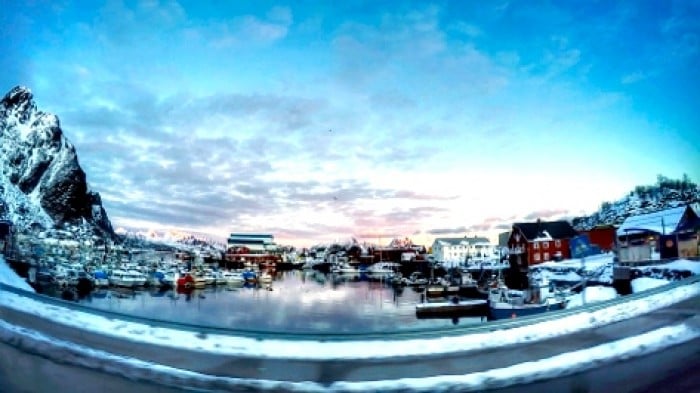 View from my hotel window.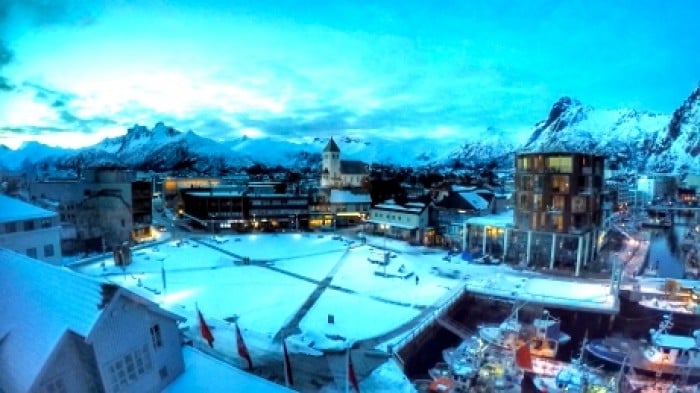 Snow covered town. Wish we could be surrounded by such scenery all the time.
The fishing villages of Henningsvaer and Stamsund were truly a sight for the eyes – the pop of red against the stark white landscape made the villages look like they leapt straight out of a children's illustration! What a fruitful photography day! We had to make many photos stops as the scenery was just TOO beautiful!
And man, what wouldn't I give to look upon this sight every morning.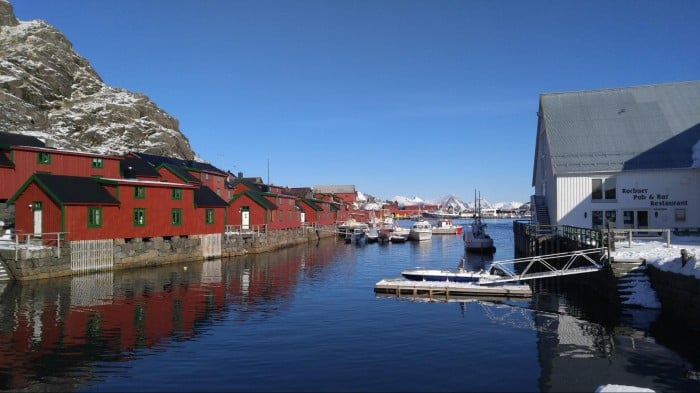 Stamsund fishing village and its iconic red cabins.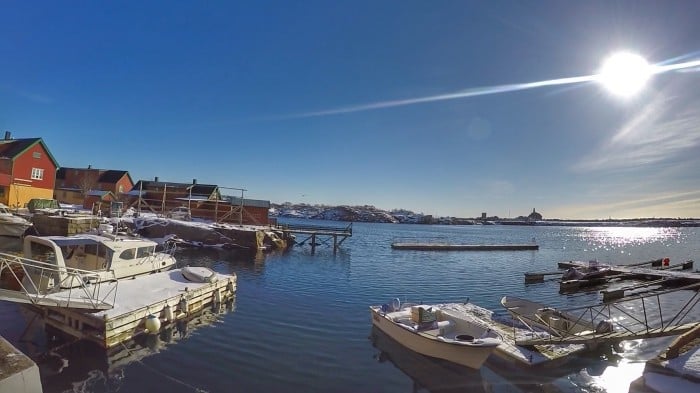 Henningsvaer waterfront view.
We went on tours of the respective villages, and everywhere was just so pretty. It's just like living a fairytale! Fun fact: Henningsvaer is famous for its Cod Fishery and prominent fish racks where North Atlantic Cod is hung out to dry.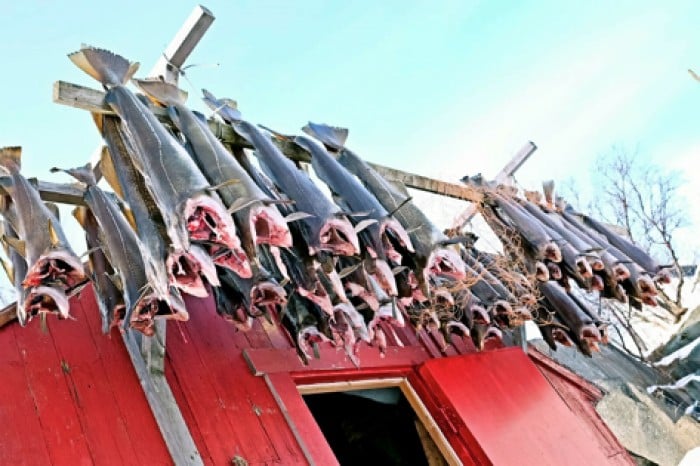 Henningsvaer is famous for its Cod Fishery and prominent fish racks.
And did you know that the Lofoten Islands are the best place in the world to catch the Northern Lights? The Aurora Belt hits Northern Norway just above the Northern Lights. Pair that with very little light pollution, resulting in some of the most vivid and purest light sightings in the world!
We had been watching the forecast closely and the forecast was GO, GO, GO!!!!!!!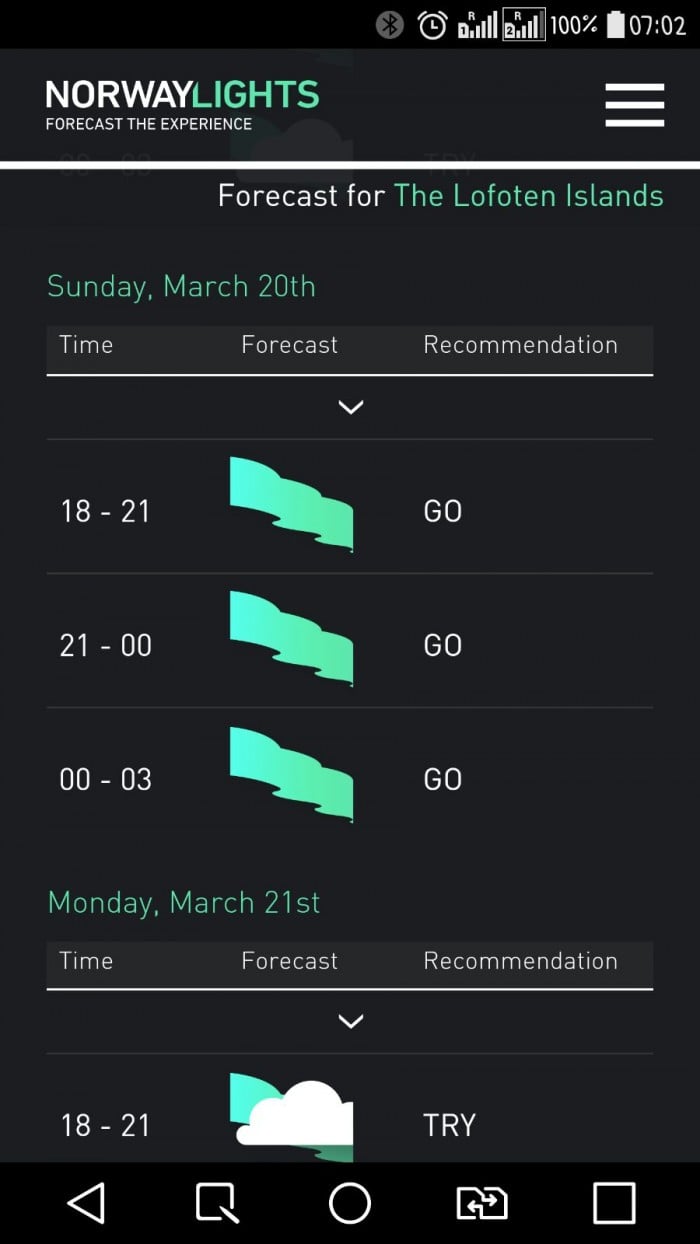 Forecast for Northern Lights was all Go, Go, Go!
We just KNEW we MUST go for it. This came totally unexpected, but yes, we were able to catch the Northern Lights for the SECOND TIME during our stay at the Lofoten Islands! Excuse me while I break out into a little victory dance.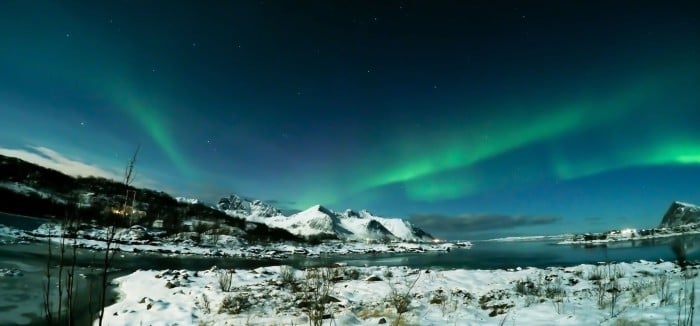 The Lofoten Islands – Home of the Aurora – truly lives up to its name. It's just absolutely stunning!
The 2nd time seeing the Northern Lights is really twice the blessing! The first one was already beautiful, this one, was really the most beautiful aurora I've ever seen! No wonder why they say that the Lofoten Islands is the Home of the Aurora!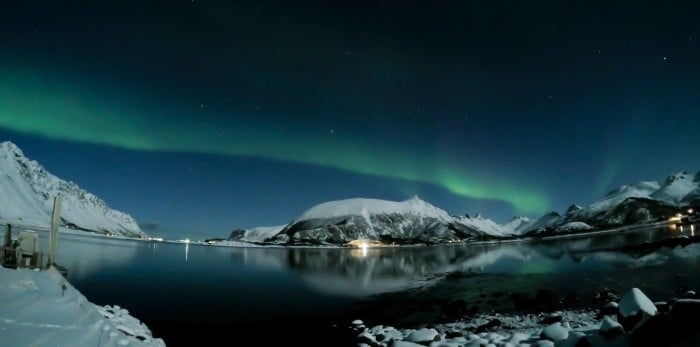 The Lofoten Islands – Home of the Aurora. The lights were beautifully reflected on the crystal clear waters. What a sight!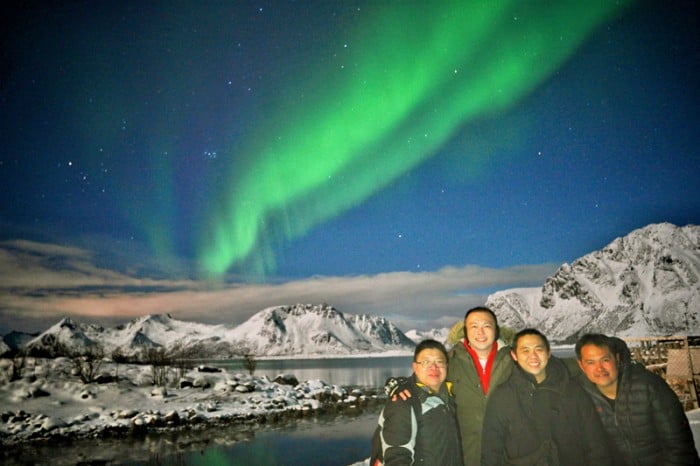 None of us could believe our eyes. We knew the Northern Lights were a natural phenomenon with no guaranteed sightings, yet we managed to catch them not once, but twice?! Lady luck is truly on our side this holiday!
Day 7
Calling all animal lovers, this tour is definitely the one for you. From wolves to polar foxes to reindeer, now we also have a Sea Eagle Safari! We strapped on our lifejackets and headed out on an inflatable motorized boat. We sped across the Trollfjord and stopped right in the middle of the fjord where majestic eagles flew overhead.
We had to bundle up before taking the speedboat out as it was freezing out in the water.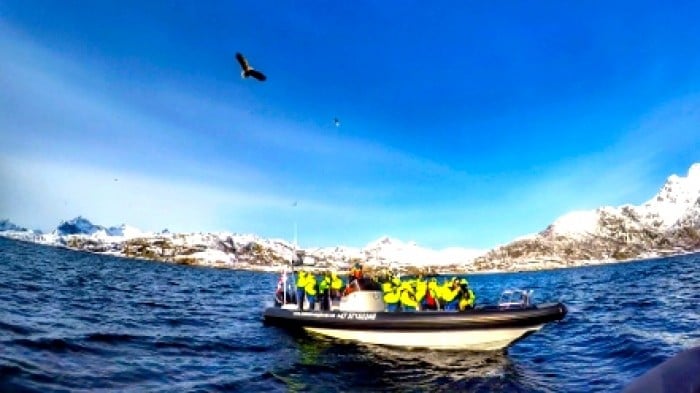 Sea Eagles before diving down to catch their prey.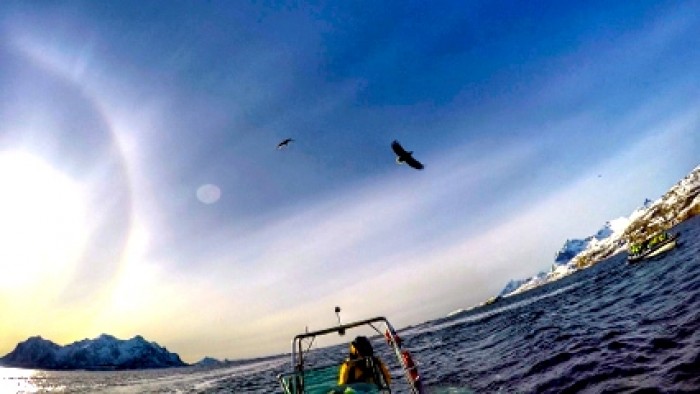 It was such an experience watching those eagles dive and swoop all around us! The captain gave us some fish to throw into the sea – it was absolutely thrilling watching the eagles swoop down from a height into the water right in front of our eyes. We all whooped in exhilaration every time an eagle dived and collected the fish – those wings, those eyes, those talons! I never thought I'd ever get to be so up close and personal with such majestic birds of prey – definitely a morning to remember.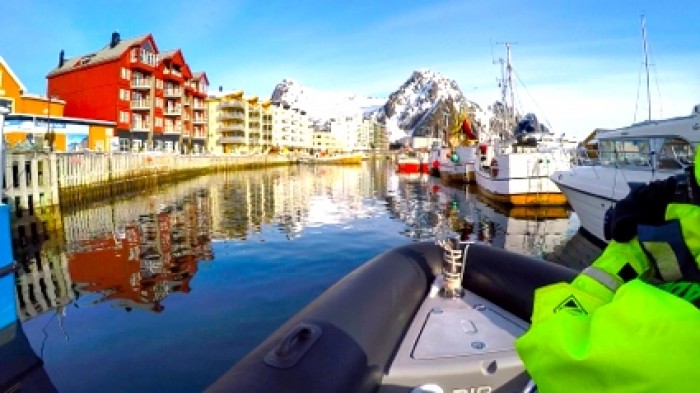 Even the scenery on the boat ride was lovely.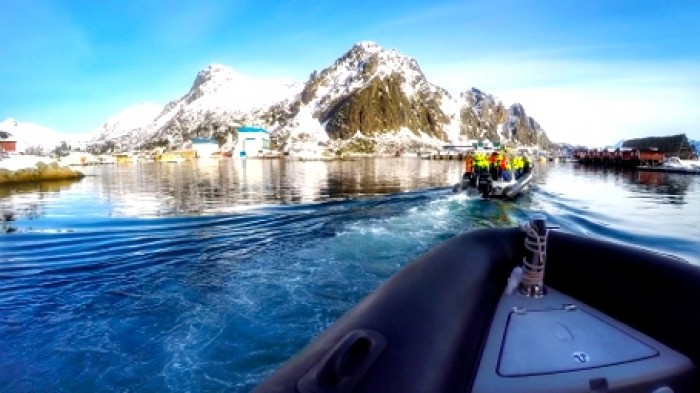 We spent the rest of the day free at leisure, and I took the chance to roam around the streets. After which, we boarded the Hurtigruten cruise ship which would be our humble abode for the next night!
Day 8
The best part about cruises is how one can go to sleep the night before, and wake up in an entirely new place the next day. We took some time to laze around on the cruise; I spent most of my time on the deck, simply taking in the peace and quiet.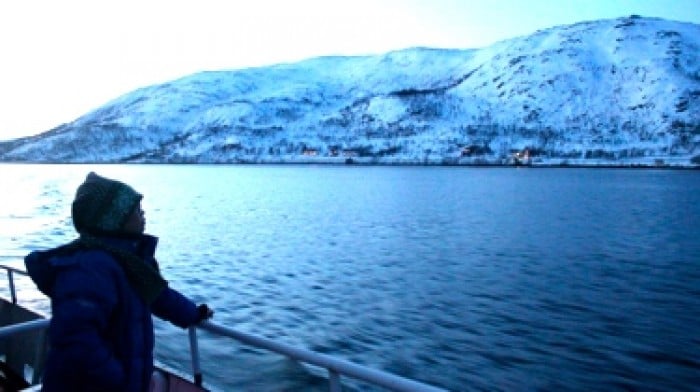 Splendid morning view from our overnight cruise.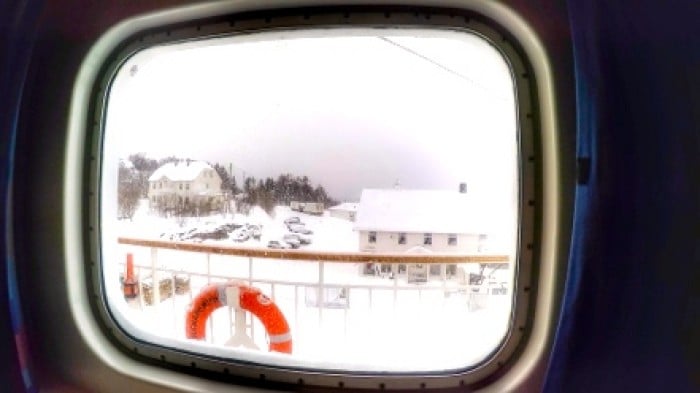 It was just white, white, white – everywhere!
The cruise arrived at Tromso in the afternoon, and we were free to do whatever we wanted for the rest of the day! I decided to explore the city more with a couple of my fellow tour-mates; it was a nice languid day of window-shopping, food sampling, and wandering along the maze of streets.
Day 9
Alas, all good things come to an end, and soon it was time for us to head back to Singapore. We hopped on a domestic flight back to Oslo,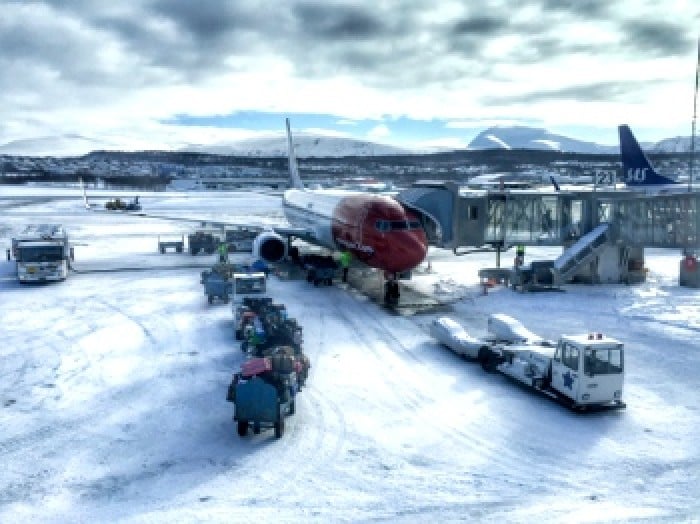 Our flight home. We didn't want to leave!
and then back to Singapore. Goodbye, Norway! You were utterly amazing, and I will definitely be back for you.
Day 10
Home sweet home! Back in Singapore, and the first thing that hit me? The humidity. Whew! Boy did I miss Norway's frosty temperatures. It was an amazing trip, but it was good to be home. P.S. Still can't believe I managed to see the Northern Lights, TWICE – score! And here's a short clip for you to feel the majestic charm of the Northern Lights:
All in all, those 10 days are a time that I will never forget. Ever! So if you're planning on combining a thrilling Northern Lights adventure with some dropdead gorgeous post-card scenery and scintillating animal action, you're in the right place.
I highly recommend this 10D7N Aurora Chasing in Norway by EU Holidays – throw all out that skepticism about guided tours, let me tell that this one is different, and it will give you the trip of your life. I'm saying this from experience! I sincerely hope that your experience will be every bit as amazing as mine – enjoy!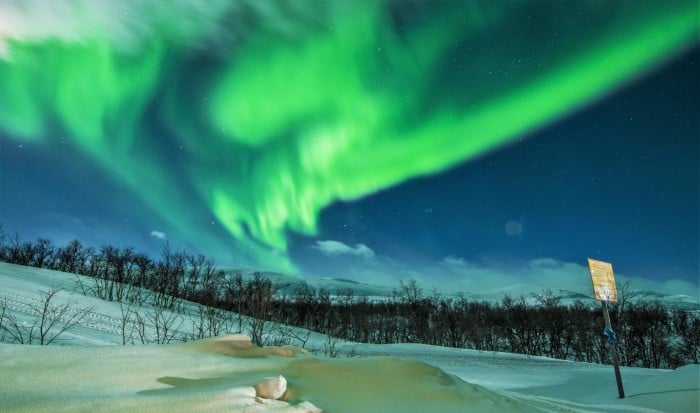 The Northern Lights are really a sight to behold and admire. No wonder why it's on everyone's bucket list. This exciting 10D7N Norway Aurora Chasing itinerary by EU Holidays allows you to go on an special Northern Lights chase in Lofoten, the home of the aurora, get up close and personal with reindeers as well as witness sea eagles hunting fish directly from air to the water!
About EU Holidays: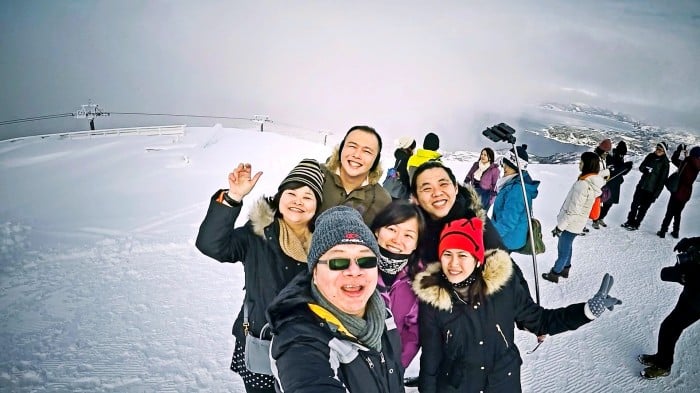 EU Holidays are the leading experts when it comes to Europe and USA travel and specialise in aurora chasing expeditions. Their tour managers are highly knowledgeable, extremely passionate about travel, and provide excellent service.To book a trip with EU Holidays, visit their website at http://www.euholidays.com.sg, call +65 6535 8535 or email [email protected]
---
Brought to you by EU Holidays.