Getting bored of the usual and oh-so-predictable Bangkok trip? Well, we've got good news for you! Located only a 2.5-hour drive away from Bangkok is the beautiful (yet relatively unknown) Khao Yai, which promises lesser crowds and a ton of things to see and do. Because Khao Yai is tucked in the mountainous area, the air is cooler than in Bangkok – which is always a plus!
If you're ready to bid goodbye to Bangkok's scorching hot weather and throngs of people, here's a 4D3N itinerary to get you started on exploring Khao Yai!
Day 1: Bangkok – Khao Yai
Palio Khao Yai
Begin your time in Khao Yai with a visit to the Italian-themed shopping village of Palio Khao Yai! With its quaint houses coloured in warm earthy tones, Palio stands out from its surroundings – making it impossible to miss. Upon entering, you'll be reeled in by the village's Italian-inspired architecture and its alluring rustic charm. Wander further inside and you might just forget that you're still in Thailand!
Take a relaxing stroll through the alleyways and you'll pass boutiques, gift shops, cafés and other dining outlets. Unlike what you can find in your usual shopping malls, most of the products sold here are handmade and not mass-produced. So, if you're searching for unique souvenirs to bring back home, you know where to get them!
Address: 146/1 Moo 4 Thanarat Road, Moo-si Sub-District, Pakchong District, Nakhon Ratchasima, Thailand 30130
Opening hours: (Sunday to Thursday) 8:30am – 9pm, (Saturday and Public Holidays) 8:30am – 10pm
Fee: –
The Chocolate Factory & Restaurant
Make a stop at the Chocolate Factory & Restaurant where you'll be able to snag some sweet treats. Get ready to be wowed by the extensive selection of premium handcrafted chocolates – so extensive that you might even find yourself in a dilemma over which ones to get! Apart from chocolate-flavoured goodies, you can also find beverages, desserts as well as Italian and Thai dishes available here.

At the Chocolate Factory, you can also participate in a chocolate workshop if you wish. Get the chance to make and taste your own chocolate which you can take home in a nice little box afterwards. Truly an experience not to be missed for chocolate lovers!
Address: 352 Moo 2 Thanarat Road, T. Musee, Pakchong District, Nakhon Ratchasima, Thailand 30130
Opening hours: 9:30am – 9:30pm daily
Fee: –
*Reservations have to made in advance for chocolate workshops.
Day 2: Khao Yai
Magic Cave Land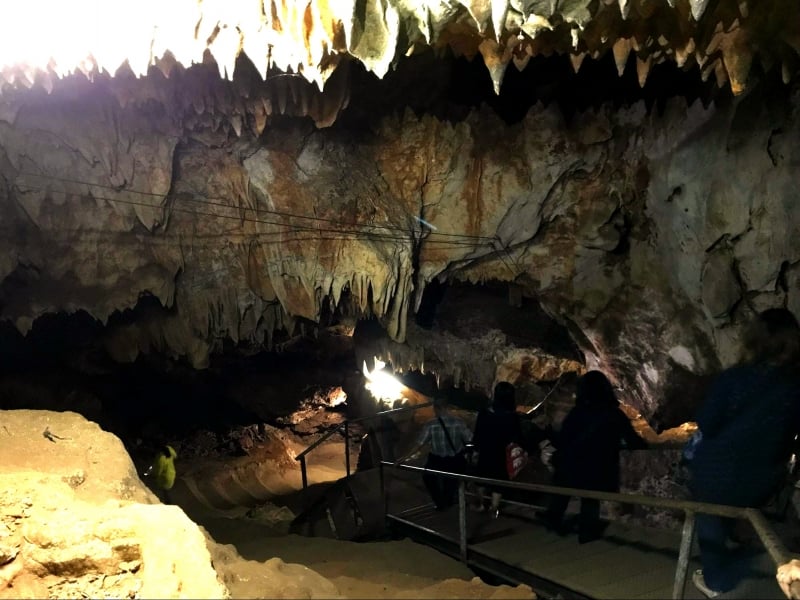 One of Khao Yai's lesser-known attractions, Magic Cave Land is usually left out of a tourist's typical itinerary. That doesn't make Magic Cave Land any less impressive than other attractions though. On the contrary, there's so much history and beauty to this place – you've got to go see it for yourself!

There are many legends surrounding the structures that formed naturally in this cave. Look up and you'll see rocks resembling the shape of fish (they have been coloured so that visitors can better visualise the image). There are even rock structures that look like glittering diamonds!
Address: Magic Cave Land, Pakchong District, Nakhon Ratchasima, Thailand (It is located opposite Chokchai Farm)
Opening hours: 8am – 7pm daily
Fee: (Entrance fee) THB 50 – THB 80 / ~S$2.05 – S$3.35 per person, (Junior guide fee) THB 30 / ~S$1.25 per group
PB Valley Khao Yai Winery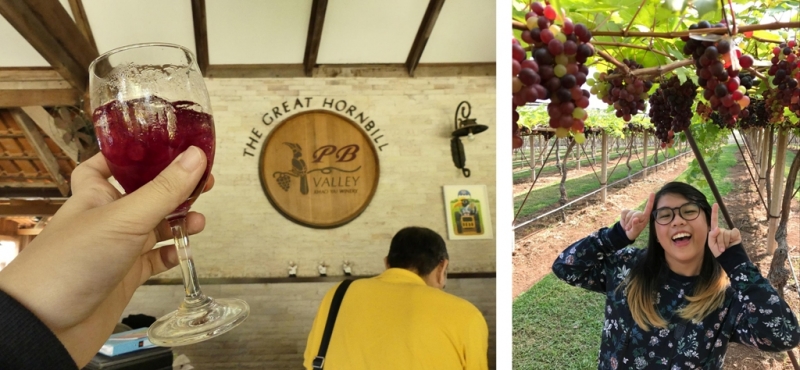 After all that walking and climbing of stairs in Magic Cave Land, it's time to reward yourself with some fine wine! Head over to PB Valley Khao Yai Winery where you'll be greeted with a welcome drink of grape juice once you set foot on the winery's grounds. Embark on the vineyard and winery tour, an award-winning guided tour that'll teach you about the grape varieties and the processes of producing the respective wines. While grape-picking is not allowed at the vineyards, we have to say that they definitely make for great photo spots!
The tour will also take you to the different rooms where the wine gets fermented and aged. At the end of the tour comes the part that everyone has been waiting for… Wine tasting! Remember all that wine that your tour guide has been talking about throughout the tour? You'll be able to try them, accompanied by a generous amount of cheese and crackers. And if you're travelling here with kids, don't worry – grape juice is also available!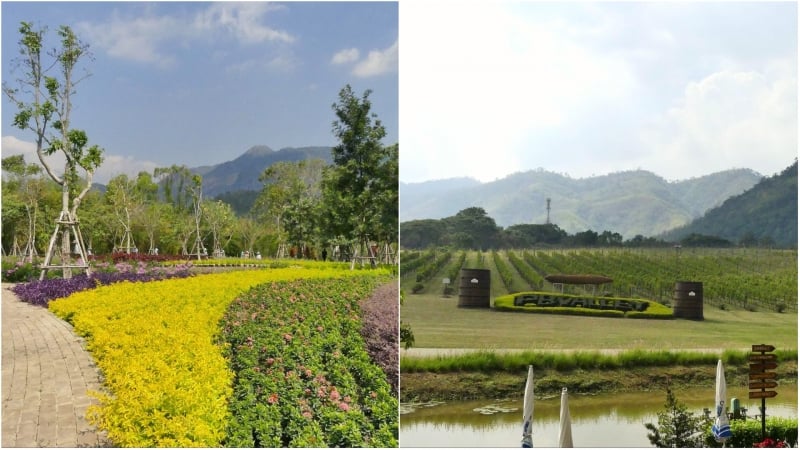 PB Valley isn't only home to wine grapes and table grapes. During the tour, you'll also be passing by its many other plantations, including the gorgeous flower fields! And once you're done with the tour, conclude your time at PB Valley by dining at its very own country-style restaurant, the Great Hornbill Grill.
Address: 102 Moo 5, Phaya Yen, Pakchong District, Nakhon Ratchasima, Thailand 30320
Opening hours: (Sunday to Thursday) 9am – 8pm, (Friday and Saturday) 9am – 10pm
Admission fee: (Vineyard and winery tour) THB 320 / ~S$13.45 for adults, THB 250 / ~S$10.50 for children aged 4 to 20 years old, children under 4 years can enter for free
The Bloom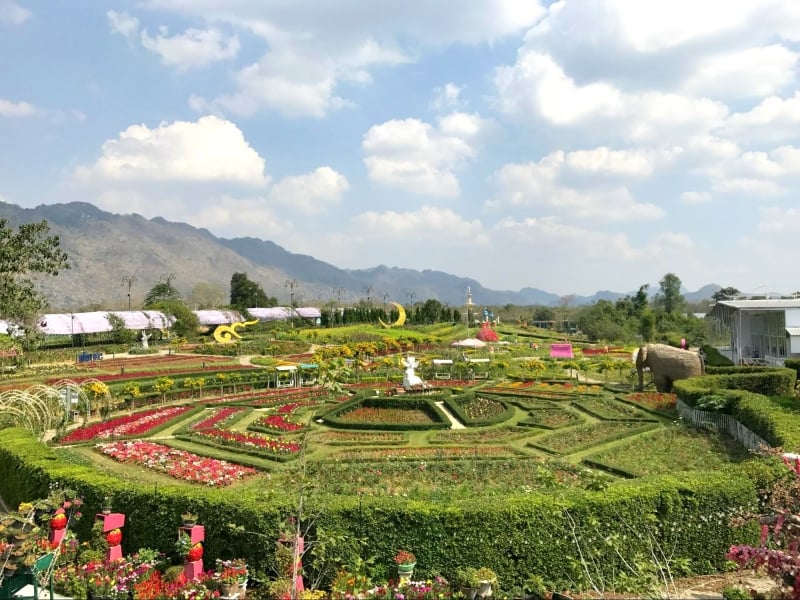 Say hello to Thailand's biggest flower garden, The Bloom! Spanning about 16 hectares in the Pakchong District, The Bloom features over 30 species of temperate flowers that are sure to take your breath away. Take it all in at the 360º viewing point that grants you an obstructed view of the garden, before heading down to take a leisurely stroll among the beautiful flowers.
Take your time as you navigate your way through the garden as there are plenty of Instagram-worthy spots for you to have as your backdrop! There are also a handful of quirky and fun exhibits – a giant Hermes bag, a huge yellow moon made completely out of flowers, and more! What's more, the assortment of flowers here are changed a few times throughout the year, so no single visit to this wonderful garden is the same. More reason to come back to Khao Yai, eh?
Address: 357 Moo 5, Baan Nonthanon, Phaya Yen, Pakchong District, Nakhon Ratchasima, Thailand 30320
Opening hours: 8am – 8pm daily
Admission fee: –
Primo Piazza

Another one of Khao Yai's charming themed villages, Primo Piazza is modelled after an ancient village with over 500 years of history in Tuscany, Italy. Take a step into the main plaza and you'll be amazed by how much it feels like you're in Italy. Coupled with the lush forest vegetation surrounding the village, Primo Piazza surely has those dreamy Italian vibes going on… And you wouldn't be disappointed!

The highlight of Primo Piazza, though, is feeding the adorable animals at the barn! The alpacas, donkeys and merinos are always hungry for food and they'll never fail to perk up at the sight of you walking towards them with your stash of fresh green grass. Prepare to snap loads of photos here because you certainly won't be able to resist these cute animals!
Address: 200/2 Moo 10, Tambon Musi. Pakchong District, Nakhon Ratchasima, Thailand 30130
Opening hours: 9am – 6pm daily
Admission fee: (Adult) THB 200 / ~S$8.40, (Child) THB 100 / ~S$4.20
Day 3: Khao Yai
Secret Art Garden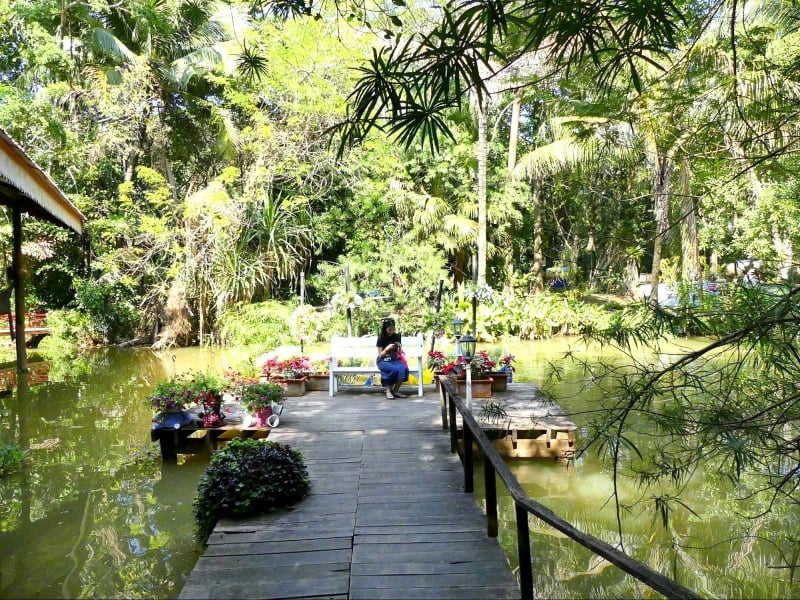 Start your third day in Khao Yai on a slower and quieter note by spending some time in the Secret Art Garden. A tranquil, undisturbed garden with lots of greenery, this is the ideal place for the perfect morning walk. Breathe in the fresh air and marvel at the lovely flora and fauna – definitely a one-of-a-kind pick-me-up before you embark on the rest of the day's activities!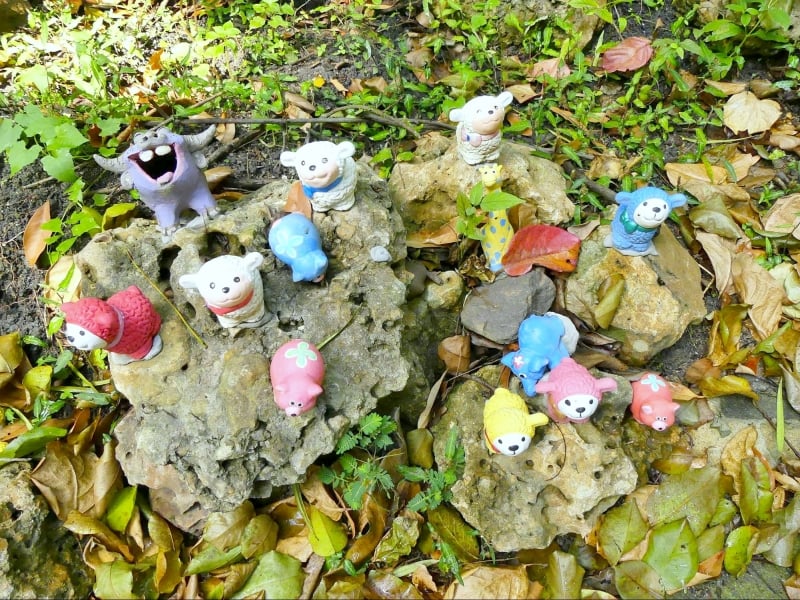 Obviously, this garden is not called the Secret Art Garden for nothing. As you traipse further into the garden, you'll discover that there are many different themed zones showcasing different sculptures and art pieces. If you find yourself losing your way, don't panic – it's all part of the experience!
Address: 99 Moo 9, Klong Dong, Pakchong District, Nakhon Ratchasima, Thailand 30320
Opening hours: Monday to Friday, 9am – 5pm (Closed on Wednesday)
Admission fee: THB 100 / ~S$4.20 per person
GranMonte Asoke Valley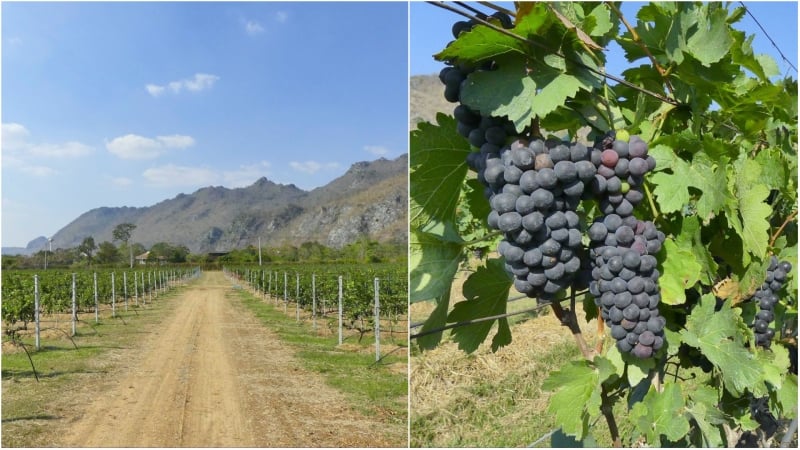 After a relaxing morning at the Secret Art Garden, make your way to GranMonte Asoke Valley, another of Khao Yai's impressive wineries. As GranMonte is a family-owned business, you will find that it covers a smaller area of land than PB Valley. But that doesn't mean it has any less to offer than PB Valley! With hospitable service, an elaborate tour of the vineyard and winery as well as the opportunity to sample exquisite wine, we promise that your time here will be nothing short of incredible.
Sit back and relax in GranMonte's tour trailer as it takes you through the vineyards and winery, stopping along the way for you to grab some photos. (A selfie with the plump-looking grapes, anyone?) Your friendly guide will be explaining to you in detail about the various products available and the processes of wine-making. To wrap up the tour, there'll be a wine tasting session featuring four of GranMonte's award-winning wines. Ready to make a toast?
Address: 52 Moo 9 Phaya Yen, Pakchong District, Nakhon Ratchasima, Thailand 30320
Opening hours: 8am – 8pm daily
Admission fee: (Vineyard and winery tour) THB 320 / ~S$13.45 for adults, THB 240 / ~S$10.10 for children aged between 5 to 20 years old, children under 5 years can enter for free
*There is a fixed schedule for tour timings.
Farm Chokchai
Your next stop of the day: Farm Chokchai! A famous tourist attraction, Farm Chokchai is one place that you MUST have in your Khao Yai itinerary. Join the Farm Tour which covers several stations that will allow you to see the different functions of this (very big) farm.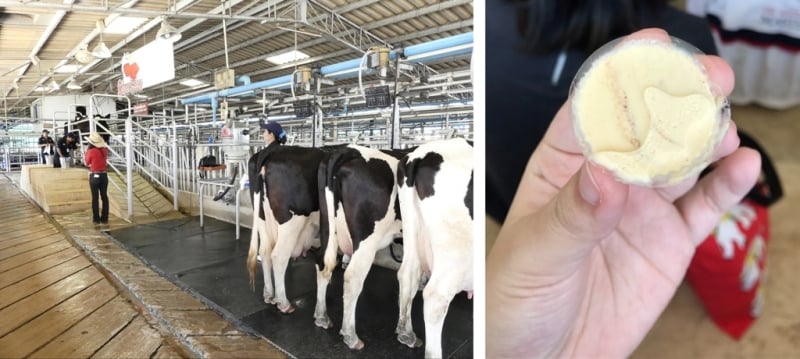 For those of you who've always wanted to try milking a cow by hand, you can have a go at it here! Make sure you volunteer yourself quickly though, as there are limited spots for volunteers on every tour. You'll also get the chance to try the newest ice-cream flavour, tiramisu flavour, from Farm Chokchai's house brand Umm!.. Milk – exclusive for Farm Tour participants only!

At the end of the Farm Tour awaits an exciting cowboy show where cowboys donning super cool cowboy attires will show off their tricks that are bound to wow the audience. If you haven't gotten enough of the animals yet, just head over to the entrance area and you'll be able to find these cute little cows (and other animals) that are waiting to be fed!
Address: 169 Moo 2, Mitraphap Road, Nong Nam Daeng, Pakchong District, Nakhon Ratchasima, Thailand 30130
Opening hours: 10am – 7:30pm daily
Admission fee: (Farm Tour) THB 300 / ~S$12.60 for adults, THB 150 / ~S$6.30 for children between 90cm to 140cm
*There is a fixed schedule for Farm Tours. It is highly recommended that you book your spot before making your way there.
Midwinter Green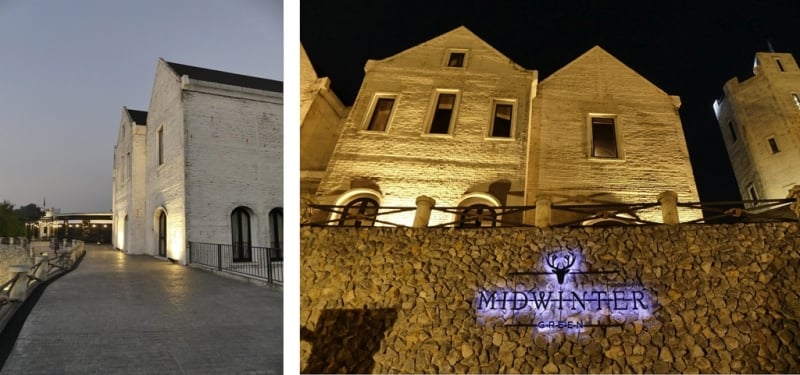 With its castle-like architecture exuding a modern European atmosphere, it's no wonder why Midwinter Green is an extremely popular photo spot for locals and tourists alike. Just walking around the area alone will make you feel as if you've been transported to some whimsical fairytale land.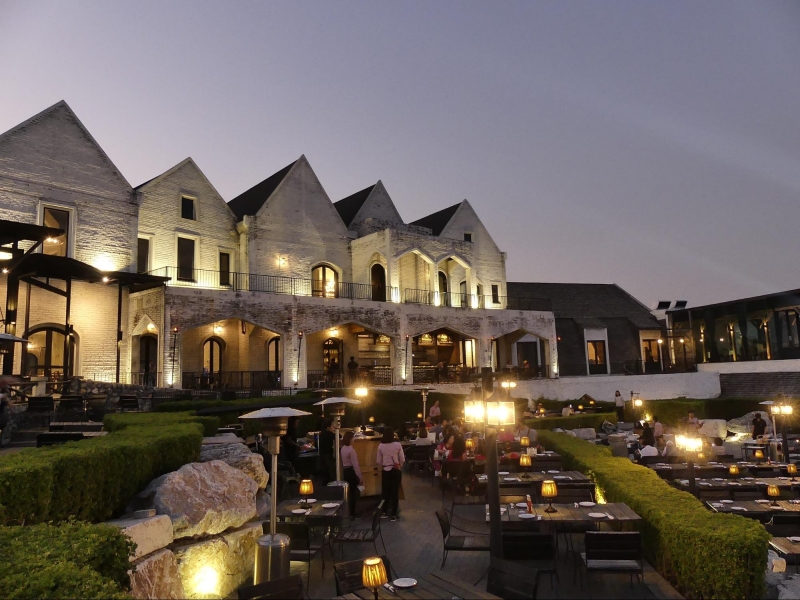 But looking pretty is not all that Midwinter Green is good at. It's actually a family-friendly restaurant serving up both international and Thai cuisine. Midwinter Green prides itself on offering scrumptious farm-to-table dishes that use produce grown in their very own backyard.
So, it's time to take a seat, have a romantic dinner and wind down for the night.
Psst… There's also a bakery selling pastries that are freshly-made in their kitchen daily if you want to take a bit of Midwinter Green back to your accommodation with you!
Address: 88/88 Moo 10, Thanarat Rd., Nong Nam Daeng, Pakchong District, Nakhon Ratchasima, Thailand 30130
Opening hours: (Sunday to Thursday) 10am – 10pm, (Friday and Saturday) 10am – 11pm
Admission fee: –
Day 4: Khao Yai – Bangkok
Suwan Farm
Suwan Farm is another must-visit during your time in Khao Yai. With an assortment of corn products for sale, a visit here will surely make any corn lover rejoice. And while you go about grabbing all of the corn products that catch your eye, make sure you don't leave without trying their special corn milk, and of course, the standard corn on the cob!
If you're not in a rush, you can drop by the corn farm located right behind the shop. There's also a farm tour you can go on if you're interested. But if you're short on time, not to worry! You can take a short walk through the farm and snap a few pictures while you're at it. Don't forget to take a picture with the iconic giant corn on the cob, too!
Address: 298 Moo 1, Mittraphap Road, Klang Dong, Pakchong District, Thailand
Opening hours: 9am – 5:30pm daily
Admission fee: –
*It is recommended that you visit early as products sell out quickly.
Khao Yai Panorama Farm
The final stop of your Khao Yai itinerary is the Khao Yai Panorama Farm. At this mushroom farm, there are over 10 species of mushrooms that have been specially incubated in various rooms by experts. Upon your arrival, a welcome drink comprising a unique blend of seven different mushrooms (yes, seven!) awaits you.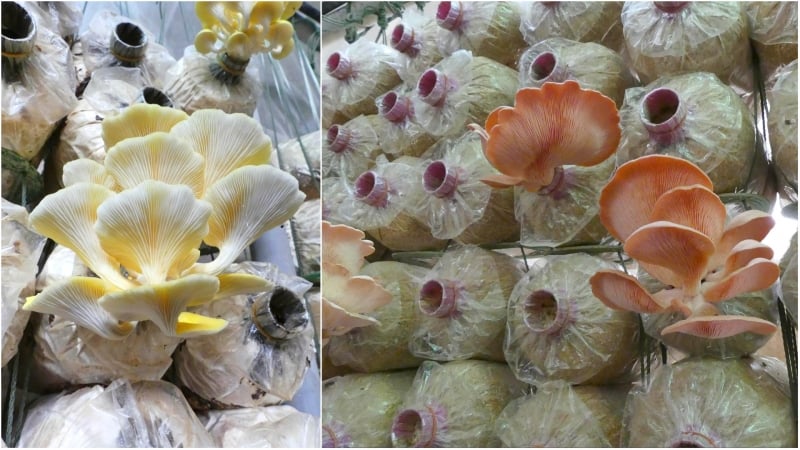 All visitors are welcome to take a tour of the farm with a passionate guide that will tell you all about what goes on in the farm. You'll learn about the different types of mushrooms being cultivated here, along with their respective functions. There's also a mushroom supermarket where you can purchase all kinds of mushroom-related products – from Lingzhi spore to mushroom snacks and many more!
Address: 297 Moo 6, Nong Nam Daeng, Pakchong District, Nakhon Ratchasima, Thailand 30130
Opening hours: (Monday to Friday) 8am – 5pm, (Saturday, Sunday and Public Holidays) 8am – 6pm
Admission fee: –
As we've mentioned earlier, Khao Yai is about a 2.5-hour drive away from Bangkok. And while there are various ways to get to this relatively undiscovered part of Thailand, we highly recommend you to rent a car or hire a driver. Because the public transportation system in Khao Yai is not that developed yet, you might find it difficult to get around while you're there – which is why we feel that it's best if you have your own vehicle.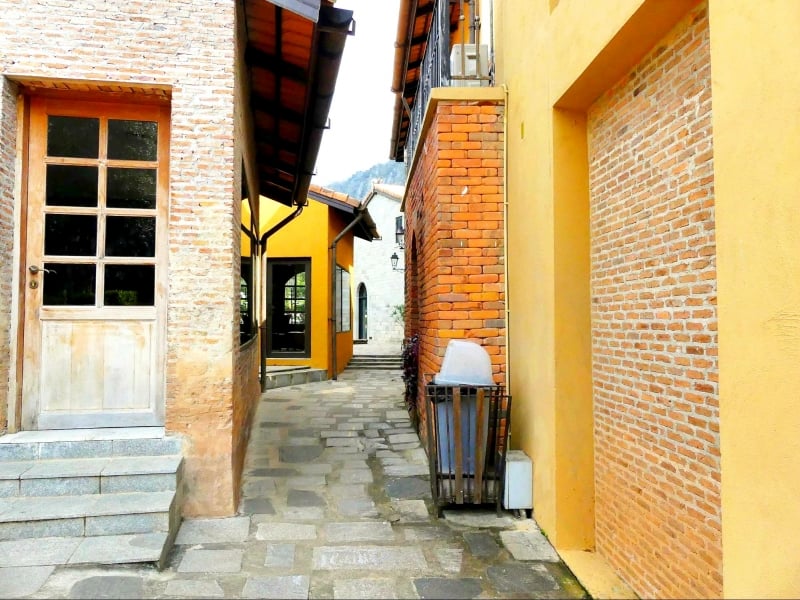 Now that you're equipped with this 4D3N itinerary, you're all set for your very own Khao Yai adventure. We know that this itinerary doesn't cover everything that the beautiful Khao Yai has to offer, but that's the point – so you can come back and explore the rest! In the meantime, it's time to start the planning for your first Khao Yai trip. Are you ready to have fun?
Special thanks to Tourism Authority of Thailand – Singapore Branch Office for making it possible for us to discover the beauty of Khao Yai!