Pack your bags, leave all the stresses behind, and take a road trip to Baler! In about a five-hour drive from Metro Manila, you'll find a laid-back town that's most famous for its beaches with powdery sands and huge waves endlessly rolling side by side. It's the dream place for every surfer who wants to take on the challenge of barrelling waves that'll rival that of Siargao (aka the Philippines' surfing capital).
It's no surprise that our tourist attractions get busier every year. As a Baler local, I can't say enough about how beautiful my hometown is. Groups of families, friends, and even solo-travelling surfers frequent our town for a quick getaway from the Metro.
That said, if you think surfing is the only thing you can do in the provincial capital of Aurora, think again! This article is a comprehensive travel guide that'll take you through every Baler tourist spot; from must-visit sites to nearby town side trips, as well as every detail you'll need in between.
Also read: 17 Things Foreigners Should Not Do in the Philippines
How to get to Baler from Manila
Manila to Baler by car
If you're driving from Manila to Baler, expect five to six hours of driving. You'll be going through the long and winding roads of the Sierra Madre mountain range. So,  it would be safest to put the most experienced driver behind the wheels. 
On your way to Baler, you have two major route options, which we'll discuss below.
SCTEX–CLLEX-bound route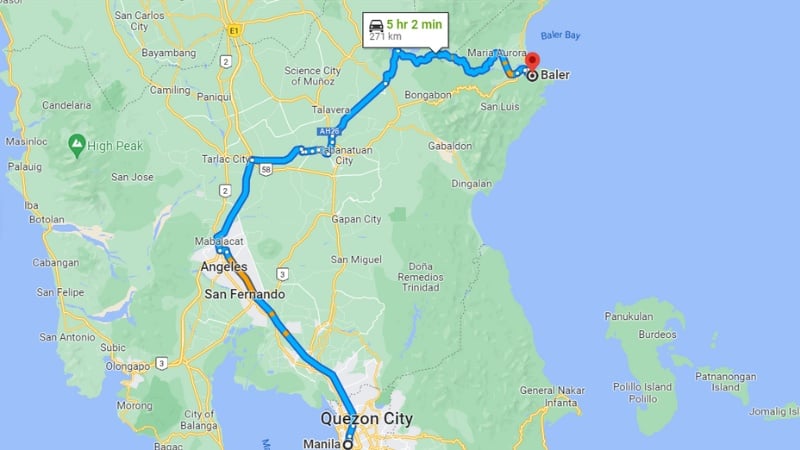 If you'd like to take the common route taken by travellers and most commercial buses, use the Subic–Clark–Tarlac Expressway (SCTEX). This is usually the fastest route to Baler since you'll be driving at around 100km per hour on the north's major highway. 
With the recent addition of the Central Luzon Link Expressway (CLLEX), trips to Baler are now faster than ever! Just prepare for a hefty toll fee of about ₱460, depending on your entry point. Check the updated toll fees here. 
Bulacan-bound route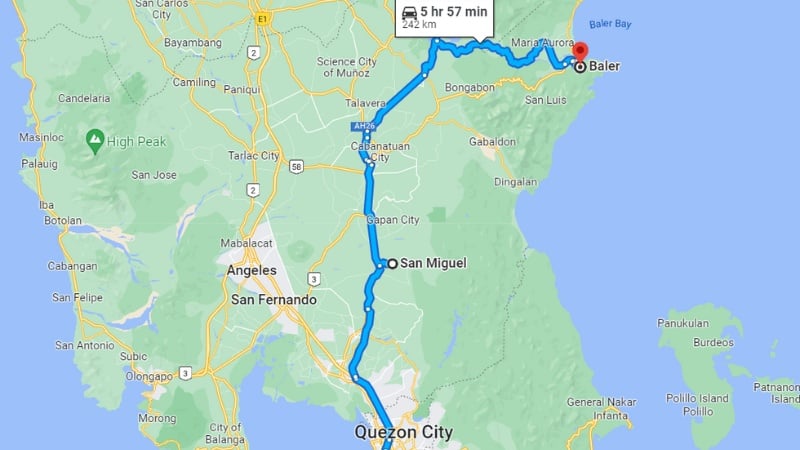 To lessen the travel distance by about 40km, take the national highway through some towns in Bulacan and Nueva Ecija. Be warned, however, that you'll also have to navigate through some traffic in the area (usually in the morning and afternoon), or overtake a lot of 16-wheeler delivery trucks at night until dawn. 
Manila to Baler by bus
At the moment, only Genesis Transport Service Inc. operates a point-to-point bus from Manila to Baler. The company runs two bus lines: the regular Genesis bus and their executive coach JoyBus. The buses take the same route, but the latter offers faster travel time with no stopover (snacks and water are provided, and there's a lavatory inside). . They only update their JoyBus schedules which you can find here.
Genesis terminal address: 704 EDSA corner New York Street, Cubao, Quezon City, Metro Manila
In case you miss your schedule and you don't want to wait for another day, you can take buses en route to Cabanatuan City. Disembark at Cabanatuan City Central Transport Terminal. There, you can find vans and buses going to Aurora Province. Take note that not all buses and vans at that terminal are going to reach Baler. Some stop at Maria Aurora, the town right before Baler. If Maria Aurora-bounds buses are the soonest available ones during your trip, don't worry! You can still drop off at that town and take a tricycle to Baler.
Top things to do in Baler
Every Baler tourist spot you have to check out, especially if it's your first time!
1. Brave the waves at Sabang Beach
Of course, the highlight of this surf town is its waters. Surfers flock Baler just to feel the wind above their boards as they rock the waves' ebb and flow. To find the most popular Baler Aurora beach, head over to the neighbourhood of Sabang. 
The soft, polvoron-like sands of  Sabang Beach make it an ideal and safe Baler surfing spot. If you'd like to learn how to surf, there are many instructors waiting by the bay. These are honest, trustworthy locals who won't fraudulently ask you for too much. That said, there are also areas along the two-kilometre shoreline with calmer waves perfect for dipping on more tranquil waters. If you ever find yourself hungry for some chow, there are also lots of restaurants along the beach area.
Also read: Surfing at Sabang Beach in Baler, Aurora
2. Bum on a private beach at Dicasalarin Cove
To the surprise of some, the bombarding waves of the Pacific Ocean don't appear on every Baler Aurora beach. So, if you fancy some beach bumming on white sands with pristine waters, make a beeline for Dicasalarin Cove. Since it's a cove, the strong waves are blocked off by the craggy mountain lining, allowing you to enjoy a breezy afternoon by the beach. 
It's not that far off the town proper, but you'd have to go across some extremely steep slopes and sharp curves on a mountain before you get there. Don't fret, 'cause the spectacular views on the mountain road are also well part of the trip. Also, when you get to Dicasalarin Cove, you'll see a lighthouse nearby. If you're up to the challenge, you can walk up to the top!
3. Discover the rock formations at Diguisit and Aniao islet
Aside from being a great Baler surfing spot, Diguisit Beach is most famous for its crystal clear waters and unique shapes of rocks. Aniao, the most famous rock formation in the area, is actually two small islands naturally moulded by the hammering waves of the Pacific. When the tide is low, you can head over to the rock formations and take some Insta-worthy snaps. 
4. Take a breather at an overlooking park on Ermita Hill
Don't forget to pack your picnic hampers when going to Baler! On Ermita Hill, you can grab a quick bite at several overlooking decks that offer a panoramic view of Baler Bay. There are also pavilions surrounding the area for a quiet afternoon rest. Keep in mind that there are no restaurants there, so you'll have to bring your own food. 
While you're at it, take the time to read its history posted on a small billboard. To give you a brief background, Ermita Hill's historical significance dates back to 1735, when a gigantic tidal wave obliterated the whole town of Baler. Only a few families were able to survive by seeking shelter and refuge on this very hill.
5. Reach the top of Baler Lighthouse
If you're looking for a Baler tourist spot that has the best views, you won't find it elsewhere than at the top of Baler Lighthouse. It's an abandoned lighthouse-turned-tourist attraction because of its stunning coastal views.. The trek to reach the lighthouse could prove to be a challenge, and we discourage you from going there during the rainy season — when the paths could get dangerously slippery.
6. Cross the Baler Hanging Bridge
Prepare your mobile cameras and DSLRs for this one, folks! The Baler Hanging Bridge is a picturesque landmark that connects the barangays (neighbourhoods) of Tibang and Sabang. It's been serving the locals for decades and has played a crucial role in their daily errands. 
As you go across the bridge, gawk at the vast mountainscapes and tranquil estuary in the distance. This hanging bridge has become a very popular Baler tourist spot that some souvenirs stores have set up shop at both ends of the bridge. 
7. Learn all about Baler's history in a tour around town
At the centre of Baler, you can find three landmarks that keep the town's history alive. First, you have Museo de Baler. It's a two-story building that stands at Quezon Park, with an extensive artwork embossed on its bricked exterior. Inside the museum, you can find exhibits and artefacts dating back from the early 1600s to recent contemporary history. 
Learn about the Siege of Baler at this museum, too! Afterwards, head to the next Baler tourist spot…
The San Luis Obispo de Tolosa Parish, also known as Baler Church, was first built in 1611. A tidal wave that hit Baler in 1735 destroyed it, but fortunately, locals reconstructed it immediately after. The church made its mark in history when the Spanish forces used it as a garrison during the Spanish Colonial Era. 
For the final stop of your historical tour, head over to the replica of Doña Aurora Aragon-Quezon's ancestral house, just in front of the Baler Church. Doña Aurora is known for her heroic acts in fighting for women's right to vote. She also served as the first chairperson of the Philippine Red Cross. Because of her remarkable contributions to Philippine society, the province of Aurora was named after her. 
Other noteworthy activities in nearby towns
Make the most out of your road trip! If you plan to visit every Baler tourist spot, consider taking a side trip to these beautiful spots in Baler's neighbouring towns.
8. Travel back through time inside the Balete Millenium Tree
In a nearby town called Maria Aurora, you'll find an enormous tree living for over 600 years now. Standing at approximately 200 feet, the Balete Millenium Tree is so massive that you can take a walk inside! Many locals believe that this Balete tree has been home to many mythical creatures from Philippine folklore. 
Also read: Manila's Animated Version in 'Trese' Is Too Good and These Scenes Prove It
9. Plunge into the cold streams of Ditumabo Mother Falls
Aside from having multiple surfing spots, Aurora is also home to many waterfalls in its forests. One, in particular, is dubbed by the locals as The Mother Falls, as it is about 140 feet tall. A waterfall that high makes the water come down at blazing speeds. The Mother Falls is in Ditumabo, San Luis, which is a neighbouring town at about a 20-minute away of drive from Baler. 
To get there, you'd have to trek through rocky paths and small streams between a lush rainforest. It's a challenging trip, but undoubtedly fun and worthwhile! 
10. Wander on a road trip towards the north
You can take on the roads headed further north, if you have the time. With no particular destination in mind, simply buckle up your seatbelts and let the road decide where you'll go. On the way, you can find several picturesque destinations and many other interesting spots. 
Consider taking a few moments to bask on the exquisite Ampere Beach. It's a boulder beach with huge rocks and some rock formations. However, the waves are very strong here, so swimming is prohibited. 
Where to dine like a true hungry surfer
There are so many things to do in Baler that you'll surely empty your stomach at some point. Two things you must learn when going to Baler: where to go, and where to eat. Fortunately, this surf town is crawling with food hubs and local restaurants worthy of a gastronomic adventure. 
Kusina Luntian usually tops the list of every food lineup in Baler. They offer delectable grilled food served on Banana leaves. You won't need spoons and forks here as you'll eat with your bare hands, like a true Filipino! If you get here, consider ordering their famous pako (fiddlehead fern) salad. 
In case you fancy some steak, consider dining at The Secret Spot. There, you'll find the Kingfisher and their roast beef and tomahawk steak. The Secret Spot is a food compound that also houses other restaurants such as Happy Huts Pizza, Mithi The Sundry & Atelier, and Yo Mama! Baler.
Dogtown Collective is another spot to try when you're at Baler. This quaint food park is home to several hippie stalls such as Halle's Kitchen, Gagay's, and Kai Smoothies. It's the go-to place for people who aren't sure what they want to eat — yet!
Best places to stay in Baler
If you ask the locals what Baler looked like a decade ago, most will probably answer that it was a lot different than how it is today. With many a Baler tourist spot booming in the past years, many transient houses and hotels sprouted out of necessity. There's a lot to choose from, but we can help you pick from some of the best Baler Aurora hotels!
Costa Pacifica is your best choice if you're looking for a place to stay where you can be near to the town proper and have quick access to Sabang Beach in Baler. It's the largest hotel in the province, and it offers complete amenities of two swimming pools by the beach, a buffet restaurant, and even van transfers from and to Dicasalarin cove. 
Close to Costa Pacifica is another premier hotel in Baler, Nalu Surf Camp. Book here, and you'll find yourself relaxing in private villas in front of the beach. They also have in-house surfing instructors that can help you learn the basics of surfing, right in front of the hotel!
Outside of these two Baler Aurora hotels, there are many more with beach-front views of the Sabang shore. For instance, Playa Azul and Aliya Surf Camp are also worth noting.
If you want to steer clear of the crowd, L'Sirene Boutique Resort is your best bet. Located in the coastal area of Brgy. Reserva, this hotel owned by a popular Filipina celebrity will surely give you one of the most tranquil weekend getaways of your life. You'd also basically have your own private beach in front since there are no nearby hotels on the side.
Also read: Baler Travel Requirements for Domestic Tourists
That'll do it for your complete Baler travel guide! Are you planning to cover all the things to do in every Baler tourist spot, or do you simply want to relax and take a staycation in the hotels we mentioned? Regardless, don't forget to try at least one of the restaurants that we recommend!
---
Featured image credit: Choy Pictures | Flickr