We often gush over our love to travel. But what does "travelling" really mean to us? For many, myself included, travelling is a chance to live and feel alive. We are always so preoccupied with work that we coop ourselves in our cramp cubicles buried in piles of assignments. Travelling then becomes that outlet for us to relax and unwind, that short sojourn to escape from the overflowing stress. In that case, aren't we all really just travelling to keep ourselves sane?
But Mr. Wong Wee Kack is a rare wanderluster who doesn't just travel to feel alive. Instead, he lives to travel. For this curious Malaysian explorer, work merely fuels his passion for travel. Having saved enough money, twice he tended his resignation to embark on long-term trips across the world.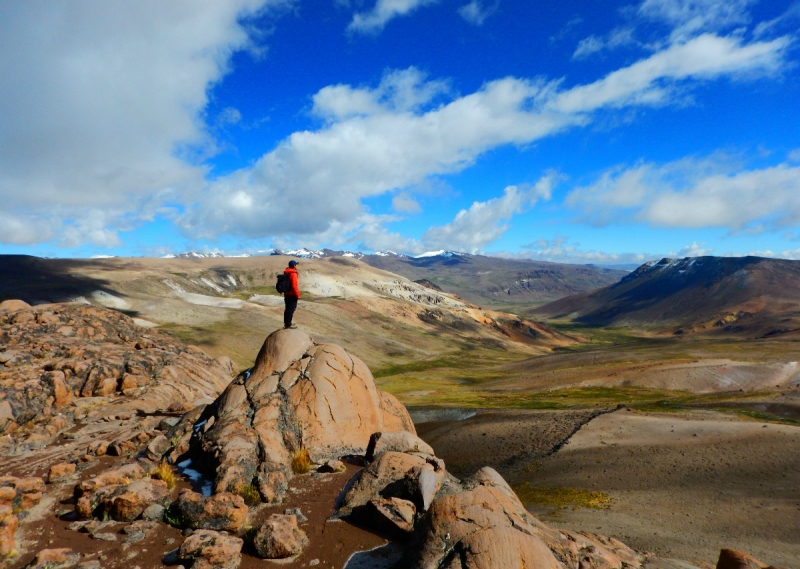 He has ventured to a staggering 85 countries across two separate trips that lasted 3.5 years. The first (2007 to 2009) spanned 50 countries across Europe, Oceania and Africa. The second took 1.5 years (mid-2014 to 2015) and covered 35 countries trekking through South America, the Silk Road and the remaining continents. Few have attempted travelling for such long periods before and even fewer have brought home so many exotic travel tales. From pinpointing the source of the Amazon River and scaling unrenovated ruins along the Great Wall, to joining an expedition to the Antarctic and knocking by Turkmenistan's Gates of Hell, his story is one to envy.
Wee Kack stands out amongst fellow extreme travellers with his acute practicality and sensibility. He maintains that one can still travel in safety and relative comfort and yet not blow a huge budget. Given how he's managed to trod all these faraway paths without taking to extreme budget travelling methods, which may put off other travellers as well, we sat down to find out more about his story and how he managed to do it.
Part 1: Across 50 Countries in 2 Years (2007 to 2009)
In 2007, Wee Kack embarked on his first ambitious journey from London back to his native Malaysia, all via a series of trains. He recounts the famous Trans-Siberian Railway to hold his fondest memories. Travelling from Moscow, through the width of the Russian hinterland, along the breathtaking Lake Baikal and making pit stops in Mongolia's Ulaanbaatar capital, he eventually reached Beijing before continuing southward through the Indochinese peninsula. It took him a year, traversing across 38 countries in Europe and seven in Asia, until he finally returned to Kuala Lumpur.
With time and excess funds on his hands, Wee Kack decided to extend his travels, road tripping through Australia's familiar landscape and renting a campervan across the entire South Island of New Zealand before switching continents to the rolling plains of wild South Africa, Tanzania and Kenya.
On how to best experience the Trans-Siberian Railway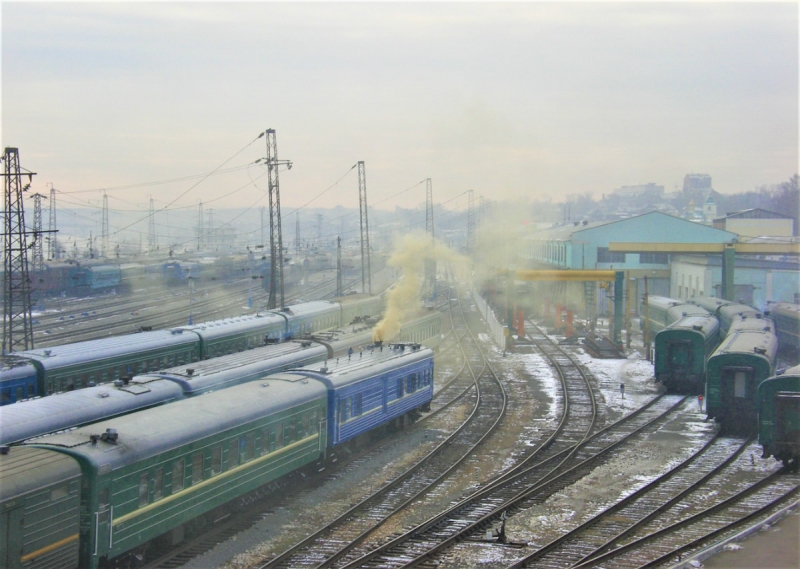 The Trans-Siberian Railway is the iconic network of locomotives stretching through the Russian Far East to Mongolia, China and North Korea. Given its illustrious history, it often appears on many travellers' bucket lists. But it is also the longest railway in the world and trips can last an entire week aboard.   
Though the dreamy landscape does captivate at the start, you'd often end up bored with the same view after a few hours. Wee Kack recounts that the best way to experience the Trans-Siberian was through booking a ticket in the lower class cabins. Though one may forgo some of those first or second class passenger privileges, the third class (lowest tier) provides the unique opportunity to escape one's comfort zone by mingling with local commuters and immersing in  their authentic culture.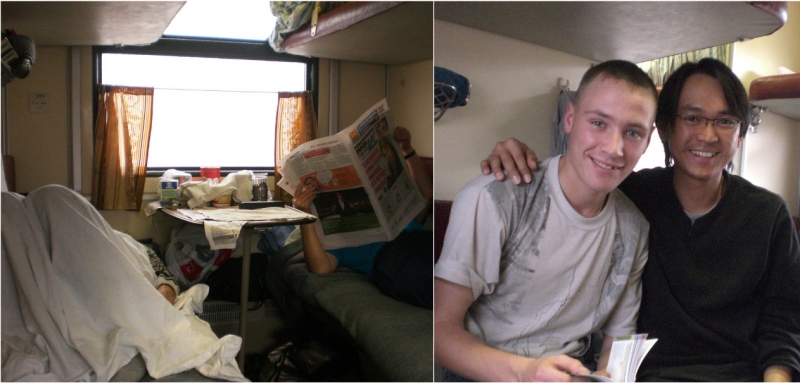 Left: The view from Wee Kack's shared cabin; Right: new acquaintances and chance encounters with locals on board.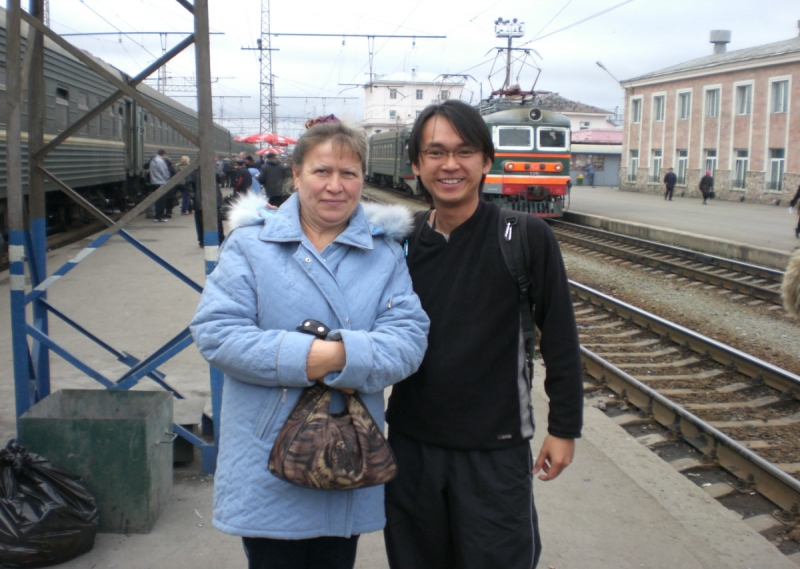 Wee Kack at one of his many pit stops along the way.
Wee Kack also gives mention to all the stations that the Trans-Siberian stops at along the way. With each stop lasting between 20 minutes to half an hour, he recommends getting off for fresh air and to peruse through the nearby stalls.
On how he managed to save money for his first big trip
The 37-year-old, who previously worked in the IT industry before 2007, credits his careful backroom planning and calculation of expenses for the successful trip. He would first decide on his rough daily expenditure based on research online. This takes into account factors such as the cost of accommodation and food, which may vary between different regions. He then extrapolates it to his length of stay there before deciphering just how much damage it would do.
The focused planner would then set about saving up that particular amount. All in all, his first trip cost an estimated RM 80,000, which he took around 5 years to save for. Meanwhile, he avoided spending lavishly on unnecessary things. Wee Kack posits that "if you yearn for long-term travel, but lack the required funds, don't worry or rashly continue with your plans. Instead, work hard and travel only after having saved the money." Wise words from someone whose thrifty saving habits actually afforded him extra funds to extend his trip for an entire year!
On planning for his European trip
For those exploring the possibility of a long Europe-wide trip, Wee Kack's advice would be to take it slow. Every pocket in Europe is chock full of travel opportunities, which can make planning an itinerary that fits everything a pretty mind-boggling task. Though he concedes that world-famous landmarks can't be missed, he remarks how one doesn't have to cover every small detail that travel magazines endorse. Instead, he would rather plan which major cities to visit and casually proceed with the flow thereafter. Fussing over a strict itinerary may devalue the experience. On the contrary, he argues that planning the logistics should be held in the highest regard. Transportation between cities, which hostels to lodge in, directions to those accommodations, the accessibility of hostels to nearby amenities should be marked out more prominently rather than sightseeing attractions.
On how to travel safely through Europe and Africa
Wee Kack's explains how the best way to avoid encountering conniving pickpockets or being attacked by thieves is to behave and dress like the locals. One crucial advice is to keep cameras out of sight. He points out that travel cameras or bulky DSLRs are sure-signs that one is a tourist and may attract unwanted attention. Rather than brazenly dangling your costly cameras in plain sight, he advises to keep them in bags and only take them out at the attractions for a discreet snap.
Besides this, even seasoned explorers like Wee Kack religiously believes that "common sense tells us not to wander around after dark especially when alone and to keep off secluded alleyways."
Part 2: Across 35 Countries in 1.5 Years (mid-2014 to 2015)
Driven by his insatiable wanderlust, Wee Kack set about to cover the remaining continents and places that he had yet to visit.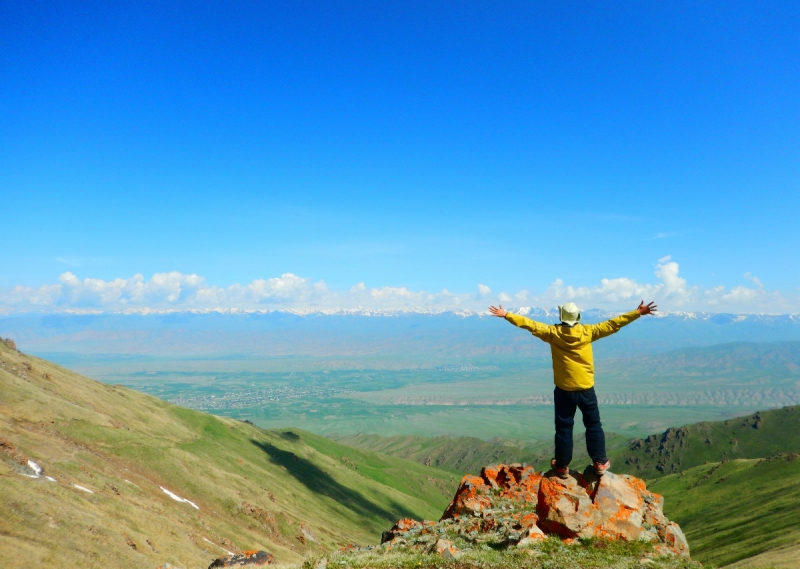 Feeling like the king of the world in Kyrgyzstan along the Silk Road.
Wee Kack went on to cover 20 different treks around the world, with most situated in South America. He scaled the indomitable Torres del Paine in Chile, Venezuela's Roraima and even endured an arduous climb up the dizzying altitudes of Nevado Mismi in the Andes, origin of the Amazon River. Following a 10-day cruise through the Amazon's inlets all the way out to the Pacific Ocean, he then left port and sailed to the frosty netherworld of the Antarctic. After that, Wee Kack retraced the dusty Silk Road from Turkey to China, ticking off remote countries like Georgia, Tajikistan and Kyrgyzstan along the way. If these weren't crazy enough, he also scaled several obscure unrenovated parts of the Great Wall of China, even camping overnight there.
On how to pack for a trip through South America
While South America's lush emporiums are an alluring prospect, packing for a long-haul trip there can get tricky. Unlike Europe, where the entire continent is in the same hemisphere and goes through the same seasons, South America is less straight-forward.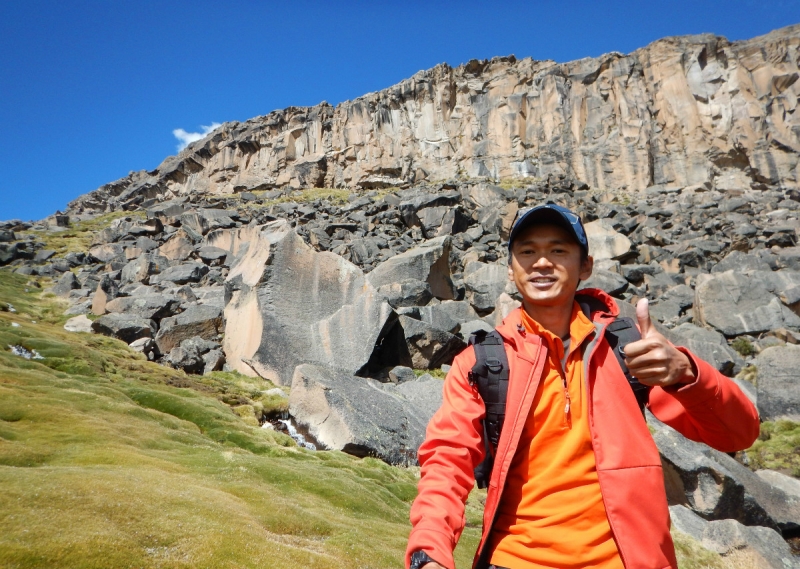 With it split between both hemispheres, different countries go through contrasting seasons. Resultantly, some outdoor activities may not be conducive in certain climates and packing the same outfits for the whole trip could be a grave error. Instead, Wee Kack advises to pack and plan your itinerary to coincide with all the different seasons. This way, rain or shine, travellers will not be disappointed.
He also warns that amateur hiking enthusiasts should pack a seasoned pair of shoes with a good grip instead of using newly purchased ones. Many paths sport tough terrains so newly minted boots will result in painful blisters.
On the dangers we are susceptible to in South America
South America is comparatively more dangerous than Europe because it is home to several more ingenious high-tech scam tactics. Cloning of ATM cards is widespread, with the issue being most rampant in Brazil. Another is the local money changers cheating you with counterfeit currency. Wee Kack fell prey to the card cloning in Brazil and Honduras and once received US$100 worth of fake notes. He also knows of a fellow traveller who was extorted off her money and valuables by thieves masquerading as the police in Bolivia and now advises travellers to change money even before they enter the continent and avoid using credit cards.
Wee Kack recommends reading up on the potential dangers most rampant in the particular country beforehand. He relied on travel guides to familiarise himself with the scams and attributes this to a relatively safe trip in South America bar the previously mentioned issues, which he considers more minor.
On training to endure the tough climbs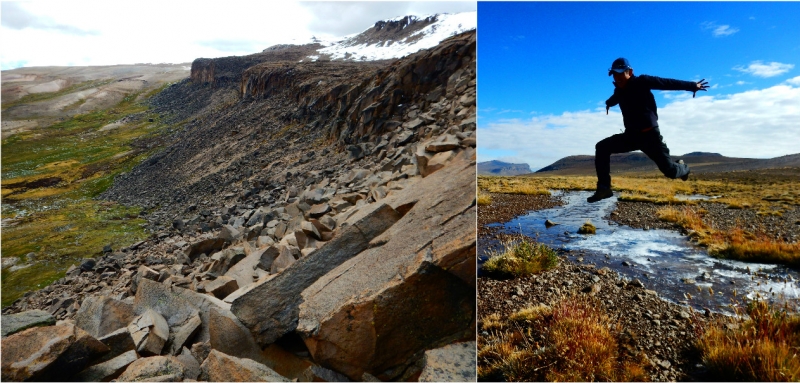 The rocky edges of Mt Mismi, the source of the Amazon River.
Hikers should commit to conducting sufficient self-training to condition themselves prior to the climbs. Wee Kack stresses that this is a crucial step in the pre-trip preparation, where rigorous stair climbs and long walks are good ways to acclimatise. "To be even more ready, one can even simulate their load during the climbs by carrying along heavy backpacks when they train", he suggests.
One must also plan which routes to scale with sensibility. Treks can range anytime from as short as two days and last up to a week. When it comes to attempting steeper mountains, inexperienced climbers may succumb to altitude sickness if they rush through treks in a shorter time, which is exactly what one trekking partner suffered when making her way up Mismi.
On trekking safely through the various routes
According to Wee Kack, we should never ever undertake a solo trek. Regardless of how seemingly straightforward or short, climbs always have the element of danger. Some countries make it compulsory for local guides to accompany you. But in the national parks that do not require this, having a partner is crucial to avoid trouble given how you may often not encounter other fellow hikers for miles on end.
His parting words for hiking enthusiasts are to never underestimate the challenge in South America. In essence, they must know the track inside out before conquering it. In-depth planning of the route, equipment to port, food and water supplies are all essential. Only after being fully ready, can one truly enjoy an exhilarating trek and appreciate the natural beauty these rarely-trodden paths hold.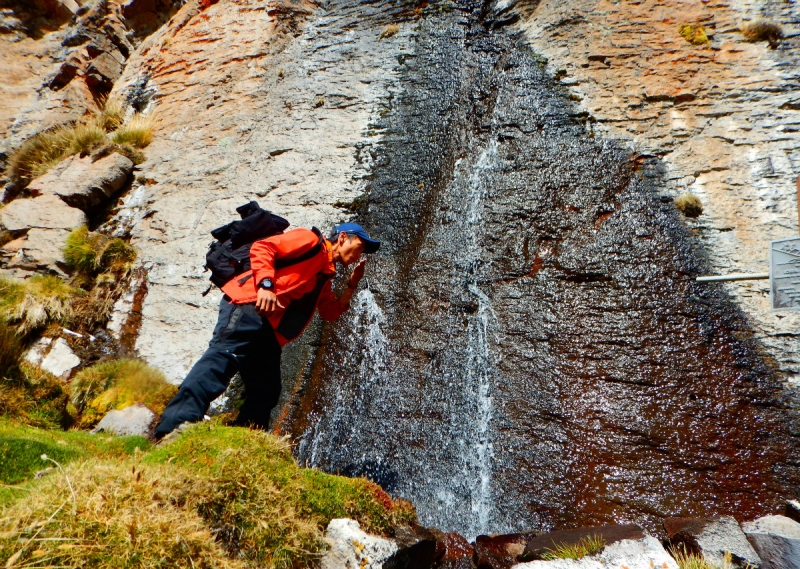 Wee Kack quenching his thirst and enjoying a once in a lifetime experience drinking from the source of the Amazon.
On how to best experience the Silk Road
The Silk Road holds a great deal of significance to many Asians. For centuries, it was the ancestral gateway connecting East and West and also central to the cultural integration of regions in the Asian continent. Wee Kack decided to complete this historic route, traversing through barren deserts and crossing enigmatic highland nations like Tajikistan and Kyrgyzstan.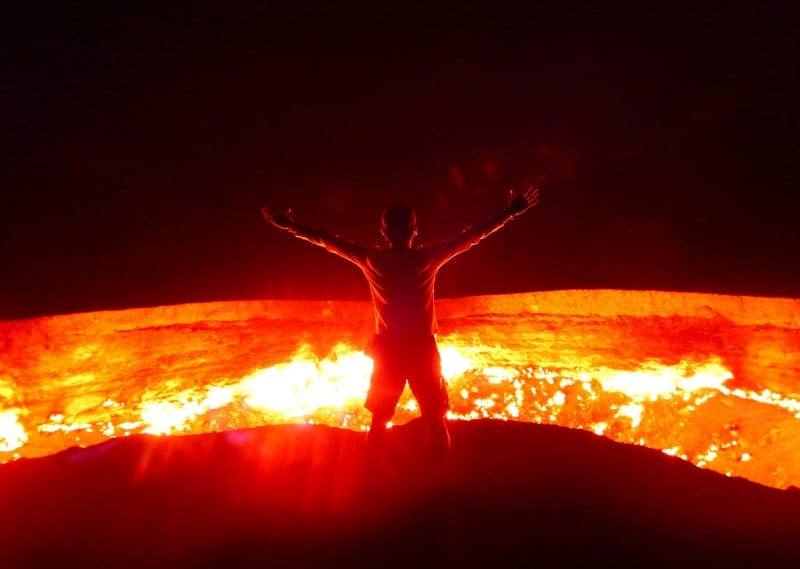 Wee Kack at Turkmenistan's fiery Darvaza Gas Crater (also known as the Gates of Hell).
According to Wee Kack, the Silk Road is best avoided in summer and winter. For the former, temperatures can skyrocket to an unbearable 45℃ and attempting to survive the scorching desert portions of the journey will ruin the experience. Similarly, several mountainous nations like Georgia and Kyrgyzstan become too cold in winter and often have many paths rendered inaccessible.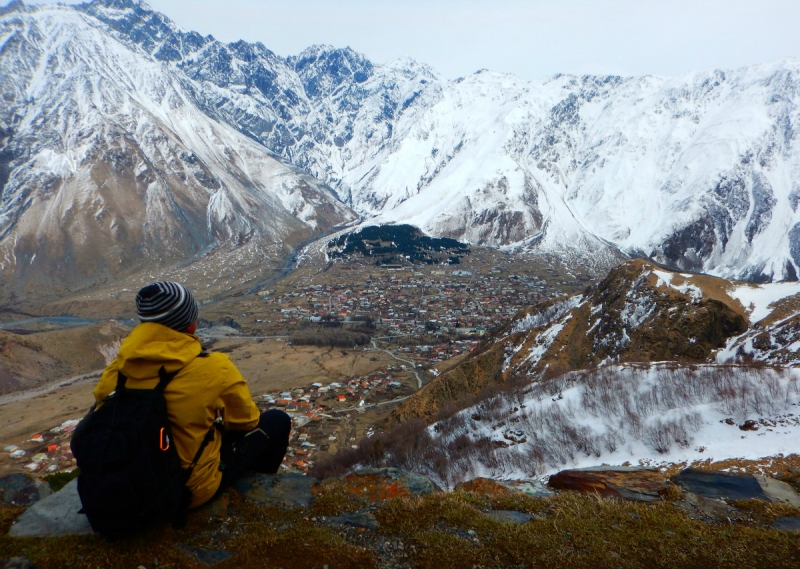 The mountainous towns in Georgia.
Another tip is to apply for all the relevant visas months in advance. It is harder to obtain visas for obscure countries like Tajikistan and Turkmenistan (the latter is as strict with visas as North Korea!) and the application process is slower than in most countries. To ensure that we can clear through immigration, visas must be applied way in advance and travellers must allocate ample time to ensure that they reach the country punctually on the said date.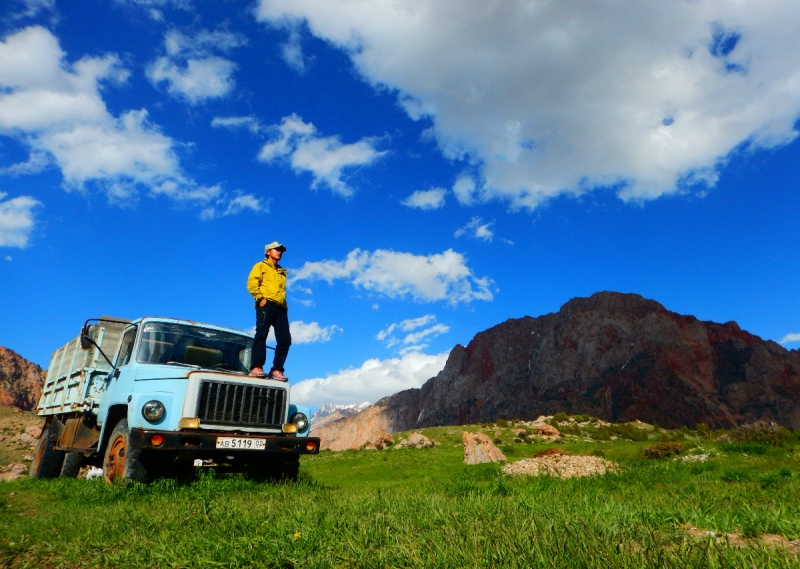 Wee Kack trekking through the picture-perfect landscape in Tajikistan.
On allocating expenses sensibly to afford such long-term trips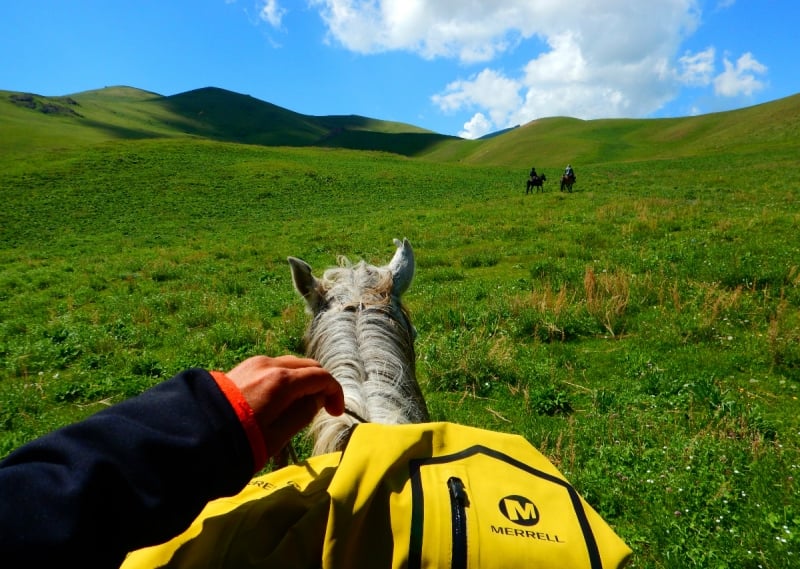 Riding a horse on his expedition across Kyrgyzstan.
An astute spender, but also one who is practical and doesn't mind paying to ensure his own safety, Wee Kack believes against resorting to penny-pinching means like hitchhiking and Couchsurfing. He argues that "you can hitchhike 100 times and remain unscathed through 99 of them, but it only takes that one instance." He would also rather pay a little more to hire guides for a trek through the jungle than compromise his own safety. To make up for the expenses, he cuts back spending lavishly on meals and transport, choosing to walk that extra mile and purchase economical food instead. This handy advice provides a rational alternative for people who prefer travelling on a tighter budget.
Having soaked in experiences in 85 countries across the 7 continents and sailed across 5 oceans, Wee Kack brings home enthralling tales gleaned from the total 3.5 years on the road. He's had the privilege of seeing much more of the world than most of us have. From South America's energetic samba and salsa jives and Europe's fascinating history and architecture, to Asia's thriving but amicable communities, Africa's exoticism and Antarctica's ethereal beauty, he encourages everyone to be bold and daring when it comes to their next big adventure.
On future plans
And there's even more to come. Whilst currently specialising in destination branding, he hopes to spend the next 5 to 6 years saving diligently again for his next adventure – purchasing a jeep to rumble through the African plains from Capetown all the way back home to Georgetown. It sounds like the plot of some great adventure novel and we can't wait!
Perhaps quitting our jobs and setting out for year-long (or longer) excursions seems too far-fetched for many of us. But no one ever said that we couldn't plan for more bite-sized but equally exciting journeys across some of the places Wee Kack has been to. With all the invaluable tips provided by this veteran traveller, the Silk Road, Antarctica, trekking through South America and the long-haul Europe vacations don't seem that daunting after all.