Tired of always going to the usual touristy attractions whenever you visit another country? Why not try an Airbnb Experience? Airbnb Experiences are activities designed and led by locals to immerse guests in their world, which you normally wouldn't see elsewhere. They come in the form of tours, educational classes or other types of hands-on activities that leverage on the hosts' expertise or skills to give you a unique insight into their life.
Although Airbnb Experiences are only available in Singapore, Malaysia, Indonesia, Vietnam and Thailand for the time being in Southeast Asia, they will definitely expand to other countries in the future. To see whether the city you're interested in offers Airbnb Experiences, simply add 'experiences' when searching for the city in the Airbnb search bar.
In the meantime, here are 15 interesting Airbnb Experiences that you can try in these countries, and who knows, you might be inspired to host one of your own in the future!
Singapore
Visit this '21st-century kampung' in a housing district in Singapore, and be hosted by the multi-generational Soh family, who will teach you how to grow your own crops using urban farming techniques, forage for herbs and ingredients, and cook local dishes using old family recipes.
This experience will surely be an eye-opener into how life was like in Singapore in the past, which was simple but full of community spirit. Come for the food and stay for the conversations!
Learn how coffee is made from Cat and Leo, coffee enthusiasts from a family of natural and ethical coffee farmers. You'll get to visit two of their favourite cafes for a cuppa and to see how coffee beans are roasted, before watching a live brewing session at their home and sitting down to a scrumptious home-cooked meal.
Savour the aroma and taste of natural coffee as Cat and Leo share the journey of a coffee bean from the farm to your cup, and how you can support sustainable farming of coffee beans. You'll even get a bag of beans to take home with you!
Create some environmentally-friendly handicrafts by learning how to weave discarded cassette tapes into new products at this home studio. Hosted by J.J and her mom, they'll teach you how to weave the cassette tapes into a MusicCloth®, which can then be turned into more intricate patterns and designs, like a Singapore city map poster. Reduce and eliminate e-waste while creating your own unique souvenir that will remind you of this pleasant travel experience when you return home.
Malaysia
At this workshop, you'll learn how to create Batik or Shibori designs, which are culturally rich and intricately complex dyeing techniques from Southeast Asia. Batik is an ancient method of dyeing textiles using metal blocks or a small "pipe"-like utensil to draw or block designs with hot wax, while the Shibori method uses rubber bands or pieces of wood for more organic designs.
Let Amy and her team teach you these methods before you get some hands-on practice designing and making your own personalised scarf or pareo (wrap-around skirt) to take home.
Explore the hidden nooks and crannies of Kuala Lumpur with Farhan, the founder and lead photographer of an initiative called Project Documenting Kuala. The initiative aims to tell the unheard narratives and show the unseen sides of the city through the medium of photography.
Follow Farhan as he shows you the many hidden facets of KL and listen to his various stories about the local communities. If you want something other than the typical tourist experience, then you simply must go on this tour for an insight into local Malaysian culture.
Sample some delectable traditional Malay street food on this food tour with Radly! You'll be visiting the last surviving Malay village in KL, Kampung Baru, to try different kinds of dishes from street-side food stalls and local restaurants. Feast on apam balik (Malay pancakes), begedil (deep-fried mashed potato) and rendang (slow-cooked meat with spices), amongst other traditional Malay foods, as you walk through a historical Malay village. Come hungry!
Indonesia
Experience a holy bathing ritual at a local spring water temple and visit a local Balinese healer on this tour. The spring waters are believed to have magic curative powers to heal you and give you 'spiritual merit'. You will then experience various methods of Balinese healing to complete your spiritual journey. You'll also have lunch next to a rice paddy field and get to try different kinds of herbal teas. To get a feel of local Balinese culture, you definitely must go on this tour.
Gain a unique perspective of the local culture and way of life of the Balinese people by visiting one of the oldest Hindu villages in central Bali, Taro Village. You'll be led by a Taro native, Wayan, who will introduce you to natural and heritage sights like a bamboo forest, farmers harvesting rice from the endless emerald green rice paddies, and tell you more about his local community.
You'll also get to meet the local villages and participate in activities, and you'll finish off your tour by partaking in a delicious dinner cooked by the locals. Your fee will go towards supporting tourism infrastructure for the village, so not only will you get an authentic Balinese experience, you will play a part in developing sustainable tourism as well.
For another sustainable holiday, why not learn how to rebuild Bali's coral reefs, which have suffered from destructive overfishing? Here, Gayatri and Yunaldi will teach you all about keeping and rearing tropical reef fish, such as the clownfish and blue tangs, which were made famous as 'Nemo' and 'Dory' in the famous Finding Nemo/Dory movies.
You'll then get some hands-on experience by learning how to make a coral reef structure and then plant it in the ocean. 100% of your Airbnb fee will go to the LINI Aquaculture and Training Centre, which raises awareness of marine conservation in the local community, so you can have an educational holiday while supporting a good cause.
Vietnam
Try the best Vietnamese street food that Saigon has to offer on this tour led by English-speaking locals! Taste banh xeo and banh khot, rice pancakes made with fresh Vietnamese vegetables, and learn how they are made from a chef with 20 years' experience.
Sit with the locals and enjoy some delicious barbecued seafood, finished off with some ice cold local beer. This tour will bring you off the beaten path and educate you about the different kinds of Vietnamese street food. Remember to bring your appetite!
For a truly unique experience, embark on an interactive adventure in the Cholon district of Saigon, and solve a mysterious murder! This scripted tour is unique as you will be exploring 'crime scenes' in the area on your own without a guide, aided by local actors playing characters that you have to interact with to solve the mystery. Your hunt for the 'murderer' will lead you to traditional boutiques, century-old pagodas, and hidden lanes in Cholon, an experience you surely won't get elsewhere.
When in Vietnam, do as the Vietnamese do and ride around town on a scooter! Let a group of university students bring you to local places like a coffee place for bird lovers and a local wet market on motorbike. You'll get a glimpse of how the locals live, and you can ask the students for their recommendations for things to do in Saigon as well. Remember to hold on tight though, as the roads will be packed!
Thailand
On this tour, you'll learn all about sakyants, sacred tattoos with magical languages, symbolism and blessings associated with each design. Arjan Neng, a tattoo master with more than 10 years' experience, will create a design and find a symbol appropriate for your own sakyant, should you choose to get one after the tour. This experience will give you a glimpse into a sacred tradition that not many participate in.
Explore Bang Krachao, a hidden oasis of nature in Bangkok, in this bicycle tour. Paul, an English expat who has lived in Thailand for over 20 years, will lead you on scenic trails through Thai villages and tropical fruit plantations, where you can see various tropical birds and exotic wildlife.
You'll also get to sample some authentic Thai street food and sit down for a six-course Thai lunch, as well as tour a mushroom farm and Thai temples. Take a break from the busy streets of Bangkok and ride through this natural paradise in the middle of the big city.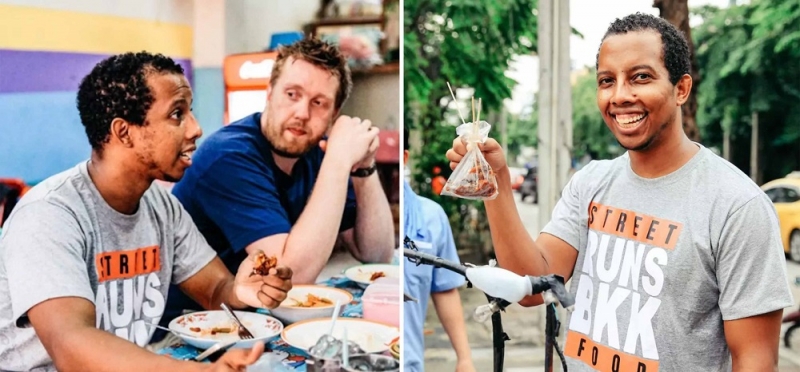 Let Dwight, an American food blogger who has stayed in Thailand for over 10 years, show you the best street food places in Bangkok! You can ask him all your questions about Thai street food as you visit a fresh food market, street side carts and his specially curated list of shophouses. You can also book another Airbnb Experience with him to learn how to cook homemade Thai food as well.
100 percent of what you pay goes to Courageous Kitchen, a non-profit organisation set up by Dwight that provides food aid, education, and training to refugees aiming to improve their health, English skills, and overall confidence. Get educated on Thai street food and contribute to the local community on this food tour!
One of the best ways to explore any location is to ask the locals what to do, as they would know all about the secret or hidden places that won't be in your tourist guidebooks. That's why these specially curated activities are worth a try, as they will take you off the beaten path and give you a great insight into the local culture in each area you visit. Try out these Airbnb Experiences and have a holiday that you won't forget!