From being ranked as one of the top 10 best foods in the world by CNN to being called "Breakfast of the Gods" by the late Anthony Bourdain, laksa truly has a special place in the diverse world of Malaysian cuisine. However, did you know that laksa actually has many different varieties? 
While the world may know "laksa" as simply a type of noodle dish, Malaysians know that almost every state in the country has its own tweaked version. In fact, Bourdain's favourite breakfast and the laksa mentioned by CNN are worlds apart from each other! There are so many versions of the dish that most Malaysians can't claim to have tasted them all either. 
What's that? You want to give it a go? Then let me help you out! Here are the nine different versions of laksa in Malaysia and where you can find them! 
1. Assam Laksa (Penang)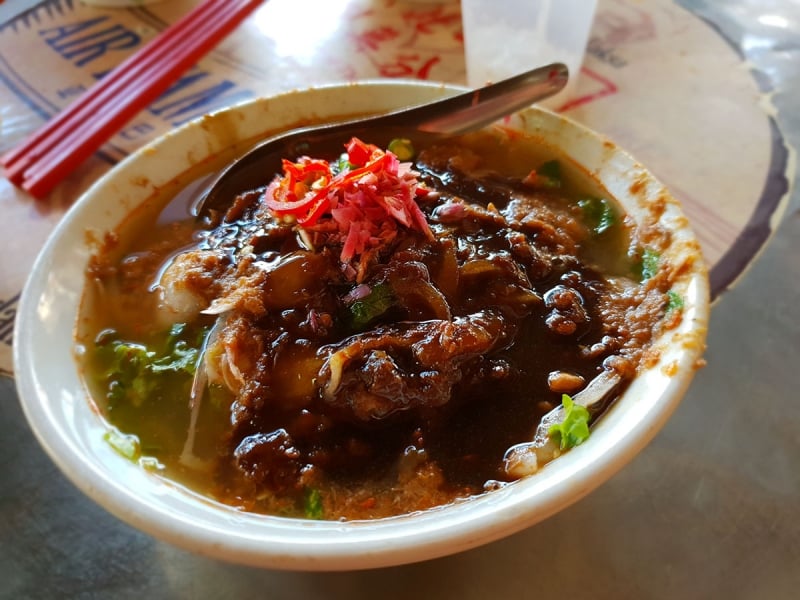 Although the order by which the laksa appears is completely random, as a Penangite, I do have a fondness for assam laksa, so allow me to start off with this Penang delicacy. To put it frankly, assam laksa is…polarising to say the least. Those who love it can't live without it, and those who don't fancy it can't get beyond a few mouthfuls. 
That's because assam laksa's main flavour profile is sour, spicy, and fishy. Unlike other laksas which contain coconut milk and either seafood stock or a base of mixed spices, the main ingredients for assam laksa broth are tamarind (sour), ginger torch (spicy), and mackerel (fishy). 
Assam laksa is usually served with rice noodles and topped with a variety of fresh herbs and garnishes. The most common are pineapple, shredded cucumber, mint, and red chilis. Each mouthful is a melodious mix of different textures and flavours, topped off by a minty aftertaste. You can find this dish almost everywhere in Penang (you'll smell it before you see it!), but the most famous assam laksa is located at the Air Itam Market, on the way to Penang Hill. 
2. Sarawak laksa (Sarawak)
Often when people mention the best laksa in Malaysia, it ends in a draw between assam laksa and the equally appetising Sarawak laksa. One bite, and you'll understand why Anthony Bourdain loved it so much! 
At first glance, Sarawak laksa looks like a curry-based noodle dish. However, you'll be surprised to learn that there's usually no curry involved at all! Instead, the base of the broth is made with a plethora of aromatic local spices (such as galangal and lemongrass) and sambal belacan, a popular chili paste made using shrimp paste, garlic, chilies, and lime juice. Coconut milk is then added to the broth to thicken it and give it that extra dimension of creamy goodness. 
Like assam laksa, Sarawak laksa is served with rice noodles and topped with generous servings of omelette slices, chicken, prawns, and bean sprouts. Finally, it is garnished with a wedge of lime and chopped coriander. Sounds delicious, doesn't it? Obviously, the most famous Sarawak laksa place is the very same one Anthony Bourdain visited: Choon Hui Cafe! 
Also read: Sarawak Food Trail: 12 Dishes in Kuching You Must Try!
3. Curry laksa (Kuala Lumpur)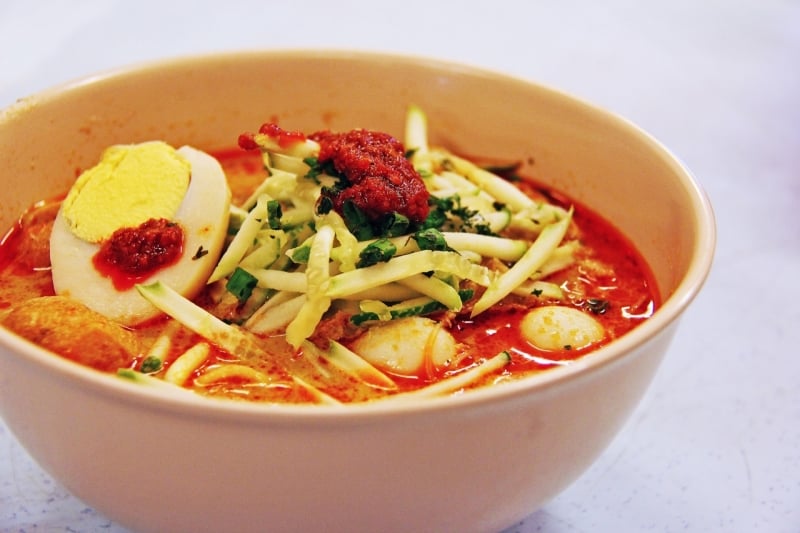 Curry laksa is arguably the most common available variety of the dish in Malaysia. Even though it likely originated from the south of Peninsular Malaysia (Johor/Melaka), the dish is more often associated with Kuala Lumpur (you'll see why in a minute). Curry laksa is also referred to as "curry mee" in Penang, because clearly, only one dish is worthy of being called laksa in that state! 
Banter aside, curry laksa is an extremely rich and savoury dish. The creamy base is made of curry paste, coconut milk, and topped with laksa leaf. For those who enjoy an extra kick, curry laksa can also be served with a spoonful of sambal chili paste as a condiment. In terms of ingredients, curry laksa comes with juicy prawns, chicken strips, chewy tofu puffs, cockles and springy fish balls. These are ladled over a generous serving of yellow egg noodles and vermicelli.
So, why is Kuala Lumpur famous for curry laksa even though it came from somewhere else? Because earlier this year, a particularly popular stall along Madras Lane was featured as the second best food experience in the world on Lonely Planet! While it doesn't have a formal name, you'll likely be able to spot it thanks to the long line of people in front of the stall! 
4. Johor laksa (Johor)
To say that Johor laksa is an intriguing culinary prospect is quite the understatement. In fact, I think compared to all the other laksas on this list, Malaysians would also find Johor laksa the most unique. While Johor laksa is made up of your typical ingredients and garnish, it is the noodles that grab your attention. 
Unlike every other form of laksa in Malaysia which uses Asian-esque noodles, Johor laksa calls for spaghetti! It's believed that the bold move to use spaghetti came about as a result of Sultan Abu Bakar, the first Malay ruler who had visited Europe. There, he acquired a taste for pasta and decided to introduce it to local dishes. And voila, thus was born Johor's unique fusion of laksa and spaghetti! 
For a taste of the dish that pretty much descends from royal heritage, head over to Plaza Larkin, where the best Johor laksa is found. Alternatively, you can also visit Bumbu Asli in Johor Bahru!
5. Nyonya laksa (Malacca)
Here's a fun fact for you, nyonya laksa is also known by locals as laksa lemak. In Malay, lemak means "fatty". If you haven't pieced it together yet, nyonya laksa packs a real wallop in terms of calories per serving, so if you're watching your weight, you might want to skip this one. Or just declare the day you want to sample it a cheat day! 
Nyonya laksa's shining characteristic is its super creamy broth. It's made with coconut milk, prawn shells, and chicken bones. This gives it a sweet and tangy taste that oozes flavour with every mouthful. A typical serving comes with noodles, fresh prawns, fishcake slices, beancurd puffs, fresh vegetables, and boiled egg. 
In terms of heritage nyonya laksa is a traditional dish that was invented by the Peranakan community in Melaka. So it's only fitting that the best tasting nyonya laksa is found at one of the most famous Peranakan eateries in Malaysia, 486 Baba Low in Melaka. 
7. Laksa Utara (Kedah)
In the local language, "laksa utara" means "northern laksa". And while Kedah isn't the northernmost state in Peninsular Malaysia (Perlis takes the crown), it IS the birthplace of this wondrously delicious version of laksa. 
Being close neighbours with Penang, Kedah's version of laksa is similar in many ways to assam laksa. For one, it is made with fish and sour tamarind paste, and also uses the same noodles and toppings. However the key difference lies in the mackerel (or sardine) that's used to make the broth. You see, there is a large concentration of fishing villages along the coast of Kedah, which means that the fish used for the laksa broth is often fresh from the catch of the day! 
This enhances the flavour tremendously. What's more, laksa utara is sometimes topped with coconut sambal and cashew nut leaves too. This gives it a tangy, spicy flavour that's subtly different from assam laksa. Din Laksa Teluk Kechai in Alor Setar is where you'll want to eat your fill!
8. Laksam (Kedah, Kelantan, Terengganu)
Given all we've shown so far, you might think that all laksa broths have the same bright shade of orange. And while that's generally the case, laksam takes that presumption and tosses it right out the window. 
Primarily popular along the east coast of Peninsular Malaysia and Kedah, laksam is a laksa dish that epitomises traditional Malay cuisine. The first thing you'll notice about laksam is the colour of the gravy. Made using coconut milk, tamarind, and boiled mackerel, laksam gravy is rich, creamy, and boasts a colour similar to alfredo sauce. Apart from the unique colour, laksam is also served with bite-sized nuggets of rice noodles instead of the usual strands. For garnish, laksam is topped with traditional salad of local herbs and vegetables. 
Another fun piece of trivia about laksam is that traditionally, it is eaten with your bare hands. So if you're going out on a first date, maybe skip this slurpy treat! While I can't personally recommend any laksam store that is a cut above the rest, the general tip is to look for hole-in-the-wall warungs (Malay stalls) along the east coast. 
Also read: These Are The Best Dishes to Try in Every Malaysian State
9. Laksa Kelantan (Kelantan)
Sticking to our foodie adventure on the east coast, our final entry is laksa Kelantan. This version of laksa originated from Kota Bharu, the state capital of Kelantan and, like laksam, is known for its significantly lighter-coloured gravy. 
It is made with minced mackerel, belacan and other local spices that help bring out the aromatic flavours. Coconut milk is used to thicken the gravy and to add a rich creaminess to it. Like most other laksas on the list, laksa Kelantan is served with a generous helping of raw vegetables and chillies for that little extra kick! 
The locals' favourite laksa Kelantan spot is definitely Laksam Special By-T. And yes, you can also sample the aforementioned laksam here too. 
#LaksaChallenge
And there you have it, nine different types of laksa in Malaysia and where to find them all! So the next time your friend speaks to you about laksa, show off your knowledge and invite them to embark on a quest to sample each and every type in Malaysia! In fact, I'm just about to head out for some assam laksa now! Bon appetit!