Did you know that ten out of ten homosapiens look forward to long weekend holidays? Shocking, I know! Thankfully, another festive long weekend is just right around the corner: Hari Raya Aidilfitri.
As Muslims around the world celebrate the end of their fasting month, some countries like Singapore, Malaysia, and Brunei, are in for a long weekend starting Friday, 15 June. And what better way to enjoy the extra day off than to go for a short vacation? How about skipping mainstream hotspots like Penang or Sentosa Island in Singapore and visit this travel gem in Malaysia instead? I'm talking about the lovely city of Ipoh!
Despite not being afforded extensive media coverage, Ipoh is full of fun activities and charming experiences. In fact, just to show you why Ipoh would be a great choice for the long Hari Raya weekend getaway, I've prepared a special 3D2N Ipoh itinerary just for you. Check it out!
Getting there and accommodation
For the benefit of those who might not be familiar with travelling in Malaysia, here's how to get to Ipoh. The best method is to take the ETS Train to Ipoh Train Station and then rent a car online to get around town. The ETS Train connects to most major cities in Peninsular Malaysia including Kuala Lumpur, making it super convenient to travel to Ipoh that way.
You could also consider driving there. Located in the state of Perak, the city is something of a midway point between Kuala Lumpur and Penang, requiring approximately two hours to get there from either city. I would advise against flying directly into Ipoh though as only a limited number of flights operate daily from Ipoh's international airport.
There are plenty of lodging options in Ipoh, ranging from chic boutique hotels to luxurious hot spring resorts. However, for the best experience, I recommend staying at Sekeping Kong Heng, located in the heart of Ipoh Old Town. Housed in an old neoclassical building, Sekeping Kong Heng preserves most of the historical ambience of the area whilst offering modern comfort to its guests. Definitely check them out. Otherwise, just make sure to find a place in Ipoh Old Town. It's the best location, trust me.
Day 1: Tambun Cave → Sam Poh Tong → MAPS/Gunung Lang Recreational Park → Kinta Riverfront Walk
I suggest arriving in Ipoh early in the morning, if not for anything then just so you can have breakfast at New Hollywood Restaurant! It serves a wide variety of local favourites including chee cheong fun, yong tau fu, noodles and soft boiled eggs on toast. Don't forget to wash it all down with a steaming cup of Ipoh's famous white coffee! The best thing about this place is that it is certified halal, so Muslims travelling for the holidays can enjoy the delicious food here too!
New Hollywood Restaurant: 38, Jalan Lee Kwee Foh, Taman Canning, 31400 Ipoh, Negeri Perak
Once you've had your fill, enjoy a short drive towards Tambun Caves (Gua Tambun). Here, you'll be able to admire prehistoric cave paintings dating back 3,000 years. The reddish paintings were first discovered by a British soldier in 1959 and in 2010, the cave was declared a National Heritage Site. Spend up to 40 minutes admiring the various paintings around the cave before heading off to your next location.
A mere 20-minute drive away lies one of Ipoh's most beautiful sights: the Sam Poh Tong Cave Temple, arguably Ipoh's most iconic attraction. Housed within an enigmatic natural limestone cave, the temple features Buddhist statues and artwork in addition to a kaleidoscope of stalagmites and stalactites. I should warn you that to reach the temple, you have to climb some stairs, about 246 of them to be exact. Once you're done admiring the caves and taking in the picturesque scenery, it's time to head towards the Ipoh Old Town district.
Along the way, make sure to make at stop at Kedai Kopi Yong Suan for their famous (halal) Nasi Ganja: fluffy rice served with fragrant coconut sambal, salted egg, thick gravy and a generous chunk of ayam masak merah (spicy tomato sauce braised chicken). Don't worry, the name is just a moniker for how addictively good the food is. There isn't really any ganja (cannabis) in the rice…or is there? -cough- Anyway, once you're done with lunch, head to the hotel (hopefully you went with my suggestion and got a place in the Old Town) to check in and freshen up a bit.
Kedai Kopi Yong Suan: 2, Jalan Yang Kalsom, Taman Jubilee, 30300 Ipoh, Negeri Perak
After you've freshened up, you have two choices on how to proceed. Option A is to visit one of Ipoh's newest attractions, Movie Animation Park Studios, or MAPS for short. MAPS is Asia's first ever animation theme park, and contains close to 50 interactive attractions and rides that are sure to excite the kids, and the young at heart! The theme park usually closes at 6pm but due to the Hari Raya holidays, MAPS will be extending their opening hours till 10pm. Sweet!  
For those who might not fancy visiting a theme park or simply can't deal with an onslaught of screaming kids, you could consider option B, which is to visit the tranquil Gunung Lang Recreational Park. Set against an alluring backdrop of limestone caves and a pristine lake, Gunung Lang Recreational Park is the perfect place to embrace Mother Nature in Ipoh. Climb up (yes, more climbing!) the lookout towers for a breathtaking view or challenge yourself with the 2km boardwalk over the swamp!
It's about time for dinner now. If you'd like to go back to the hotel for a quick shower, go ahead. If not, make your way back to the Old Town anyway and make a beeline for Miker Food Restaurant, a popular eatery frequented by locals for dinner. Some say that Miker Food's pizza is the best you can find in Ipoh. While I certainly won't dispute that, I must say that their Tom Yum Nyor, served in a coconut shell, deserves special praise of its own.
Miker Food Restaurant: Jalan Padang, 30020 Ipoh, Negeri Perak
After dinner, it's time to walk off those excess carbs! The Kinta Riverfront Walk is just a short 10-minute walk away. It offers visitors a stunning night river view with dazzling LED lights, similar to i-City in Shah Alam, Selangor. It's a nice place to wind down after a long day and just to relax before heading back to the hotel and calling it a night.
Day 2: Dim Sum → Gua Tempurung → Gopeng Heritage House → Lost World of Tambun → Night Markets
Good morning, sunshine! It's time to get on with the second day of your Hari Raya getaway in Ipoh. First off, breakfast of course. Let's be honest, halal dim sum is hard to come by. Thankfully, there's Greentown Dim Sum Cafe. Serving an assortment of delicious halal dim sum, Greentown is THE place to get your dim sum craving fixed. Not a bad way to start the morning, eh?
Greentown Dim Sum Cafe: 10, Persiaran Greentown 4, Pusat Perdagangan Greentown, 30450 Menglembu, Negeri Perak
I hope you enjoyed the dim sum because things are about to get adventurous from here on out. One does not simply forego a visit to Gua Tempurung when traveling in Ipoh. That much is certain. Located in Gopeng, a mere 20 minutes away from Ipoh Old Town, Gua Tempurung is Peninsular Malaysia's longest cave, stretching three kilometres in total.
The cave is a must-visit for spelunkers and cave exploration enthusiasts. There are different tours on offer here, each of varying difficulty. In our case, we should go for the Grand Tour package (RM30 per adult), which could take up to four hours to complete! Yes, yes, it sounds tiring but look on the bright side, you'll be able to see everything the cave has to offer: limestone formations, an underground river, and an unforgettable experience.
Once you've spent most of your energy at Gua Tempurung, it's time to stock up on body fuel (read: food). On your way back to Ipoh Old Town from Gopeng, turn left onto Persiaran Lapangan Siber and head towards Cafe Setinggnan. Here, you get to gulp down their famous laksa telur goreng bersarang. The traditional laksa noodles in spicy fish broth is topped with a special fried egg resembling a bird's nest (hence the name bersarang, which means nest in Malay), elevating the flavour of the dish.
Cafe Setinggan: 1, Jalan Margosa B/15, 31350 Ipoh, Negeri Perak
After lunch, go back to the hotel and rest up before heading to the popular Ulu Kinta Recreational Forest where you will be treated to more of Ipoh's beautiful natural scenery. Most people visit just so they can have a picnic by the cascading waterfall and to frolic in the cool water.
Alternatively (especially if you're travelling with kids), you can choose to head towards the Lost World of Tambun instead for a ball of a good time! Apart from exciting water theme park rides and attractions, you will also find hot springs, a petting zoo, and even live tiger performances! With so much to enjoy, there's never a dull moment here. No wonder it's rated as one of Malaysia's top theme parks!
As night falls, go on and engage in one of Malaysia's most sacred activities: thronging the pasar malam (night markets)! After all, what's Malaysia without its night markets? And what's Hari Raya without the rustic street food FROM said night markets?
There are loads of night markets to choose from in Ipoh but the one that is always open to visitors is the Gerbang Malam Night Market. Located on Jalan Dato Tahwil Azar, this market is just a stone's throw away from Ipoh Old Town. You'll find a good selection of restaurants and a flea market peddling a wide variety of wares. What more can I say? Shop away!
Day 3: Ipoh Old Town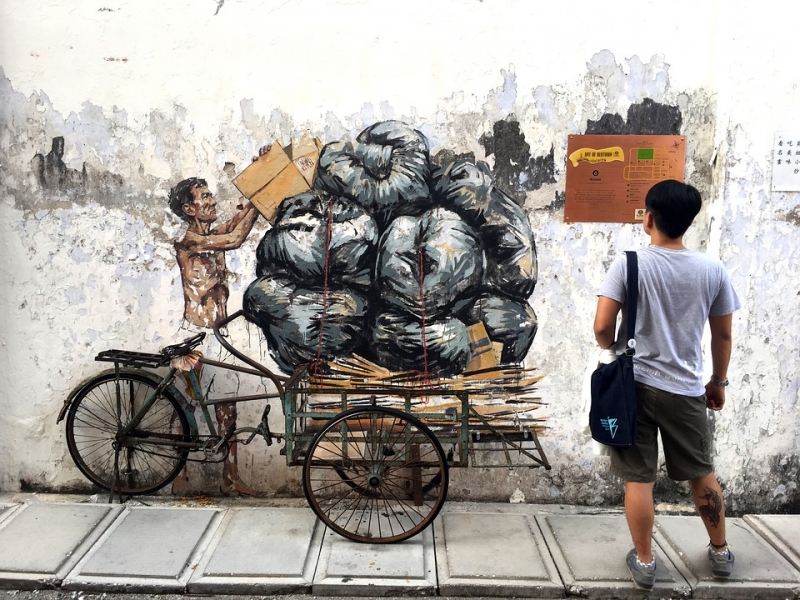 Start your final day in Ipoh with a short trip to Nelli's Deli for a decadent plate of Nasi Lemak you won't soon forget. After a satisfying breakfast, take your time to stroll around and soak in the colonial ambience of the area. Admire and take pictures of the art murals that adorn the walls of the whitewashed buildings and make sure to visit many of the Old Town's iconic landmarks like the Birch Memorial Clock Tower, the railway station and the Town Hall.
One particular street which stands out is Concubine Lane. As the name implies, this lane was supposedly where rich businessmen kept their mistresses in the past. Today, it has been transformed into a part of Ipoh's Old Town Heritage Trail, showing off both the area's historical architectural remnants and the modern creativity of the locals today. The lane is a vibrant, colourful ensemble of quirky cafes, Instagram-worthy photo opportunities and vendors selling all sorts of wares including cacti and old school snacks.
Speaking of nostalgic snacks, if you still have the stomach for it, seek out Bits & Bobs @ Kong Heng Square. They serve awesome Ais Kepal (basically just balls of ice topped with syrup, a classic Malaysian dessert in the old days) from a humble shop decorated with bits and pieces from the past. Once you've finally had enough of the Old Town and its many enticing attractions, it's time to finally bid goodbye to Ipoh and face the harsh truth that the long weekend is over. Sigh, back to reality, I guess.
A charming city for everyone
And there you have it, a short 3D2N itinerary to see the best of Ipoh during the long Hari Raya weekend! So, don't just limit your choices for a weekend getaway destination, give Ipoh a chance and I'm sure the city will captivate your heart. In fact, I may or may not have booked a train ticket to Ipoh while I was writing this myself! What can I say? See you in Ipoh!