Asia is not just the big cities of Tokyo, Shanghai and Singapore, although these are great destinations in themselves. It is a massive continent with so many places to explore, and train rides can be an interesting choice of transport – maybe even the adventure itself. Through busy cities and tranquil countryside, here are 10 amazing train trips to take in Asia.
1. Bangkok to Chiang Mai, Thailand
One of Thailand's most popular train routes is the overnight train from Bangkok to Chiang Mai. This sleeper train takes around 13 hours but is fitted comfortably in both second and first class sleepers. Since it's a night train there won't be much scenery to see, but if you're awake in the early morning, you'll be able to catch the sunrise as you arrive into the hilly countryside of Northern Thailand.
2. Seto-Ōhashi Line, Japan
Connecting Okayama Station (on Japan's main island, Honshu) and Takamatsu Station (on Shikoku island), the main highlight of this hour-long trip is crossing the awesome Seto Ohashi Bridge. The structure is actually a series of double-deck bridges that connect multiple small islands within the Seto Inland Sea, between the Okayama and Kagawa prefectures. Vehicles can drive across the top deck while the train takes the lower deck of the bridge. Spanning more than 13 kilometres, Seto Ohashi is the longest double-decker bridge system in the world.
3. Kandy to Ella, Sri Lanka
The train between Kandy and Ella travels through lush Sri Lankan Hill Country. The journey, which takes around seven hours, passes rolling hills and tea plantations. The trip is long but there are sellers offering fruit and snacks and of course there is the beautiful scenery to keep you occupied.
Also read: A Quick Solo Travel Itinerary to Sri Lanka
4. Alishan Forest Railway, Taiwan
The Alishan Railway is a system of narrow gauge railways that takes visitors through the mountain resort of Alishan in central Taiwan. The railway line was originally built for logging around the mountain but today many tourists come to see this natural scenic area. The ride is especially pretty during cherry blossom season.
5. The Trans-Mongolian Railway
For many travellers, the train from Beijing to Ulaanbaatar marks the start of a much longer journey westwards along the Trans-Siberian Railway. Still, the trip from China to Mongolia is no small feat at a whopping 27 to 30 hours. Starting in Beijing in the morning, you will reach the Chinese and Mongolian immigration checkpoints around midnight. The train continues to make its way through the vast Gobi Desert, arriving in Ulaanbaatar the following afternoon.
6. The Trans-Siberian Railway
If you plan to continue your Trans-Siberian adventure all the way to Moscow, the stretch from Ulaanbaatar to Russia's capital takes approximately five days. The railway line hugs the southern shore of Lake Baikal, the world's oldest and deepest freshwater lake. It then travels on to two large Russian cities, Novosibirsk and Yekaterinburg, before finally arriving in Moscow.
7. Hefei to Fuzhou, China
The fast train between Hefei and Fuzhou takes approximately four and a half hours. Along the way, there are beautiful views of Southeast China's natural landscape. The route passes by small villages, farm fields and impressive mountains. For a closer look at the Yellow Mountains, you can make a stop at Huangshan North station, which is about midway through the route.
8. Hue to Da Nang, Vietnam
If you're looking to explore Vietnam beyond Hanoi and Ho Chi Minh, Hue and Da Nang are two good options. You can easily travel from Hue to Da Nang by train. The trip takes around two and a half hours. The railway follows the coastline for stunning views of the South China Sea, beaches, islands and tropical countryside.
9. Goa to Londa, India
This trip from Vasco Da Gama in Goa to Londa Junction takes you from India's coast to the mountainous forests of the Western Ghats. The Western Ghats are a region of incredible biodiversity with a wide array of uncommon flora and fauna. As the train ride takes you from Vasco to Londa, it also passes Dudhsagar Falls. This beautiful waterfall is located on the Mandovi River near to the border of Goa and its neighbouring state Karnataka.
10. Singapore to Kuala Lumpur or Penang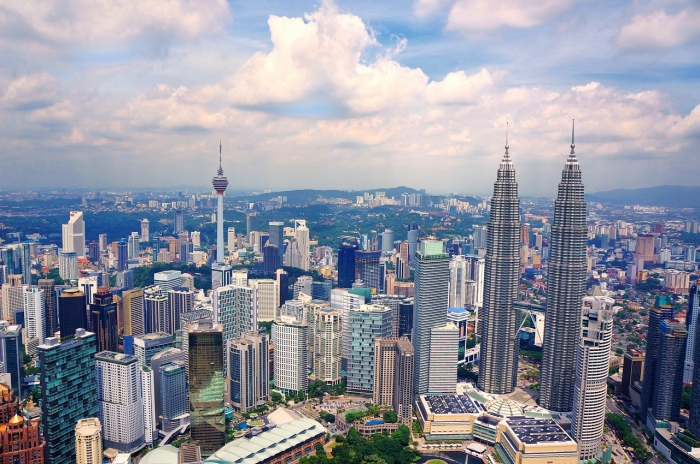 Why not explore the railway a little closer to home? You can get from Singapore to Penang's Butterworth station completely by rail, although you will have to change trains. You can take trains from Singapore to JB Sentral, Gemas then finally Butterworth. Alternatively, you can head to KL from Gemas and cut your travel time! Gemas to KL takes around two and a half hours compared to the nearly seven-hour stretch from Gemas to Penang. Either way, it's fairly cheap, and of course, if you make it to Penang you should always reward yourself with delicious laksa and a sweet icy bowl of chendol.
Train travel can take some work in a country you might not be familiar with, from choosing train routes to booking tickets. But it's a totally different experience than getting from A to B by plane. An experience that with some research and an adventurous spirit I think is definitely worth having. Happy travels!