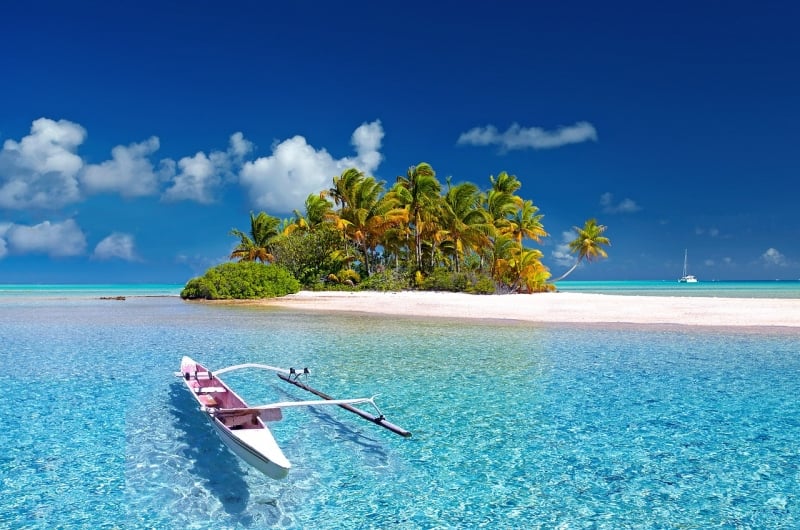 Idyllic white beaches, stunning underwater scenery, dramatic landscapes and warm local hospitality – the millions of islands in the beautiful Oceanic region offer the ultimate beach escape.
The region is huge. It usually includes Australia and New Zealand and refers to the many countries and territories – mostly islands – in the tropical Pacific Ocean. Together, they make up the vast island nations of Melanesia, Micronesia and Polynesia. There are a gazillion options for you to choose from so picking the right spot for some fun in the sun might get tricky. Looking for the biggest waves? Head to the Melanesian islands for some world-class surf breaks. Visit Bora Bora in Polynesia and embrace the luxe island experience. Diving enthusiasts should journey to Micronesia and explore Palau, one of the world's best diving sites. Whether you're seeking adventure, solitude or everything in between, Oceania has it all. We highlight some of our top island picks in Oceania that you have to visit at least once!
Bora Bora, French Polynesia, Polynesia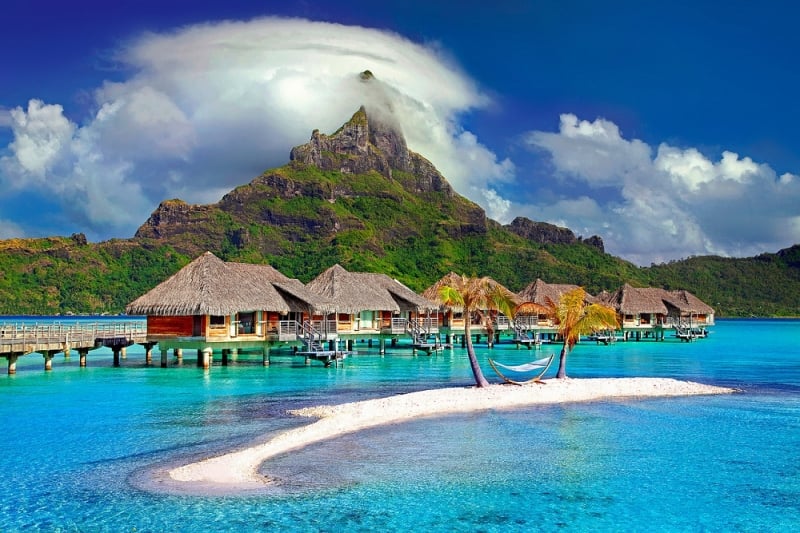 If you're looking for a once-in-a-lifetime experience, then Bora Bora is just the place to visit. Surrounded by a dreamy lagoon and beautiful coral reefs, Bora Bora offers white sandy beaches and warm clear waters. It's not hard to see why this French Polynesian island is often referred to one of the most beautiful places in the world. From above, you'll get a bird's eye view of the famous atoll – the waters changing colours from azure to indigo and to every other shade of blue in between; and, rising from the centre, the soaring peaks of Mount Pahia and Mount Otemanu.
For the ultimate luxe experience, a stay at one of those quintessential over-the-water bungalows is a must. You'll get to sip cocktails at your very own deck as you take in beautiful 2-hour-long sunsets. At night, be lulled to sleep by the sounds of gentle waves lapping at the deck. These resorts also feature glass-bottomed coffee tables or glass floor panels where you can gaze directly into the water to spot schools of fishes and other marine life. Sea-riously cool, no?
No island getaway is complete without a list of exciting activities – and there's plenty to do here. Hike up one of Bora Bora's iconic summits, Mt Pahia, and get treated to panoramic views of the island. Snorkel at the popular lagoons of Anau in the morning and keep your eyes peeled for the majestic manta rays… or sign up for a lagoon excursion. You'll get to swim, snorkel and free dive in otherwise inaccessible spots, and try your hand at shark and ray feeding. Diving and parasailing are also available and experienced instructors are on hand to help.
And if you book your trip for July, stop by the popular festival, Heiva. Expect lots of hip-shaking, feet-stomping and mood-inducing dance action, cool music contests and heaps of fun in this colourful festival!
South Island, New Zealand, Polynesia
Jaw-dropping scenery, epic walks and extreme sports – the South Island is set to give you an unforgettable experience. Among its many attractions is the Fiordland National Park. It's home to New Zealand's two deepest lakes, 15 hairline fiords and some of the world's rarest birds. It's little wonder that UNESCO designated it as a Heritage area.
Milford Sound, the most northerly and celebrated of Fiordland's fifteen fiords, is particularly lovely. It has steep vertical cliffs towering 1,200m above the sea. When it rains, huge waterfalls plunge down from hanging valleys. In fact, this is one tourist attraction where you should hope for rain because that's when the Sound is at its most enchanting. When it rains (and it does, a lot, and often), huge cascading waves spill out from the cliff faces straight into the fiords, and a fine mist appears. You can also spot penguins, seals and dolphins in the area. It's truly a sight that's not to be missed. If it doesn't rain while you're there, don't fret. Check out Stirling and Lady Bowens Falls, which are permanent waterfalls. When the sunlight strikes the water just right, you'll see rainbows bouncing off the mists.
If you're planning to visit between March and September, you might want to try chasing down the aurora australis or Southern Lights! The Southern Lights is less talked about compared to its northern sister but this celestial light show is no less impressive if you're lucky enough to catch it. For the best chance, head towards the bottom of South Island – the Caitlins, Invercargill and Lake Tekapo.
Fiji, Melanesia
Welcome to the happiest country in the world! With its palm-fringed beaches, brilliant blue waters and lush jungle interiors, Fiji is as close to paradise as you can get. It's home to over a whopping 300 islands (of which only around 100 are permanently lived in) and around 500 islets. Each one is as stunning as the next, but must-sees are the Mamanuca group and Yasawas.
The Mamanucas is a near-perfect string of around 30 small islands lying just off the coast from Nadi, Fiji's main transit hub. Most of them are just an hour or so boat ride away from the main island of Viti Levu so a visit to any island makes for an excellent day trip. Dedicated surfers will head straight for Tavarua, the picturesque heart-shaped island resort, and attempt Cloudbreak. This tropical reef break, surrounded by a volcanic archipelago, offers the most sought-after waves in the world.  
For a quieter, but no less dramatic experience, head north of the Mamanucas to the Yasawas – a long, narrow chain of 15 volcanic masses. Yasawas is easily accessible via the high-speed catamaran. Highlights include the Sawa-i-Lau and its limestone caves. Explore the gorgeous limestone grottoes, where the walls are inscribed with ancient carvings and paintings and swim in its natural pool. For the more adventurous, why not attempt a cave dive? Swim through an underwater passage before popping up in the inner limestone cavern, or what the guides refer to as the 'heart of the Yasawa'.
Hikers, birdwatchers and nature lovers will love Taveuni! Fiji's third-largest island is often called 'The Garden Island' because of its incredibly lush and green jungles. A big draw is the Bouma National Heritage Park, a 150-square kilometre protected rainforest with an excellent variety of wildlife. Be sure to detour to the nearby Lavena Coastal Walk. You'll trek the forest's edge along first before moving along to white and then dramatic volcanic black sand beaches before reaching a beautiful waterfall – the perfect spot to swim under and cool off! Don't miss the Rainbow Reef – also accessible from Taveuni. Plunge into the waters and be amazed at its forests of soft and intensely coloured reefs.
For those seeking sheer solitude, the off-the-beaten-path island of Kadavu is the perfect spot to escape to. There are almost no roads to speak of so it's a world away from the tourist trail yet easily accessible from the main island of Viti Levu. Stay at eco-resorts and work together with the villagers to grow the produce. It's a great way to fully immerse yourself in the local culture. Fijians' warmth and hospitality are well known, and you're sure to hear a friendly 'Bula!' from a smiling local wherever you go.
Vanuatu, Melanesia
Rumbling volcanoes, world-class wreck dives and ancient tribal cultures – the 80-plus island archipelago of Vanuatu has plenty to offer the intrepid island traveller.
If you have time to visit only one island in Vanuatu, then Tanna Island should be it. It's where Mt Yasur, possibly the world's most active, accessible volcano is located. You can go right up to the crater rim and look down into its hot, magma-filled depths. Watch as the smoke rises and brace yourself for the explosion of hot magma and large rocks from the volcano. It's truly an assault on the senses and definitely not an experience for the faint-hearted!
For a less unnerving but no less exciting time, head for the waters of Espiritu Santo, a popular wreck dive site. The prime underwater attraction here is the SS President Coolidge. This luxury liner turned military transport went down after hitting a friendly mine in 1942 and it is now the world's largest and accessible wreck.
Vanuatu is also one of the best places to catch a glimpse of authentic tribal cultures. One of the most bizarre tribal rituals has to be land diving, over on the island of Pentecost. Young men would spend weeks erecting special huge towers. They then climb to the top, strap on strong and springy vines onto their ankles and leap into the air, coming just centimetres to near deaths. This terrifying ancient rite of passage is said to be the inspiration behind modern bungee jumping. No surprises there. If you're keen to catch this, make sure to go between April and June.    
Palau, Micronesia
For an utterly magical experience – both in and out of the water – tiny Palau in Micronesia is hard to beat. Its archipelago of more than 200 extraordinary limestone and volcanic islands, stunning emerald green forests and shimmering blue lagoons are bound to delight all your senses. Located some 300 miles east of the Philippines, Palau used to be quite inaccessible but these days, there are plenty of airlines in the region flying into the republic.
Dubbed the 'underwater Serengeti', Palau is pretty much a dream for anyone who loves exploring underwater worlds. Seasoned divers will make a beeline for Blue Corner. Its reef configuration makes for a thrilling drop off and its volume of fish is humongous. Expect to see snappers, tuna, barracuda, groupers, hammerhead sharks and a whole lot more.
The magic continues above water. Kayaking enthusiasts will delight in the maze-like channels, hidden coves and warm waters of the Rock Islands. Continue the thrills on land by joining an off-road driving tour and exploring Palau's lush jungles. You'll discover fantastic but otherwise inaccessible landscapes such as pristine rainforest, beautiful waterfalls and excellent historical points of interest.
Fraser Island, Queensland, Australia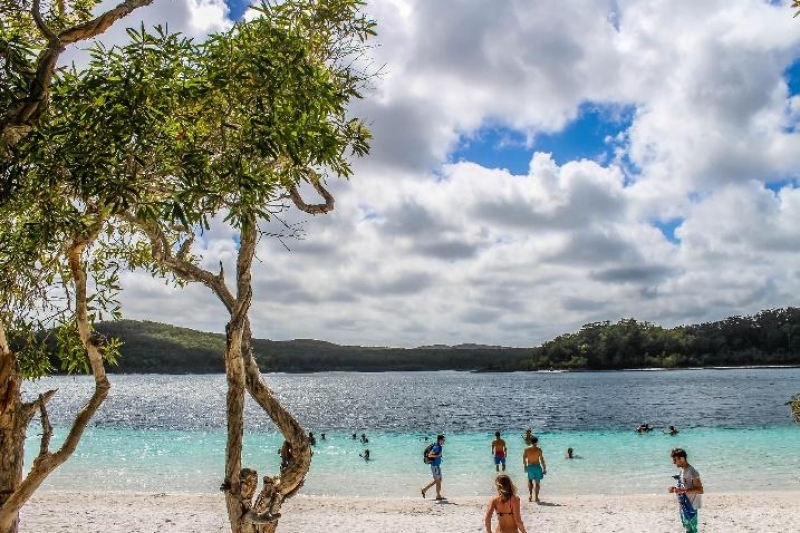 There are plenty of unique island experiences in Australia and Fraser Island – the world's largest sand island – is one of them. With its beautiful wild beaches, clear freshwater lakes, huge wooded dunes and wonderful wildlife, Fraser Island offers an otherworldly experience.
Stretching over 120km, this UNESCO-listed site features tall rainforests growing on sand dunes, sculpted coloured sands and half of the world's perched lakes – depressions in dunes that fill permanently with rainwater. The island is also one of the best places to witness thousands of humpback whales making their annual migration. Plan your holiday during whale watching season – from August to November – and check out the August Whale Festival. If you're lucky, you might just be able to spot the whales 'breaching' – their habit of making spectacular leaps out of the water and expelling jets of spray as they exhale – or catch baby humpback whales playing with their mothers in the water.
Plus, here's your chance to catch one of Australia's most iconic animals! Fraser Island has the purest strains of dingoes remaining in eastern Australian so if you've ever wanted to see the wild dingo in its natural habitat, then this is the place to be.
Whitsunday Islands, Queensland, Australia
Last but not definitely not least on our list is Whitsunday Islands, yet another Coastal Queensland gem! Sheltered by the Great Barrier Reef, the waters around here are particularly perfect for sailing, and the surrounding seas are often bustling with yachts and cruisers. Whitsunday Islands are made up of 74 islands but the largest and most enjoyable has to be Whitsunday Island itself. You can swim off the sublime 5km-long Whitehaven Beach, often referred to as Australia's prettiest, or just park yourself on the blindingly white, clean sands and soak in the rays.
Are you psyched for that perfect island vacay yet? There are plenty of affordable flight deals to Oceania so it's high time for you to pack your bags, slip on your sunnies and sail away to your ideal island getaway!