If you're on a seafood diet, not a "see-food" diet, we've got you covered! Here are some of the best islands in asia for seafood lovers!
Also read: 16 Local Foods You Must Try in Singapore
Koh Tonsay, Cambodia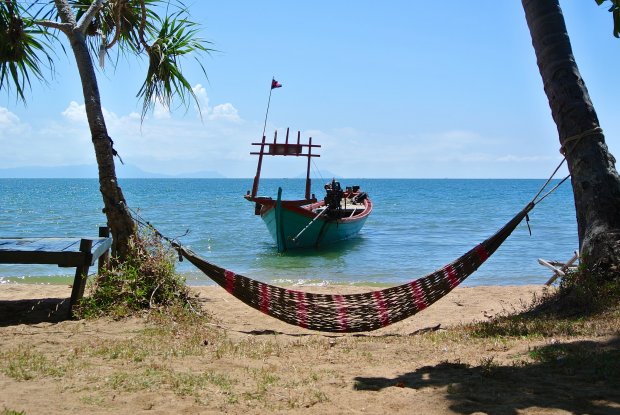 Image credit: James
At first sight, Koh Tonsay does not look like much. A lack of infrastructure and basic amenities mean that it is not an island for the faint of heart. However, those who are willing to tough it out have found it to be the undiscovered gem of Cambodia.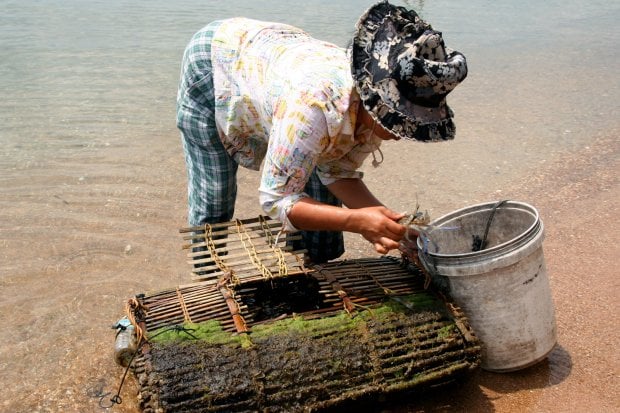 Image credit: Karen

The undoubted highlight is the outstandingly fresh and delicious seafood straight from the water. Quite literally in fact. After you place your order, look on in fascination as your waiter wades into the waters and plucks your meal from the various hidden crab traps. From the sea to your stomach in an hour or so, it truly does not get much fresher than that. Big portions and low prices ensure that you'll walk away from this seafood meal more than satisfied!
Tip: We recommend sticking to the simple yet trusty garlic and pepper combination to complement the succulent crabs. We also love the fact that the default location for your meal will be along the white sand beach, which needless to say provides a stunning backdrop for you to enjoy your meal.
Phuket, Thailand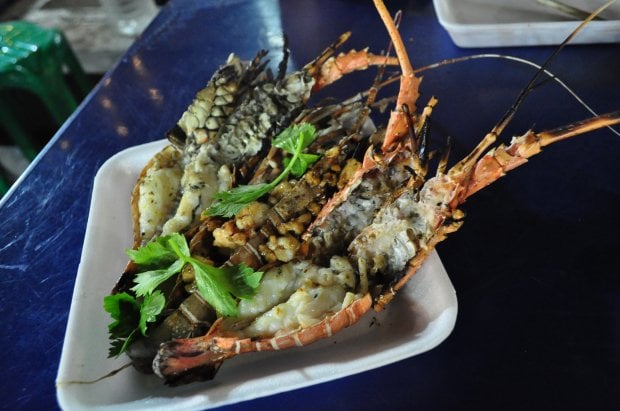 Image Credit: m4sh.3d
No trip to Phuket is complete without a sampling of their delectable seafood served aboard a krachang, a floating seafood restaurant. Walk along the rickety planks and browse around your one-of-a-kind supermarket as you pick and choose the (un)lucky sea creature that will be served up for your next meal. Some classic recommendations include the deep-fried soft shell crab with garlic, oysters served with lime, chilli and herbs (a popular local style) and the iconic tom yum kung.
Lei Yue Mun, Hong Kong
Hong Kong might be synonymous with its dim sum eateries, but don't sleep on the quality of seafood you can find if you know where to look.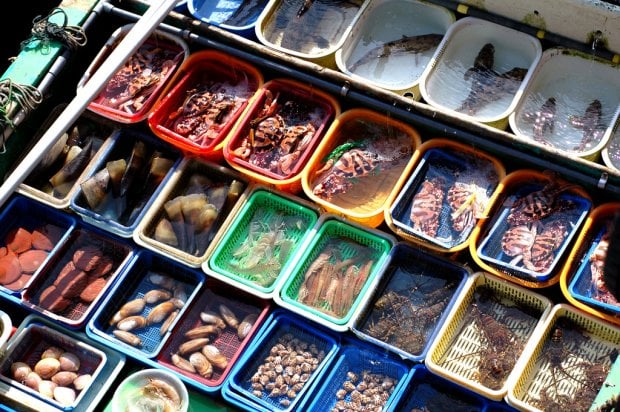 Image credit: McPig
One such place will be Lei Yue Mun. A seafood dinner on Lei Yue Mun is actually a two-part process, which can sound rather troublesome. Trust us though, after you've finished your meal, you'd be willing to jump through any number of flaming hula-hoops (figuratively) just to eat seafood on the island again.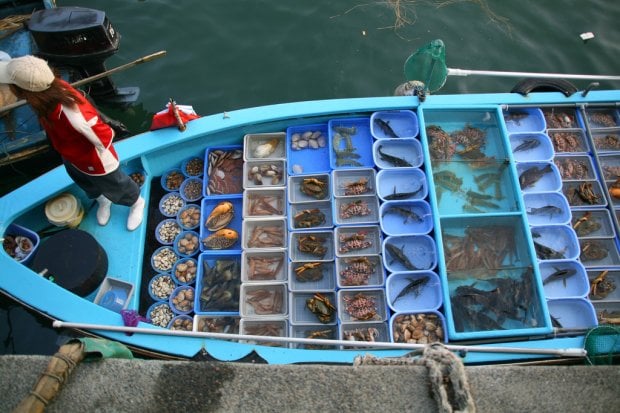 Image credit: Wendy
The first part of the process will be the purchasing of the seafood that you want on your dinner plate later that night. Many boats like the one above will float about the island, peddling their latest catches fresh from the sea. Tip: be sure to watch locals bargain and figure out the market prices from these observations before deciding on anything, otherwise you'll get skinned alive in negotiations.
After settling on the menu for dinner that night, it's then time to find a restaurant which will prepare the dish for you. Again, choosing joints populated with locals is an option that rarely goes wrong.  Simply inform the waiter how you'd like your seafood cooked, and tuck in!
Jeju Island, Korea
To understand the importance of seafood in Jeju, we all need a little history lesson. Some of the most respected members of the community are the haenyeo, or women sea divers. For centuries, these Jejunese women have provided for the family and community, diving up to 20 metres into the sea to gather shellfish and seaweed. All this without any breathing aids!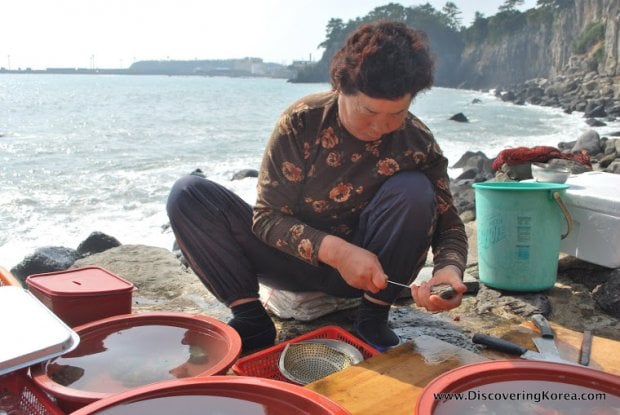 Image credit: discoveringkorea
While this practice is on the decline, there are still a rare few members of previous generation who still hone their craft this way! If you're lucky enough to come across any of them, do make it a point to sample some of their super-fresh foodstuff, we promise you won't be disappointed. For the less squeamish, this is an excellent opportunity to eat some fresh raw seafood!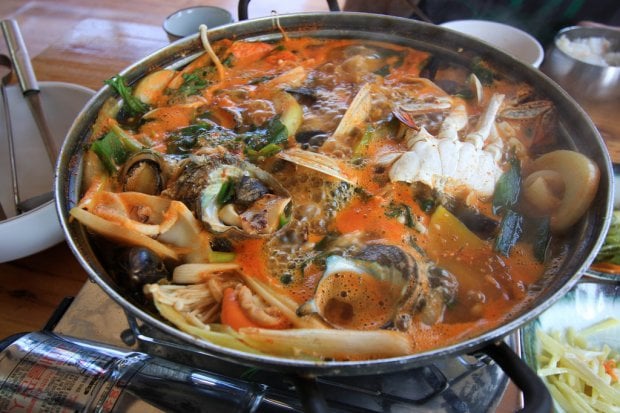 Image credit: Parisa
Another option for the seafood lover will be haemul-jeongol, or a seafood hot pot. Filled to the brim with a smorgasbord of seafood, vegetables and tasty broth, the dish is brought to boil with simmering perfection. I mean look at the picture, don't you just want to have some of that!
Bali, Indonesia
With its combination of fresh seafood and gorgeous sunsets, it is hard to beat what is on offer at Jimbaran Beach. Tip: There is no sense in being "fashionably late" for dinner on this occasion. Head there early, secure a good vantage point and get ready to catch a gorgeous sunset.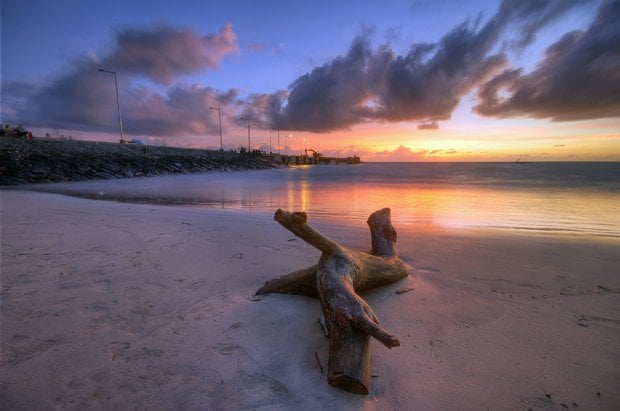 Image credit: Pandu
I mean just look at those colours!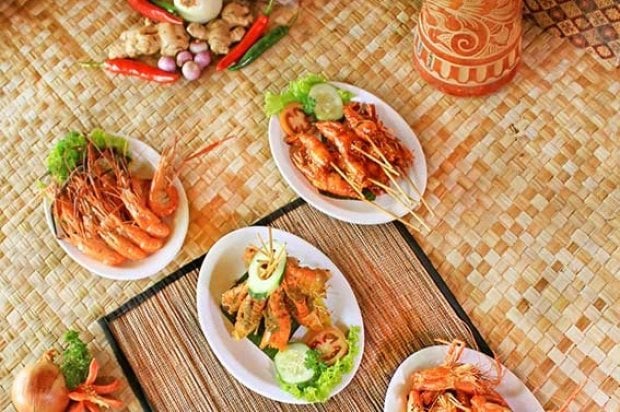 Image Credit: Baleudang
After you're done ogling the sky, it's time to get down to the serious business of seafood feasting. Most dishes here are done in the traditional Indonesian style of cooking, which often involves lots of chillis, spices and sambal. Savour the unique blend of flavours and the richness of the sauces which complement the seafood perfectly, tasty yet not too overwhelming on your tastebuds. One of our favourites has to be the tiger prawns which are seared to a flaming perfection, with just the right amount of aromatic smoky flavour without being burnt.
Singapore, Singapore
For the uninitiated, Singapore is a tiny little island nation bereft of national resources. This means that anything and everything is imported. Don't think for a second however, that this retracts from the quality and freshness of the seafood, because that's simply not the case.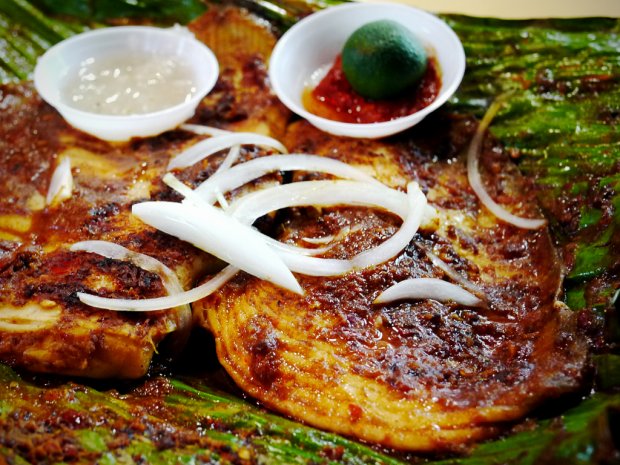 Singaporeans certainly love their food, and hold the local hawkers and chefs to a very high standard. One of the local cult classics is the sambal stingray coated with a generous layer of red-hot sambal chilli and juicy limes. While many locals who have been brought up on a diet of spice and more spice will ask for additional chilli for more kick, do ensure you're able to handle it otherwise you'll be steaming from the mouth before you know it!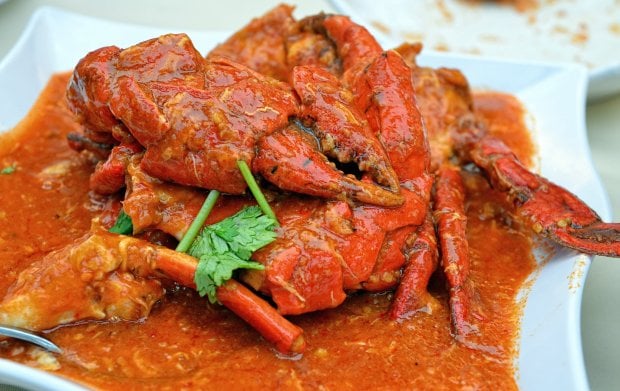 The sharper eyed audience would probably have noticed the theme that Singaporean cuisine heavily features the prominence of spice. The is absolutely right! Another local favourite has to be the iconic chilli crab, where the sauce has outshone the "meat" of the dish. Sure, it is important to have a big juicy crab in order to have a good dish of chilli crab, but what sets the great apart from the good is no doubt the gravy which accompanies it. Have a side of fried mantou (buns) to mop up every last savoury drop of the liquid gold that is the gravy!
Let us know if we have missed out on any of the islands out there that serve up some brilliant seafoods!
Also read: The Sand Dunes in Vietnam is a Surreal Place You Have to Visit