For over a thousand years from 794 to 1868, Kyoto, where the Emperors lived, was the capital city of Japan. Tokyo has taken over as the capital city since, but the historic Kyoto is still revered for its temples and heritage sites. Getting around the city has never been easier or cheaper, with sightseeing passes (namely Kyoto City Bus/Kyoto Bus One-Day Pass and Kyoto Sightseeing One/Two-Day Pass) which you can purchase at Kyoto Station. Here are a few of Kyoto's finest shrines and temples you must visit in Kyoto, Japan.
Also Read: How Much Do You Really Need For Japan
Fushimi-Inari Taisha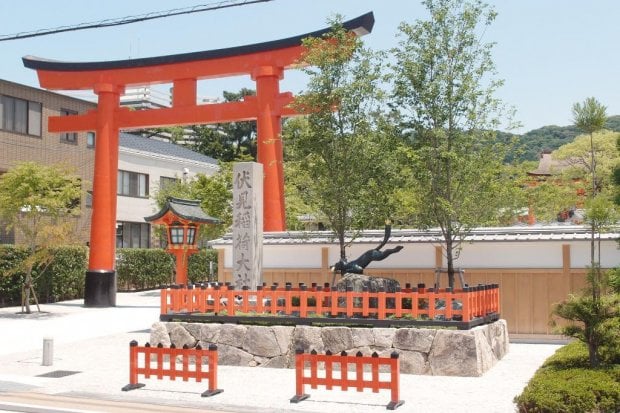 The most famous shrine in Kyoto has got to be Fushimi-Inari Taisha, a Shinto shrine in southern Kyoto, which promises not only spiritual enlightenment, but also a great workout as you walk under thousands of orange toriis – Japanese shrine gates – lined along the hiking trail at Mount Inari.
There is no admission fee and the shrine is always open, so you can begin or end your trip around Kyoto with Fushimi Inari Taisha. The shrine is situated at Inari Station, a 5-minute ride away from Kyoto Station on the JR Nara Line.
As you exit Inari station, you will be welcomed by a fox statue and a large orange torii. Foxes, also known as kitsune in Japanese, are thought to be messengers to Inari, the God of Rice. Inari has grown to become one of the most important Shinto kamis, or Gods, in Japan and more than one-third of the Shinto shrines in Japan are dedicated to this kami.
Yasaka-jinja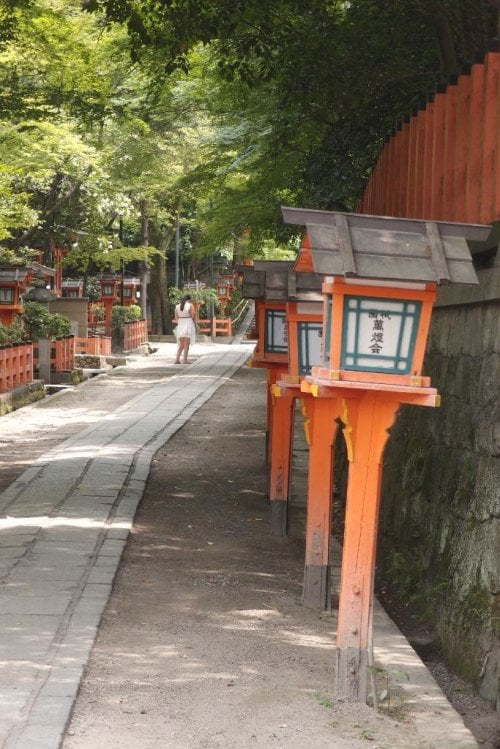 Also known as Gion Shrine, this Shinto shrine located in the Gion District of Kyoto is known for its nightlife and geishas. This is the place to go to if you want to catch the annual Gion Matsuri, one of the largest festivals in the whole of Japan, celebrated throughout July. Also, just next to it is Maruyama Park, one of the best and most popular spots in Kyoto for hanami, or viewing of cherry blossoms.
A 20-minute bus ride (bus number 100 or 206) from Kyoto Station is all you need to get here. Alight at Gion stop. If you prefer to travel by foot, it is a 20 to 30-minute walk from Kiyomizu-dera.
Also Read: Tips And Advice On Japan's Rail Pass
Kinkaku-ji (Golden Pavilion)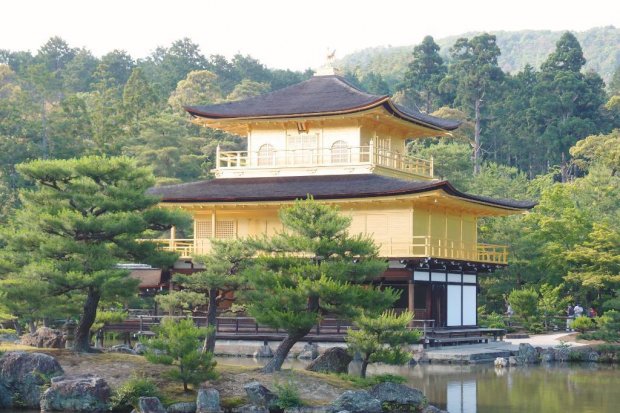 The striking golden exterior of Kinkaku-ji — a former villa turned Zen temple upon Shogun Ashikaga Yoshimitsu's death — draws much attention, but what you may not know is that this is not the original pavillion. Through the years, the original Kinkaku has been burnt down several times, and the present structure was rebuilt in 1955 and fully restored in 1987.
The top two floors of the pavillion are covered completely in gold leaves,  but what is more interesting is that each storey is built in a different architectural style. The first floor is built in the Shinden style used for palace buildings in the Heian Period, and the second, in Buke style used in samurai residences during the Kamakura Period. Crowned with a Chinese phoenix, the third floor is built in the traditional Zen style of the Tang Dynasty.
Take your time to walk around the garden complex and toss some spare change at selected stone statues for good luck, or drop the spare change into the little red vending machines that dispense written oracles.
Kinkaku-ji is a little farther away and takes 40 minutes to get to by bus (number 101 or 205).
Sanjusangen-do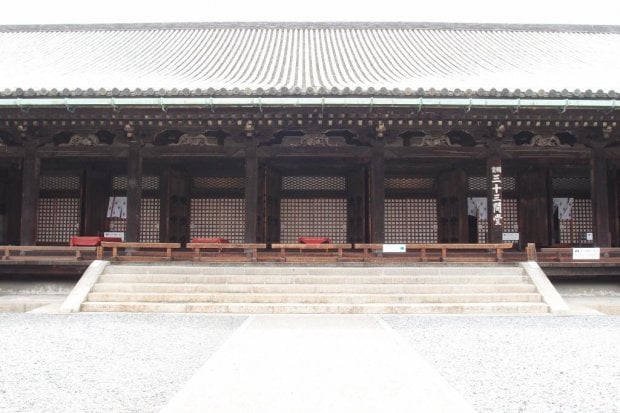 Sanjusangen-do may look plain from the outside, but do not be fooled. This temple in eastern Kyoto houses 1001 Kannon (Goddess of Mercy) statues in its temple hall, each with a thousand arms! The smaller statues only have 42 arms each, but apparently to get the full thousand, you have to subtract the two main arms and multiply the remaining 40 by 25 planes of existence to get the full thousand arms. For those who are poor at arithmetic, skip the technical part and just admire the spectacle.
Photography is not allowed in the temple hall, but just as well. Slow down and take in the magnificence of the spectacle and leave the photo-taking for later when you're outside the temple hall, where the tall dark wooden columns and shutters make the perfect background for a photoshoot. At 120 metres long, the temple hall is also the longest wooden structure in Japan.
It is a short 20-minute walk from Kyoto Station. Alternatively, take bus number 100, 206 or 208 and alight at Hakubutsukan-Sanjusangendo-mae bus stop.
Also Read: 10 Weird And Wacky Things To Do In Japan
Kiyomizu-dera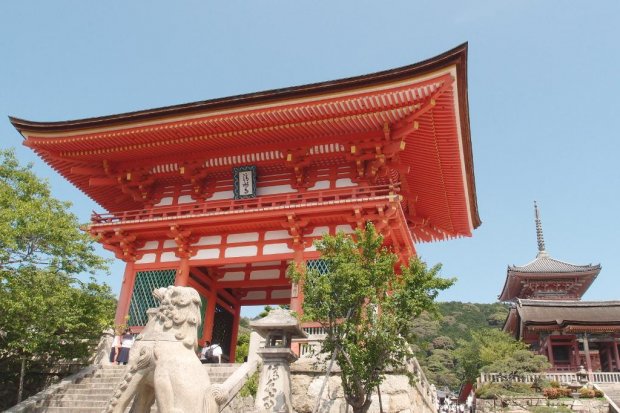 This temple might not strike you as the most interesting at first, but in 1994, Kiyomizu-dera was added to the UNESCO World Cultural Heritage List as one of the historic monuments of ancient Kyoto. Literally "Pure Water Temple", Kiyomizu-dera derived its name as it was constructed on the site of Otowa Waterfall in the hills of eastern Kyoto.
Apart from the impressive view from the Kiyomizu Stage, this place is also known for its special construction method: The 12-metre high keyaki (Japanese Zelkova) pillars were put together without using a single nail.
Head over to the shop houses for souvenirs and local snacks. Take note that this temple is a 10-minute uphill walk from the nearest bus stops, Gojo-zaka or Kiyomizu-michi.