Taiwan's public transportation system has a great reputation for its efficiency and convenience. Wherever it is that you need to go, chances are, there is a way to reach it without getting in a taxi. So before you land on Taiwan, read this brief guide on the many transport options available for travellers.
1. TRA Trains
Operated by the Taiwan Railway Administration (TRA), Taiwan's railway system is an island-wide network that covers more than 1,400 kilometres, offering the most convenient way to reach all major cities and towns. Make sure you book your tickets in advance, especially if your trip is planned for weekends or holidays. Also, as the official website and on-site ticket machines can be a bit confusing for a foreigner, it would be much easier to ask a local to book it for you.
Tip: If you're heading to the east coast (Taitung, Hualien, Kaohsiung, etc.), this is your best option!
2. THSR (Taiwan High-Speed Rail)
Another option is the THSR, which runs along the west coast of Taiwan. The line links eight stations in total, from Taipei in the north to Zuoying in the south, and each station is connected to nearby towns via buses. The trains on this line are among the fastest in the world – they can bring you from Taipei to Kaohsiung in as little as 90 minutes! As expected, the speed comes at a premium price. Tickets can be booked either through the official THSR website or at an Ibon Machine in any 7-Eleven store.
Tip: Trying to save time and don't mind spending some money? Then this is it!
3. Buses
On the streets and highways, buses are everywhere. It is the cheapest way to explore Taiwan, and there are connections between cities with services running nearly 24 hours a day. Believe it or not, the average fare for a bus trip is only around US$1! The main bus station in Taipei is at the Taipei Main Station, which also provides access to the trains, THSR and MRT.  
If you're planning a sightseeing trip, you should check out the website of the Taiwan Tourist Shuttle Service. This wonderful service offers 42 bus routes to more than 100 tourist destinations around Taiwan where trains/buses aren't able to reach. This includes Sun Moon Lake, Taroko Gorge, Alishan… and all the other regions in the Central Mountain Range.
4. MRT (Metro)
When going around the two major cities of Taiwan – Taipei, and Kaohsiung – the MRT is the most convenient mode of transport. The MRT is clean, safe and always on time. It is also tourist-friendly, with all signs and directions written in both Chinese and English. The ticket machines are fairly easy to understand too. Those staying for more than a day should definitely buy an EasyCard, which is a prepaid card that gives the cardholder a 20% discount within Taipei.
Reminder: It is strictly forbidden to eat or drink in the MRT. Even chewing gum is not allowed. Fines are heavy and can go up to US$250!
5. Rental Scooters
One thing you'll notice right away after landing in Taiwan is that scooters are everywhere. Popular with locals, scooters are also a great option for travellers who'd like to discover a city on two wheels. In Taipei, riding a scooter, as opposed to driving a car, can save you so much time as it allows you to weave through the traffic. Scooters are also particularly useful in the south-east coast when you want to visit small villages and hiking trails that are unreachable by bus. Renting a scooter is relatively easy – just bring your international license to any scooter shop, sign a paper and off you go.
6. Hitchhiking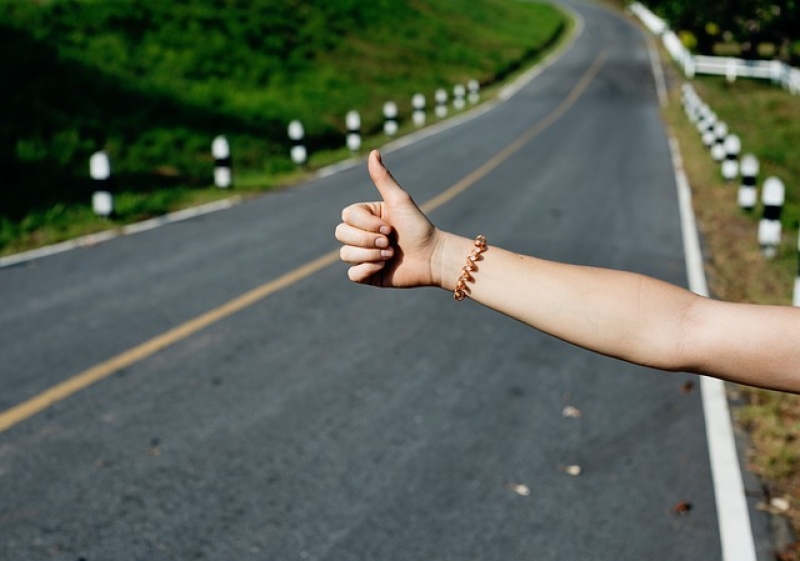 For those visiting the southeast coast of Taiwan, whether it's for surfing or hiking, you should consider hitchhiking. While not so popular on the rest of the island, hitchhiking is quite common in Taitung and Hualien as there isn't much public transportation available for commuting between towns. Being as friendly as they are, Taiwanese people are most likely to stop and give you a ride – just hold up a board with your destination written preferably in Chinese. I've heard so many stories about foreigners hitchhiking and ending up spending the whole day (or two) with the driver's family, so do give it a try!
What about car rentals?
While there are many travellers who would opt to rent a car for the experience of having a road trip in Taiwan, it's best to look into the aforementioned options first as car rental is costly. On top of that, the various modes of transportation above are, more often than not, sufficient for getting around the country conveniently.