From Left: TripZilla's Managing Editor, Miranda Zhang, Asian Parent's Regional Head of Marketing, Ruoshan Tao, MoneySmart's Chief Content Officer, Adrian Yuen, VCNC's Ex-Editor & Panel Moderator, Joash Wee
TripZilla Magazine was recently invited to speak and cover the first ever Singapore Digital Publishers Summit, organised by Vulcan Post. It was an insight-filled event, as experts from various media-related industries shared candidly their thoughts on new media, journalism and more.
For our very own readers, we've weaved together some nuggets we found relevant to the travel blogging community. Aspiring travel bloggers! Here are some tips for you:
Turning travel blogging into a career takes lots of perseverance
Travel blogging demands huge time and commitment, and more often than not, monetary rewards are not guaranteed. If you are only in it for the money, this may not be for you.
Earning a sustainable income through travel blogging is not easy – it could take months, or years even, and what's for sure is that it takes perseverance.
What you need is passion in travel, fantastic writing skills and the openness to learning anything and everything related to the travel blogging industry. On top of that, you must be able to ensure that your drive to monetise your site along the way will not overtake your passion for travel writing.
Don't be daunted by the big players, the industry welcomes you
While the travel blogging industry is one that is saturated, don't worry, there's still room for you. There's plenty of people around the world who devour travel articles like hungry ghosts, whether it is for travel inspiration or travel planning. There's always new angles to cover a certain topic and destination. So go ahead, jump on the bandwagon!
Pick your blogging platform wisely
Where do you even start? If you're serious about taking your travel blogging to a professional level, use WordPress as your platform. With WordPress, you can host your own site, install plugins to extend features, and have a pick from thousands of free and premium templates.
Learn about SEO
If you don't know about SEO yet, get ready. Soon enough, SEO will become part of your life.
SEO is short for Search Engine Optimisation, which is a process to ensure that your content performs well on search engines. Mastering SEO techniques will push your articles higher on search engines like Google, driving greater visits. If you want to get ahead of the competition and have a steady flow of visitors to your website, learning about SEO is a crucial.
Install the free WordPress SEO by YOAST plugin, which will make it easy for you to optimise every post before you click the 'publish' button. The All in One SEO Pack plugin is also another great alternative!
Be creative, utilise media to your benefit
The awesome thing about blogging is that you can utilise various forms of media to your benefit. Optimise the usage of visually appealing photos and maybe even videos in your articles, and you'll have better chances of keeping your readers engaged. Invest in a good camera or learn some photography techniques. Like it or not, aesthetics is very important to most readers.
Content is king
You've probably heard this one before, and we shall reiterate it because we think that it is an extremely important point. Content is King, content is Queen and content is (almost) everything.
Always aim to provide fresh articles that can value-add to your reader's knowledge. No, don't fall too often into the hole of writing self-indulgent travel stories about what you did on day one, day two and day three. More often than not, people don't care!
If you want to be a successful travel blogger, you have to write FOR your readers. Find the middle ground of what you want to write, and what the travel community wants to read. And use your travel experience to add a personal touch to the writing. If you need a boost in traffic, make your articles shareable and relatable! Also, learn from the experts and browse the websites of successful travel bloggers and travel publications like *cough* TripZilla Magazine!
Hold on tight to great article ideas
While publications normally have a publication schedule to follow, travel bloggers usually bang on inspiration and experience. Bring a notebook wherever you go, or keep a memo list in your phone so that you can jot down great ideas the moment it land in your head.
Trust us, great ideas are gold. Hang on to them tight. Don't just let them slip away into the deep recesses of your mind.
Market through various channels
Travel blogging is not just about filling up your blog with great content. Other than SEO, content marketing plays a big role for bloggers to reach out to potential readers.
Create Facebook, Instagram and maybe even Twitter and Snapchat accounts for your travel blog. You'll be surprised by how much traffic will be referred from social media sites, especially Facebook.
So do encourage your readers to 'share' your post and to 'follow' you. Make it easy for them to be directed to your social media pages by including prominent widgets and buttons on your website. This way, not only will you gain traffic, you will also start gaining 'followers' who will turn into your loyal readers.
Arm yourself with useful tools
There are many tools out there that travel bloggers should arm themselves with. Use Canva to create nice banners and featured images, install Akismet to keep spammers at bay, and install W3 Total Cache and Google XML Sitemaps to make your site run more efficiently. In their keynote, Vulcan Post also recommends Pollbuzz (to create simple polls), Pollen (to enhance content distribution internally), and Parrot (to easily add call to actions for content).  
Never lose your integrity
When your travel blogging career takes off and when media trips and money come rolling in, never lose sight of why you began blogging in the first place. Always put your readers first and be selective when partnering with brands. Little things like being transparent about sponsored advertorials, and only promoting products and services that you truly believe in will ensure that your readers will trust you, and stay loyal to you.
Also important is to keep your passion in writing ignited – it's easy to lose the fiery drive when writing becomes a source of income and something you simply have to do.
Overwhelmed? Hey, we never said that travel blogging is easy. It is, however, fun, educational and fulfilling so go ahead and start a travel blog now!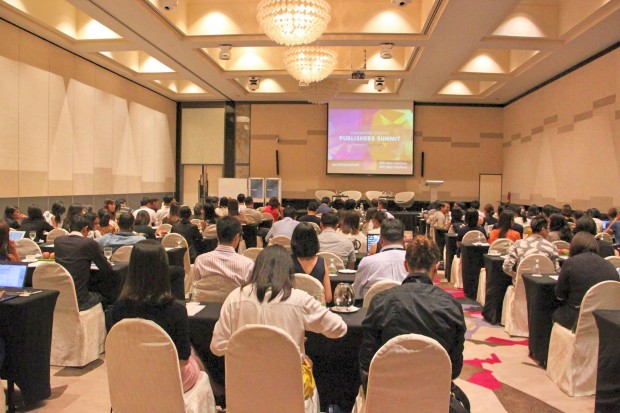 The Singapore Digital Publishers Summit is a gathering of Singapore's online publishers to learn, network and discuss about the future of the country's online media landscape.