During my graduation trip last summer, I had the good fortune of trying some of the most phenomenal food places in Kyoto. Through my experiences dining in these restaurants, I discovered that eating is not just about taste alone. It is also about quietening your heart to allow your senses to notice and appreciate the tiny details of your meal.
Here are seven of my most memorable experiences! I hope it inspires you to go on a gastronomic excursion the next time you visit Kyoto.
1. Tatsumiya – "Eating" green tea
Sitting by the banks of Uji River is the venerated Tatsumiya, which, despite its prominent reputation, can be easily missed. What seems like a mediocre eatery is in fact a stylish restaurant with contemporary decors and swanky vibes. Nevertheless, Tatsumiya remains faithful to its traditional roots as exemplified by the dining etiquettes it maintains – customers dine cross-legged on a tatami while an army of kimono-clad waitresses meticulously attend to their every need.
Tatsumiya started from humble beginnings as a tea shop in 1840. 73 years later, it converted itself into a restaurant and began advocating for a novel style of appreciating green tea – eating it! Situated in Uji, a city famed for green tea, there was no doubt that a small establishment like Tatsumiya had to constantly innovate to survive. So when we read about this creative concept online, Tatsumiya immediately made its way to our to-go list (being the fervent green tea fans we are!).
My friend opted for Tatsumiya's speciality, the Charaku Yuzen, a Kyoto-style kaiseki which uses green tea as its main ingredient. Accompanied by the freshest of seasonal ingredients, each dish is precisely prepared and carefully plated to showcase the multifaceted taste of green tea. Don't underestimate these dishes – small as they may be, the number of dishes is more than enough to fill!
I chose the lunch bento because who's ever heard of a bento in a boat? It was wrapped with bamboo bark in a boat like fashion and I was spoilt for choice as I stared at the kaleidoscope before me. I took the longest time to decide on where to begin! Not only were these dishes vibrant and colourful, they also tasted like summer – refreshing, energetic and full of life.
The arrival of perfectly cooked white rice heralds the coming of the end of the kaiseki. Showered with a teaspoon of matcha powder, this dish was slightly bitter and sweet all at once, clearing the palate to mark the end of an enjoyable experience.
Our dessert came with a cherry tomato, tamago (grilled egg) and a matcha cheesecake. Boy, did this small dish come packed with big flavours! The savoury tamago married the subtly sweet cherry tomato perfectly. Coupled with the slightly bitter yet fragrant matcha cheesecake, they come together to produce a delectable dish.
As we sipped on our green tea, we both agreed that this was a wonderful experience. We had tasted green tea in a myriad of flavours, sweet and savoury and the fine culinary skills of Japanese chefs. But most importantly, we had tasted Kyoto.
3-7 Uji Tonokawa, Uji 611-0021, Kyoto Prefecture, Japan
Opening hours: 11.00am – 2.30pm (lunch); 4.30pm – 8.00pm (dinner)
Nearest station: Uji Station
*Closed every wednesday
**Reservations recommended
2. Kichi Kichi – Cheeky chef and omurice
A day after we had arrived in Kyoto, I watched a viral video on Facebook that depicted a chef slicing a half-moon omelette perfectly over rice. The video invited many enthusiastic responses – both favourable and unfavourable ones. Fascinated, we decided that we might as well go try it out ourselves since we were in Kyoto!
Located in a small lane off Pontocho Alley, Kichi Kichi is tiny eatery that houses up to 10 diners at a time. I believe the chef's intention is to keep it cosy so that diners can get an intimate experience. Six of the 10 seaters are counter seats where you can watch the enthusiastic and animated chef in action. Check it out in this short clip I recorded here!
My verdict? IT WAS AWESOME. Call me mainstream, but this was hands-down the best omurice experience I had. Yes, it's slightly pricey, but what you are paying for is the omurice AND the experience of watching your dinner come together before you. Not to mention that the omurice was so yummylicious! The savoury brown sauce that was drizzled over the omurice did not overpower the subtle sweetness of the egg. Instead, it electrified our tastebuds by enhancing the fragrance of the omurice. We were most definitely satisfied!
This is a place I wouldn't mind coming back a second, except this time round I will be watching the chef like a hawk instead of gawking at the food – perhaps I will uncover the secret to his amazing omelette making skills.
185-4 Zaimokucho, Sanjo Pontocho-dori Kudaru, Nakagyo-ku, Kyoto 604-8017, Kyoto Prefecture, Japan
Opening hours: 12.00pm – 2.00pm (lunch)* 5.00pm – 9.00pm (dinner)
Nearest station:
*Only available during weekends or holidays
**Reservations recommended!
3. Shigetsu – Banquet in a temple
Sitting in the midst of the lush greenery of Tenryu-ji, one of Kyoto's most renowned temple, is Shigetsu. Incorporating Buddhist philosophy into its culinary, Shigetsu uses only fresh seasonal vegetables, herbs and wild plants in its preparation. What better way to experience the temple than to have an authentic meal of shōjin-ryōri (Buddhist vegetarian cuisine) in a Buddhist temple itself?
As we settled down in an empty and spacious room (I could do at least two cartwheels across the length of the room), we were completely baffled. Yes, it was typical of Japanese to dine while sitting on tatami, but where were the tables? Were we going to have to eat hunchbacked the whole time?
And that was exactly what we did. Our lunch was placed in a tray on the ground and we had to hunch over to reach for our food. On retrospect, despite the slight discomfort, I had very fond memories of us trying clumsily to maintain a shred of poise and gracefulness (in the same manner as the Japanese would do when dining). Even though we failed so miserably, we had a good laugh over the light-hearted meal.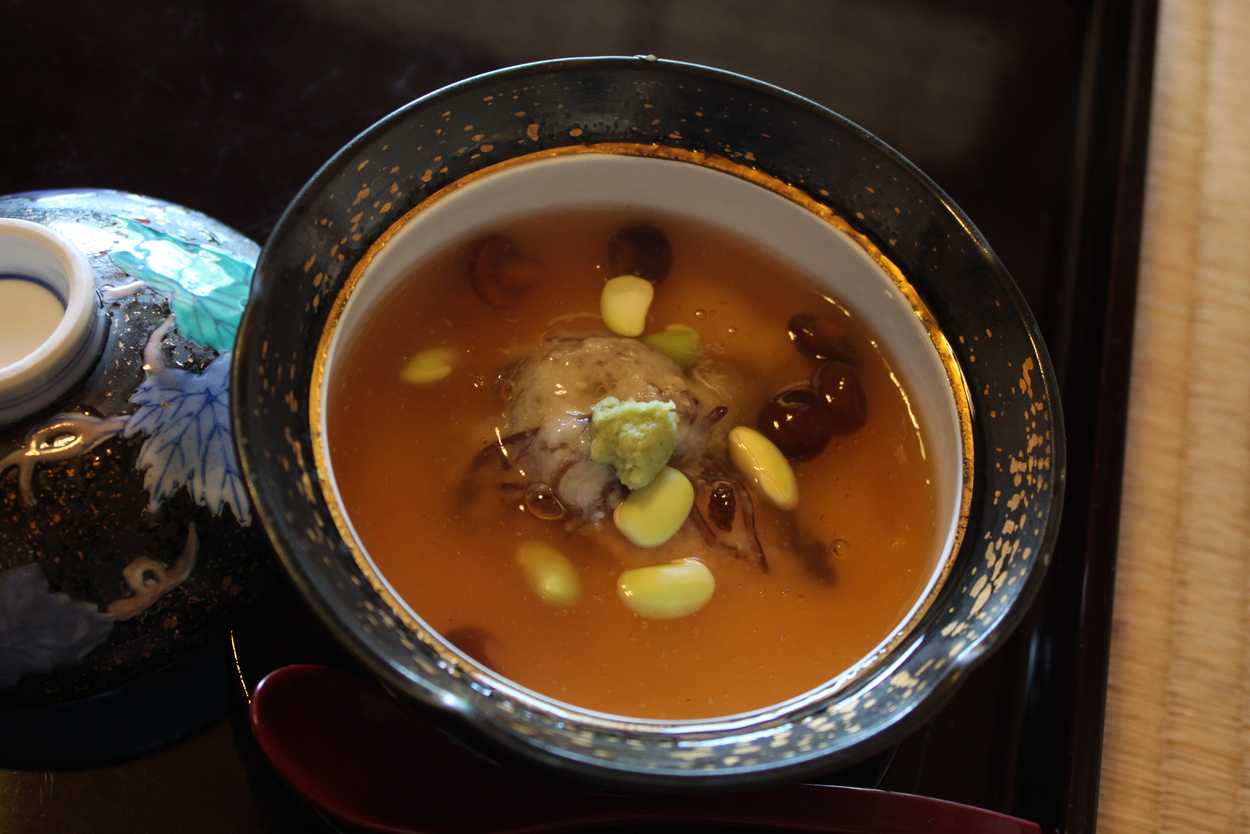 What I love about Shigetsu is that its dishes completely catches its diners off guard. A dish that seemed sweet would actually be savoury; another that looks like a cold appetiser would turn out to be piping hot. The dish you see above resembling a typical sweet Chinese dessert was actually a cold and savoury viscous soup! At Shigetsu, it was a true food adventure every step of the way.
Have you ever been eaten a fist-sized eggplant? I certainly have not! As I bit into the soft and warm eggplant, the fragrance of miso and refreshing taste of eggplant rushed into my mouth, creating an amalgamation of sweet and savoury. This miso-glazed eggplant was certainly the highlight of our meal.
Here are some of the close-up of the food in our set meal: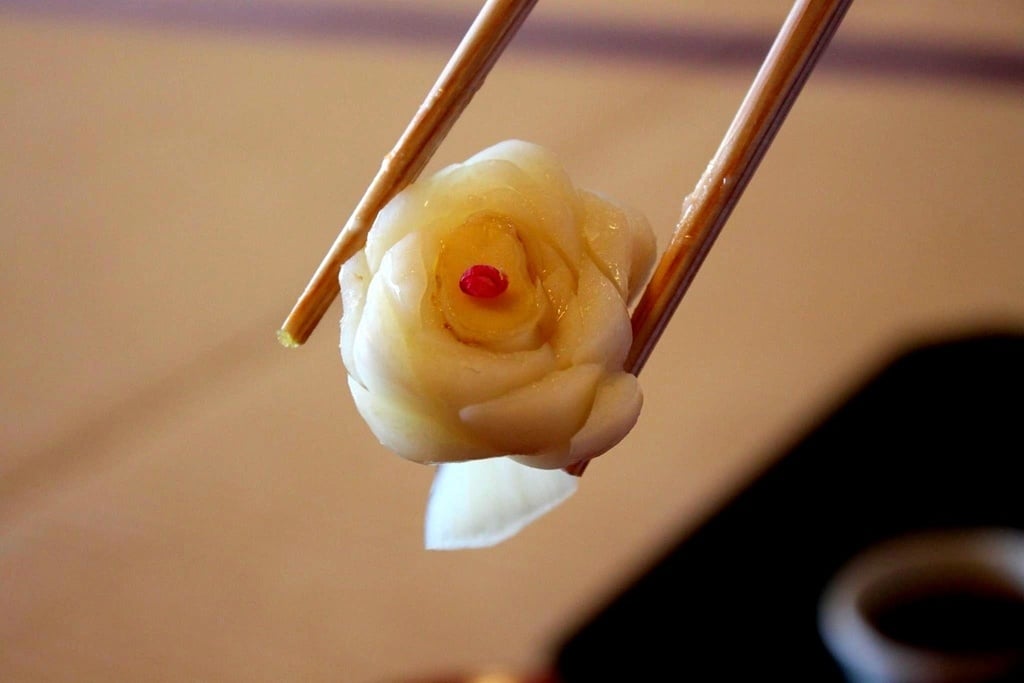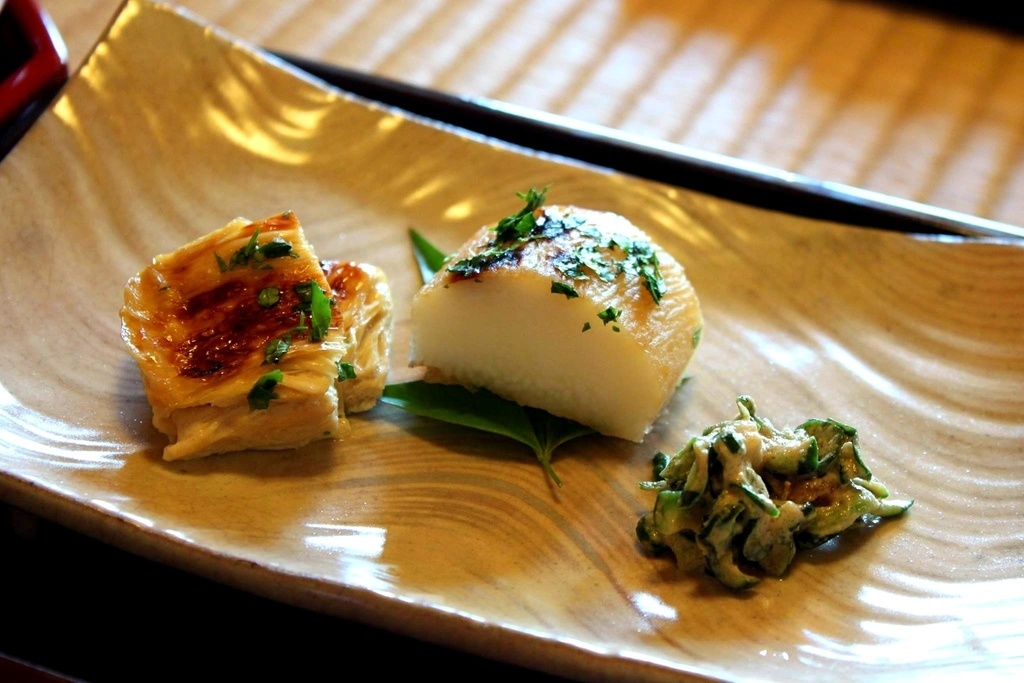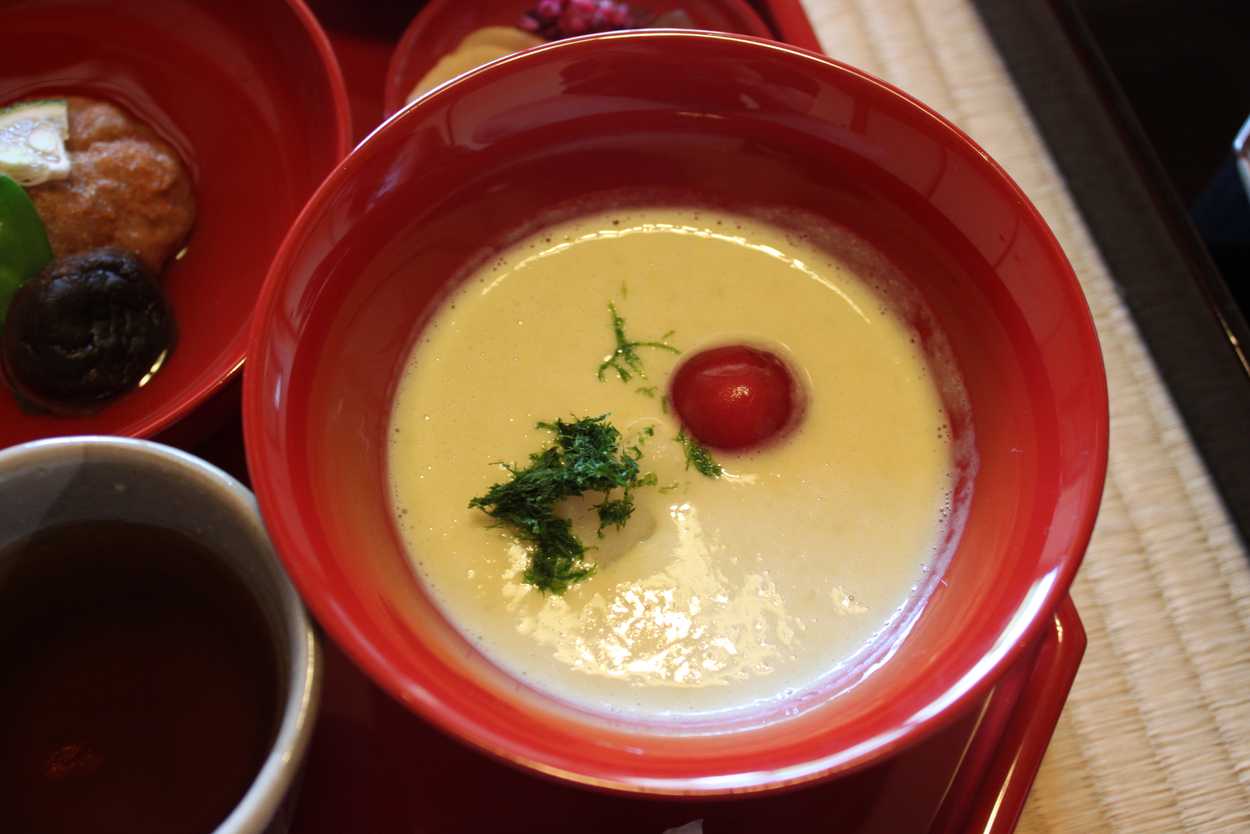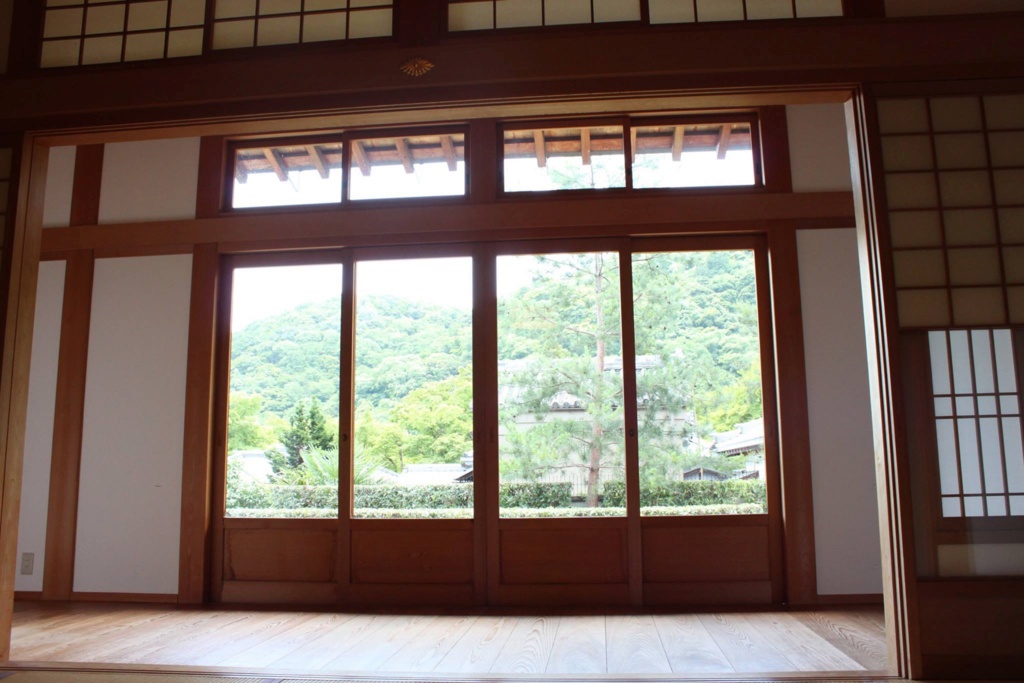 The meal was exceptional. I'd never imagined vegetarian could taste so good! As we savoured the last bit of our food in silence, we noticed the beautiful sight before us. The mountains and greenery had come together in a stunning amalgamation. We realised that had been the intention of the meal all along – in the same way that the shōjin-ryōri has cleansed and refocused our palate to appreciate the subtlety of Japanese cuisine, the zenness it advocates also rids our minds of all distraction so that we can see the beauty before us. I don't think I will ever get used to eating hunchbacked, but for an authentic shōjin-ryōri, I will gladly do it all over again.
68 Susukinobaba-cho, Saga-Tenryuji, Ukyo-ku, Kyoto 616-8385, Kyoto Prefecture, Japan
Opening hours: 11.00am – 2.00pm (lunch)
Nearest station: Arashiyama station
*Reservations recommended
4. Katsukura Sanjo – Pork cutlet at its finest
As with all other good restaurants, Katsukura Sanjo is located in a small lane off a bustling street. We only found it (after walking to and fro three times along the main street) because the dinner queue had snaked all the way out of the small lane. Katsukura is really popular amongst foreigners and locals alike, so be expected to wait for some time if you come during dinner!
With stone paved paths and wooden sliding doors, we had imagined that we would be dining in yet another traditional Japanese restaurant. Boy were we surprised when we saw the decor! It was elegant yet cosy, contemporary yet homely.
We were seated at a large communal table where we shared seats with a Japanese family and a Japanese couple. It was here where we experienced the wonderful Japanese hospitality. The locals noticed that we were struggling with the preparation of the dip for the pork cutlet (there were so many sauces to choose from) and enthusiastically showed us how to do it. Language was no barrier to our communication as we gestured with smiles and signs. The Japanese's genuine friendliness only made our experience here even more memorable!
I had never been a huge fan of Tonkatsu because I didn't appreciate fried food much. It actually took plenty of convincing from my friend before I reluctantly agreed to try Katsukura for dinner. But this – this was absolutely fantastic! The batter was light and not at all greasy. The pork was SO juicy and crispy, it wasn't the least bit dry! It was nothing like anything I've eaten – it was a cutlet fried to perfection.
Beside me, my friend (who adored Tonkatsu with his life) was brimming with joy. He savoured every bite of his Tonkatsu, chewing it so slowly as though as this was his last time eating it.
As we paid for our meal, my friend declared that he will certainly be coming for more. Perhaps tomorrow, or the day after the next. For the first time, I actually nodded in agreement.
16 Ishibashicho, Nakagyo-ku, Kyoto 604-8036, Kyoto Prefecture, Japan
Opening Hours: 11.00am – 9.00pm
Nearest station: Sanjo Station/ Kyoto Shiyakusho-mae Station
5. Yakiniku Hiro – Terrace dining by Kamo River
This was perhaps my most memorable meal in Japan, except it's for totally wrong reasons. Don't get me wrong, the food here was superb, but I made the foolish mistake of reserving an outdoor seat for 7.30pm in the evening. The weather was so cold that even with a jumper and a blanket, I still could not stop shivering! Determined not to let the weather ruin my kawadoko experience (dining on a tatami by the river), I had refused to change to an indoor seat, much to the perplexedness of my friend.
Up till this date I'm still puzzled. Kyoto-ians love kawadoko dining during summer. Well, I visited Yakiniku Hiro right in the middle of summer! I blame it on ill-luck that my experience was ruined by the horrible wind and cold, but I will give due credit to the tantalising wagyu I ate there.
We order the Shirakawa for a selection of cuts – yukke (wagyu sashimi), wagyu sushi, wagyu seasoned with four different types of salt, wagyu marinated with four different sauces. The set also came with fresh seasonal vegetables which complemented the strong flavours of the beef. Seeing that the two of us were nearly frozen in the cold, the waitress very kindly helped us (after much giggles) to grill and slice our meat. I cannot even describe the sensation as the piping hot meat entered and melted in our mouths! The quality of the marbled meat was so excellent that momentarily, I forgot that I couldn't feel my fingers.
It's a shame that I had my red meat fix under such circumstances. Although my favourite wagyu restaurant is still Matsuzakagyu Yakiniku M in Osaka, I'm going to give two thumbs up to Yakiniku Hiro for the extraordinary wagyu and exceptional service.
527 Kamiosaka-cho, Kiyamachi Dori, Nakagyo Ward, Kyoto 604-8001, Kyoto Prefecture, Japan
Opening hours: 5.00pm – 12.00am (dinner)
Nearest station: Sanjo Station
*Reservations recommended
6. Hirobun – Kawadoko in Kibune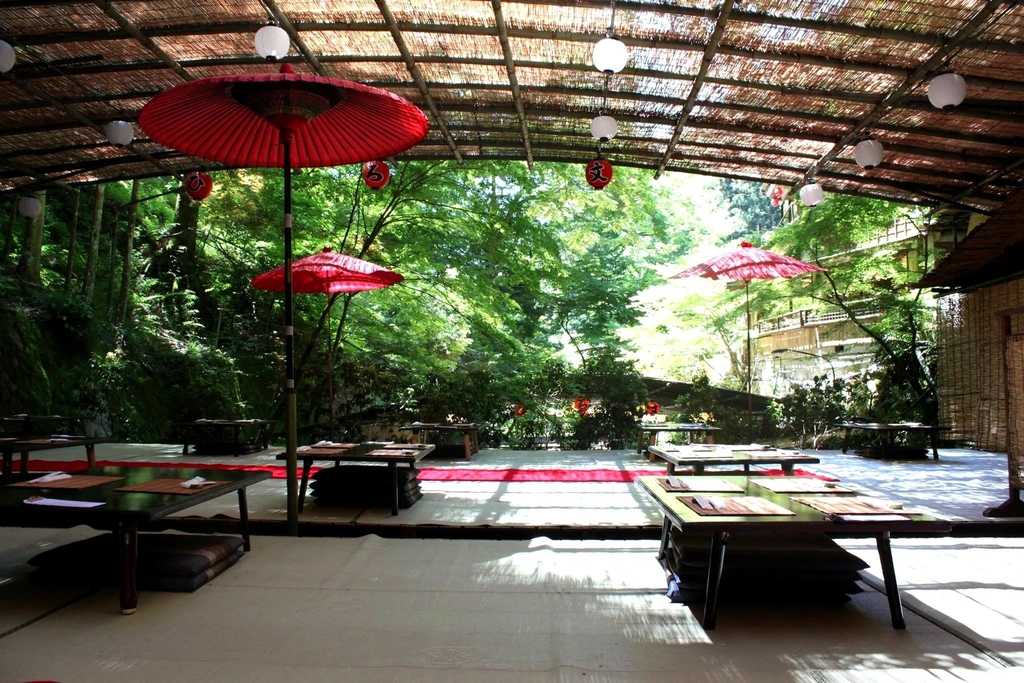 After my failed kawadoko experience with Yakiniku Hiro in the cold, I set my mind upon another candidate for a proper kawadoko – Hirobun. Hidden in the mountainous regions of rural Kyoto, Hirobun is perched upon a small waterfall and surrounded by lush greenery.
I was so thankful that the weather was perfect for a kawadoko! Even though the morning sun was getting hotter, the bamboo shade hid the guests from direct sunlight whilst the neighbouring waterfall cooled the temperature down nicely. I was finally getting my kawadoko experience after all.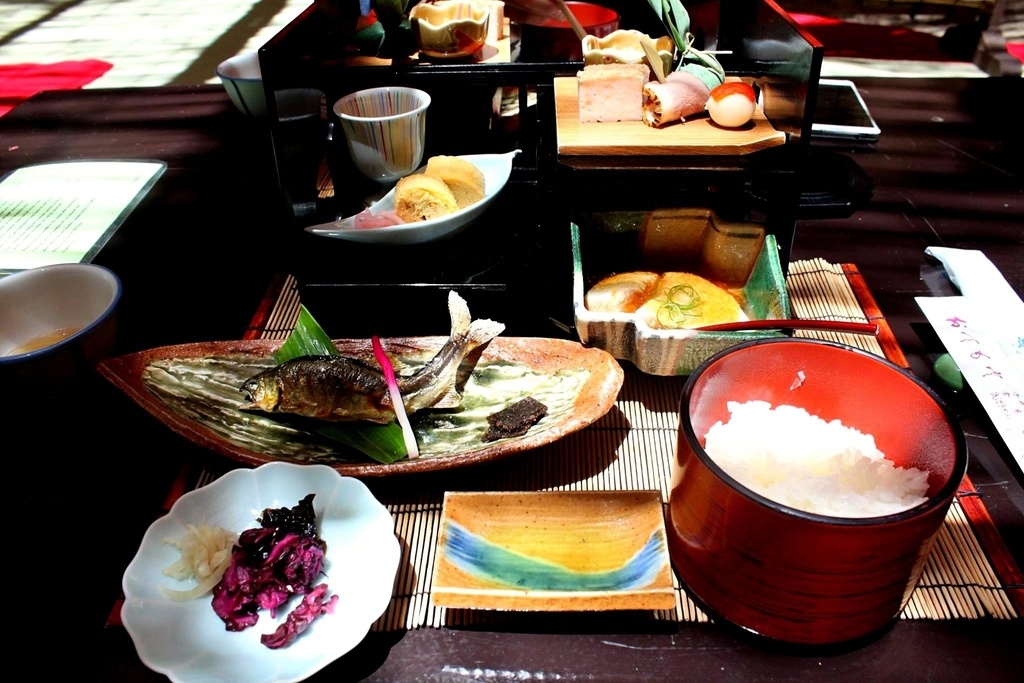 Apart from the fact that it has a picturesque outdoor setting, Hirobun is also set apart by the rustic taste of its food. Using only the humblest of ingredients, our lunch was all about eating in tune with summer. Through this meal, we learnt that Kaiseki was a meal of the mountain, earth, sky and sea. More importantly, it also reminded me of home – simple yet tasty, modest yet nostalgic.
87 Kuramakibunecho, Sakyo-ku, Kyoto 601-1112, Kyoto Prefecture, Japan
Opening hours: 11.00am – 9.00pm
Nearest station: Kibune Station
7. Tempura Endo – Classy Tempura experience 
Cleverly situated at Kyoto's famous geisha district, Tempura Endo resembles a traditional Japanese house with its stone structures, traditional tile roofing, wooden beams. The restaurant's architecture blended perfectly in the quiet, quaint streets of Gion, and it felt like we were thrown back to the Meiji era. Our experience had begun even before we stepped into the restaurant itself.
My mum used to order tempura with rice or udon a lot for me. It was hassle-free for her – no need for de-boning or peeling. Growing up, I have always thought that tempura was meant to be eaten like that.
A dinner at Tempura Endo completely changed that impression. Tempura Endo pushed the boundaries of eating tempura with its omakase menus – each tempura dish is meant to be savoured on its own without the accompaniment of staples. What amazed us most was that after 12 dishes of fried items and a tencha (combination of tempura, rice and sencha), we were not the least bit "jelak" but were craving for more!
The service at Tempura Endo was impeccable. Each course is nicely paced out so we didn't have to worry about our food getting cold. Our friendly waitress also explained how we should sample each dish very patiently. The conventional way of eating it – dipping it in soya sauce – apparently does not do the tempura justice at all. Instead, tempura should be dipped in either matcha powder or salt, depending on the flavour of tempura. As the waitress shuffled out of our private room with a half-bow, we continued to marvel at the profound wisdom that goes behind appreciating the Japanese culinary.
We were so enthralled by this superb meal that we completely forgot to take pictures of the later dishes. This restaurant impresses on so many levels. The unpretentious and simple tempura dishes only served to amplify the extraordinary culinary techniques of their chefs. As our tastebuds grapple with the plethora of flavours and layers in Tempura Endo, we knew we would be back. We had left a part of ourselves in Kyoto.
566 Komatsu-cho, Higashiyama-ku, Kyoto 605-0811, Kyoto Prefecture, Japan
Opening hours: 11.30am – 3.00pm (lunch); 5.00pm – 10:00pm (dinner)
Nearest station: Gion-Shijo Station/ Kiyomizu-Gojo Station
*Reservations recommended!