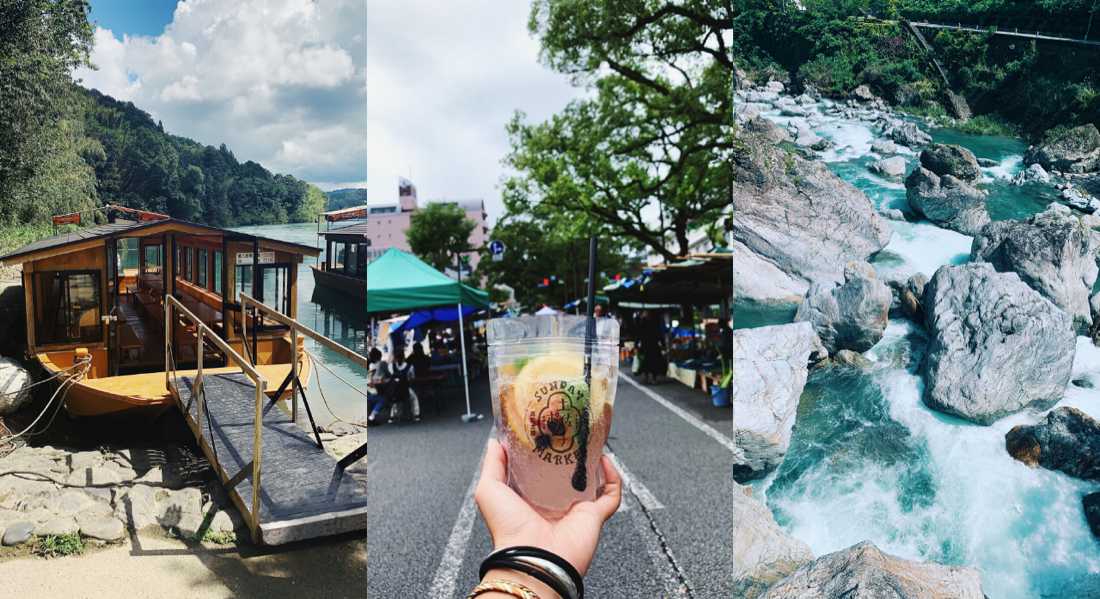 When travelling to Japan, you probably envision walking through pink cherry blossom tunnels, making the scramble crossing that is the mighty Shibuya and climbing the country's tallest Fuji peak. If you've either already ticked off these touristy experiences or are looking for a way to make your first Japanese experience a little more authentic, you'll find the perfect prefecture for you to do so! Tucked right south of Japan's Shikoku island, is the beautiful Kochi prefecture. 
Though visiting a rural prefecture might be viewed as pretty 'un-touristy', the experiences you find here are unique and endlessly special. Kochi makes for a perfect addition to your Osaka or Hokkaido itinerary. It's a chance for you to discover the prefecture where seafood's the freshest, nature's the most gorgeous and locals the friendliest.
In this guide, I break down some of my favourite highlights from my time spent in Kochi, Japan!
1. Stuff yourself silly at Hirome Market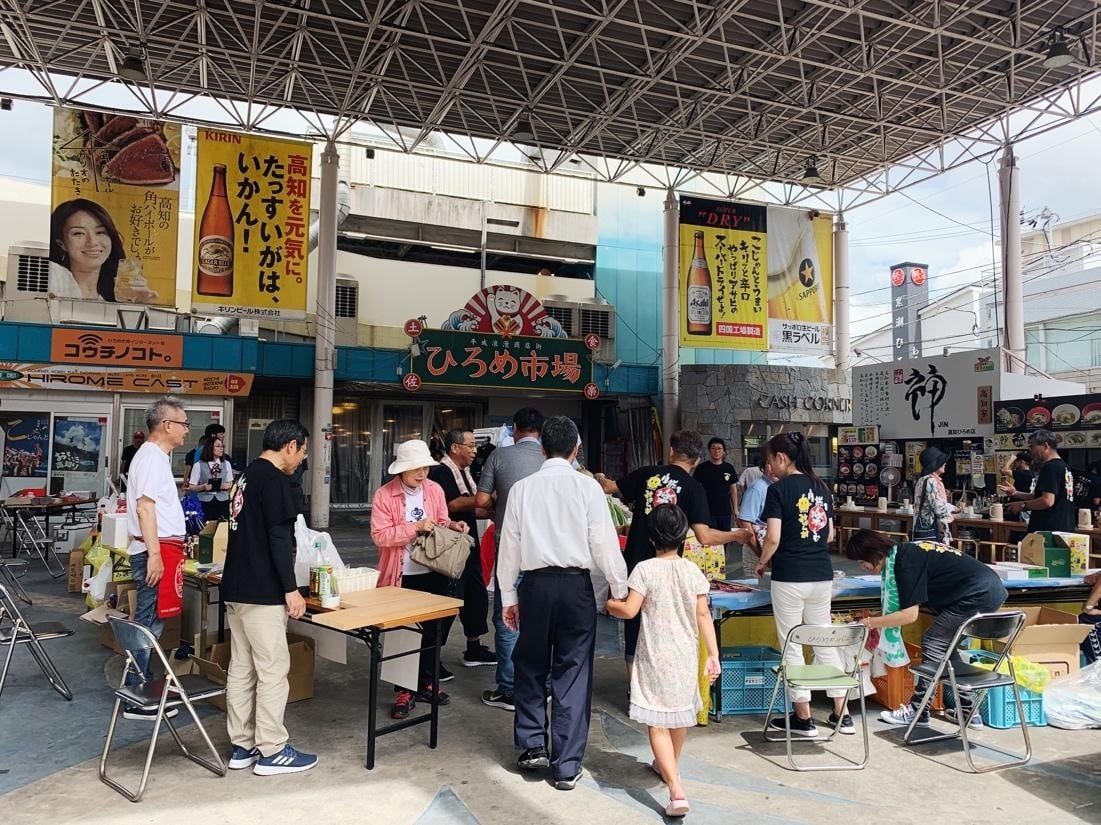 If you've never stepped foot into a Japanese food court, here's your chance! A step inside would already signal that you've hit jackpot in finding exactly where the cool locals hang. Located indoors, Hirome Market is brimming with local gastronomy. It has over 60 food stalls that feature a variety of cuisines – Japanese Western, Chinese and even Indian.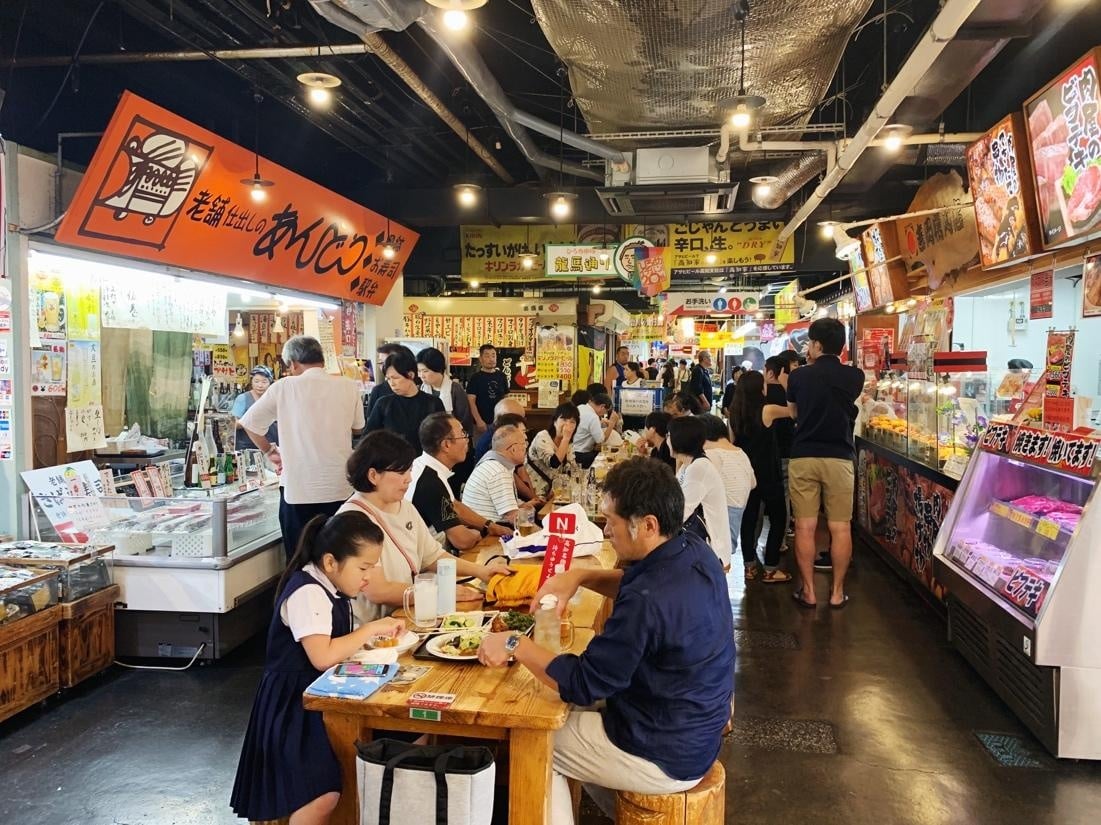 The concept here is simple: Tour the market and buy from a few stalls, grab a seat in the free-seating area and enjoy the feast of food from the different stalls. Kochi is also known as the 'land of the sake', so we saw many day-drinking Kochi-Jin. Sitting amongst them was a true cultural experience – seeing a glimpse of their daily lives and having a taste of what they enjoy eating in Kochi.
Here's a picture of my favourite food discovery in the entire trip – the soul food of Kochi, also known as Katsuo no Tataki or seared bonito) When seeing it being made at the live grill station, it's no wonder how the bonito retains its flavour and aroma. 
Address: 2-3-1, Obiyamachi, Kochi City
Opening Hours: 8am to 11pm daily
2. Kochi-marketing on a Sunday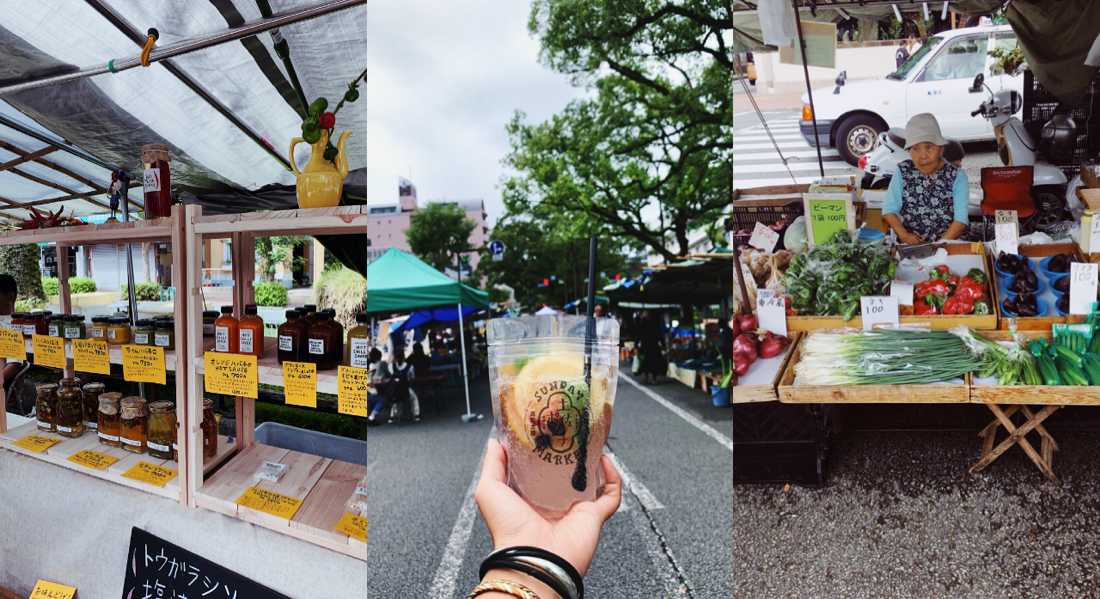 It's a typical Sunday along Otesuji in Kochi City. Though the sun hasn't fully risen, local vendors do their weekly set-up of stalls to showcase their produce for the week!
When it's daytime, the Sunday Market is lined with an array of over 100 colourful stalls. Walking down the street is an experience in itself – be prepared to stop every few metres, ogling in amazement at some of the work created by the locals. Unlike other night markets, seeing the unique creations like handmade jewellery, organic jams and juice will have you happy to have paid this market a visit.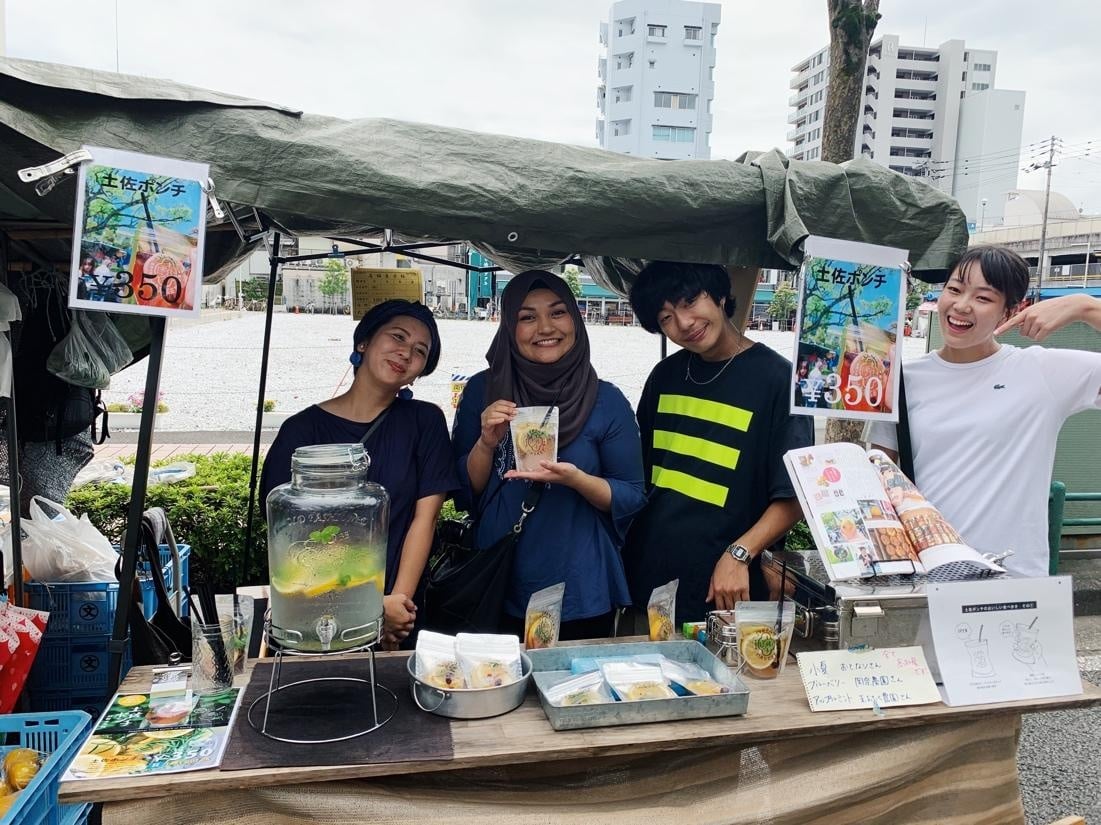 Kochi-Jin or residents of Kochi are known to be energetic, cheerful and full of generosity. When you meet one – ask them about their craft or their prefecture! I've learned that those are some of the things they are most passionate about – it's a great icebreaker and an amazing way to learn about them.
Address: Otesuji, Kochi city
Opening Hours: 5am to 6pm every Sunday (Apr – Aug), 5.30am to 5pm every Sunday (Oct – Mar). Time for set-up and take-down is included. Most shops are fully open from 8am to 2pm.
3. Get qrafty at Qraud
It's time to get crafty with washi-making at Qraud! Washi is a type of authentic Japanese paper made through traditional hand-making techniques.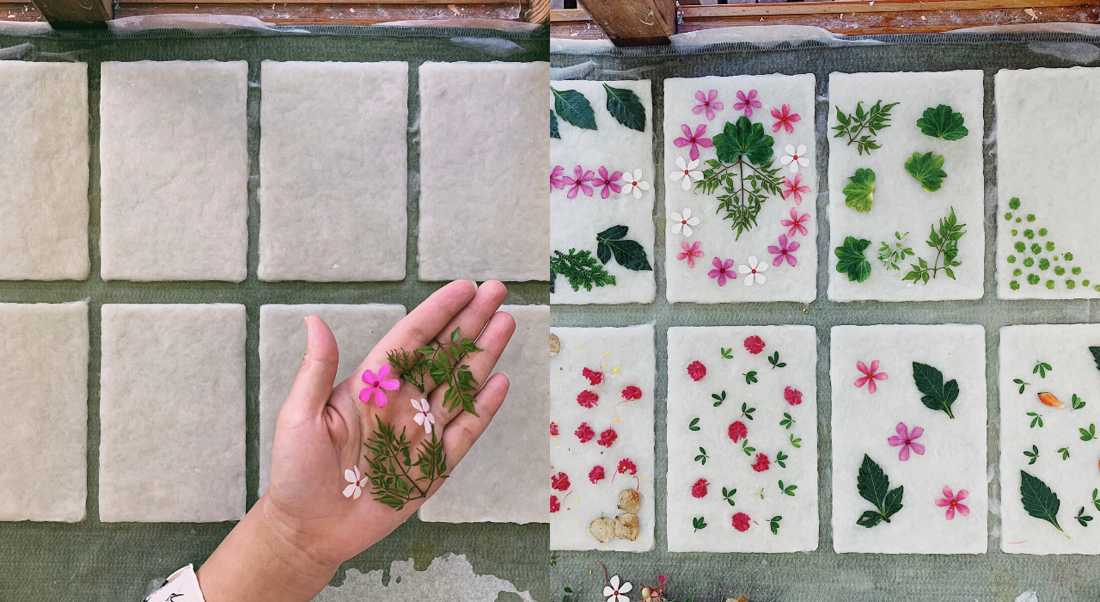 Three ingredients are needed to make the quality washi: water, kozo and the paper mulberry tree. The washi-makers at Qraud make use of what's said to be the best water in Shikoku, from the Niyodo River. My finished set of washi postcards after being dried through multiple steps – the whole process took less than an hour.
In the workshop, I tried my hand at washi-making through the different steps. And look – I even had access to a mini garden for small petals and leaves to decorate the washi postcards however I wanted. The best part – you get to bring your set home! If this one set just isn't enough for you, they have an in-house store selling all the washi that they make at the factory. Pop on over whilst waiting for your washi to dry!
Address: 1226 Kashiki Ino-cho Agawa City, Kochi Pref
Contact: 088-892-1001
Website: http://www.qraud.kochi.jp/
4. Have lunch at a tea cafe up in the mountains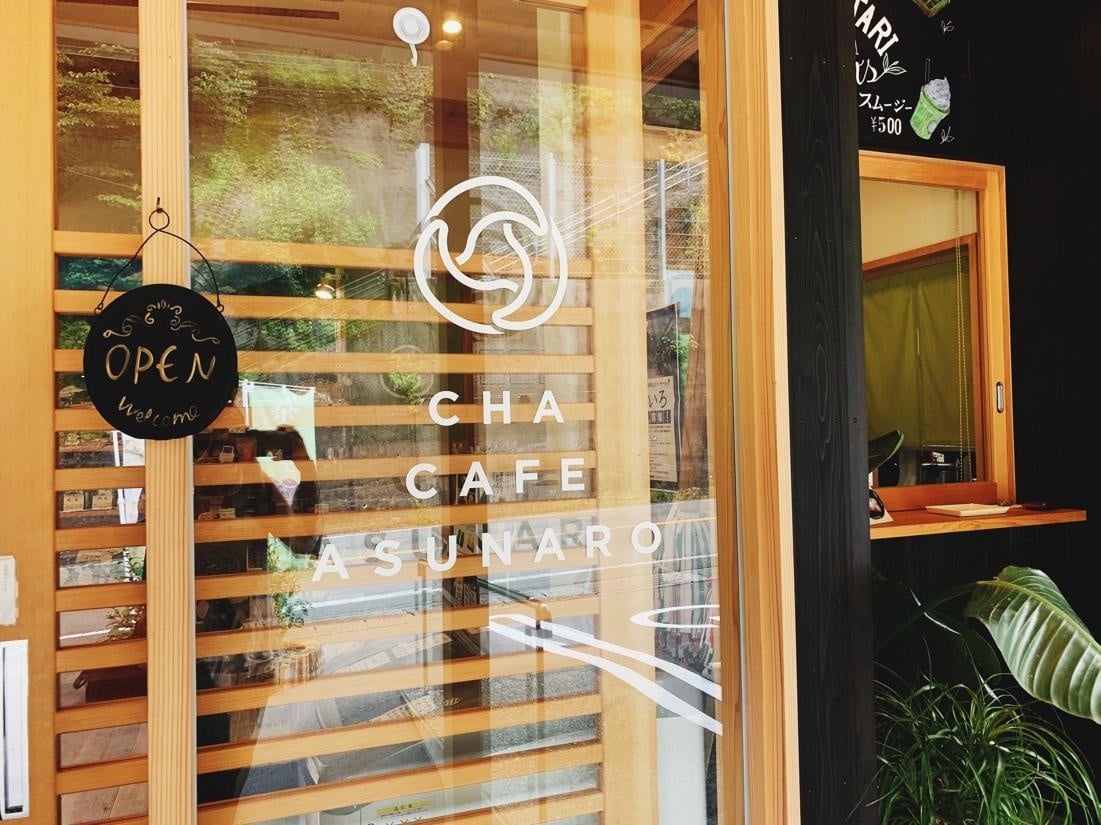 Never did I think going up high in the mountains would lead me to one of the best dining experiences I'd have. Located up in the mountains is a humble yet stunning café of tea plantation owners. Dining here gives a promise of local food that's fresh and authentic.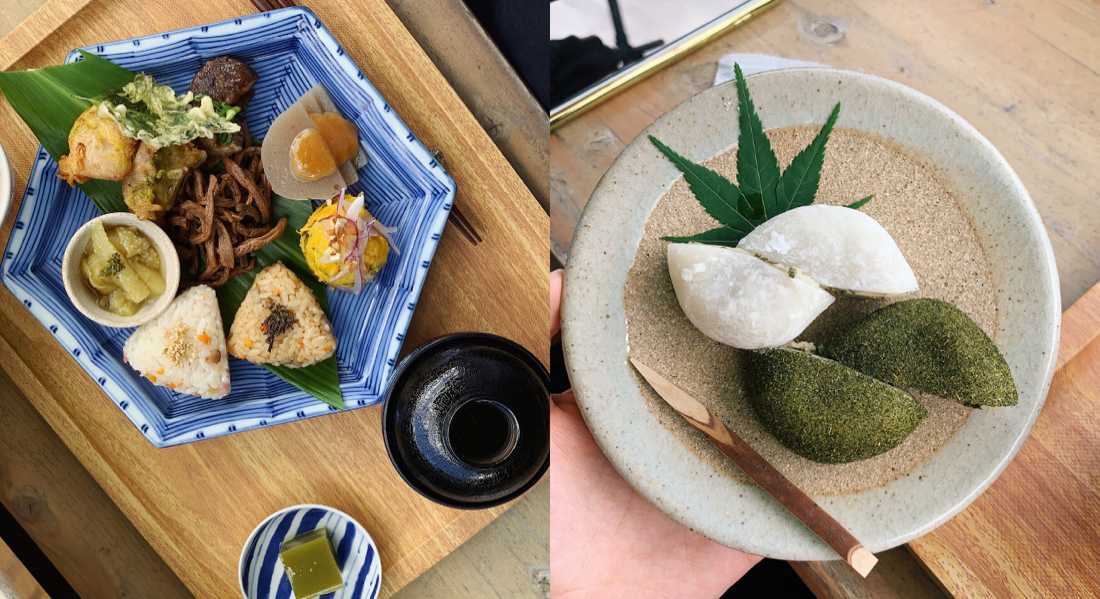 Their matcha produce is incorporated in every single item on their menu – from the savoury main courses to the drinks and desserts. While enjoying your tea-infused dishes, bask in the breath-taking mountainous views when you choose outdoor seating.
Address: 224-6 Washinosu, Niyodogawa, Agawa Dis Kochi 781-1757
Opening hours: 10am to 3.30pm daily (except Thursdays)
Contact: +81 889-36-0188
5. Witness the blue waters at Nakatsu Gorge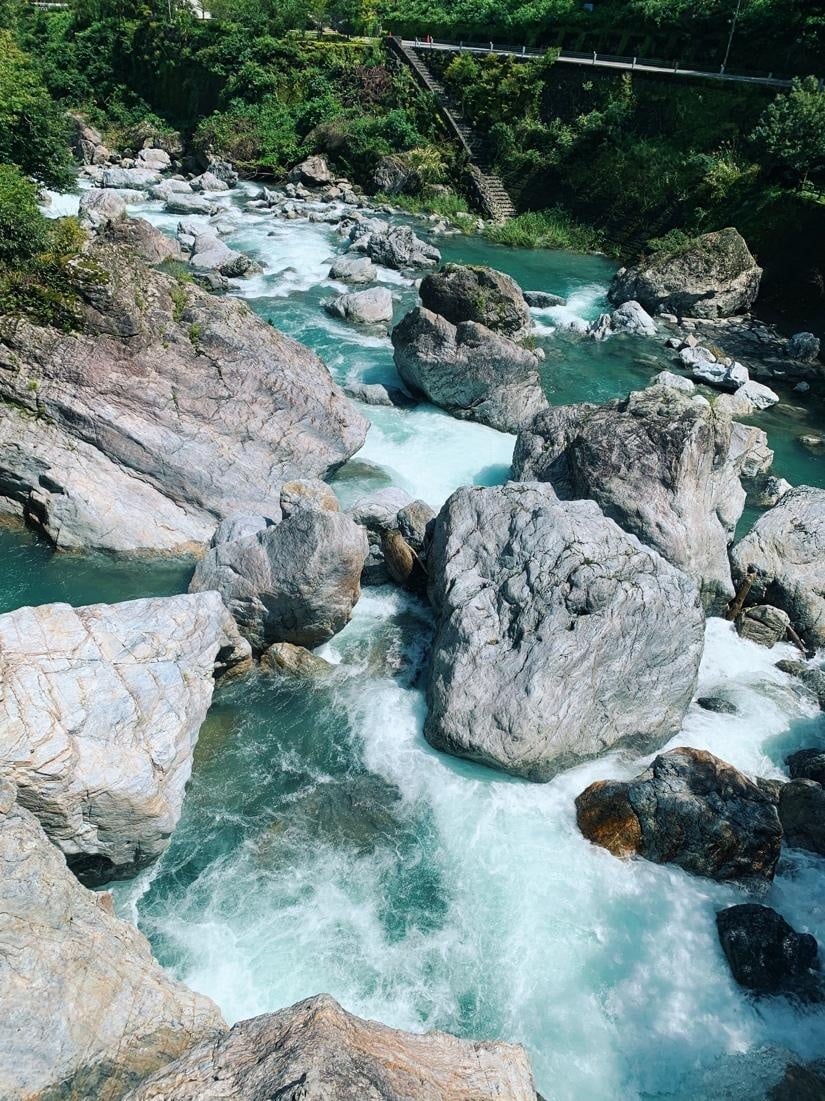 The famous Niyodo Blue colour is best viewed on a sunny day, where water is clear and transparent.
Ever heard of the phrase 'Niyodo Blue' phenomenon? It's a phrase popularised a visiting photographer over a decade ago. He used it to describe the majestic unique blue waters of the gorge. Formed over 300 million years ago by the erosion of water, what comes out of it is a magnificent landscape. On a sunny day, the Niyodo colour really shines through and the water glistens. It's well-worth the hike up!
Address: Nanokawa, Niyodogawa Town, Agawa Gun (free parking available)
6. Visit a brewery and sample some chestnut sake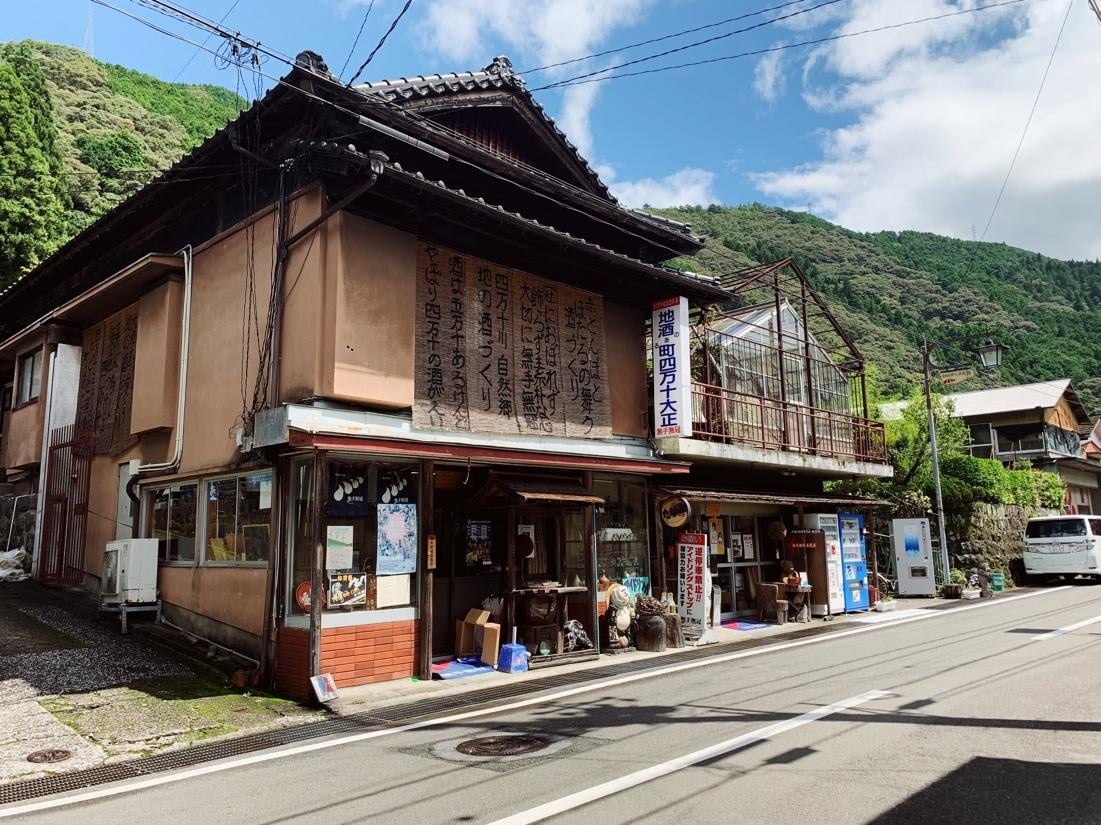 Sake fans would have to visit this local, family-owned brewery that has been around since 1893. Known as the pioneer for chestnut sake, Mute Muka sits on a compound within Kochi.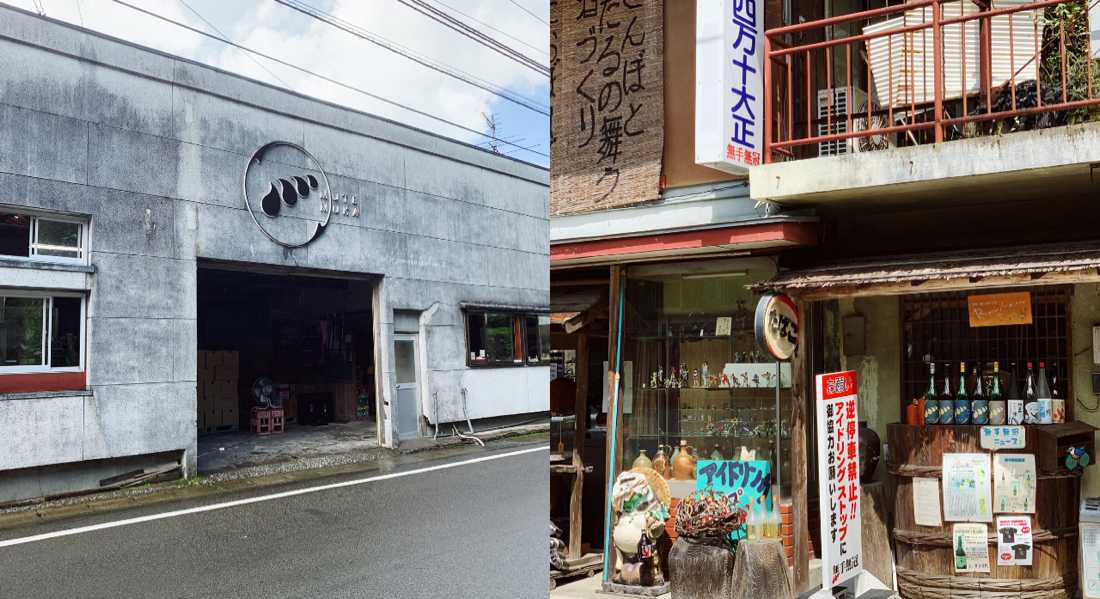 The tour was a big history lesson on sake-making and how exactly Mute Muka are utilising the rich natural resources. Everything at the brewery is made by hand and a lot of the processes remain manual. For instance, the packaging process is manned by local ladies in order to give them work opportunities.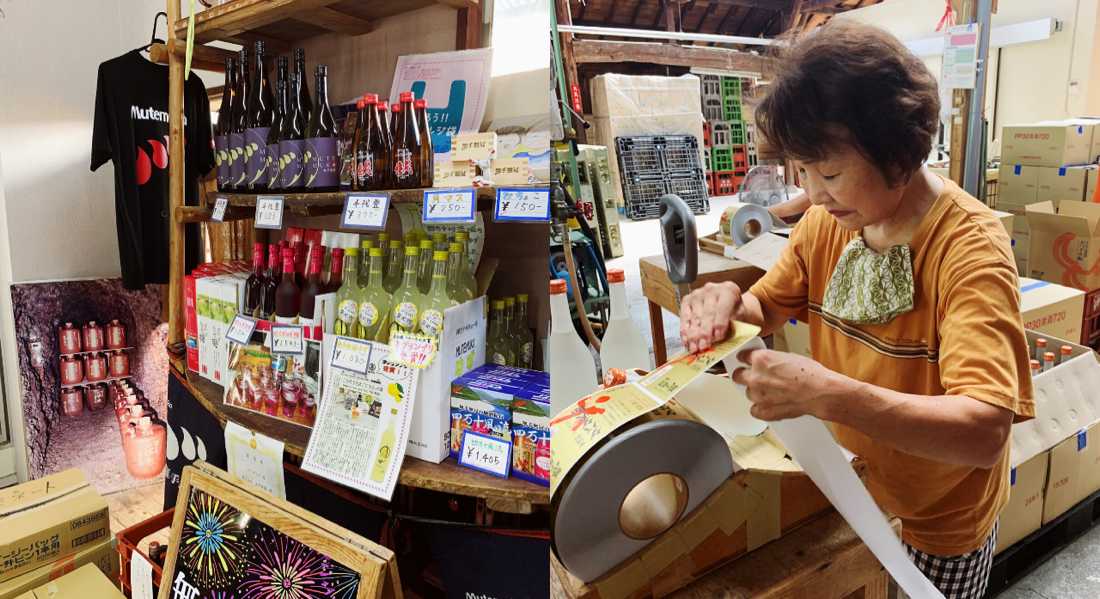 From the visit, I could really see the dedication in Mute Muka's efforts in staying faithful to the art of sake-making and keeping their products of the highest quality.
Address: 452 Taisho, Shimanto Town, Takaoka-gun
Opening Hours: 8am to 5pm daily (except Sundays)
Contact: 0880-27-0316 
7. Hop on board the Shimanto River Cruise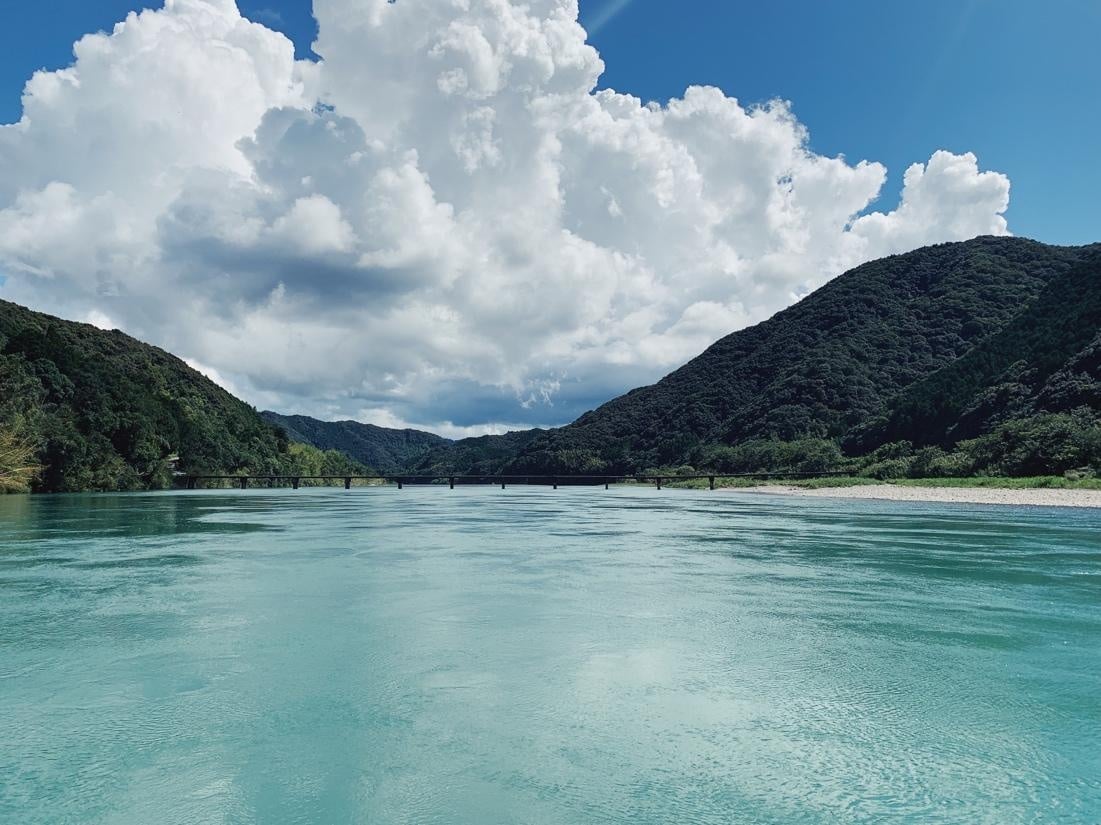 One of my favourite experiences was cruising by the Shimanto River. This pleasure tour boat passes by under the Chinkabashi bridge, offering spectacular sightseeing views!
Fun fact: Kochi is an entirely self-sufficient prefecture! This means that all the food produced uses ingredients sourced from the prefecture itself. During the river cruise, a lunch box is served. It consists of sides like wild eel and ayu (sweetfish), which have all been fished from the same river!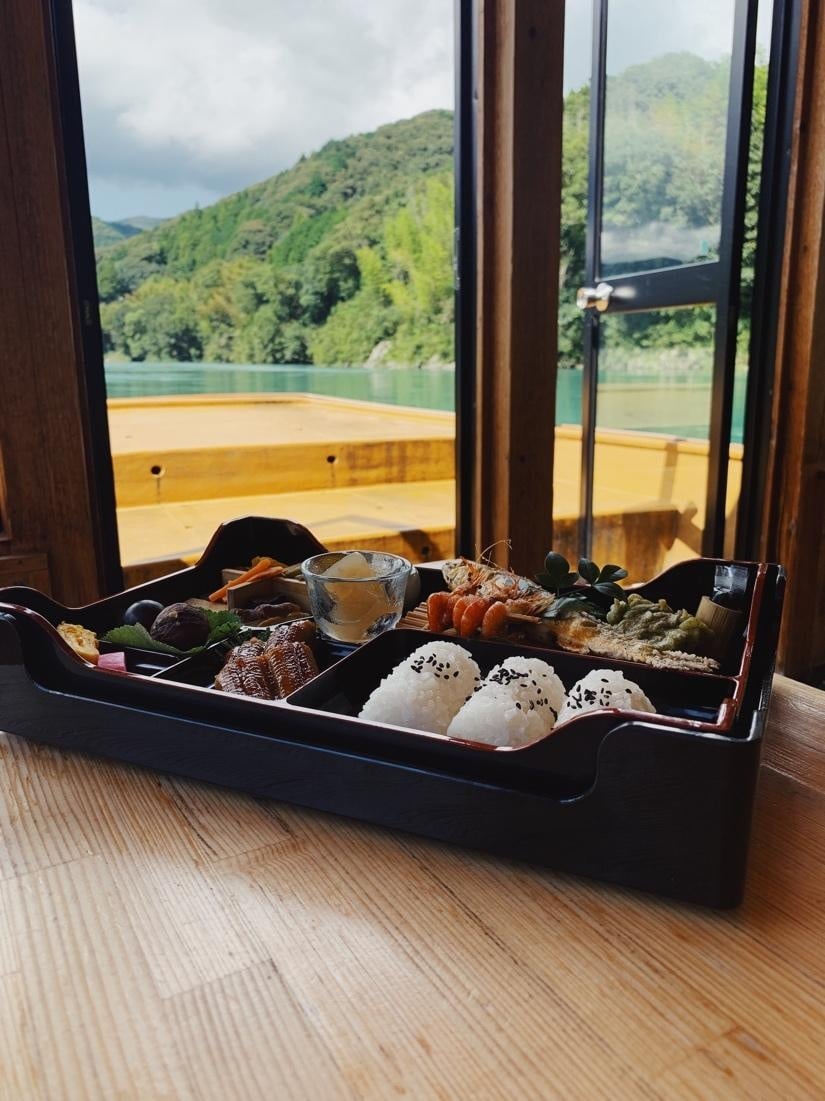 Address: 8-3, Ekimaecho, Shimanto-shi, Kochi Pref
Contact: 0880-34-1555
8. Unwind at Hanpei Café, a tatami-style eatery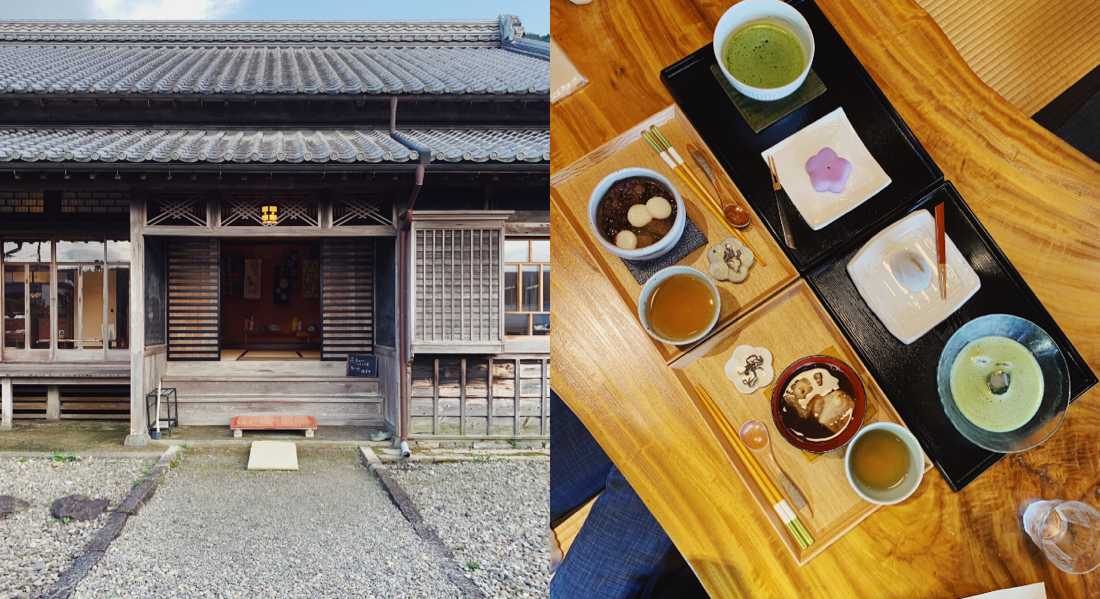 Transformed from the Old House of Hanpei Tsuzuki, the compound is now a traditional-style café. The vintage touches to the café's interior, paired with elements of a traditional Japanese house like the tatami flooring gives the cafe a homey feel. When visiting, be sure to try their menu favourite – the seasonal wagashi and matcha.
Address: 2-3 Shigekushimachi, Shimanto, Takaoka-gun, Kochi 786-0004
Contact: 050-8807-5075
Opening Hours: 9am to 5pm daily

#TripZillaTip: How to get FREE travel Wi-Fi in Kochi!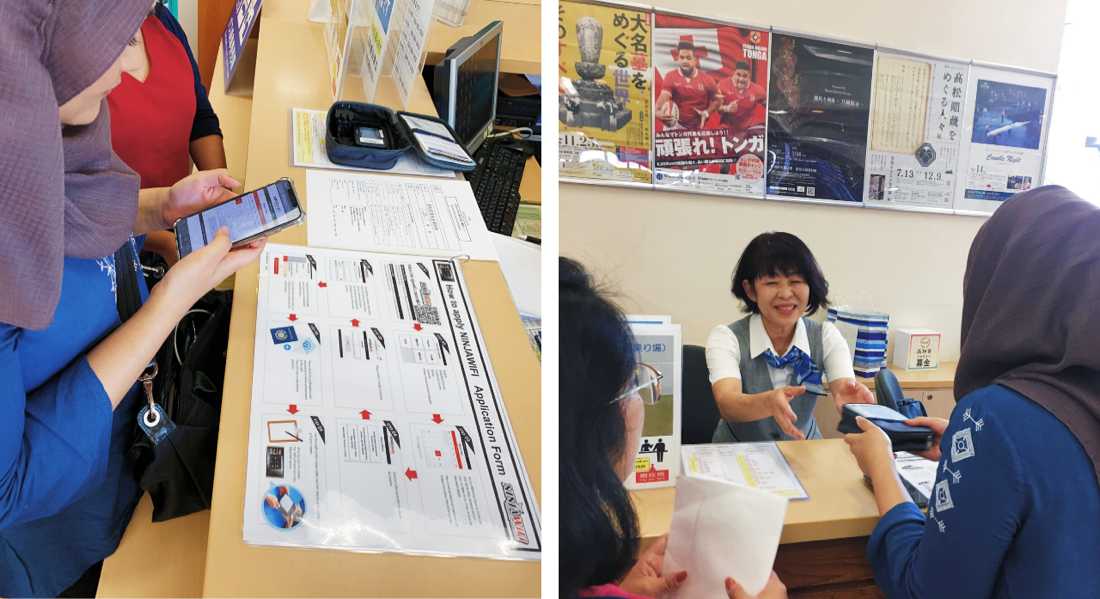 If you're flying in through the local airport, make sure to grab a router at the airport counterEver dreamed of travelling to a country and not having to pay for access to local data? Well, Kochi is where these traveller dreams come true. As long as you hold a foreign passport, you can rent portable Wi-Fi routers for free to use whilst in town. Pop in to any of these eight tourist information centres to get your free fix: https://ninjawifi.com/en/kochi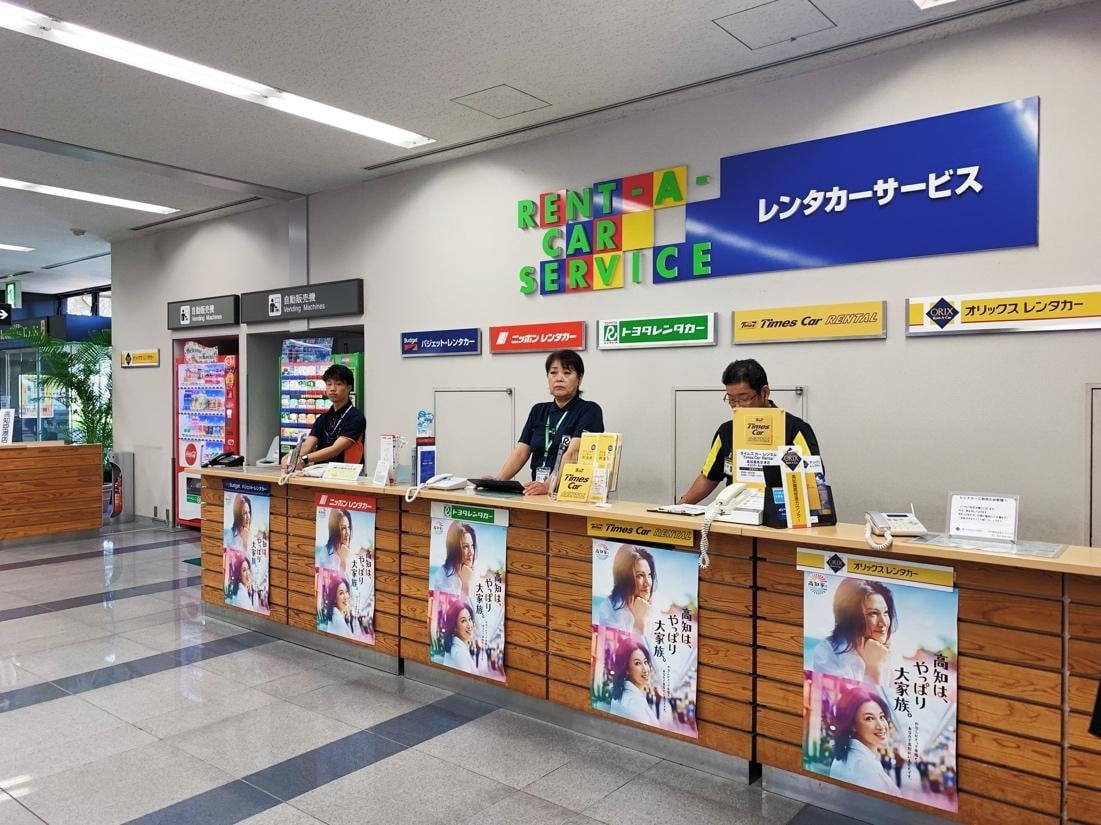 Rental cars are a great option for getting around Kochi. For fussy drivers, not to worry because the roads in Kochi are pretty easy. The perks of renting a car in the automotive giant that is Japan: plenty of choices! The rental process is made convenient for international tourists – the website is in English.
Now that you've got the Wi-Fi and car to take on Kochi, it's time to prepare yourself for sheer gastronomic pleasure, rich culture and the calm presence of nature's waterfalls and caves. Here are the many experiences you can expect in Kochi!
See You in Kochi, Japan!
So there you have it. Though rather unconventional, this little rural prefecture has many activities for the curious tourist. Whether you're a washi fanatic, love long hikes, interacting with locals or are a foodie, Kochi has practically something for anyone to enjoy. So next time you're planning a trip to Japan, consider adding in a short few days in Kochi!
---
A big thank you to HIS for facilitating this media trip! For more information on how to explore Kochi, visit the HIS official website and Facebook page. To experience the magic of Kochi first-hand, check out HIS' 6-day Kochi-Osaka self-drive tour.