It's dinner time in Japan, but with just 1,000 yen (around USD 10) in your rather empty wallet for your dinner and way home, you wonder what you can eat and if it'd even be a full meal. But there's no cause for worry – food in Japan may not be all that wallet-friendly, but you'd be surprised to find that there are several outlets for cheap food that aren't instant noodles. Let's have a look at five of them:
1. Donburi restaurants
Widely available but often overlooked for more "authentic" culinary experiences, Donburi chain restaurants offer appetising yet affordable meals. They take the serving concept of western fast food restaurants and blend it with a menu of Japanese rice bowls (Donburi), set meals and other seasonal items. The top three Donburi chains in Japan are Yoshinoya, Sukiya, and Matsuya, and where you can't find one, you'll definitely find the others.
The beef rice bowl, or Gyudon, is one of the cheapest items on the menu, costing between 290 to 350 yen for a regular sized serving with options for upsizes. Depending on the restaurant chain, the Gyudon will come with a bowl of miso soup, and depending on the season, it will be served with water or green tea.
Those seeking a heartier meal can go for set meals (Tei-shoku) which are priced from 500 yen. The menu changes with the seasons and time, with season-exclusive items and promotional foods that allow for an exciting dining experience. I recommend Donburi Chain Restaurants to anyone looking for a cheap filling meal with no frills.
2. Yatai
When looking for cheap eats, always turn to the streets. Makeshift street stalls, or Yatai as they are called, are known to offer affordable delectable foods that warm the soul.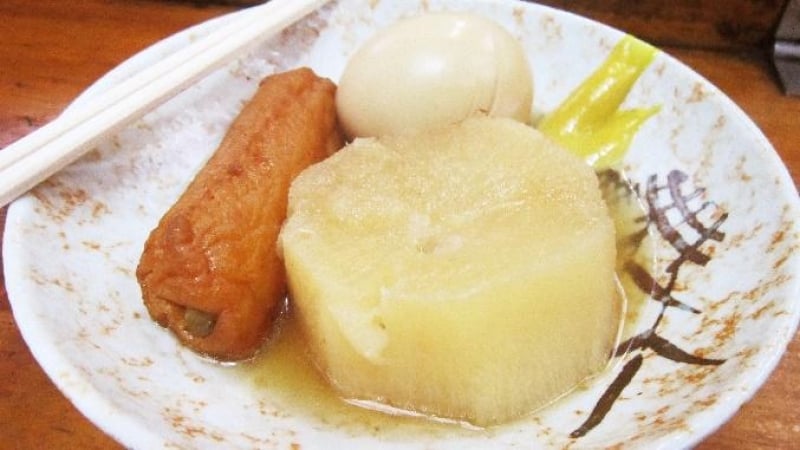 Usually featuring a small dining area sheltered from the elements, Yatai offers hungry visitors an authentic and cosy dining experience. The atmosphere is homely and locals often stop by for a drink or some food over cordial conversation. The menus in such Yatais are varied and can range from Ramen to Oden, Yakimono (like Yakisoba and Okonomiyaki) and Yakiniku.
So, skip the fancy restaurants and head down to a Yatai – who knows, you might strike up a conversation with some friendly locals and make some friends over dinner.  
3. Markets and shops during discount sales
Ever-concerned with the quality of food, markets and shops in Japan seldom sell overnight food, choosing instead to let go of their fare through time-dependent sales. These often means 20-30% off the original prices, though sales of 50-70%, which can garner a small crowd where there was none before, are possible too.
For Bentos (lunch boxes), depending on the store, the discount and the type, prices can range anywhere around 465 yen or even lower. Do visit any supermarket or Bento store during the evening hours until its closing time – when the sales start, you can snag a good meal at an unbelievable price!
Some food stalls also clear their stock at certain hours of the day as they prefer to serve their food fresh. While such stalls may not have a fixed timing for sales, you can simply take a walk, look around and keep an eye out for discounted foods.
4. Convenience stores (for Onigiri)
A staple for budget travellers in Japan, Onigiri or rice balls are widely available and cheap. You can find them at most convenience stalls (Konbini) and there is often a wide selection of flavours to choose from. Most of them are below 500 yen each and my personal favourites are Ebi Mayo and Beef Karubi from 7&i.
As they mostly comprise of rice, Onigiri are really filling and moderate eaters would find that two is enough for a small meal. Some people might find Onigiri rather bland as the rice used in them is often not prepared with vinegar as in the case of sushi. Also, you usually pay for what you get with Onigiri – cheaper Onigiri may not be as generous with their fillings as those that are slightly more expensive.
While Onigiri may not be the first choice for those who'd prefer a more wholesome meal, they make for really convenient on-the-go meals for those who cannot afford the time for a sit-down meal at an eatery or restaurant.
5. Kaitenzushi
If you like seafood and sashimi but do not have the money to pay for a top-ranking sushi restaurant, Kaitenzushi restaurants are for you. Prices go for as low as 150 yen a plate, and the variety of sushi that one can get is astounding. Such Kaitenzushi restaurants also make for great places to have a meal with friends, so the next time you're out with some locals, why not suggest to have a meal there?
So, there you have it – five places in Japan that won't burn a hole in your pocket with expensive food. As you look to enjoy the best food that Japan has to offer, such places also offer their own unique experiences, allowing one a glimpse into the life of locals not often seen in award-winning restaurants and eateries.