Head to the Pocono Mountains and discover an idyllic alpine escape that looks straight out of a picture book: dazzling lakes, tranquil forests, and stunning slopes for all your favourite winter activities. The scenic mountain region in Pennsylvania is famous for its natural gems, and we can see why! Even travellers who aren't exactly outdoorsy types will enjoy just basking in the spellbinding beauty of nature. 

Fall in love with the mountains in the comfort of the prettiest Poconos Airbnb cabins we've rounded up below. Each one is set in beautiful locations by the lake, in the woods, or in the heart of charming villages — giving you the best of what the Pocono Mountains have to offer!
Also read: 10 Gorgeous Airbnbs in Upstate New York for the Perfect Weekend Escape
Best Poconos Airbnb cabins for your getaway in the mountains
1. This pristine spa-like Airbnb near Pocono Lake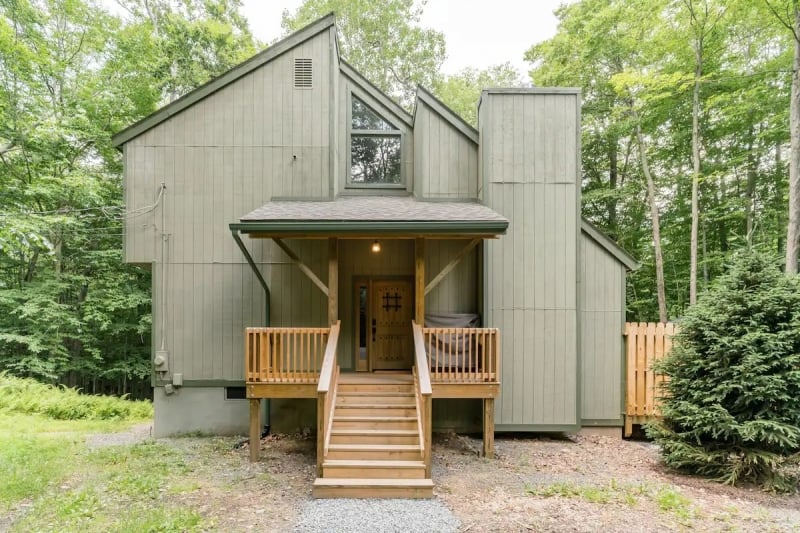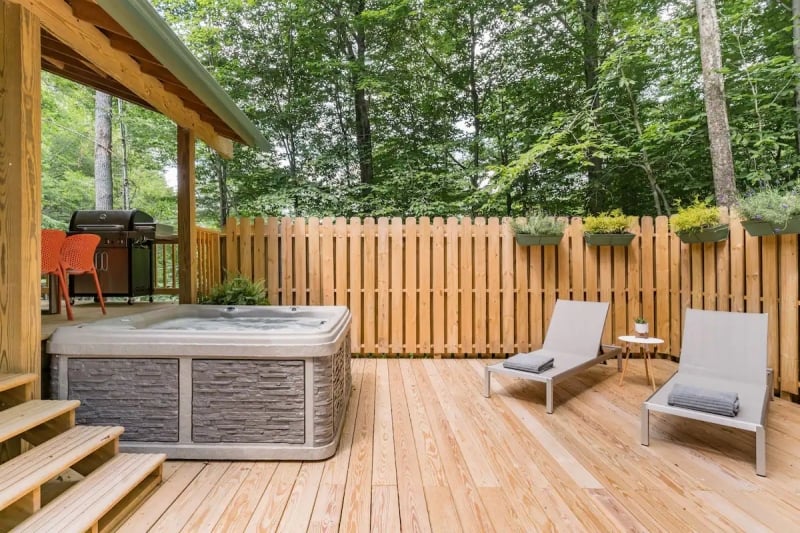 Listing name: Woods End Cabin With Roomy Private Deck by Pocono Lake
Listing type: Entire cabin
Max. no. of guests: 6
No. of bedrooms: 3
Looking for a home with hotel-like comforts? If so, consider this gorgeous abode near Poconos Lake. Every weekender looking to relax will love this Poconos Airbnb with a hot tub — after all, there's nothing quite like a soothing soak to calm stressed-out minds and bodies. 
Modern interiors promise you won't have to worry about roughing it. Luxuries like a beautifully appointed kitchen, stylish bedrooms, and a claw-foot tub guarantee the getaway of every tired millennial's dream. Breezy common areas indoors and outdoors ensure plenty of space to hang out without leaving the house. Oh, and last thing: Pets are allowed, so feel free to bring your furry bestie with you. 
2. This luxe retreat with top-notch entertainment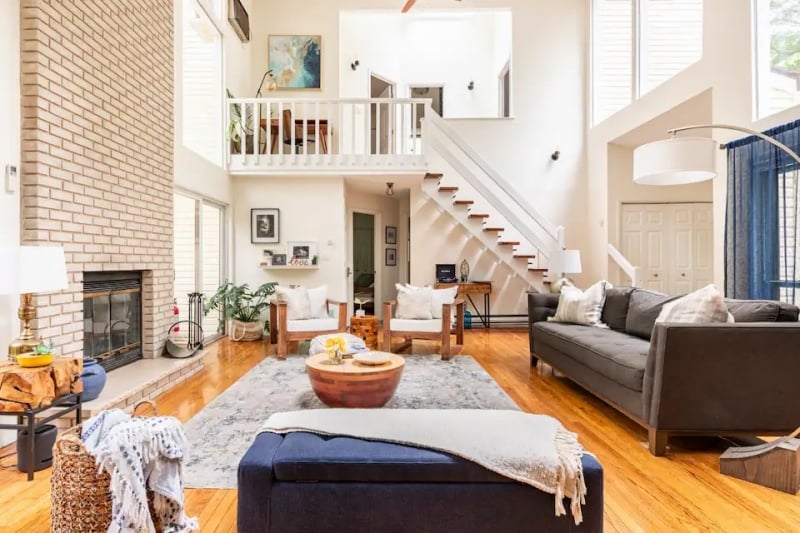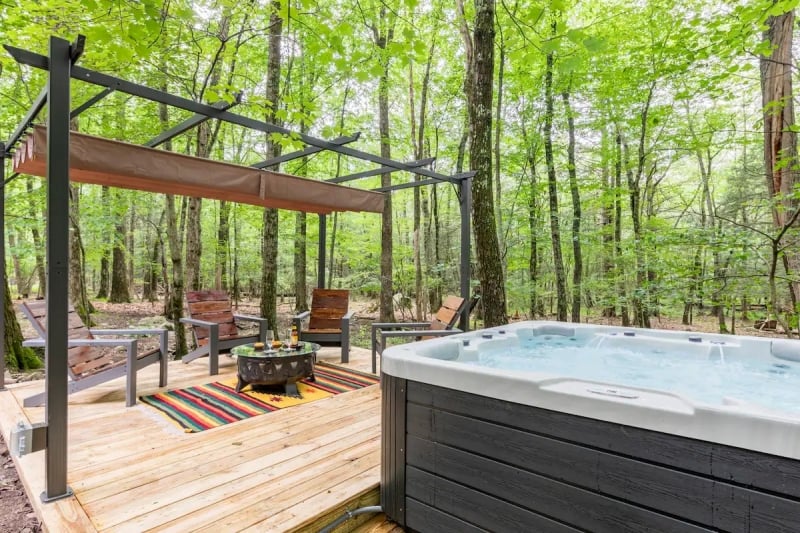 Listing name: Luxury Sanctuary, Open-Concept, Hot Tub, Game Room
Listing type: Entire chalet
Max. no. of guests: 6
No. of bedrooms: 4
Just because you're off to a sanctuary in untouched nature doesn't mean you have to sacrifice entertainment, right? Luckily, this sprawling sanctuary is all about fun and relaxation. There are almost too many perks to mention: a game room, a fitness area, and a top-of-the-line entertainment system with a 65-inch smart TV with surround sound and streaming subscriptions. Personally, the six-person hot tub and outdoor deck mark our favourite spot at this Airbnb in the Poconos.
3. This off-grid yurt on a working farm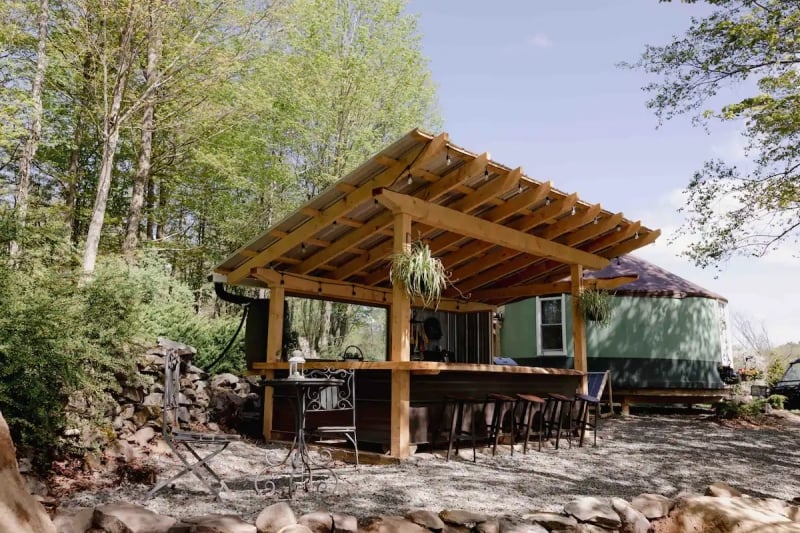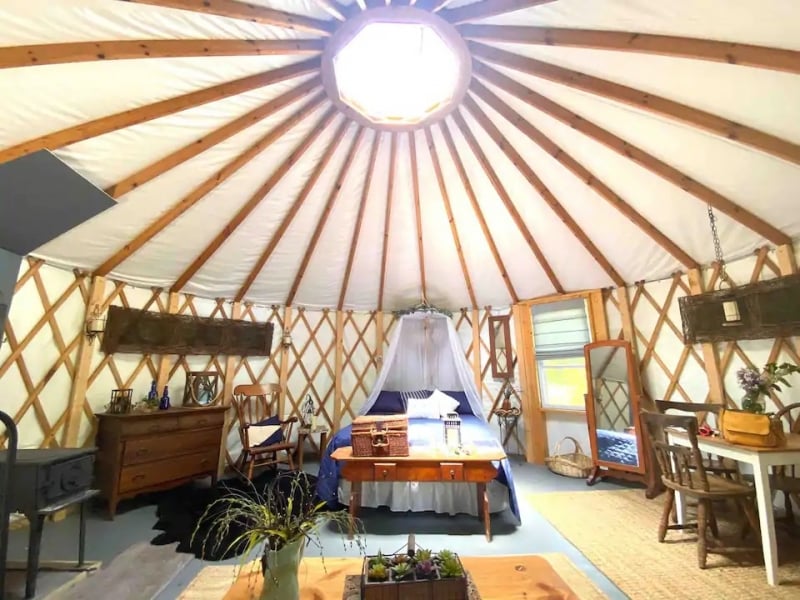 Listing name: Yurt at the farm!
Listing type: Yurt
Max. no. of guests: 4
No. of bedrooms: 1
Perched on a grassy knoll on a 40-acre farm, this charming yurt will make you feel a million miles away from regular city life. The off-grid nature of this Poconos Airbnb definitely delivers a unique vacation experience! While it's comfortable with surprisingly roomy interiors, a queen-size bed, and an outdoor bar-slash-kitchen, the rental has no running water and limited solar energy. So, make sure you pack a flashlight!
Don't worry; the rewards of this farm escape promise to make up for the amenities it lacks. Bask in the serene pastoral scenery from sunrise to sundown, or delight in the sight of the grazing cows, sheep, and chickens. For adventurers looking to get out of their comfort zone, it's hard to find a better setting than this one. 
4. This cosy cabin with Pinterest-worthy decor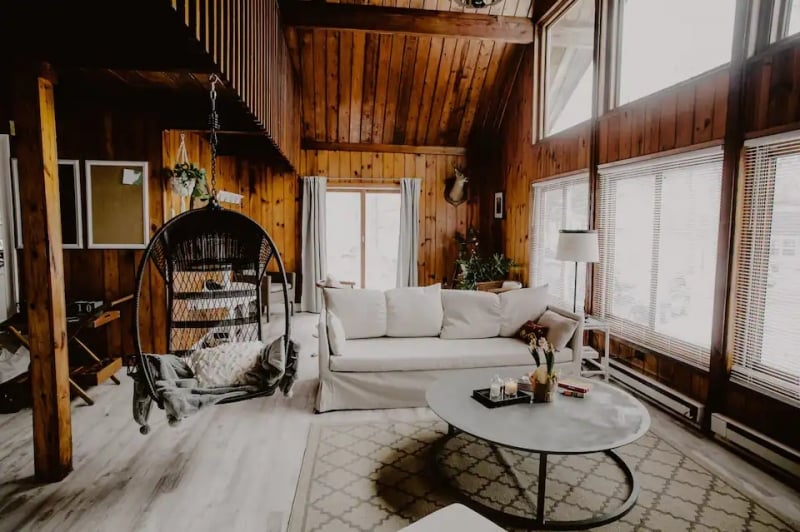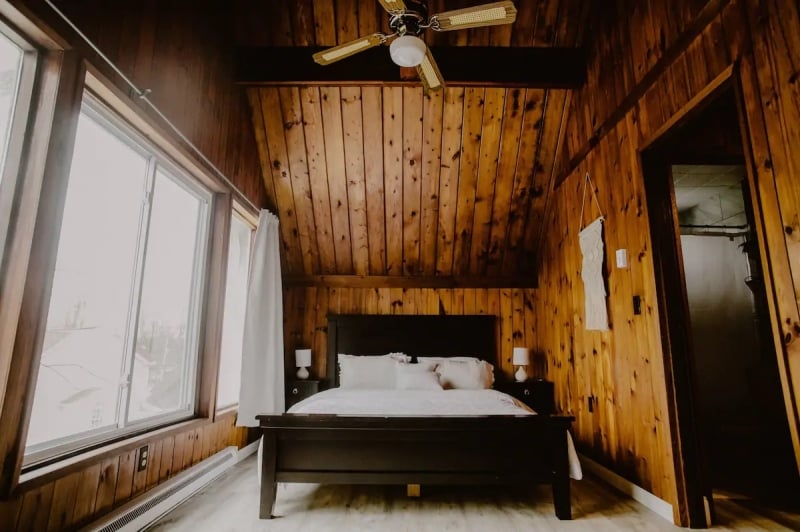 Listing name: Oak Cabin /Pocono Mountains / portableAC unit
Listing type: Entire cabin
Max. no. of guests: 6
No. of bedrooms: 3
Take mountain holidays to another level at this Poconos cabin on Airbnb. For one, the design is immaculate — the perfect picture of a rustic hideout that you can show off on Instagram. Moreover, it's as cosy in real life as it looks on your social media feed. 
Between the rustic wooden walls, fireplace, plush seats and blankets, and floor-to-ceiling windows looking out into the woods, the open-plan living area is the ultimate chill-out spot. But if you need a change of scenery? There are three lovely bedrooms, a cute reading nook, and a sunny patio, too! 
5. This stunning lake house that feels like a private family resort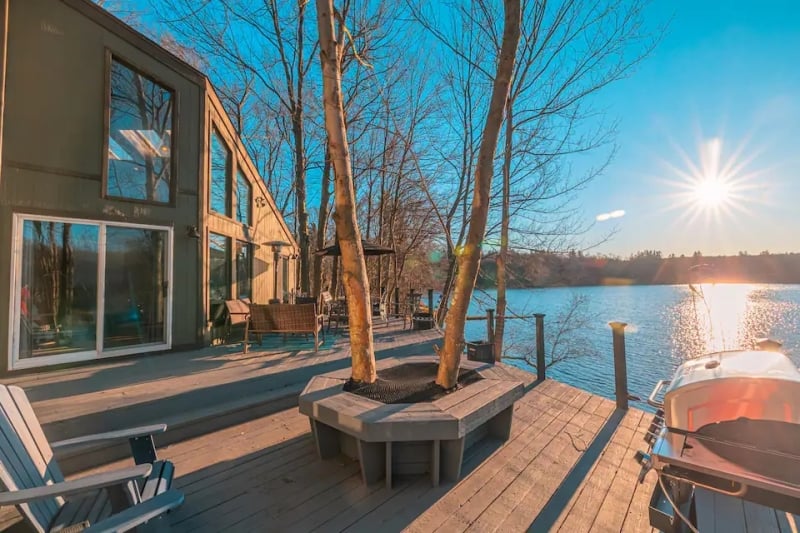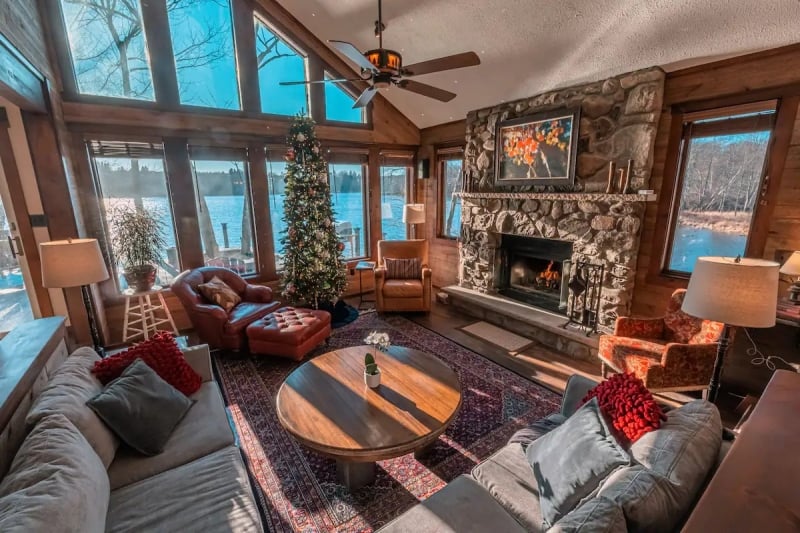 Listing name: Waterfront: AC/Hot tub/Gameroom/ Kayaks/Firepit
Listing type: Entire home
Max. no. of guests: 12
No. of bedrooms: 5
It's not often that regular folks like us get to indulge in renting an entire private resort, but this lakefront dwelling certainly comes close to such luxury. Lake views from nearly every room guarantee vacation vibes 24/7, while the private beach area with a fire pit and a hot tub offers the full VIP experience. 
Whether you spend your time cosying up in front of the fireplace or kayaking on the lake, this Poconos Airbnb makes for an unforgettable vacation. Plus, did we mention guests will enjoy easy access to nearby ski resorts, golf courses, water parks, and hiking trails? 
6. This off-grid Airbnb in the Poconos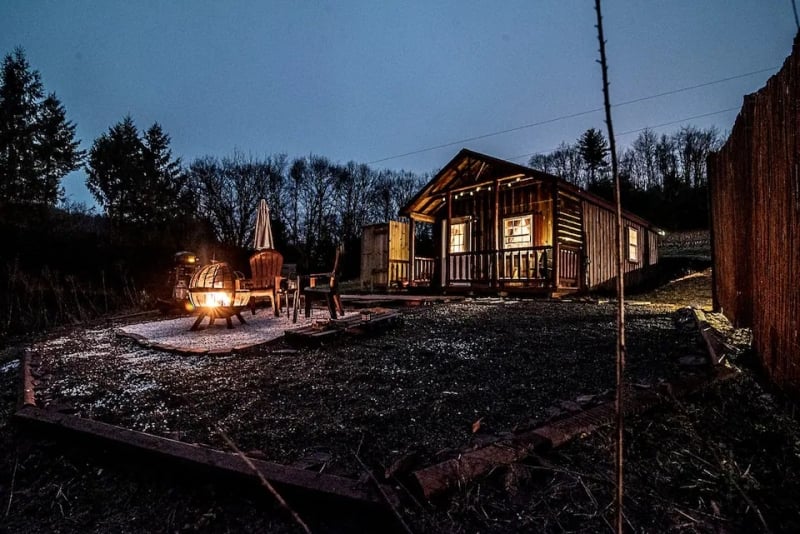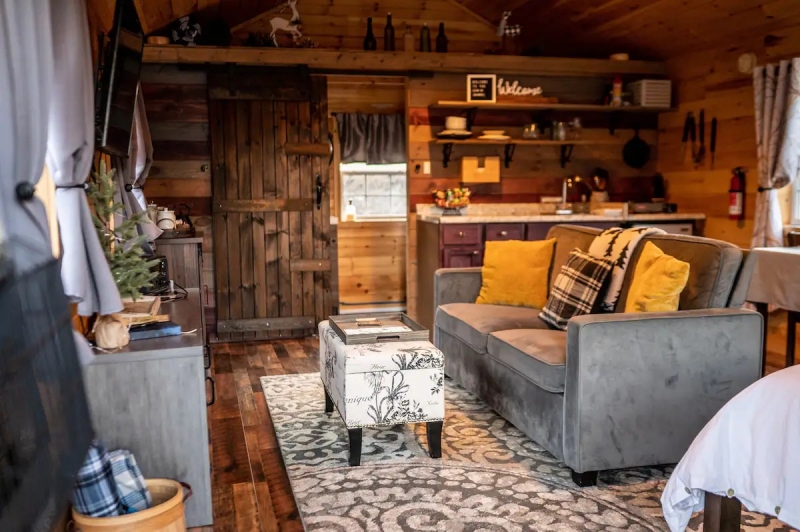 Listing name: Deer Path Cabin – A Tiny Off Grid Cabin
Listing type: Entire cabin
Max. no. of guests: 3
No. of bedrooms: 1
Journey to this tiny home in the Poconos for a cabin on Airbnb that lets you enjoy the best of both worlds: camping in a beautiful off-grid location while enjoying the comforts of home. Although the remote cabin runs completely on solar power, you won't have to live without creature comforts: There's WiFi and even a smart TV with Netflix, Hulu, and Amazon Prime. 
At night, step out the door and relax on the porch with your favourite drink. There's no light pollution in this part of the Pocono Mountains, so it's the perfect spot for stargazing. Hike-friendly parks are also near this pet-friendly Airbnb in the Poconos. 
7. This magnificent estate for big groups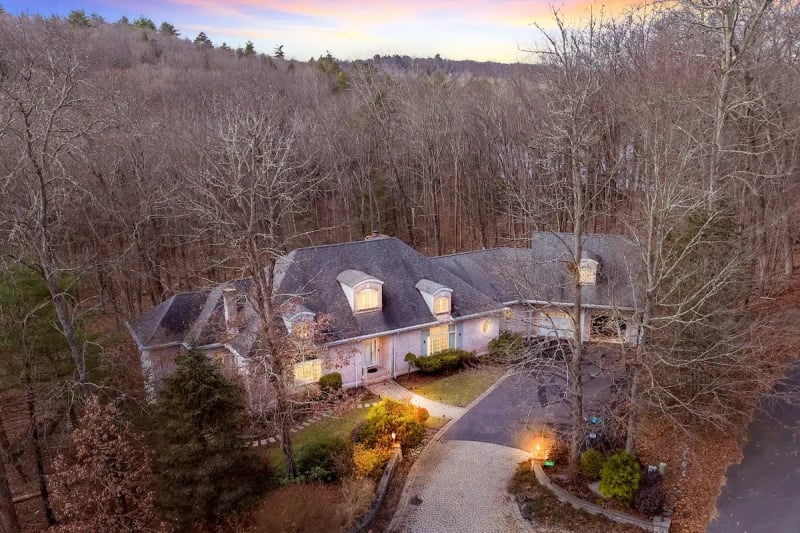 Listing name: Fancy Poconos Castle & Indoor MEGA 10+ Hot Tub
Listing type: Entire home
Max. no. of guests: 16+
No. of bedrooms: 5
Take the entire clan in this palatial abode in the Poconos. It's an idyllic setting fit for royalty with rooms brimming with sunshine and exceptional forest views through large windows. Features include a movie theatre, a fire pit, and a sprawling outdoor deck. But the main attraction is probably the swim spa, a giant 10-person hot tub with built-in speakers, LED lights, and even its own TV and bar. 
As one of the Airbnbs in the Poconos part of the Blue Mountain Lake Community, guests can access the community pool, tennis and basketball courts, and children's playground, among others. Blue Mountain Lake is also open to guests, as well as two private kayaks. 
8. This sprawling family home with a heated indoor pool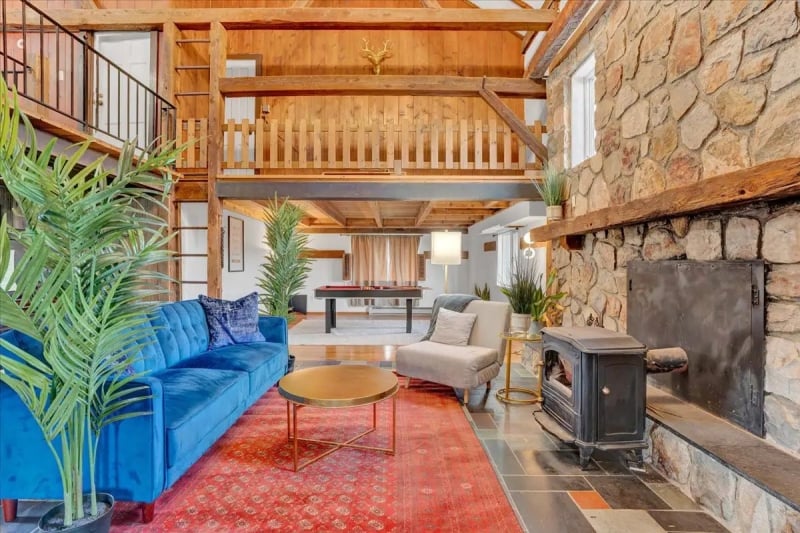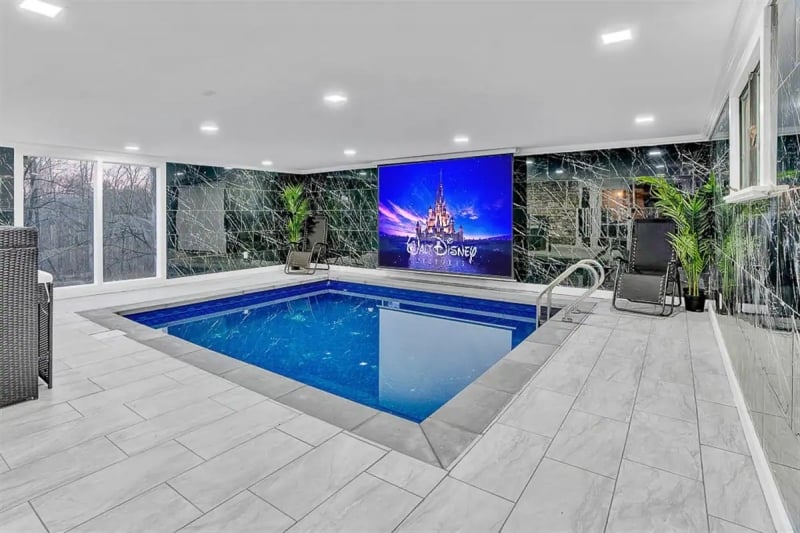 Listing name: *Poconos CAVE Indoor Heated Pool /Private Pond
Listing type: Entire cabin
Max. no. of guests: 16+
No. of bedrooms: 5
If you're dreaming of a lavish getaway, gather the family up to visit the Poconos Cave. The house sits by a private pond on a six-acre property, a uniquely luxurious Airbnb in the Poconos with a private indoor pool — and it's heated, so swimming is possible all year round! There's also a pool table, a ping pong table, a poker table, a foosball table, and more board games than you can play in a single weekend. 
In town to hit the slopes? Camelback Ski Resort is only a 15-minute drive away. 
9. This enchanting Poconos Airbnb close to the lake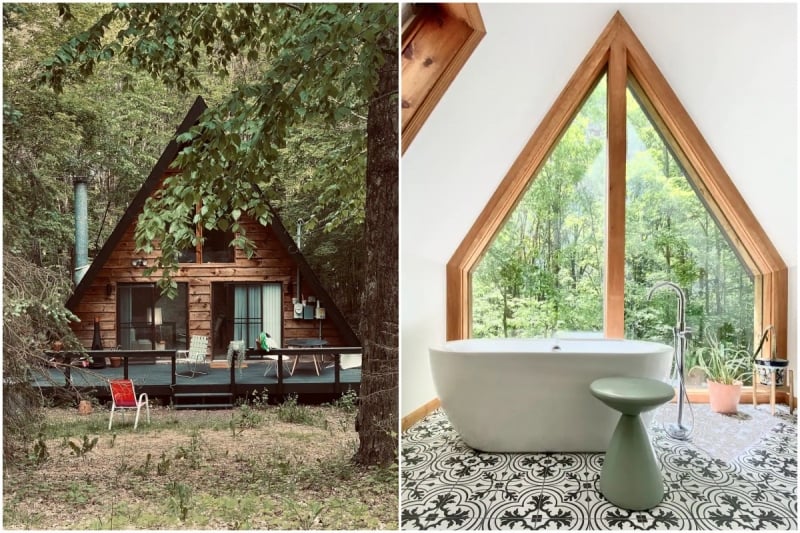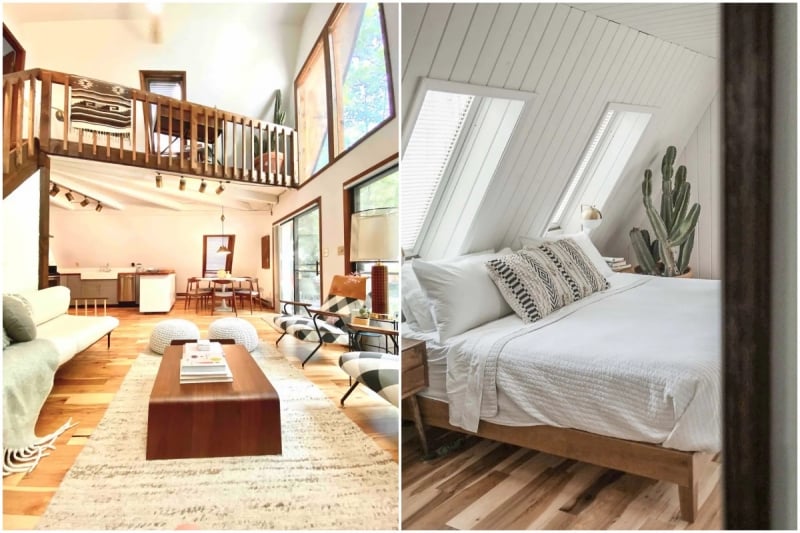 Listing name: Midcentury A-frame in the Poconos close to Lake
Listing type: Entire cabin
Max. no. of guests: 6
No. of bedrooms: 3
Visiting this mid-century cabin in the woods feels a little bit like waking up in a fairy-tale book — it certainly looks straight out of a Hans Christian Andersen story. But the pretty A-frame cottage is reality alright; the Poconos Airbnb even comes with a full chef's kitchen, three cosy bedrooms, and the bathtub of our dreams giving us the perfect spot to watch the leaves turn in autumn. 
While we'd love nothing more than to stay indoors all day, it's also worth exploring beyond our front door. Nestled in the Poconos gated community The Hideout, this Airbnb offers guests access to fantastic amenities, including two swimming pools, tennis and volleyball courts, a mini golf course, a gym, an art centre, and even a tiny ski hill with a lift. Not to mention, the home is only a few minutes from the lake!
10. This serene Airbnb nestled on the Poconos treetops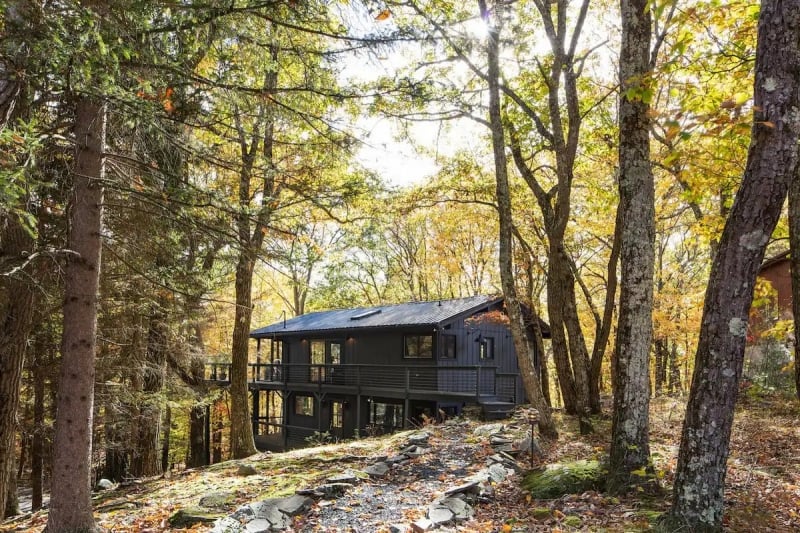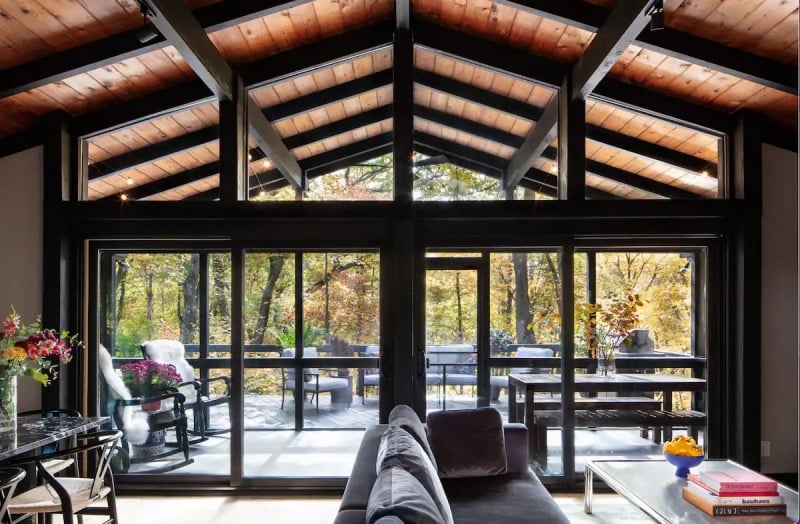 Listing name: Peaceful Chalet In The Treetops
Listing type: Entire chalet
Max. no. of guests: 4
No. of bedrooms: 2
This beautifully renovated chalet sits amidst the trees with floor-to-ceiling windows opening to unbelievable views of the Poconos forest. It's a home designed for long stays; you'll find it easy to fall into a routine of sipping a hot drink on the deck, watching movies or working indoors, and then unwinding by the firepit on an Adirondack chair. 
Exploring the outdoors is a must, too: From kayaking in nearby lakes to hiking picturesque trails, you'll find the Pocono Mountains are yours for the taking. 
11. This modern escape with access to an Olympic-sized pool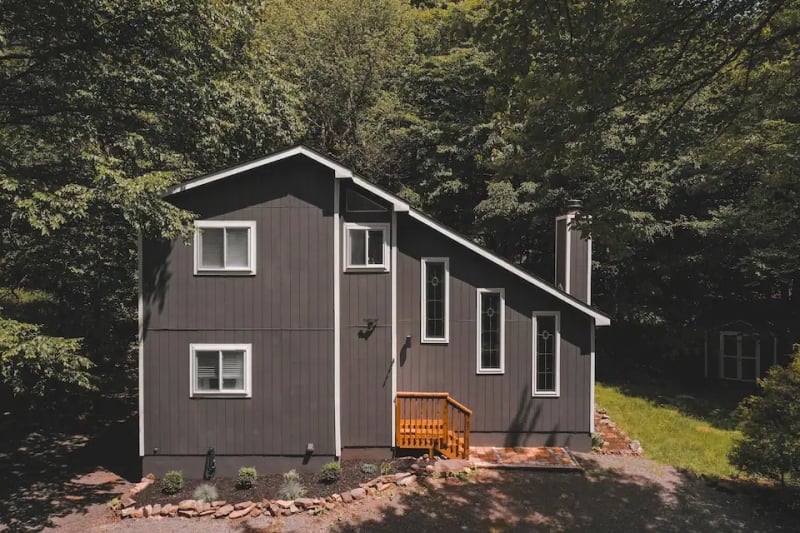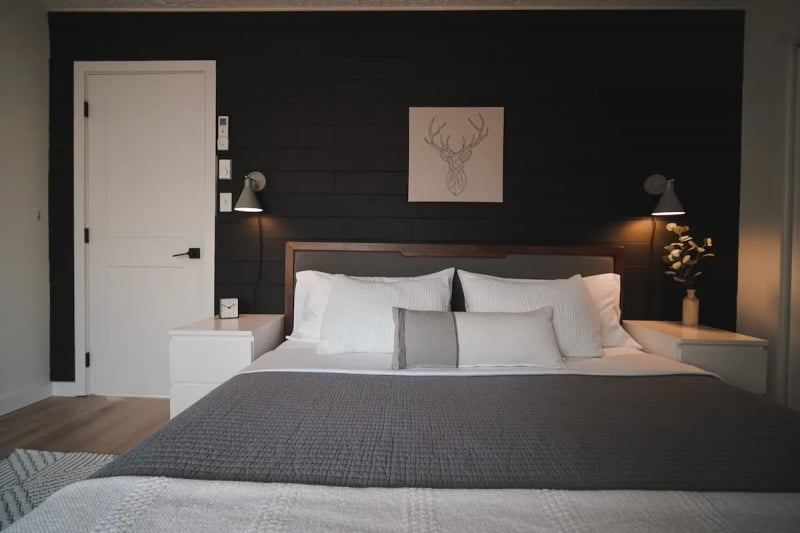 Listing name: Norwood | Hot Tub, BBQ, Fireplace, EV Charger!
Listing type: Entire chalet
Max. no. of guests: 7
No. of bedrooms: 3
Meet Norwood, an eye-catching saltbox-style Airbnb in the Poconos perfect for a seriously memorable group vacation. The home is fitted with elegant Scandinavian-inspired interiors, from the open-plan living and dining area to the bedrooms featuring plush beds and dimmable lighting. There's also a wood-burning fireplace (with unlimited free firewood) and a private hot tub that's pleasantly enclosed for maximum seclusion.
Out of all the Poconos Airbnb homes with pool access, this might be one of the most impressive ones. The community pool is Olympic-sized, perfect for getting in some laps. Not your kind of thing? Kayak or paddleboard at Echo Lake, a huge spring-fed lake that's just a few minutes away from the house. 
12. This pet-friendly home away from home in a lake community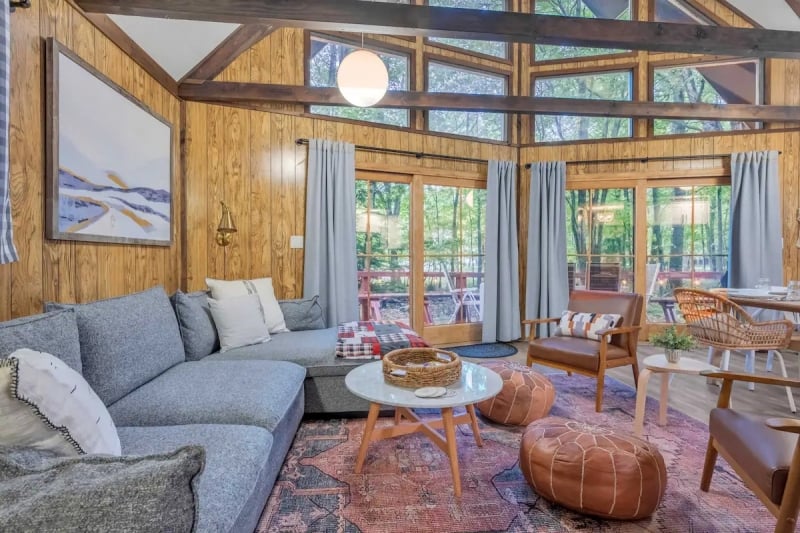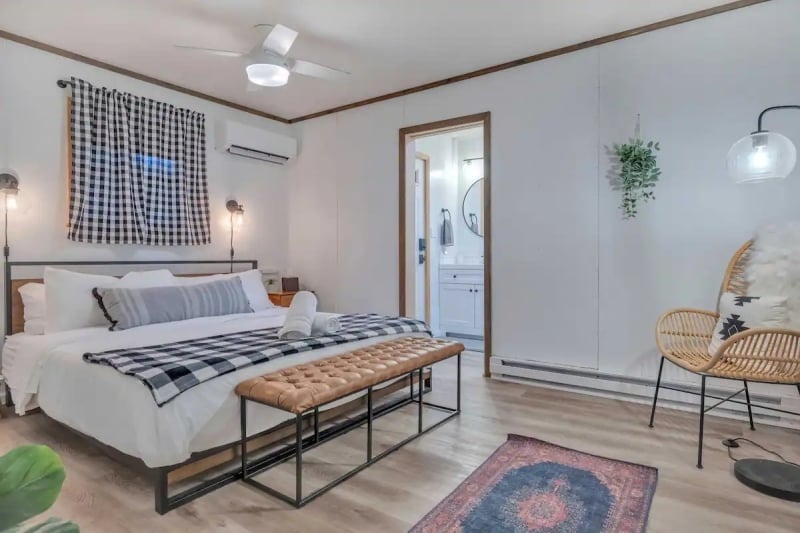 Listing name: Serendipity Chalet | Hot Tub & Fall Foliage!
Listing type: Entire chalet
Max. no. of guests: 6
No. of bedrooms: 2
A seven-person hot tub, a grill area, and a picnic area await at this sunlit residence in the Pocono Mountains. Affectionately called Serendipity Chalet, it's designed to be a home away from home for happy families — and yes, that includes four-legged members, too! You'll even peep at local wildlife; friendly deer may greet your group upon arrival. 
Like most Airbnbs in the Poconos, Serendipity Chalet sits in a private community with shared amenities like playgrounds and sports facilities. Looking for more thrills? Horseback riding, whitewater rafting, snow tubing, and other outdoor activities are a short drive away.
13. This blissful modern barn in the wild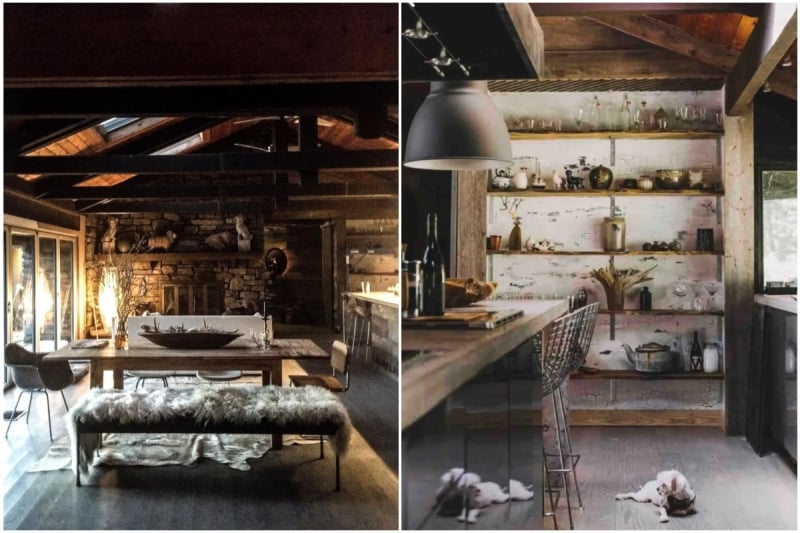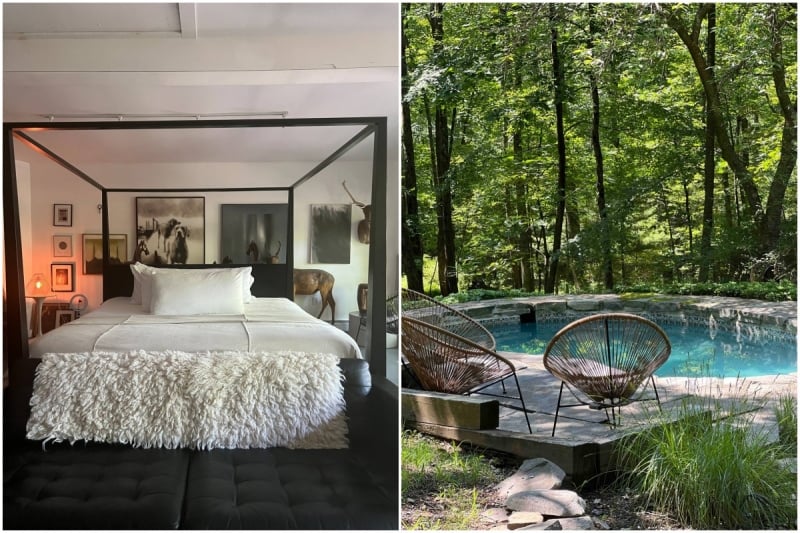 Listing name: MIDCENTURY /INDUSTRIAL SANCTUARY in the WILDS
Listing type: Entire home
Max. no. of guests: 6
No. of bedrooms: 3
Every corner of this exquisite home was thoughtfully and lovingly designed: From the curated pieces of art to the cosy nooks for reading and napping, the level of detail will impress even seasoned travellers. It has unexpected heritage, too; the property is said to have been owned by a mobster in the past — if only these walls could talk!
If you're looking for an Airbnb in the Poconos with a private pool, this mid-century house is ideal. On hot days, cool off with a dip in the kidney-shaped plunge pool while enjoying views of grazing horses from the barn. Guests are discouraged from approaching the horses on their own, but animal lovers can reach out in advance and request a visit to the sanctuary's resident horses. 
14. This art-filled Poconos Airbnb with a hot tub and sauna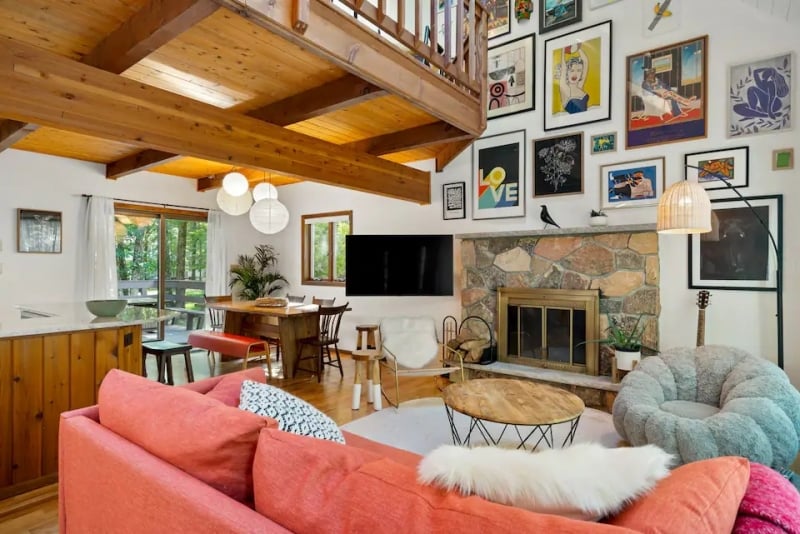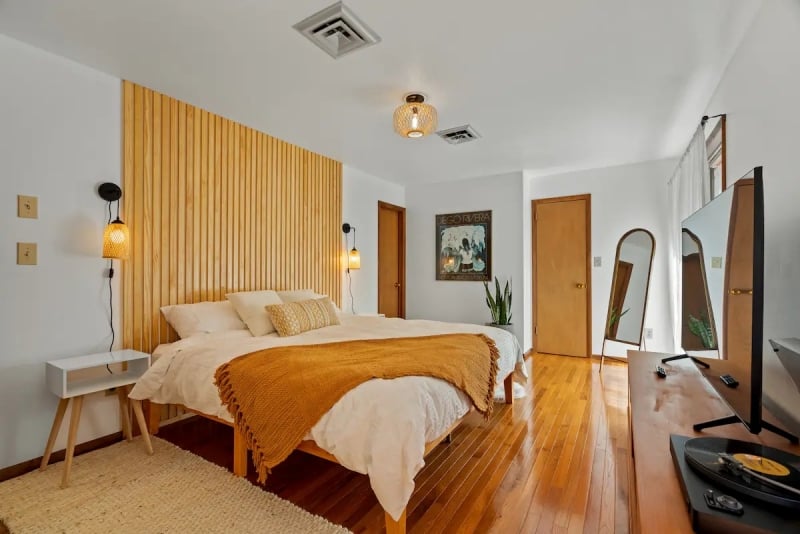 Listing name: The Green Forest Retreat – Hot tub, Sauna, Hiking
Listing type: Entire vacation home
Max. no. of guests: 6
No. of bedrooms: 3
Take over this warm, inviting vacation house on your next group holiday. It's as comfortable as a contemporary family home but offers a touch of eclectic charm with an art wall over the fireplace and custom woodwork throughout the house. Huge windows and skylights keep the living area light-filled, the perfect space to hang out during the day. 
There's also a screened porch with a foosball table, a deck for alfresco dining, and a backyard fire pit for ghost stories at night. Up for a spa day? A private hot tub sits by the fire pit, plus a custom-built Finnish sauna that will leave you feeling totally refreshed and stress-free. 
Also read: Here's When You Can Visit National Parks in the USA — For Free!
Picking the best Airbnb in the Poconos for a getaway in nature isn't easy, but at least you've got a stunning variety of choices! 
Got a property you'd like TripZilla to feature? Inquire with us here.
---
This article contains affiliate links. When you book through these links, we may earn a small commission at no additional cost to you. All images courtesy of the respective property listings.