As a predominantly Catholic country, it isn't surprising that the Philippines is dotted with fiestas and festivals from Aparri to Jolo, starting in January and ending in December. No wonder it is more fun to visit each of the 7,500 islands in the country!
Also read: 11 Long Weekends in the Philippines in 2017
If you have always been a bit of a culture junkie and would like to experience celebrations the way locals do, we have prepared a list of the most popular festivals that you can join in every month.
January: Sinulog and Ati-Atihan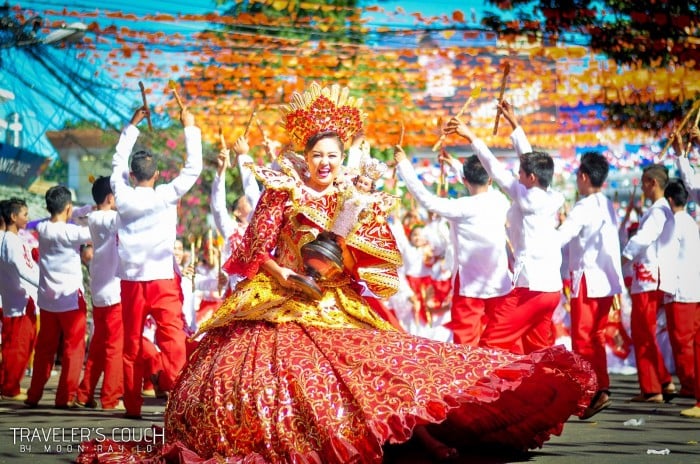 Image credit: Traveler's Couch by Engr. Moon Ray Lo
We start off the year with a huge bang, celebrating two of the biggest and most well-known festivals in the country. Both the Sinulog in Cebu and the Ati-Atihan in Kalibo, Aklan are celebrated in honour of the baby Jesus.
Whichever island you decide to set foot in, you are guaranteed to enjoy the colourful costumes, fun beats and street parties!
Festival Dates: Every third Sunday of January
Also read: First Timer's Guide to Surviving Cebu's Sinulog Festival
February: Panagbenga Festival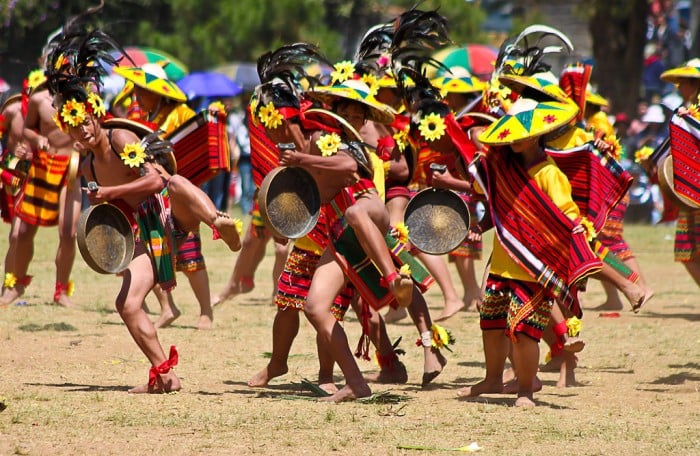 Image credit: Miguel Isidro Photography
If you love flowers, head over to the Summer Capital of the Philippines and celebrate the natural beauty that is the Philippines. Just like the street parties during the Sinulog and Ati-Atihan, your eyes will feast in the sea of colours during the street parade — all with the beautiful flowers as the centre of attraction.
Festival Dates: Whole month of February; ends first Sunday of March
March: Malasimbo Music and Arts Festival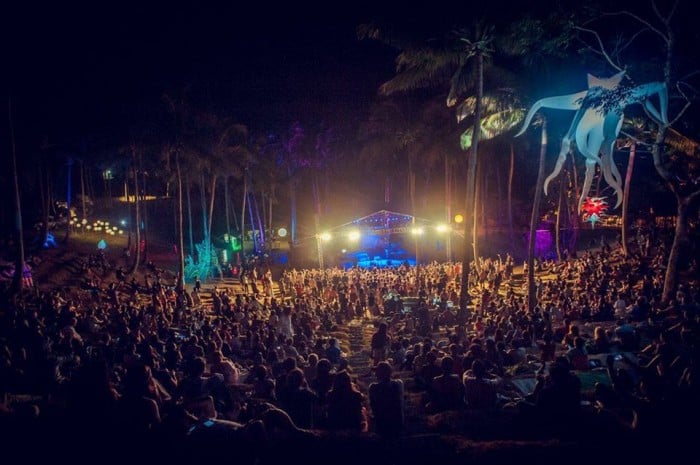 Image credit: Malasimbo Music & Arts Festival
Is Coachella in your bucket list? If so, then you will definitely have a great time attending the Malasimbo Music and Arts Festival. The annual event will already be on its 7th year this 2017 and it has gotten even better over the years. What makes this music festival different is that it is held in a grass-terraced amphitheatre in Puerto Galera and you can get your fill on all forms of art, from visual to auditory!
Festival Dates: Varies; March 10-12, 2017
April: Moriones Festival
As the country celebrates the most solemn time of the year, you can make your way to Marinduque. During the Moriones Festival, people don costumes and masks of Roman soldiers called the Moriones as a symbol of self-cleansing. Foreigners will get a good glimpse of just how passionate the Filipinos are of their Catholic faith.
Festival Dates: Holy Week; April 9-15, 2017
May: Pahiyas Festival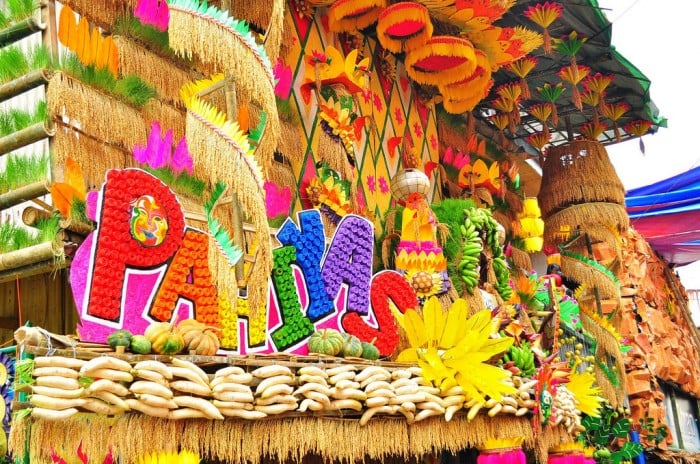 Image credit: Chareze Stamatelaky
The Pahiyas Festival is done in honour of San Isidro Labrador, the patron saint of farmers. It is the farmers' form of thanksgiving for the bountiful harvest. You will surely be left in awe after seeing houses adorned with rice wafers, vegetables and handicrafts of all colours, shapes and sizes.
Festival Dates: May 15
June: Pintados Festival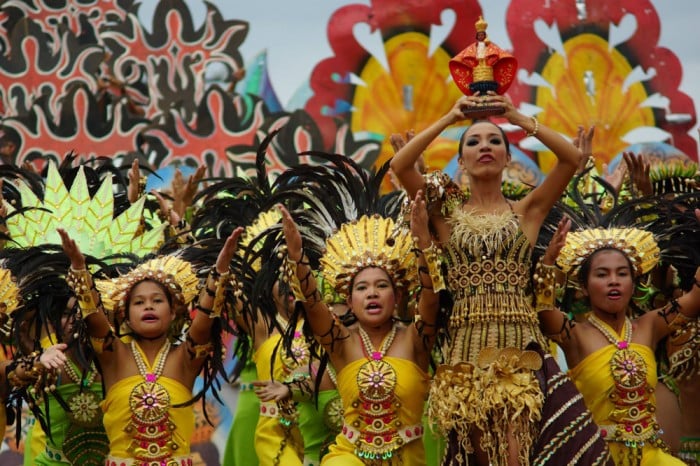 Image credit: Bobbie Alota
Before tattoos became mainstream, native Filipinos were already into this form of body art including those from Leyte. Back in the days, getting a tattoo was painful and unsafe so those who went through that danger were considered brave and strong. The Pintados Festival is a showcase of the cultural heritage of Leyte and Samar.
Festival Dates: June 29
Also read: A First Timer's Guide to Tacloban: What to See and Do
July: Sandugo Festival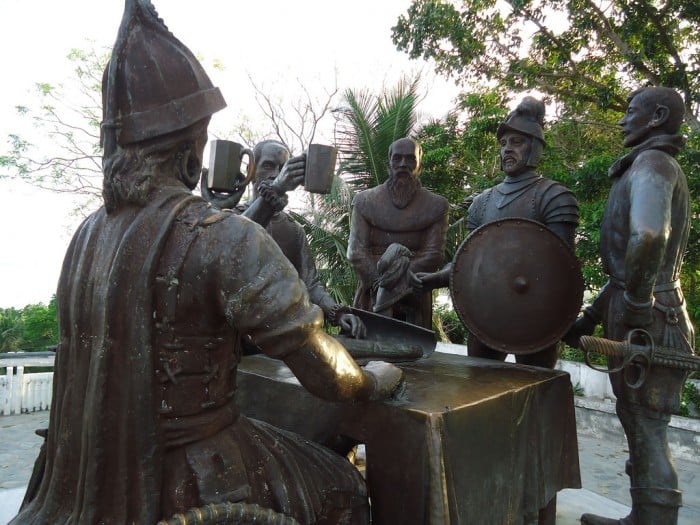 Image credit: Shankar S.
July 1, which is also Tagbilaran City's Charter Day, marks the start of a month-long festival to commemorate the blood compact or sandugo between Datu Sikatuna and Miguel Lopez de Legaspi during the 16th century. Aside from the street parade and dancing, you can also get to witness the reenactment of the Sandugo.
Festival Dates: July 1
August: Kadayawan Festival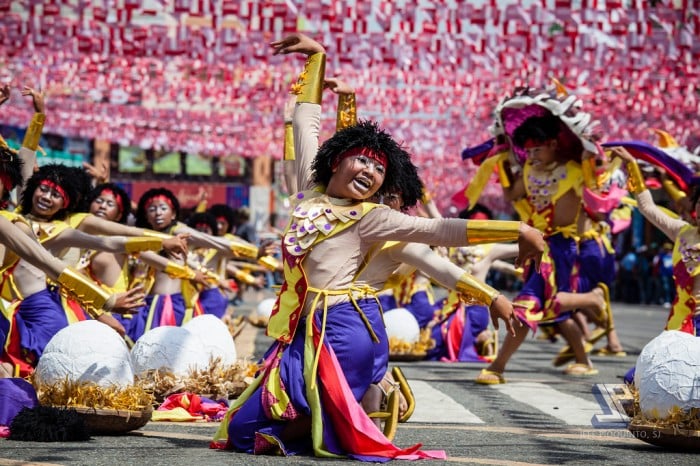 Image credit: Bro. Jeffrey Pioquinto, SJ
Unlike most of the festivals listed here, the Kadayawan Festival has pagan roots and is actually celebrated as thanksgiving to Manama, the Supreme Being, and Bulan, a moon deity. Davaoeños hold the festival as a celebration of life and a way of saying thanks for the bountiful harvest.
Festival Dates: Every third week of August
September: Peñafrancia Festival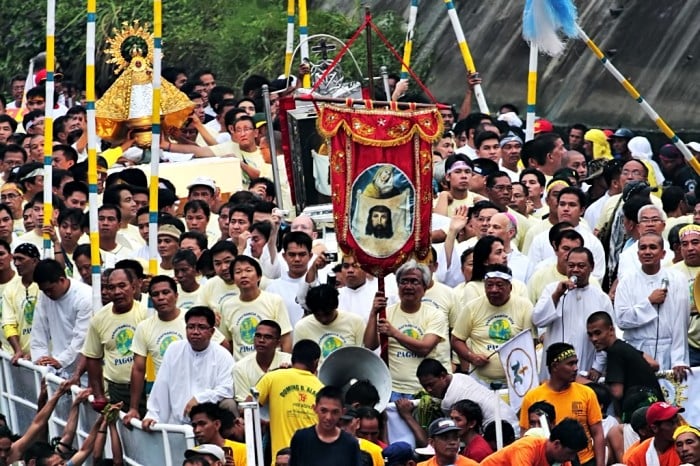 Image credit: Sir Mervs
Although numerous parades are held during the nine-day novena to the Our Lady of Peñafrancia, the most awaited moment by devotees and observers is the fluvial procession that caps the feast. The image of the Virgin Mary is carried in a pagoda while thousands of local (and even foreign) men and women follow in their own boats as escorts.
Festival Dates: Every third Sunday of September
October: MassKara Festival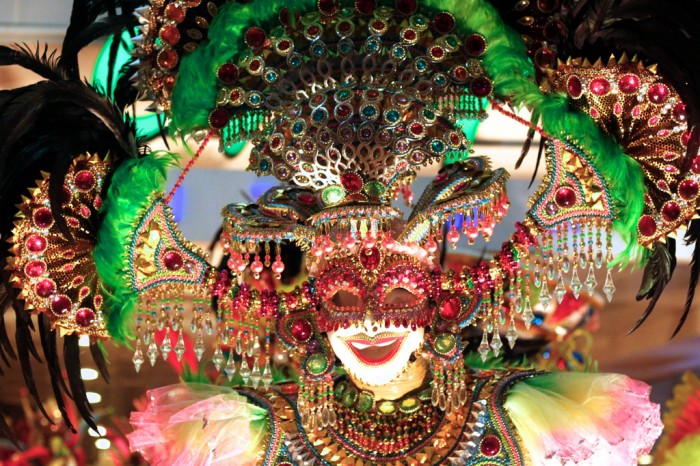 Image credit: Bro. Jeffrey Pioquinto, SJ
If all the colourful sights from the parades from January to September is not yet enough for you, celebrate the MassKara Festival in Bacolod every third week of October! The term is a portmanteau of mass, meaning throngs of people, and kara, meaning face. The festival is heavily influenced by the Carnival in Rio and is celebrated to show the Bacolodnon's resilience against tragedies and tragic events. No wonder the city is called the City of Smiles!
Festival Dates: Every third week of October
Also read: First Timer's Guide to Bacolod's MassKara Festival
November: Higantes Festival
The higantes that take part in the parade during the Higantes Festival may look scary but they were actually meant to symbolise the Spanish landlords who ruled over the Spanish haciendas of Angono. They started out as a family (mother, father and child) but, later on, they evolved to symbolise the industry and/or personality of each barangay.
Festival Dates: November 23
December: Kasadyaan, Handuraw, Torotot Festival and more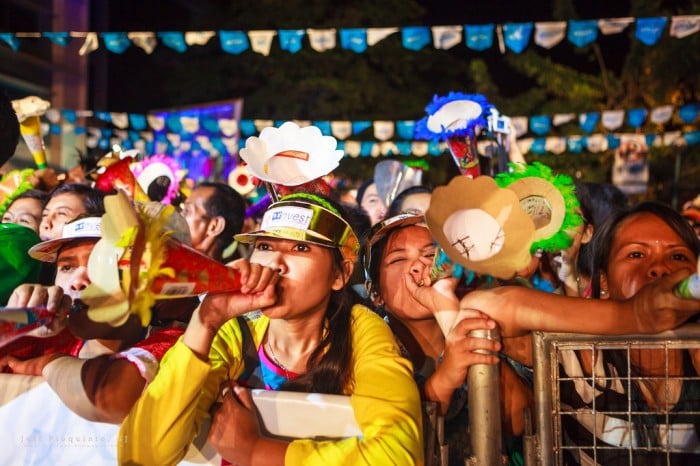 Torotot Festival | Image credit: Bro. Jeffrey Pioquinto, SJ
With the Philippines having the longest and most lively Christmas celebrations in the whole world (no bias here), you can just about go to any island of the country and have a great time.
Still, there are several festivities around the country during this time of the year: Kasadyaan Festival in Dumaguete City, Handuraw Festival in Dapitan City and Torotot Festival in Davao City, just to name a few.
Festival Dates: Kasadyaan Festival (Dec 12-14); Handuraw Festival (Dec 27-31); Torotot Festival (Dec 31-Jan 1)
Also read: 12 Most Exciting Philippine Festivals You Don't Want to Miss
What do you think? Are you ready to go on a one-festival-a-month challenge around the Philippines?