"The one who does not remember history is bound to live through it again" – George Santayana
Just last year, I visited the Auschwitz Museum & Memorial that's located an hour's drive away from Poland's second largest city and tourist-magnet, Krakow.
I had just graduated from university and was on my solo Euro-trip that lasted for three weeks. I don't usually like to plan detailed itineraries for my travels, and that time was no different. However, I had one particular site in mind that I had to visit, and that was the Auschwitz concentration camps.
I wouldn't call myself a history buff, but I like history very much. I truly believe that the best way to learn about the past is to travel, visit places where significant events occurred and reflect upon the remnants of time. Let's be honest, I don't think that many of us will actually take the time to pour over history books outside of our history lessons in high school. Furthermore, being in the actual location where history was made can easily put our painfully brief history classes to real shame.
I'm not the kind of traveller who's into dark tourism, or into the macabre. But without sounding sadistic, I would say that I was hoping to feel something. Being brought up in a sheltered home in Singapore, there are many things that I, like many other Singaporeans, take for granted.
So, instead of planning a Euro-trip where it's all about hedonism – the fun, crazy things we do while we're young – I had decided to, instead, make it as educational as I could. I wanted to create my own history lesson. I was eager to be more educated about things. Anything.
After all, the more we learn, the less we know. But it is necessary to keep learning.
Without a doubt, travel comes along with meeting people, learning about new cultures and understanding life lessons. However, I feel that there is an inherent need to be more human today, and one of the places that can remind anyone of this is the Auschwitz extermination camps.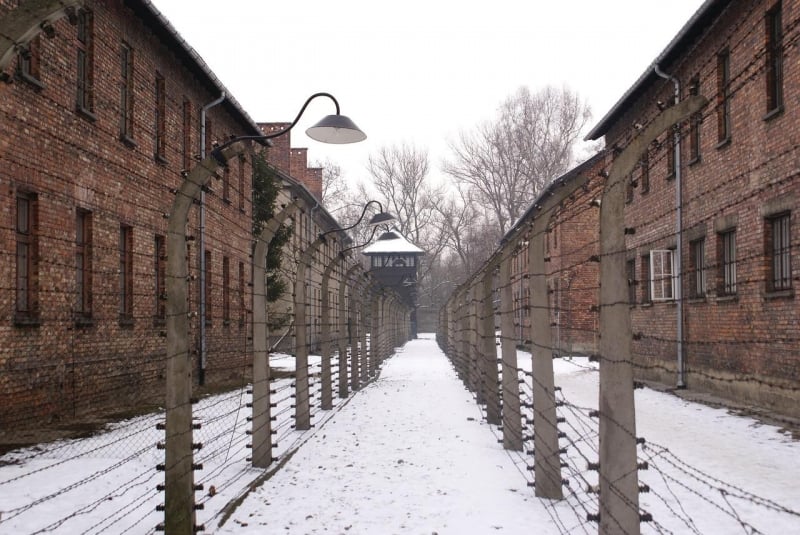 Through this article, I will share some information about how I got to Auschwitz, what kind of tour I took, and everything in between so that hopefully, it can make planning your trip there easier and more convenient. I'm sure you will learn something from the experience, as I did.
First and foremost, the most important question you should ask yourself is this; "How do I get to the Auschwitz-Birkenau Memorial and Museum?"
I spent some time walking around Krakow's massive Old Town and with good luck, I stumbled upon a wonderful little kiosk that houses a travel agency called Krakville Tours. With a student card (it doesn't matter where you're from, as long as you are under 27 years of age), you only need to pay PLN79 for a complete tour of Auschwitz. Adults pay the full price of PLN99.
I was thrilled at the affordability of a tour with such profound historical significance. On top of that, the entire tour had also turned out to be as good as I had hoped.  Do note that there will be much more expensive tours out there; even my hostel quoted me twice as much.
The pickup point for this tour is the tour office in Old Town, and you will be driven to Auschwitz (also known as Oświęcim in Polish), the town in Southern Poland where the museum/memorial stands. The tour price includes a tour guide that brings you into both concentration camps Auschwitz I (the main camp) and Auschwitz-Birkenau II (a combination of concentration-extermination camps). After which, you will be sent back in the same coach to the Old Town where the tour first picked you up.
Alternatively, you can find your own way to the camps with some detailed instructions on the official website here. However, there is ongoing road construction works happening from now until December 2017, so you might face some difficulties if you do not follow a tour or organise transport to bring you there directly.
Admissions into both camps are free-of-charge. However, online reservations are the only guarantee of entering the museum. You can book them here. Also, from April to October 2017, only guided groups are allowed into Auschwitz I from 10am-4pm. You can join a tour group when you get there.
At this point, I'll give my two-cents worth and strongly recommend that you book a tour that will cover your entire trip there. It will save you time and effort, plus banish any unwanted worries of getting lost or denied entry. Just remember to pack some food for the ride in case you get hungry. The tour takes seven hours including travel time, with a brunch break and toilet break when you first reach Auschwitz I.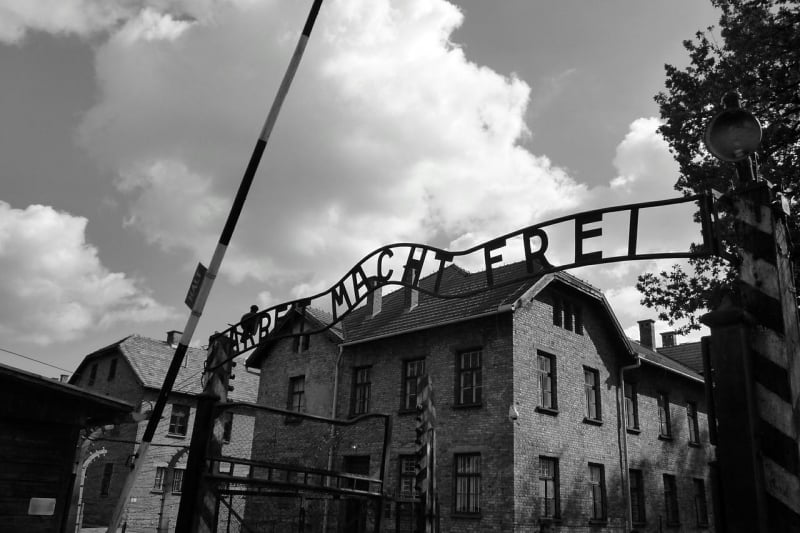 The tour will begin through these gates with the words "Arbeit macht frei" in German, which stands for "work sets you free". Yes, the irony… And is it too late to say that this tour isn't for the faint-hearted?
The tour guide will bring you from building to building, past emotionally charged exhibitions. Walls of pictures of prisoners stating the dates they came into the camps and the dates they had perished, rooms filled with well-preserved authentic artefacts like prisoners' hair (the Nazis sold everything that was valuable from their prisoners, including their hair and gold teeth), shoes and suitcases. Even though it may be hard to imagine the atrocities that had happened in these very camps several decades ago, the artefacts added gravity to the situation and you can't help but notice a sinking feeling in the pit of your stomach.
Many women and children, upon reaching the camps, were quickly sent to "shower rooms" where they were supposedly going to clean themselves up before beginning their lives at the camps. However, the reality was that they were sent to be murdered and that these rooms were, in fact, the notorious gas chambers.
After the visit to Auschwitz I, the tour guide will bring you to Auschwitz-Birkenau II. This complex of concentration-extermination camps may seem like a vast area of nothingness – but that is precisely so because the Nazis had burnt down almost everything when they knew they had lost the war. They tried destroying every piece of evidence proving that such brutal concentration camps ever existed.
Some remnants still remain, and at the very end of this site, you will find charred remains of the humongous incinerator where the soldiers had incinerated countless bodies daily.
To give some perspective, the Nazis had intended to expand this site several times bigger than what we were shown. They had plans to make this entire area a much more efficient killing machine and had simply no intentions to stop.
The entire complex of the Auschwitz-Birkenau camps is estimated to have seen 1.3 million of people enter, of which 1.1 million subsequently exterminated. Most of them were Jews from Hungary and Poland.
To say that this was one of the most haunting experiences of my life would be an understatement.
I strongly believe that visiting the museum is an important thing to do in your lifetime. However, if you feel that this is an experience that you simply cannot stomach, I would recommend you to perhaps, watch the movie The Boy in the Striped Pyjamas for some brief context.
If you intend to visit the camps, I'm very sure that your visit would be a highly valuable and memorable (albeit haunting) learning experience.
Also read: Krakow 3D2N Itinerary: Things to Do & Attractions to Visit