Let's play a game of word association.
When I say 'the Philippines', what first comes to mind?
Most travellers would probably mention the beaches, the ocean, sand between your toes – and this does not come as a surprise to a native like myself. The Philippines has some of the world's most beautiful beach destinations, plenty of which have had their fair share of time in the limelight. However, as surprising as this may sound, not everyone loves that beach bum life. If you're one of the rare ones, the Philippines may very well still be the perfect destination for you.
Here are five places you can enjoy even if you have no interest in visiting beaches:
1. Tagaytay: Taal Volcano, Sonya's Secret Garden and an Amusement Park in the Sky
Tagaytay is a popular destination for visitors who are only beginning to discover the beauty of the Philippines. Just a two-hour drive from the airport (traffic-dependent, of course), Tagaytay is the perfect getaway from the scorching heat in Manila.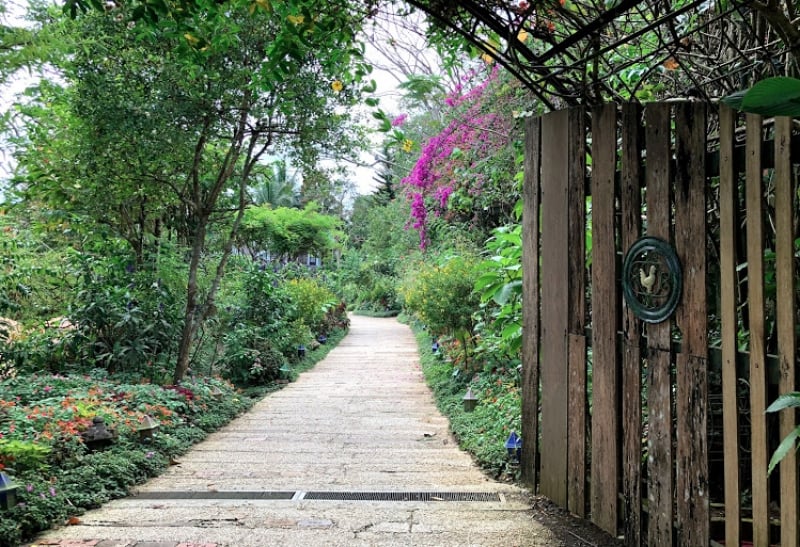 EAT: Start off your trip with brunch at Sonya's Secret Garden. Like its namesake, Sonya's Secret Garden is hidden from the main road but is definitely worth the search. It boasts lush greenery, blooming florals and rich crops – crops of which usually end up on your plate. Sonya's Garden serves organic dishes buffet style, comprising of both western and local delicacies.
TREK: A visit to Tagaytay will not be complete without a sight of its pride and joy – the Taal Volcano and Lake. Taal is the second most active volcano in the Philippines and it boasts a lake within a crater within a lake (honestly, drop by for a visit to see exactly what I'm talking about). Taal volcano day tours are available and consist of a boat ride to the volcano and a 40-minute hike or horse ride.
ADVENTURE: Lastly, if the thrill of climbing up an active volcano still doesn't quite satisfy the adrenaline junkie within, pay a visit to Sky Ranch where you can relive your childhood. Here, you can find classic amusement park rides like roller coasters, ferris wheels, bumper cars and even a zipline! For aerial views of the beautiful Taal Lake, hop onto the Sky Cruiser and pedal your way across an aerial track.
2. Batanes: Faluwas, Lighthouses and the Honesty Coffee Shop
Batanes is often known as the New Zealand of the Philippines. It boasts sprawling hills and majestic views overlooking the ocean, perfect for those hoping to get their Sound of Music moment. Like Tagaytay, temperatures here are lower than the rest of the islands, so do remember to pack a sweater or two.
ADVENTURE: Hop onto a Faluwa and explore the islands of Batanes: Sabatang and Batan. Here, you'll see traditional Batanes stone houses, lighthouses, chapels and rolling hills. The sunset at Naidi Hills is a definite must-see!
SHOP: When you're in need of a break, drop by the renowned Honesty Coffee Shop, a place that's too small for dishonest people. Crime rates in Batanes are incredibly low, hence the concept of Honesty Coffee Shop is born. No one mans the shop, and locals and visitors are welcome to enter and pick up whatever catches their fancy. The customer will then hold the responsibility of paying the exact amount for what they decide to purchase.
TREK: For those who enjoy trekking or mountaineering, Batanes has got you covered. Mount Iraya is a dormant volcano that's perfect for beginner hikers. It takes roughly three hours to get to its peak. Once there,  hikers will find themselves immersed in clouds, trees, and nothing but peace and tranquillity.
3. Baguio: The Valley of Colors, a Haunted House and a Sea of Clouds
Baguio is the summer capital of the Philippines. It often sees a surge in visitors both at the hottest periods of the year, as well as at the coldest. It is a popular destination for Filipinos, especially during the Christmas season. You'll never really run out of things to do in Baguio, but here are some honourable mentions for your next visit!
ADVENTURE: Drop by the municipality of Trinidad to catch Baguio's latest attraction, The Valley of Colors. These beautifully painted houses are a feast for the eyes and are perfect to put up on your 'Gram. After you've gotten the shot, head over to La Trinidad Strawberry Fields nearby. Kids will love this as visitors are welcome to pick as many strawberries as they wish (for a fee, of course). If you're looking to experience the culture of Baguio, visit Tam-Awan Village where you can view Ifugao huts and Kalinga houses. These huts and houses mimic life in a traditional Cordillera village. Here, visitors can interact with local Ifugaos, and maybe even get a self-portrait sketched by them.
As far as crowd favourites go, Camp John Hay has always been a Baguio classic. Entering Camp John Hay often feels like a trip to Narnia; you walk through the arch and suddenly, you find yourself transported to a different land. Pine trees grow as far as your eyes can see. Everyone's decked out in jackets, even beanies and suddenly, it's like you're no longer in the Philippines. For thrill seekers, Camp John Hay's Tree Top Adventure is a perfect spot for a quick adrenaline kick.
For those looking for a unique experience with the supernatural, visit the Laperal White House. The Laperal White House is said to be one of the most haunted destinations in Baguio. Today, it is a museum hosting beautiful artworks and (as covered by numerous local shows in the Philippines) spirits. Enter at your own risk!
TREK: Trekkers up for a challenge definitely have to try their hand out at Mount Pulag. Standing at 2,926 metres above sea level, it boasts as Luzon's highest peak. Tourists, both local and foreign, visit Mount Pulag to catch a glimpse of the Milky Way Galaxy, and the renowned sea of clouds which gather around its peak. Hikes up to Mount Pulag are challenging and require a certain degree of fitness and even permits (for some), so do drop by their office before your hike to acquire this.
EAT: In the past, when it came to food in Baguio, Ketchup Food Community was often mentioned. However, since the end of their contract, Ketchup Food Community no longer operates and in its place stands a pizza chain. But don't despair – favourite restaurants from the community have relocated and can be found around Baguio. A few must-try places are Canto Bogchi Joint, Rumah Sate and Happy Tummy. A personal favourite is the Chocolate De Batirol at Camp John Hay. There's nothing cosier than sipping hot chocolate by the bonfire (yes, they've got a bonfire for those waiting to be seated).
4. Sagada: Hanging Coffins, Spelunking in Caves and Sunrises at Mount Kiltepan
Sagada is not for the faint-hearted but is a must-visit for those looking for a unique adventure. Located up in the Cordillera Mountains, Sagada is often referred to as the Mountain Province. It is known for its distinct culture and one-of-a-kind landscapes.
TREK: Start off your day in Sagada bright and early with a hike up Mount Kiltepan. Allow nature to take your breath away and watch as the sun peeks through the Cordillera mountains, set against a sea of clouds. Mount Kiltepan is located four kilometres away from town and pickups can be arranged directly from hotels at 5am.
ADVENTURE: No visit to Sagada would be complete without a visit to the Sugong Hanging Coffins. Yes, you read it right – coffins that hang. Burying their dead in colourful coffins attached to the side of limestone cliffs or stacked on top of one another at the mouth of caves was tradition to the native Igorot people of Sagada. They did so as they believed this would lay out a smoother path for their loved ones towards the afterlife, all while keeping animals at bay. Visitors may find their way to these coffins on their own or they may opt to join a tour, going through the iconic Echo Valley. For those seeking a heart-pumping experience, spelunking tours through Lumiang and Sumaguing Caves are also great activity options.
EAT: For over 10 years now, Yoghurt House has been a crowd favourite amongst visitors to Sagada. Honourable mentions also include Salt and Pepper Diner, Sagada Lemon Pie House, Sagada Brew and Gaia Cafe, a cafe serving organic, community-served ingredients from Sagada.
5. Banaue: Rice Terraces
You know that final scene in Avengers: Infinity War where Thanos sips coffee overlooking some beautiful rice terraces? Yeah, that was filmed in Banaue, and I'm guessing that fact would be enough of an incentive for Marvel fans to pay a visit to Banaue. But if not, here are other sites which make Banaue worth the visit.
ADVENTURE: There are a few rice terraces you can visit in Banaue: Batad, Bangaan, Hapao Mayoyao or Nagacadan. The most iconic rice terrace to visit is Batad Rice Terraces, recognised by UNESCO.
TREK: The Awan-Igid-Pula-Cambulo Trek is perfect for the seasoned hiker looking for a challenge. This hike is a strenuous one, usually tackled over the duration of two days, with an overnight stay in either Pula or Cambulo. The hike from Awan-Igid to Pula can be completed between four to six hours, cutting through jungles and passing by Ifugao residences. It takes another two to three hours to get to Cambulo from Pula. It is important to note that due to the intensity of this trail, guides are mandatory.
EAT: When in Ifugao Province, one must definitely try out Ifugao delicacies, available all throughout the province. For a meal with a view, try out the restaurant at People's Inn.