This question should not be unfamiliar for first time travellers to Malaysia, "What's there to do?" Most people end up heading to overrated, touristy cities like Kuala Lumpur, Penang, and Melaka without realising that Malaysia has a lot to offer, especially through their suburban cities such as Ipoh, Kuala Kedah and Terengganu.
Shopping in Malaysia has got to be a crowd favourite. A dress from internationally acclaimed brands may cost ~S$50 in Singapore, but you get to save at least S$4 when you purchase the same dress in Malaysia! If you ask around, many will tell you that the food in Malaysia is second to none. With a wide array of cuisines from the three major ethnicities to choose from, travellers will be treated to a mouth-gasmic experience the moment they land in Malaysia.
How well do you think you know Malaysia? Scroll to the very end as we debunk some popular misconceptions and share travel hacks when exploring Malaysia. Keep an open mind and learn a thing or two about this gem of a country.
Expectation: Everything is halal = no bacon at all
While Malaysia is a multiracial country, you will realise that since Muslims dominate majority of the population, most food stalls are halal-certified. Even in most hotels, buffets generally steer clear of pork-related dishes so that muslim guests can enjoy the lavish spread as well.
You must be wondering now how you're going to cope without your daily dose of full English breakfast every morning…
Reality: You can still find pork dishes in some cafes and Chinese-owned food stalls

Although bacon and pork dishes can be quite elusive, Chinese-owned cafes and food stalls do sell them! Must-try pork related dishes include bak kut teh (a herbal soup made from brewing pig's bone and herbs) kway chap (thick rice noodles served with pig's organs and innards), fried kway teow (a mix of noodles fried with black soy sauce, topped off with crunchy fried pork fat), and char siew rice (fatty strips of marinated pork grilled to glazed perfection, served with rice). These delicacies can be found along the streets of Chinese-dominated cities like Penang, Melaka and certain parts of Kuala Lumpur and Johor Bahru.
Expectation: There's nothing but Malay food…
I mean after all…it is called Malaysia. It won't be surprising if all you can find are sinfully good Malay cuisine comprising tantalising dishes. Popular dishes include beef rendang (slow cooked beef with dry curry), nasi lemak (rice infused with coconut milk and pandan leaf, served with kick-ass sambal chili, fried fish or chicken and fried anchovies), and satay (barbecued meats on skewers, served with peanut sauce and malay rice cakes).
Reality: There's a wide array of delectable cuisines to choose from
You will be in for a gastronomical treat the moment you set foot in Malaysia. From a range of Malay and Chinese to Indian delicacies, you'll be spoilt for choices on which to try first.
We recommend trying the mee goreng mamak (yellow noodles fried with soy sauce, vegetables, egg, shrimp, and chicken or beef, topped with chili for that mini jolt with every mouthful); Ayam Percik (some say this barbecued chicken slathered in spicy chilli, garlic and ginger sauce mixed with coconut milk will put Colonel Sanders to shame); Laksa (rice noodles served with prawn or shredded chicken, fried tofu puffs, finished off with a mouth-watering spicy curry broth), and Murtabak (pan-fried bread stuffed with minced meat and onions, served with curry).
One word: Yum!
Expectation: You have to spend A LOT for good food and decent accommodation
Biggest concern: you have to fork out quite a hefty sum for decent hotels and food.
Reality: You can get a luxurious hotel and proper food for less than RM100 (~S$34) a day
A four-star hotel in Kuala Lumpur – Malaysia's most expensive city, will cost about RM159 (~S$54) per night for two! With Airbnb's successful infiltration into the Malaysian market, you'll be able to find an abundance of beautiful homes that are located near city centers for very affordable prices. The best part about Airbnb is that you can be travelling as a couple, or as a family, and there will always be a suitable apartment for your stay! If an Airbnb is not your thing, opt for serviced apartments that's a combination of a hotel's impeccable service,and  the space and affordability of an Airbnb – perfect for larger families!
The thing about Malaysia is that the best food is often found along the streets, or in shophouses that look like they might be due for some renovation works. But that also means you can feast affordably! A bowl of laksa or a plate of nasi lemak will only cost you up to RM6 (~S$2.40).
The Malaysian night market scene is always bustling, even in lesser travelled cities like Ipoh, and Tai Ping. Aside from the usual cheap shopping and cheap food, you'll also find snacks like keropok lekor (an addictive fried fish snack that's usually topped with chili sauce, or even cheese in some stalls), curry puffs (a mini calzone like pastry stuffed with potatoes and curry, and sometimes even chicken), and nyonya kuih (a variety of traditional peranakan pastries).
Expectation: Metered taxis translate to cheap transport options
In Malaysia, you will find an abundance of metered taxis zooming down the streets. Metered taxis also imply that fares are calculated based on the distance travelled so you don't end up paying more than you should. It's a just way of ensuring that riders won't be exploited, especially in bigger cities where travelling can take more than an hour.
Reality: "Sorry, I don't use meter. Your trip will be 50 Ringgit."
We kid you not! Most taxi drivers will quote you a price up front based on your destination. You can try to turn the taxis down in hopes of meeting another taxi that will take you based on the meter, but chances are that drivers who actually use the meter are a rare find.
You can either be very insistent on the driver having to use the meter or haggle for a more reasonable price. As a general rule of thumb, travelling anywhere under three kilometers should not cost you more than RM10-12 (~S$3.40-S$4.80). The price will differ from city to city, but the range should not be too far off. Ensure these drivers do not make a quick buck out of gullible tourists!
Expectation: The only places worth travelling to in Malaysia are Kuala Lumpur, Penang, Melaka, and Johor Bahru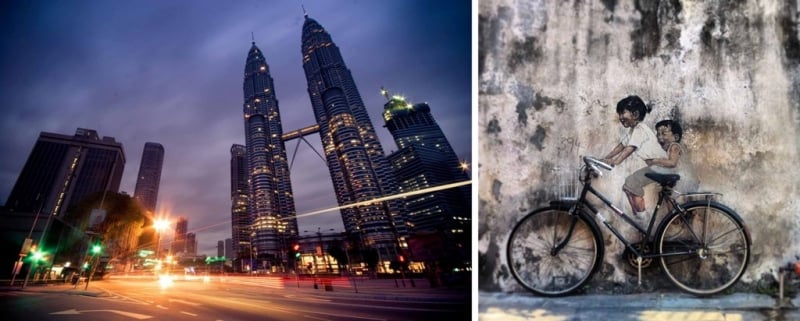 Marvel at the Petronas Twin Towers (tallest twin towers in the world!) in Kuala Lumpur? Check. Visit famous Georgetown and snap Insta-worthy shots with Penang's street art? Check. Go for a joy ride on a neon tricycle along Jonker Street in Melaka? Check. Embrace fun in epic proportions in Johor Bahru's Legoland? Check. Anything else?
Reality: There's a city for all types of travellers here
For people who crave adrenaline and adventure, Kota Kinabalu in Sabah is the perfect place for you. Mount Kinabalu is the tallest mountain in Malaysia but don't let that faze you! Everyone can attempt to hike up Mount Kinabalu because it doesn't require any mountaineering training or experience. If you're up for it, take a three to five-day hike up to the peak of Mount Kinabalu and bask in the tranquil nature that surrounds you.
Alternatively, embark on a two-day hike to the low peak's summit on Mount Kinabalu. The view won't be as jaw-dropping as the top, but still worth the trip and enough to get the adrenaline pumping.
Note: For safety reasons. Mount Kinabalu no longer allows hikers to take a day trip up the mountains, so you must stay for at least one night if you wish to visit!
For all aspiring mermaids (and mermen) who can't live without open seas and beaches, Perhentian Islands are just the place for you! To get to Perhentian Islands, you must take a boat from Kuala Besut, that's located in Kota Bharu. The boat trip costs RM70 (~S$24) for a round trip. When you get to the islands, you can choose between the two islands, Perhentian Besar (Big Perhentian) or Perhentian Kecil (Small Perhentian).
The main difference is that Perhentian Besar is more expensive than Perhentian Kecil, and is a popular spot for honeymoon goers thanks to the luxury resorts and bars scattered all around. Perhentian Kecil is more rustic and not as vast but the main advantage is that since the island is not teeming with people, you might just get an entire beach all to yourself!
There are many opportunities to snorkel and dive on both islands. The beaches boast soft sand and are perfect for sun worshippers who want to get their glorious tan on.
For those who want a bit of the city, and a touch of nature, head to the hiking trails in Penang National Park. Aside from admiring majestic trees and wildlife in the rainforest, this vast park also connects you to various beaches (yes, Penang has beaches!) such as Monkey Beach, Teluk Kampi, and Kerachut Beach – where the Penang Turtle Sanctuary is located. If you head to Kerachut Beach in April and August, you get to witness Green Sea Turtles coming out of the water to lay their eggs.
Since there is so much more to see and experience, it's high time to discover the other parts of Malaysia for yourself. You will be surprised at the things you never thought this majorly underrated country could offer. We've shared with you our hacks showed you the places you can visit, and highlighted the dishes you must try. So, what are you waiting for? Malaysia awaits!